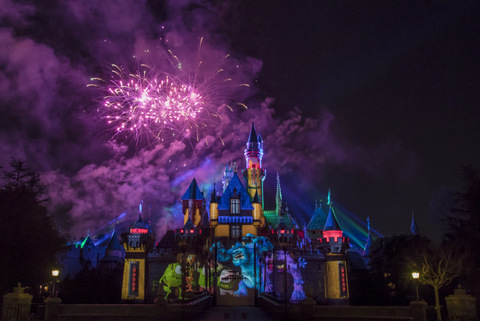 In conjunction with its new limited-time event Pixar Fest, Disneyland has debuted a new fireworks show "Together Forever–A Pixar Nighttime Spectacular."
[Unattributed photos and video courtesy of Disney.]
Celebrating the many warm relationships enjoyed by all the Pixar characters, the show utilizes pyrotechnics, projection mapping, water screens, a new musical score, and special Pixar flying elements to entertain and engage park guests. Laura Gilbreath had an opportunity to speak with former Disneyland Ambassador Allie Kawamoto about the new show.
Opening with Buzz Lightyear instead of Tinker Bell, the theme of the show is introduced with his newly reworked dialogue, "to friendship…and beyond!" Later, Carl Fredricksen's house from "Up" appears as the largest object ever flown around the castle.
Mapped projections are used to give the show an immersive element on Main Street, Sleeping Beauty Castle and the facade of "it's a small world," while projections on water screens are used on Rivers of America. Each viewing location has been created to have some different effects that make each a slightly distinctive experience.
In a segment dedicated to Pixar's last big hit "Coco," Anthony Gonzalez (Miguel) sings "The World Es Mi Familia" while ten skeletons from the Land of the Dead appear atop the buildings of Main Street.
While the show takes the Pixar denizens familiar to all of us on the journey of friendship through peril and adventure, guests can be reassured that in the end the characters and the relationships they have forged, both with each other and with the audience members, will be "Together Forever."