Chester & Hester's Dino-Rama DinoLand U.S.A. Animal Kingdom
TriceraTop Spin Highlights:
Dumbo-style attraction featuring dinosaurs
Located in Chester and Hester's Dino-rama
No height requirement
Introduction | Attraction | Ride Logistics | Kids/Characters | Shopping |
INTRODUCTION
TriceraTop Spin is a spoke and wheel style attraction in the carnival-themed Chester and Hester's Dino-rama section of Dinoland USA.
TriceraTop Spin is located across from Primeval Whirl.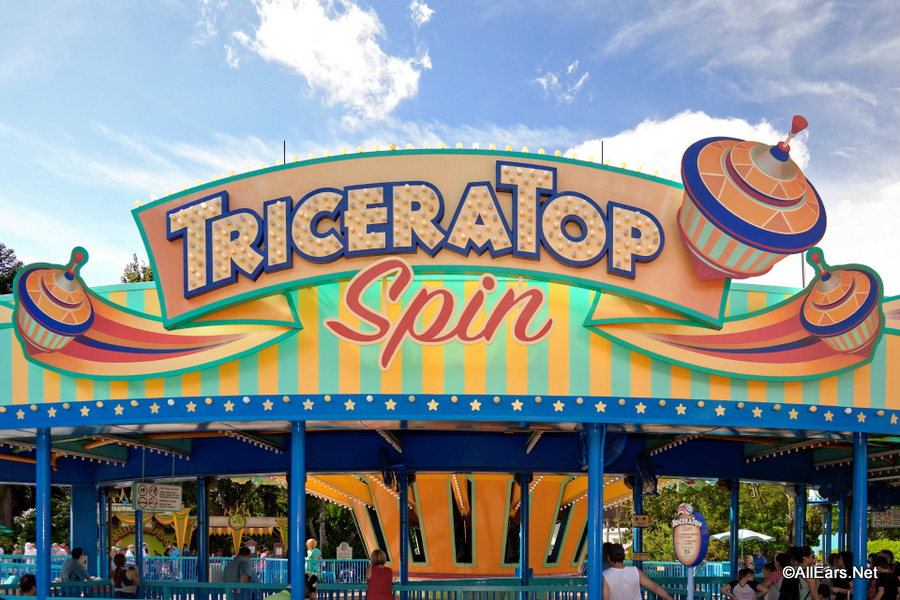 ATTRACTION
Queue: The short queue weaves back and forth under a tent-like structure. It is outdoors, but there are fans.
ATTRACTION
The dinosaur vehicles can sit up to four guests in their two rows. Each row has a lever — the front row controls the dinosaur going up and down, and the back row controls the tilt backward and forward of the dinosaur.
The ride lasts 90 seconds, and ends with all of the dinosaurs reaching the peak height before lowering back down again.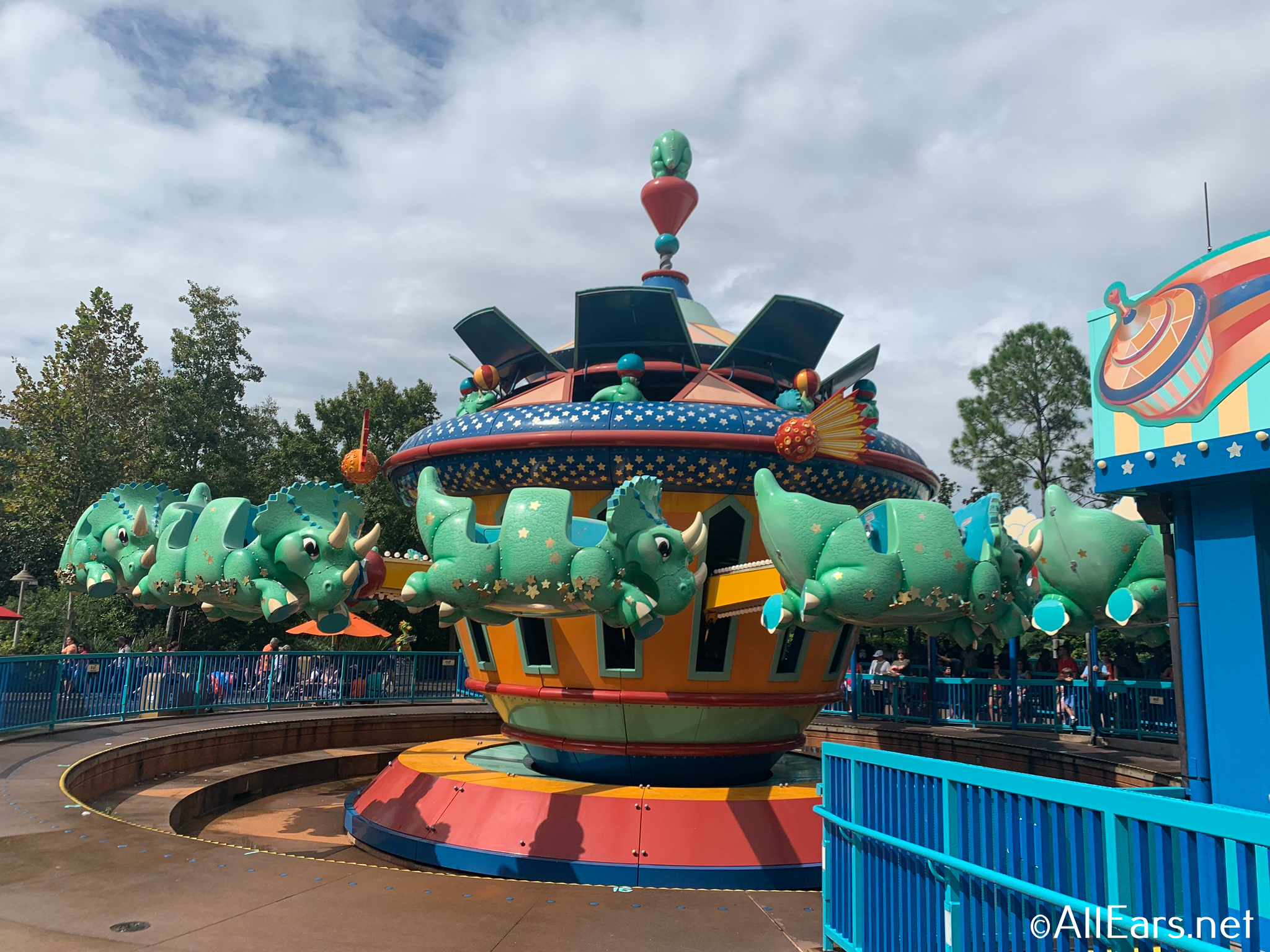 RIDE LOGISTICS
The wait is rarely longer than 20 minutes.
This is a great attraction to bring young ones on while older kids ride Primeval Whirl or Dinosaur.
Seat Restrictions: some guests may find the seats small and cramped. For more details, head here.
Accessibility: guests in ECVs must transfer to wheelchairs.
KIDS AND CHARACTERS
Across from TriceraTop Spin, you'll often find Donald Duck.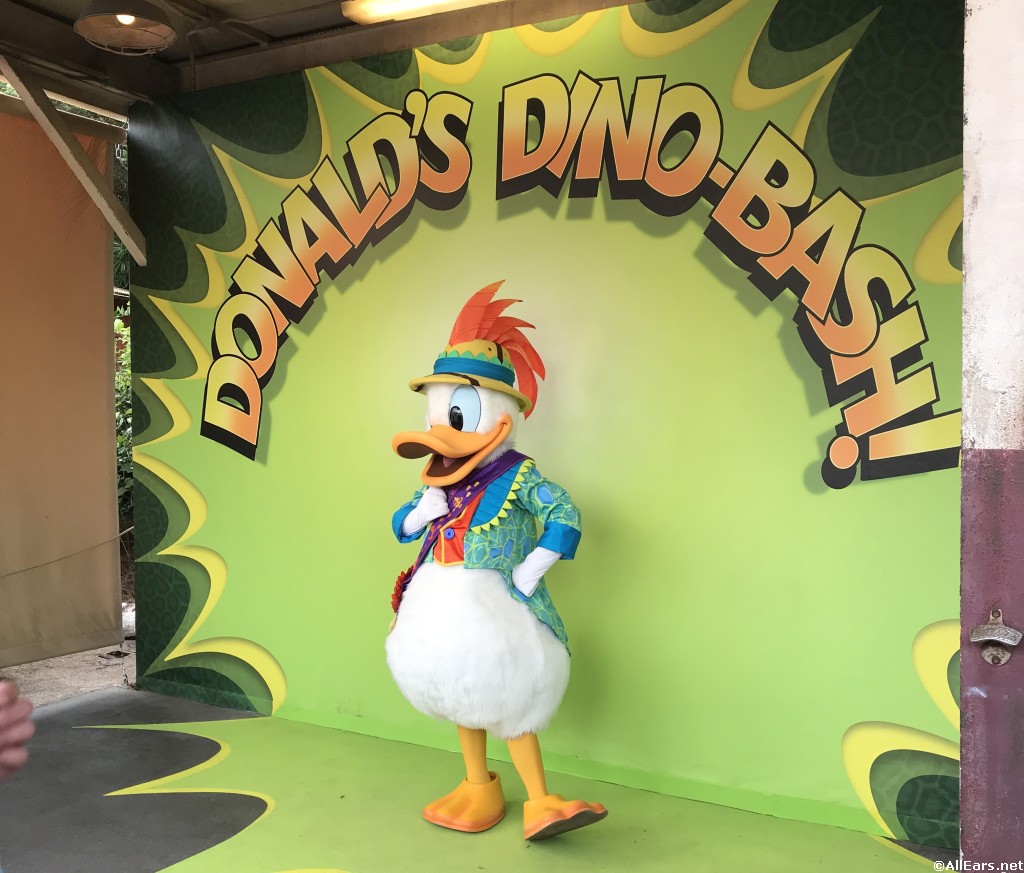 Animal Kingdom Characters At A Glance
Character Meet and Greet FAQ!
Across from TriceraTop Spin, you'll find Chester and Hester's Dinosaur Treasures. Here you'll find some unique dinosaur themed merchandise, as well as Disney toys, plushes, and more.