Living with the Land – The Land – Epcot
Living with the Land Highlights:
Tour unique indoor greenhouses
INTRODUCTION
Living with the Land is a gentle 14-minute boat ride through unique indoor greenhouses that shares with guests Disney's innovative growing methods and fish farming.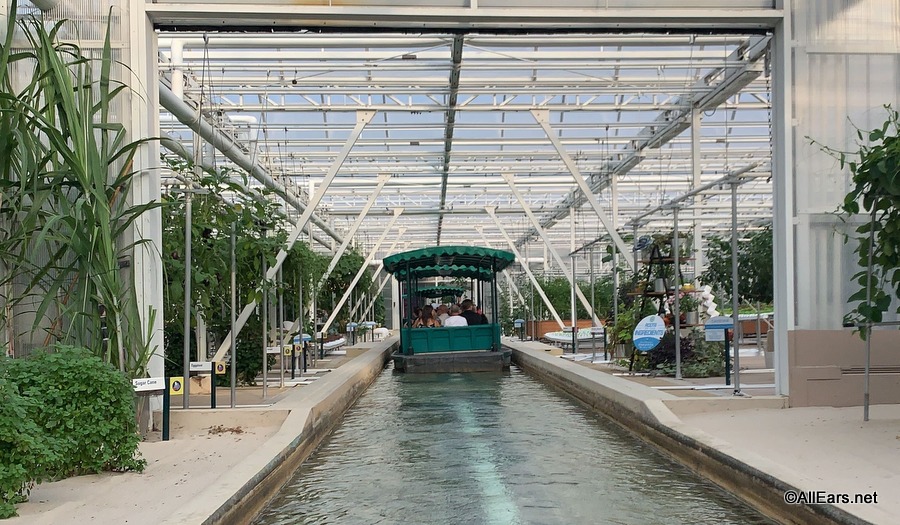 ATTRACTION
The attraction's introduction floats riders throug tropical, desert, and prairie biomes that existed before humans arrived. The ride then continues to describe how human beings have manipulated the land to produce food. The automated narration explains all about four greenhouses and the aquaculture facility. The boat glides on into The Land's experimental growing areas:
The Tropics Greenhouse – crops such as rice, sugar cane, peanuts, cacao, and bananas are usually grown under the 60-foot dome. These crops can be found in Southeast Asia, Africa, Latin America and the southern United States.
The Aquacell – crops include fish, catfish, tilapia, sunshine bass and American eel.
The Temperate Greenhouse – featuring the concepts and technologies of sustainable agriculture, including intercropping, integrated pest management and specialized irrigation systems that reduce waste and increase crop production.
The Production Greenhouse – where tons of tomatoes, peppers, lettuce and other vegetables are grown for use in The Land's Garden Grill Restaurant and other Epcot restaurants. Land scientists utilize growing systems that are kinder to the environment and improve productivity.
The Creative House, showing imaginative ways to grow crops — without soil, hanging in the air, even on a space station. USDA scientists currently are working at The Land to develop fruit with a longer shelf-life.
Ride Logistics
Lightning Lane access for Living with the Land is available with the purchase of Genie+. However, standby wait times for this attraction are typically shorter than most.
INTERESTING FACTS
For a more in-depth exploration of the attraction and pavilion, check out the Behind the Seeds Tour.