DINOSAUR DinoLand, USA Animal Kingdom
Dinosaur Highlights:
40 inch height requirement
Travel back in time in this thrilling adventure that brings you face to face with the Dinosaurs!
Introduction | Attraction | Ride Logistics | Kids/Characters | Dining | Shopping | Interesting Facts |
INTRODUCTION
Head to The Dino Institute which was created to uncover the mysteries of the past and is staffed by students and scientists. The queue area contain exhibits and displays and a voice-over introduction by Bill Nye the Science Guy.
Travel back 65 million years to the Cretaceous period in search of an Iguanodon dinosaur! But be warned — your time traveler will race through a meteor shower and come face to face with some rather large dinosaurs!
Dinosaur is located in the back of Dinoland USA, past Restaurantosaurus.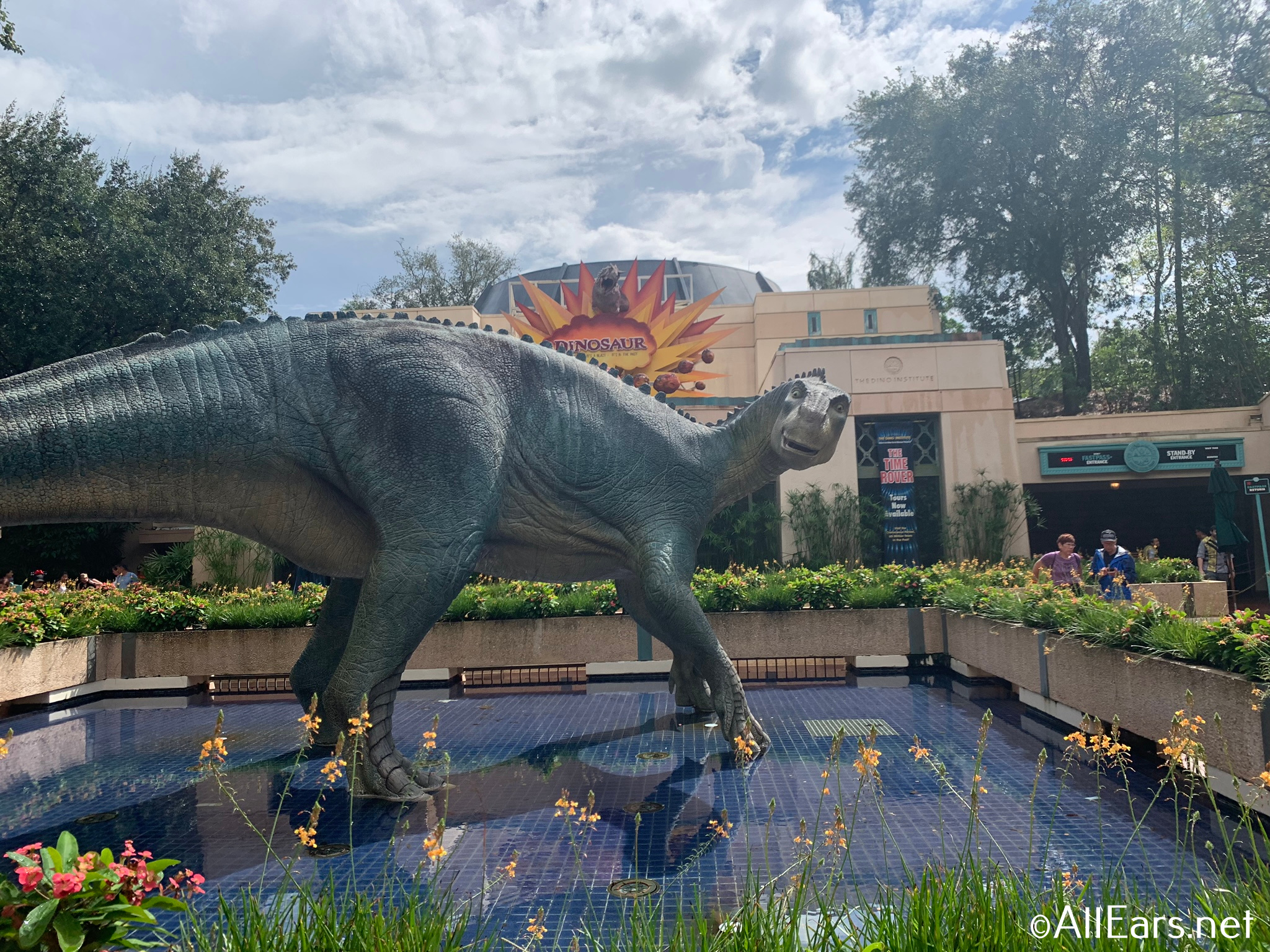 ATTRACTION
The queue winds through the entrance of the Dino Institute past fossils, lab notes and photos. You are invited into the rotunda with large murals, fossils and dioramas of the early days when dinosaurs inhabited the earth. Listen up for Bill Nye the Science Guy!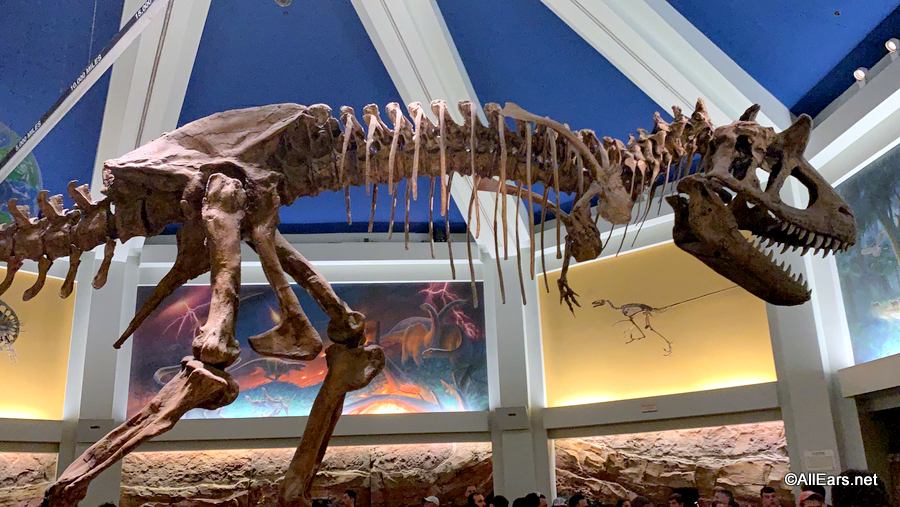 The waiting area goes through several different multimedia shows, lighting up different panels on the diorama, explaining how scientists believe a fiery asteroid slammed into the earth and devastated all known life forms.
Next you'll head into the Institute's Briefing Room. A live video conference is in progress hosted by Dr. Helen Marsh (Phylicia Rashad). Dr. Marsh introduces you to the Time Rover — your transportation vehicle to the past.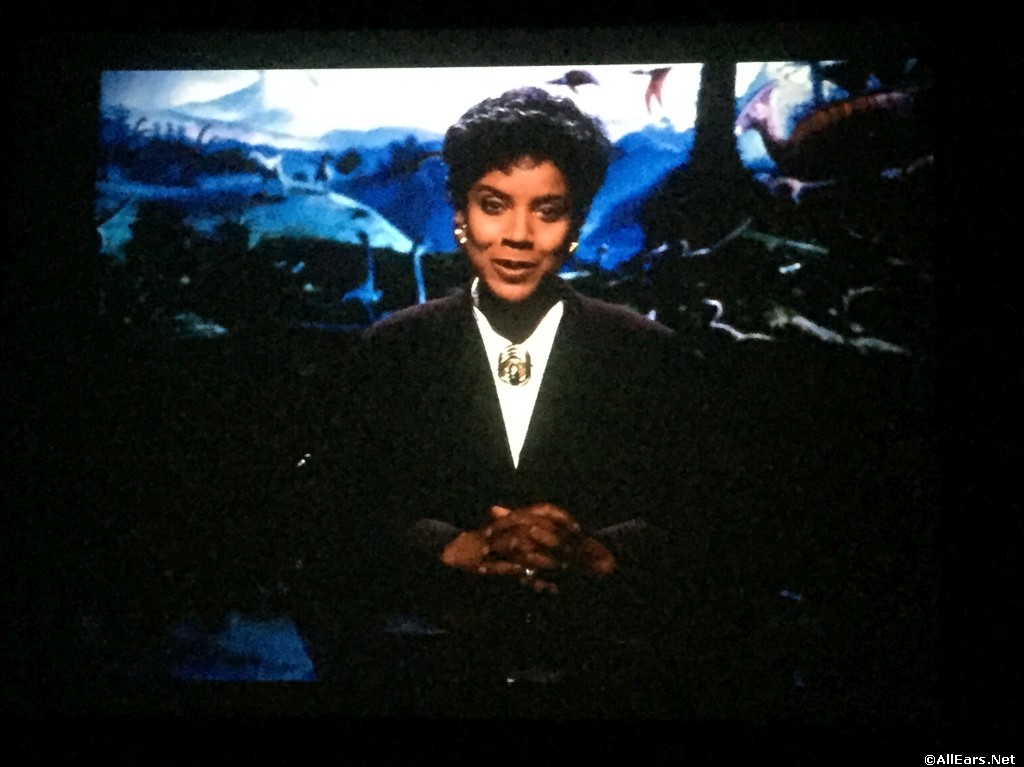 Suddenly, you are listening to Dr. Grant Seeker (Wallace Langham) tell you how he needs you to travel to the end of the (much more dangerous) Cretaceous period to find the Iguanodon. He wants to bring back a dinosaur to the present and provides some safety information. The doors open and you find yourself descending into the loading area (guests in wheelchairs will be directed to elevators by Cast Members).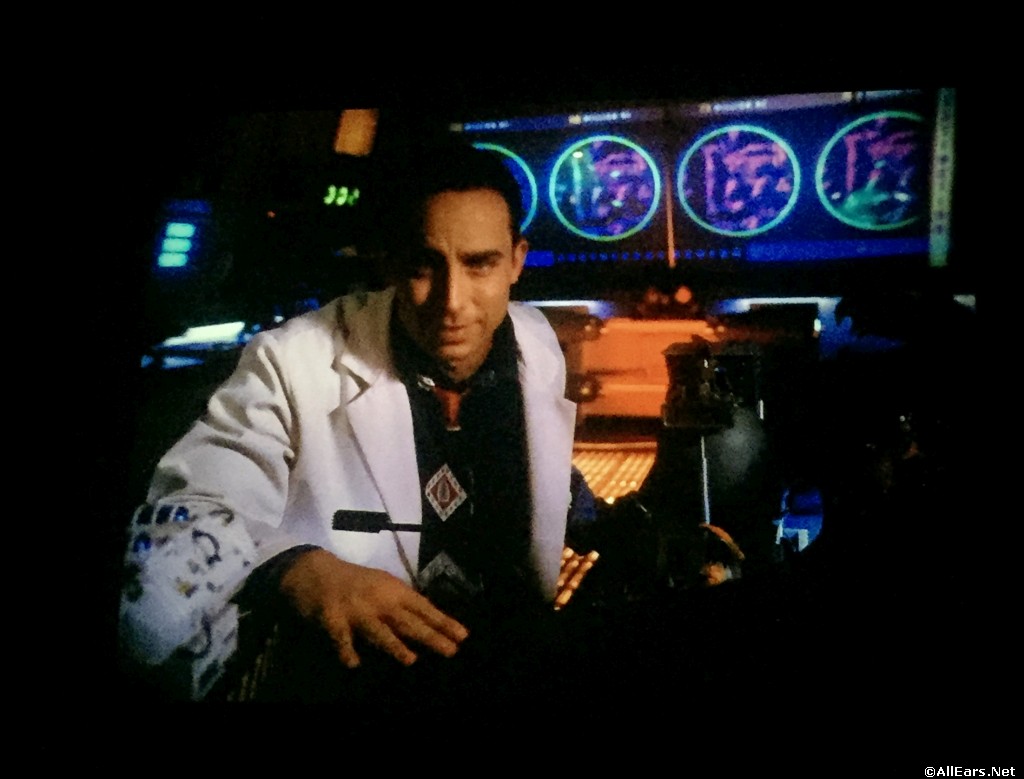 You board the 12 passenger, all terrain vehicle, fasten your seat belt and are OFF! This is a very herky-jerky ride through time and space. When the light emerges, you find yourself in the prehistoric forests and dinosaurs are everywhere.
The sky darkens once again and meteors come flying out at you. You speed through the alioramous as he enjoys a giant lizard. Your Time Rover is caught in the Meteor shower and has lost its headlights. You'll get close to other dinosaurs such as a Styracosaurus, Saltasaurus, Pterodactyl, Velociraptor, and a large Charging Carnotaurus.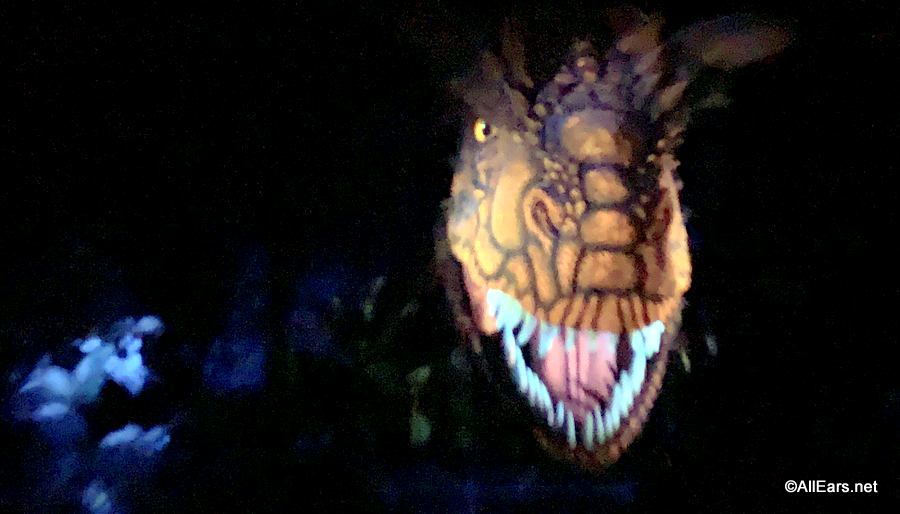 The radio signals that there are 60 seconds to impact! You dip and swerve still looking for the Iguanodon. (But not without another close call with the Carnotaurus). You get out JUST in the nick of time.
You survived! And not only are you alive and OK, but Dr. Seeker's Iguanodon came back with you!
RIDE LOGISTICS
Lightning Lane access for Dinosaur is available with the purchase of Genie+. It is very popular, with typical waits between 45 – 90 minutes.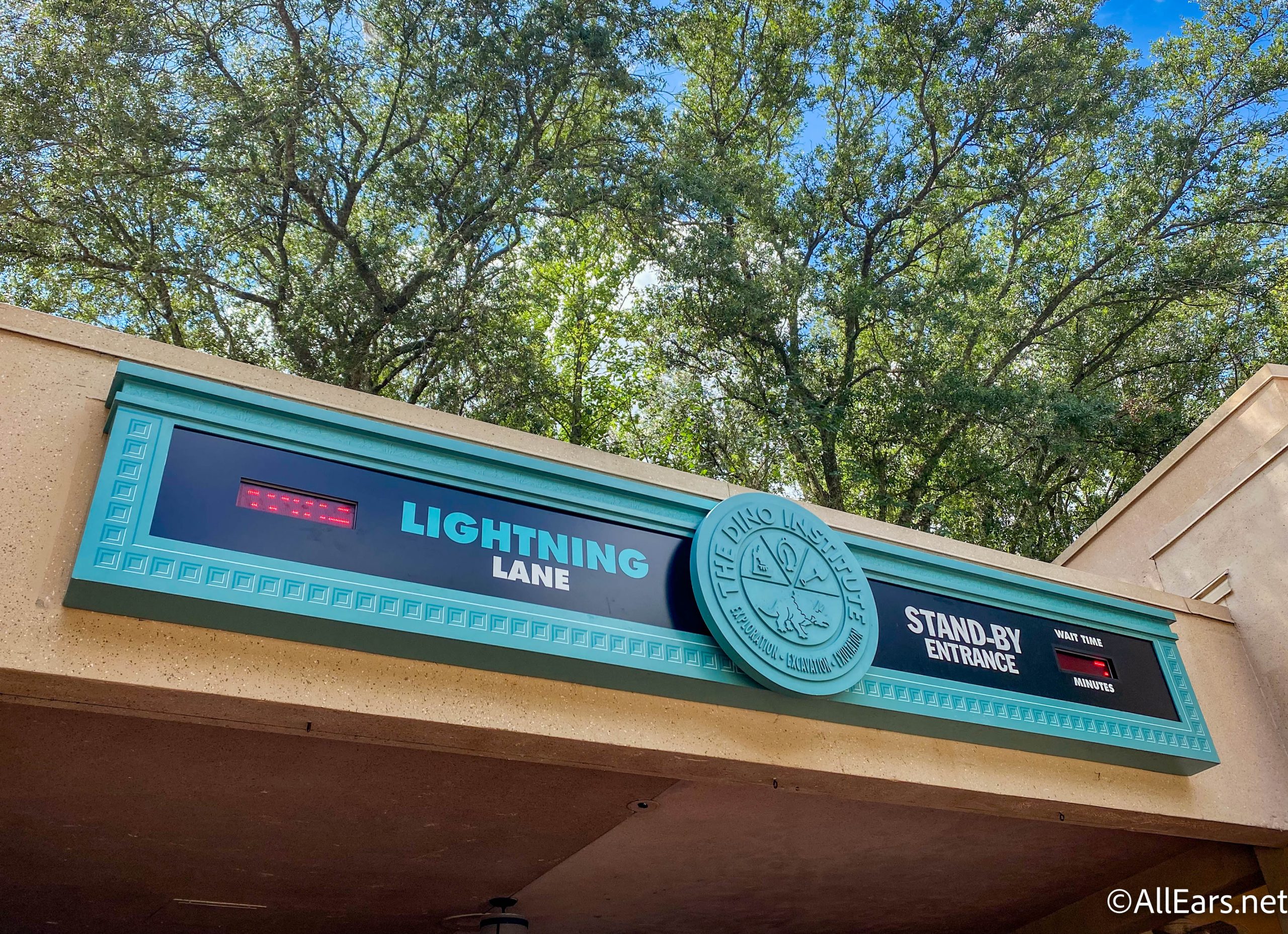 The Height Requirement is 40 inches (102cm).
Warning!! This is a rough, turbulent ride! Dinosaur is mostly dark with lots of light flashes, loud noises and large dinosaurs jumping out at you. It can be scary for youngsters and perhaps some adults.
Accessibility: Must transfer from Wheelchair/ECV. Video Captioning, Assistive Listening and Language Translation Devices are available. Due to the nature of the experience, service animals are not permitted on this attraction.
It is Standard Operating Procedure on Dinosaur to have the Cast Member do a seat belt check at a safety stop after the ride has left the boarding area but before it enters the main ride path.
Seat Restrictions: Seats might be restrictive. Taller riders my be uncomfortable unless they ask for the front row that has more leg room.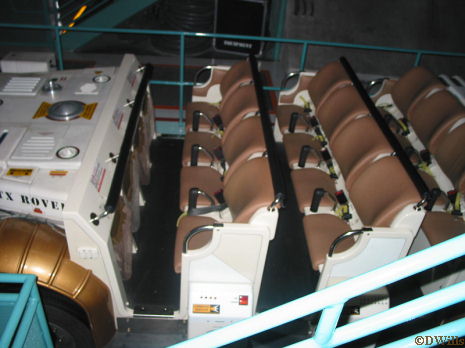 Rider Switch (aka Child Swap) is available at this attraction.
Ride Photo/Video: On ride photo is available and automatically linked to your MagicBand,
KIDS AND CHARACTERS
This ride is very dark with lots of loud noises, flashing lights and BIG dinosaurs that jump out at you — may be scary for children.
Nearby on the Cretaceous Trail, you may find Chip and Dale dressed as Dinosaurs.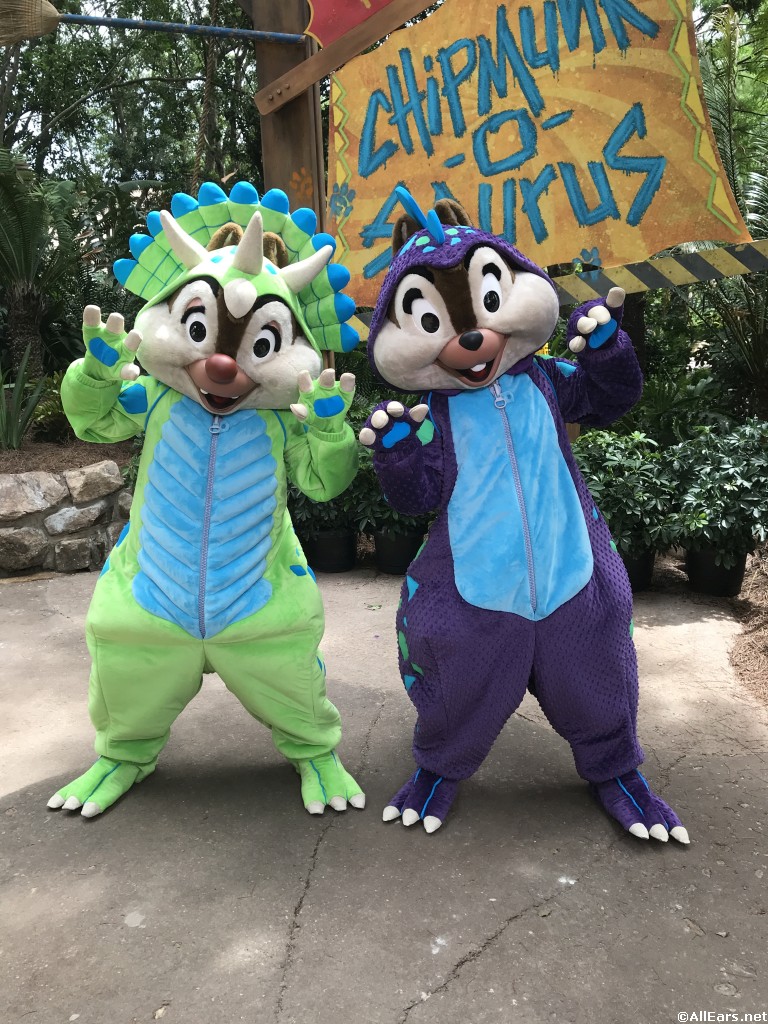 Additionally, Donald, Daisy, Launchpad McQuack, Scrooge McDuck, Goofy, and Pluto can often be found in Dinoland USA as part of Donald's Dino Bash.
Animal Kingdom Characters At A Glance
Character Meet and Greet FAQ!
DINING
Nearby Dinosaur is Restaurantosaurus. They serve burgers, chicken nuggets, and salads. But the story carries over from the attraction — the grad students who work at the Dino Institute (where Dinosaur is), live above Restaurantosaurus! You can tell this by chairs and laundry on the roof, as well as funny signs throughout.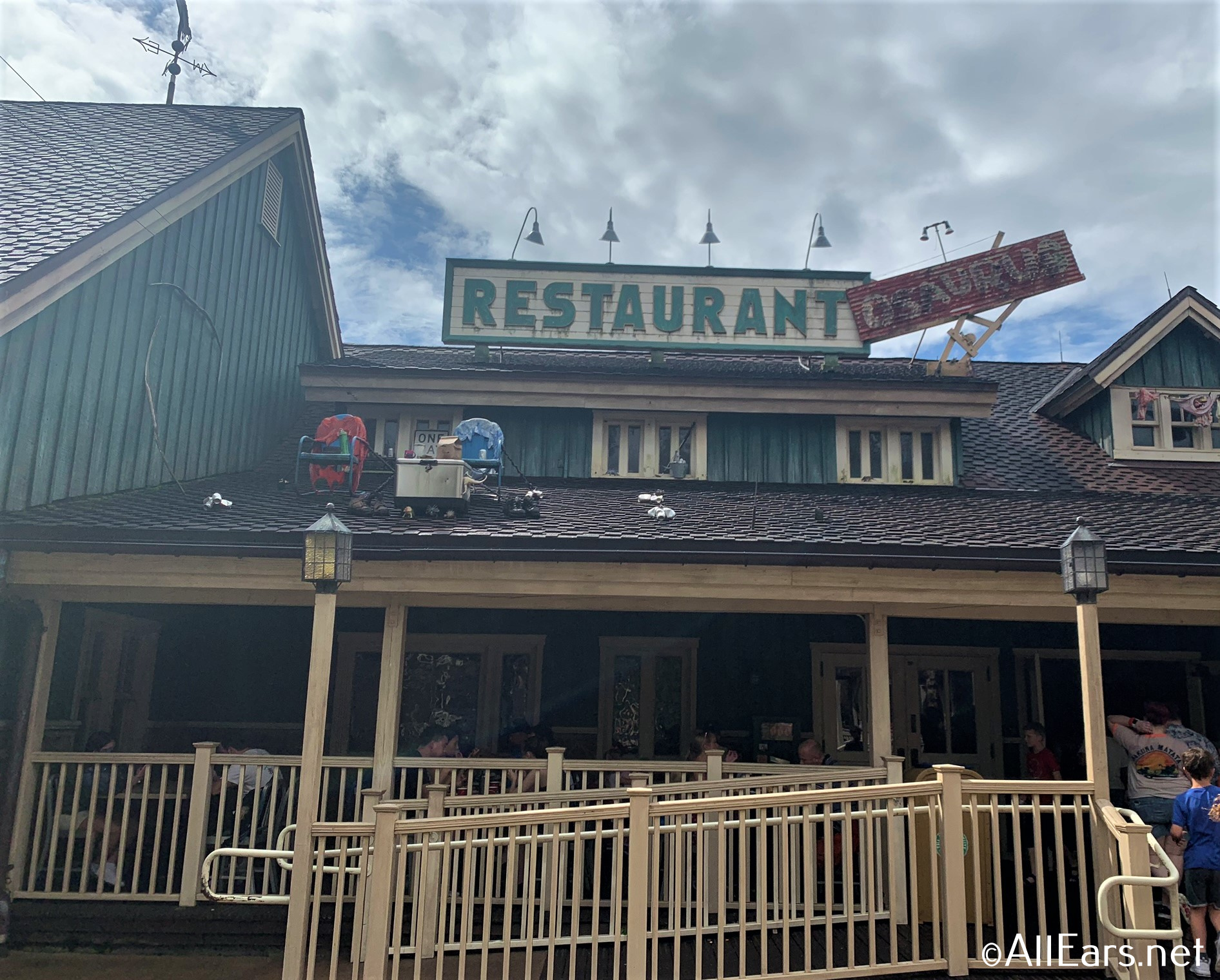 Animal Kingdom Restaurants At A Glance
The attraction exits into the Dino Institute Gift Shop. Here you'll find dinosaur toys, plushes, shirts, and other merchandise.
These are the largest audio-animatronic figures created at the time!
Some of the dinosaurs you will see in the ride include: Saltasaurus, Parasaurolophus, Alioramus, and Styracosaurus.
When Animal Kingdom first opened, this ride was called Countdown to Extinction. It was changed to Dinosaur in May 2000 as a tie-in for the then current Disney movie.
Dinosaur underwent a refurbishment during July – November 2016. Many of the original special effects came back online and the whole area was freshened up. The basics of the queue and pre-show remained the same.
The attraction features a Carnotaurus instead of the more iconic Tyrannosaurus Rex because Imaginneers didn't want it to be confused with Jurassic Park (a Universal owned film and attraction.)
To learn more interesting info about Dinosaur, check out this AllEars TV Episode: