Rock 'n' Roller Coaster Starring Aerosmith Sunset Boulevard Disney's Hollywood Studios
INTRODUCTION
If you like your coasters dark with lots of unexpected twists and turns set to a powerful music track, you'll love the Rock 'n' Roller Coaster Starring Aerosmith. Located on the left near the end of Sunset Boulevard, just before you reach the Hollywood Tower Hotel, this exhilarating coaster boasts several "firsts" for Walt Disney World, including a high-speed launch that goes from 0 to 60 mph in 2.8 seconds.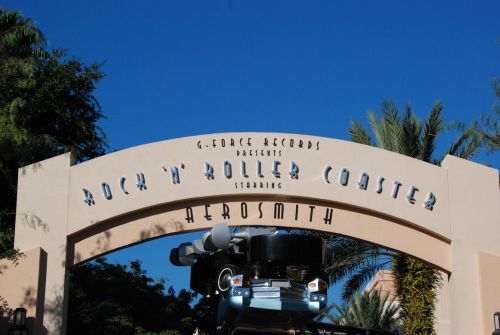 ATTRACTION
Pre-Show — The attraction begins with guests getting a glimpse into the sound booth at the fictional G-Force Records. There you see the classic rock band Aerosmith finishing up a studio recording session. It seems as though the band is actually interacting with you – and before you know it, you've been invited by lead singer Steven Tyler himself to a concert!
Rock 'n' Roller Coaster – From the pre-show area, you're ushered into what appears to be a darkened back alleyway, where you await a "Super Stretch" limo. The 24-passenger limo screeches to a halt in front of you and you board, securing yourself with a padded u-bar. After a few moments of excruciating build-up, you are finally launched into the wild ride, swiftly accelerating into the imagined Hollywood night to the pulsating Aerosmith music. The enclosed coaster ride is quite dark, so that you can't make out what twists or turns are ahead of you, but it does feature individually lit Southern California landmarks, such as signs for Hollywood and the famous Roxy Theatre. After just a few minutes, you find yourself at the "concert", your destination, where you disembark into the gift shop.
Mini-Review:This is a coaster unlike any other at Walt Disney World right now. Although it's indoors and in the dark, like Space Mountain, the coaster is a much smoother ride and the pulsating music just adds to the excitement. If you're a thrill-ride lover, I think you'll love Rock 'n' Roller Coaster!
TOURING TIPS
Rock 'n' Roller Coaster Starring Aerosmith is a Tier 2, FastPass+ attraction. Because this is such a great attraction, though, queues can still get quite long. Go over for a drop at the nearby Tower of Terror while waiting for your FastPass+ window to open.
Ride Length: 7 minutes.
Height requirement for this attraction is 48 inches (122 cm).
Accessibility: Guests must transfer to a standard wheelchair for the queue and then transfer to the ride vehicle. Service animals are not permitted on this attraction.
Warnings: This is a very fast, very loud, very dark ride! Pregnant women and people with other medical considerations are advised against riding this coaster with its twists, turns and inversions.
Although a little low to get in and out of, the limo seats are quite roomy, enough to accommodate larger guests.
If you just want to see the pre-show, or if you change your mind about riding this attraction at the last minute, you can use the so-called "chicken exit." After viewing the pre-show, guests are guided into an alleyway — the chicken exit is located to the far left of the alleyway, just before the queue winds around for guests to board the limos. Be sure to tell the Cast Member that you do not wish to ride, and you'll be directed through the exit, which takes you into the gift shop, where you may await the rest of your party.
Rider Switch (aka Child Swap) is possible at the Rock 'n' Roller Coaster. Contact the first Cast Member you see as you approach the coaster to find out the current, specific procedure, as this often changes.
This ride is part of the Extra Magic Hour program at the park, which allows resort guests entrance to the park one hour earlier, or to stay an hour later, than normal operating hours on designated days.
Ride Photo: Yes, the camera is to your right at the beginning of the ride as you catapult into the tunnel.
Restrooms are located in the plaza to the left of the entrance of the Rock 'n' Roller Coaster.
KIDS AND CHARACTERS
Child Swap: Yes
This is a very dark ride and may be too intense for many young children (not to mention some adults!).
There are no Disney characters associated with this attraction.
Check your daily Times Guide for times and locations of other Character Meet and Greet opportunities throughout Disney's Hollywood Studios.
In the Rock 'n' Roller Coaster courtyard, to the left of the big guitar, you'll find KRNR, a snack stand. On Sunset Boulevard, before entering the R 'n' RC forecourt, you'll find several fast food spots at the Sunshine Ranch Market, including Rosie's All American Cafe (sandwiches, burgers, salads), Catalina Eddie's (pizza, salads, drinks), and Hollywood Scoops (ice cream).
Disney's Hollywood Studios Restaurants At A Glance
Menus From Around the World
Vegetarian and Other Special Diets
SHOPPING
There is a gift shop, Rock Around the Shop, located at the exit of the Rock 'n' Roller Coaster that sells Rock 'n' Roller Coaster and Aerosmith memorabilia, such as pins, t-shirts, and postcards. The gift shop can be accessed without riding the coaster — its entrance is on the far left side of the R 'n' RC building.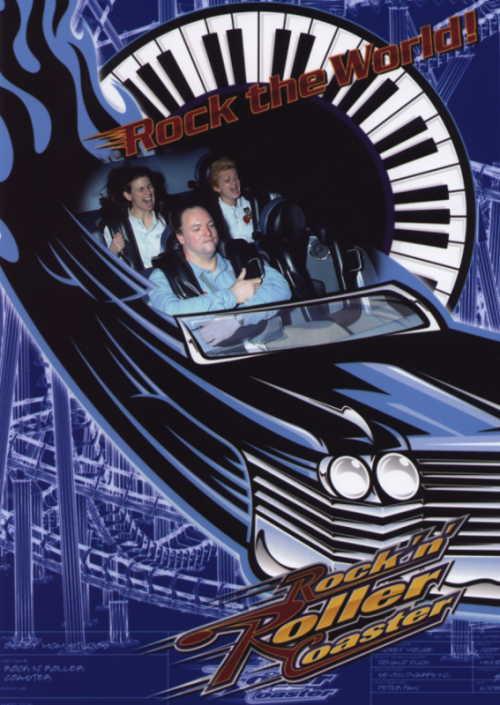 There is also a photograph taken during the coaster ride, which is available for purchase at the ride's exit, or as part of your PhotoPass account.
INTERESTING FACTS
The Rock 'n' Roller Coaster opened at Disney's Hollywood Studios on July 29, 1999.
This thrill ride features a high-speed launch of 0-60 mph in 2.8 seconds, three inversions, two rollover loops and one corkscrew — all firsts for a Walt Disney World attraction.
The coaster also features a specially recorded Aerosmith soundtrack that booms out from a 32,000 watt onboard audio system with more than 125 speakers (5 per passenger) and 24 sub-woofers.
Guests experience a force of nearly 5 Gs as they transition from launch to loop at the ride's first inversion. For comparison, astronauts aboard the Space Shuttle experience 3 Gs at liftoff.
At 3,400 feet, the coaster's track is more than a half-mile long.
The Stratocaster guitar at the entrance of the attraction is 40 feet tall and has a 32-foot-long neck.
Each limo plays a different Aerosmith track. Among the popular Aerosmith songs heard: Dude (Looks Like a Lady); Walk This Way; Sweet Emotion; and Back in the Saddle.
Formed in the early 1970s in Boston, Aerosmith has sold 80 million records in its career.
Look for actress Ileana Douglas as the band's manager during the pre-show segment of the attraction.
If you have comments or tips to share with others about touring Disney's Hollywood Studios' Rock 'n' Roller Coaster, please email us. Thank you.