Grizzly River Run Grizzly Peak Golden State Disney's California Adventure
Introduction | Attraction | Touring Tips | Kids/Characters | Dining | Shopping | Interesting Facts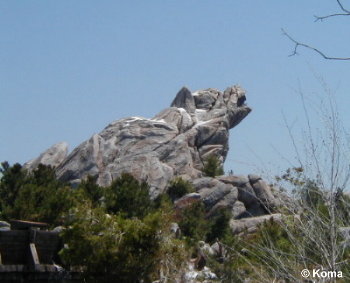 INTRODUCTION
The "Wetter the Better" is the motto of this thrilling raft adventure that sends you roaring down an abandoned mine and rushing on a river through the scenic foothills of the Sierra Nevada. It's one of Disney's tallest, longest, fastest rapids rides yet!
ATTRACTION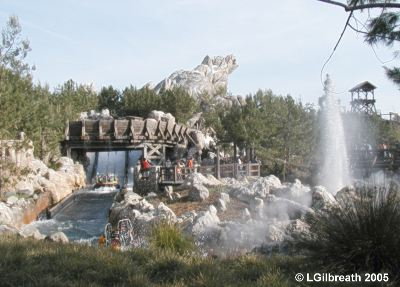 Grizzly River Run is a wild, wet river-rafting adventure.
Charge down a churning California river through:
* Whitewater rapids
* Mountain caverns
* Thundering waterfalls
* Heart-pounding drops into river gorges!
TOURING TIPS
Height Requirement: 42″ (106 cm) or taller.
Lighning Lane access for Grizzly River Run is available with the purchase of Genie+. The standby lines can still be pretty long. Try riding first thing in the morning before queues develop, or during the afternoon parade.
This is a pretty wild water ride, so don't ride it if you have heart, back or neck problems, motion sickness or other conditions that could be aggravated by a rough coaster. Expectant mothers should not ride, either.
Guests in wheelchairs must transfer out to experience this attraction.
KIDS AND CHARACTERS
Koda and Kenai, from the recent Disney film Brother Bear, can be found at the Redwood Creek Challenge Trail, just across from Grizzly River Rapids.
DINING
The closest restaurant is Taste Pilot's Grill, located in Condor Flats, or the restaurants in the Pacific Wharf area.
Disney's California Adventure Restaurants At A Glance
Menus from Around the Disneyland Resort
SHOPPING
Rain ponchos are available in Rushin' River Outfitters, the shop next to Grizzly River Run. Rushin' River Outfitters also has wilderness-costumed character plush and other souvenirs.
Disney's California Adventure Shopping at a Glance
INTERESTING FACTS
Height of Grizzly Peak is 110 feet.
Height of Grizzly River Run lift is 45 feet.
The length of the ramp is 300 feet and ride's longest drop is 22 feet.
If you have comments or tips to share with others about touring Disney's California Adventure, please email us. Thank you.