Buzz Lightyear's Space Ranger Spin Tomorrowland Magic Kingdom
Buzz Lightyear's Space Ranger Spin
Help Buzz Lightyear defeat Emperor Zurg in this interactive game!
Ride through various scenes and use laser guns to score points.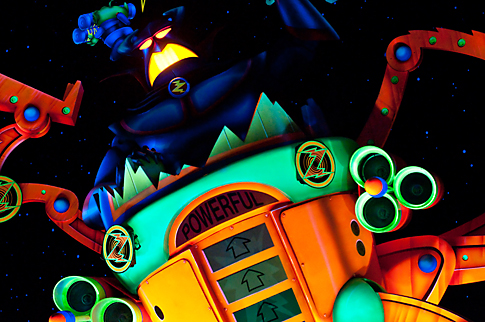 ATTRACTION
To Infinity and Beyond!
Become one of Buzz Lightyear's Junior Space Rangers and enter into battle with the evil Emperor Zurg! This is a great interactive ride that is fun for the whole family. Located in Tomorrowland, the entrance to Buzz Lightyear's Space Ranger Spin is opposite the Tomorrowland Transit Authority Peoplemover.
QUEUE: The queue is brightly lit and sets up the premise of the attraction. At the end, you'll see an animated Buzz Lightyear who explains your mission. You must stop the evil Emperor Zurg from stealing the Universe's cystollic fusion cell supply (batteries)!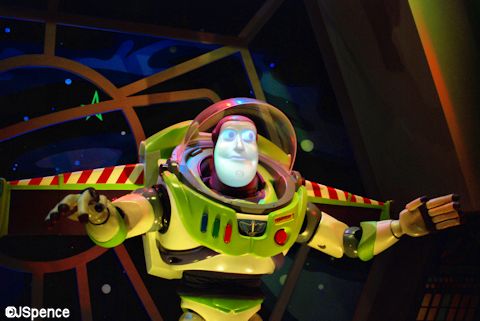 Attraction: You'll climb aboard your own XP-38 Space Cruiser and spin through various interactive scenes (scaled to the size of toys) .Each vehicle has a central joystick for spinning your vehicle and two laser cannons, each with its own score board.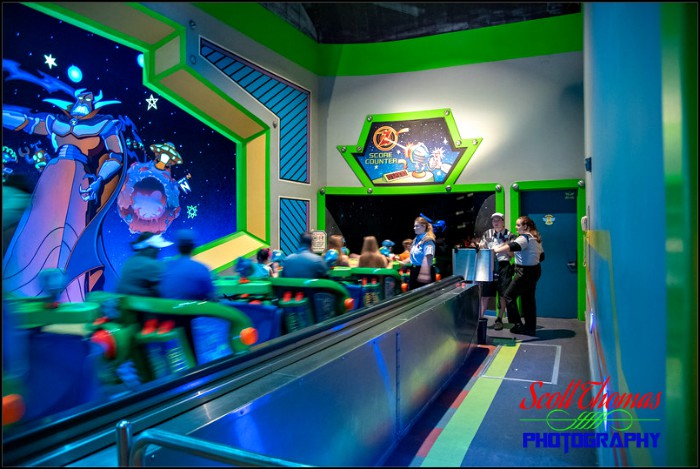 As a Junior Space Ranger you find yourself battling huge robots for 4-1/2 minutes, while exploring planets and even hijacking a flying saucer.
To save the universe and become a Space Ranger you must collect points. Throughout the ride, locate the orange colored Emperor Zurg insignias (lightning bolt-type Z's), target them with your laser cannons and fire! You'll know if you successfully hit the target by your score on the dashboard.
At the end of the mission, you can compare your score against the Space Ranger chart to find your rank.
Read about the similar Buzz Lightyear's Astro Blasters at Disneyland in California HERE.
RIDE LOGISTICS
Lighning Lane access for Buzz Lightyear's Space Ranger Spin is available with the purchse of Genie+ and even though the line moves quickly, the standby wait time typically ranges from 30 to 60 minutes.
Accessibility: Guests using an ECV must transfer to a wheelchair to ride this attraction. Audio Description and Handheld Captioning are available.
There are no height restrictions for Buzz Lightyear's Space Ranger Spin.
The space cruisers move at a slow forward speed, and young children will be as fascinated by their ability to make the vehicle spin around as they will be by shooting at targets.
While three people can typically fit in a Star Cruiser, there are only two laser cannons per car.
This is a Disney Photopass attraction. Your photo will be taken as you enter the final battle with Zurg, and you can view it after the attraction. Make sure to tap your MagicBand to the touch point to get your photo added to your My Disney Experience Account.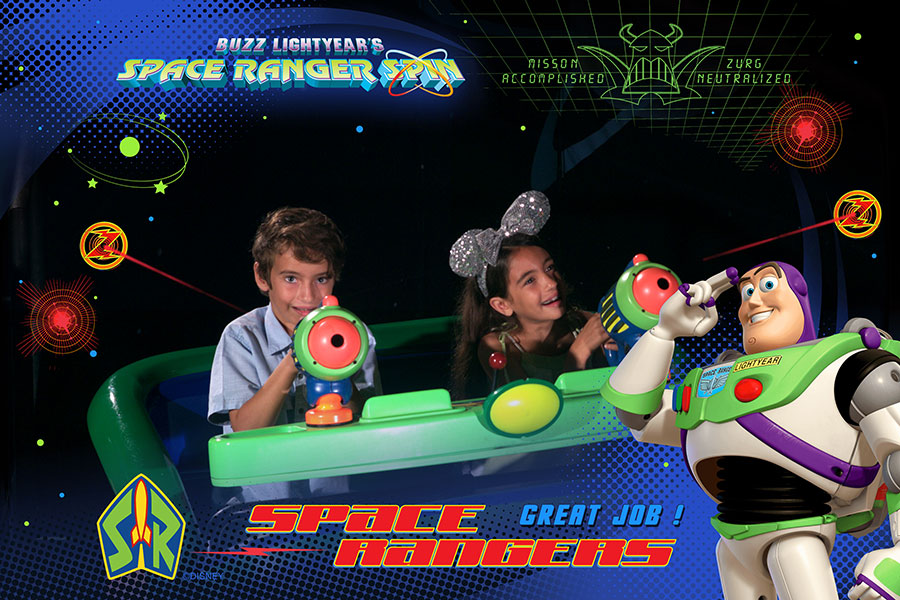 Tips for Scoring Big on Buzz:
In general, aim for targets far away for the most points. Also, things that are moving are worth more points than things that are stationary, and things that are down low, at hard-to-reach angles are worth more, too. NOTE: Target values change periodically, but we have found:
As you approach the orange robot on your left (the Rock'em Sock'em type Robot), try to hit the Z on the inside of the robot's left hand — that's 100,000 points.
There is also a claw hanging from the ceiling — the Z on it is supposedly worth 100,000 points, too.
The top of the volcano is worth 25,000 points and it will erupt when you hit it.
In the battery room, try to hit the batteries on the bottom — they'll fall over when you do, and some are worth 50,000 points. Also aim for the tiny batteries — the smaller they are, the more points they're worth.
If you hit the moving wormlike creature that sways left to right that's on your right in the next room, it's worth at least 50,000 points.
On the right side of the next scene, you'll see Zurg sitting in a device with a meter on the bottom of it, rating your shot from "pitiful" on up. If you hit the target at the very bottom of the meter, that should also be worth 100,000 points.
It turns out if you hold the trigger of your laser down, you'll occasionally get 1,000 points even if you don't hit anything. When you're going through the red spiral light room, hold your thumb down for a few extra points.
In the room after that, the one with the animated rockets, follow the spaceships until they pause and aim for the Z on them — if you look closely, you'll see a metal plate on the wall (there's one on each side) under the animation. Hitting those scores a significant number of points, too.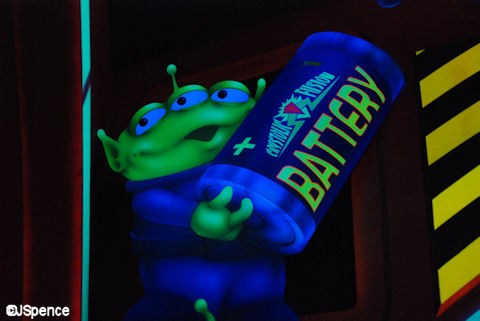 KIDS AND CHARACTERS
Buzz meets nearby the attraction throughout the day.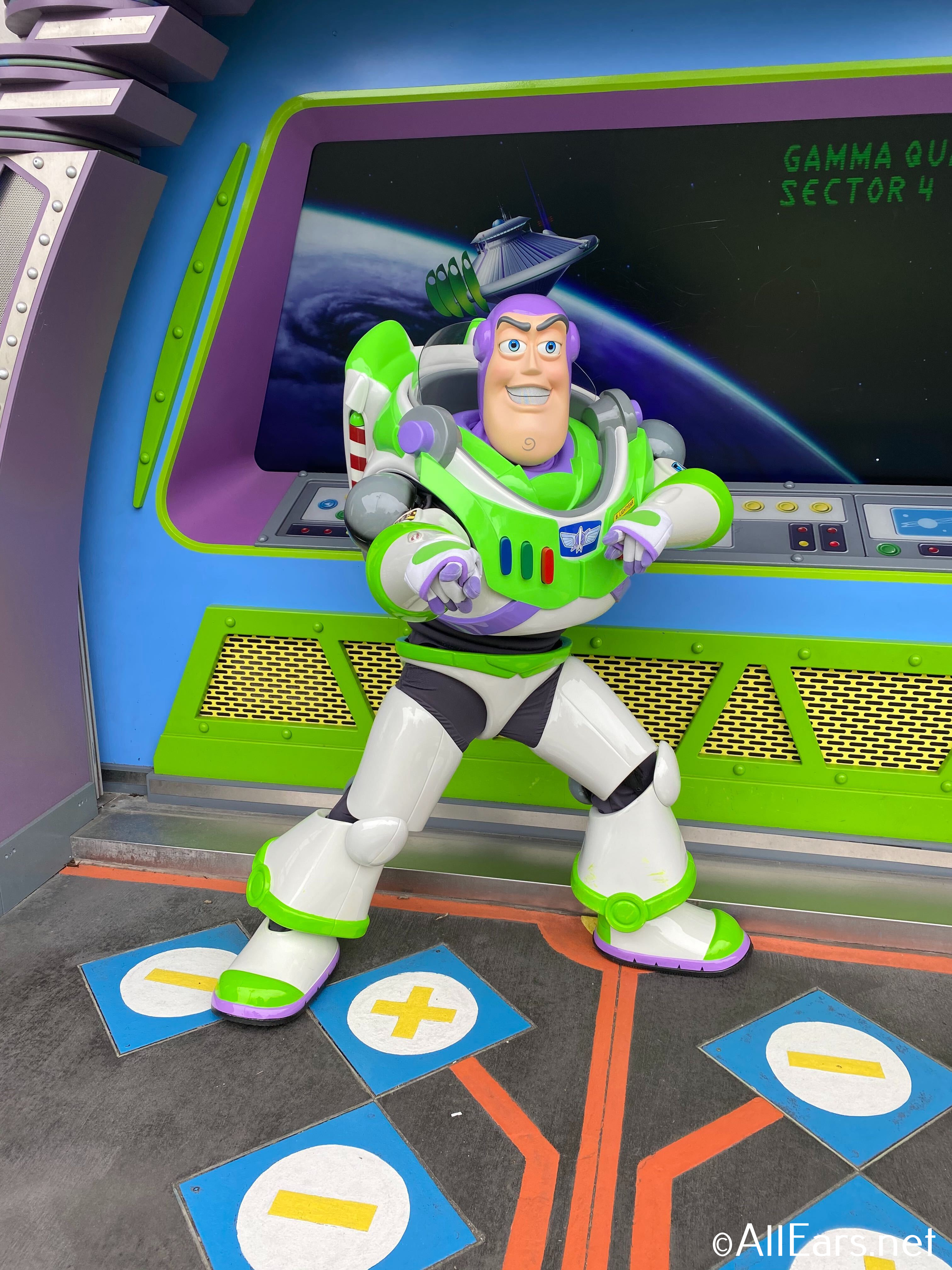 Also, don't miss the photo op with Zurg behind bars at the exit of the attraction — little ones can crawl behind the bars with him and pose!
Check your Times Guide for times and locations of other Meet and Greet opportunities.
Magic Kingdom Characters At A Glance
Character Meet and Greet FAQ!
SHOPPING
The attraction exits into a small merchandise shop with Toy Story gear such as toys and shirts.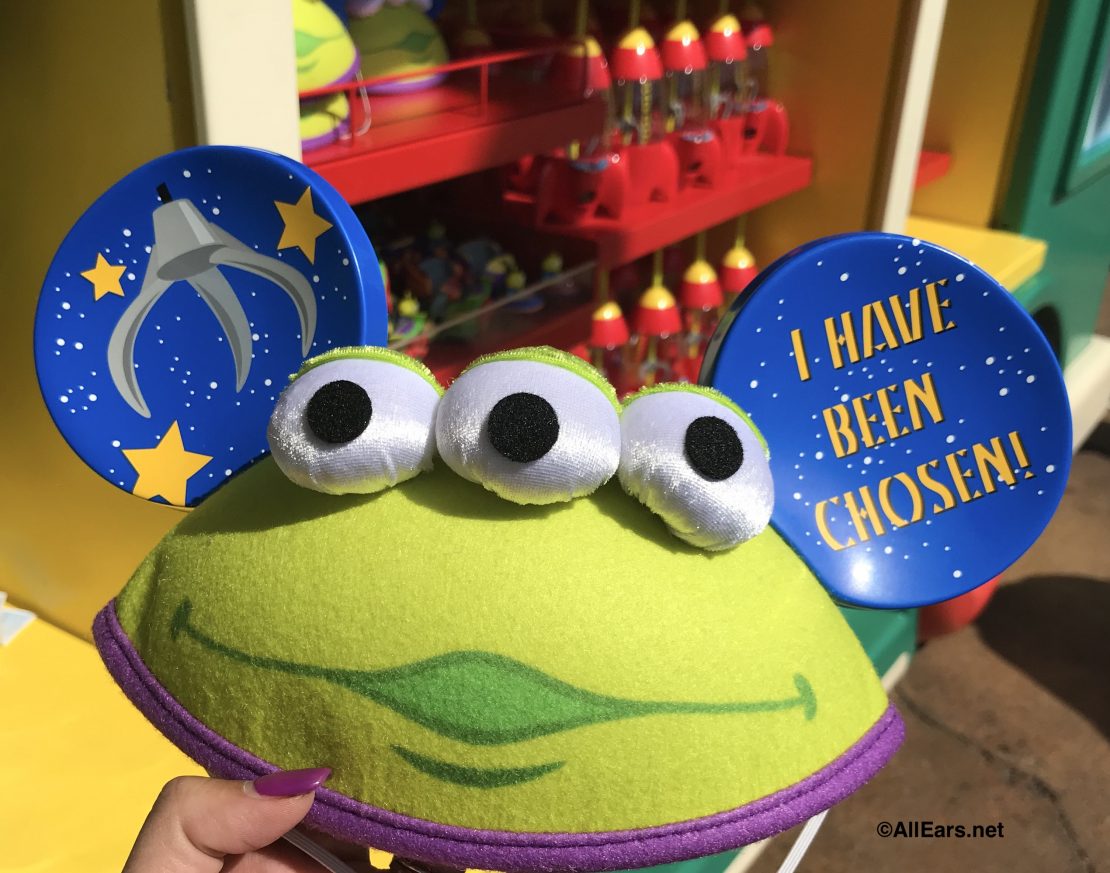 Magic Kingdom Shopping at a Glance
INTERESTING FACTS
In case you were wondering about the lasers, Disney says, "They are a Class II laser product certified by the Food and Drug Administration for this type of application, which includes exposure to Space Rangers of all ages. These lasers are very similar to those that you come into contact with on a daily basis, such as bar code scanners at your grocery store."
Buzz Lightyear's Space Ranger Spin, presented by Mattel, opened on October 7, 1998. Previously in that location were the following attractions: If You Had Wings (6/5/1972), Dreamflight (6/26/1989), and Take Flight! (1/5/1996).
Ride Photo Opportunity was added September 2003.
Buzz Lightyear Space Ranger Spin now has an animated "Magic Shot" as part of your PhotoPass and Memory Maker entitlements. You can use automatic photo association by wearing an active MagicBand during your ride, or you can associate with a park admission card or Memory Maker card via the touch points at the preview wall. Either way, Star Command will link both an attraction photo and an Animated Magic Shot to your account.