Slinky Dog Dash Toy Story Land Disney's Hollywood Studios
Slinky Dog Dash Highlights:
38 inch height requirement
Take a spin through Andy's Backyard on this family coaster — that has a little more bark then it looks like!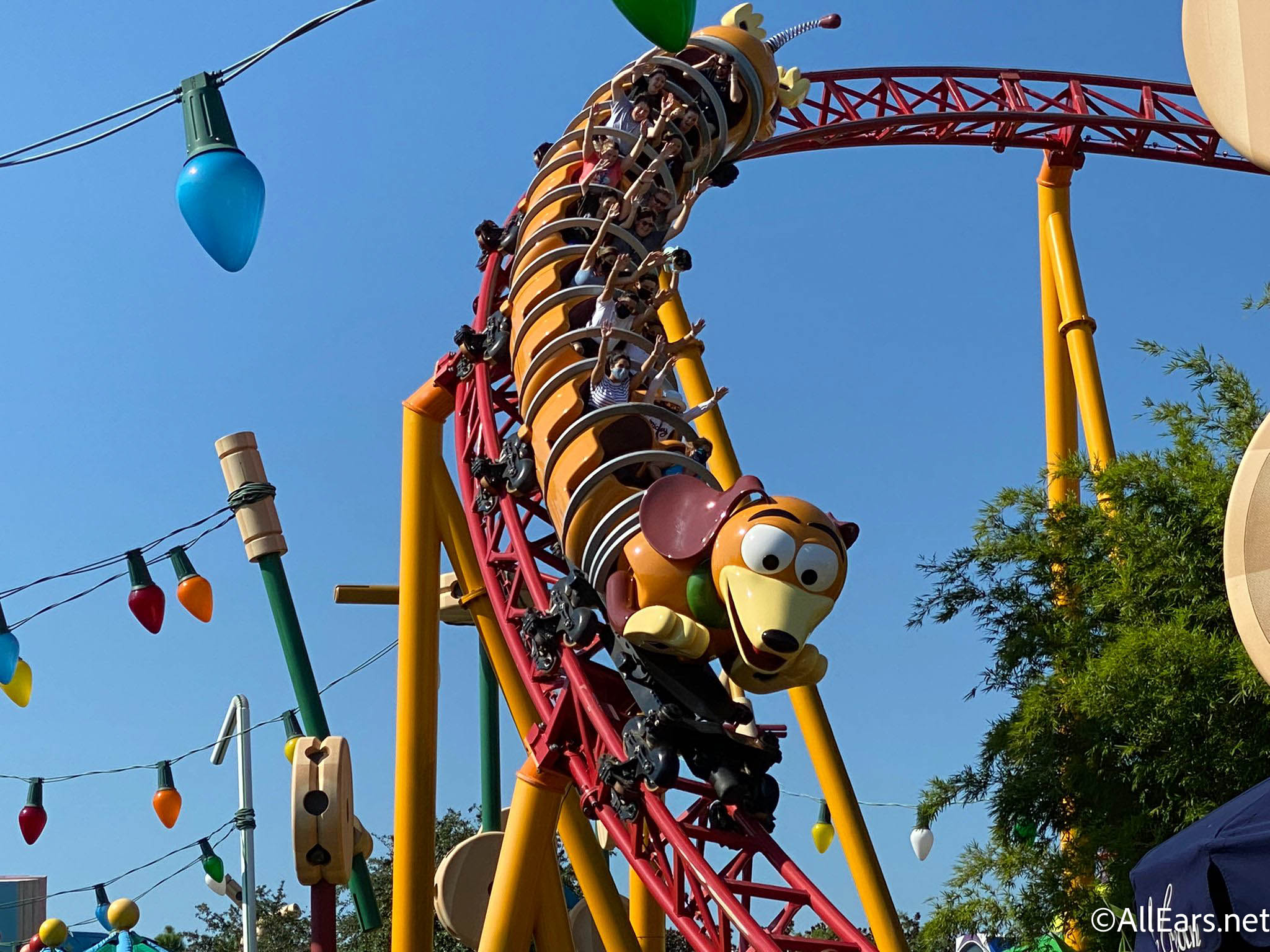 INTRODUCTION
Slinky Dog Dash is a family coaster attraction that is thrilling but great for all ages. It features a track that Andy has built all over his back yard using his Dash & Dodge Mega Coaster Play Kit and some of his other toys.
Slinky Dog Dash is located in Toy Story Land, across from Toy Story Mania.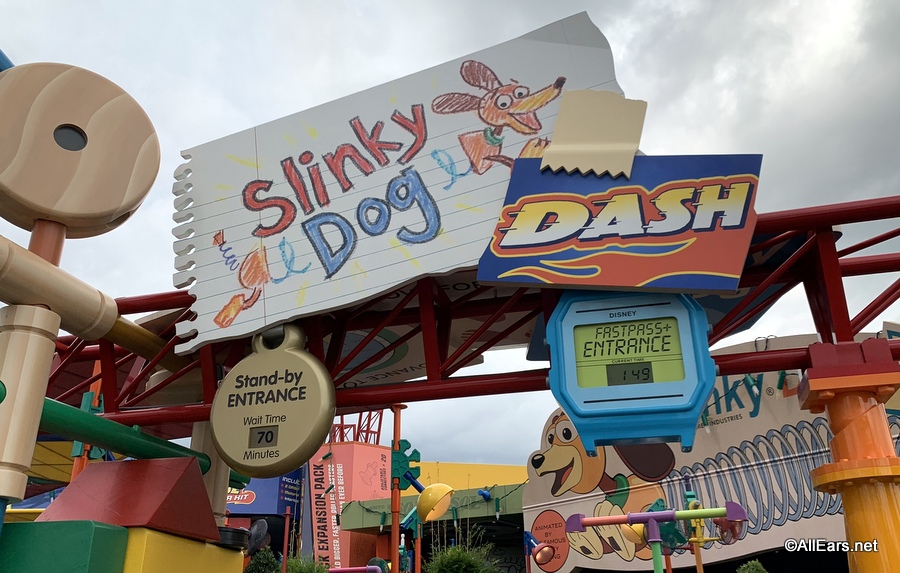 ATTRACTION
The attraction's ride vehicles are spring-tailed spinoffs of Slinky, the iconic American toy from the 1940s. Track and supports for the coaster are done up in bright colors of red, orange, yellow and blue.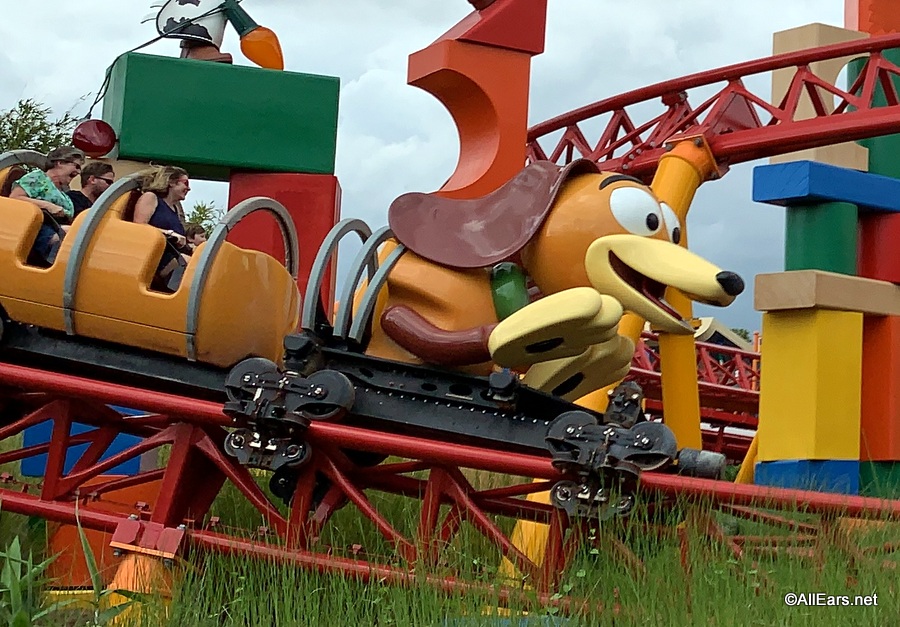 As you approach the ride launch you can see Andy's plans sketched out in Crayola crayon on notebook paper. Glue bottles, empty toy boxes and stray coaster parts and pieces are strewn about.
Andy tricked out his coaster creation with a power booster. When Slinky Dog Dash hits its midway point, the coaster stops, reverses a few yards, then shoots through multiple rings pulsing with sounds, spinners and flashing lights to launch riders into the second act of the ride experience, which includes a stretch of camelback humps.
At the end of the attraction, Wheezy, the squeaky toy penguin from the Toy Story films, breaks into a rendition of "You've Got a Friend in Me." Toys and toy packaging complete the scene, including a Rubik's Cube, a game canister for Pick-Up Snakes and toy wooden blocks spelling out F-U-N – all against the backdrop of a towering book, Mr. Pricklepants' "Songs for Singing," compiled by the huggable hedgehog from "Toy Story 3."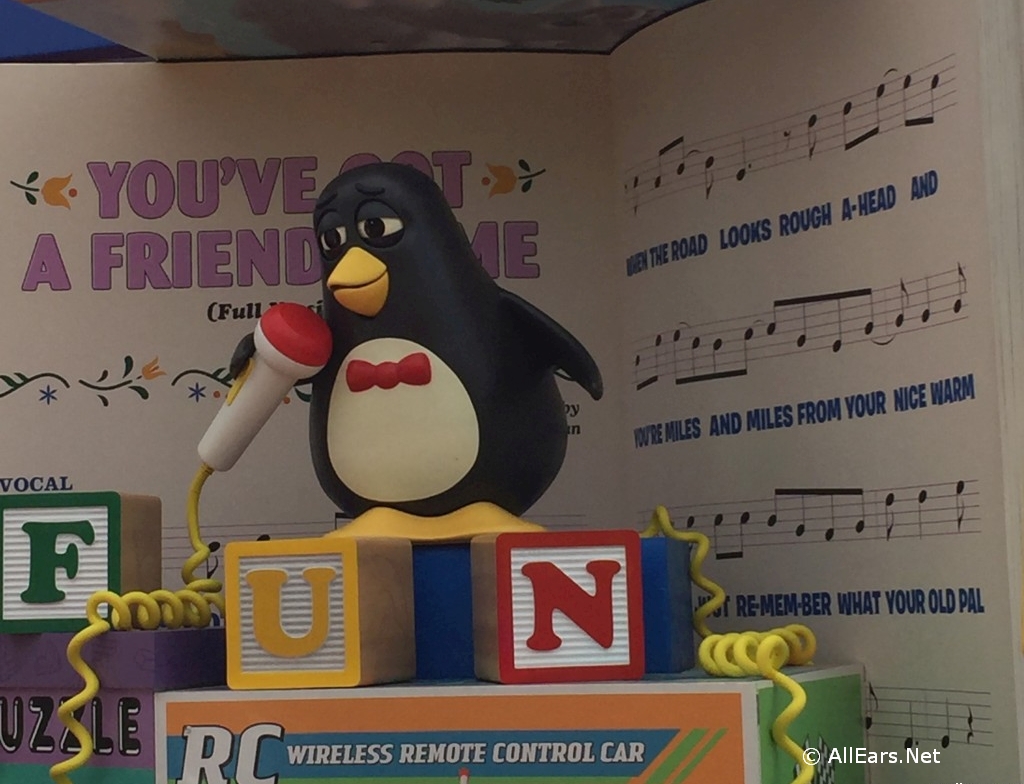 Ride along and learn more info about Slinky Dog Dash in this AllEarsTV Video!
TOURING TIPS
Lightning Lane access for Slinky Dog Dash is available with the purchase of Genie+. It is a very popular attraction, and Lighning Lane windows book up quickly. Average standby wait times are between 50-120 minutes.
Slinky Dog Dash has a height restriction of 38 inches or 97 cm.
The nearest restrooms are located directly across from the entrance of Alien Swirling Saucers.
The last car in every Slinky Dog train is accessible — it has a door that swings open to allow for easier access. Those in ECV/scooters must transfer to a standard wheelchair, then to the ride vehicle.
This is a fairly fast coaster with drops and lots of curves. Expectant mothers should not ride.
KIDS AND CHARACTERS
Buzz Lightyear typically meets outside Slinky Dog Dash. Next to Toy Story Mania entrance is a character greeting area that features Woody and Bo Peep throughout the day. Jessis often meets outside Alien Swirling Saucers. In addition, the Green Army Patrol and the Green Army Drum Corps appear in Toy Story Land periodically.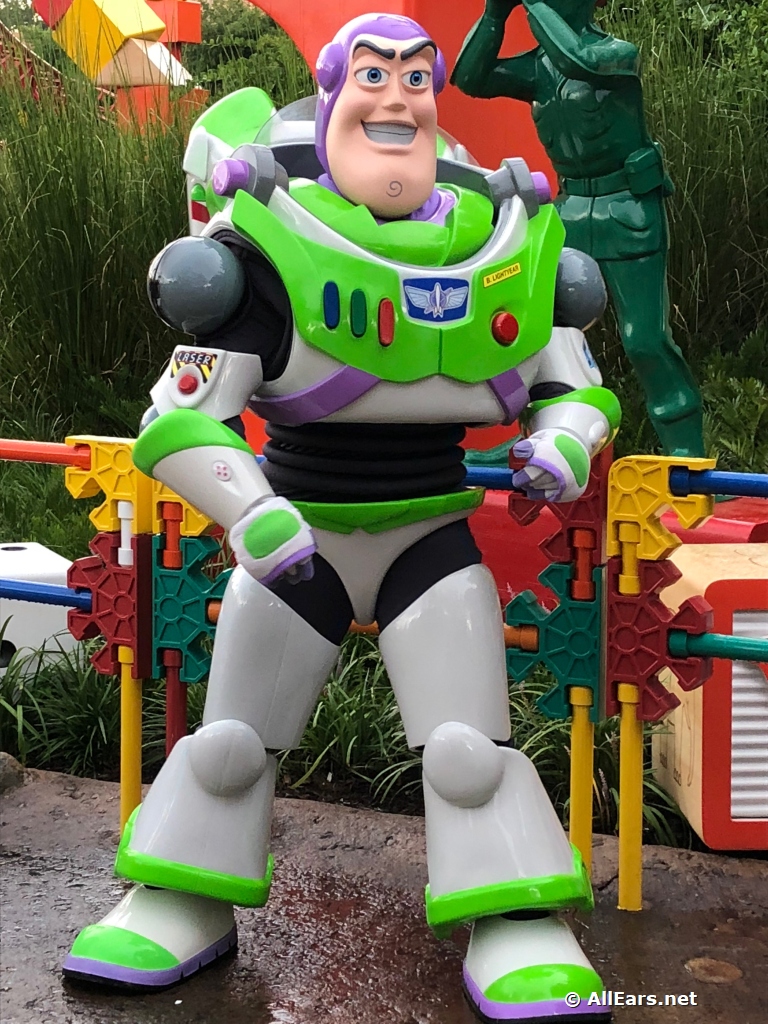 You will also find lots of Disney Characters at a variety of Meet and Greet locations throughout the Studios. Check your Guide Map for times and locations.
Disney's Hollywood Studios Characters At A Glance
Character Meet and Greet FAQ!
SHOPPING
There are two merchandise carts in Toy Story Land that sell all sorts of themed merchandise, in addition to a gift shop at the exit of Toy Story Mania. One of the carts is located near the entrance of Slinky Dog Dash. You can find Toy Story specific toys, apparel, and other merchandise at these locations, including a Slinky Dog toy and headband.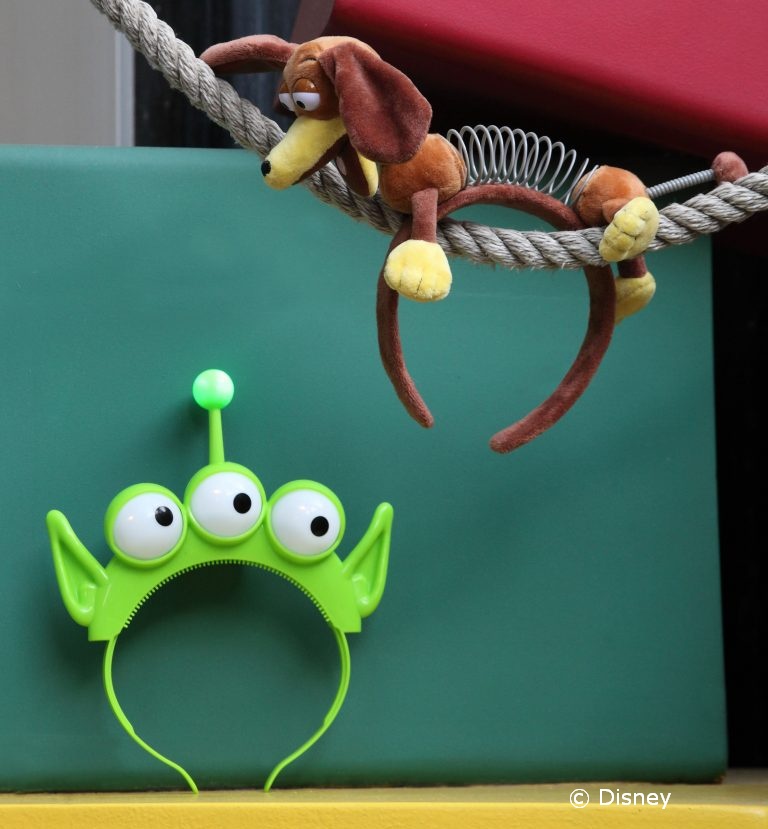 Shopping at a Glance at Disney's Hollywood Studios
INTERESTING FACTS
The Slinky Dog Dash track and support columns weigh almost as much as 125,000 gallons of milk.
Created especially for Slinky Dog Dash, the Audio-Animatronics figure of Wheezy is unique among Disney Parks globally.
Slinky Dog Dash is a first at Disney Parks — the first coaster with a second mid-ride launch.
Each train can hold 18 passengers.
In summer 2017, the final piece of track was installed on Slinky Dog Dash. Walt Disney Imagineering shared the photo below, which was snapped just as the final piece of red track was lowered into place.
Imagineer Kathy Mangum introduced the concept of Slinky Dog Dash at the D23 Expo in 2015. Here's a video of her presentation.
To learn more about Slinky Dog Dash and to ride along with us, check out this AllEars TV video!