Choosing your favorite Walt Disney World Resort hotel is a difficult task that often includes considering factors like dining options, the price tag, the size of the rooms, and how far you are from certain parks. But one of the biggest deciding factors might be one you've overlooked: the pool.
Disney World's Moderate Resorts are a great mix of luxury and affordability, but which one is the best? And while lots of factors can help you decide which hotel you want to call "home," if you're looking to spend a lot of time outside the parks, the pools can be a really important feature.
Let's get into it.
We will be ranking the resorts from worst to best. But we want to point out: this doesn't mean that any of these resorts are bad, just that some ranked better than others based on our assessment of their pools.
5. Meadow Swimmin' Pool at Disney's Fort Wilderness Resort & Campground
Happy Campers can become Happy SWIMMERS at the Meadow Swimmin' Pool at Disney's Fort Wilderness Resort & Campground!
This fun, rustic pool offers a 67-foot-long corkscrew waterslide, a kids splash area, and a whirlpool.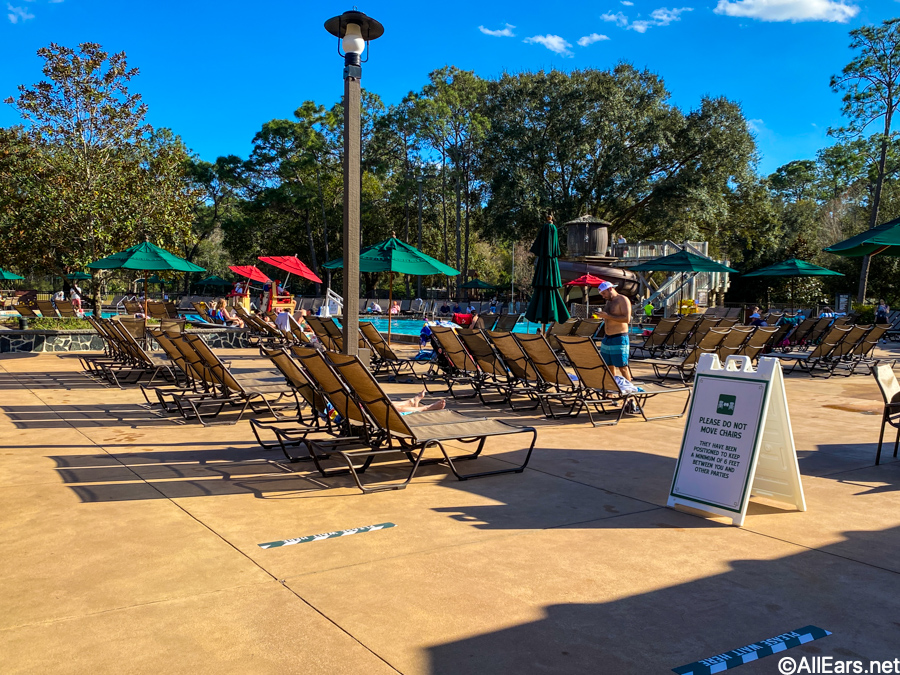 The relaxing Wilderness Pool is also an option for guests. BUT it's important to know that the Campground pools — unlike the other Resort pools — do not provide towels, and guests must bring their own.
4. Ol' Man Island at Port Orleans Resort — Riverside
Port Orleans Resort — Riverside is where you'll come across Ol' Man Island Pool… and a fishing hole? Disney shares that this 3.5-acre area was "fashioned after an abandoned sawmill," and a small rustic structure spouts water from pieces that enhance that story.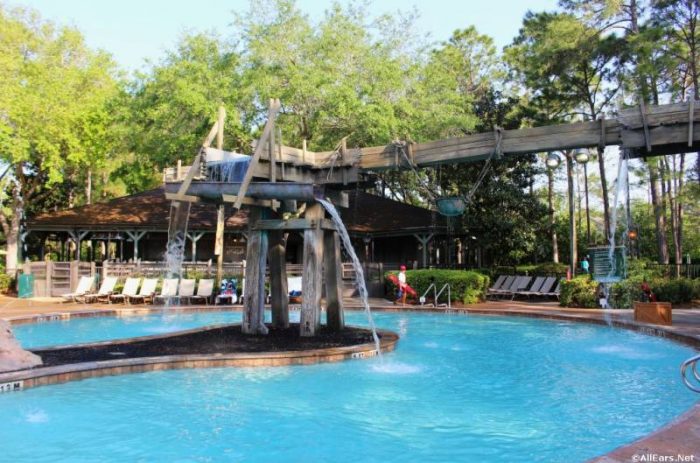 A 95 foot-long waterslide, hot tub, and kiddie pool add to the offerings. This sprawling Resort also offers five leisure pools. A bonus for staying at Port Orleans is you get access to the pools at both Riverside and French Quarter, so it's kinda like two for the price of one!
3. Doubloon Lagoon at Port Orleans Resort — French Quarter
Welcome to Port Orleans Resort — French Quarter… home to Doubloon Lagoon! First of all, this pool's name earns an extra point for being fun to say. But that, of course, is just the beginning. 😉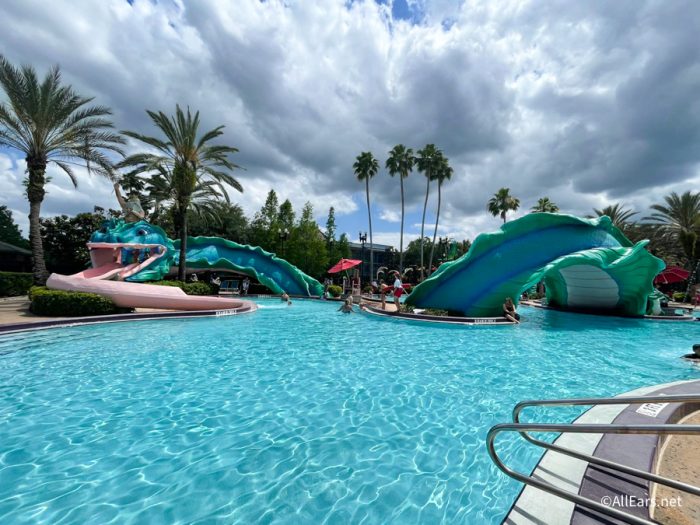 This Mardi Gras-themed winding pool area has "Scales" as its major highlight: a 51-foot-long sea serpent slide, ruled over by King Neptune reminiscent of a Mardi Gras float!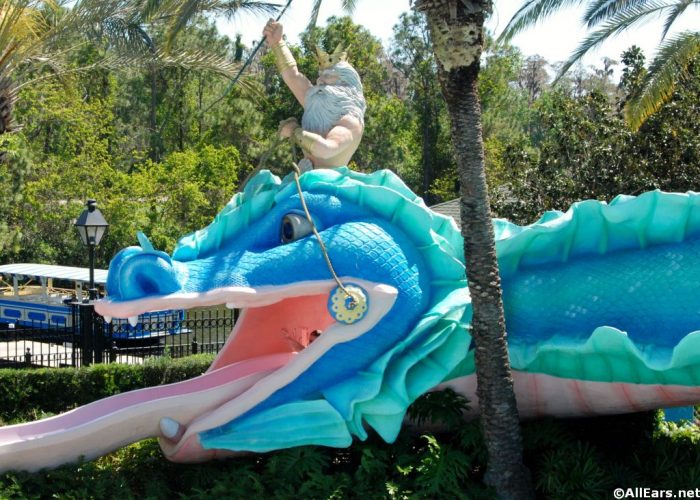 The festive scene is made complete with a splash zone and Mardi Grogs Pool Bar, where you'll find some unique craft beers from the heart of Louisiana.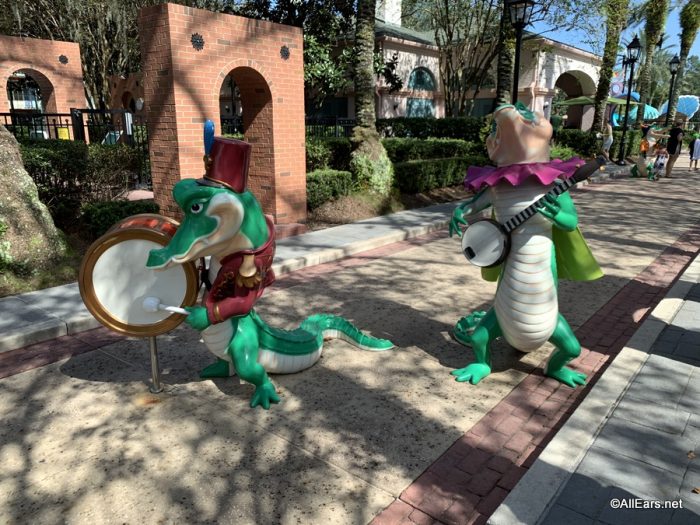 And an alligator jazz band leads the way to it all! These guys don't just set the party mood for a fun day at the pool, but they also make for a pretty great photo opportunity.
If you wanna swap out your party mood for a mellow soak in a rustic swimmin' hole, then you're in luck. Guests at Port Orleans get the added benefit of access to the pools at Riverside and French Quarter. Now, that's a sweet little perk.
2. Lost City of Cibola Pool at Disney's Coronado Springs Resort
Disney's Coronado Springs Resort doesn't just have a pool. Oh, no… what this Resort has is the Lost City of Cibola Pool, with a 50-foot pyramid setting the scene among the Mayan ruins! A 123-foot-long waterslide adds to the sense of adventure to the The Dig Site — the area where you'll also encounter the largest hot tub in Disney World! And we aren't kidding, that hot tub can hold 22 of your closest friends and family.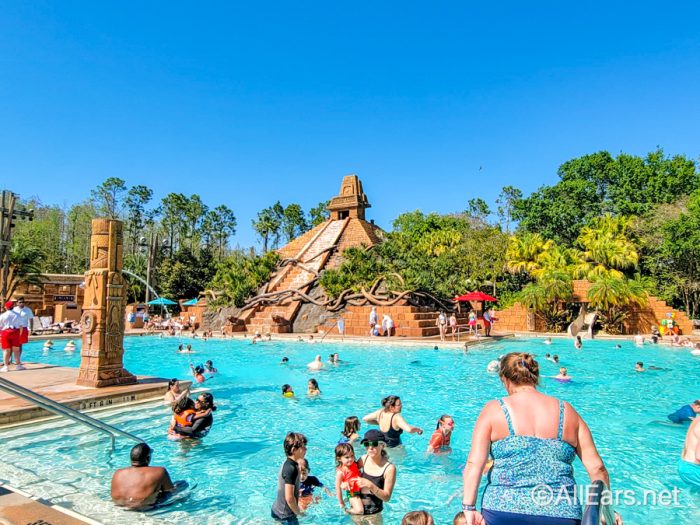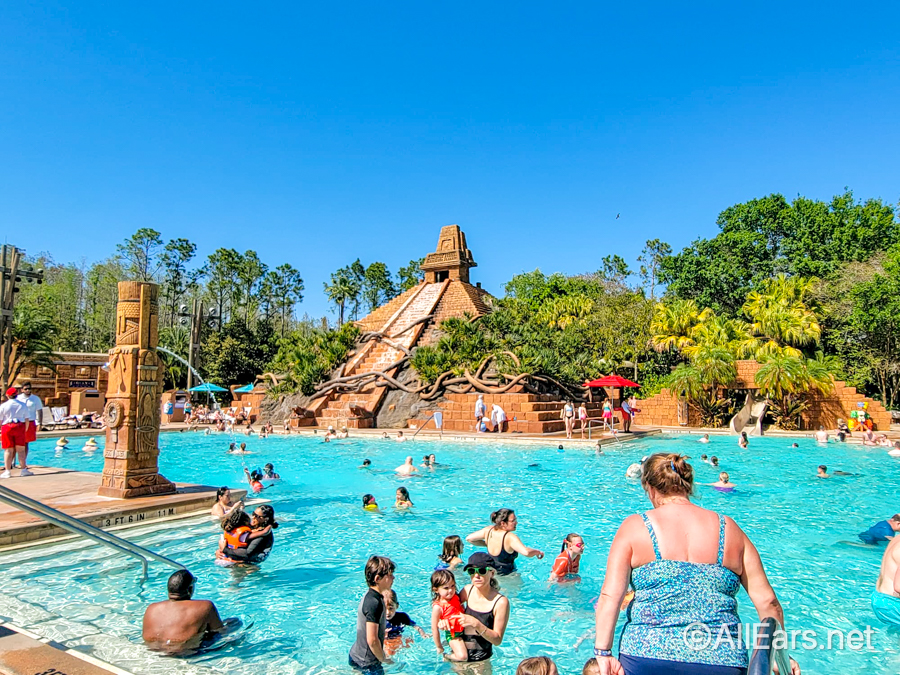 A kiddie pool and the Siestas Cantina pool bar are also nearby, and guests looking for a more quiet setting can also make use of any of the three leisure pools at the Resort. Vacation photos from this pool will have your friends convinced that you were at an exotic location and not just in the middle of Florida.
1. Fuentes del Morro Pool at Disney's Caribbean Beach Resort
You might find yourself singing "Yo-ho, yo-ho, a pirate's life me" when you visit this waterlogged pirate's lair, the Fuentes del Morro Pool at Disney's Caribbean Beach Resort!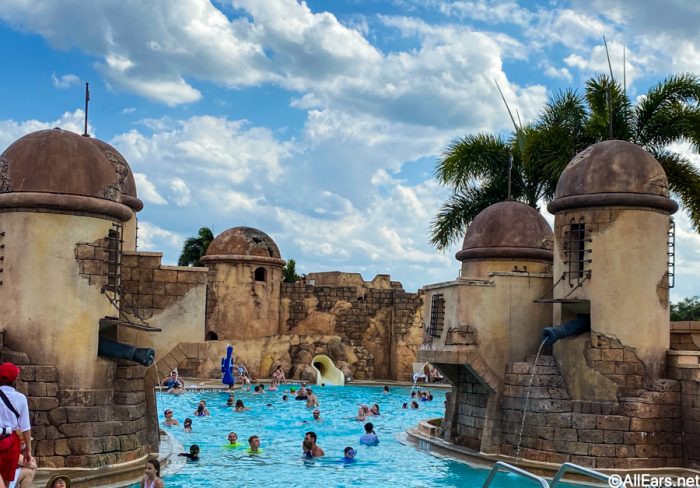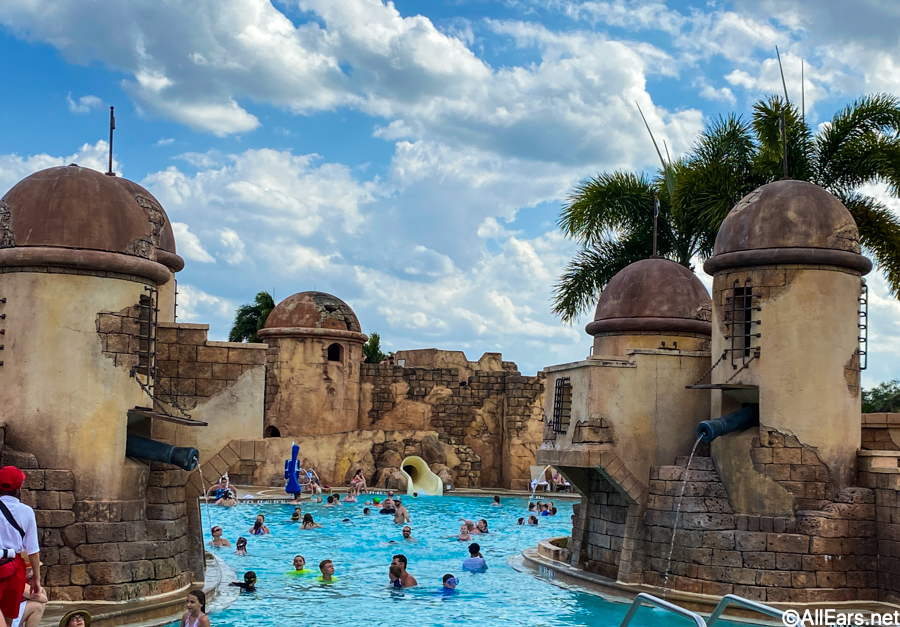 This colonial Spanish fortress-themed pool ranks so high not only for its fantastic theming — complete with water-spraying cannons and a shipwreck play area for the little ones — but also for its TWO slides and close proximity to the beloved Banana Cabana pool bar… which is SO much more than a pool bar!
The area also features a 12-person whirlpool, and five leisure pools are also available around the sprawling Resort. This pool doesn't just top the pool list moderate resorts. It's one of the best pools on all of Disney property — which you can experience for quite a bargain, considering it's a Disney Moderate Resort.
We hope you've had fun making a SPLASH with us today! Wanna know more about Disney hotels? Then check out our video right here!
Did your favorite Moderate Resort pool make the top of our list? Tell us about your favorite in the comments below!