Fort Wilderness Resort and Campground Fact Sheet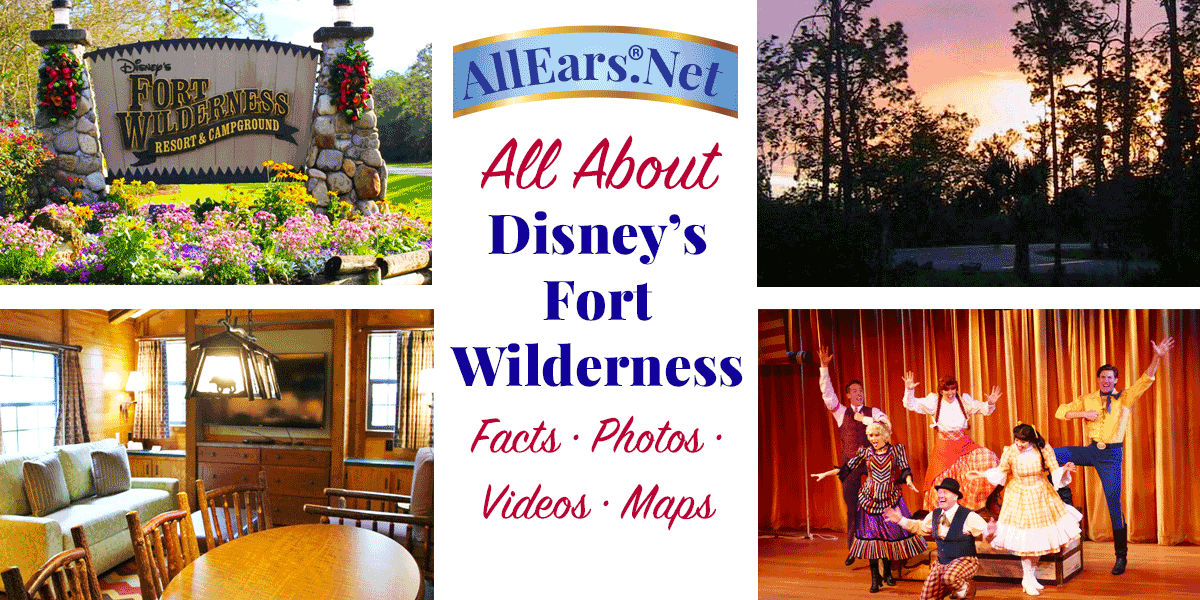 Fort Wilderness Resort Highlights:
Features cabins and campgrounds for accommodations
Features a variety of recreational activities, such as horseback riding, archery, and more!
Features several restaurants, including Trail's End and Hoop Dee Doo Revue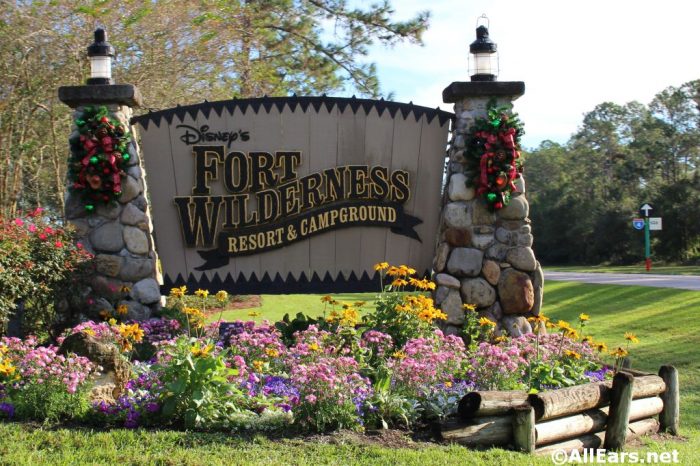 Fort Wilderness Resort and Campground opened in November 1971. The resort has 799 campsites and 409 air-conditioned Wilderness Cabins residing on more than 700 acres of lush vegetation and surrounded by pine and cypress trees. It is not unusual to see wildlife such as rabbits, deer, armadillos, ducks, geese, and peacocks roaming the grounds. Fort Wilderness Resort is a pet-friendly Disney resort — there are accommodations that are pet-friendly in the cabins, and all loops are now pet-friendly, too.
Below are the more frequently asked questions concerning this fabulous resort.
How do I get to Fort Wilderness (FW)?
What are Fort Wilderness rates?
What can I expect at check-in?
I hear that there are no more room key cards at Disney resort hotels. How do I get into my room?
What are the Fort Wilderness Cabins like?
Are campfires allowed at campsites?
What things should I remember to bring?
Are there plenty of comfort stations and are they clean?
Are there smoking and nonsmoking cabins/areas?
Which are the best loops?
Is there security at the campground?
Babysitting and Childcare Services
How does the FW transportation system work?
Do I need a golf cart to get around inside Fort Wilderness and how much are they?
What are Rapid Fill Mugs?
What shops does Fort Wilderness offer? Are groceries available?
Can you rent camping gear at FW?
Where do I rent bikes, golf carts, tennis equipment, etc.?
When does the campfire program begin and what is it like? What is this month's campfire movie schedule
The campfire program has no admission fee and is open to all guests. It generally begins around 6:30-7 p.m. during the fall/winter season and 8 p.m. after the time changes in April through the summer. (Check your Activities Sheet to Confirm Times) It is held near the Meadow Trading Post in the campfire area. The program begins with a sing-along led by a Disney CM and a marshmallow roast around two campfire rings. You may bring your own marshmallows or buy them at the Chuck Wagon. You may also buy pizza, hot dogs, candy, nachos, juice, popcorn, sodas, coffee, beer and other refreshments at the Chuck Wagon.
While this is going on, Chip and Dale make an appearance to visit with guests and sign autographs. The sing-along lasts about 40 minutes. Next, one or two Disney animated features, depending upon the season, are shown on a large outdoor screen. Seating is available in bleachers or on benches. There is also plenty of room to lay out a quilt or blanket. In the event of rain, the sing-along is still held on the porch of the Meadow Trading Post. Here is a typical movie schedule to give you an idea of what is shown:
Are there pools and where are they located?
Do they offer horseback rides at Fort Wilderness?
What other recreational activities are available at FW?
Was there ever a train running inside Fort Wilderness?
What is this I hear about a real cabin at Fort Wilderness?
Is it true Fort Wilderness has a Segway tour?
Does Fort Wilderness have Internet access?
What does Fort Wilderness do for the holidays?
What are the rules for decoration my Fort Wilderness site?
If you would like to print these rules for your trip, here is the official rules page. This is the official page from Disney's Fort Wilderness Resort:
Print the Fort Wilderness site decorating rules. (Large PDF file)
TO LEARN MORE ABOUT WHAT FORT WILDERNESS HAS TO OFFER, CHECK OUT THIS ALLEARS TV VIDEO!