Caribbean Beach Resort Fact Sheet Moderate Resort
OCTOBER 2018:  Disney's Caribbean Beach Resort has been undergoing extensive renovations over the past few years, in an effort to centralize its services, amenities and dining, making them more convenient for guests. On Oct. 8, 2018, the reimagined Old Port Royale "port of entry" lobby opened, along with Sebastian's Bistro, Centertown Market, Banana Cabana bar and Calypso Trading Post.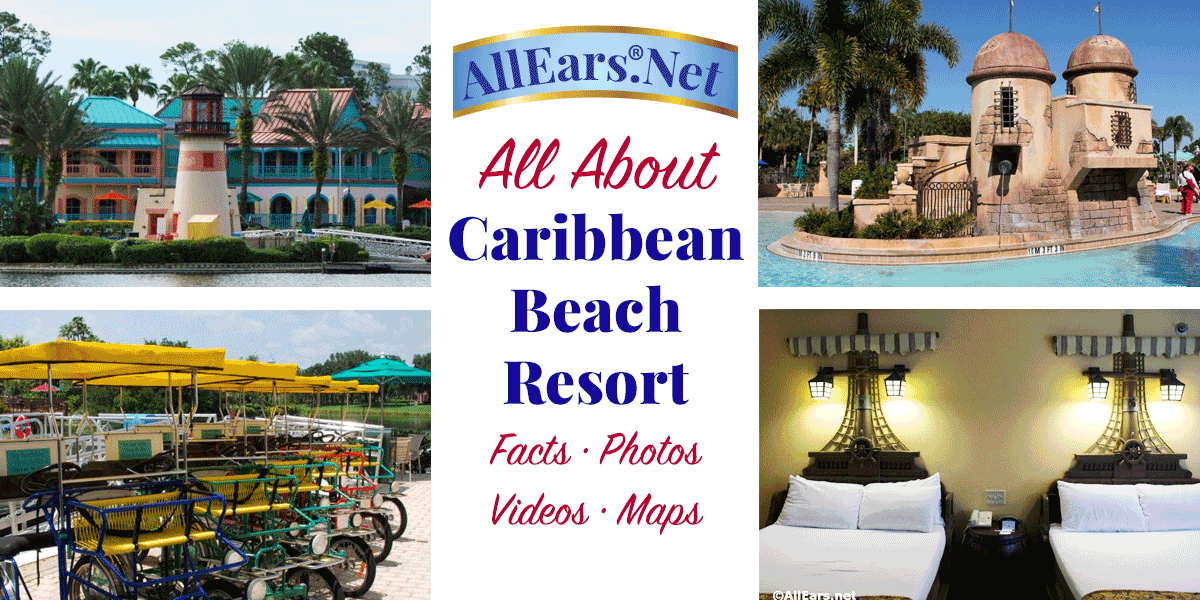 The Caribbean Beach Resort (CBR) is a lush tropical paradise on the grounds of Walt Disney World. It is located near Epcot, Disney's Hollywood Studios, and Disney Springs and considered an "Epcot Area Resort". The CBR is a "moderate" resort, with pricing and amenities between the "value" and "deluxe" resorts. The other moderate resorts are Port Orleans – Riverside, Port Orleans – French Quarter and Coronado Springs. All of the moderate resorts have Disney-quality theming, and similar pricing and amenities. Individual preferences are based on theming and layout.
Resort layout
The CBR has guest rooms in colorful 2-story buildings on the shores of a 42 acre lake. The buildings are grouped in 5 villages: Barbados, Martinique, Aruba, Jamaica, and Trinidad. Each building contains 64 guest rooms. Each village has its own pool, white sand beach with hammocks and playground, laundry facilities, bus stop, and parking area. There are no elevators in any of the buildings. Guests who are unable to use stairs should request 1st floor rooms. All common facilities are wheelchair accessible.
The centerpiece of CBR is its 45-acre lake, Barefoot Bay, surrounded by a 1.1-mile promenade which connects to winding paths leading to all guest rooms and common areas. The promenade is superb for strolling, jogging, and bicycling. In the center of the lake is Caribbean Cay, an island with a play gorund, picnic area and beautiful foliage. Caribbean Cay is connected to the promenade on each side by a footbridge. The lake, island, lush vegetation, colorful buildings, and attractive landscaping combine to create a feast for the eye and spirit. Tip: arrange for a Mickey-delivered wake-up call, and then go jogging or for a stroll on the promenade at sunrise.
Reimagined in 2018, Old Port Royale (OPR) is the main check-in and activities area with Centertown Market (food court), Sebastian's Bistro (sit-down restaurant), Calypso Trading Post (shops), Lobby Concierge, Bell Services, Goombay Games (arcade), large pool (Spanish fort-themed), water slide, wading pool, and whirlpool. Also here is the Barefoot Bay Marina and Bike Works (bicycle and boat rentals), bus stop, and parking area. The walk between OPR and your room is pleasant, but can be long: the most distant guest rooms are up to a 15 minute walk away. If distance from OPR is important to you consider reserving a Preferred Building.
Be sure to refer to the resort map when making reservations. The closest buildings to OPR are in Martinique (in order of closeness: buildings 26, 25, and 24). The farthest buildings are in parts of Trinidad (buildings 37-39). The villages of Aruba and Jamaica are across the lake from OPR; some buildings (44-46 and 51-53) in those villages are reasonably close. If you wish, you can drive from your room to OPR, or use the internal bus.
A wheelchair accessible van is available at the resort for persons checking in or out.
I hear that there are no more room key cards at Disney resort hotels. How do I get into my room?
Walt Disney World has converted their room keys and admission tickets from plastic cards to MagicBands, flexible plastic wristbands, resembling a watch or bracelet, that use Radio Frequency (RF) technology. Your MagicBand is linked to your My Disney Experience (MDE) account and acts as your Disney resort room key. Simply touch the Mickey symbol on your MagicBand to the RFID reader near your room door to gain entry. Read about using MagicBands for park admission, FastPass+ and more here.
Check-in and check-out
Online Check-in is available 10 days prior to your stay. Look for the special Online Check-in line at the resort's front desk. Check-in is at 3 p.m. at the Custom House. Your room might be available prior to 3 p.m., but that is not guaranteed. If your room is not available, you can leave your luggage with Bell Services and use the main pool (lockers, changing areas, and public restrooms are at poolside), or you can head out to a theme park. Your luggage will be delivered to your room.
Check-out is at 11 a.m. If you pay by credit card, you do not have to go to the lobby to check out. Your bill will be emailed to you if you wish. You can call Bell Services to pick up your luggage. If you are taking a bus or taxi to the airport, Bell Services will keep your luggage  until your transportation arrives.
Resort Airline Check-In Service at your Disney resort is only available if you are flying domestically (includes Puerto Rico) on specific airlines. It is a complimentary (free) service and allows you to check your luggage.
Guest rooms
Currently, each room has two queen beds, except for a few rooms with king-size beds. Up to four guests, and one child under 3 in a crib, are allowed per room. Cots are available at $15/night; call to reserve one in advance. Many rooms (but not all) will then have the ability to accommodate up to five, with the addition of a bunk-size fold down bed. These rooms will be located in all of the resort's villages.
There is space for a sleeping bag on the floor. Cribs are available. Rooms include two sinks outside the bathroom, cable TV/radio, armoire, table and chairs, phone, a small wall safe, hair dryer, iron and ironing board, and coffee maker. Complimentary coffee packs are also supplied. There should also be a refrigerator in the room — if it's not there, request it, there is no charge. Bed boards, bed rails, extra blankets and pillows, baby cribs and sharps containers are available through housekeeping.
All rooms open onto an exterior corridor, and are roughly the same layout and size (340 sq. ft). Connecting rooms are available. A small number of rooms are designed for wheelchair guests. Noise is not a problem in any of the rooms, unless you have exceptionally unruly neighbors.
Walt Disney World Resort made complimentary Wi-Fi service available in all of its hotels as of March 2012. See our Internet Access page for details.
What should I expect to pay for a room at the Caribbean Beach Resort?
The Caribbean Beach Resort is considered a "Moderate" resort hotel, and its prices are in the mid-price range of the hotels at Disney. These are regular rate prices and do not include the Florida Sales Tax nor the county resort tax. Rates are based on double occupancy. No charge for children under 17 years old when in the same room as the adults. If you have more than two adults in the room, there will be a $15 per night charge for each extra adult. Maximum of four per room, plus a child under 3 in a crib.
Sometimes there are special rates for Annual Pass Holders, AAA members, or Florida residents. Be sure to inquire when you call for reservations!
Walt Disney World Resort rates vary by season (there are nine seasons now), and also by day of the week. The holiday season is the most expensive time of the year. It runs from mid-December to early January as well as during Easter Week.
The rates for a:
— Standard Room range from $166 – $240 (Holidays up to $279)
— Water or Pool View Room range from $191 – $258 (Holidays up to $300)
— King Bed Room range from $196 – $275 (Holidays up to $305)
— Preferred Room Room range from $230 – $303 (Holidays up to $326)
— Pirate Room Standard View range from $230 – $303 (Holidays up to $326)
— Pirate Room Water View range from $235 – $315 (Holidays up to $356)
Is there a fee to park at Caribbean Beach Resort?
For reservations booked after March 21, 2018, there is a fee for overnight self-parking at Walt Disney World Resort hotels. Click HERE for current pricing and other parking-related information.
Pools
Each CBR village has a pool, plus there's the Pirate-themed main pool at Old Port Royale, the adjacent wading pool and whirlpool. All pools are heated, which makes for comfortable swimming year-round. The whirlpool is kept very toasty. Bring towels from your room; they are not available at poolside except at the Old Port Royale pool. Housekeeping will be more than happy to replace towels taken from the room. Pools hours are seasonal, and only the main pool has lifeguards on duty during official operating hours.
The main pool can get crowded on hot afternoons, and chair space is at a premium. However, village pools are rarely crowded so you can try one of those if the main pool is full.
Beaches
Each village has a beautiful, clean, white sandy beach on the lake. (After all, this is the Caribbean *Beach* resort!) Beaches have lounge chairs and very comfortable hammocks. Swimming is not allowed in the lake; however, you are invited to get wet at the adjacent village pools.
Playgrounds
Small playgrounds are located on the village beaches of Barbados, Jamaica and Trinidad.
Bikes
Bicycles are available for rent at the marina. The 1.1-mile promenade around the lake is great for bicycling. Also a lot of fun are the surrey bicycles designed to accommodate parties of 2 to 4.
You can no longer rent watercraft at this marina.
Volleyball – A white sand volleyball court is located on the beach of Barbados Village. Volleyballs may be picked up at the Marina building. Resort IDs are required.
In-Line Skating and Scooters – Florida law does not allow in-line skating or scooters on roadways, parking lots, or sidewalks.
Food
Old Port Royale features the Centertown Market, open from 6 a.m. to midnight, with more limited hours for some of the counters. Breakfast selections include bagels, fresh fruit, Mickey waffles, eggs, and breakfast meats. Lunch and dinner selections include burgers, pizza, pasta, deli sandwiches, salads, and desserts.
Blue Runner Pizza Delivery is also available.
Full dinners are available at the food court and at Sebastian's Bistro (a table service restaurant) from 5 to 10 p.m.
Tip: when you come back from a day at a theme park, fill your mug with decaf, and go relax poolside or on one of the hammocks along the beach.
Alcoholic beverages, including tropical specialties, are available at Sebastian's Bistro and at the bar, Banana Cabana.
Limited room service, from Blue Runner Pizza and Meal Delivery, offers pizza and beverages. Delivery hours are from 4 to 11:30 p.m. Rooms have coffee makers and complimentary coffee packets.
Soda vending machines are in every village. Ice machines are in every guest room building.
The Rapid Fill beverage program allows Disney Resort guests to buy (or receive as part of the Disney Dining Plan) a resort mug that can be refilled for a certain period of time as designated at time of purchase. These mugs are enhanced by an RFID bar code that enables the mug to deactivate when the designated time is complete. For complete details read our Rapid Fill Mug page.
Shopping
The Calypso Trading Post at OPR sells sundries, souvenirs, Disney- and Caribbean-themed sportswear, and a limited variety of groceries and snacks.
Transportation
The Caribbean Beach Resort is a very large resort complex and some rooms are quite far from Old Port Royale. If you don't relish the thought of a long walk or taking a bus to grab your morning coffee, or if mobility is an issue, a car may be the option to consider.
Free bus service is provided from the CBR to Magic Kingdom, Epcot, Disney's Hollywood Studios, and Animal Kingdom, the water parks, and to Disney Springs. Bus stops are located at each village and at Old Port Royale. Buses run approximately every 20 minutes – usually more frequently – from 1 hour before park opening to 1 hour after park closing. You can budget about 45-60 minutes total for bus travel from your room to a theme park. This includes walking from your room to a bus stop, waiting for a bus, travel time on the bus, and walking from the theme park bus stop to the entrance gate.
There is no direct service from CBR to other resorts. You take a bus to a theme park or to Disney Springs, then change to monorail, boat, or another bus, depending on where you are going. Resort-to-resort travel can take well over an hour.
Buses to and from the theme parks and Disney Springs make stops at OPR and at all the CBR villages. Some buses begin the CBR loop at Martinique and continue to OPR, Trinidad, Jamaica, Aruba, and finally Barbados before exiting CBR. Other buses begin at Jamaica and continue to Aruba, Barbados, Martinique, OPR, and Trinidad. There are no strong reasons to prefer one village over another based on transportation availability. Obviously, some buildings are closer to bus stops than others; if closeness to bus stop is an issue, ask when room selection is made. It may be helpful to refer to a map.
An internal bus stops at each village and at OPR and circles the resort twice before leaving.
If you bring or rent a car, you will find parking at CBR to be ample. Depending on your room location, you may or may not be able to park close to your room – if this is an issue, ask when room selection is made.
Airport transportation
Magical Express, town car, and taxi services to and from the airport stop at the Custom House. Magical Express is free to Disney Resort Guests however your luggage may take up to three hours additional to reach your room. AllEars® recommends private town car service for quick and easy transportation that can include a grocery stop when booked in advance!
For directions on getting to Caribbean Beach Resort from the Orlando airports, visit our Driving Directions page.
Other amenities
Check out the Child Care FAQ for information on child care alternatives.
A game arcade room, Goombay Games, is located at OPR, adjacent to the shops.
Hair wrapping and face painting is usually available by the main pool at OPR.
Laundry facilities, with coin-operated washers and dryers, are located at each village, near the pool. Detergent, bleach, and softener can be purchased from vending machines.
Small valuables can be kept in the room safe.
ATM, phone card vending machine, and a "penny-press" are located in OPR.
The front desk is open 24 hours.
Telephone, voice mail, fax, Internet are available.
The CBR telephone number is (407) 934-3400. Use this number for calling a guest at the resort, or for asking questions specific to the resort. Resort room reservations should be made at (407) WDISNEY.
Each guest room has full-featured voice mail. Messages from inside or outside of Walt Disney World can be left on voice mail, and individual messages can be saved or deleted by the guest.
The fax number is (407) 934-2736. You are notified by voice mail when faxes are received; they can be delivered to your room, or you can pick them up at the Lobby Concierge. Service charges for incoming and outgoing faxes will be applied – check with the front desk for current rates. Photocopy services are also available for a fee.
Free Wi-Fi is available at all Disney resorts and theme parks.
All Disney resorts and guest rooms are smoke-free. There are designated outdoor smoking areas. Check the resort map or with a Cast Member for locations.
Address
Disney's Caribbean Beach Resort
900 Cayman Way
Lake Buena Vista, FL 32830-1000

Miscellaneous
The Caribbean Beach Resort reopened on 12/21/2002 after being closed the latter part of the year for a rehab of the food court and sit-down restaurant, Shutters at Old Port Royale. The rooms were rehabbed, village by village, during the early 2000s. The main pool underwent a total rehab during 2008.