Coronado Springs Resort Fact Sheet Moderate Resort
Coronado Springs Resort Highlights:
Features a beautiful lakeside oasis, with theming inspired by a blend of Spanish, Mexican, and Southwest American
Features several lounges and table service restaurants
Features new tower, Gran Destino
What is the Coronado Springs Resort?
Coronado Springs is a Disney Moderate Resort that opened on August 1st, 1997. The complex has 1,917 rooms and suites situated in three villages around a 15-acre lake called Lago Dorado and 545 rooms in a 15-story tower called Gran Destino Tower.
This is Disney's first moderately-priced convention hotel. There is a 95,000-square-foot convention center that includes a 60,214 square-foot. ballroom, as well as a full-service business center. The ballroom can accommodate 5,000 for a sit-down dinner or 6,500 meeting-style seats. There is also a 20,000 square- foot Junior Ballroom.
The foyer has a lovely fountain in its center, but it is the domed ceiling that is the true jewel of the entranceway. A soft pink glowing light opens into the dome itself… an incredible mural that depicts a gazebo with doves (lots of doves!) sitting/flying amidst a spring flower garden.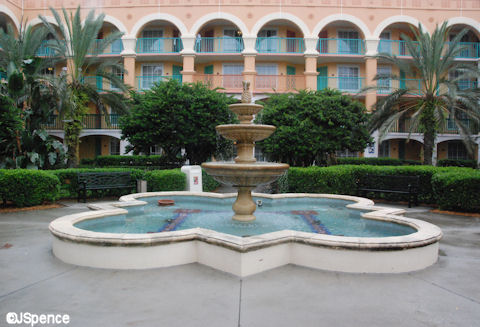 Gran Destino Tower has added even more meeting space to the Resort. Catalonia Boardroom is a 24-seat boardroom with a large, stationary table, multiple wall-mounted screens, and lots of space to spread out. Lantana Room is a flexible space that can be divided into the three separate spaces. An adjacent prefunction space offers a show kitchen. Destino Plaza is a 12,000 square foot patio space located outside Barcelona Lounge.
What is the theming for this resort?
Coronado Springs has an American Southwest/northern Mexico theme. Plazas, courtyards and a rocky shoreline make up the terrain. Gran Destino Tower has a distinctly Spanish flare inspired by Salvador Dali's work.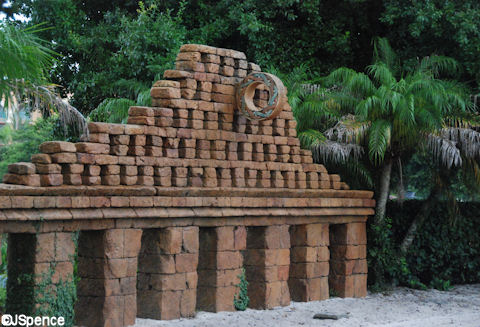 Themed to the region's urban areas, the Casitas (little houses) offer accommodations amidst plazas, fountains and palm-shaded courtyards. They are three and four stories and are the focus of convention accommodations. Architecturally, the Casitas represent urban centers like Santa Fe or Monterrey.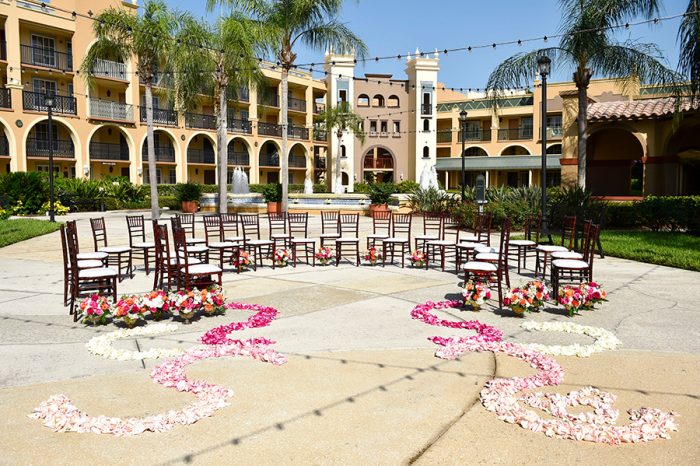 All sorts of surprises decorate the grounds of the Casitas… lovely fountains, and a serene pool. Disney, of course, wouldn't be Disney if it didn't have topiaries! In the Casitas, surrounded by a near-circle of gardenia bushes, sit the main characters from The Three Caballeros. One section of lawn highlights a really beautiful piece of art made out of columns and wooden slats.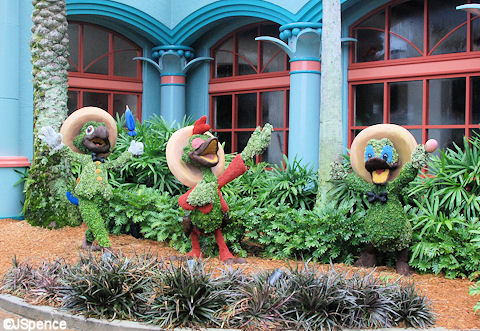 The Ranchos are 2- and 3-story pueblo-style villas that reflect more arid rural regions in a rustic ranch setting, complete with small streams tumbling over a rocky stream bed.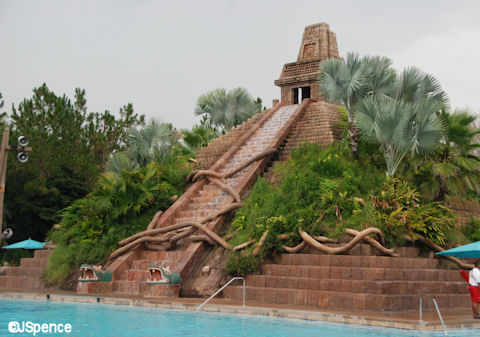 On the northern shore of Lago Dorado are the two story Cabanas which reflect the beauty and serenity of Mexico's coastal regions. More than half the rooms have lake views. The Cabanas are 2-story buildings with a sandy shoreline.
Gran Destino Tower incorporates Moorish tile and Spanish style throughout the Tower, from the front desk (now serving the entire Resort) to the fitness center to the rooms and restaurants. Extravagant light fixtures and artwork evoke Salvador Dali's film Destino.
What does the resort look like?
The resort is built around a 15-acre shimmering lake, Lago Dorado. Named for European explorer Francisco de Coronado, CSR is a showcase of native architecture and landscaping. There is a stepped Mayan pyramid towering over an elaborate 120'x90′ pool area with a water slide and a playground that doubles as an archeological dig site for kids. There is a jaguar perched over the water slide spitting water at guests as they slide down… and be sure to look for the Hidden Mickeys.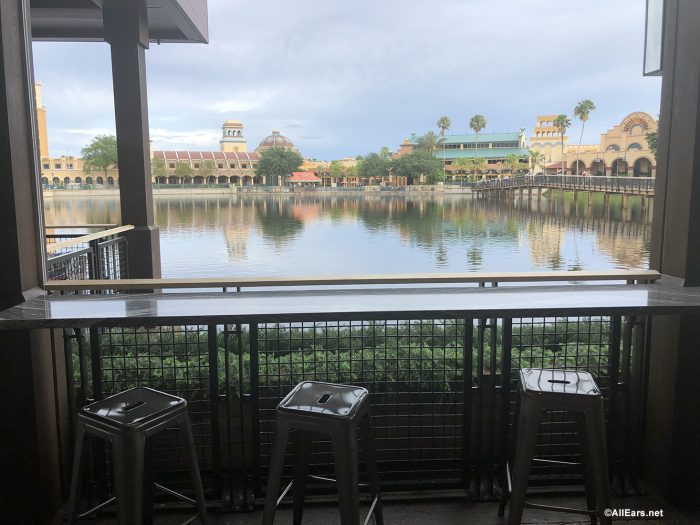 Coronado Springs is definitely a huge resort, but its expansiveness is also part of its beauty. From almost anywhere at the resort you can look across water and see the other areas. The view from Gran Destino Tower is particularly impressive.
How are the Guest Rooms?
The average guest room is approximately 314 square feet. There are 224 rooms with king-size beds; and 99 disabled-accessible rooms. Standard rooms in Gran Destino Tower are 375 square feet, making them the largest of all Moderate Resort standard rooms.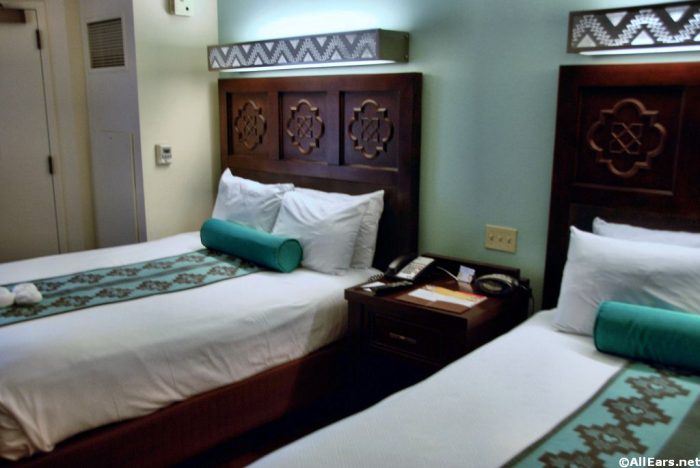 Standard rooms accommodate up to four guests. The Coronado rooms have only one sink and not the double sink setup that the other three Moderate Resorts have. All rooms have sliding wood doors across the sink area.
Gran Destino Tower also offers Deluxe Suites and One-Bedroom Suites with Club Access. These rooms sleep up to four adults. A Presidential Suite with Club Access sleeps up to six adults.
Guest room amenities include 4-cup coffee makers (with decaf and regular coffee packets) plus limited room service for breakfast, lunch, and dinner. Each room has a flat screen TV and all new dark wood furniture. Each room also has an armoire, small table with two chairs, night stand, ceiling fan, and small wall safe. Hair dryers, iron, and ironing board, and small refrigerator are also standard. Available on request are cribs, bed rails, refrigerators, and wheelchairs. There is no charge for wheelchair use at the resort. Newspaper delivery is $1.50 per day. There are several newspaper vending machines throughout the resort, located near the elevators.
What buildings/sections are closest to what parts of the resort?
Coronado Springs resort is very large and spread out. There is no one section that is convenient to everything. You will find Bell Services Staff, driving around the resort in their carts, very willing to give you a ride to most places you'd like to visit on the grounds. While the walks are most pleasant, it is a distance to get to and from some areas of the resort.
As you read the Building numbers and locations below, picture a large, almost circular lake. Beginning at 6 o'clock is Casitas Building 1, followed by Building 2 and so on as you walk clockwise around the lake. Completing the circle is Cabanas Building 9B at 5 o'clock.
Casitas 1 is directly over the convention center and closest to Pepper Market, Maya Grill, the Main Bus Stop (now relocated closer to Gran Destino Tower) and the Front Desk (now also located at Gran Destino Tower). The Health Club and Beauty Salon are located between Casitas 2/3 and Casitas 4. A second Fitness Center is located in Gran Destino Tower as well. Casitas 3 and 4 are closest to the Casitas Quiet Pool (and Guest Laundry). Casitas 4 is nearest the Casitas Bus Stop (Bus Stop 2). Casitas 5 is the furthest of the Casitas from the Main Building but closest to the Dig Site.
Ranchos 7A and 7B are the closest to the Dig Site. The Ranchos share a bus stop with the Cabanas (7A being the closest Ranchos building to Bus Stop 3). Ranchos 6A and B are the furthest buildings out and probably the quietest.
The Cabanas Building 8A is close to both the Cabanas Bus Stop (Bus Stop 4) and the Dig Site. Cabanas 9B is closest to Main Building (El Centro, which houses Cafe Rix, Maya Grill, etc.), the Marina, and is just a short walk from Bus Stop 1. Cabanas 9A is closest to the Quiet Pool (and Guest Laundry).
Gran Destino Tower is closest to the Quiet Pool near Cabanas 9A, but the Dig Site pool is just a slightly longer walk. Gran Destino Tower has several dining and drinking options, but the nearest quick service is El Mercado de Coronado in El Centro. An enclosed hallway connects Gran Destino the El Centro.
A stroll around Lago Dorado, clocking distances with a basic pedometer measured the perimeter to be about 1.1 miles. Other distances measured:
From El Centro moving clockwise around the lake to:
Casitas 3 = .16 miles
Casitas 4 = .24 miles
Casitas 5 = .27 miles
Ranchos = .46 miles
From El Centro to the Dig Site, via the bridge near the Cabanas = .35 miles
From El Centro moving counterclockwise around the lake to:
Cabanas 9B = .16 miles
Cabanas 9A/8B = .22 miles
Cabanas 8A = .31 miles
It's an awful big resort — is there any other way to get around besides walking?
Coronado Springs offers an internal shuttle system. Transportation is provided in marked golf carts that bring guests to and from all villages of the resort. There are also designated stops in each of the villages as well as Gran Destino Tower.
I hear that there are no more room key cards at Disney resort hotels. How do I get into my room?
Walt Disney World has converted their room keys and admission tickets from plastic cards to MagicBands, flexible plastic wristbands, resembling a watch or bracelet, that use Radio Frequency (RF) technology. Your MagicBand is linked to your My Disney Experience (MDE) account and acts as your Disney resort room key. Simply touch the Mickey symbol on your MagicBand to the RFID reader near your room door to gain entry. Read about using MagicBands for park admission, FastPass+ and more here.
What do I need to know about Check-in?
As with most of the other resort hotels, check-out is at 11 AM, check-in is at 3 PM. Upon arrival head to the front desk for check-in. Rooms are generally not available until 3 PM. Early check-in allows you to leave luggage with bell services, get your Magic Bands (if you don't already have them) and head off to the parks or relax around the resort. You will probably be given a phone number to call periodically to see if your room is ready. When you call in, answer a few questions. You will then be given your room number and your Magic Band will open your door! Text alerts are also available, just provide a cell phone number to the front desk cast member.
Note: Check-in and other front desk services are now located inside Gran Destino Tower.
Is Bell Services available to move my luggage?
Yes, upon arriving at the front entrance, Bell Services staff will take your luggage if you wish and give you receipts. Once you have checked in, if your room is ready, they will lead you to your room and unload your luggage. Bell Services will also pick up your luggage and deliver it to the front area when you are ready to check out. As with the other Disney resorts, Bell Services will also store your luggage upon arrival until your room is ready and after you check out, before leaving for the day. Luggage Storage is located at Gran Destino Tower.
What is the price range for rooms?
The Coronado Springs Resort is considered a "Moderate" resort hotel, and its prices are in the mid-price range of the hotels at Disney. These are regular rate prices and do not include the Florida Sales Tax nor the county resort tax. Standard rooms have a maximum four-person occupancy per room. No charge for children under 17 years old when in the same room as the adults. If you have more than two adults in the room, there will be a $15 per night charge for each extra adult. Maximum of four per regular room, six per suite, plus a child under three in a crib.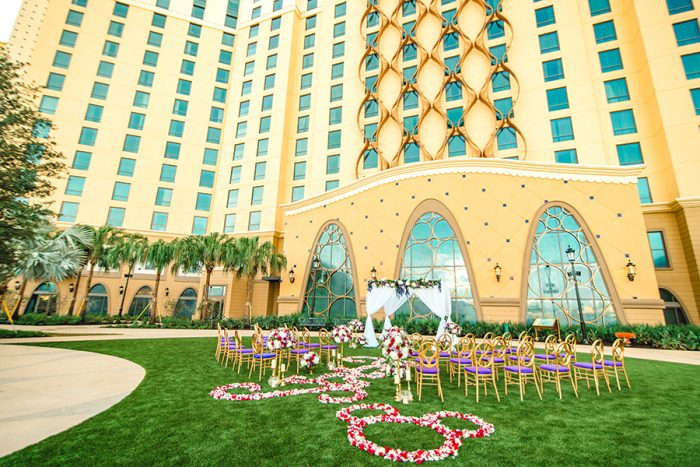 The rates for a:
— Standard View Room range from $198 – $343
— Water View Room range from $215 – $276
— King Bedroom range from $245 – $321
— Preferred Room range from $245 – $321
— Preferred Room King Bed range from $250 – $326
— Water View King Bed range from $257 – $330
— Suites range at: $429 – 1,323
Is there a fee to park at Coronado Springs?
There is a fee for overnight self-parking at Walt Disney World Resort hotels. Click HERE for current pricing and other parking-related information.
What other facilities will I find?
The facilities include La Vida Health Club and Casa de Belleza hairstyling salon in the main building, the Fitness Center in the lower level of Gran Destino Tower, and Iguana Arcade at the Dig Site pool complex. The Casa de Belleza Salon offers the following services: hair styling, permanents, colorings, foiling, make-up, nail services, and facials.
Niki Bryan Spa provides services at the Health Club. For pricing and other information visit: http://www.relaxedyet.com/
What is the Transportation to the parks like at CS?
Transportation from Coronado Springs to the theme parks is by bus only.
The bus stops are:
Bus Stop 1: Gran Destino Tower
Bus Stop 2: Casitas
Bus Stop 3: Ranchos
Bus Stop 4: Ranchos and Cabanas
NOTE: A side trip to Blizzard Beach is often added to the Epcot and Disney's Hollywood Studios routes.
What is El Mercado de Coronado?
El Mercado de Coronado (formerly Pepper Market is the Food Court)and seats over 400 in an open-air market atmosphere. Serving breakfast, lunch and dinner, it features both standard fare (baked goods, pizza, pasta, burgers, chicken) and Mexican cuisine (tacos – tostadas). There is also a grill with omelets made to order. El Mercado is open 7AM – 11PM. There is also a cappuccino and espresso window with gourmet coffees and pastries that opens at 6AM A margarita and beer kiosk also offers beverages.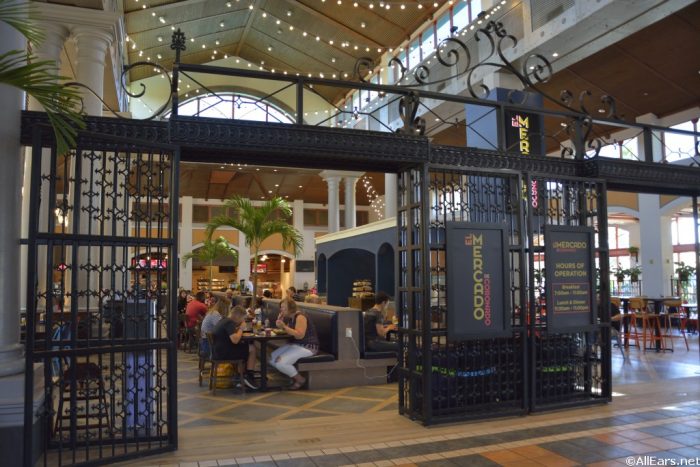 What other dining options do I have?
Cafe Rix is located just off of the Lobby area. This is a convenient spot to purchase and refill mugs. They are open from 6:30AM until midnight for Quick-Service. Sample menu items include Egg & Cheese Sandwiches, Quiche, Paninis and Wraps. They also serve Gelato and fresh baked goods such as Cookies, Muffins, and Danishes. Specialty Coffees are available at the coffee bar, and they offer a wide selection of bottled beers, water, and soft-drinks. Newspapers can be purchased here, and Disney Dining Plan credits are accepted.
Maya Grill, operated by one of the premier restaurateur families of Mexico is the full-service restaurant featuring a huge, wood-fired grill. Seating surrounds a Mayan temple replica. The Grill also features wines from Mexico, Argentina and Chile. The Maya Grill is open for Dinner from 5-11PM.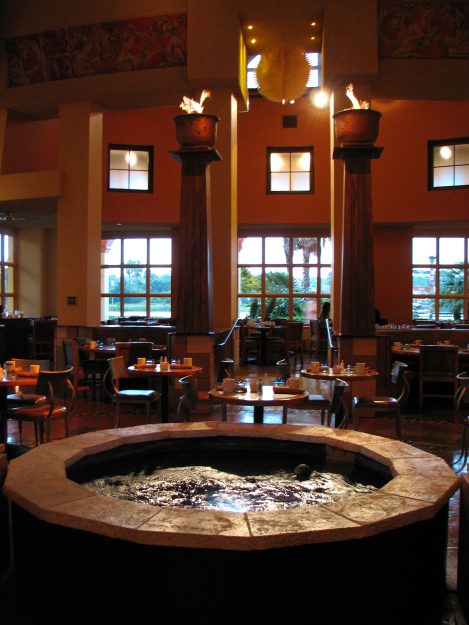 Rix Sports Bar & Grill is the 300-seat lounge offering specialty drinks and appetizers. The drink list includes the Strawberry-Banana Split and the Chocolate Martini. Appetizers range from chorizo flatbreads to a seasonal fruit and cheese platter. Rix Lounge is open from 5PM to 2AM daily.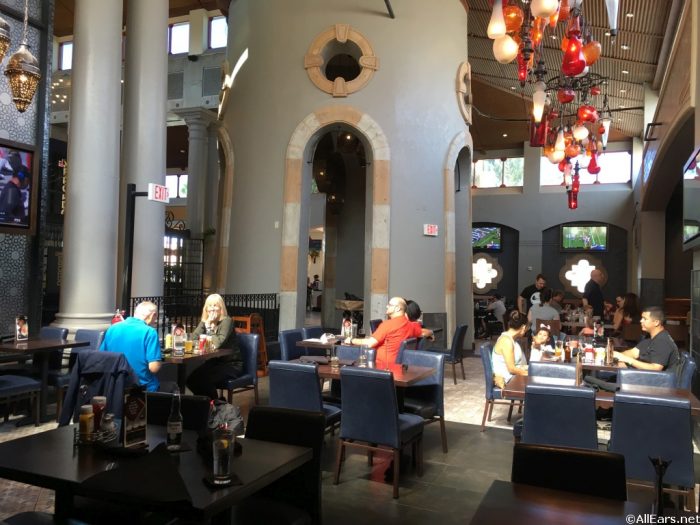 Siesta's Cantina in the Dig Site pool area, offers counter service food and drinks from 11 a.m. to 5 p.m.
Laguna Bar also offers some light bite options.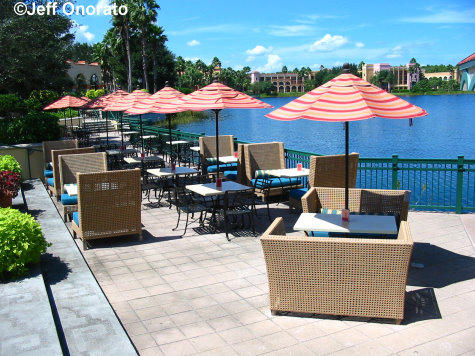 Room Service – There is room service available to resort guests, which offers continental breakfast (7-11 a.m.) and light (sandwiches, pizza, snacks) dining throughout the day (11 a.m.-11 p.m.).
Toledo — Tapas, Steak, & Seafood is a rooftop restaurant atop Gran Destino Tower. Serving Spanish-inspired cuisine and specialty cocktails, Toledo offers sweeping views of Walt Disney World with glimpses of nearby fireworks shows at Epcot and Hollywood Studios.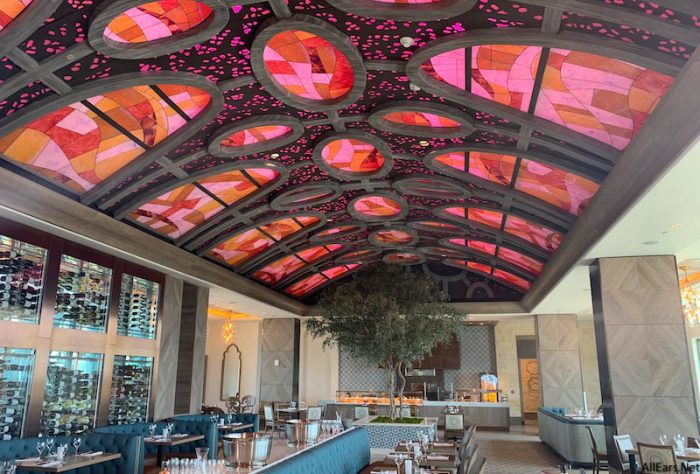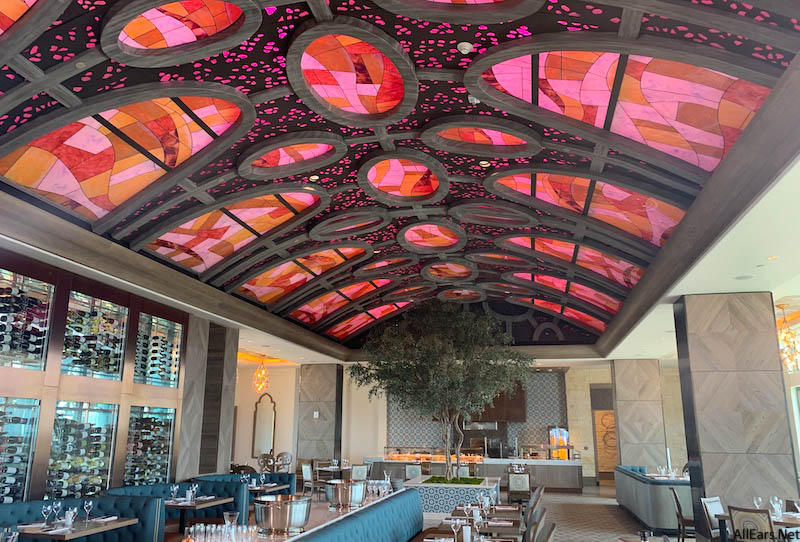 Dahlia Lounge in Gran Destino Tower is a rooftop lounge with beautiful Dali-inspired decor and a patio with seating. Drinks include specialty gin tonics.
Barcelona Lounge serves double-duty in the lower level lobby of Gran Destino. Barcelona Lounge is a coffee bar with grab-and-go breakfast items in the morning and a cocktail bar in the evening.
Three Bridges Bar and Grill is located on a platform in the middle of Lago Dorado. This location affords guests will beautiful views of the resort and a unique experience of munching and drinking over the water.
What are Rapid Fill Mugs?
The Rapid Fill beverage program allows Disney Resort guests to buy (or receive as part of the Disney Dining Plan) a resort mug that can be refilled for a certain period of time as designated at time of purchase. These mugs are enhanced by an RFID bar code that enables the mug to deactivate when the designated time is complete.
Is there a gift shop?
Panchito's Gifts and Sundries is a 6,000 square-foot shop filled with Indian and Mestizo handicrafts and Disney's own character merchandise. The shop is named after Panchito, the Mexican parrot in Three Caballeros. Scenes from the Three Caballeros are painted on the walls of the shop, and there is a figure of the flying burro from the film that is central to the shop.
What about the resort's pools?
The resort has a wonderful themed pool at the The Dig Site, as well as a quiet pools in each of the three regions. The Dig Site includes a 272,000+ gallon pool, a bar called Siesta's, a sand volleyball court, the largest outdoor hot tub on WDW property, which accommodates approximately 22 people, the Explorer's Playground, and the Iguana Arcade.
The Dig Site features a 46 foot tall Mayan pyramid themed as a modern archaeological dig of a lost kingdom. You can also find a Spitting Statue at the Dig Site. Night-time lighting resembles that which you would imagine at a dig site. Water flows from the top of the pyramid down into the pool. The Dig Site is open 8am to midnight.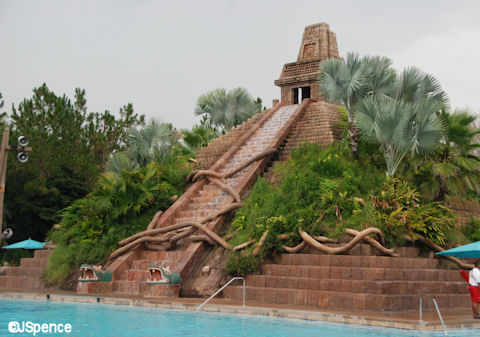 The Jaguar Water Slide is 123 feet long, shoots under a spitting jaguar and is partially covered. There is a "walkway type bridge" which allows you to view people in the water slide from above.
A Children's Pool includes a central spouting fountain.
There are three quiet pools, one located in each of the regions: Casitas, Ranchos, and Cabanas. Towels are available poolside at the Dig Site, but no towels are available at the Quiet Pools. You'll need to take the towels from your room.All the pools at WDW are geared with children in mind, so there are *always* steps into pools. The Dig Site pool (the main pool with the Mayan pyramid) as well as the quiet pools have wheelchair access, and a place for folks in chairs to slide off onto a step and slide down into the pool… with an extra railing, too.
What other Recreation is available at CS?
There is 1 Arcade – Iguana Arcade is near the Siesta pool bar.
Explorer's Playground provides kids an area to dig for artifacts in the sand, play on swings or climb into the Pyramid. There is a large Mayan head statue in the midst of the playground; partially buried in the sand.
Encircling the lagoon and linking the quiet pools is a 0.9 mile Esplanade for leisurely strolls. A nature walk winds its way through the wooded sections of the resort featuring wooden walkways and bridges.
The Marina (operates seasonally) located on the southern end of Lago Dorado near El Centro offers kayak, pedal boats and electric boat rentals from 10 a.m. to 6 p.m. There are also bicycles, both regular and surrey bikes, available for rental from 10 a.m. to 5:30 p.m. They also have helmets for those that request one. In addition, they'll rent you a fishing pole, if you'd like to do some catch-and-release fishing on the lake.
La Vida Health Club (open 6:00 a.m. to 9:00 p.m) is the first fitness center at a WDW moderately priced resort. It is 3,000 sq feet and has Cybex weight-lifting machines, free weights, step machines, treadmills, and stationary bikes. It also features a Precorps Transport cross training. The health club also has a 200 sqft sauna, manicures, pedicures, facials, massage services, tanning facilities and personal training assistance. One day, Length of Stay and Family Memberships are available for your stay.
The Gran Destino Fitness Center is open from 7AM to 10PM daily and features state-of-the-art equipment with built in fitness programs from Technogym.
Rix Sports Bar and Grill, a 300-seat nightspot, opened in 2018 at Coronado Springs Resort and replaced Rix Lounge. Rix Sports Bar and Grill offers house music, specialty drinks and tapas-style appetizers. It is the first venue of its kind on Disney property outside the Disney Springs entertainment and dining area. Rix is open daily from 5PM to 2AM. A DJ will play Top 40 music, and bands will perform some nights. There is a dress code (specifically, we hear from a friend, no sneakers).
I use a wheelchair, how accessible are the grounds?
ECVs (electric wheelchairs) will move about fine inside and most of outside CSR. The only possible glitch being the narrow sidewalk and the suspension bridge as you approach the Dig Site from the Casita/Cabana side. There *is* handicapped access into the pool.
Does CSR offer any room discounts?
Yes, CSR does offer a limited number of Annual Passholder discounted rooms and may be included in Disney's sporadic room-only discounts.
TO LEARN MORE ABOUT WHAT CORONADO SPRINGS HAS TO OFFER, CHECK OUT THIS ALLEARS TV VIDEO!
Overview
Phone: 407 939-1000
Address: 1000 West Buena Vista Drive, Lake Buena Vista, Florida 32830
Transportation Options (1)
Activities & Recreation (6)
Playground
Arcade
Running Trail
Poolside Movies
Gym
Health Spa
Room Options (19)
Standard View
Water View
Preferred Room
King Bed
Preferred Room - King
Water View - King
Junior Suite
Junior Suite - King
Casitas - 1 Bedroom Suite
1 Bedroom Suite - King
Casitas - Executive Suite
Tower - Standard View
Tower - Water View
Tower - Standard View - King Bed
Tower - Water View - King Bed
Tower - Standard View - Club Access
Tower - Executive Suite - Club Access
Tower - One Bedroom Suite - Club Access
Tower - Presidential Suite - Club Access