Port Orleans Riverside Resort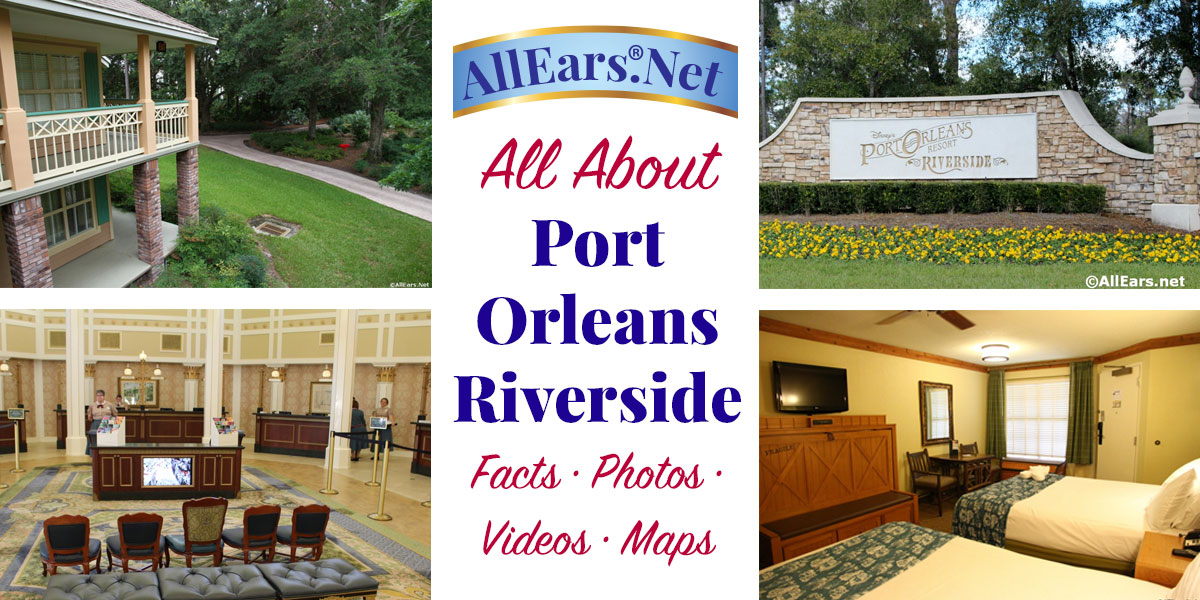 Port Orleans Riverside Resort Highlights:
Themed to the Mississippi-bayou
Just upstream from Port Orleans French Quarter on the Sassagoula River
Features table service restaurant, Boatwright's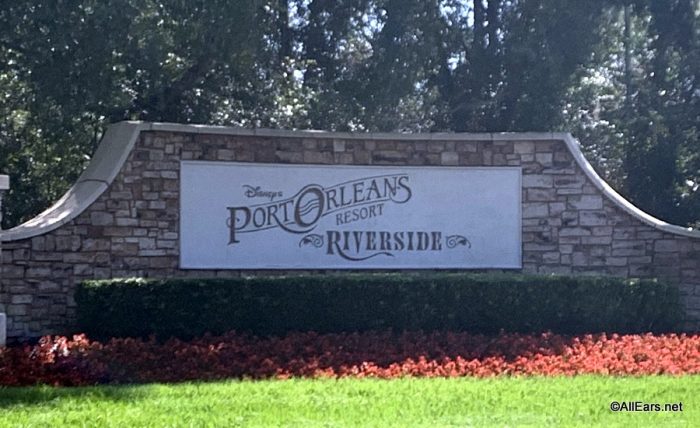 What is the Riverside Resort?
Port Orleans Riverside is a resort themed to the Mississippi-bayou area of the Old South. Appropriate to the magic of Disney, numerous thematic elements recreate the feel of actually being in the bayou. The mighty Sassagoula River winds through the Resort, heading downstream to Port Orleans French Quarter and eventually the Disney Springs area.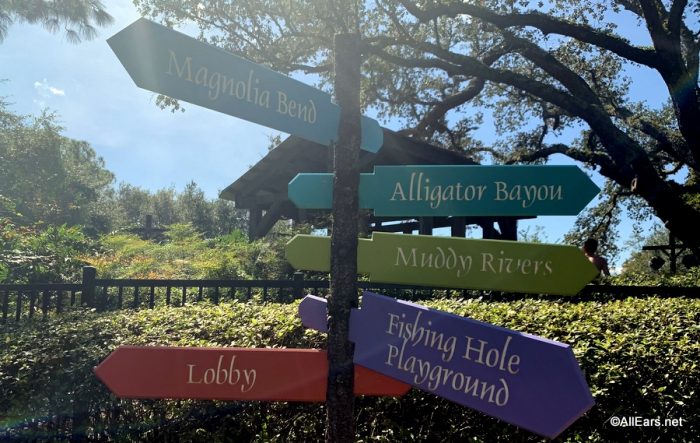 The Resort commercial center, which houses the registration area, food court, restaurant, and other services, carries a riverboat dock theme, as if you are booking passage with the Sassagoula Steamboat Company. The restaurant — Boatwright's Dining Hall — is designed as a boat building operation, the food court (Riverside Mill) features an operating cotton press, and you check in under signs listing the Steamboat destinations.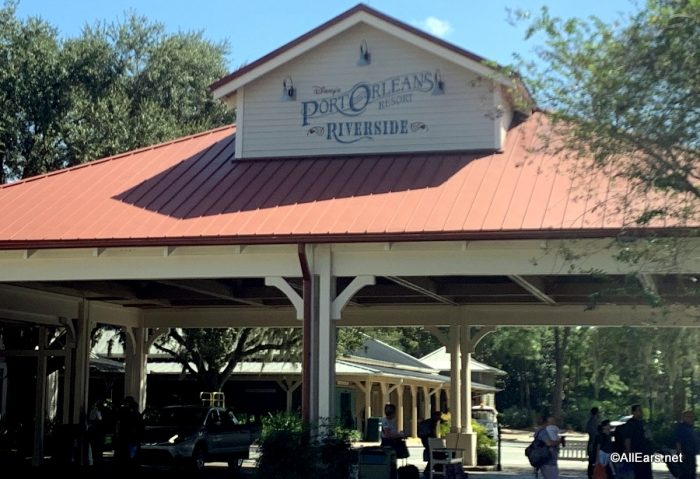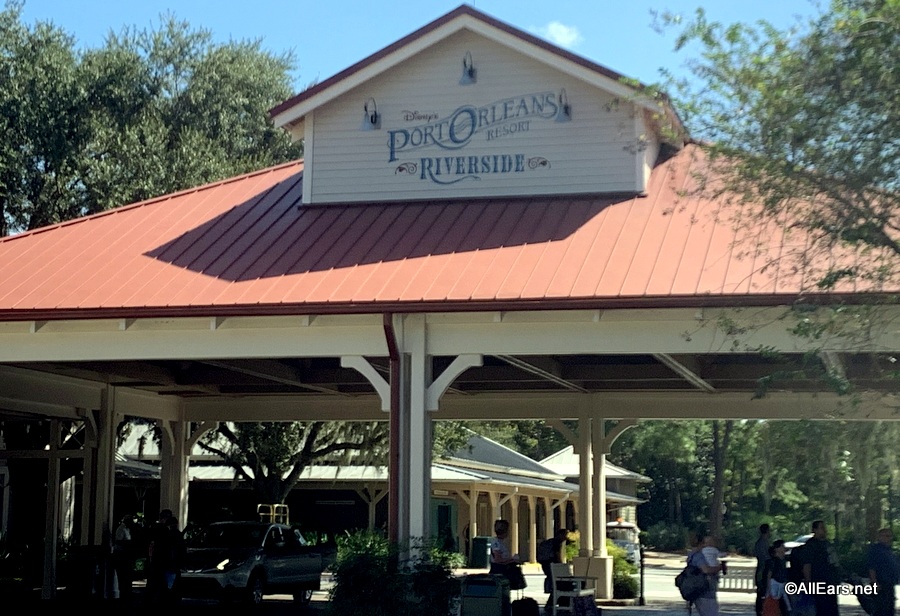 There are three styles of rooms: Magnolia Bend rooms are located in plantation-style mansion homes, whereas Alligator Bayou rooms are in rustic lodges. And true to Disney, each area is themed to the hilt. Special Royal Rooms can be found in Magnolia Bend buildings 90 and 95 for an additional cost. The award-winning southern landscaping throughout the Resort is meticulously maintained, adding to the overall atmosphere.
Where is it located and I how do I get there?
Riverside is located in the Disney Springs Resort Area, just off Bonnet Creek Parkway. It is just upstream from Port Orleans French Quarter on the Sassagoula River.
How many rooms does it have, what kinds of rooms, and what are the rates?
Port Orleans Riverside has 2,048 rooms, some of which are pet friendly. As mentioned, the rooms are divided into two sections, Magnolia Bend and Alligator Bayou. Most rooms contain two queen beds. Some king beds are available, and some rooms have a pull down Murphy bed as well. The rooms feature two pedestal sinks, a bathtub/shower with a retractable clothesline, a remote-controlled TV, a dresser, a table with two chairs, and a small luggage rack. There is also be a small refrigerator in your room. Lighting is ample for reading or working, and a small safe is provided for storage of your valuables. Most rooms sleep four comfortably, and some rooms will sleep five.
Walt Disney World Resort made complimentary Wi-Fi service available in all of its hotels as of March 2012. See our Internet Access page for details.
Port Orleans Riverside Resort is considered a "Moderate" resort hotel, and its prices are in the mid-price range of the hotels at Disney. These are regular rate prices and do not include the Florida Sales Tax nor the county resort tax. Standard rooms have a maximum four-person occupancy per room. No charge for children under 17 years old when in the same room as the adults. If you have more than two adults in the room, there will be a $15 per night charge for each extra adult. Maximum of four per regular room, six per suite, plus a child under 3 in a crib.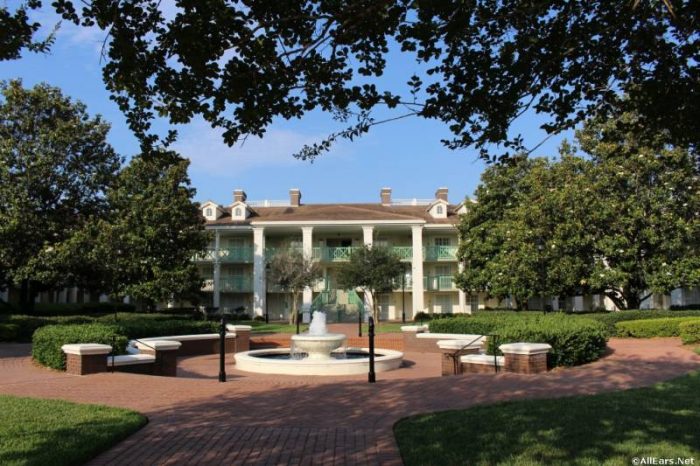 Walt Disney World Resort rates vary by season (there are nine seasons now), and also by day of the week. The holiday season is the most expensive time of the year. It runs from mid-December to early January as well as during Easter Week.
The rates for a:
— Standard Room range from $246 – $392
— Preferred Room range from $302 – $432
— Pool View Room range from $266 – $405
— River View range from $302 – $434
— King Bed range from $300 – $421
— Garden View range from $260 – $399
— Royal Guest Room Standard View range from $304 – $449
— Royal Guest Room River View range from $310 – $471
— Royal Guest Room Garden View range from $309 – $454
— Royal Guest Room Pool View range from $310 – $471
Keep in mind that the rooms do not have private balconies or patios, or interior entrances. The windows overlook a public, outdoor walkway. So if you aren't planning to open your windows much or will be spending the majority of your time in the parks, it may not be a good value to pay for a water view room. Connecting doors between adjacent rooms allow friends and large families to easily visit each other. Be sure to ask for this option when making your reservation.
Is there a fee to park at Port Orleans Riverside?
There is a fee for overnight self-parking at Walt Disney World Resort hotels. Click HERE for current pricing and other parking-related information.
Can I Bring My Pet to Stay at Port Orleans Riverside?
Walt Disney World has four hotels pet-friendly, one of which is Port Orleans Riverside. Read our page on Pet-Friendly Hotel Rooms for more details.
Pets may also be boarded at the Best Friends Pet Care kennel across from Port Orleans Riverside.
Are there smoking and nonsmoking rooms?
What are the differences between Magnolia Bend and Alligator Bayou?
Magnolia Bend is themed as four 2- and 3-story mansion homes, reflecting the large plantation residences in Mississippi many decades ago. Here you'll find well kept lawns, wrought iron railings and trellises, crawling roses and an elegant motif. At any time you'd expect to see the Colonel and his wife greet you on the main lawn waiting to invite you in.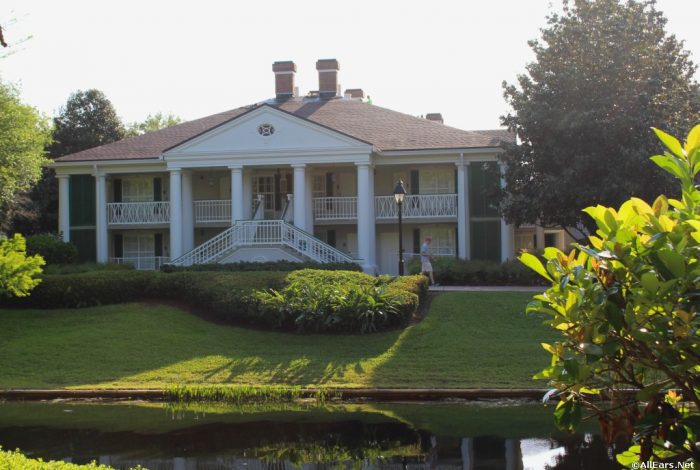 Another important feature to note about the mansions is the fact that you must cross the Sassagoula River bridges to get to the food court, gift shop and other main building features.
Buildings 90 and 95 in Magnolia Bend also house the Royal Rooms.
Alligator Bayou lodges are a more rustic, backwoods cottage setting, featuring 16 smaller two-story Cajun-style buildings with charmingly rustic wooden furniture and settings. In addition, the rooms in Alligator Bayou contain a murphy bed that will sleep a 5th person (murphy bed replaced the trundle bed).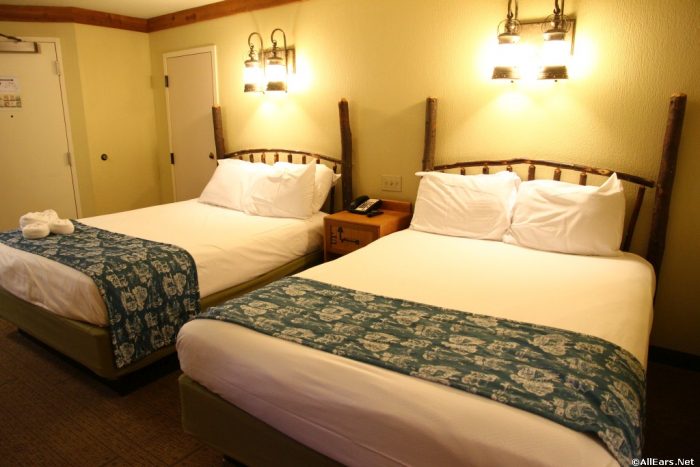 An important difference to note between the two sections are the lack of elevators in Alligator Bayou. If you are unwilling or unable to negotiate stairs but still prefer Alligator Bayou, be sure to inform the front desk at check-in, and they will do their best to accommodate you.
Though it rarely happens, it is suggested that if you find any aspect of your room to be inadequate, you contact the front desk and request nicely to be moved to a room that is what you wanted/expected. Disney is in the business of satisfying their guests, and they will almost always do everything in their power to make you happy.
Which are the most convenient buildings to the Resort center, pools, and bus stops?
In Magnolia Bend, Oak Manor is nearest to the Resort center, and is adjacent to one of the "quiet" pools. Magnolia Terrace is mentioned by many to be an ideal location, while others find Oak Manor to be a better choice.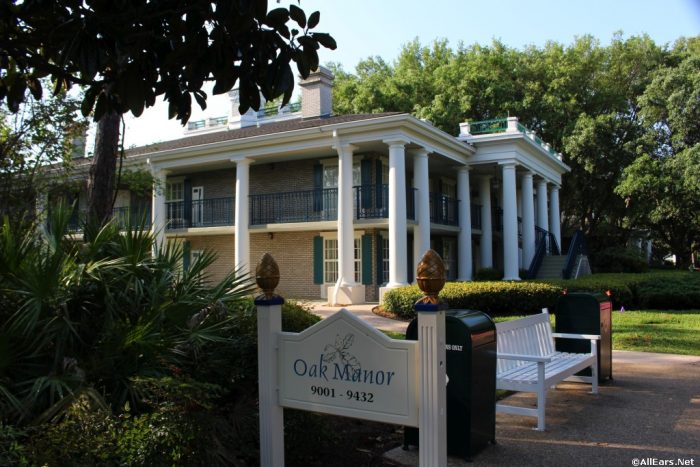 In Alligator Bayou, buildings 14, 15 and 18 are closest to the resort center and are a short distance from a "quiet" pool. No room is more than a 4 minute walk from a bus stop [see below]. The main themed swimming area, Ol' Man Island, is located in the middle of the Resort. The closest buildings are Magnolia Terrace in Magnolia Bend and lodges 27 and 38 in Alligator Bayou. Unless you plan on spending a lot of time on Ol' Man Island, you are probably better off requesting a room closer to the Resort center/food court.
How do I keep from getting disoriented along the winding paths of Alligator Bayou?
In Alligator Bayou, look for gray concrete walkways. These run directly from the parking lot to the Sassagoula. The other colored paths will eventually get you where you are going, if you don't mind taking the scenic route! Also, there are signs at every junction, clearly pointing the way to wherever you need to go.
What is the best time to check in?
The busiest check-in time is generally noon to late afternoon. Earlier a.m. or late p.m. check-ins may be easier, but there is only limited likelihood of your room being ready earlier in the day, especially during peak seasons or when the Resort is near 100% occupancy (which we are told happens often).
However, you can pre-register as early as 7 AM.; your luggage will be stored, and you can obtain your Magic Bands (if you don't already have them). If your room is ready early they will let you in, though you shouldn't count on it being so. If desired, Bell Services, adjacent to the main entrance, will happily assist you with your luggage at check-in. The registration area of Port Orleans is certainly one of the most beautiful lobbies of the resorts at WDW and at Christmas is not to be missed.
I hear that there are no more room key cards at Disney resort hotels. How do I get into my room?
Walt Disney World has converted their room keys and admission tickets from plastic cards to MagicBands, flexible plastic wristbands, resembling a watch or bracelet, that use Radio Frequency (RF) technology. Your MagicBand is linked to your My Disney Experience (MDE) account (http://allears.net/tp/my-magic-plus.htm) and acts as your Disney resort room key. Simply touch the Mickey symbol on your MagicBand to the RFID reader near your room door to gain entry. Read about using MagicBands for park admission, FastPass+ and more here: http://allears.net/tp/magic-bands.htm
Is there someplace to shop?
Fulton's General Store is located in the Resort commercial center, adjacent to the River Roost Lounge. Fulton's (named after the famed steamboat inventor) carries a large assortment of postcards, souvenirs, over the counter pharmacy needs and convenience items. There's a bulk candy counter, a snack area with a limited selection of liquor, munchies, cold beverages, and toiletries. The clothing section has been enlarged over the last few years and it's surprising how many choices you have here. You can also find a newsstand, Disney character and Resort themed merchandise, and "country"-style clothing and knickknacks. We've found that many of the most popular Disney souvenirs including figurines, photo frames, pens/pencils and watches can be found here. Though you cannot benefit from discounts found at Disney Springs using Annual passes, the pricing is identical to that found in the parks.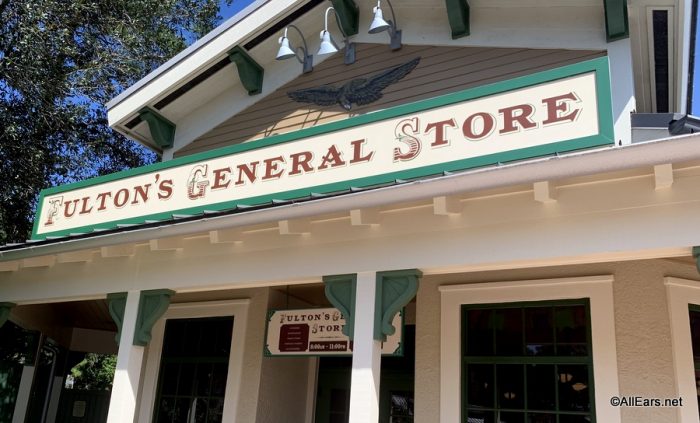 Posted hours are from 8:00 a.m. to 11:00 pm, but these do change from time to time, so you'll want to confirm the current schedule when you check-in. A sign outside the entrance advises contacting the front desk for emergency needs after store hours.
Can I get cash at the resort?
An ATM is located in the registration lobby directly to the right as you walk into the registration lobby, next to the cruise line desk. Be aware the bank may charge you a fee ($2 last time we checked). This fee will be added onto the withdrawal amount, and is in addition to any fee your bank may assess.
Where can I mail Postcards and Letters?
A mailbox is located to the right as you enter the registration lobby.
What about park and/or dinner show tickets, or information on non-Disney attractions?
For theme park, water park tickets, you can visit the Lobby Concierge.
Lobby Concierge also will be happy to provide specific information on area attractions outside of Disney World.
Is there a place to do my laundry?
A self-service laundry facility is located adjacent to each quiet pool, featuring coin-operated washers, dryers, and supply vending machines. Washing or drying costs $2 per load, and detergent for one load runs $1.00. After midnight, the laundry facility doors require a valid Magic Band for entry.
Valet laundry service is available Monday through Saturday. Simply fill the laundry bag located in your room and complete the ticket. For same day service, drop the clothes off at Bell Services prior to 8:30 a.m., and your clothes will be returned to you after 6 p.m.
What can you tell me about transportation?
At check-in, you will be given a Walt Disney World Transportation Guide/Map, which contains a map of Walt Disney World as well as a route information chart which details how to get anywhere from anywhere. Take a moment to study it if you're a first-time visitor or trying to get somewhere not on a direct route, or stop by Guest Services or the Front Desk and ask for help.
…To the theme parks?
Direct bus service is available to the Magic Kingdom, Epcot, and Disney's Hollywood Studios. The buses drop you a short walk from each park entrance. Service is available to Animal Kingdom with a stop at Blizzard Beach.
…To the water parks?
To get to Typhoon Lagoon, hop aboard the Disney Springs bus, and you will make a stop at the Lagoon prior to Disney Springs. In the afternoon, the Typhoon Lagoon stop will occur after the trip to Disney Springs. The bus to Blizzard Beach also stops at its "wild" neighbor, Disney's Animal Kingdom.
…To Disney Springs. Boats depart daily every 20 minutes from 11:00am to 4:00pm. and every 10 minutes from 4:00pm to 11:00pm. Due to popularity and limited seating capacity, you may experience an extended wait before boarding. All guests may have to exit boat at the destination and reboard at the queue line for return trip. The boat dock is in the back of the hotel property.
…To other resorts/resort areas?
Direct bus service is available to Fort Wilderness after 4 p.m. on the "Internal" shuttle bus, particularly handy for those heading for the Hoop-Dee-Doo Review.
Otherwise, there is no direct inter-Resort bus service. You must travel to a transportation hub and make a transfer there. The four theme parks make excellent hubs during park hours, but after that, the Disney Springs area is basically your only option. Allow PLENTY of time to make the transfer. Note that it is virtually impossible to make an early (before 8 or 8:30 a.m.) Character Breakfast reservation at another resort relying on WDW transportation traveling from Riverside, so keep that in mind when making your vacation plans.
Where are the bus stops, and will I have a long wait?
There are four bus stops at Riverside. The main South depot, with the "Mason-Dixon" platforms, is located at the Resort commercial center. The other three are along the Resort's perimeter road, Sassagoula Circle. There is a stop within a 3-4 minute walk of any room. In the morning, there can be large crowds waiting to board the buses at the South depot after breakfast.
Where can we eat at Riverside?
Riverside has two primary dining spots: a sit-down restaurant, Boatwright's, and a food court, Riverside Mill.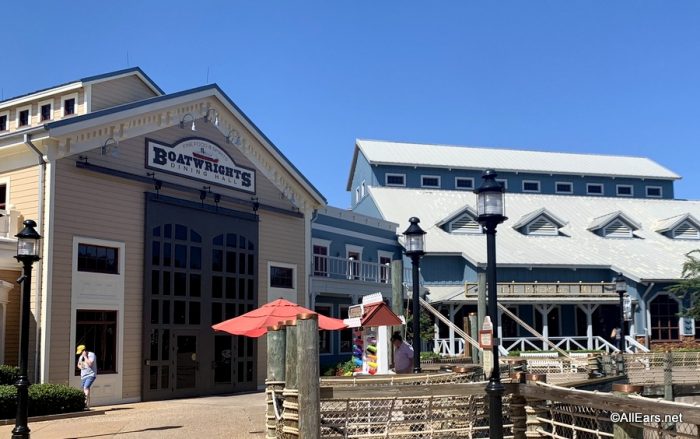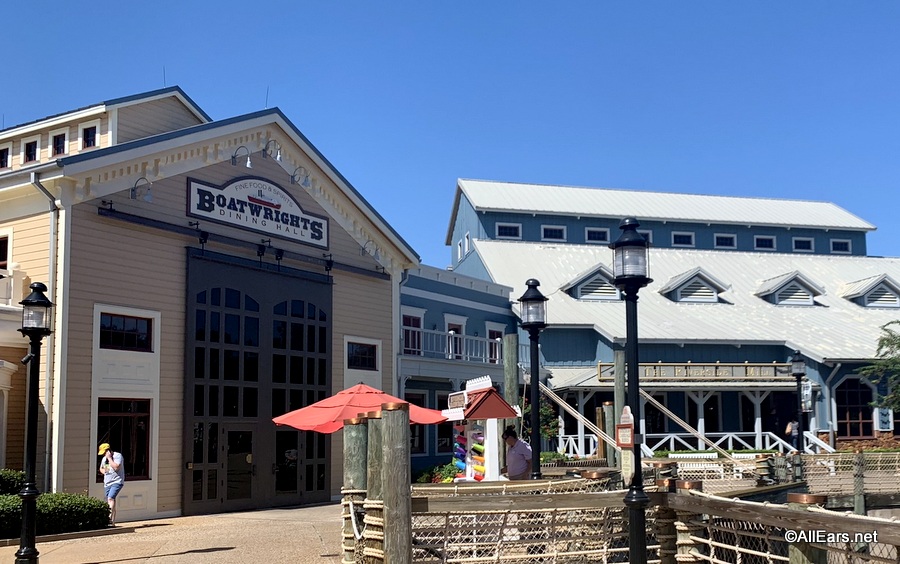 Boatwright's, themed around the days of wooden boat building (including a large hull "under construction" which hangs from the ceiling), offers dinner (5:00-10:00 p.m.). Reservations are suggested, especially during busy seasons. A children's menu is available. The Dinner menu features Cajun specials fresh from the bayou. Dinner prices range from $12 – $20, but lighter "appetizer" options are available.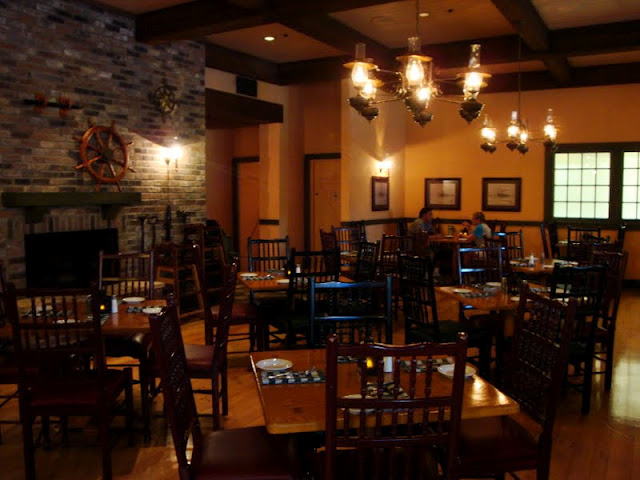 Built to resemble a working cotton press, the Riverside Mill food court houses a fascinating set of massive working gears which are powered by a large water wheel. Open 6:00 a.m. to midnight, a good variety of fast food, much of it healthy, is available from several vendors. Typical meals run from $4 – $12 per person.
Is there someplace to get a drink?
The River Roost Lounge, adjacent to Boatwright's, is themed to a cotton exchange/trading room and seats about 100 patrons. A full bar is available, as well as light appetizers. Live entertainment is provided five evenings a week although check in advance for the current acts. The lounge is normally open until midnight. During football season, the bartenders at the lounge have been known to don referee's outfits, and many of the games are shown on the lounge's big-screen TV. Monday Night Football is celebrated every week with games, trivia, and drink specials.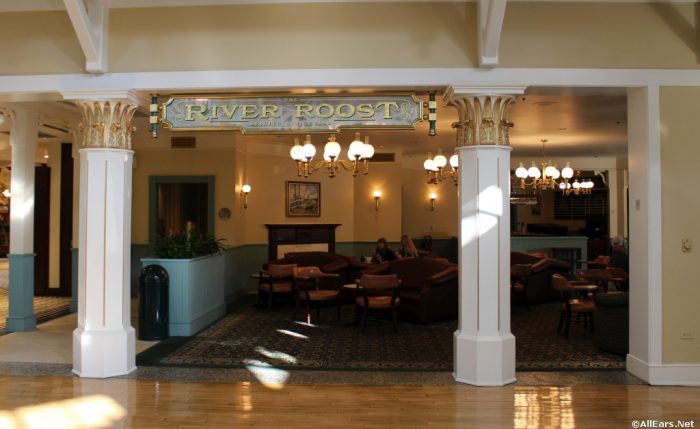 If you are interested in live entertainment, be sure to see what nights Ye-Haw Bob is playing! He puts on a great singing show for everyone!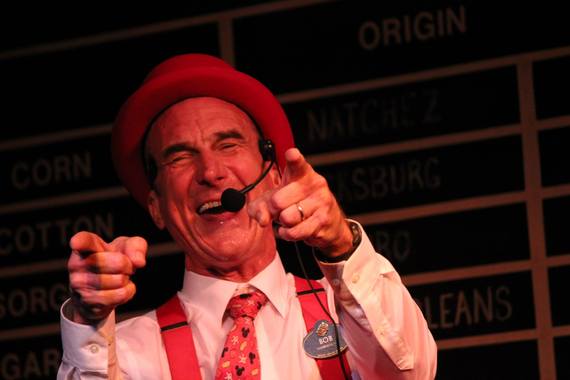 The Muddy Rivers Pool Bar is located on Ol' Man Island, and offers drinks and light snacks from around noon until early evening.
What are Rapid Fill Mugs?
The Rapid Fill beverage program allows Disney Resort guests to buy (or receive as part of the Disney Dining Plan) a resort mug that can be refilled for a certain period of time as designated at time of purchase. These mugs are enhanced by an RFID bar code that enables the mug to deactivate when the designated time is complete. For complete details visit: http://allears.net/din/mugs.htm
Can I go swimming or ride a water slide at the Resort?
The main themed swimming area, Ol' Man Island, is centrally located between the bayou section and the mansions. The Island is home to a large pool, a spa (holds around 8-people), a kiddie pool (up to 36″ deep), a wading pool and a short but fun water slide. The pools and water slide are open all day (usually 9 a.m. to around 10 p.m.) and lifeguards are normally on duty during most pool hours. As of spring 2003, the island now has a geyser at the main pool that shoots water through a pile of rocks and debris, adding to the theme. We're told that the "old man" was so upset with the geyser spouting off that he tried to block its eruptions with the debris we can now see. Fortunately for all of us, his efforts failed and a wonderful spray of water has been produced. Handrails and ramps have recently been created to aid wheelchair visitors.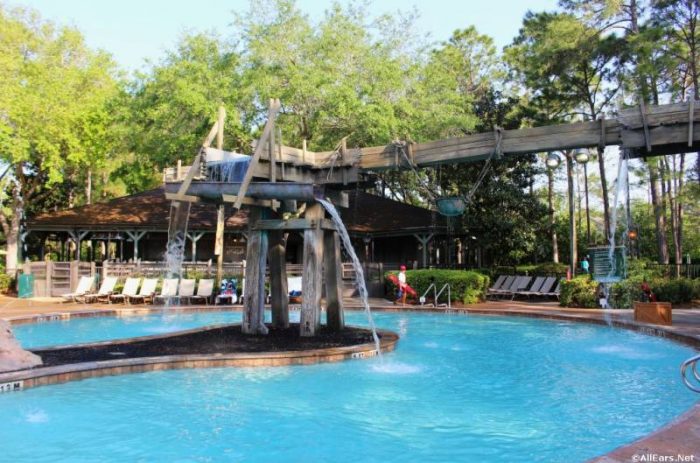 There are also five leisure pools scattered throughout the Resort (3 in Alligator Bayou and 2 in Magnolia Bend); all are open 24 hours. These pools are usually more serene than Ol' Man Island because most kids prefer the Island due to the water slide. Be aware that these pools have no lifeguards.
All pools have restroom/changing room facilities. A valid Magic Band is required at certain hours, so it's a good idea to have it with you. Be sure to take room towels with you, as none are provided pool-side (except at the main pool). While Housekeeping is good about making sure extra towels are available in the rooms, additional towels will be happily delivered upon request. Before heading for the pool, call Housekeeping, and towels will be waiting in your room when you return.
An important note: The pools can still be used once you check out, and many people find a relaxing morning or early afternoon spent at the pools while waiting for a later flight to be a fitting end to a Disney vacation.
The Muddy Rivers Bar located adjacent to the main pool has a large covered porch that is excellent for socializing while the kids are having fun in the pool. There is seating for a few dozen guests.
Where does the name Ol' Man Island come from?
The Legend of Ol' Man Island: "Settled in 1835 by a Young Man, the island became his home in the solitude of the Bayou Country. Years later, as Riverside was settled and prospered, Ol' Man Island was discovered by the children of the town. They would steal away to play on the island where a wondrous world had been created. The island is a tribute to the Ol' Man and the happiness he gave the children and all of Riverside's Neighbors."
I hear there is an evening carriage ride?
Take an evening horse and carriage ride through the French Quarter and Riverside regions of Disney's Port Orleans Resort. Visit our Carriage Rides page for details and current pricing.
Are there any other forms of recreation?
Various forms of recreation are available including hourly bicycle or Surrey bike rentals. On a warm, breezy day, there might not be a better way to pass the time than peddling through the "bayou". For details, check at the Riverside Levee rental window underneath the twin water towers. Bike rental hours are 8:00 a.m.- 5:30 p.m. although operating hours are seasonal.
Adults can enjoy jogging or a leisurely walk around the grounds or along the riverside path to nearby the French Quarter.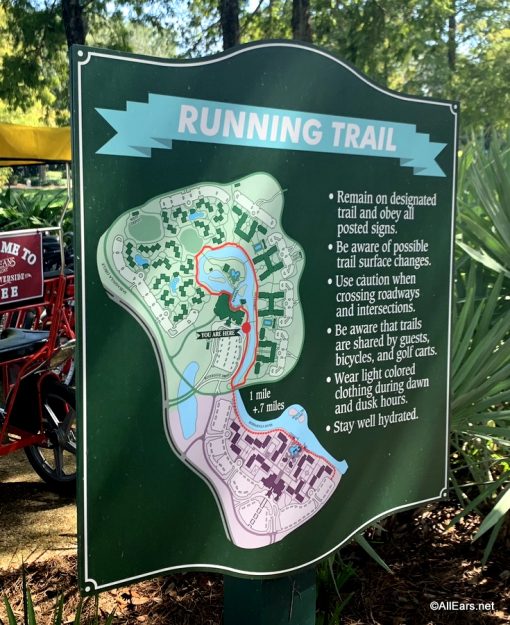 For early risers, a two-hour guided fishing trip is available daily, leaving at 6:30 a.m. (weather permitting). The excursion travels down the Sassagoula River, and includes use of all rods, reel, and tackle. Advance reservations are required. Contact Guest Services, or call 934-5409. Pricing is approximately $75.74 per person, $185 for up to 5-people. There are also excursions starting at 9 AM and the cost is $80 per person and $160 for up to 5-people according to pricing found on the Riverside map.
A children's play area is located adjacent to Ol Man Island.
What things are there for kids to do?
For kids (and kids at heart), catch-and-release fishing on Ol' Man Island is available at the Fishin' Hole. Open 7:00 a.m. – 3:00 p.m., it is stocked with catfish, bass, and blue gill, and a catch is almost guaranteed. Ol' Man Island is also home to a playground, where the little ones can burn off some energy (if they have any left after a day at the Magic Kingdom!). Craft activities, organized by Cast Members, are held near the pool on some days. If you're visiting during a holiday period, you may even find special activities such as an Easter egg hunt.
The Bayou Pirate Adventure Cruise – Legend has it that a pirate captain lost his treasure somewhere along the Sassagoula River. Join in this 2-hour adventure that includes a boat excursion and a snack. Children aged 4-10 encouraged to join the crew. $34 per child (excludes tax). Call 407-WDW-PLAY for reservations.
Movies Under the Stars – on select nights (weather permitting) you can enjoy a Disney movie in the courtyard of Oak Manor (check the resort activities flyer),
Billed as one of the largest video arcades in Walt Disney World, the Medicine Show Arcade in the main building offers a fine selection of video games and pinball machines to empty out your pockets.
A painter sometimes operates a stand in the lobby between registration and the gift shop between 6-11 PM. Pricing starts at $15 for a B/W face painting up to $28 for a face-body full color painting. Frames start at $15. Tubes are available for $3 and celebrity prints are $25 each.
Riverside has a large variety of wildlife, including ducks, birds, and an otter that can be seen frolicking in the river from time to time. Rabbits, squirrels, and even a chipmunk or two (but, unfortunately, not Chip or Dale) have also been sighted on the Resort grounds. Cast Members caution against feeding the birds, as they become very aggressive when fed, and as the signs say, they "may bite the hand that feeds them". You can't say we didn't warn you. Let's keep the Alfred Hitchcock attraction at Universal, OK?
What other theming details should I notice about the Resort?
You'll see that the buildings in the Resort, starting with Parterre Place in Magnolia Bend, begin very luxuriously, and become more rustic and dilapidated looking as you move up river, culminating in the backwoods settings of Alligator Bayou. As the Riverside "legend" goes, this is due to the fact that, as pioneers traveled up the Sassagoula River (which we are told is the American Indian word for "Mississippi"), they started building residences with the grandest of building materials from the "city" of the French Quarter (was Port Orleans). As they got further upstream, the building supplies started running low, and they were forced to improvise. Similarly, the exterior of the Resort commercial center starts out looking mighty fancy at the Medicine Show Arcade, becoming rustic and weather-beaten by the time it reaches the Cotton Mill building.
As you walk along the Sassagoula River between Magnolia Bend and Alligator Bayou, look closely and you'll notice a transition area where the rustic pines of the Bayou give way to the grand flowering trees of the Bend. It's a seamless transition that keeps each area separate, yet blends them into one all at the same time.
When passing through the Resort commercial center lobby rotunda, be sure to notice the accurate compass on the floor.
What time is check-out?
The Resort requests that you check-out by 11:00 a.m. If you would like help with your luggage, you should contact Bell Services as soon as the day before but no later than 30 minutes prior to leaving your room. They can also help you with airport shuttle reservations or taxi service, or you can contact Guest Services.
If you are paying for your stay with a credit card, you will be given the option of using Express Checkout. All outstanding Resort charges will be processed on your card, and an itemized receipt delivered to your door prior to 8:00 on the day of departure. There is no need for you to return to the front desk, and the Magic Bands can be kept as souvenirs of your visit.
Why should I choose the Riverside over another Resort?
Riverside is one of the nicest and best-themed moderate Resort at WDW. The extensive, award-winning landscaping, courteous cast, and choice of room themes will certainly add a large share of Disney magic to your vacation. While some of the "deluxe" Resorts are fancier and have more amenities, Riverside is a bargain that can't be beat.
To get to Riverside from the Orlando airports, visit our Driving Directions page.
TO LEARN MORE ABOUT WHAT PORT ORLEANS RIVERSIDE HAS TO OFFER, CHECK OUT THIS ALLEARS TV VIDEO!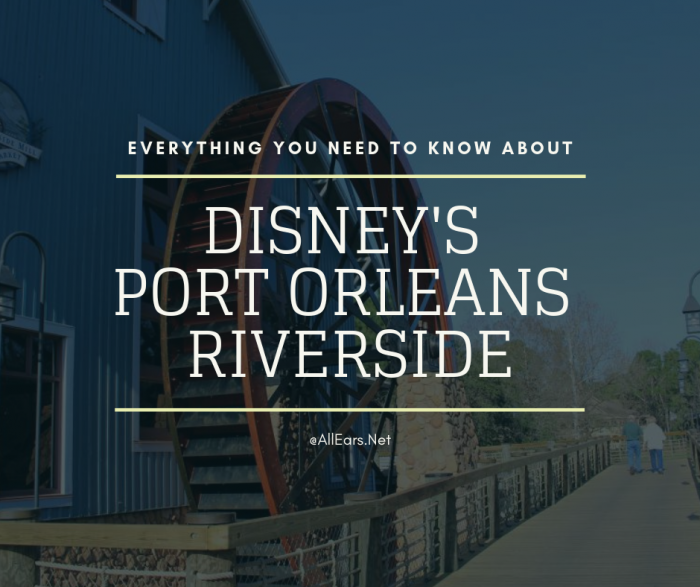 Overview
Phone: 407-934-6000
Address: 1251 Riverside Drive, Lake Buena Vista, Florida 32830
Transportation Options (2)
Activities & Recreation (4)
Playground
Arcade
Running Trail
Poolside Movies
Room Options (12)
Standard View
Garden View
Standard View - 5th Sleeper
Pool View
King Bed
Garden View - 5th Sleeper
River View
Preferred Room
Royal Guest Room - Standard View
Royal Guest Room - Garden View
Royal Guest Room - River View
Royal Guest Room - Pool View