Port Orleans – French Quarter Moderate Resort
Port Orleans French Quarter Highlights:
Smaller, more walkable of the Moderate Resorts
Has direct boat access to Disney Springs
You'll find Mickey Beignets here!
What is Port Orleans French Quarter Resort?
The Port Orleans French Quarter Resort opened May 17th, 1991. It is themed around the heart of the city of New Orleans, the French Quarter, with plenty of fun Mardi Gras theming around the resort. The French Quarter (FQ) is the sister hotel to the adjacent Port Orleans Riverside. The Sassagoula River runs through the back of the resort and goes upriver to the Riverside and downriver to the Disney Springs area.
Resort Layout
The resort is relatively compact compared to other Moderate resorts. 1008 rooms are spread out between 7 three-story buildings. Each building has 3 elevators as well as stair access.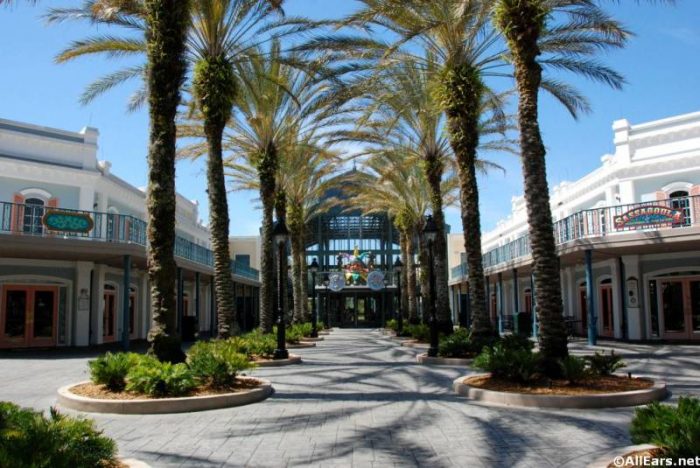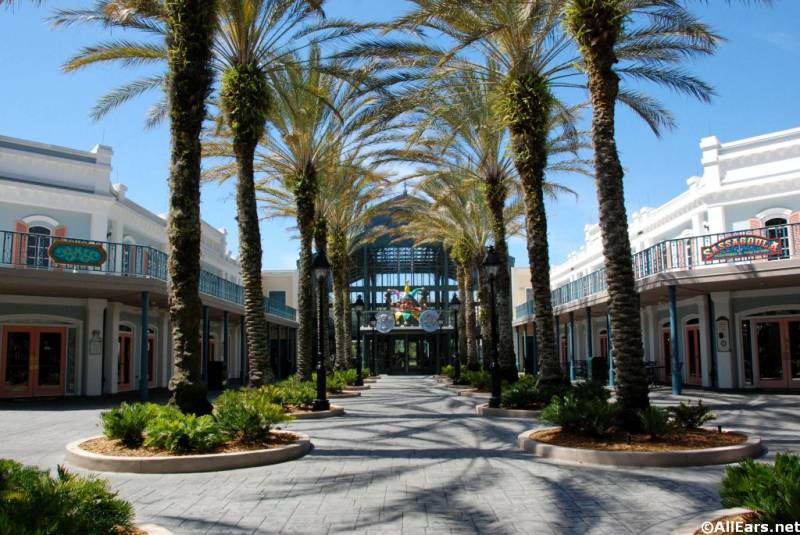 The buildings are themed to mimic the eclectic style of the French Quarter, with various styles of shutters and doors and wrought-iron railings. Most buildings do not face the parking lot, rather they look into courtyard styled walkways.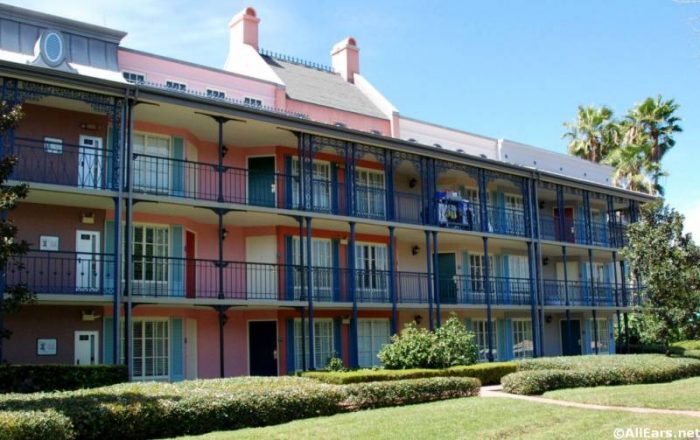 Port Orleans Square is the main building of the resort, housing resort's check-in, food options (Sassagoula Floatworks and Food Factory and Scat Cat's Club/Lounge), Magical Express drop off and pick up, and the gift shop (Jackson Square Gifts and Desires). Buildings with equally close access to Port Orleans Square are 2, 3, 4, and 5.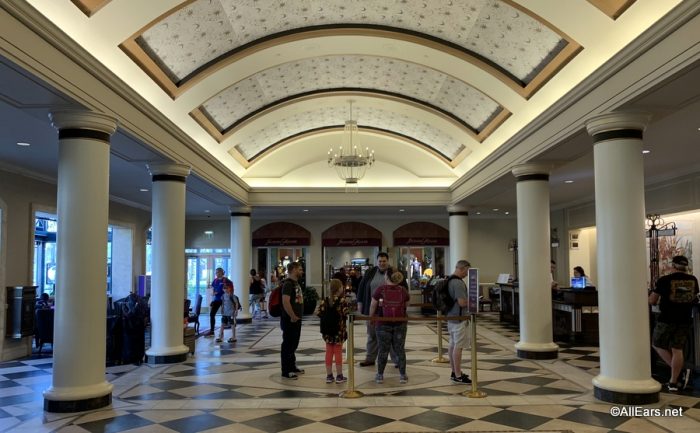 The resort's pool, Doubloon Lagoon, is located at the back, middle of the resort overlooking the Sassagoula River. The pool features a larger than life sea serpent slide with King Neptune sitting on top. Colorful Mardi Gras themed cartoon alligators are scattered around the pool area. Mardi Grogs is the pool bar, offering a small cold food menu as well. A large kids' splash area and a hot tub are located in the pool area as well. Buildings 2 and 5 have closest access to the pool.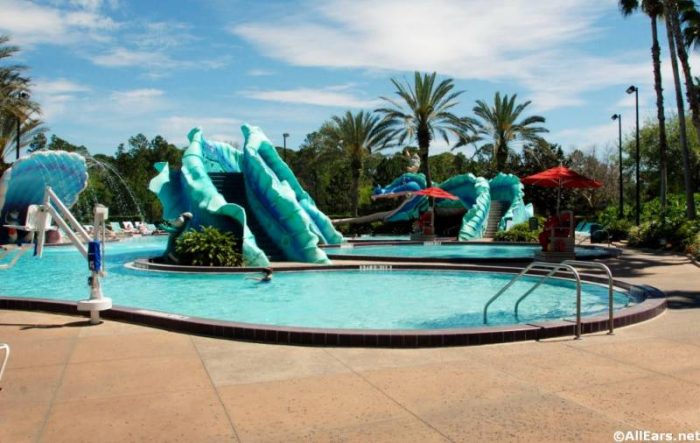 On the backside of the pool area against the river is dock to access the Sassagoula River ferry boats, with access to Disney Springs. When returning from Disney Springs, be on the lookout for a purple flagged boat to signify Port Orleans French Quarter. During slower times, boat service between both Port Orleans French Quarter and Riverside and condensed down, so you'll look for a purple and yellow flag.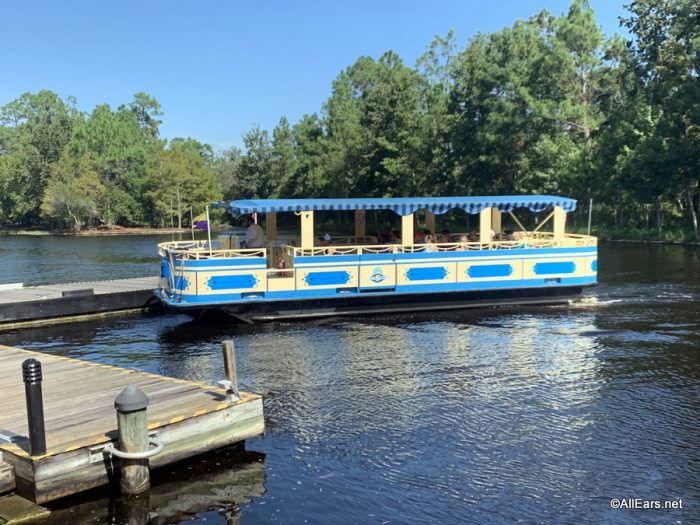 Due to the smaller size and the layout of the resort, there is only one bus stop at Port Orleans French Quarter, located in front of Port Orleans Square. Note that the buses to Port Orleans French Quarter often service both French Quarter and the much larger Riverside resort, though pickup/dropoff will typically be at French Quarter first.
What are the Rooms Like?
Most rooms have two queen beds, though a few rooms with king-size beds are available, often found on the corners of each building. Up to four guests, and one child under 3 in a crib, are allowed per room. Cots are available at $15/night; call to reserve one in advance.
Rooms include two sinks outside the bathroom, cable TV/radio, armoire, table and chairs, phone, a small wall safe, hair dryer, iron and ironing board, a Pack and Play, a mini-fridge, and coffee maker. Complimentary coffee packs are also supplied. Bed boards, bed rails, extra blankets and pillows, baby cribs and sharps containers are available through housekeeping. Complimentary wi-fi is available.
All rooms open to a covered exterior and are roughly the same layout and size. Connecting rooms are available. A small number of rooms are designed specifically for wheelchair guests.
All rooms are non-smoking.
What kind of room views are available?
There are three different room views. The Standard View Rooms offer a view of the parking lot. Garden View Rooms have a view of the 'inner streets' of the hotel. The Water View Rooms offer a choice between a view of the pool or the Sassagoula River. Due to the smaller size, this resort does not offer preferred location rooms (often meaning closer proximity to main buildings or transportation) but Water View Rooms overlooking the pool offer the same conveniences as a traditional preferred room.
What should I expect to pay for a room at Port Orleans French Quarter?
The Port Orleans French Quarter is considered a "Moderate" resort hotel, and its prices are in the mid-price range of the hotels at Disney. These are regular rate prices and do not include the Florida Sales Tax nor the county resort tax. Rates are based on double occupancy. No charge for children under 17 years old when in the same room as the adults. If you have more than two adults in the room, there will be a $25 per night charge for each extra adult. Maximum of four per room, plus a child under 3 in a crib.
Sometimes there are special rates for Annual Passholders, AAA members, or Florida residents. Be sure to inquire when you call for reservations!
Walt Disney World Resort rates vary by season (there are nine seasons now), and also by day of the week. The holiday season is the most expensive time of the year. It runs from mid-December to early January as well as during Easter Week.
The rates for a:
Standard Rooms range from $246 – $344 (Holidays up to $392)
Garden View Rooms range from $253 – $354 (Holidays up to $402)
River Water View Rooms range from $268 – $366 (Holidays up to $413)
Pool Water View Rooms range from $268 – $372 (Holidays up to $421)
King Bed Rooms range from $278 – $388 (Holidays up to $429)
Is there a fee to park at Port Orleans French Quarter?
For reservations booked after March 21, 2018, there is a fee for overnight self-parking at Walt Disney World Resort hotels. Click HERE for current pricing and other parking-related information.
Will I need any type of ID when checking in?
When you pull up to the French Quarter you will encounter a security kiosk at the resort entrance, where you will need to stop and tell the officer you are checking in. Have your photo ID and MagicBand handy. (If you haven't received your MagicBand yet, you can pick it up at the front desk.)
Once you have checked in, your MagicBand will allow you to use the card-activated entrance adjacent to the kiosk, eliminating the need to speak to someone each time you enter the resort property.
I hear that there are no more room key cards at Disney resort hotels. How do I get into my room?
Walt Disney World has converted their room keys and admission tickets from plastic cards to MagicBands, flexible plastic wristbands, resembling a watch or bracelet, that use Radio Frequency (RF) technology. Your MagicBand is linked to your My Disney Experience (MDE) account and acts as your Disney resort room key. Simply touch the Mickey symbol on your MagicBand to the RFID reader near your room door to gain entry. Read about using MagicBands for park admission, FastPass+ and more HERE.
You can also use the Digital Key found in your My Disney Experience app.

Can I buy Passes To The Parks?
Yes, Disney Park Passes can be purchased at the Lobby Concierge Desk in the Main Lobby Building.
Choose your tickets wisely — depending on your stay at the French Quarter a different pass might be cheaper. Some of the passes Disney sells offer admission to all four Theme Parks and all Water Parks. If you are staying for more than one week check out the Annual Pass Prices, they might be cheaper.
Is the French Quarter a good place to bring kids?
Yes, there is a game room, and a small playground located by the pool, as well as a huge dragon-water slide that delights both children, and the young at heart. The FQ also offers baby-sitting services for the days, or nights that parents want some time to themselves. The FQ is also well suited for couples and can be quite romantic.
Can I get a babysitter at the French Quarter ?
To check on available child care options at Walt Disney World, visit our Child Care FAQ.
Tell me about the Bathrooms in the French Quarter guest rooms.
Each guest room has a mid-size bathroom (smaller than the Deluxe Resorts and about the same as the All-Star Resorts). There is one bathtub equipped with a shower head in each bathroom, and one toilet. There is a double-bowled vanity located right outside the bathroom.
Can I make special room requests like adjoining rooms or views at the FQ?
Those room requests are available, but you must make your request when making reservations. Rooms requests are *NOT* guaranteed, but every effort will be made to honor your request. Also note: ADJOINING rooms and CONNECTING rooms are NOT the same! When confirming your reservation before you leave for the French Quarter it would be good to remind them of your requests.
When I check out I will be in a hurry. Will there be a long wait?
The check-in/check-out desk can have a long line, but you can use the "Express Checkout" service which is quick and easy (and free). A complete copy of your bill will be emailed to you. If you haven't received one and you are ready to leave, stop at the Front Desk to request a hard copy. It is important to review your bill BEFORE you leave Disney, it will make corrections much easier.
Why is the FQ well-suited for couples?
It is quiet and sophisticated (but not over done) and there are lots of romantic spots. There are fountains, simple yet relaxing landscape and soft lights throughout the resort, great for a quiet evening talk, or a quick smooch. The Sassagoula River path is a great place for a romantic evening walk.
Are there refrigerators available?
Yes, all rooms have a small complimentary refrigerator. If yours doesn't, contact the Front Desk.
Are there safes?
Yes, there are small safes in the rooms. Valuables can also be placed in the hotel safe at the front desk.
Is there Internet Access available in the rooms?
Walt Disney World Resort made complimentary Wi-Fi service available in all of its hotels as of March 2012. See our Internet Access page for details.
What types of transportation to the parks are there?
There are buses that stop at one bus stop at the French Quarter.
Bus service regular schedule runs every 10-15 minutes during busy seasons, and every 15-20 minutes during non-busy seasons. The bus stop is right in front of the main lobby building.
One bus runs to the Magic Kingdom.
One bus runs to Epcot.
One bus runs to Disney's Hollywood Studios.
One bus runs to Animal Kingdom.
One bus runs to Blizzard Beach.
One bus runs to Typhoon Lagoon and Disney Springs.
Transportation to Disney Springs. Boats depart daily from French Quarter every 20 minutes from 11:00am to 4:00pm. and every 10 minutes from 4:00pm to 11:00pm. Due to popularity and limited seating capacity, you may experience an extended wait before boarding. All guests may have to exit boat at the destination and reboard at the queue line for return trip. The boat dock is in the back of the hotel property.
Is the transportation service good?
Bus service is adequate, but unfortunately all the buses for the French Quarter also serve all four bus stops of the Riverside, which causes some crowding during the busy seasons. The boat also serves both the French Quarter and the Riverside, but not as many people use the boats. If you are going to Disney Springs and have some time on your hands, use the boat service. It is relaxing, and a pleasant ride.
How do I get to other Disney Resorts from French Quarter?
To get to any other Disney Resort you can take Disney Transportation, or drive or take a taxi. If you are using Disney Transportation here is what to do:
To get to Disney's Riverside Resort: Hop on any bus going anywhere, and get off at the first stop, which is the main lobby building of the Riverside Resort.
Other ways to get to Riverside include walking and boat. Walking is along the scenic pathway and is approximate 7-10 minutes from Food Court to Food Court. For boats – go to the marina. Boats depart every 20 minutes from 9:10 a.m. until 11 p.m.
To get to any other Disney Resort: Hop on any bus going anywhere, and get off at that bus's destination and switch to the bus, or boat, or, monorail that goes to the Resort you want. Be careful of park closing times so that you are able to return to your hotel!
Where is there to eat?
There is only one place to eat at the French Quarter. Sassagoula Floatworks and Food Factory is a food court where you can dine from 6 a.m. – midnight (hours vary).
You can also go over to Port Orleans Riverside and have dinner at Boatwright's, the full service restaurant.
Sassagoula Pizza Express delivers to French Quarter, but delivery stops at midnight.
Is there a bar/lounge?
Yes there is one lounge called Scat Cat's Lounge and one pool bar. Scat Cat's Lounge is located in the main lobby building. The hours are 4:30 p.m. to 12:30 a.m. You can order alcoholic and nonalcoholic beverages.
The bar is located by the pool and is open from noon to 10 p.m. You can order alcoholic and nonalcoholic beverages.
Is there a pool?
Yes, there is one heated pool called Doubloon Lagoon. The water slide is a huge dragon. The pool also has an "Alligator Band" "playing" (shooting water) on the side of the pool. The water slide closes (is turned off and locked up) at 10 p.m. The lifeguards go off-duty at the pool at 10 p.m. After that it is "swim at your own risk". The pool is located in the center of the hotel property.
Is there a hot tub?
Yes, there is one hot tub located by the pool. It is supposed to close at 2 a.m., but there is never a point where people are not allowed in it. As long as people keep the volume to a reasonable level you can go in at any time. With only one, though, don't expect it to be intimate… you will usually find others in the water.
I hear there is an evening carriage ride, tell me more!
If I don't want to go to one of the parks one day what type of recreational activities does the FQ have?
Recreational activities include:
Access to five championship Disney golf courses (complimentary transportation is available for French Quarter Resort guests through Bell Services).
Themed water Recreation areas at Doubloon Lagoon, complete with Mardi Gras dragon slide and alligator fountains. (For Port Orleans guests only).
Hot Tub
Bike rentals from 9 a.m. to 5 p.m. daily. Cost is $7.51 per 60 minutes or $20.65 per day (during hours of operation).
Marina is open from 10 a.m. to 5 p.m. daily. Watercraft rentals featuring pedal boats, pontoon boats and canopy boats.
Arcade located off the lobby.
Surrey Bikes (like those at the Boardwalk) from 9 a.m. to 5 p.m. daily.
Cane Pole Fishing is $3.75 for 30 minutes.
Fishing Excursion – 5 guest maximum. See our Fishing Excursion page for details.
Is there a store at the hotel?
Yes, Jackson Square is the resort store located in the main lobby building. It opens at 6:30 a.m. every morning and closes every night at 11:30 p.m. The store sells Disney memorabilia, as well as hotel memorabilia, stamps, postcards, film, some over-the-counter medication, snacks, soda, wine, beer, and hard liquor.
How can I get my clothes cleaned at the French Quarter?
There is both a laundry facility and a dry cleaning service available. The laundry facility is medium size and is located by the pool. Be warned that the washers and dryers here do not accept cash. They only accept credit or debit cards. For dry cleaning, you call the service and they will come and pick up your clothes, clean them and return them for a fee.
I can walk, but not great distances, and will need a wheelchair for my stay in Disney World. Can I rent one for my entire stay at the FQ?
At Lobby Concierge in the main lobby building you can borrow a "push" wheelchair for your entire stay in the French Quarter. A deposit is required for when you check out a wheelchair, but upon return of the wheelchair your deposit is refunded in full. That is the only "cost" for renting a wheelchair through a Disney Resort. *Wheelchair Availability Is On A First Come First Serve Basis* You can also rent one from local vendors who will deliver to your hotel.
I will be expecting a phone call while at the Port Orleans, but am afraid I'll miss it while at the parks. What should I do?
As with all Disney Resorts, French Quarter has a voice mail system that allows guests to "personalize" their voice mail or use the message available automatically. This allows people to call and leave voice mail when the guest is either out of the room, not answering or on the phone. Guests can retrieve their voice mail from their room, or from any phone outside the resort. This is a free service from Disney.
Are there TVs?
As with all Disney Resorts there is one flat panel tv in each room at the FQ. Channels include basic Orlando Cable (NBC, CBS, etc), The Disney Channel, and The Walt Disney World Network, which airs information about Walt Disney World 24 hours a day that is helpful when planning what you will do the next day, or on your next trip to Walt Disney World. If you miss part of the planning information on The Walt Disney World Network don't worry, it is constantly repeated. The Walt Disney World Network is available in both English and Spanish on separate channels.
Is Bell Services available to move my luggage?
Yes, upon arriving at the front entrance, you will give your luggage to Bell Services and they give you a receipt (which you will need when retrieving your luggage). Once you have checked in, if your room is ready, you can go to your room and call Bell Services and they will bring up your luggage (takes anywhere from 10-30 minutes, depending on the amount of people checking in / checking out).
Bell Services will also store your luggage upon arrival until your room is ready. If you wish to go straight to the parks and your room is not ready yet or they are very busy, Bell Services will hold your luggage until you get back that night.
When it is time to check out just call Bell Services and they will come pick up your luggage (and give you another receipt, which you will need when retrieving your luggage) and store it until you check out (takes anywhere from 10-30 minutes, depending on the amount of people checking in/out).
If you check out at 11 a.m., but are not leaving Walt Disney Disney World until later in the day or evening Bell Services will store you luggage until you leave.
If requested, Bell Services will drive you to your hotel building when checking in and back to the main building when checking out.
If you are checking out of the French Quarter, and checking into another Walt Disney World Resort, Bell Services will transport your luggage to the next resort. Transportation of luggage between Walt Disney Resorts usually happens at about 3 p.m. When transporting luggage from the French Quarter, Bell Services will give you a receipt (which you will need at your next resort to retrieve your luggage) and transport it to the next Resort's Bell Services for free.
**Notes** 1) One of your party must be in your room when your luggage is delivered to your room or picked up. 2) When the weather is bad Bell Services can get pretty backed up with people who want a ride to their hotel building after checking in or back to the main lobby building to check out. So make sure to give yourself a little extra time when calling Bell Services to pick you and/or you luggage up when checking out if the weather is bad.**
What are Rapid Fill Mugs?
The Rapid Fill beverage program allows Disney Resort guests to buy (or receive as part of the Disney Dining Plan) a resort mug that can be refilled for a certain period of time as designated at time of purchase. These mugs are enhanced by an RFID bar code that enables the mug to deactivate when the designated time is complete. For complete details visit the Refillable/Rapid Fill Mugs page.
What is the difference between Lobby Concierge and the Front Desk at the French Quarter?
The Lobby Concierge desk is in the main lobby building and can arrange dining reservations, sell park admission tickets, rent (loan out) wheelchairs to French Quarter guests, and can answer a variety of questions regarding the Walt Disney World property.
The Front Desk is also in the main lobby across from Lobby Concierge. The Front Desk is where you check in/check out.
Are animals allowed at the French Quarter?
The only animals allowed at the French Quarter are service animals for the disabled, such as Seeing Eye dogs. The animals must be proved to be service animals.
Is there an ATM?
Yes, an ATM is located in the main lobby. Be aware the bank may charge you a $2 fee. This fee will be added onto the withdrawal amount, and is in addition to any fee your bank may charge.
How do I get to French Quarter from Orlando International Airport?
There are 4 ways to get to Disney's French Quarter from Orlando Airport.
1) Rent A Car
2) Use a Town Car Service
3) Take A Taxi Cab/Uber-type service
4) Magical Express – Disney's free shuttle bus service.
O.K., so you convinced me. I want to stay at the French Quarter. How can I make my reservations?
You can call Disney's Central Reservations Office at 407-W-Disney (407-934-7639) (Hours vary for seasons. Value Seasons hours are 7 a.m. to 5 p.m. EST every day. Regular/Peak Season hours are 7 a.m. – Midnight every day.)
Through Disney.com's official website: http://disneyworld.com
Through a Travel Agent.
Where is the French Quarter located?
The French Quarter is located in the Disney Springs Resort Area, just off Bonnet Creek Parkway. It is adjacent to Riverside, just down stream on the Sassagoula River.
How do I get to French Quarter by car?
Take I-4 to Exit 26B (Epcot Center/Disney Springs). Take the 3rd exit (Disney Springs Resort Area). Turn left at the traffic light (Bonnet Creek Parkway) and Port Orleans will be on the right. However, due to construction at the WDW resort, directions may change. Be sure to follow road signs.
To get to French Quarter from the Orlando airports, visit our Driving Directions page.
Other Information:
Your room will be held for you UNTIL 6 a.m. the following morning with a deposit or credit card guarantee.
As with most Disney Resorts the French Quarter accepts American Express, MasterCard, Visa, The Disney Credit Card.
Check in time is 3 p.m. & check out time is 11 a.m., although late check-outs can be requested.
Port Orleans is located at 2201 Orleans Dr. Lake Buena Vista, FL 32830-1000. The phone number is 1-407-934-5000. The fax number is 1-407-934-5353
Port Orleans and Dixie Landings merged! These two moderate resorts have been "sister" resorts since they opened, sharing a common waterway, bus system and other services. The "new" resort is called Port Orleans, with the former Port Orleans Resort known as Port Orleans French Quarter, and the former Dixie Landings known as Port Orleans Riverside. The change went into effect on March 1, 2001.
Port Orleans French Quarter's full service restaurant, Bonfamille's Cafe, closed on August 5, 2000.
TO LEARN MORE ABOUT WHAT PORT ORLEANS FRENCH QUARTER HAS TO OFFER, CHECK OUT THIS ALLEARS TV VIDEO!
Overview
Phone: 407-934-5000
Address: 2201 Orleans Drive, Lake Buena Vista, Florida, 32830
Transportation Options (2)
Activities & Recreation (4)
Playground
Arcade
Running Trail
Poolside Movies
Room Options (5)
Standard View
Garden View
River View
Pool View
King Bed