Enchanted Tales with Belle Enchanted Forest Fantasyland Magic Kingdom
Enchanted Tales with Belle Highlights:
Short re-telling of Beauty and the Beast with audience volunteers (mainly kids) as the performers.
Meet Belle herself! The only place in Magic Kingdom where you're guaranteed to see her.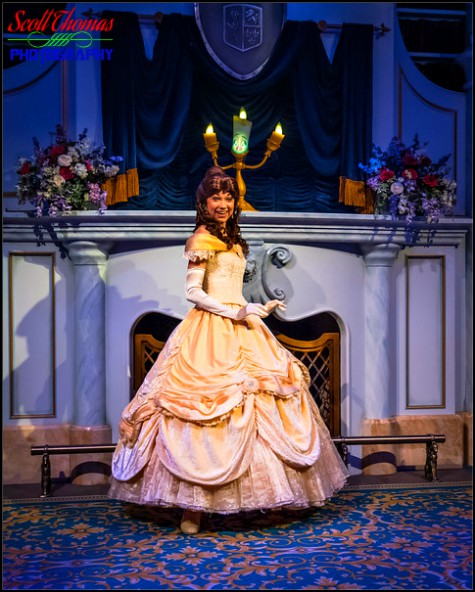 INTRODUCTION
Located in Fantasyland, guests are transported into the world of Princess Belle from the classic 1991 Disney film, "Beauty and the Beast." Guests will get to meet Belle herself, as well as Lumiere and Madame Wardrobe, and kids can participate in a re-telling of the story.
ATTRACTION
Queue — The Queue takes you through Maurice's Cottage, which was Belle's childhood home. The paths are lined with pieces and parts that are easy to imagine came from Belle's father's workshop filled with his many inventions. In the distance, the top of Beast's majestic castle presides over the French town and its people.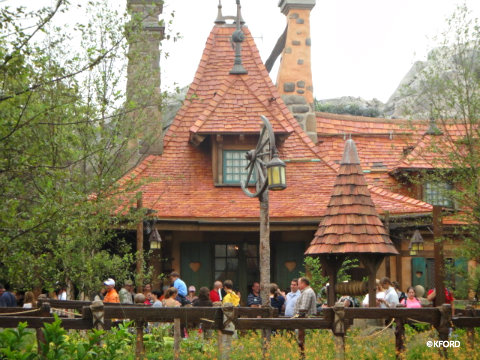 Guests enter the main room of Maurice's cottage — take a moment to look at the detail such as stacks of books and portraits, including one of a young Belle with her mother, as well as marks on the wall measuring Belle's height as a child.
Pre-show — At the end of the queue, a Cast Member will lead you into Maurice's workshop in smaller groups of about 45 people. Around the room you'll see Maurice's inventions and sketches.
In the center of the wall, you'll spot a large mirror. The Cast Member will explain this is a Magic Mirror — a gift from Beast to Maurice so he could visit his daughter whenever he desired. With a little help from you, the magic mirror will transform before your eyes into a portal leading to Beast's castle. This is INCREDIBLE, and worth visiting the attraction on its own.
Show — Upon entering the castle through the Magic Portal, Guests enter a room where Madame Wardrobe interacts with the group, with the help of a cast member. They explain that guests will surprise Belle with a re-enactment of "Beauty and The Beast." Volunteers are assigned parts and handed props, and then everyone is admitted to the library in Beast's Castle.
TIP: If your kid wants to land an initial part make sure they stand near the front and do the requested actions (growl, hop, shiver) nice and big! But don't worry — there are enough parts for anyone who wants to perform!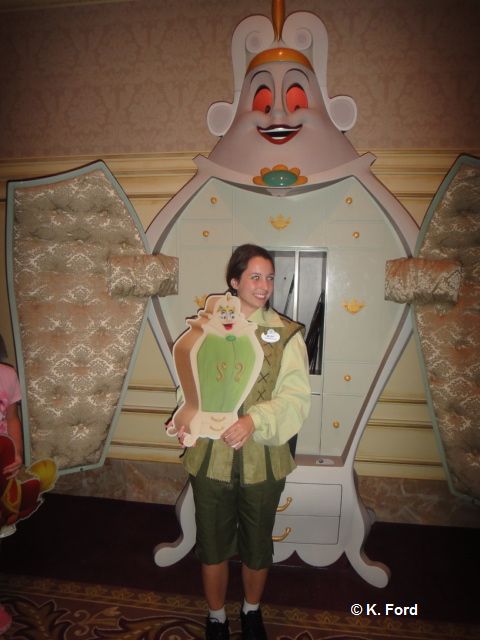 When it's showtime, Lumiere will call you into the library — be prepared to be amazed by the talkative Lumiere! The small candelabra atop the fireplace is big on personality during the show.
Lights are dimmed to surprise Belle when she enters the room, and then the production begins as cast members help the guest actors deliver their simple lines. The experience is interactive for the audience, as well, when guests are invited to howl with the wind, shiver in the dungeon and gallop with a horse.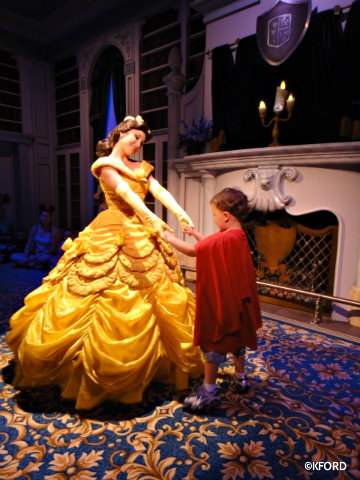 Enchanted Tales With Belle concludes with participants having their photos taken with Belle and the princess leads the actors around the room to the peppy song, "Be Our Guest." Each participant also receives a special bookmark "in appreciation to mark the occasion."
TIP: If you (or your child) didn't participate in the show, they can still take a photo will Belle. Just subtley join the line as Belle starts taking photos and a Cast Member will assist you.
A PhotoPass photographer will photograph each guest will Belle, and hand out a special card on the way out. You'll need to link this card to your My Disney Experience Account to see your photos — they will not link your MagicBand or personal account at this locaiton.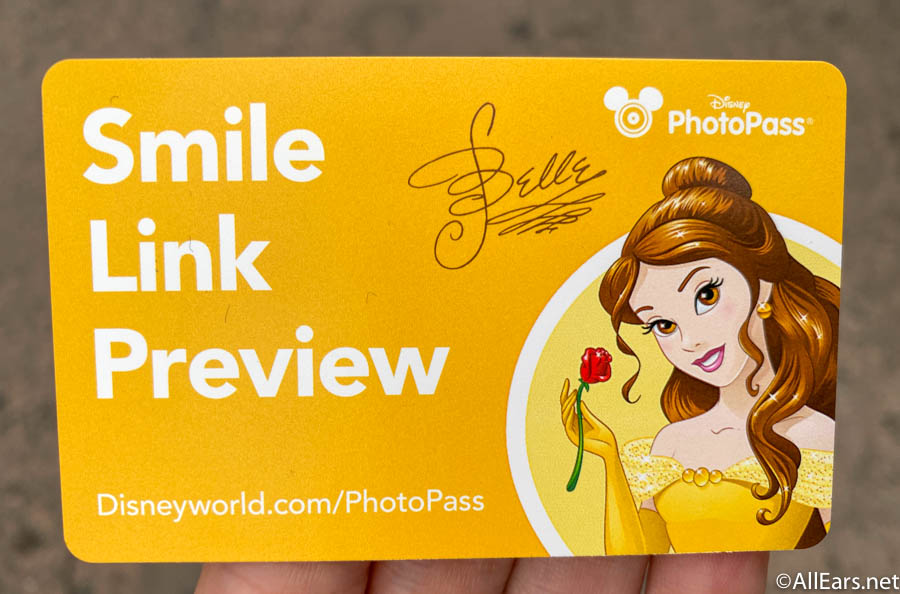 LOCATION
Enchanted Tales with Belle is located in Fantasyland, just past Pinocchio's Village Haus and before Be Our Guest Restaurant.
RIDE LOGISTICS
Accessibility: Guests must transfer from ECV to wheelchair. Audio Description, Handheld Captioning and Assistive listening are available.
Encourage your child to volunteer for a part in the play if he or she wants to "meet" Belle. Cast Members are very good about making sure everyone who wants to participate is able to. She does not circulate through the audience members for photos. (Parents are welcome to stay with shy children during the production.)
Belle doesn't sign autographs during the show, but her commemorative bookmarks do have her signature on one side.
KIDS AND CHARACTERS
Other characters from Beauty and the Beast in Magic Kingdom:
Beast walks through the Be Our Guest restaurant in the evening, and then goes into the gallery to pose for photos with guests when they finish their meals. A PhotoPass photographer is stationed there.
Gaston, the obnoxious-but-lovable antagonist from "Beauty and the Beast," greets guests daily in front of his tavern, which is near Enchanted Tales with Belle.
DINING
Beauty and the Beast Fans can enjoy themed dining nearby.
Next door, in Beast's Castle is Be Our Guest. The restaurant offers traditional French cuisine in a setting that makes guests feel as if they truly have stepped into Belle's world. Choose a table in the grand ballroom, a gallery or the west wing.
This dining location works as a counter-service restaurant for breakfast and lunch and a table-service restaurant for dinner, which was a first for Disney World.
Gaston's Tavern, which does not serve alcohol, is the other nearby dining location. This small restaurant offers pork shank, Le Fou's Brew and warm cinnamon rolls among its treats. It also serves up a handful of healthy snacks.
Popcorn, ice cream, bottled water and sodas can be purchased at Maurice's Amazing Popping Machine, which is usually parked closed to Gaston's Tavern.
Magic Kingdom Restaurants At A Glance
Menus From Around the World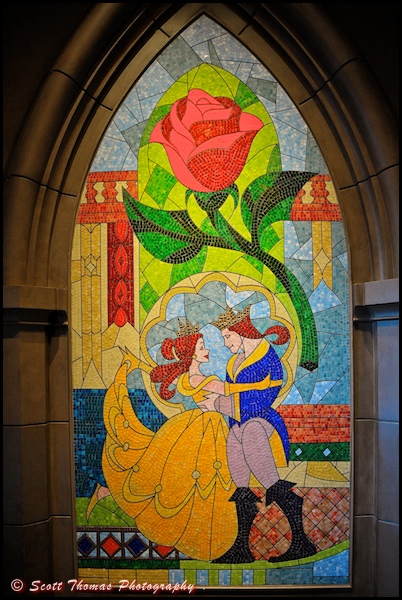 BonJour Village Gifts is the retail store located next to Gaston's Tavern, where you'll find a nice selection of Beauty and the Beast Merchandise. Here, you'll find a selection of goods, including Belle T-shirts for girls and women; Gaston's Tavern T-shirts for men; light-up castle goblets; gargoyle frames and candle holders; Jim Shore statues of Belle; and a collection of dishes and stemware and pillows inspired by the Be Our Guest restaurant.
INTERESTING FACTS
The expansion of Fantasyland more than doubled its real estate in the Magic Kingdom from 10 acres to 21 acres.
Enchanted Tales With Belle was five years in the making, according to Disney Imagineers.
There are 12,000 book spines in the library at Enchanted Tales with Belle, including other Princess Titles. There are also books with HA and AM on them, as a nod to Howard Ashman and Alan Menken, the team behind the Beauty and the Beast music.
This area, initially known as "New Fantasyland", took over the land where the 20,000 Leagues Under the Sea: Submarine Voyage ride was located until it closed in 1994.
There are 115 windows in the Beast's Castle.
Enchanted Tales officially opened on December 6, 2012, although "dress rehearsals" and previews began in September of the same year.