Enchanted Tales with Belle Enchanted Forest Fantasyland Magic Kingdom
INTRODUCTION
Located behind Cinderella Castle in Magic Kingdom, guests are transported into the world of Disney Princess Belle from the classic 1991 Disney film, "Beauty and the Beast."
To get to Enchanted Tales with Belle, guests first will encounter the winding, cobblestone paths to Maurice's cottage on the left as they enter the Enchanted Forest section of Fantasyland.
ATTRACTION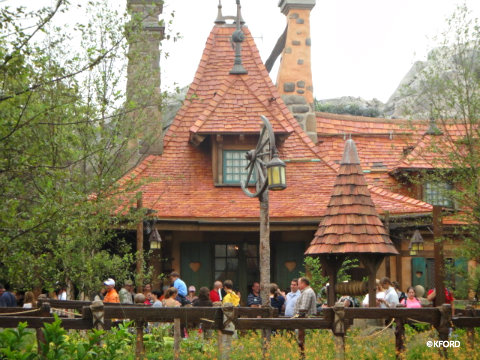 Pre-show — Walking up to Maurice's cottage certainly sets the stage, so to speak, for what is to come. The paths are lined with pieces and parts that are easy to imagine came from Belle's father's workshop filled with his many inventions. In the distance, the top of Beast's majestic castle presides over the French town and its people.
Guests enter the main room of Maurice's cottage and immediately will recognize the occupants of the dwelling from the stacks of books and portraits, including one of a young Belle with her mother. From there, they are admitted to Maurice's workshop in smaller groups of about 45 people.
This area has even more detailed theming, giving guests plenty to study while they wait in front of the magic mirror. Maurice's drawing board and sketches are evident, his tools are scattered throughout the space, and his creations are perched on shelves and hanging from the ceiling.
A gift from Beast to Maurice so he could visit his daughter whenever he desired, the magic mirror is transformed before visitors' eyes into a portal leading to Beast's castle.
Enchanted Tales with Belle — Guests enter a room where Madame Wardrobe interacts with the group, with the help of a cast member. They explain that guests will surprise Belle with a re-enactment of "Beauty and The Beast." Volunteers are assigned parts and handed props, and then everyone is admitted to the library in Beast's Castle.
Be prepared to be amazed by the talkative Lumiere, who helps direct the group to their places in the library. The small candelabra atop the fireplace is big on personality during the show.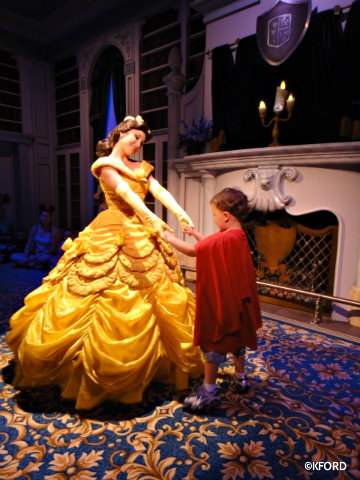 Lights are dimmed to surprise Belle when she enters the room, and then the production begins as cast members help the guest actors deliver their simple lines. The experience is interactive for the audience, as well, when guests are invited to howl with the wind, shiver in the dungeon and gallop with a horse. One great thing about this experience is that there are enough parts for every child — and many adults — in the room, so no one will be left out.
Enchanted Tales With Belle concludes with participants having their photos taken with Belle before the princess leads the actors around the room to the peppy song, "Be Our Guest." Each participant also receives a special bookmark "in appreciation to mark the occasion."
TOURING TIPS
Enchanted Tales with Belle is a FastPass+ attraction. If you use FP+, you will bypass the family room of Maurice's cottage, going straight into the workshop area.
Accessibility:  Guests must transfer from ECV to wheelchair.  Audio Description, Handheld Captioning and Assistive listening are available.
Encourage your child to volunteer for a part in the play if he or she wants to "meet" Belle. Cast Members are very good about making sure everyone who wants to participate is able to. She does not circulate through the audience members for photos. (Parents are welcome to stay with shy children during the production.)
As you leave the attraction, a PhotoPass photographer hands out specially designed PhotoPass cards that contain all the photos from that session. Even if you ultimately choose not to buy the photos, the card is a great keepsake.
Belle doesn't sign autographs during the show, but her commemorative bookmarks do have her signature on one side.
Read more about this attraction in Kristin Ford's "A Mom and the Magic" blog HERE.
KIDS AND CHARACTERS
Guests can meet other Disney Princesses in locations close to Enchanted Tales with Belle.
The Little Mermaid is waiting for her friends in Ariel's Grotto, to the right of the ride, Under the Sea — Journey of The Little Mermaid. In this location, Ariel is wearing her mermaid tail and top, and guests will notice some treasures surrounding her.
Princess Fairytale Hall, is the home for Disney princesses Tiana and Elena and also Cinderella and Rapunzel.
Beast walks through the Be Our Guest restaurant in the evening, and then goes into the gallery to pose for photos with guests when they finish their meals. A PhotoPass photographer is stationed there.
Gaston, the obnoxious-but-lovable antagonist from "Beauty and the Beast," also greets guests daily in front of his tavern, which is near Enchanted Tales with Belle.
Character Meet and Greet FAQ!
Magic Kingdom Characters At A Glance
DINING
The most-talked about dining in Fantasyland can be found inside Beast's castle at Be Our Guest. The restaurant offers traditional French cuisine in a setting that makes guests feel as if they truly have stepped into Belle's world. Choose a table in the grand ballroom, a gallery or the west wing.
This dining location works as a counter-service restaurant for breakfast and lunch and a table-service restaurant for dinner, which was a first for Disney World. During  breakfast and lunch, guests can order on touch-screens and their meals will be delivered to their tables on fancy trolleys. No more balancing loaded trays while searching for an available table!
Gaston's Tavern, which does not serve alcohol, is the other nearby dining location. This small restaurant offers pork shank, Le Fou's Brew and warm cinnamon rolls among its treats. It also serves up a handful of healthy snacks.
Popcorn, ice cream, bottled water and sodas can be purchased at Maurice's Amazing Popping Machine, which is parked closed to Gaston's Tavern.
Magic Kingdom Restaurants At A Glance
Menus From Around the World
Vegetarian and Other Special Diets
SHOPPING
BonJour Village Gifts is the retail store in the Enchanted Forest section of Fantasyland. For "Beauty and the Beast" fans, this is heaven because most of the merchandise is based on this Disney story. Here, you'll find a selection of goods, including Belle T-shirts for girls and women; Gaston's Tavern T-shirts for men; light-up castle goblets; gargoyle frames and candle holders; Jim Shore statues of Belle; and a collection of dishes and stemware and pillows inspired by the Be Our Guest restaurant.
Other merchandise can found at Sir Mickey's, which is located behind Cinderella Castle. This store carries a line of Ariel products themed to the Under the Sea — Journey of The Little Mermaid ride. Big Top Souvenirs, across from Dumbo the Flying Elephant in Storybook Circus, offers items from that section of Fantasyland, including specialty cupcakes adorned with Dumbo candies and caramel corn.
Magic Kingdom Shopping at a Glance
INTERESTING FACTS
The expansion of Fantasyland more than doubled its real estate in the Magic Kingdom from 10 acres to 21 acres.
Enchanted Tales With Belle was five years in the making, according to Disney Imagineers.
There are 12,000 book spines in the library at Enchanted Tales with Belle.
This area, initially known as "New Fantasyland", took over the land where the 20,000 Leagues Under the Sea: Submarine Voyage ride was located until it closed in 1994.
There are 115 windows in the Beast's Castle.
Enchanted Tales officially opened on December 6, 2012, although "dress rehearsals" and previews began in September of the same year.
If you have comments or tips to share with others about touring the Magic Kingdom, please email us. Thank you.