Test Track Presented by Chevrolet – Epcot
Test Track Highlights:
Virtually design your own futuristic concept vehicle
Take to the track for a high speed test drive
Trill Ride in EPCOT
Introduction | Attraction | Ride Logistics | Kids and Characters | Shopping | Interesting Facts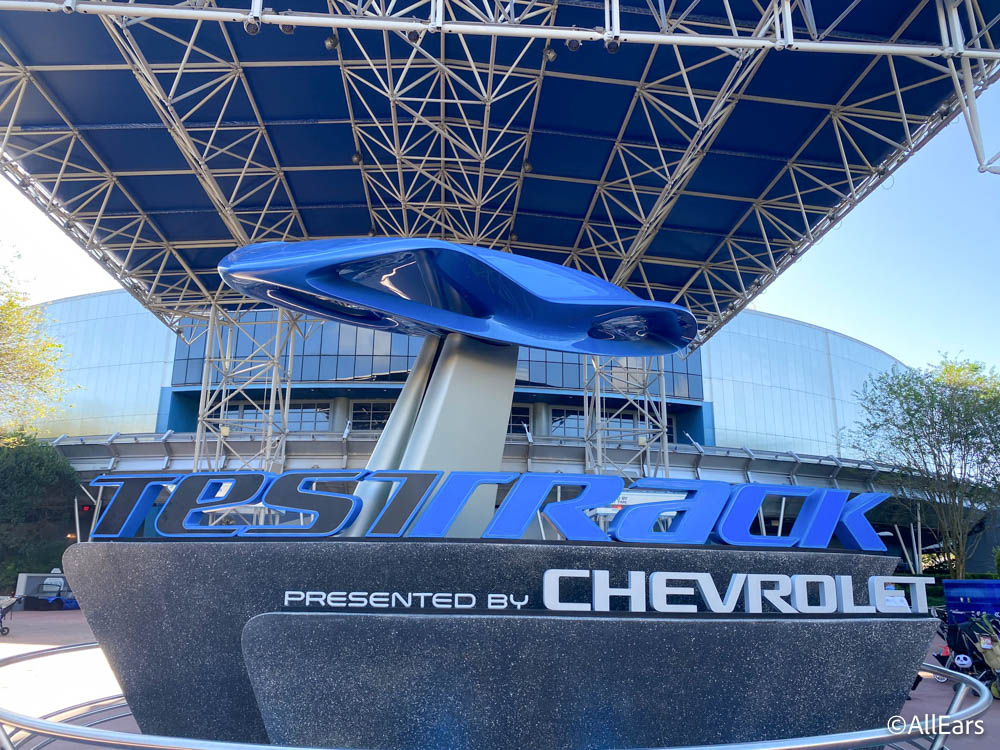 INTRODUCTION
After almost eight months of renovations, Test Track 2.0 officially reopened at Epcot on Dec. 6, 2012, for guests eager to take a spin on their favorite ride. Although the high-speed track and its thrilling stops, pedal-to-the-metal takeoffs and S-curves remain the same, the storyline for this themed attraction has changed and a pre-ride interactive design center has been added. The post-show area features the latest Chevrolet vehicles in an all-new, state-of-the-art showroom, as well as high-tech games for both kids and adults.
Test Track is located in Epcot's Future World at the front of the park. Turn left before the Fountain of Nations and that walkway leads straight to Mission: SPACE. Test Track is the other large building you will see to the right of that attraction.
ATTRACTION
Upon entering the attraction, repeat visitors will notice this version is much quieter than the previous version. Gone is the industrial vehicle-testing laboratory filled with the loud clatter and pounding of mechanical testing devices that seemingly measured the structural designs of the cars and the safety of the crash-test dummies who rode in them.
Instead, the redesigned lobby introduces guests to vehicles of the future with full-size concept cars and models. As the queue progresses, guests enter the Chevrolet Design Center at Epcot, where they virtually design their own car. Then they board a special "SIM Car" that allows guests to road-test their designs. The futuristic journey takes guests through dark sets illuminated with neon lights that seem to come straight out of the world of "Tron."
Note: Guests using Genie+ (Lightning Lanes) are able to design their own vehicles just like those in stand-by.
Once you step out of the 6-person SimCars, you will be able to view and purchase PhotoPass photos taken during the ride. Then, you get to walk into a high-tech showroom full of hands-on fun. There are games, simulators and photo opportunities galore, which must be accessed with the memory cards issued for the design center. Finally, exit the building through a gift shop that contains some unique souvenirs.
DINING
There is no place to eat a meal in the immediate vicinity of the Test Track.
If a snack will hit the spot, look for the cart between Mouse Gear and Test Track. It sells pretzels with cheese sauce, chips, cookies and bottled drinks.
Epcot Restaurants At A Glance
Menus From Around the World
Vegetarian and Other Special Diets
TOURING TIPS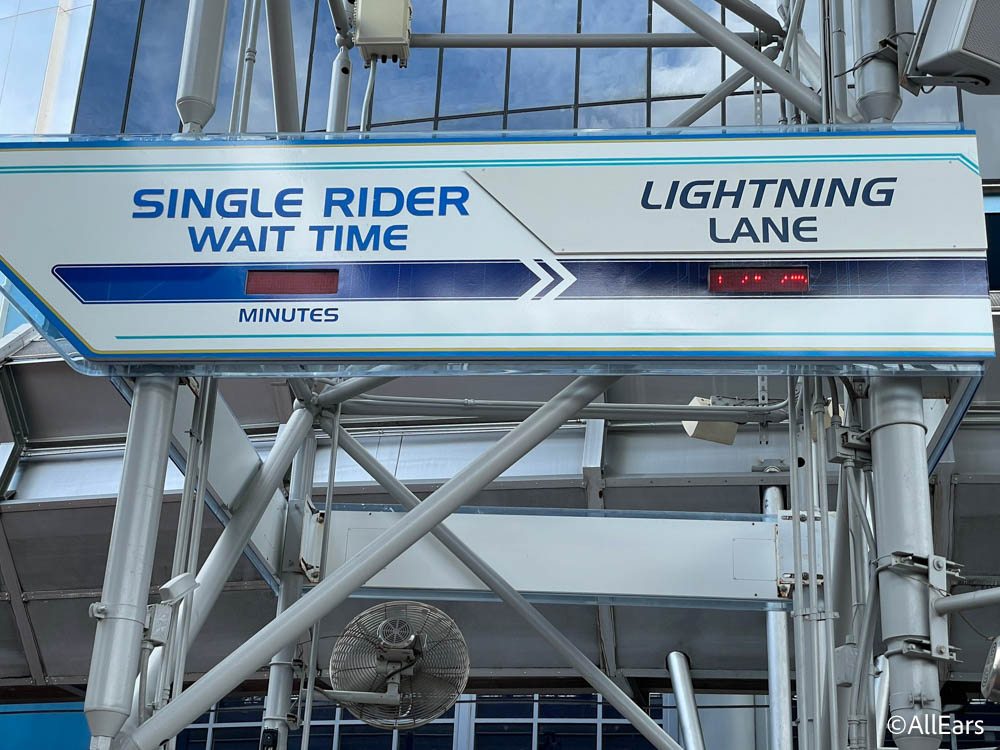 Lightning Lane access for Test Track is available with the purchase of Genie+. This ride is INCREDIBLY popular with longer than average standby wait times.
Height requirement for this attraction is 40 inches (102 cm).
Accessibility: Guests must transfer from wheelchair/ECV to the ride vehicle. Video Captioning and Language Translation Devices are available. Assistive Listening Devices from Guest Services Can Be Used in the Briefing Rooms and Post Show only. Service animals are not permitted on this attraction.
Warnings: For safety, you should be in good health and free from high blood pressure, heart, back, or neck problems, motion sickness, or other conditions that could be aggravated by this adventure. Expectant mothers should not ride.
WDW At Large Notes — The new Test Track cars are almost identical to the old ones, so we expect if you fit into the old cars, you will fit fine in the new ones. Test Track seat belts are just like a car's front seat belts, so legroom is the only real problem for people of size. Be sure to get a front seat; you will have much more legroom.
One visitor relayed this experience: "When I (5'3″ 315 lbs) asked the Cast Member at the end of the queue if I would fit, he told me that there was a mock car I could sit in. He called another Cast Member who escorted me to a private area. The car wasn't an exact copy of the cars in use, but was close. I found that I did not fit enough to be comfortable. The Cast Member showed me the side exit and I went on about my day. It was handled with care and privacy, and I was never made to feel embarrassed."
Rider Switch (aka Child Swap) is possible on Test Track.
A single rider line is available, if you are willing to split up your party, you can shorten your wait.
There is a Ride Photo, but no video available.
The nearest restrooms are located across from Test Track, outside Mouse Gear.
KIDS AND CHARACTERS
Not only is Rider Switch available on Test Track, it is also possible in Test Track's singles line. Once I told the CM that's what we wanted to do, I again got a ticket and was directed to follow the yellow arrows to a special holding area near the ride exit. After we "swapped", it was easy enough to follow the arrows back to the main queue.
The closest character meets are in Innoventions West, where Character Spot is located. Mickey and his friends greet guests there from 9 a.m. to 9 p.m. daily.
Visitors with a Disney Visa credit card can enjoy an exclusive character meet located inside Innoventions West. Characters are based on availability, but often you will be able to interact with more than one character. Guests must present their actual credit card to enter and to receive one complimentary 5 x 7 photo per group.
Epcot Characters At A Glance
Character Meet and Greet FAQ!
SHOPPING
Test Track Shop – One-of-a-kind automotive collectibles and merchandise located within the post-show.
INTERESTING FACTS
Total length of track – 5,246 ft.
Ride time duration – 5 minutes and 34 seconds
Number of miles each test vehicle will travel per year – 50,000
Number of miles each vehicle was designed to last – 1,000,000
Angle of banked curve surrounding main building – 50 degrees
Number of turns from beginning to end – 34
3-story incline at beginning of attraction – 15 degrees
Looking for information on the original Test Track? Click HERE.
Test Track originally replaced the World of Motion.