Test Track and General Motors Epcot Archives

The original Test Track by General Motors closed on April 16, 2012 for re-imagineering.
INTRODUCTION
Test Track, a partnership between Disney Imagineering and General Motors Engineering, was one of the most anticipated rides in WDW's history.
ATTRACTION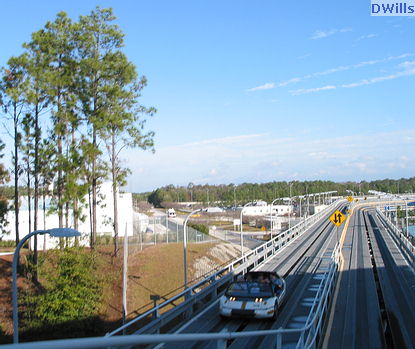 Test Track Queue Area – The entire queue area resembles an industrial testing laboratory filled with actual test equipment and vehicle components. The automotive tests performed on cars and trucks are illustrated in the Quality Zone, highlighting GM automotive technology, and the Safety Zone, displaying GM safety innovations and practices. Simulations include brake, wheel, suspension, airbag, seat belt and windshield tests.
Throughout the inner cue area there are lots of Snap-On Tools and GM test machines available for viewing. There are also TV monitors with short movies on testing cars and vehicles. You will wind and wind and wind through the building.
The queue area is LOUD! There are bangs, clangs, clanks, screeches — whatever noises you could imagine in a testing laboratory for cars.
Pre-Show – Once you are through the turnstilesyou will enter a standing pre-show area for about 2-3 minutes. During that time, you will be introduced to the "testing" procedures, have a look at the ride vehicle and have explained a little about what you will experience.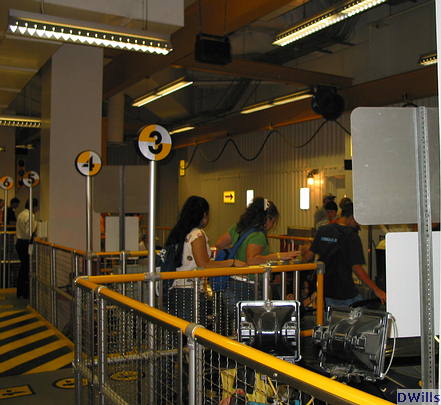 Test Track — Once you finally arrive at the loading zone you will be instructed to move to a row and then board the six-passenger Test Track vehicle. The longest and fastest Walt Disney World attraction provides you a sneak peek inside the world of automobile testing. Passengers in each "test" vehicle experience a firsthand look at how GM cars and trucks are tested before being brought to market.
Hill Climb Test – The "test" schedule begins with a tire-squealing, engine-roaring, three-story ascent.
Suspension Test – Passengers descend to the second level over a series of harsh variable road surfaces.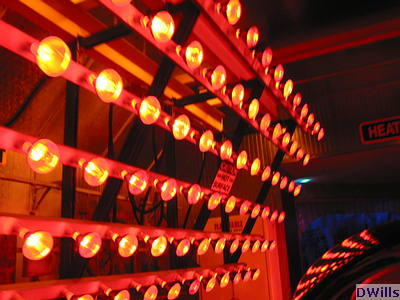 Brake Test – Two passes through a circular setup of traffic cones shows how a wildly-out-of-control skid can become a manageable steer with ABS brakes. Rolling to a stop, guests view an instant replay of themselves performing both tests from a bird's-eye view.
Environmental Chamber Test – Vehicles are exposed to extreme heat, bone-chilling cold and a "corrosive" mist sprayed by industrial robots in a series of enclosed environmental chambers. (NOTE: You are misted in the cold and corrosive chambers but do not get "wet".) Temperature difference between hot and cold rooms -100 degrees!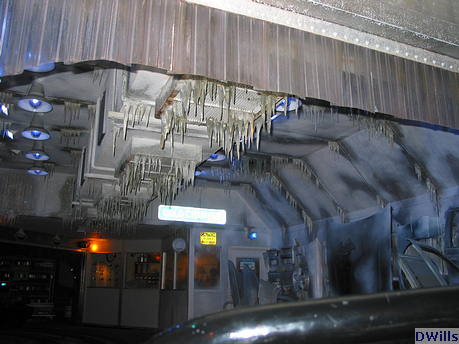 Ride Handling Test – Exiting from the chambers, vehicles accelerate quickly up a switchback "mountain road" to a dark tunnel full of surprises.
Barrier Test – Guests feel what it's like to be a crash-test dummy during this attention-grabbing, high-speed sequence.
High-Speed Test – Outside the building, vehicles scream around a steeply-banked loop turning them back toward the 50-degree banked curve hugging the building's massive circumference. Heading back inside, each vehicle is tested on the thermal imager, a device allowing guests to see the areas of heat generated on the vehicle — and guests — during testing. Maximum Speed – 65mph!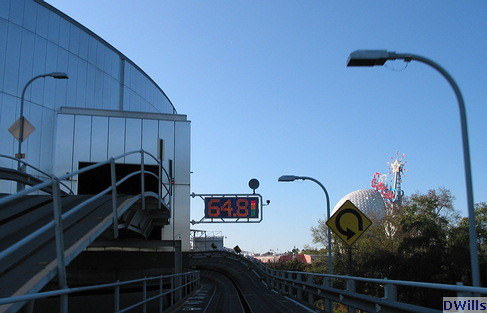 Photos are available for purchase. One photo is $12.95 plus tax, each additional print of the same photo is $9.95 plus tax (prices as of 10/05). This is a great time to use Disney Package Delivery either to your resort or the main entrance. Look for the Hidden Mickey in your photo!
Test Track Post-Show – In the post-show, interactive demonstrations and GM vehicle design and production displays further explain the benefits of GM's vehicle-testing practices and its commitment to safety and quality. State-of-the-art interactive equipment allows guests to witness the benefits of GM's Smart Car Technology.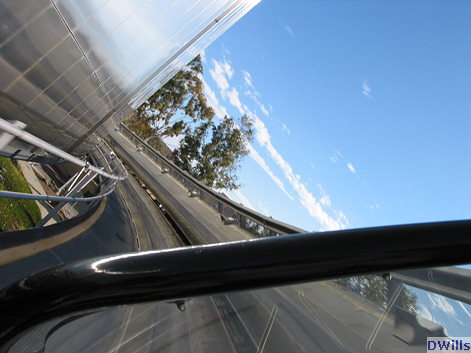 "You have got to warn people about Dream Chaser (Dream Catchers?) upon leaving test track. What a waste of time, with rather long line because it is new. This is nothing but a poor cartoon movie advertisement for the sponsor (GM). They have an announcement that this is not a virtual realty ride or amusement. They are not kidding. It was like watching a Nintendo game that you do not control. If your kids are short, they cannot even experience the "motion" when the attraction is playing. Please review this attraction" on your website so others do not waste their time as we did". Matthew Clarke
The only thing which I would recommend people skip is the GM exhibit as you exit the Test Track. We had quite a long wait in line (all the people exiting Test Track) and the program was very disappointing. It looks like it will be a virtual reality experience, and it is really a cartoon. (Donna Zuchowski) Ed.Note – If the wait for this is 10 minutes or less go ahead and try it; otherwise, do as Donna suggests and pass it by.
DINING
There is no place to eat in the immediate vicinity of the Test Track. If you walk into the Innoventions Plaza,there will be a counter service restaurant on both sides of you.
Epcot Restaurants At A Glance
Menus From Around the World
Vegetarian and Other Special Diets
TOURING TIPS
Test Track isa FASTPASS Attraction. The ride is so popular, that the FASTPASSs are usually gone by mid-afternoon. It is not unusual to arrive at Test Track at 10:00 am to find the FASTPASS time for your return is mid to late afternoon. Test Track remains the one FASTPASS attraction where you still encounter long waits in line! If possible, utilize the singles line!
The SINGLE RIDER LINE — ask the Cast Members you see on the outside part of the queue where the single rider line is. A single rider line means your party will be separated, but you will bypass the inside queue and waiting time. You will be loaded in vehicles as single spaces become available. You still see the Pre-Show. In October 2005, the stand by line was 40 minutes; going through the single rider line took about 10 minutes.
Matthew writes- I found that if you get tired of waiting in long lines, and you don't mind splitting up your party ( maybe to 1,2,or even 3) some attractions offer singles lines. These lines help fill up unused space. I tried this at Test Track and the normal wait time was 70 minutes. It took me 5 minutes on the singles line and I still got a seat with my parents.
Ride Restrictions — Must be at least 40 inches tall to ride; For safety, you should be in good health and free from high blood pressure, heart, back, or neck problems, motion sickness, or other conditions that could be aggravated by this adventure. Expectant mothers should not ride.
Disney has not designed a queue area so intertwined and hard to figure out since it first devised the Jungle Cruise queue area. However, unlike the Jungle Cruise cue, there is PLENTY to see and focus on while you wait in line for Test Track.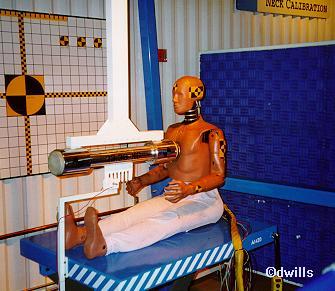 There is a HUGE queue area both inside and outside of the Test Track building! Once you are inside the building, if all 3 pre-show rooms are operating and the ride is fully functional, your wait will be between 30-60 minutes. Outside of the building, depending on the length of the lines, you could have a 1-2 hour wait! Yes, folks, the lines continue to be long for Test Track.
Be aware that the inside queue area is loud, Louder and LOUDEST as you walk further in.
Keep in mind, if the ride is shut down it takes about 1 hour to restart all the computers and get the vehicles rolling again.
Test Track is Child Swap Attraction. Talk to the first Cast Member you see for instruction.
Want to have some Cool Fun? Head over to the Cool Wash just to the side of Test Track. Not only are there refreshing mister sprayers but watch those Coke Bottle Green tall brushes for a few minutes!
The Test Track seat is just like a car's front seat belt – but my knees were red from pressing up against the front seats. So leg room is the only real problem there. Be sure to get a front seat; you will have much more leg room.
When I (5'3" 315 lbs) asked the Cast Member at the end of the que if I would fit, he told me that there was a mock car I could sit in. He called another Cast Member who escorted me to a private area. The car wasn't an exact copy of the cars in use, but was close. I found that I did not fit enough to be comfortable. The Cast Member showed me the side exit and I went on about my day. It was handled with care and privacy and I was never made to feel embarrassed.
Assistive Listening Devices from Guest Services Can Be Used in the Briefing Rooms and Post Show only.
KIDS AND CHARACTERS

Test Track's Kidcot area has activities for children.
You *can* do the Child Swap at Test Track's singles line. Once I told the CM that's what we wanted to do, I again got a ticket and was directed to follow the yellow arrows to a special holding area near the ride exit. After we "swapped", it was easy enough to follow the arrows back to the main queue. (Deb Koma)
Epcot Characters At A Glance
Character Meet and Greet FAQ!
SHOPPING
Test Track Specialty Shop – One-of-a-kind automotive collectibles and merchandise located within the post-show
INTERESTING FACTS
Powered by three onboard computers which together have more processing power than the Space Shuttle, each test vehicle steers passengers through more than five minutes of tire-squealing road tests. The rigorous testing schedule includes an engine-roaring, three-story ascent; a wildly out-of-control skid; and a 50 degree banked curve at 65 mph.
Test Track climbs, spirals and snakes through the 150,000-square-foot pavilion, including areas simulating arctic cold and desert heat. About half of the track loops outside the pavilion where maximum speeds are obtained.
Total length of track – 5,246 ft.
Ride time duration – 5 minutes and 34 seconds
Number of miles each test vehicle will travel per year – 50,000
Number of miles each vehicle was designed to last – 1,000,000
Angle of banked curve surrounding main building – 50 degrees
Number of on board computers in each test vehicle – 3
Number of turns from beginning to end – 34
3-story incline at beginning of attraction – 15 degrees
Each vehicle has 22 wheels, four of which are visible.
Each vehicle has 6 braking systems.
Test Track replaced the World of Motion.
GUEST COMMENTS
The shorter your waiting time, the more you will enjoy Test Track. All of the advice about going on the singles line is true! We spent exactly 35 minutes from the time we started on line until the time that we were finished and out of the exhibit. That was when the waiting time sign indicated 80 minutes to start the ride. As other people have pointed out, speak to the first CM that you see when you get on line. Tell them that you want to go on the singles line. And yes, we enjoyed Test Track. (Lou Kramberg)
I purposefully did not read anything before hand so I would be surprised. As we screamed our heads off & laughed at the same time I suddenly realized this is really fun. If my eyes are open it can't be anything scary. I was having the time of my life zipping around the outside of that track. We were waving to the folks on the ground and getting a blurry view of Epcot. I suggest everyone ride this. It's fun, not hard on the body or nerves but if you're like me and laugh easily, you'll come off there holding your stomach. Don't miss it! (Carole Annette)
Our rating: two big yawns — Although we are huge fans of Disney we were immensely unimpressed with Test Track. In our opinion the drive to Florida has many more thrills than this ride, and our daily commute blows it away on the thrill and interest scale. We think the Imagineers committed a major blunder in the design and execution of this attraction–especially considering the fact that the ride shuts down in heavy rains. We have been greatly dismayed by the evolution, or lack there of, of Future World at Epcot. (Kalacr)
What an awesome ride!! My husband and I are in our 50's and we thought it was fun!! It does not jostle your body around like some rides! It 's not a scary ride and the cars go fast for only a few seconds. I'm so glad I had a chance to give TT a try! (Cathy Mullen)
I second your remarks about it not being a scary ride. Anyone who drives on any expressway will have no problems with TEST TRACK. The easiest way to describe the ride is: "full sized slot car set". It is a great EPCOT attraction. It is going to take several rides to get the full effect since so much is going on in a short amount of time. The attraction was worth the two years since so much new technology was used to build it. It is not worth a 3-4 hour wait for a 5 minute ride. (Tony Gibas, Jr.)