TOURING
AT A GLANCE...
FUTURE WORLD
WORLD SHOWCASE
ENTERTAINMENT
SPECIAL EVENTS
HOLIDAYS
PHOTO BLOGS
Future World
World Showcase
AllEars® Features
OTHER WALT DISNEY WORLD
THEME PARKS
OTHER DISNEY THEME
PARKS
Japan
Epcot
INTRODUCTION
The bright red torii gate, which welcomes visitors to Japan, can be seen from around the World Showcase Lagoon. As your eyes move away from the lagoon, you see the blue-roofed 5 story Goju-no-to pagoda inspired by a shrine built at Nara in 700 A.D.
ATTRACTION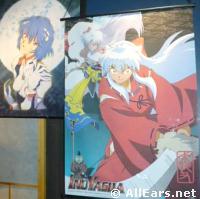 Bijutsu-kan Gallery -- This gallery has continuously changing exhibits reflecting the Japanese culture. The current exhibit is: "Spirit Beasts: From Ancient Stories to Anime Stars" which opened mid-2010.
This new exhibit looks at how many anime characters and their traits are derived from ancient Japanese characters. As an introductory plaque says: "For centuries, heroic animals and magical creatures have appeared in traditional Japanese myths, stories and art. Today, they are the heroes and villains of Japan's manga comics and anime. These "spirited beasts" from Japan's past have become pop culture superstars, known and loved around the world. Join us as we celebrate these mysterious, magical and mischievous animal figures."
DINING
Tokyo Dining - showcases traditional cuisine and ingredients of Japan with an emphasis on sushi and innovative presentation.
Teppan Edo is the traditional teppanyaki dining room.

Katsura Grill - Counter Service (located where the Yakitori House house was). Serves items such as teriyaki beef and chicken, California rolls, and udon.
Epcot Restaurants At A Glance
Menus From Around the World
Vegetarian and Other Special Diets
ENTERTAINMENT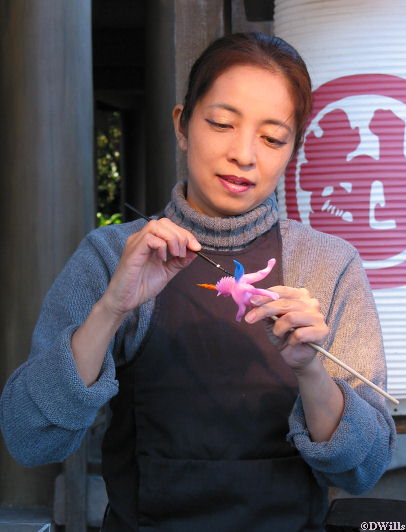 Matsuriza - the Japanese drums can be heard half way around World Showcase.
Miyuki - the Japanese candy artist from Tokyo. Miyuki has been part of Epcot's Japan since 1996. She continues to delight children and adults with her skills.
TOURING TIPS
Walking straight to the back of the pavilion area, you will cross a bridge that leads into the Castle. Just before the bridge, stop and look on both sides of you -- there are 2 Samurai Warriors on Horses!
Spend some time in the beautiful hill garden where you will find rocks, flowers, lanterns, pebbles, water, foot paths and rustic bridges. Koi fish make a home in the pond in the garden.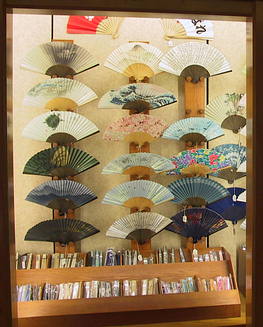 Mitsukoshi Department Store - has some fascinating displays you'll want to find including fans, dolls, Japanese Swords and fresh water pearls. Your children will be happy to find Pokemon cards for sale in the shops in Japan!
On a nice day, take your goodies from the Yakitori House and sit outside at the tables near the Japanese festive lights and the water.
Epcot International Flower and Garden Festival Highlights - Every year, Japan features an incredible floral wall, one year it was the Japanese flag, another year it wall was deep purple irises. Be sure to check out the musical clacker garden as well (a favorite with kids)! Across the way at the bright red torii gate is an incredible display of winning plants from the Florida Bonsai Society.
Holidays from Around the World features storytellers in each country. In Japan, the Daruma Seller (a humble Daruma doll vendor) makes appearances throughout the afternoon.
KIDS AND CHARACTERS
Each of the World Showcase countries has a special "KIDCOT" area that provides an opportunity for your child to interact with a native of the country you are visiting.
Melanie writes: I just wanted to reply that my when we go to Epcot my family loves the Japan Pavilion! Everything seems so calm in the midst of the hustle and bustle of the World showcase! My daughter especially likes the the department store. They have alot of great things for kids and teenagers alike!! I like their candy and the little bonsai trees!!
Epcot Passports are great fun for kids as they have them stamped at each pavilion around World Showcase.
Epcot Characters At A Glance
Character Meet and Greet FAQ!
SHOPPING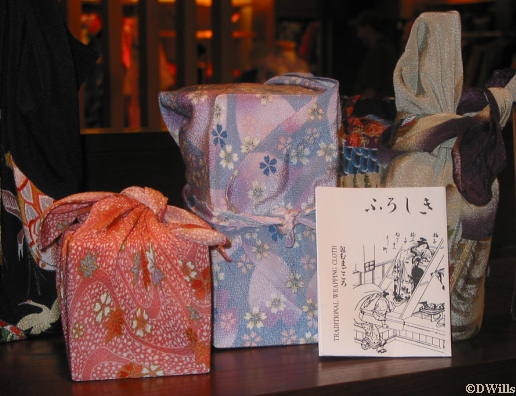 Mitsukoshi Department Store - Dolls, fine porcelain, kimonos, Japanese handcrafts, elegant jewelry, snacks, kitchen ware, cookbooks.

Mitsukoshi Kiosk - Japanese souvenirs and gifts.
(Exerpt from Shopping Around the World) "With 10,000 square feet of retail space in the Mitsukoshi Department Store, the Shoppers had plenty of souvenirs to choose from and lots to see. If you've never taken the time to browse here, make a point to do so on your next trip. There are wonderful displays of items from Japan, including dolls, fine porcelain, kimonos, Japanese handcrafts, elegant jewelry, snacks, kitchenware, cookbooks, kids' toys and so much more.
Having native Japanese people in our midst made shopping in the Japan pavilion even more interesting. Masayo found furoshiki, the Traditional Wrapping Cloth. Masayo explained that furoshiki is used for carrying big, heavy, or long objects (such as posters, fishing rods, sticks) -- anything that might be awkward to carry by itself. She also told us that she brings furoshiki as gifts to friends who live outside of Japan and they are a huge hit. The ALL EARS® Shopping Team found the colors and designs beautiful and was impressed that such an authentic item was for sale here.
What else did the Shoppers find here? Several selected the Bonsai Starter Kit for $12.95, decorative Chopstick Sets ($3.75 and up), and Japanese Crane notecards ($14.95). The sake tasting bar featured microbrewed selections that also would make a nice gift. And young Brianna discovered Hello Kitty Fairy Tales Dolls (Beauty and the Beast, Peter Pan, Aladdin) for $13.50-$17.95."
INTERESTING FACTS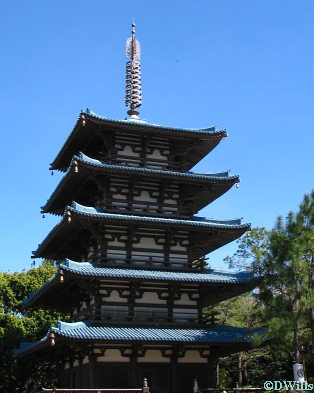 The five 5 levels of the Goju-no-to pagoda (85 feet tall) represent the elements from which Buddhists believe all things are created: earth, water, fire wind and sky.
Above the Goju-no-to pagoda is a bronze, nine-ringed sorin, or spire, with gold wind chimes and a water flame.
To the right of the courtyard, stands the Shishinden, inspired by the ceremonial and coronation hall found in the Imperial Palace grounds in Kyoto. The Shishinden was built in 794. It is said to be one of the first true styles of Japanese architecture.
On the east side of the courtyard the massive wood and stone Nijo entry castle with its huge sculptures of mounted samurai warriors beckons guests through the courtyard. Passing through it, visitors cross a wide bridge spanning a moat to the Shirasagigi or White Egret Castle with its curved stone walls, white plaster structures and blue tile roofs. Its style dates from the mid-1300s. In feudal times, great castles dominated the Japanese countryside. Inhabitants of the castle towns found great refuge in their walls. The Shirasagigi, overlooking the city of Himeji, is one of the best preserved castles of early Japan. The great beauty and strength of the bhold are captured in the majestic fortress.
Gardening is a precise art in Japan. Every object and its placement in the garden has a special meaning. Here activity, symbolism, and a reverence for nature blend with intense maintenance to create a garden with a truly unique beauty.
ARCHIVES:
The Yakitori House closed in 2011 (reopened in December 2011 as Katsura Grill) - a small version of the Shoken-tei in the Kyoto Imperial Villa gardens. This rustic building with its thatched roof serves is a counter service restaurant serving beef, chicken and Udon noodles.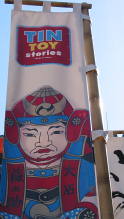 Bijutsu-kan Gallery previously housed an exhibit called "Tin Toys". These toys were just one of many things introduced in Japan as part of the turn of the century transformation the Emperor had for his people. The earliest tin toys came from Europe and were very popular. Soon Japanese toymakers were duplicating the toys and creating new ones based on Japanese folklore. Many of the tin toys are spring operated and can be wound to "come to life" to the delight of those playing with them.
During the 50's and 60's, tin toys enjoyed their golden years as their popularity spread around the globe. The toys included aliens, robots, spaceman, vehicles and more.
Japan's Tin Toy Master is Teruhisa Kitahara. His 7 toy museums in Japan have almost 50,000 tin toys, many rare. A small portion of his collection is on display in Epcot's Japan! Be sure to stop by and take a look. I was amazed at the variety and detail on the toys (and yes, there are some vintage Disney ones too)
Teppanyaki Dining Room, Teppan Grill and Matsu-no-ma Lounge all closed in 2007 for a total rehab.
Karakuri - Magical Toys of Japan - (Exhibit in the late 1990s until mid-2000 ) Three zones of toys were on display. Yesterday's Zone is the Playful Spirit of Karakuri puppets and traditional Japanese toys. There is also a "hands on area" for kids. The Today Zone includes the delicate artistry of porcelain puppets. The Tomorrow Zone includes advanced technology displayed in the Lion Dance "Shishi-Mai" robot and Audio-Animatronic.