TOURING
AT A GLANCE...
FUTURE WORLD
WORLD SHOWCASE
ENTERTAINMENT
SPECIAL EVENTS
HOLIDAYS
PHOTO BLOGS
Future World
World Showcase
AllEars® Features
OTHER WALT DISNEY WORLD
THEME PARKS
OTHER DISNEY THEME
PARKS
Epcot
Live Entertainment
UPDATE 4/29/15:

American Music Machine is a new, contemporary a cappella group now performing in Epcot. This high-energy group does several sets of American popular music throughout the day Wednesdays through Sundays at the America Gardens Theatre across from the American Adventure pavilion. Musical arrangements are by Tim Davis, known for his work with the television series "Glee."
The live entertainment in Epcot is worth the price of admission alone. First, for those who love the characters, there are plenty to see in Epcot. The Character Connection in Future World is a great place to start. Follow that with various meet and greets in the countries.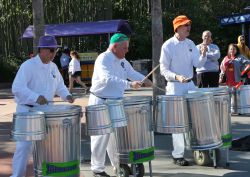 Walk through the Epcot turnstiles in the morning and head towards Test Track/ Mission Space. Your ears will awaken to what might just be the sounds of Trash Cans! That's right, the JAMMitors with their comedic cacophony and percussive artistry are a favorite with kids! During special Epcot events, look for these talented percussionists to assume alter egos: they become the Jammin' Chefs during the Food & Wine Festival, for example.
Over in World Showcase, you can spend your entire day going from country to country and with cultural experiences from around the Globe. Beginning in Mexico, enjoy the beautiful costumes and traditional folk music of the Mariachi Cobre. Look for them in the outside courtyard or inside the shopping area.
In China, the Jeweled Dragon Acrobats perform 20 minute shows 5 days a week.
In Germany, poke your head inside the Biergarten restaurant to catch a glimpse of Oktoberfest Musikanten, the delightful "oompah" band that treats the audience to singing saws and alpenhorn. There is sometimes seating inside for spectators who aren't dining there (especially in the afternoons).
Italy not only has Sergio, the juggler, but the Flag Wavers of Sansepolcro showcasing Middle Age traditions.
At the American Adventure, the Voices of Liberty have been entertaining Epcot guests for many, many years. The a capella ensemble has a full repertoire of traditional American folk songs. During the holidays, the Voices fill the atrium of the American Adventure with a collection of traditional song.
On the Voices of Liberty's days off, a four man jazz ensemble called High Pockets plays Americana songs and Disney classics under the rotunda inside American Adventure.
There is almost always something going on at the America Gardens Theatre. Located across from the American Adventure, you can rest your feet for a while and be entertained by any variety of song and/or dance companies. At Epcot's springtime Flower and Garden Festival, "Garden Rocks " acts like Peter Noone of Herman's Hermits and Village People perform the hits that made them famous. In the summer, the theatre is home to a series of sound-alike, tribute bands, as part of "Sounds Like Summer." During the fall's Food and Wine Festival, a variety of concerts with the theme "Eat to the Beat" take place.And of course during the holidays see the traditional Candlelight Processional, which will feature a celebrity narrator reading the story of the Nativity, accompanied by a full choir.
From clear across the World Showcase lagoon come the sounds of Japanese drummers Matsuriza (pictured below).

Morocco features B'net Al Houwariyate, a Moroccan folk music group with drums and dancing.
Hear whistles? Then you have come across the Serveur Amusant, comical water, in France.
At the United Kingdom be sure to see the Paul McKenna Band from Scotland. This four-piece band players traditional music. Want something more lively? The British Revolution plays decades of popular British music -- every show of this act is a chronological journey with random fun facts about songs and artists through the years, from the Dave Clark Five and the Beatles, to the music of Led Zeppelin and The Who.
Finally, in Canada, there is a Lumberjack Show with axes, saws, log-rolling and more.
Not To Be Missed Epcot Live Entertainment:
JAMMitors (if your ears can take it) Future World
Voices of Liberty in the American Adventure
Not all entertainers perform daily and often there are specified show times. Be sure to pick up an Epcot Times Guide for times and appearances during your visit.
There is often entertainment you won't find listed in the Guide Map, providing a pleasant surprise when you see them.
This is just a small sampling of what is in store for you at Epcot! Remember all acts are subject to change.
ARCHIVE:
On September 27, 2014, Off Kilter, Mo Rockin and the Fife and Drum Corp had their final performances in Epcot.
On September 25, 2014, the World Showcase Players in the United Kingdom had their final performance.
UPDATE #1 AUGUST 28, 2014: Today, the Disney Parks Blog announced changes coming to the live entertainment at World Showcase in Epcot. New experiences debuting over the next several months will include the addition of "a traditional Berber music and dance troupe in Morocco, a corps of dynamic flag-waving performers in Italy, a thrilling lumberjack-inspired show in Canada, a Celtic folk music ensemble at the United Kingdom, and more." To make way for these new experiences, the following live acts will end their runs at the end of September: Mo'Rockin', Off Kilter, Spirit of America Fife & Drum Corps and World Showcase Players. More details as they become available.
The Ziti Sisters ended their improv performances in Italy in February 2014
Miyuki - the Japanese candy artist from Tokyo was part of Epcot's Japan since 1996. She retired in November 2013.
Remy no longer appears at Chefs de France
For more information on Epcot and WDW Live Entertainment, visit Steve Soares WDW Entertainment Website. Steve updates his site weekly.