TOURING
AT A GLANCE...
COMMISSARY LANE
GRAND AVENUE -
COMING SOON!
MUPPETS COURTYARD
HOLLYWOOD BLVD.
SUNSET BLVD.
ECHO LAKE
STAR WARS:
GALAXY'S EDGE
- COMING IN 2019!
TOY STORY LAND
- COMING SUMMER 2018!
(Currently PIXAR PLACE)
ANIMATION COURTYARD
ENTERTAINMENT
SPECIAL EVENTS
DISNEY'S HOLLYWOOD
STUDIOS ARCHIVES
OTHER WALT DISNEY WORLD
THEME PARKS
OTHER DISNEY THEME
PARKS
Disney's Hollywood Studios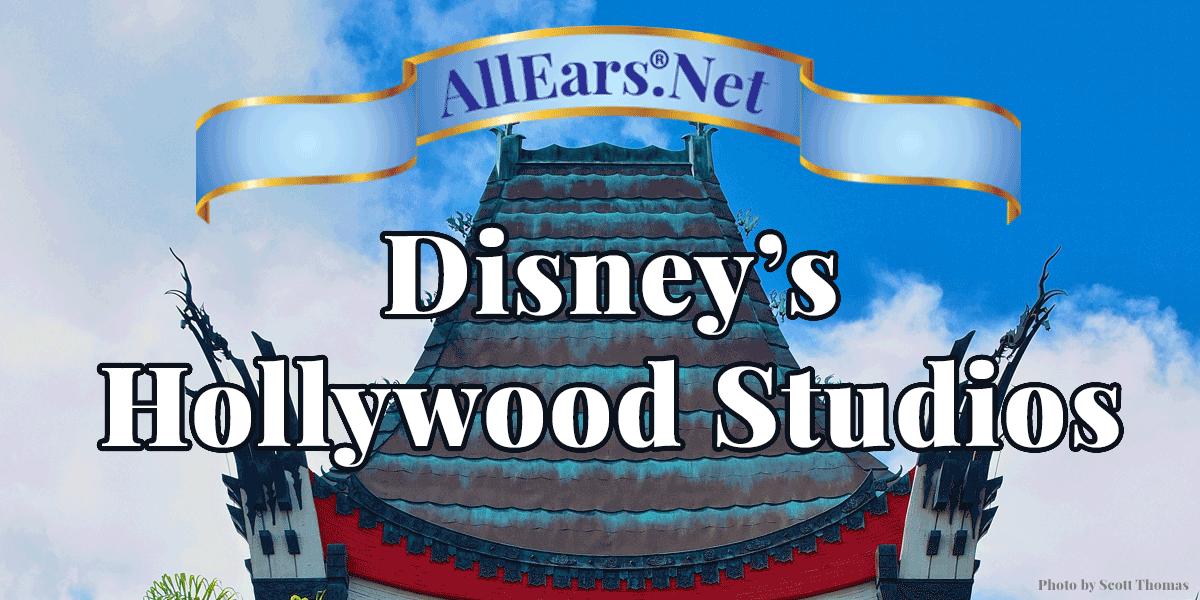 INTRODUCTION
Walt Disney first had the idea for a park based on the movies more than 40 years ago, but it wasn't until May 1989 that the Walt Disney Company unveiled the Disney-MGM Studios, where guests of Walt Disney World could witness the inner workings of living, breathing movie and television production facilities. In January 2008, the theme park underwent a major name change and is now known as Disney's Hollywood Studios.

Through its exciting attractions, like Star Tours - The Adventures Continue, Broadway-caliber shows, and hands-on participation, the Studios not only entertain but educate. Disney's Hollywood Studios has nearly doubled in size since it opened and it continues to expand.
In October 2001, the Studios became the focal point for the 100 Years of Magic celebration, a 15-month long observance of the 100th anniversary of Walt Disney's birthday. The celebration marked the introduction of a new icon, a giant Sorcerer Mickey hat, as well as an in-depth exhibit on the life and times of Walt Disney called One Man's Dream.
In 2015, the Sorcerer Hat was removed, when Turner Broadcasting entered into an agreement with Disney to sponsor The Great Movie Ride. Later in 2015, the Studios was the subject of exciting news -- a new Toy Story Land is to be built around Toy Story Mania in Pixar Place and, the biggest news of all... a whole new immersive Star Wars Land will be constructed that will include a cantina, an attraction featuring the Millennium Falcon and more.
In 2017, at the D23 Expo, it was announced that the Great Movie Ride would close to make way for a new Mickey Mouse themed attraction. The Chinese Theater, however, will remain as the park's icon.
LAY OF THE LAND


HOLLYWOOD BOULEVARD: At Disney's Hollywood Studios, guests enter the turnstiles onto the main street, Hollywood Boulevard, where reality blends into fantasy -- neon and chrome, art deco and modern architecture dominate the scenery. To enhance the old-time atmosphere, Citizens of Hollywood (formerly known as Streetmosphere) characters like 1930s detectives, starlets and gossip columnists, populate the streets, interacting with the crowds they draw. Colorful shops and restaurants reinforce the feeling of yesteryear -- the Hollywood Brown Derby, for example, faithfully recalls the landmark meeting place of the stars, right down to its signature Cobb salad and grapefruit cake.
As you walk down Hollywood Boulevard, immediately in front of you you'll see a replica of Mann's Chinese Theater, which formerly housed The Great Movie Ride, but will be the future home of the new attraction, Mickey and Minnie's Runaway Railway. In front of the Chinese Theater, you'll see where numerous celebrities, including Robin Williams, Samuel L. Jackson, Sylvester Stallone, Billy Joel and Christie Brinkley have left their handprints in cement.
To the left of the Chinese Theater is Commissary Lane, featuring several dining options, including the ABC Commissary and the Sci-Fi Dine In Theater Restaurant.
ECHO LAKE: The first left you encounter off Hollywood Boulevard takes you past Echo Lake, distinguished by the towering Dinosaur Gertie who serves up snacks and desserts. You pass by a pair of eateries -- Hollywood & Vine, home of a character breakfast featuring Princess Sofia the First, Doc McStuffins, Jake from the Neverland Pirates and Handy Manny, and the '50s Prime Time Cafe, where the servers treat you like family -- right down to scolding you for putting your elbows on the table! As you follow around the lake, you encounter the Indiana Jones Epic Stunt Spectacular, a live show with death-defying stunts. Nearby, Star Tours-The Adventures Continue takes you on an amazing 3D journey to a variety of Star Wars destinations, featuring some of the familiar Star Wars characters. The Hyperion Theater is the location of the For the First Time in Forever Frozen Sing-Along Celebration.
SUNSET BOULEVARD: As you make the first right off Hollywood Boulevard, you come upon Sunset Boulevard, with its specialized shops that feature gifts themed to classic films and Disney characters, especially the Disney Villains highlighted in the night-time show Fantasmic! In fact, the entrance to the Hollywood Hills Amphitheater, home to Fantasmic!, is just a little further down Sunset on the right. Light dining and snacks can be found at the outdoor Sunset Ranch Market on the left. Looming menacingly at the end of Sunset Boulevard is the Hollywood Tower Hotel, which dares guests to enter The Twilight Zone Tower of Terror. Adjacent to the Tower of Terror is the Studios' hot thrill ride, the indoor Rock 'n' Roller Coaster Starring Aerosmith. Across the street from this coaster is the Theater of the Stars, which houses Beauty and the Beast -- Live on Stage, a lovely musical stage show based on the hit Disney movie.
PIXAR PLACE: Behind the Chinese Theater is the former Mickey Avenue, now dubbed Pixar Place, home to the extremely popular Toy Story Mania, which opened to the public May 31, 2008. Green Army Men, Buzz and Woody appear in this area intermittently throughout the day.
ANIMATION COURTYARD: To the right of Pixar Place is the Animation Courtyard. Here you'll find Walt Disney Presents, which hosts a character meet-and-greet, as well as an exhibit on the life of Walt Disney and sneak previews of what's coming next to Disney's Hollywood Studios. You'll also find the popular Voyage of the Little Mermaid, delighting young and old. Across the Courtyard, children can see their favorite characters like Jake from the Never Land Pirates, Princess Sofia the First and Doc McStuffins in the Disney Junior Live! show. The Star Wars Launch Bay, which is currently the primary location within the park for fans to celebrate all things Star Wars, opened late in 2015 in the space formerly occupied by the Magic of Animation Tour. In this multi-sensory space with an outdoor queue area lined with special concept artwork, guests can interact with beloved Star Wars characters, tour galleries featuring treasured memorabilia and replicas of large-scale Star Wars artifacts, and play the latest Star Wars interactive video games, plus have access to special Star Wars merchandise.
MUPPETS COURTYARD: The Muppets star in Muppet*Vision 3D, which combines Jim Henson's puppets and special effects with Disney's famous Audio-Animatronics. Much of the area behind the Muppets is currently (as of mid-2017) under construction, awaiting the development of Toy Story Land and Star Wars: Galaxy's Edge.
TOURING TIPS

Disney's Hollywood Studios opens daily at 9 a.m. Closing times vary according to the season, with the park staying open later during summer months and holiday times. Plan to arrive at the Studios about 8:30 a.m., for when the gates open -- even though no attractions are accessible until the ropes officially drop, there are usually plenty of characters milling about at the park entrance!
Fantasmic! is shown several times a week at park closing. During busier seasons, Fantasmic! may be performed nightly, or may have two performances nightly. When this is the case, the later show is much less crowded -- consider staying for that if it's practical for you. Or take advantage of the Fantasmic! dinner package for special seating, to avoid the long wait. If you don't mind waiting, though, plan to arrive at the theater early to ensure getting a seat at this popular show.
Visit Shopping the Studios At-A-Glance page for info on the various stores around the park.
KIDS AND CHARACTERS
Disney's Hollywood Studios has several opportunities for children to meet and greet their favorite characters.
In Celebrity Spotlight, located in the park's Echo Lake district, Olaf from Disney's blockbuster film, "Frozen" is living his dream "In Summer," ready to give warm hugs to all his new friends. On Commissary Lane, guests will find "Mickey and Minnie Starring in Red Carpet Dreams." Guests first walk the red carpet and step right into a scene with Minnie, where she appears as a Tinsel Town starlet in a ritzy setting straight out of a lush and colorful musical extravaganza. Next, guests can join Mickey in a scene from "Fantasia," where he's portraying his iconic role of the Sorcerer's Apprentice. These two meet-and-greet locations opened in early May 2016.
In addition, you'll find Toy Story characters (Buzz, Woody, Green Army Men) and Cruz Ramirez from Cars 3 in Pixar Place; and the Disney Junior and Star Wars characters in the Animation Courtyard. Consult your daily Times Guide for times and locations.
Disney's Hollywood Studios Characters at a Glance
Character Meet and Greet FAQ!
INTERESTING FACTS
The HBO series "From the Earth to the Moon", a 13-part drama, was in production in two soundstages throughout 1997.
Films shot at the studios include: "Marvin's Room," "Passenger 57," "Oscar," "Quick Change," "Ernest Saves Christmas," "Splash Too," "Separate But Equal" (Emmy-winning TV mini-series, starring Burt Lancaster) and "Instinct."
Some of the many television shows which have taped at Disney's Hollywood Studios include: "ER," "Full House," "Wheel of Fortune," "ESPN College Football Awards," "Talk Soup," "Step By Step," "Barbara Walters Special," and "Live! With Regis & Kathie Lee."
Among the hundreds of actors, comedians and entertainers who've appeared at the studios are: Charlton Heston, Dustin Hoffman, Bette Midler, Warren Beatty, Sylvester Stallone, Tom Hanks, Liza Minnelli, Billy Joel, Christie Brinkley, Michael J. Fox, Samuel L. Jackson, Lou Gossett Jr., Drew Carey, Oprah Winfrey and Susan Lucci.

WHAT'S NEW?
Walt Disney Presents opened in mid-September 2017. It combines elements of the previous attraction Walt Disney: One Man's Dream with a character Meet and Greet and an exhibit of "What's Coming to Disney's Hollywood Studios."
Star-Lord and Baby Groot from "Guardians of the Galaxy, Vol. 2" are now meeting fans in the rear of Walt Disney Presents.
Cruz Ramirez from Cars 3 has her own meet-and-greet location in Pixar Place.
The droid BB-8, from the film Star Wars: The Force Awakens, is, as of April 2017, appearing at Star Wars Launch Bay.
A new Star Wars Guided Tour is offered at Disney's Hollywood Studios as of January 2, 2017. This brand-new, seven-hour tour is led by a Star Wars guide and includes: reserved viewing for "Star Wars: A Galaxy Far, Far Away,"; a journey on Star Tours - The Adventures Continue; an opportunity to participate in Jedi Training: Trials of the Temple (for guests age 4-12); a guided exploration and character greetings at Star Wars Launch Bay; dinner at Backlot Express, featuring Star Wars-themed items; the Star Wars: A Galactic Spectacular Dessert Party; fireworks viewing and a personalized souvenir. The tour costs $129 per person (tax & gratuity included; separate theme park admission required). Tours are offered Mondays and Saturdays. Check in next to the Great Movie Ride. Reservations can be made by calling 407-WDW-PLAY.
Several offerings inspired by Rogue One: A Star Wars Story debuted December 16, 2016, to coincide with the film's opening. First, AWR Troopers from the film debuted in a new scene in the park's "Star Wars: A Galaxy Far, Far Away" daytime show. The park's Star Wars Launch Bay was updated with new props from Rogue One: A Star Wars Story, including a Shoretrooper Blaster, Director Krennic's Imperial Shuttle, a Death Star model, a U-wing gunship and more. Making-of footage has also been added to the the behind-the-scenes film in Launch Bay Theater.
PizzeRizzo, a classic family pizzeria "owned" by the well-known Muppets character Rizzo, opened in Muppets Courtyard at Disney's Hollywood Studios on November 18, 2016. It is occupying the space that previously housed the Pizza Planet counter service restaurant.
A new fireworks show called Star Wars: A Galactic Spectacular debuted June 17, 2016, with Star Wars-themed fireworks, lasers, light projections and other special effects combined with Star Wars-themed music and iconic characters and scenes from throughout the saga.
While waiting for the Star Wars land to be developed, the Star Tours attraction has been updated with a new scene and characters from the upcoming film, Star Wars: The Force Awakens. In addition, the Jedi Training Academy experience has been updated to Jedi Training: Trials of the Temple with a new villain, and the Star Wars Launch Bay has opened.
WHAT'S NEXT?
The former Streets of America area in the Studios is being reimagined by Walt Disney Imagineers to become Grand Avenue. The area will capture the spirit of present-day Downtown Los Angeles, showing vintage office buildings and warehouses representing the different vibrant districts and cultures of the city. One prominent hot spot to spring up will be the BaseLine Tap House, a cheerful corner pub specializing in beer and wines from California. (It will be located on the site of the former The Writer's Stop.) The new area will debut in Fall 2017.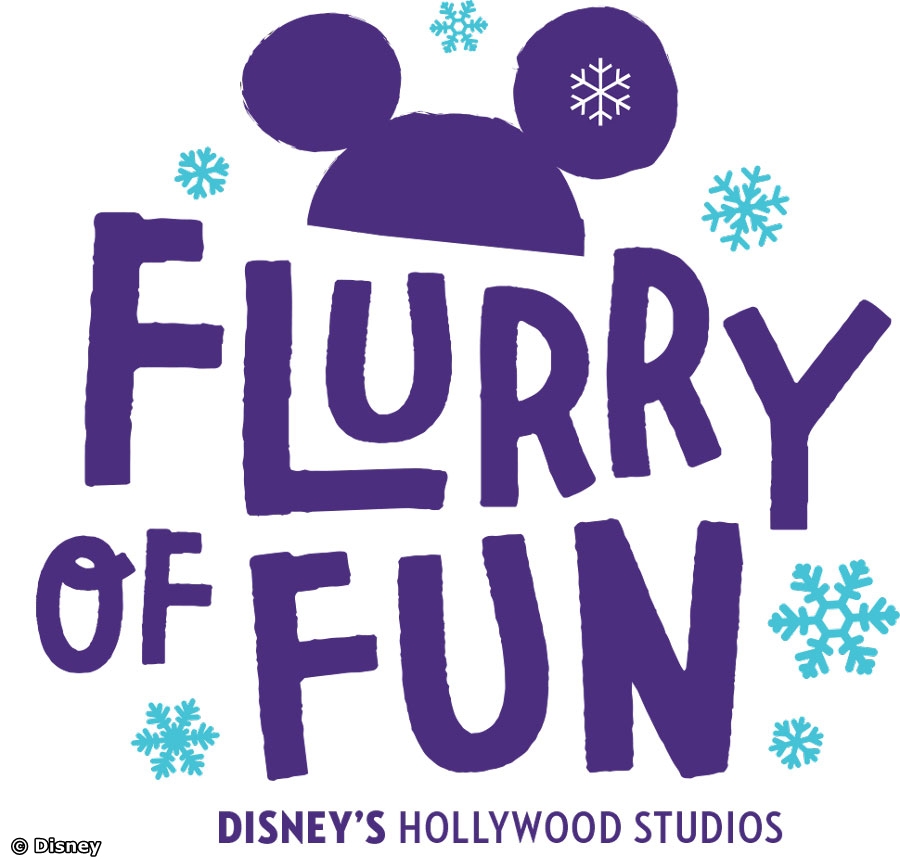 Sunset Seasons Greetings -- Taking place from Nov. 9 through Dec. 31, 2017, this new holiday happening will occur as night falls on Disney's Hollywood Studios. Billboards will suddenly begin to move into motion and tell a tale, courtesy of iconic characters sharing their love for the season. All the while, the Hollywood Tower Hotel (The Twilight Zone Tower of Terror) will magically transform, bringing to life the characters' stories.
In addition, there will be enhanced holiday decor around Echo Lake. Colorful garlands and a giant Christmas tree centered on the water will make Echo Lake the merriest of places this holiday season. Even Dinosaur Gertie will be dressed for the occasion with a dino-Santa hat.
The nighttime holiday spectacular called Jingle Bell, Jingle BAM!, which debuted on November 14, 2016, will return for the 2017 holiday season on November 7. The show will be updated with a few different sequences and new characters, along with more integration of fireworks. There may be one or two additional "holiday" offerings at the Studios this year, too -- details will be announced at a future date.
In July 2017, at the D23 Expo, it was announced that the Great Movie Ride would close on August 13 to make way for a new Mickey Mouse-themed attraction. Mickey and Minnie's Runaway Railway will be a ride-through attraction in which you'll step through the movie screen and join Mickey and his friends like never before. The attraction will put you inside the wacky and unpredictable world of a Mickey Mouse Cartoon Short where you're the star and anything can happen. This zany out-of-control adventure features surprising twists and turns, dazzling visual effects and mind-boggling transformations that happen before your very eyes.
Also at the 2017 D23 Expo, it was confirmed that Toy Story Land will open at the Studios in the summer of 2018 with the Slinky Dog Dash coaster and Alien Swirling Saucers. In fact, the first Slinky Dog vehicles have already been put in place.
Star Tours - The Adventures Continue will add scenes later in 2017 from the upcoming film Star Wars: The Last Jedi. This new Star Tours adventure will take guests to the planet of Crait in the middle of an epic battle and will be "like nothing that frequent Starspeeder travelers have ever seen."
MARCH 2017: Disney CEO Bob Iger has announced that the Star Wars-themed lands in both Walt Disney World and Disneyland will be called Star Wars: Galaxy's Edge and they are scheduled to open in 2019.
At the 2015 D23 EXPO in August, Disney CEO Bob Iger announced that a new Star Wars-themed land would be constructed in both Disney's Hollywood Studios in Walt Disney World and in Disneyland in California. Here's the press release with details of this announcement. And here's video of Bob Iger's surprise announcement. In February 2016, Disney announced additional artwork and details on the new Star Wars themed land.
Also at the D23 EXPO, Imagineer Kathy Mangum announced that the Studios would be getting a new Toy Story-themed land that will include two unique attractions, one featuring the Little Green Men aliens of the movies, the other a family-friendly Slinky Dog coaster. Here's the video of the announcement, as well as video of a virtual proposed coaster.
WHAT'S GOING... GOING... GONE?
Walt Disney: One Man's Dream was "reimagined" into Walt Disney Presents, which opened in mid-September 2017, as described above under "What's New."
The Music of Pixar Live, a celebration of the music, animation and characters of Pixar films, ended its run at the Theater of the Stars on August 27, 2017.
The Great Movie Ride closed on August 13, 2017, to make way for a new Mickey Mouse-themed attraction, Mickey and Minnie's Runaway Railway.
The Academy of Television Arts & Sciences Hall of Fame Plaza, which featured sculptures of famous television legends, as well as the second-largest Emmy statue in the world (14-1/2 feet from its base), was removed from its home in front of the Hyperion Theater in late October 2016. A food and beverage kiosk is scheduled to fill that space.
The nightly Star Wars-themed fireworks show, Symphony in the Stars: A Galactic Spectacular was replaced by the more grandiose Star Wars: A Galactic Spectacular on June 17, 2016.
To make room for the Star Wars and Toy Story lands, a number of Studios' attractions and areas have already closed or will be closing over the next several months. Among the casualties: The Writer's Stop; Lights, Motors, Action! Extreme Stunt Show; Streets of America; Studio Catering Co.; Honey, I Shrunk the Kids Movie Set Adventure; Watto's Grotto. To keep up with the closures, visit our Refurbishments and Closings page.
Walt Disney World removed the iconic Sorcerer Mickey Hat in early 2015. The Sorcerer's Hat "opened" September 2001 as part of the 100 Years of Magic Celebration at Walt Disney World. No word yet on what, if anything, will take the Hat's place, or what will become of the Hat.
The Magic of Disney Animation, a tour allowing guests to get an insider's view of the animation process, closed July 12, 2015.
If you have comments or tips to share with others about touring Disney's Hollywood Studios, please email us!