TOURING
AT A GLANCE...
COMMISSARY LANE
HOLLYWOOD BLVD.
SUNSET BLVD.
ECHO LAKE
STAR WARS:
GALAXY'S EDGE
- LATE FALL 2019!
ANIMATION COURTYARD
ENTERTAINMENT
SPECIAL EVENTS
DISNEY'S HOLLYWOOD
STUDIOS ARCHIVES
OTHER WALT DISNEY WORLD
THEME PARKS
OTHER DISNEY THEME
PARKS
Disney's Hollywood Studios Archives

Visiting Celebrities
at Disney's Hollywood Studios
Introduction | Attraction | Touring Tips
INTRODUCTION
Star-watching is a popular attraction at Disney's Hollywood Studios, where celebrities appear regularly in motorcades along Hollywood Boulevard.

VISITING CELEBRITIES
Besides Mickey and Minnie and their friends, many other show biz celebrities, like Cuba Gooding, Jr., pictured, visit the Disney's Hollywood Studios. These visits are not usually announced more than a week in advance, so often you just happen upon them by chance.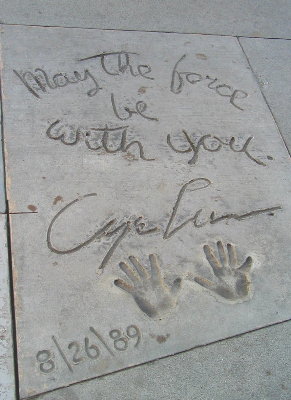 Many well-known entertainers have placed their hands in cement for posterity in front of the Chinese Theater (including Mickey and Minnie Mouse). Along with this tradition, the celebrities often participate in photograph, autograph and interview sessions with park guests.

Among the stars whose handprints are captured in cement in the courtyard of the Chinese Theater: Sylvester Stallone, Carol Burnett, Danny DeVito and Rhea Perlman, Billy Joel, Christie Brinkley, Charlie Sheen, the late Jim Varney, and George Lucas (at left).

TOURING TIPS
Find out if any celebrities will be visiting the Disney's Hollywood Studios during your visit to the theme park by checking with Guest Relations or the Cast Members at the Hollywood Junction at the corner of Hollywood and Sunset Boulevards. You might also try calling 1-407-WDISNEY a few days before you leave for Walt Disney World to determine if any celebrity visits have been announced.

Usually, celebrities are brought to the front of the Chinese Theater by motorcade along Hollywood Boulevard.

Most celebrity activities, such as the handprints in cement, autograph sessions, or interviews, take place in front of the Chinese Theater, but events sometimes have taken place elsewhere in the park.

If you have comments or tips to share with others about seeing visiting celebrities at Disney's Hollywood Studios, please email us. Thank you.