TOURING
AT A GLANCE...
COMMISSARY LANE
HOLLYWOOD BLVD.
SUNSET BLVD.
ECHO LAKE
STAR WARS:
GALAXY'S EDGE
- COMING IN 2019!
TOY STORY LAND
- OPENING JUNE 30, 2018!
(Currently PIXAR PLACE)
ANIMATION COURTYARD
ENTERTAINMENT
SPECIAL EVENTS
DISNEY'S HOLLYWOOD
STUDIOS ARCHIVES
OTHER WALT DISNEY WORLD
THEME PARKS
OTHER DISNEY THEME
PARKS
Indiana Jones
Epic Stunt Spectacular
Introduction | Attraction | Touring Tips | Kids and Characters
Dining | Shopping | Interesting Facts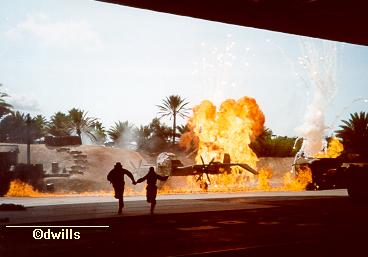 INTRODUCTION
Are the movies in the Indiana Jones series some of your all-time favorites? And have you ever marveled over the amazing stunts featured in these action-packed films? Then wander past Echo Lake to this 35-minute live show that features daring stunts and thrilling special effects! Relive all your favorite Indiana Jones moments from Raiders of the Lost Ark, while learning just how they did it -- and maybe even get the chance to participate in the action onstage, too!
ATTRACTION
Pre-show: Guests are permitted to enter the Indiana Jones Stunt Spectacular theater approximately 20 minutes before show time. While waiting, guests are often entertained by a live performer - in the past, these have included Rosie, a loud-mouthed but hilarious cleaning lady, and Francis, a plumber, who interact with audience members. A few minutes before the show begins, the show's "casting director" gives a brief overview of the upcoming show and auditions several adult guests to serve as extras in the sequences to follow.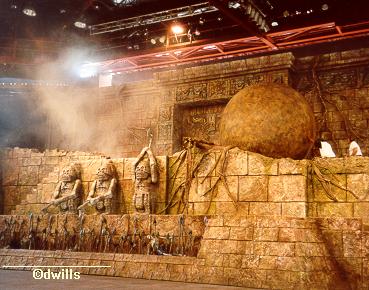 Indiana Jones Epic Stunt Spectacular! starts with an Indiana Jones look-alike reenacting a climactic scene from the movie Raiders of the Lost Ark, complete with a 12-foot tall rolling boulder chasing him down a narrow path. He is seemingly overtaken and crushed by the boulder, only to reappear moments later as the set is being deconstructed and the director explains to the audience what's going on. The extras (who must be over 18 years old) chosen from the audience are part of the following Cairo street scene and, after a series of explosions and realistically swashbuckling fight scenes, the show concludes with even larger and louder explosions, pyrotechnics whose heat can be felt even in the audience, and an escape that will leave you biting your nails in suspense!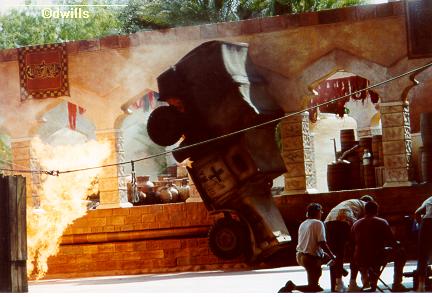 Current show times for this attraction and other Disney's Hollywood Studios Live Entertainment can be found at Steve Soares' WDW Entertainment Website.
TOURING TIPS
Indiana Jones Epic Stunt Spectacular is a Fastpass attraction.

To have the best chance of being chosen as an extra for this show, sit near the front of the theater and show lots of enthusiasm!

Children (and even adults) who are frightened of loud noises should sit further away from the main stage area, as some of the effects and explosions are ear-splitting.


Don't miss the often-overlooked sign just outside the theater that says, "Do Not Pull Rope." It almost looks like an abandoned well and is easy to miss. Look carefully -- the NOT is crossed out! So be brave and give the rope a tug! You'll be treated to a little something extra, sure to make you smile.

Guests using wheelchairs will be seated in a special area in the rear of the theater.
Assistive Listening Devices from Guest Services Can Be Used Here.

The nearest restrooms are located in the Backlot Express counter service restaurant, near the west side of the theater.
KIDS AND CHARACTERS
There are no Disney Characters associated with this attraction. However, if you wait until after the show is over and the crowd dissipates, it's sometimes possible to meet some of the performers and get their autographs.
Disney's Hollywood Studios Characters At A Glance
Character Meet and Greet FAQ!
DINING
If you exit the Indiana Jones theater from the left side, you will be standing in front of the Backlot Express counter service restaurant, which features burgers, sandwiches and other fast-food fare. Nearer to the right side of the theater, on Echo Lake is the giant dinosaur that houses Dinosaur Gertie's Ice Cream of Extinction.
Disney's Hollywood Studios Restaurants At A Glance
Menus From Around the World
Vegetarian and Other Special Diets
SHOPPING
There are two shops that sell Indiana Jones-related merchandise adjacent to the Stunt Spectacular theater. The Indy "truck" is located at one exit, the much larger Indiana Jones Adventure Outpost is located just past the Prime Time café. Both locations carry Indiana Jones movie memorabilia, hats, jackets, rubber snakes, t-shirts, etc., as well as Disney plush characters in Indiana Jones-style clothing.
INTERESTING FACTS
The Indiana Jones Epic Stunt Spectacular debuted at Disney's Hollywood Studios on August 25, 1989.

The Indiana Jones amphitheater holds 2000 guests.

The small golden idol used in the first act of this show is an exact replica of the idol in Raiders of the Lost Ark.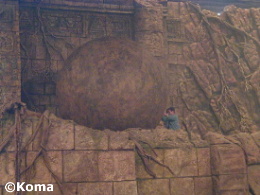 The giant rolling ball is 12 feet in diameter and weighs 440 pounds. The show's sets weigh as much as 100 tons each, which makes them the largest moving sets in history.

The Indiana Jones Epic Stunt Spectacular closed for six months in 2000 to refurbish the sets and prepare it for the addition of Fastpass, but no major changes were made to the format of the show itself.
If you have comments or tips to share with others about the Disney's Hollywood Studios Indiana Jones Epic Stunt Spectacular, please email us. Thank you.