TOURING
AT A GLANCE...
COMMISSARY LANE
HOLLYWOOD BLVD.
SUNSET BLVD.
ECHO LAKE
STAR WARS:
GALAXY'S EDGE
- COMING IN 2019!
TOY STORY LAND
- OPENING JUNE 30, 2018!
(Currently PIXAR PLACE)
ANIMATION COURTYARD
ENTERTAINMENT
SPECIAL EVENTS
DISNEY'S HOLLYWOOD
STUDIOS ARCHIVES
OTHER WALT DISNEY WORLD
THEME PARKS
OTHER DISNEY THEME
PARKS
Alien Swirling Saucers

Toy Story Land
Disney's Hollywood Studios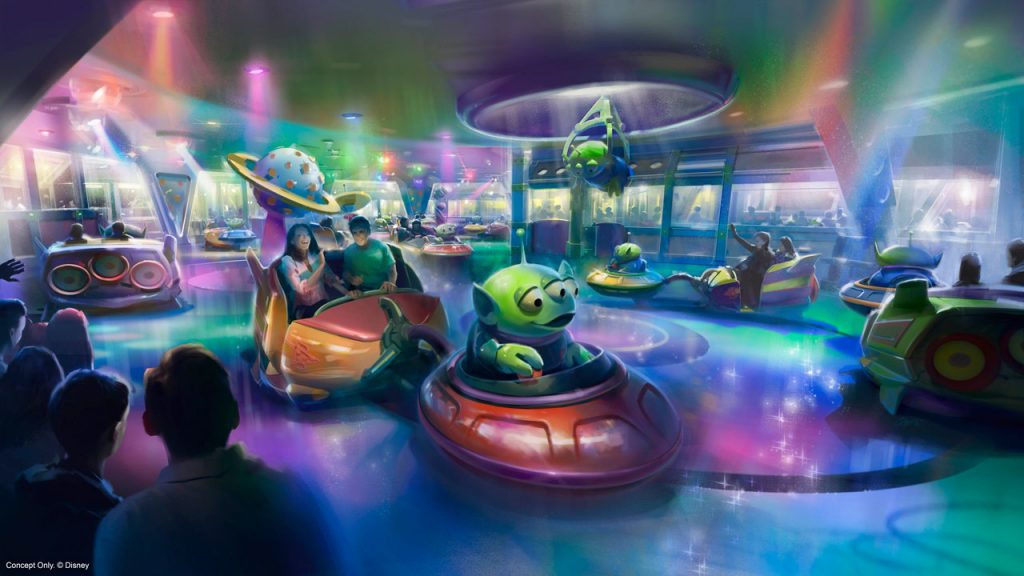 Artist Rendering Released 2/7/18

INTRODUCTION
At the 2015 D23 EXPO, Walt Disney Parks and Resorts Chairman Bob Chapek unveiled plans for Toy Story Land, to be built at Disney's Hollywood Studios. The new land, inspired by the "Toy Story" film franchise, will allow guests to shrink to the size of a toy and explore the world of Andy's backyard. Here's the official press release of the announcement. Alien Swirling Saucers is one of two new attractions slated to open with the new land on June 30, 2018.

ATTRACTION
Alien Swirling Saucers is designed as a toy play set that Andy got from Pizza Planet, inspired by the first Toy Story film. Aliens are flying around in their toy flying saucers and trying to capture your rocket toy vehicle with "The Claw."
As you rotate around the toy planets and satellites as part of the game, you'll swirl to the beat of fun "Space Jazz" music developed just for this experience. The music, the lighting, and the sound effects will add to the flurry of your adventure while "The Claw" looms ominously over you.
TOURING TIPS
KIDS AND CHARACTERS
Immediately across from the entrance to Toy Story Mania is a character greeting area that features Buzz, Woody and other Toy Story characters throughout the day.
You will also find lots of Disney Characters at a variety of Meet and Greet locations throughout the Studios. Check your Guide Map for times and locations.
Disney's Hollywood Studios Characters At A Glance
Character Meet and Greet FAQ!
DINING
Toy Story Land will have a themed counter-service restaurant called Woody's Lunch Box, which will feature quick meals and old-fashioned ice cream sodas and floats.
Pixar Place has had a snack cart, Hey Howdy Hey Take Away.
Disney's Hollywood Studios Restaurants At A Glance
Menus From Around the World
Vegetarian and Other Special Diets
SHOPPING
Immediately across from the entrance to Toy Story Mania is a shopping area that features many Toy Story toys, t-shirts and other Toy Story-themed merchandise.
Shopping at a Glance at Disney's Hollywood Studios
INTERESTING FACTS
If you have comments or tips to share with others about touring Disney's Hollywood Studios' please email me. Thank you.