When to Go
Where to Stay
Ticket Information
Transportation
"Mini-mizing" Costs
Helpful Hints
Tips
For Families
For Guests without Children
ADD/ADHD
Autistic Spectrum
Disorders (ASD)
Dietary Needs
Vegetarian/Vegan
Epilepsy
Hearing
Medical Needs
Mobility
Motion Sensitivity
Service Animals
Size Concerns:
Visual Impairments
For International Visitors
Florida Residents
Other Resources
Assistive Listening Devices
Walt Disney World offers several different services for those with hearing impairments, one of which is the Assistive Listening Device.
Assistive Listening Systems utilize a lightweight wireless device that receives an infrared signal or radio signal from overhead transmitters at certain locations in order to amplify sound.
These are recommended for Guests with mild to moderate hearing loss.
Receivers are available at Guest Relations in all four Theme Parks. A refundable $25 deposit is required (must return item on the same day for refund).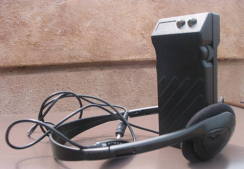 **********
Assistive Listening systems are operating at:
MAGIC KINGDOM
Country Bear Jamboree
Jungle Cruise
Mickey's PhilharMagic
Stitch's Great Escape!™
Sunny Eclipse at Cosmic Ray's Starlight Cafe
"The Enchanted Tiki Room Under New Management"
The Hall of Presidents
Walt Disney's Carousel of Progress (seasonal)
Epcot
The American Adventure: The American Adventure America Gardens Theatre
Universe of Energy: "Ellen's Energy Adventure"
Germany: Biergarten
Imagination: "Honey, I Shrunk the Audience"
France: "Impressions de France"
Innoventions East and West (certain attractions)
Norway: Maelstrom Theater
Canada: O Canada!
China: "Reflections of China"
Test Track (briefing room only)
The Land: The Circle of Life
Turtle Talk with Crush
Disney's Hollywood Studios
Theaters of the Stars: "Beauty and the Beast"- Live on Stage
Fantasmic!
Indiana Jones Epic Stunt Spectacular!
Lights Motors Action Extreme Stunt Show
Muppet*Vision 3D
Playhouse Disney - Live On Stage!
Sci-Fi Dine-In Theater Restaurant
The Magic of Disney Animation
Voyage of the Little Mermaid
Walt Disney: One Man's Dream (theater only)
Disney's Animal Kingdom
Rafiki's Planet Watch: Certain attractions
DINOSAUR (pre-show only)
Lion King Theater: "Festival of the Lion King"
Finding Nemo - The Musical
Caravan Stage: "Flights of Wonder"
"It's Tough To Be A Bug!"
Kilimanjaro Safaris
Wildlife Express