Alien Swirling Saucers – Toy Story Land – Disney's Hollywood Studios
Alien Swirling Saucers Highlights:
32 inch height requirement
Take a ride on this rotating "trailer hitch" style attraction featuring the Pizza Planet Aliens from Toy Story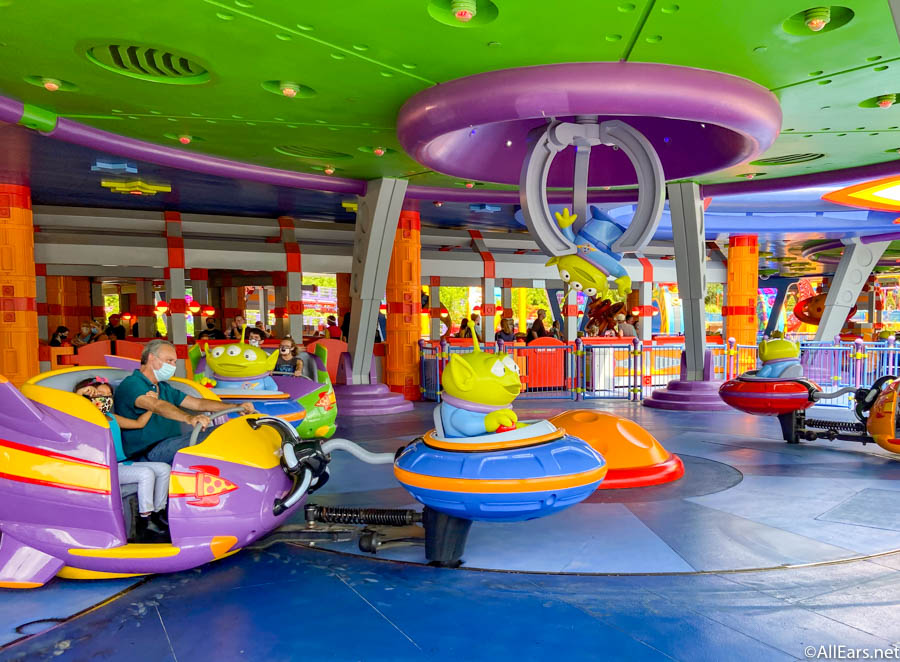 INTRODUCTION
Located in Andy's Backyard, Alien Swirling Saucers takes you on a fun spin with the Pizza Planet Aliens!
Alien Swirling Saucers is located in Toy Story Land, across from the restrooms and Woody's Lunchbox.

ATTRACTION
Alien Swirling Saucers is designed as a toy playset that Andy got from Pizza Planet, inspired by the first Toy Story film. Aliens are flying around in their toy flying saucers and trying to capture your rocket toy vehicle with "The Claw."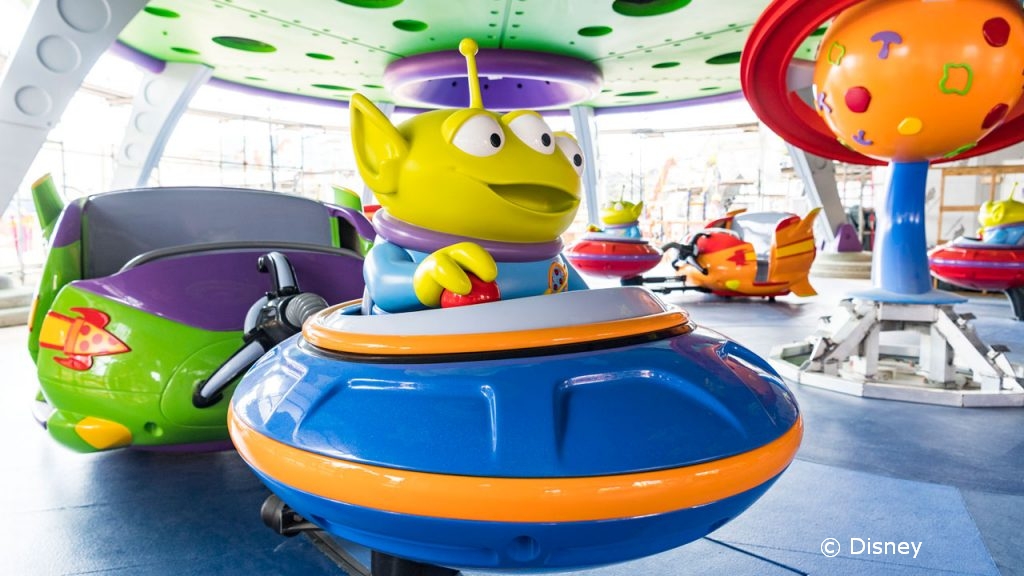 You'll load into the back portion of an Alien-driven vehicle, and take a spin on the turn tables. Much like a trailer or waterski, when the front part turns, the back part whips around in a fun, giggle-inducing attraction.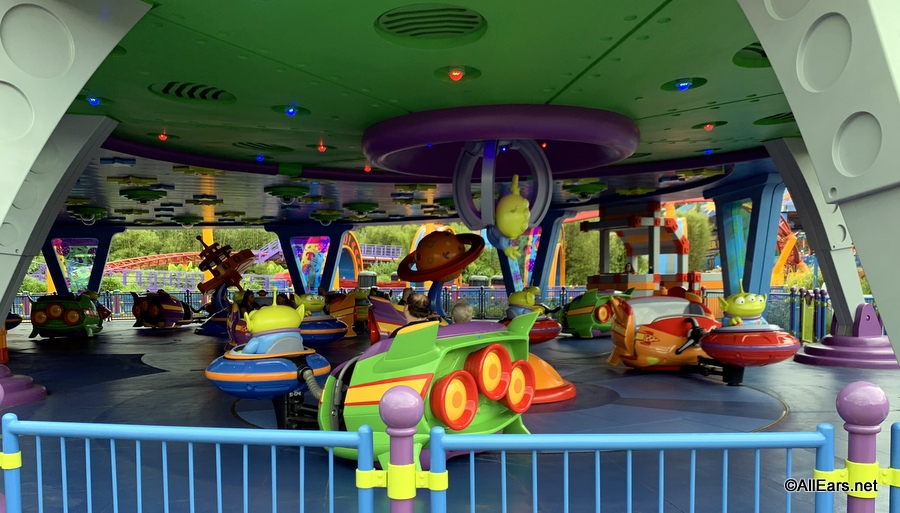 As you rotate around the toy planets and satellites as part of the game, you'll swirl to the beat of fun, electronic "Space Jazz" music developed just for this experience. You will also see pizza details throughout the attraction, including pizza columns, a pizza space station and the Planet Pepperonia. The music, the lighting, and the sound effects will add to the flurry of your adventure while "The Claw" looms ominously over you.
There are two sides ("playsets") to this attraction, and each has 11 vehicles that can hold two or three guests.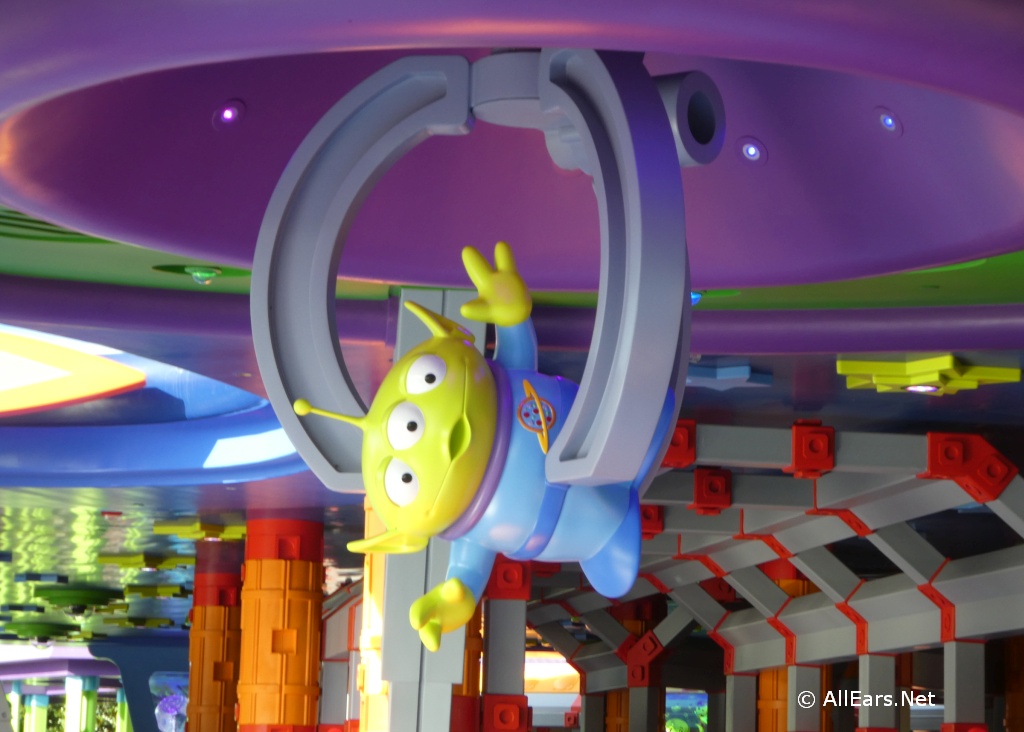 TOURING TIPS
Lightning Lane access for Alien Swirling Saucers is available with the purchase of Genie+. Even though it's part of Toy Story Land, the standby line isn't typically as long as the other attractions in the area. The average wait is 30 – 60 minutes.
Alien Swirling Saucers has a height restriction of 32 inches or 81 cm.
Before or after riding Alien Swirling Saucers, you may want to pose for a photo with a giant Buzz Lightyear action figure standing more than 14 feet tall on top of toy building blocks near the entrance to his Star Command Space Station Playset.
There is also a photo op with a stationary, photo-ready green Alien in its colorful saucer just outside the attraction.
The nearest restrooms are located directly across from the entrance of Alien Swirling Saucers.
Those in ECV/wheelchairs must transfer out to the ride vehicle.
KIDS AND CHARACTERS
Next to Toy Story Mania entrance is a character greeting area that features Woody and Bo Peep. Jessie is often found outside Alien Swirling Saucers, and Buzz is often found near Slinky Dog Dash. In addition, the Green Army Patrol and the Green Army Drum Corps appear in Toy Story Land periodically.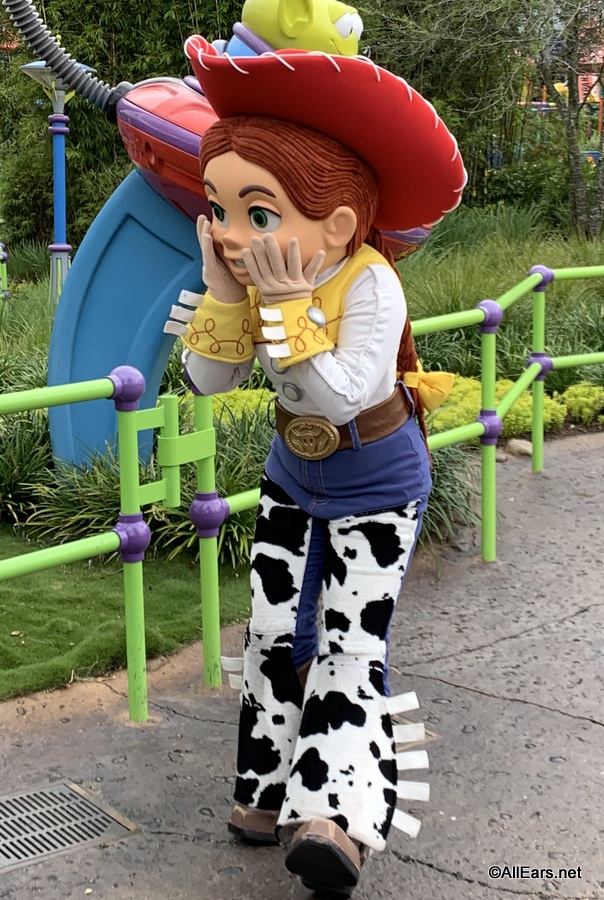 You will also find lots of Disney Characters at a variety of Meet and Greet locations throughout the Studios. Check your Guide Map for times and locations.
Disney's Hollywood Studios Characters At A Glance
Character Meet and Greet FAQ!
DINING
Toy Story Land has a themed counter-service restaurant called Woody's Lunch Box, which features quick meals and desserts such as their signature Lunch Box tarts.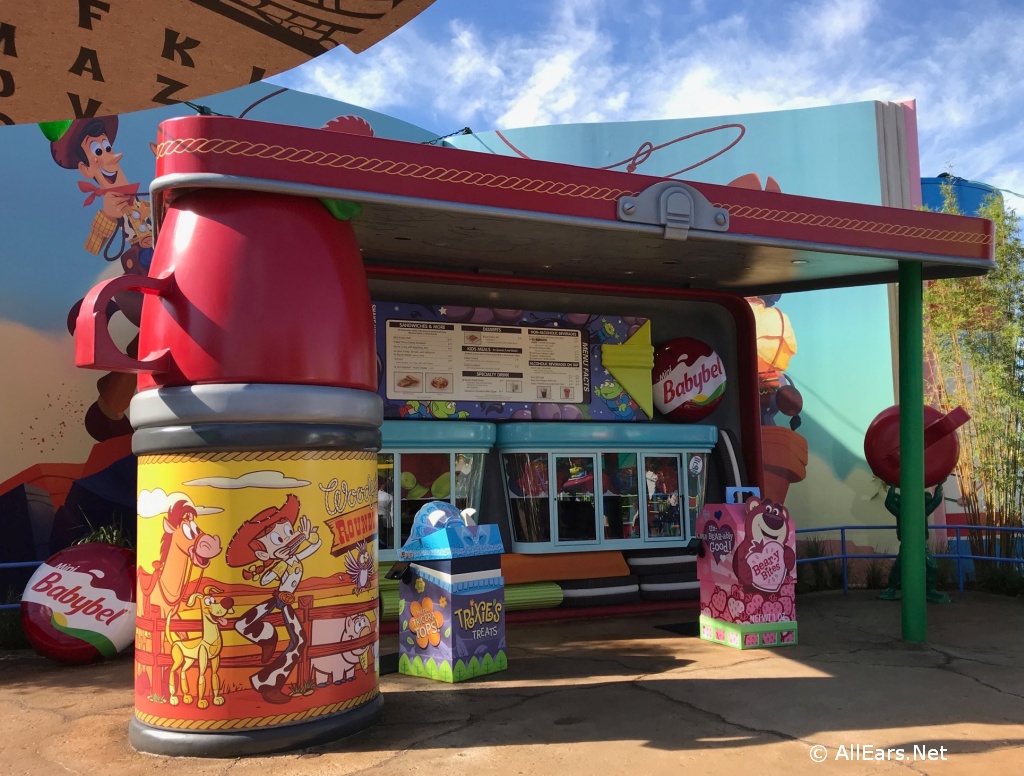 Disney's Hollywood Studios Restaurants At A Glance
Menus From Around the World
Vegetarian and Other Special Diets
SHOPPING
Three Toy Story Land merchandise locations — a toy camper, toy dump truck, and gift shop at the exit of Toy Story Mania— offer shoppers Toy Story logo merchandise, collectibles and unique gifts. Special items include: small-scale replica toys of the attraction vehicles, a Alien Mug that looks like the ride vehicle, and colorful headbands sprouting an Alien or Slinky Dog himself.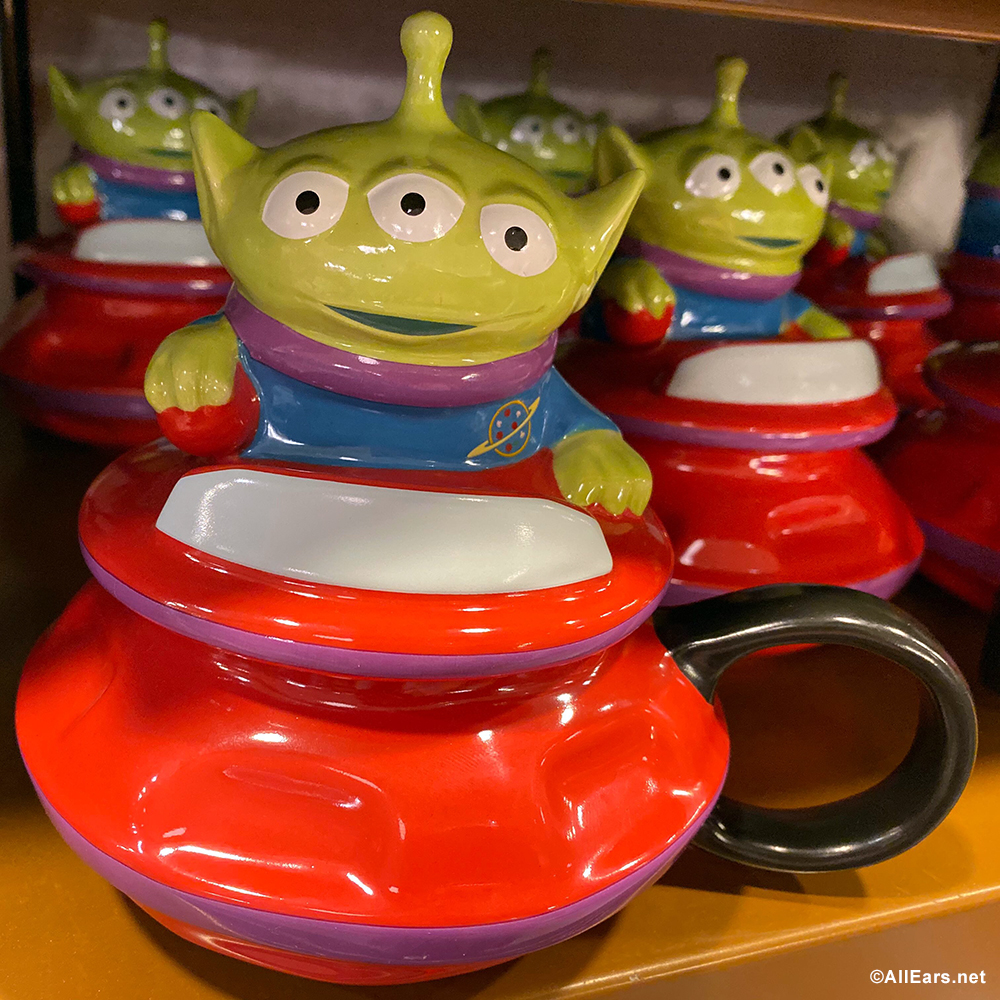 Shopping at a Glance at Disney's Hollywood Studios
INTERESTING FACTS
There is a hidden Mickey in the queue on the Space Map.
At the holidays, they play synchronized Christmas music in the attraction.