Star Wars: Rise of the Resistance — Star Wars: Galaxy's Edge — Disneyland Park
Star Wars: Galaxy's Edge opened on May 31, 2019, with just one of its two major attractions open. The land's second phase attraction — Rise of the Resistance — opened as part of Phase 2 of the land on January 17, 2020, and gives guests the opportunity to fight against the First Order in a unique, multifaceted experience that includes multiple attraction types, popular characters both good and evil, and intense storytelling.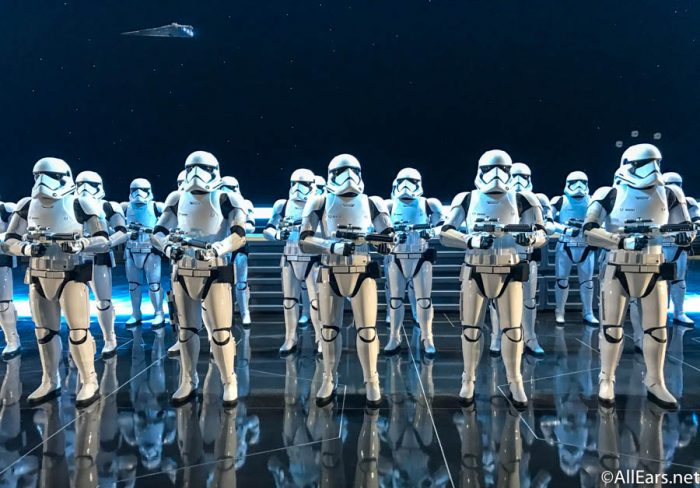 ATTRACTION
Minimal Spoiler Alert:
Rise of the Resistance will take you into multiple scenarios, including on-board a First Order Star Destroyer, on a Resistance Transport, and in the pathway of AT-AT walkers!
At one point, guests are "captured" and transported by the enemy —  before they escape on a trackless troop transport piloted by a droid! Along the way, riders will see various scenes and characters including Stormtroopers and Kylo Ren.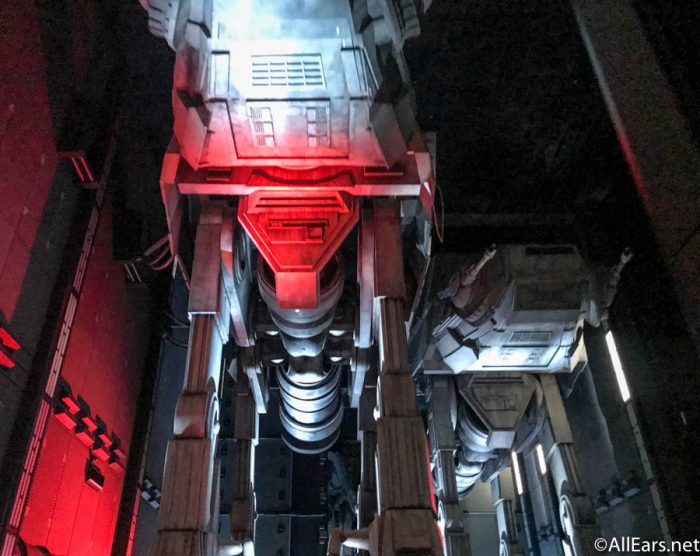 Warning: Definite Spoilers Ahead!
The queue begins in the rocky cliffs of Batuu, where you'll want to pay attention to the ground. You'll see soldier footprints as well as tracks from a droid. It turns out it was the droid Imagineers were looking for — the real R2-D2 from A New Hope was used here.
The line continues winding through the forest, until you reach a set of man-made (or alien-made) caves. It's here you'll reach the Black Spire Outpost, set among the ruins of an ancient civilization.
The story goes that the Resistance (which set up camp here a week ago) and the First Order are both in search of something (we don't know what yet).
As you weave through the queue, you'll see various items from the Rebels' camp — such as droids and communication gear. Make sure to keep an ear out for signs that the First Order may be approaching.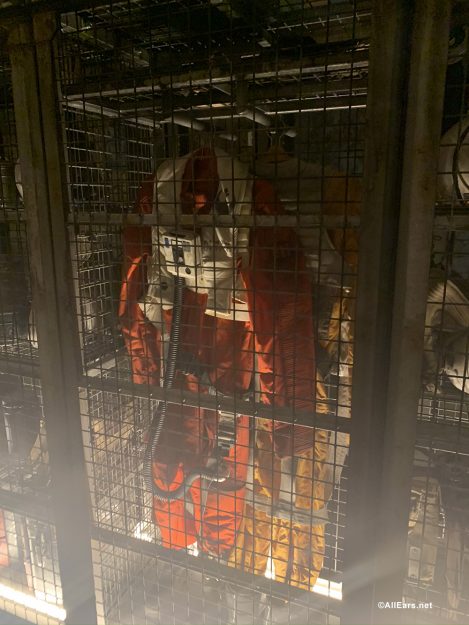 You'll continue winding through, and you'll want to pay attention to the ancient site you're in. The Play Disney Parks App will be very interactive in the queue, deciphering symbols and raising questions about what has happened here. In fact, your participation in the 'Datapad's' interactive queue elements will be reflected in the attraction as well.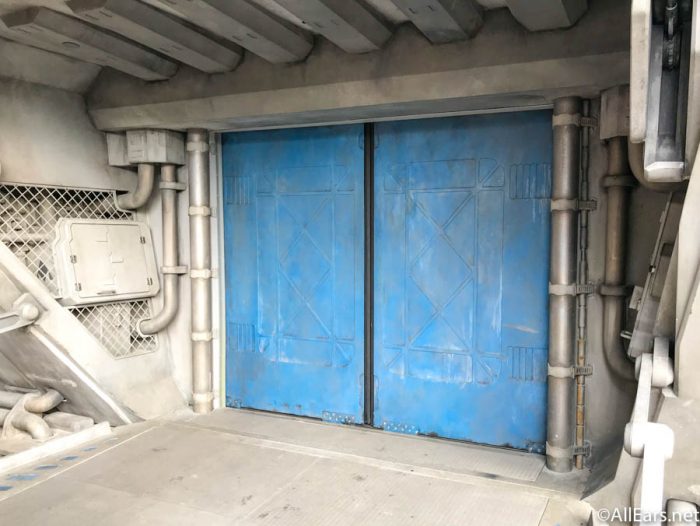 Eventually you'll make it to Resistance Command. There you're greeted by BB-8, who presents a hologram of Rey (Daisy Ridley, recorded just for the attraction) letting you know that you'll shortly be boarding a transport with Poe Dameron in order to conduct an urgent mission.
As you enter the bay, an animatronic Nien Nunb (Lando Calrissian's co-pilot) barks orders at you, and you'll catch a glimpse of Poe's signature black X-wing.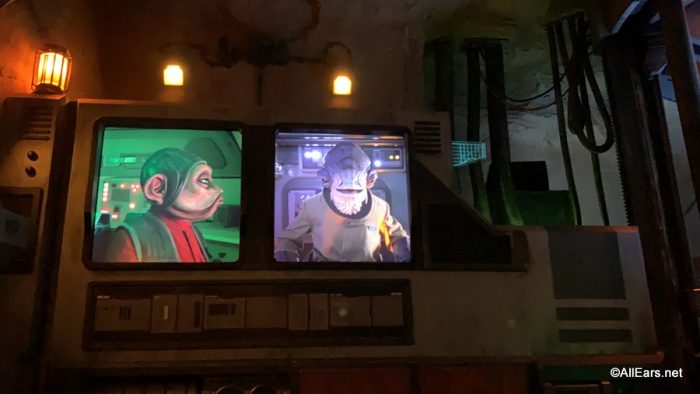 Time to go! Poe (Oscar Isaac) jumps aboard his X-wing, and Nunb pilots your ship, which takes off. But not so fast! A First Order Star Destroyer appears and pulls your transport into a First Order hangar. Poe abandons you, promising to bring back help.
When the hangar is revealed, you'll be in a giant auditorium complete with Storm Troopers and TIE Fighters.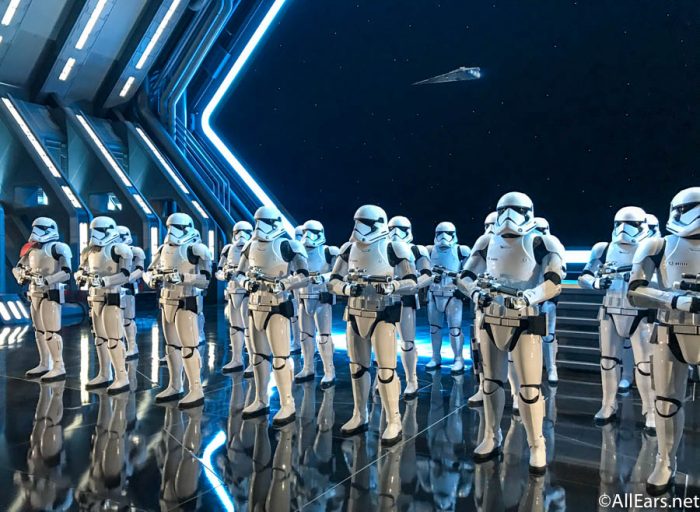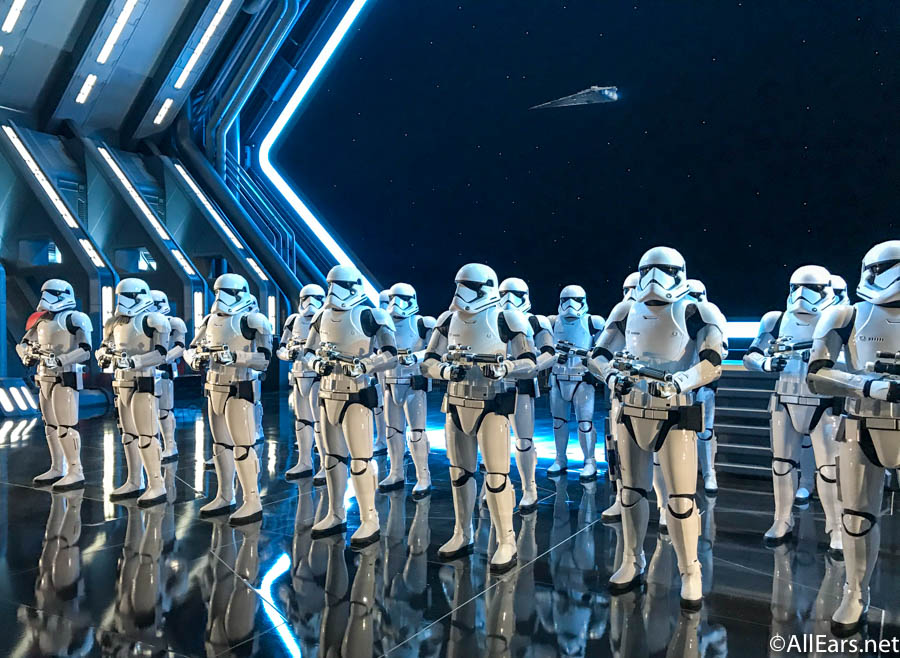 "Resistance scum" (riders) will then be shuffled into an interrogation room, where they'll learn key information that the Resistance needs. You'll escape and board trackless ride vehicles (prisoner transports), which will guide you for the rest of the attraction. The ride ends spectacularly with a quick drop and simulation as your escape pod makes its grand exit.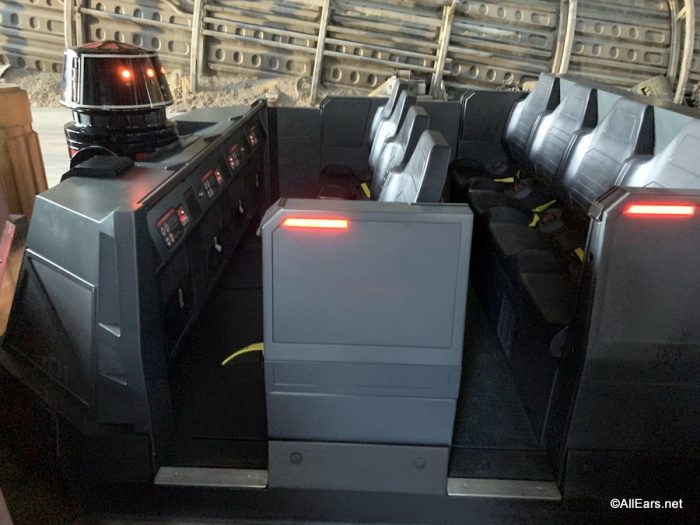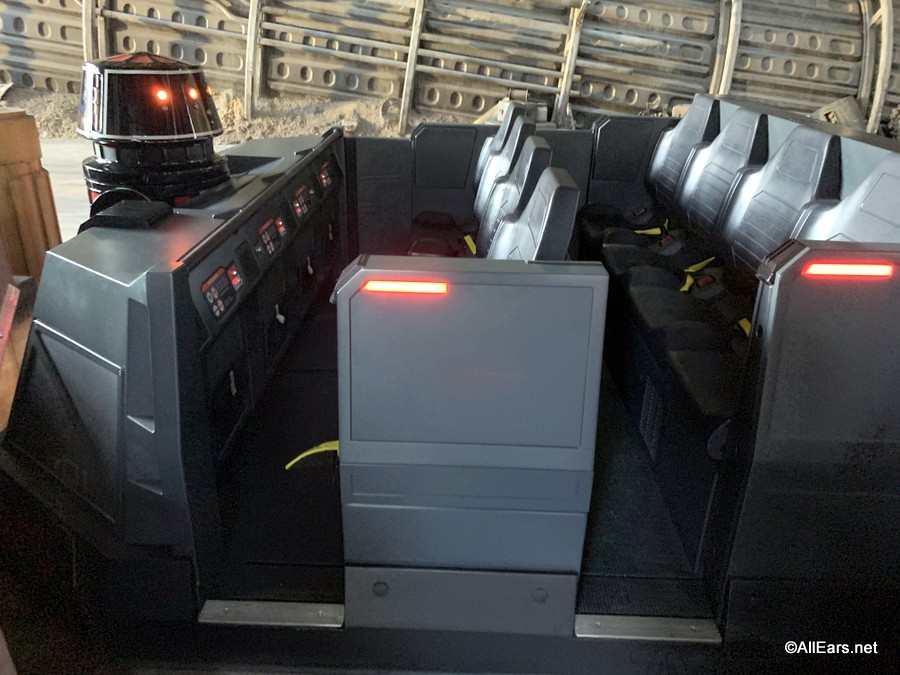 TOURING TIPS
This attraction is crazy-popular. At opening, Rise of the Resistance is not a FastPass attraction. Millennium Falcon also has no FastPass but does have a single rider line; Rise of the Resistance does not.  Currently, this ride is using a Virtual Boarding Pass system as needed that is accessed through the Disneyland app. Learn more here.
There is a height restriction on this ride. You must be at least 40 inches (102 cm) or taller.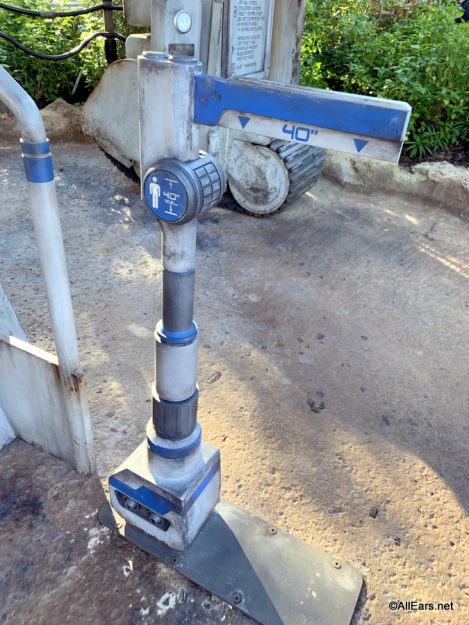 There are several health warnings; be sure to read them before joining the queue. If you have concerns speak with a cast member.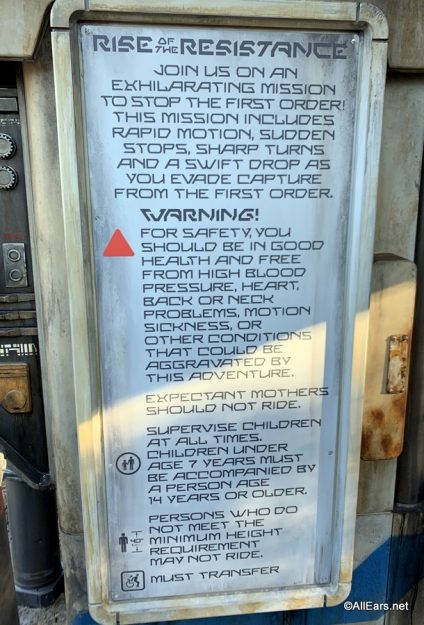 The attraction is approximately 18 minutes long. Be prepared for the length in addition to your time in the line!