"it's a small world" Fantasyland Magic Kingdom
Individual Attraction Selection
it's a small world Highlights
Classic Disney attraction featuring the iconic song
Slow moving boat ride for the whole family!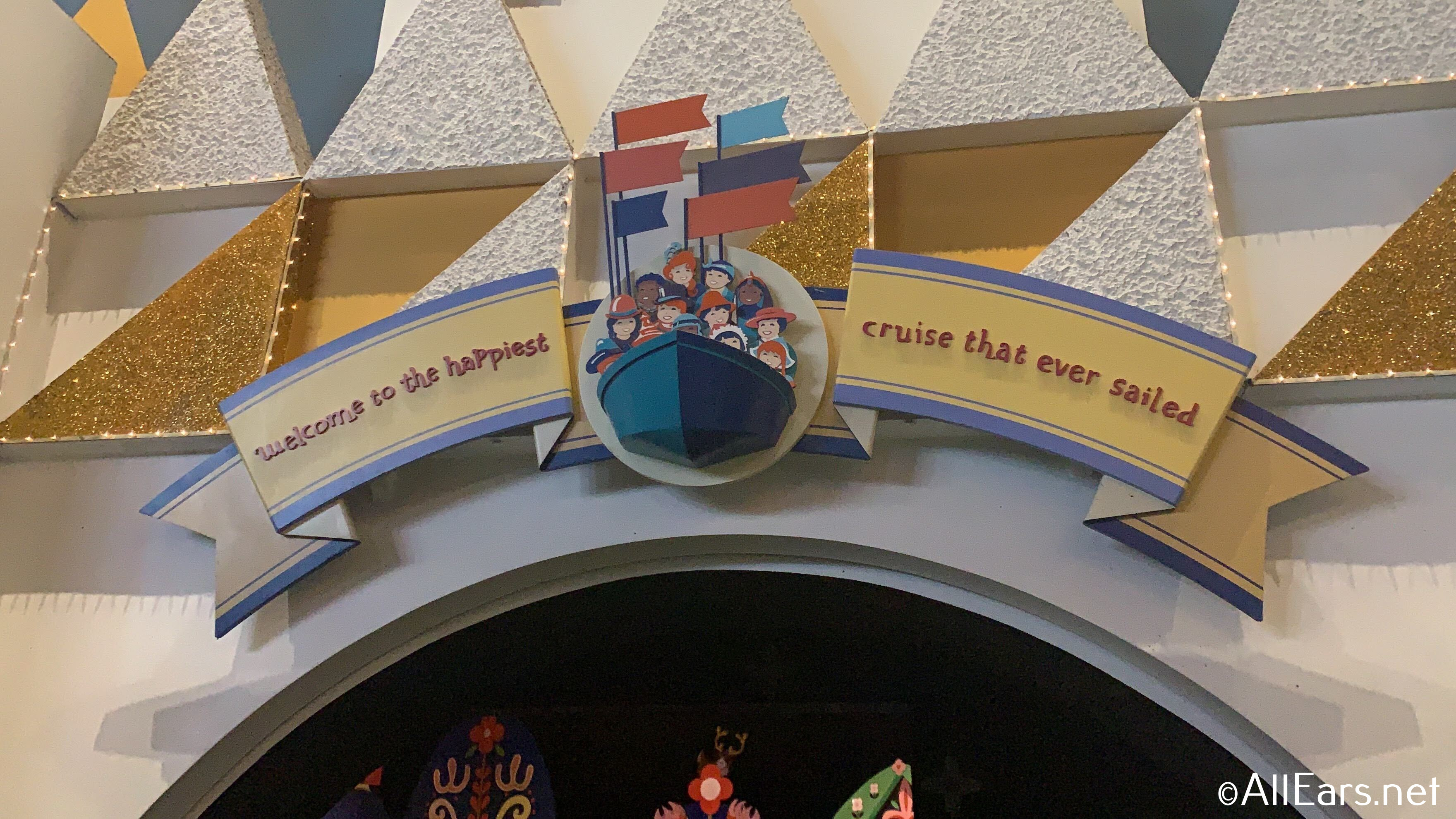 INTRODUCTION
Walt originally designed this attraction for the Pepsi-Cola Company to benefit UNICEF at the 1964-65 New York World's Fair. When the Fair closed, the attraction made its way to Disneyland and was so popular that it was one of the original attractions when Walt Disney World's Magic Kingdom opened on October 1, 1971! It is located in Fantasyland, across from Peter Pan's Flight.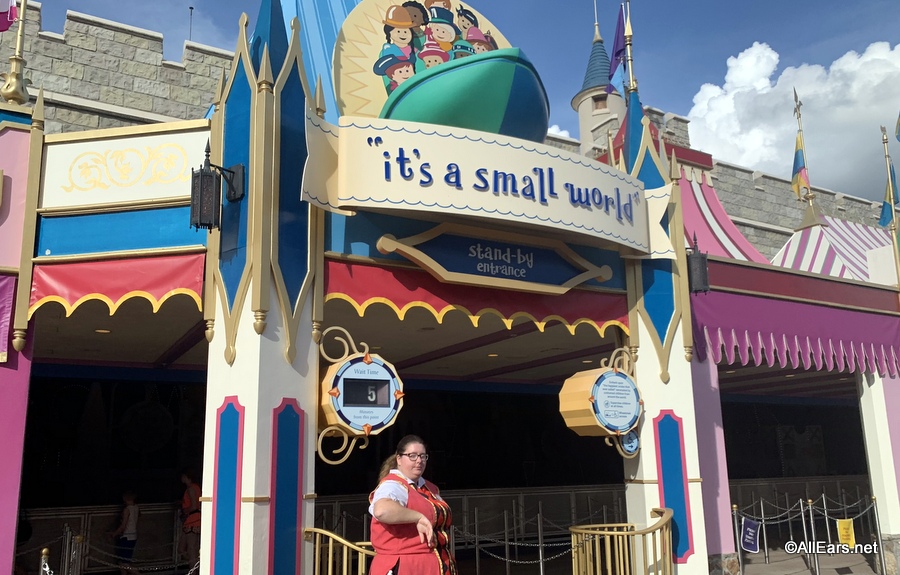 ATTRACTION
"it's a small world" — The children of the world host this simplistic yet charming, whimsical, gentle boat ride. Small boats glide along the international waters and you are very quickly surrounded by dancing dolls, animals and flowers, singing that now almost infamous song, "It's a Small World."
"It's a world of laughter,
a world of tears;
It's a world of hopes
and a world of fears;
There's so much that we share,
That it's time we're aware
It's a small world after all!"
As your boat serenely glides along the canal for 10 1/2 minutes, you'll be entertained by Animatronic dolls and figures. Each room you pass through has a theme, after one part of the world. The major themes include: Europe, Asia, Africa, Central/South America, South Pacific Islands, the Finale and the Good-bye Scene.
RIDE LOGISTICS
Lighning Lane access for "it's a small world" is available with the purchase of Genie+. The Lightning Lane entrance is located to the left of the attraction.
A few of the boats have wheelchair access. Ask the Cast Member at the attraction. Guests using an ECV must transfer to a wheelchair to ride. Audio Description and Handheld Captioning are available.
This is a continuous-loading ride; that is, as soon as one boatload of visitors disembarks, another is then loaded on. Each boat can hold up to 20 people. During crowded times, the boats often back up at the end of the ride and sometimes gently bump each other, so do not stand or allow your children to stand until the Cast Member beckons you to unload.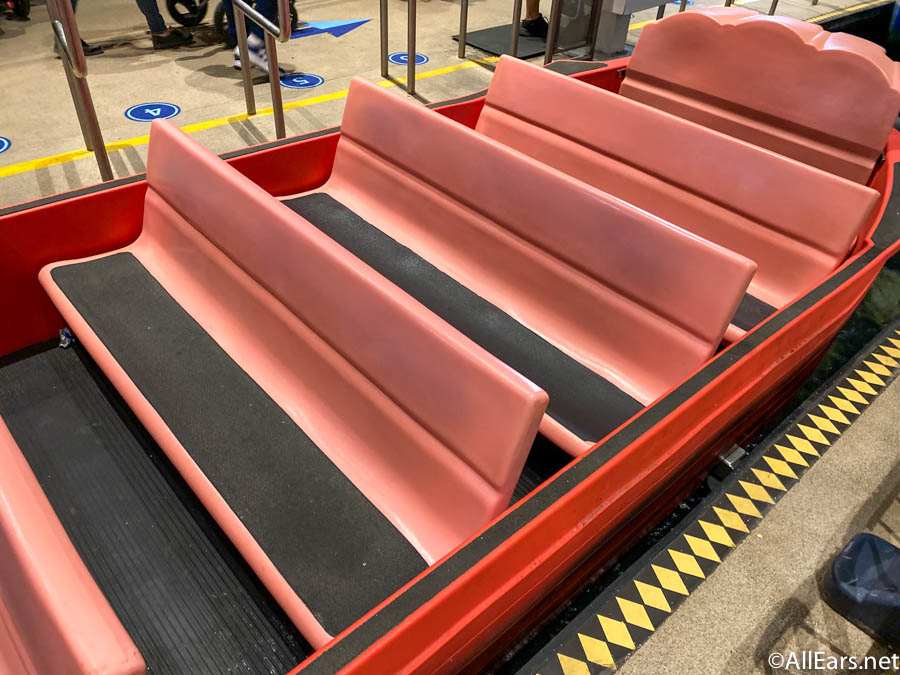 This attraction is a great place to visit when it's very hot outside, as the cool air will refresh you.
Be sure to check the "Good-bye" scene at the end of the ride for a personalized message! IR readers can pick up your name from your MagicBand, and often you'll see a "good-bye" just for you.

INTERESTING FACTS
There are a total of 289 dolls that "sing" the familiar song, "it's a small world," in five languages (English, Italian, Japanese, Spanish and Swedish). Academy Award®-winning composers Richard M. Sherman and Robert B. Sherman, who won two Oscars® for their work on Disney's feature film "Mary Poppins," were asked by Walt Disney to create a simple, yet catchy, piece that could be sung in many different languages while guests traveled by boat through the attraction — thus, the famous "it's a small world" theme song was born. The song was recorded by a church choir in London, a school chorus in Rome, Italy, TV performers in Mexico City and kids from Tokyo and Burbank, California. It was later spliced together with sounds and styles that represent 25 countries.
English, Italian, Japanese, Spanish and Swedish can be heard in the attraction song.
HIDDEN MICKEY: In the Africa scene, there's a Hidden Mickey in the purple flowers on a vine on the elephant's left side.
Walt Disney Imagineer artist Mary Blair created the conceptual drawings and doll designs for "It's a Small World."
Disney Legend Alice Davis (wife of Marc Davis of the "Nine Old Men") was the lead costumer for "It's a Small World."
Today, the Walt Disney Classic Collection features a series of sculptures representing the various figures in It's a Small World.
All four theme parks have a version of It's a Small World.
A clown figure in a hot air balloon in the "Finale" scene was the only frowning figure in the entire attraction — it was apparently removed during the latest renovation of the ride.
You can hear the following international songs while waiting in the pre-show area:
"Ach Du Lieber Augustin," or, O Du Lieber Augustin (1815 – Germany/Austria)
"Alouette" (1879 – France/Canada)
"Chiapanecas" (1938 – Mexico)
"Estaba La Pájara Pinta (Spain)
"Funiculì–Funiculà" (1880 – Italy)
"Hava Nagila" (1963 – Israel)
"Irish Washerwoman", or, The Scotch Bagpipe Melody (1792 – Ireland)
"London Bridge" (1744 – England)