Peter Pan's Flight Fantasyland Magic Kingdom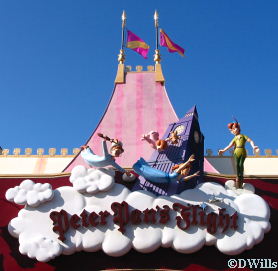 INTRODUCTION
You can fly, You can fly, You can fly! Revisit Disney's animated classic Peter Pan in this all-too-brief journey to Never Land! Peter Pan's Flight is located in Fantasyland, across the way from "it's a small world."
ATTRACTION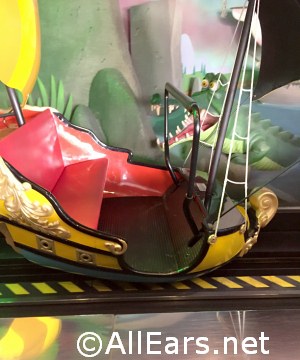 Peter Pan's Flight — The regular queue line for Peter Pan was totally changed in January 2015, full details and photos HERE. It is inside and under cover plus there are many interactive components. When using FastPass+ you do not get to experience the interactive queue area.
As you approach the loading zone, you will watch folks stepping into their pirate galleon, suspended from the ceiling. Once aboard, Tinker Bell will sprinkle pixie dust your way and you swoop high above London in the moonlight — right into the animated movie Peter Pan! For two minutes and 45 seconds you'll glide through the skies in the dark, cleverly illuminated by the Disney Imagineers with black lights and fiber optics.
You'll revisit scenes like Old London Town, Big Ben, Never Land, Mermaid Lagoon, and Skull Rock. As you listen to music from the movie, you'll watch the story unfold below. Of course, Captain Hook and Mr. Smee are around… as well as the ever-present ticking Crocodile, still hungry for another taste of the pirate captain!
TOURING TIPS
Peter Pan is a FastPass+ attraction.
Peter Pan is one of the most popular attractions at the Magic Kingdom. The line moves slowly, and forms quickly early in the day. Use FASTPASS+ if at all possible so you don't have to wait too long! Otherwise try to visit this attraction first thing in the morning or during parade times when the lines may be shorter.
Peter Pan's Flight is not wheelchair/ECV accessible and you will have to transfer from the wheelchair to the ride vehicle. This is the one ride belt in all of the Magic Kingdom that won't come to a halt for you to board. According to Disney, guests must be ambulatory.
Due to the nature of the experience, service animals are not permitted on this attraction.
Handheld Captioning Devices from Guest Services can be used here.
Audio Description is also available.
Peter Pan's Flight is also open early during the Magic Kingdom's Extra Magic Hour days. This bonus time for resort guests is a good time to ride.
Though not threatening or scary, the ride is in the dark.
WDW at Large:  The restraint is a lap bar. Guests may wish to ride alone or with a single person due to small bench size.
If you use the Standby queue there is lots to look at and explore. Watch for Peter's shadow and Tinker Bell flying by.
KIDS AND CHARACTERS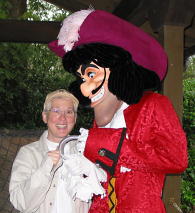 Children (or adults) who have a fear of the dark may have a problem with this ride, as it is almost totally in the dark.
Disney Characters are typically not found in the vicinity of Peter Pan. If you'd like to catch Mr. Smee and Captain Hook, you can usually find them in Adventureland near Pirates. If you're looking for Peter Pan, you'll spy him in the daily Disney Festival of Fantasy Parade.
Check your daily Times Guide for times and locations of other Meet and Greet opportunities.
Magic Kingdom Characters at a Glance
Character Meet and Greet FAQ!
DINING
The closest spot to grab a bite is either the Columbia Harbor House (walk toward Liberty Square) or the Pinocchio Village House (walk toward Prince Charming Regal Carrousel).
Magic Kingdom Restaurants at a Glance
Menus From Around the World
Vegetarian and Other Special Diets
SHOPPING
There are not any shops specifically associated with Peter Pan's Flight, however you will be able to find lots of Tinker Bell merchandise at the Town Square Theatre where she also makes appearances throughout the day.
INTERESTING FACTS
Based on Disney's 1953 film, Peter Pan's Flight opened with Magic Kingdom on October 3, 1971. An earlier version first opened in Disneyland on July 17, 1955. Both Tokyo Disneyland (1983) and Disneyland Paris (1992) also have Peter Pan's Flight.
Something to look for: As your ship enters the nursery you might notice the building blocks stacked on the floor (a group is by Wendy's bed, another by the window as you exit). If you look closely, you'll see that these blocks spell "P Pan" and "DISNEY."
If you have comments or tips to share with others about touring the Magic Kingdom, please email us. Thank you.