Peter Pan's Flight Fantasyland Magic Kingdom
Peter Pan's Flight Highlights:
Sail over Neverland in a family-friendly pirate ship where you'll see Peter Pan, Captain Hook, TInker Bell, and more!
An opening day attraction that remains one of the most popular today!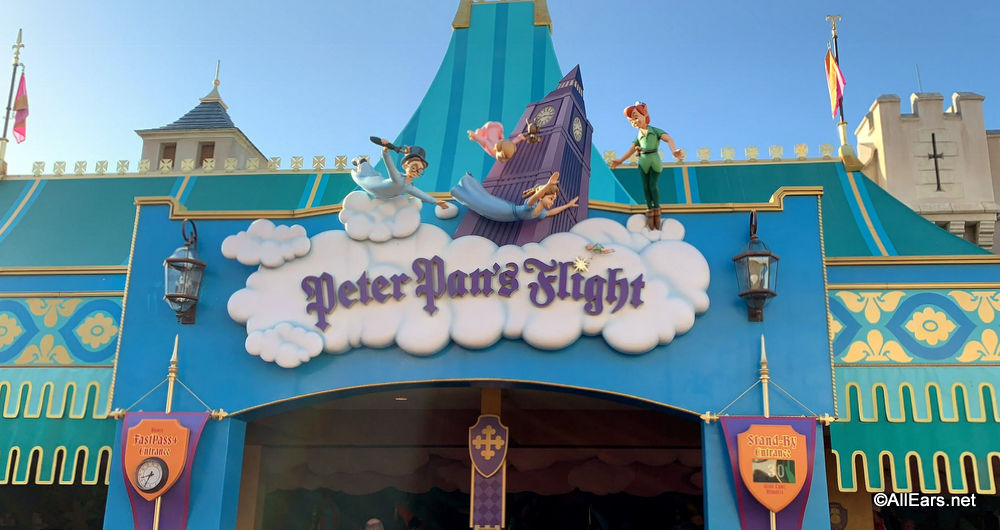 INTRODUCTION
You can fly, You can fly, You can fly! Revisit Disney's animated classic Peter Pan in this journey to Never Land! Peter Pan's Flight is located in Fantasyland, across the way from "it's a small world."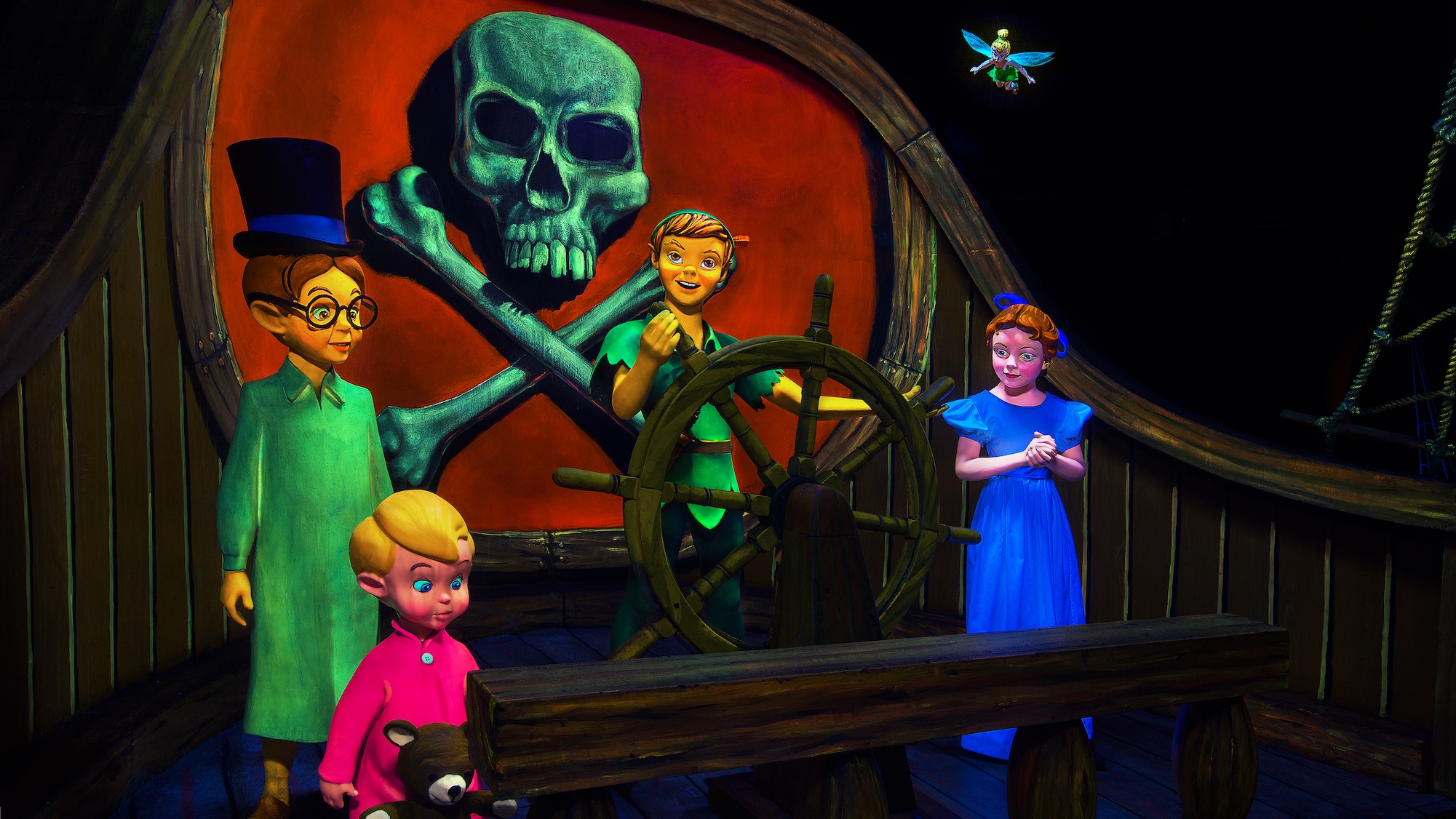 ATTRACTION
QUEUE: The standby queue line for Peter Pan is an interactive tour of the Darling house, You'll weave through the children's nursery, where you can track Tinker Bell, interact with shadow, and see magic photos. With Lightning Lane access you do not get to experience the interactive queue area.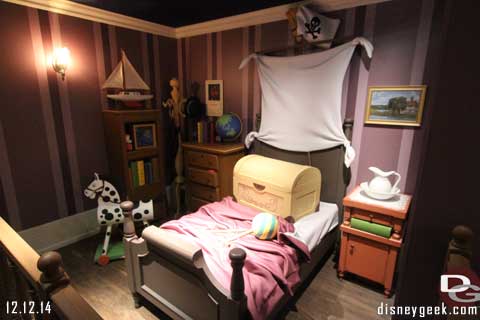 For more details on the interactie queue, check out this page!.
As you approach the loading zone, you will see pirate ships, suspended from the ceiling. You'll step on a moving sidewalk to board your ship! Two to three guests can fit on each ship.
Once aboard, Tinker Bell will sprinkle pixie dust your way and you swoop high above London in the moonlight — right into the animated movie Peter Pan! For two minutes and 45 seconds you'll glide through the skies in the dark, cleverly illuminated by the Disney Imagineers with black lights and fiber optics.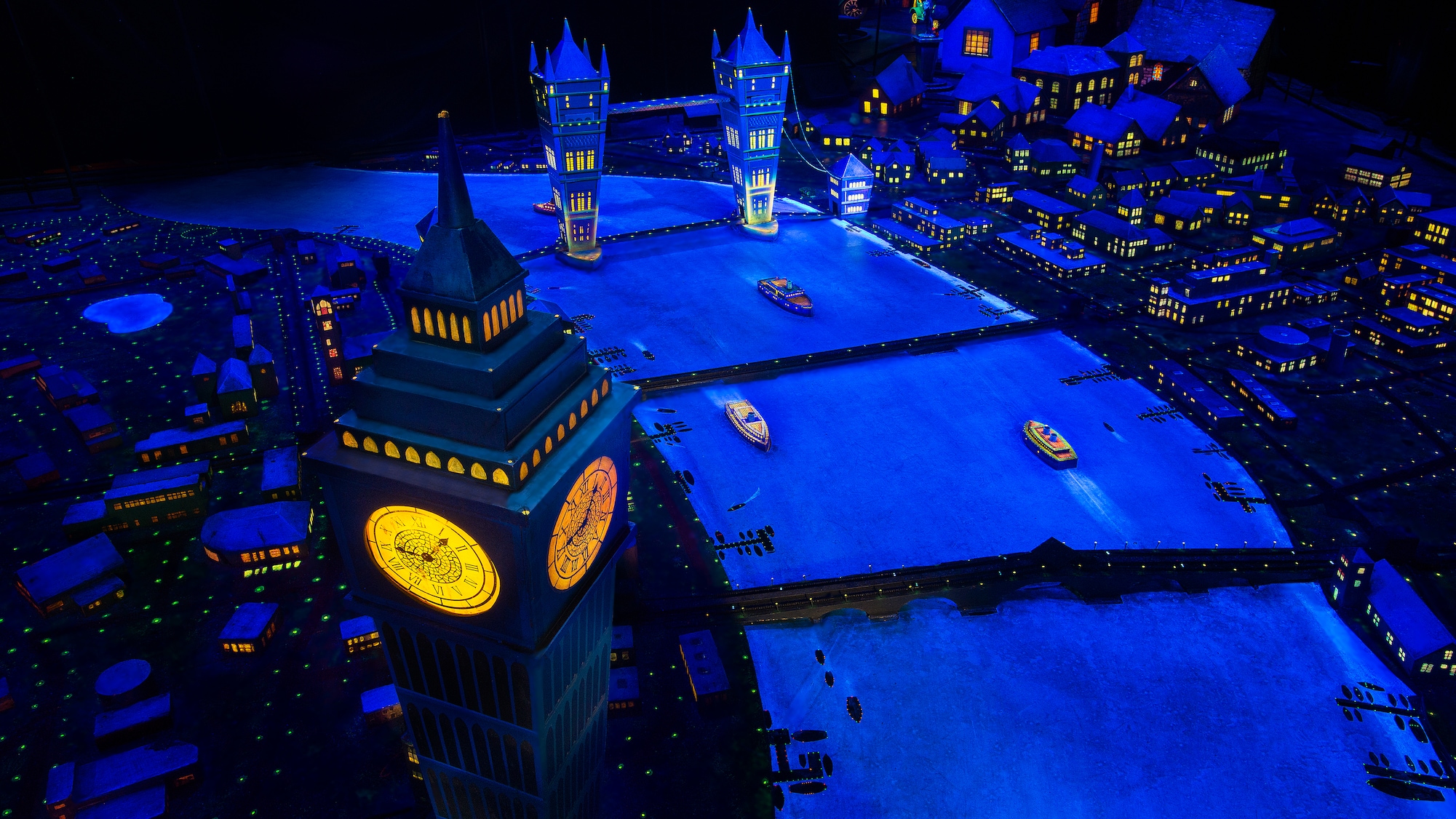 You'll revisit scenes like Old London Town, Big Ben, Never Land, Mermaid Lagoon, and Skull Rock. As you listen to music from the movie, you'll watch the story unfold below. Of course, Captain Hook and Mr. Smee are around… as well as the ever-present ticking Crocodile, still hungry for another taste of the pirate captain!
RIDE LOGISTICS
Lightning Lane access for Peter Pan's Flight is available with the purchase of Genie+. Peter Pan's Flight is one of the most popular attractions in all of Magic Kingdom, with standby lines usually averaging 70 minutes or more.
If not using Genie+, try to visit this attraction first thing in the morning, last thing at night. or during parade times when the lines may be shorter.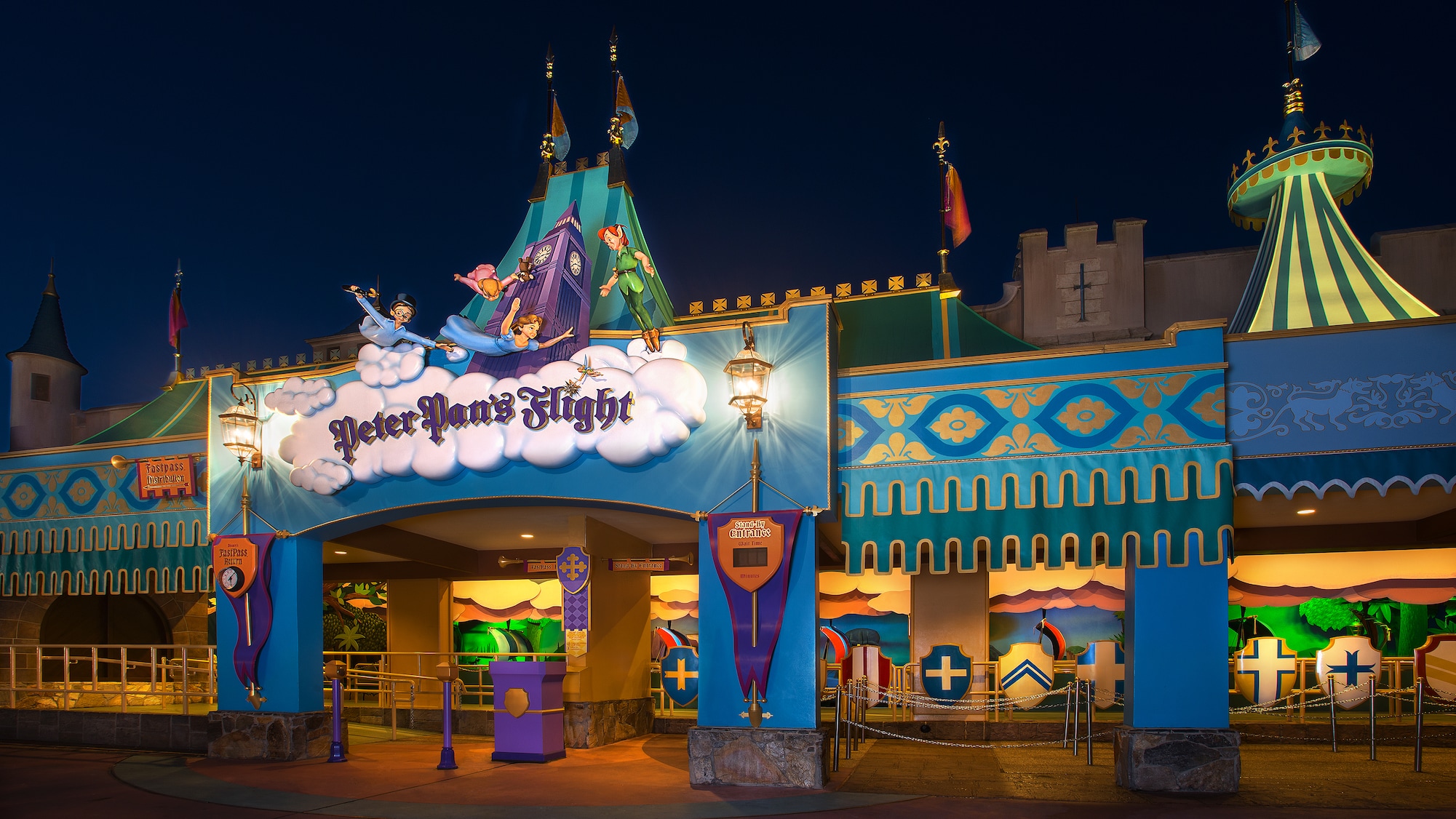 Peter Pan's Flight is not wheelchair/ECV accessible and you will have to transfer from the wheelchair to the ride vehicle. This is the one ride belt in all of the Magic Kingdom that won't come to a halt for you to board. According to Disney, guests must be ambulatory.
Due to the nature of the experience, service animals are not permitted on this attraction.
Handheld Captioning Devices from Guest Services can be used here.
Audio Description is also available.
Seat Restrictions: The restraint is a lap bar. Guests may wish to ride alone or with a single person due to small bench size.
KIDS AND CHARACTERS
Children (or adults) who have a fear of the dark may have a problem with this ride, as it is almost totally in the dark.
Peter Pan often does meet and greets to the right hand side of Peter Pan's flight (when looking at it). He is typically out in the afternoons for a few hours.
Check your daily Times Guide for times and locations of Meet and Greet opportunities.
Magic Kingdom Characters at a Glance

INTERESTING FACTS
Based on Disney's 1953 film, Peter Pan's Flight opened with Magic Kingdom on October 3, 1971. An earlier version first opened in Disneyland on July 17, 1955. Both Tokyo Disneyland (1983) and Disneyland Paris (1992) also have Peter Pan's Flight.
Something to look for: As your ship enters the nursery you might notice the building blocks stacked on the floor (a group is by Wendy's bed, another by the window as you exit). If you look closely, you'll see that these blocks spell "P Pan" and "DISNEY."