The Many Adventures of Winnie the Pooh – Fantasyland – Magic Kingdom
INTRODUCTION
That silly ole Pooh Bear and his pal Piglet take you on a gentle journey through the Hundred Acre Wood. The Many Adventures of Winnie the Pooh is located in Fantasyland, on the site of the former Mr. Toad's Wild Ride.
ATTRACTION
Hop aboard your own 4 person Hunny Pot and join Pooh and his friends on a short adventure in search of the pot of hunny! A storm breaks out and the waters rise in Hundred Acre Woods. Owl, Baby Roo, Tigger, Eeyore, Kanga and Rabbit all join together to save Piglet from falling over Floody Place Falls.
This is a short ride with whimsical music that many kids seem to love. You even get to hop along with Tigger!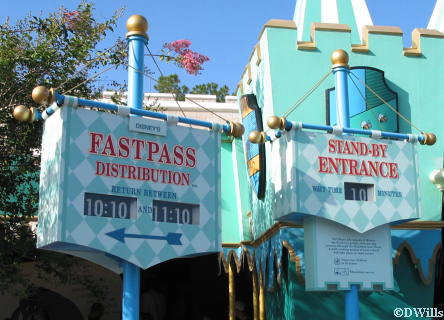 TOURING TIPS
Winnie the Pooh is a VERY popular attraction. FastPass+ is almost always a must here!
Winnie the Pooh is part of the Magic Kingdom's Extra Magic Hour. AllEars.Net highly recommends Extra Magic Hour as a great way to see Fantasyland attractions with little or no wait.
Accessibility: Those in ECVs will need to transfer to a standard wheelchair. Audio Description and Handheld Captioning are available.

KIDS – CHARACTERS
There is a mild thunderstorm scene so if your little one doesn't like thunder be prepared.
Winnie the Pooh and friends can be found in a character greeting location adjacent to The Many Adventures of Winnie the Pooh, and at the Character Meals at the Crystal Palace on Main Street.
Character Meet and Greet FAQ!
Magic Kingdom Characters At A Glance
DINING
Nearby snack shops include Storybook Treats (ice cream, floats), Friar's Nook, and around the corner, the Cheshire Cafe (slushes, strawberry swirls and juices).
Magic Kingdom Restaurants At A Glance
Menus From Around the World
Vegetarian and Other Special Diets
SHOPPING
As you leave your Hunny Pot and exit the attraction, you will be right in the midst of Pooh's Thotful Shop, a small merchandise area.
When the attraction first opened, special Commemorative dated T-Shirts were sold to guests.
You can find Pooh merchandise just about anywhere at Walt Disney World.
INTERESTING FACTS
This attraction opened in June 5, 1999 and replaced Mr. Toad's Wild Ride which closed September 1998. A mural exists in the Pooh ride showing Mr. Toad handing over the deed of the place to Owl.
Additional Photos:
Eeyore
Rabbit
Tigger Jumps on Pooh