The Magic Carpets of Aladdin – Adventureland – Magic Kingdom
Magic Carpets of Aladdin Highlights:
Fly on a Magic Carpet in a Dumbo-style attraction
Watch out for the spitting camel as you walk by!
INTRODUCTION
Located in Adventureland, across from Swiss Family Treehouse and beside The Enchanted Tiki Room is the Magic Carpets of Aladdin! Themed after Disney's Aladdin animated film, the colorful ride allows guests of all ages to soar through the air on this "flying" attraction.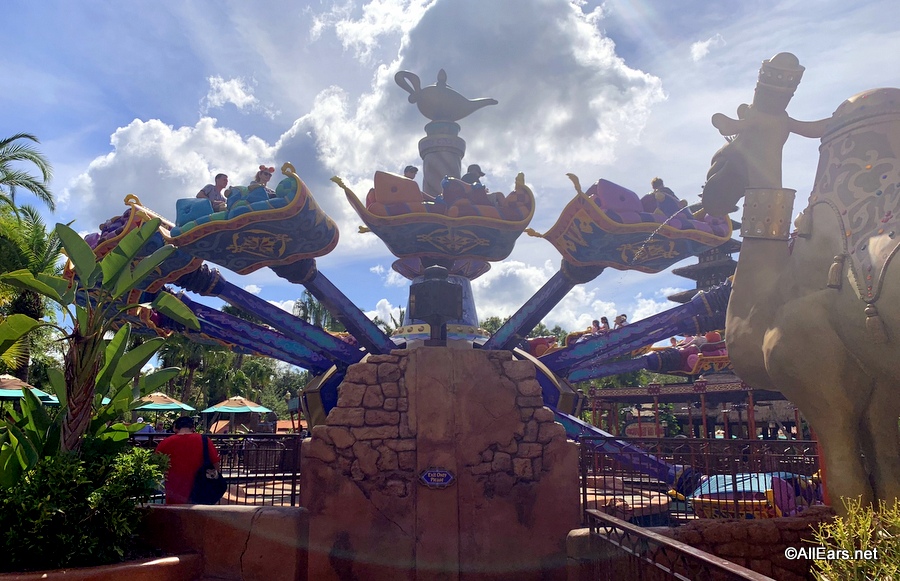 ATTRACTION
The attraction design is very similar to Dumbo the Flying Elephant. It is a hub-and-spoke attraction with 4-passenger vehicles (16 of them) configured as magic carpets centered by a giant — and animated — Genie lamp.
Each carpet has two rows, and each row has a lever. The front lever controls the height of the carpet, and the back controls the forward and backward rocking.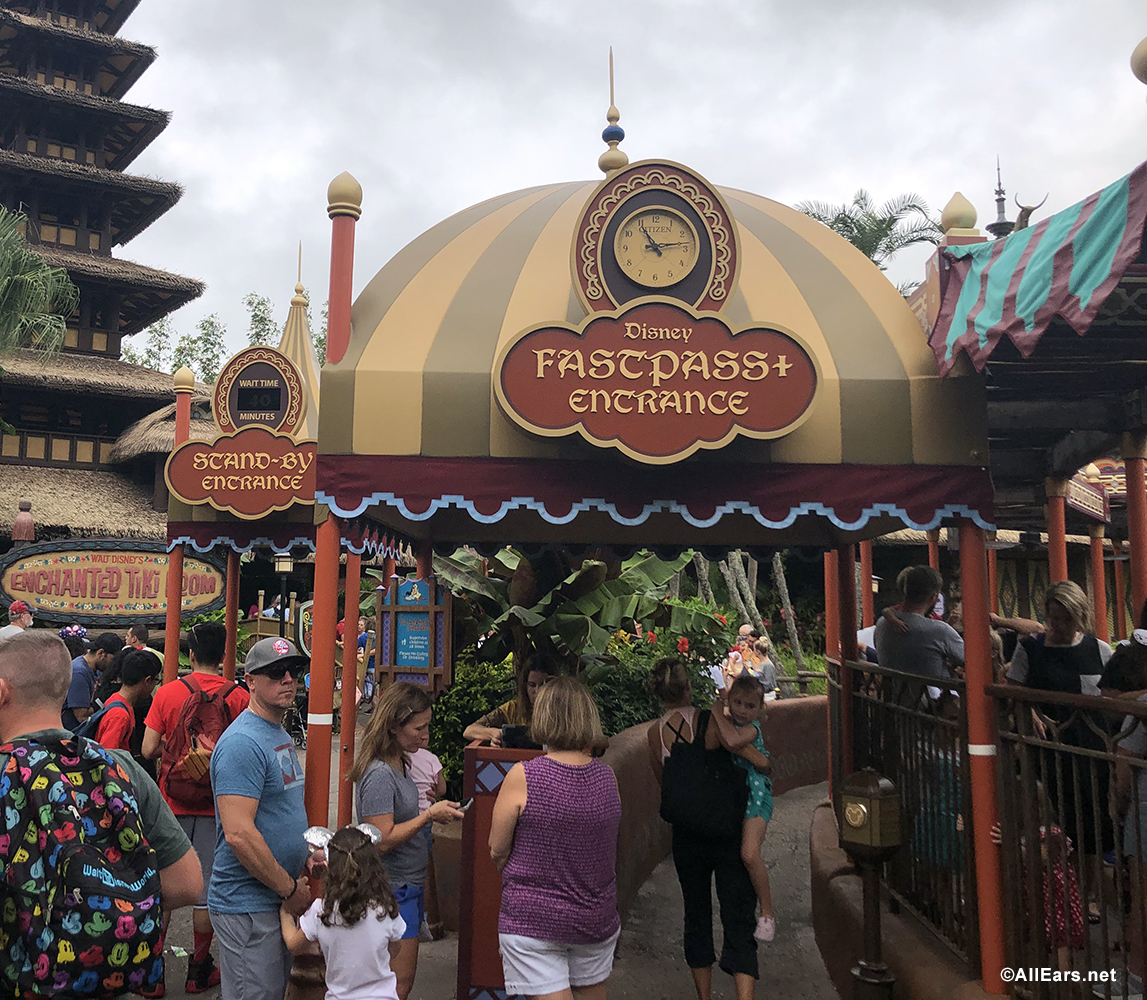 RIDE LOGISTICS

Lightning Lane access for The Magic Carpets of Aladdin is available with the purchase of Genie+, however it usually has a lower standby wait time compared to most of the other attractions in the park.
This is a fairly short ride, about 80 seconds long.
The carpets can seat 4 guests each — two in each row. The smaller riders should sit on the inside.
Guests in motorized vehicles, ECVs, must transfer into an available wheelchair at this attraction.
KIDS – CHARACTERS – ENTERTAINMENT
Nearby the attraction you'll find a meet and greet with Aladdin and Princess Jasmine! They are very popular so get in line early.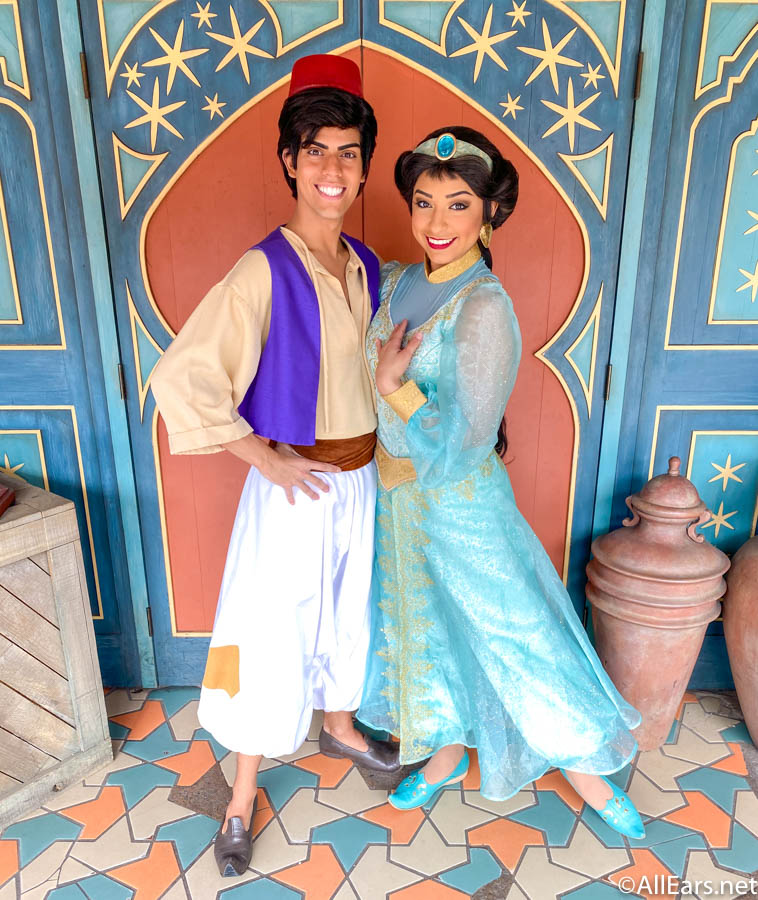 Check a times guide or the My Disney Experience App for character greeting times.
Magic Kingdom Characters At A Glance
Character Meet and Greet FAQ!
SHOPPING
Agrabah Bazaar – a gift shop designed to resemble an open-air market sells Aladdin merchandise along with other Adventureland themed gifts.
INTERESTING FACTS
When walking the queue and boarding, look down to see gems embedded in the pavement.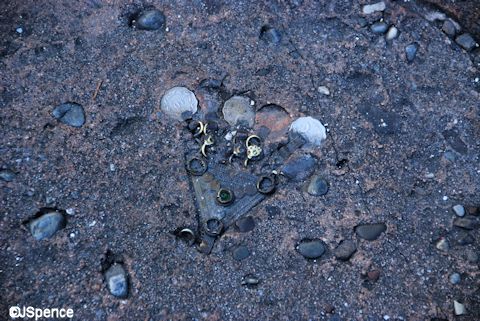 Watch out for the camels outside this attraction — they spit!
The centerpiece is a giant Genie's bottle adorned with characters from "Aladdin," Disney's 1992 animated film.
First permanent attraction with Aladdin theming at Walt Disney World Resort.
Music from the animated classic is featured throughout.