Big Thunder Mountain Railroad Frontierland Disneyland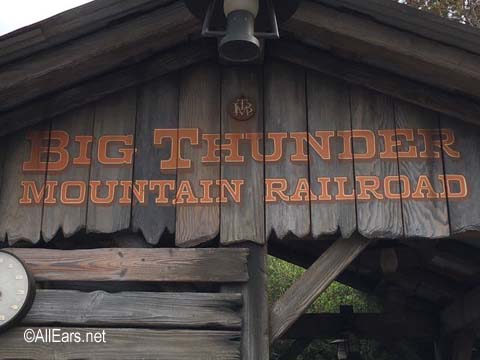 Introduction | Attraction | Touring Tips | Kids/Characters | Dining | Shopping | Interesting Facts
INTRODUCTION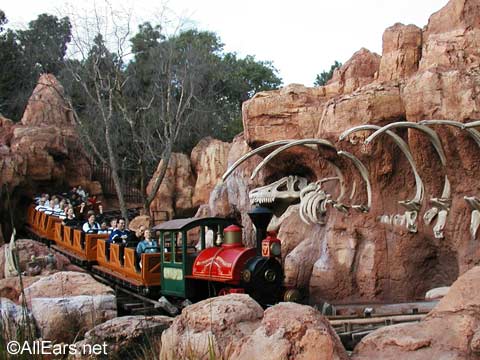 Take a ride on a runaway mine train – it's "the wildest ride in the wilderness!"
ATTRACTION
Big Thunder Mountain Railroad is a wonderfully themed roller-coaster reminiscent of the Old West. It turns and dips through caverns, mountains, avalanches and even earthquakes.
The queue area takes you winding down through the canyon past the town of Big Thunder. You'll see a waterwheel and mine sluices as well as a dinosaur fossil before boarding a converted ore car for your journey… but wait, where is the engineer? Too late, you are off for a 3 minute and 15 second ride into the untamed wilderness!
The theming is a Southwestern landscape, reminiscent of the windswept features found in Utah's Bryce Canyon. Caves, grottos, a waterfall, glittering gold, colorful rock formations, and dinosaur bones are just part of the scenery you will encounter on your ride.
Speeds can reach 24-30 miles per hour so the centrifugal force as you round the turns will pull you from one side to the next.
There are no serious drops on this ride (nothing like Splash Mountain) but there are several good dips that can put some air between you and your seat.
Read about Walt Disney World's version of this ride HERE.
TOURING TIPS
This is a fairly smooth roller coaster — the experience is more of centrifugal force moving you from side-to-side rather than jarring turns or sudden drops. Still, you should be in good health and free from medical conditions that could be aggravated by the attraction. Pregnant women are advised not to ride.
Lightning Lane access for Big Thunder Mountain Railroad is available with the purchase of Genie+. The standby line is usually of manageable length, except on the busiest days, and the queue moves quickly.
Loose articles like hats and glasses should be removed and secured.
Each of the 6 trains has an engine and 5 cars. For the "wildest ride" request a seat in the back rows. For tamer rides, request a seat in the front of the train.
Guests are held in place by a lap bar.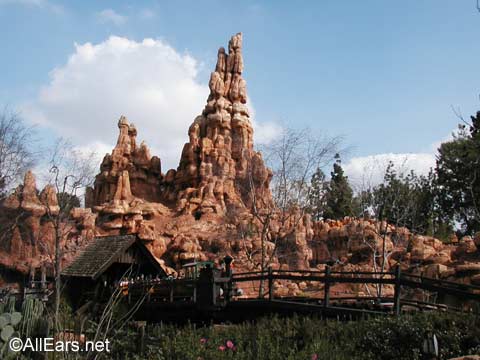 Big Thunder Mountain Railroad is beautiful at night; be sure and ride after dark if you have the chance. It also seems faster at night.
Children must be at least 40″ tall to ride.
Those in wheelchairs or ECVs should continue past the entrance and go into the exit of the attraction, and look for a Cast Member for boarding instructions. You will need to transfer to a train car.
The nearest restrooms are located in the breezeway between Frontierland and Adventureland.
KIDS AND CHARACTERS
Apart from the roller coaster aspect there's nothing particularly dark or scary about Big Thunder Mountain Railroad, and adventurous kids who are tall enough to ride seem to really enjoy it.
There are no characters associated with this attraction, but Woody and Jessie from Toy Story can sometimes be found near the Golden Horseshoe.
DINING
Rancho del Zocalo is right next to Big Thunder Mountain Railroad. The Golden Horseshoe and Stage Door Cafe are nearby.
Disneyland Restaurants at a Glance
Menus From Around the Disneyland Resort
SHOPPING
Pioneer Mercantile offers frontier-themed souvenirs such as Davy Crockett hats and Western style character merchandise.
Bonanza Outfiggers features Western apparel.
INTERESTING FACTS
Big Thunder Mountain Railroad debuted at Disneyland on September 2, 1979. It was built on the site of the "Rainbow Caverns Mine Train", which later became "Mine Train Through Nature's Wonderland" before it was replaced by Big Thunder Mountain Railroad. The buildings from the town of Rainbow Ridge are now part of Big Thunder town. When there aren't too many people in the queue and it's quiet, you might hear some dialog and music coming from the town.
The names of the six trains are: U.R. Courageous, I.M. Brave, I.M. Bold, U.R. Fearless, I.B. Hearty, and U.R. Daring.
There are a number of animatronic and audio animatronic animals throughout the attraction. Look for the dynamite-wielding mountain goat, the coyotes, skunks, opossums, and rattlesnakes.
Genuine antique mining equipment can be found all around the attraction.
If you have comments or tips to share with others about touring Disneyland, please email us. Thank you.