Mad Tea Party Fantasyland Magic Kingdom
INTRODUCTION
It's the Mad Hatter's "un-birthday" party and you're invited to spin your way across the floor in oversized teacups. The Mad Tea Party is located in Fantasyland, across from the Many Adventures of Winnie the Pooh, on the pathway leading to Storybook Circus.
ATTRACTION
Mad Tea Party — Inspired by the unusual tea party scene in the 1951 Disney adaptation of Lewis Carroll's "Alice in Wonderland," the Mad Tea Party is one of the original Magic Kingdom attractions.
You wait in a mostly covered queue for your chance to spin around for 1.5 minutes in one of 18 pastel-colored teacups. Dizziness is sure to ensue! It's good, clean, non-thrill fun for all ages. What else can we say about it?
TOURING TIPS
The Mad Tea Party is a FastPass+ attraction.
Accessibility:  Wheelchair/ECV users must transfer out to experience this ride.
The Mad Tea Party is open as one of the Magic Kingdom's Extra Magic Hour attractions. This program allows resort guests entrance to the park one hour earlier or later than normal operating hours on designated days.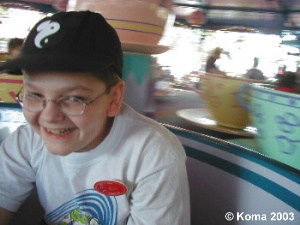 Warnings: If you have problems with spinning, avoid this ride! Not only do the teacups spin on the platform, but you can turn the wheel in the center of the cup to make your individual teacup spin as well! Not surprisingly, you can get quite dizzy on this ride.
It's also probably wise to avoid this ride immediately after eating, unless you have a strong stomach!
WDW at Large:  The door to the teacup is small, and may be difficult to board and exit.  Seats might be restrictive; there is room from side to side, but is limited front to back. The pedestal  you use to spin the cups is in the center of the cup, like a small round table.
Each teacup will hold three average-sized individuals, but it may feel like a tight squeeze. There are no restraints, but there is a door closing off your teacup.
Like most rides that are not continuously loading, lines for the Mad Tea Party can get fairly long. Try to visit this ride early in the morning or during parade times for shorter waits.
Watch for the Dormouse, who periodically pops out of the teapot in the center of the platform.
KIDS AND CHARACTERS
Kids generally love this ride — there's nothing scary about it at all, and most kids still love to make themselves dizzy. If your child has motion sickness issues, though, it's best to avoid the teacups.
Characters from the Disney animated feature "Alice in Wonderland" greet guests throughout the day near this attraction. You may spot the Mad Hatter, as well as Alice and the White Rabbit. Special characters may appear here during Mickey's Not So Scary Halloween Party. Check your daily Times Guide for exact times.
Magic Kingdom Characters at a Glance
Character Meet and Greet FAQ!
DINING
For snacks near the Mad Tea Party, don't miss the Storybook Treats. Also nearby is the Friar's Nook, open seasonally.
Magic Kingdom Restaurants at a Glance
Menus From Around the World
Vegetarian and Other Special Diets
SHOPPING
There are not any shops specifically associated with the Mad Tea Party.
INTERESTING FACTS
The Mad Tea Party opened with the Magic Kingdom in October 1971. (It was also an original attraction at Disneyland, opening there in July 1955.)
If you have comments or tips to share with others about touring the Magic Kingdom, please email us. Thank you.