Frozen Ever After Norway Epcot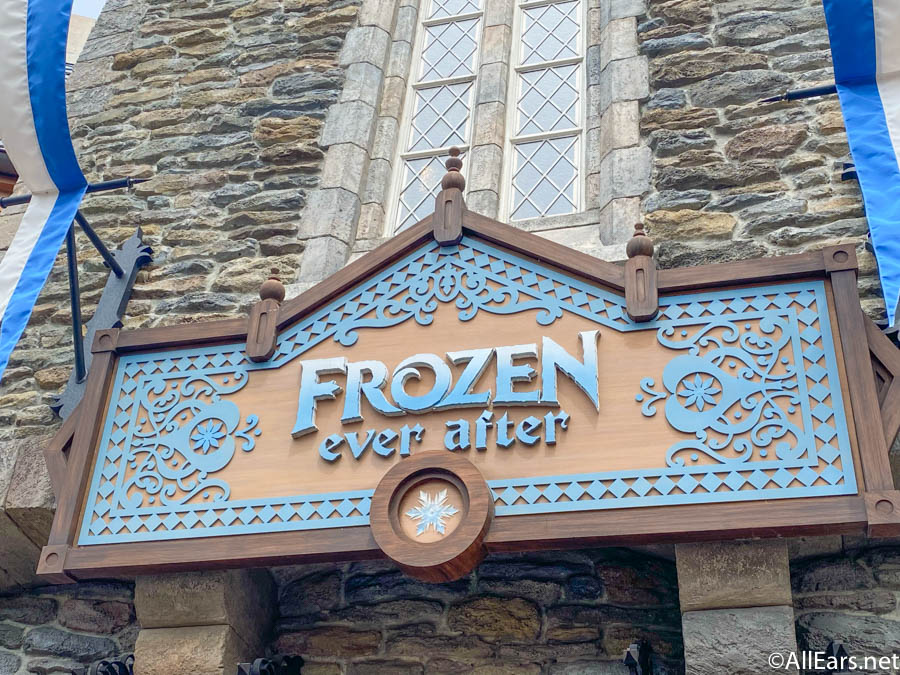 INTRODUCTION
Board a wooden ship and sail through the fantastical world of the film "Frozen," seeing Anna, Elsa, Olaf the Snowman, Kristof and more along the way.
ATTRACTION
AllEars.Net's Deb Wills shares this first-hand report of her initial voyage on Frozen Ever After from June 21, 2016:
"Everyone on my boat laughed and cheered several times. I felt the ride was great and will definitely ride it again. Since I am local and visit the parks whenever I want, I would not wait for this ride, though — I will make sure I have a FP+. If you are from out of town and aren't able to get a FP+, I'd wait for it for an hour maximum. I did not video the attraction or take photos as I wanted to simply enjoy it as a guest."
Bottom line, without giving any spoilers: Frozen Ever After is the next generation dark ride. It's very well done, with great Audio-Animatronics, and a lot of fun!
If however, you don't mind spoilers, here's our video of the attraction:
TOURING TIPS
Lightning Lane access for Frozen Ever After is available for purchase as an Individual Attraction Selection. It is EXTREMELY popular with long standby lines. To avoid a long wait ride soon after park opening.
Be aware that this ride is only a little over 5 minutes long.
Accessibility: Guests must transfer from wheelchair/ECV. Handheld captioning is available.
Rider Switch (aka Child Swap) is available at this attraction.
A Ride Photo is available, but no video.
Frozen Ever After is what is known as a "dark ride," meaning it's one in which vehicles travel past illuminated scenes of a story. It doesn't have to actually be dark, but in this case, it really is. Keep that in mind if anyone in your group has an intense fear of the dark. However, the animated animatronics and other special effects generally keep the attraction lit well enough to not be scary for little ones.
There are two small hills. Both make the boat ride fun without being frightening. Think Pirates of the Caribbean, not Splash Mountain.
Children younger than 7 years old must ride this attraction with someone who is 14 or older.
KIDS AND CHARACTERS
The Royal Sommerhus, an indoor meet-and-greet with Anna and Elsa of Frozen, is adjacent to Frozen Ever After.
You will also find lots of Disney Characters at a variety of meet-and-greet locations throughout Epcot. Check your Guide Map for times and locations.
Epcot Characters At A Glance
Character Meet and Greet FAQ!
DINING
Princess Storybook Dining – Dine in the Akershus Royal Banquet Hall for breakfast, lunch or dinner with Disney's Princesses: Belle, Jasmine, Snow White, Princess Aurora (Sleeping Beauty), Pocahontas, Mary Poppins, and Mulan. Occasionally, Ariel will don her ball gown and circulate around the restaurant. Not all princesses/leading ladies appear at each meal, generally there are four or five. VIDEO REVIEW
Kringla Bakeri og Kafe – For a great pastry, stop in here for breakfast or dessert or just a treat in the middle of your day. Desserts include sweet pretzels and rice cream, a wonderful, rich rice pudding with strawberry topping!
Epcot Restaurants At A Glance
Menus From Around the World
Vegetarian and Other Special Diets
SHOPPING
The Puffin's Roost features hand-knit woolens, trolls, glass, porcelain, pewter, and toys. There is also a store filled with merchandise related to Frozen!
INTERESTING FACTS
Frozen Ever After replaced the Maelstrom attraction, which closed October 2014.
Frozen Ever After was discussed at the D23 Expo in August 2015. Below are related video and photos from before the attraction opened.
Frozen Ever After Video Update
D23 Expo August 2015