Roger Rabbit's Car Toon Spin ToonTown Disneyland
Introduction | Attraction | Touring Tips | Kids/Characters | Dining | Shopping | Interesting Facts
INTRODUCTION
Mickey's Toontown is the home of Roger Rabbit's Car Toon Spin. Inspired by the movie "Who Framed Roger Rabbit", this attraction features cartoon taxis that spin by turning the steering wheel. Spin as fast or slow as you like as you tour the back alleys of Toontown – but watch out for weasels and their dreaded DIP.
ATTRACTION
The indoor queue for Roger Rabbit's Car Toon Spin is very long, but it's very detailed and a lot of fun. With the advent of Fastpass, the door into the building is now the merge point for the Fastpass and Standby lines, so in the interest of keeping the line short for those using Fastpass, most of the interior queue is not filled with people. In their hurry to get to the loading area guests often bypass interesting details like Jessica's dressing room, the Ink & Paint Club, the rainbow paint can and paint brush, or the opportunity to eavesdrop on a nefarious weasel plot.
When you reach the boarding area you'll climb into Lenny, your friendly cartoon cab. Each cab seats two people, and the cabs are dispatched in groups of two. Once you reach Roger and Benny the cab, helplessly spinning in the DIP puddle poured by the weasels, you'll find that your steering wheel is active – so let the spinning begin! You can spin clockwise or counterclockwise – though this ride won't spin you as fast as the teacups. There's a lot of fun things to see in the ride, so try not to get so caught up in spinning that you forget to look around you. Just as a weasel is about to douse you with a deadly dose of DIP Roger appears with a "portable hole" that takes you safely to the unloading area.
TOURING TIPS
Lightning Lane access for Roger Rabbit's Car Toon Spin is available with the purchase of Genie+. This attraction does not load very quickly and the standby wait can be an hour or more. In addition, the standby queue is outdoors in the open and can get VERY hot. While you're waiting for your Lightning Lane window to become active, check out some of the other fun features of Toontown — like the Glass Works, the post office and City Hall. Kids may enjoy the nearby Donald's Boat, Goofy's Playhouse, and Chip 'n' Dale Treehouse.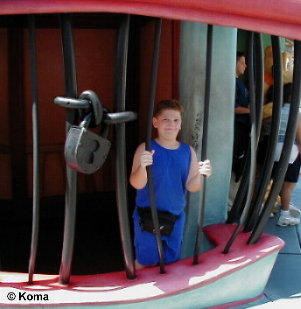 There are many fun photo ops in Toontown — climb aboard the Toontown fire engine, Jolly Trolley, or one of the cars near Goofy's Gas Station. You can also work out with barbells at the gym or attempt to escape from the Toontown Jail.
Strobe-light effects are used in this attraction.
Even if you choose not to spin the steering wheel the cab will spin a little bit, so this ride may not be suitable for those who suffer from motion sickness.
Roger Rabbit's Car Toon Spin has been compared to a cross between a Fantasyland "dark ride" and the Mad Tea Party.
Try to keep the car from spinning – it's harder than you think!
The ride is about 3 minutes long.
Guests in wheelchairs or ECVs should proceed through the regular queue, then transfer to the ride vehicle.
Restrooms are located on the left side of Goofy's Gas Station.
KIDS AND CHARACTERS
There's no height requirement for this attraction though the interior is a bit dark and there's a lot of spinning.
Most younger visitors have never seen Who Framed Roger Rabbit?, and have no idea who he is.
Goofy and Pluto often appear in the gazebo nearby, and Mickey Mouse greets guests in his house.
DINING
Toon Up Treats (fresh fruit and snacks), Daisy's Diner (pizza), Pluto's Dog House (hot dogs), and Clarabelle's (sandwiches, salad, and ice cream novelties) are close by.
Disneyland Restaurants at a Glance
Menus from Around the Disneyland Resort

SHOPPING
The Gag Factory is next door to Roger Rabbit's Car Toon Spin. There you can purchase Disney souvenirs such as t-shirts, antenna toppers and pins.
INTERESTING FACTS
Roger Rabbit's Car Toon Spin opened on January 26, 1994.
DIP is made up of equal parts of acetone, benzine and turpentine.
The license plates on the wall inside the entrance refer to Disney characters or movies, such as 2N TOWN, 101 DLMN, ZPD2DA and CAP 10 HK.
In addition to the "Who Framed Roger Rabbit" feature film, there were three short Roger Rabbit films. Tummy Trouble was shown with "Honey I Shrunk the Kids", Roller Coaster Rabbit with "Dick Tracy", and Trail Mix Up with "A Far Off Place."
If you have comments or tips to share with others about touring Disneyland, please email us. Thank you.