Turtle Talk with Crush The Seas with Nemo & Friends Epcot
Individual Attraction Selection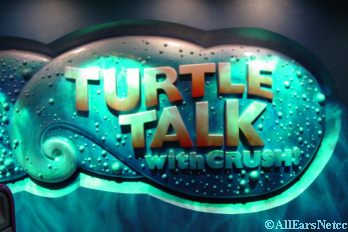 On November 16, 2004, a new experience at the Living Seas opened called "Turtle Talk with Crush." It features a computer-animated version of the surfer dude turtle from "Finding Nemo" in 10-minute conversations with visitors.
Lightning Lane access for Turtle Talk with Crush is available with the purchase of Genie+.
AllEarsNet.com friend CraigC writes: What used to be the "Atlas" room is now an enclosed theater (much like the "Making of Me" theater). The audience faces a screen that looks into the ocean. Since you are in the Living Seas where many large windows look into an ocean environment, this looks much like another such window. A host introduces Crush (the sea turtle) from "Finding Nemo." Crush is an interactive 3D animation that talks with the audience. He looks at the person he's talking with and really interacts with people. For example, the host will ask a kid his name and Crush will say "Hello, Jimmy." He makes jokes and takes questions from audience. The show lasts about 10 minutes and is very enjoyable. As word spreads about this show, it will become very popular. I would guess that the theater holds about 100 people. I have never seen anything like this before. It's a really nice addition to a tired pavilion.
Here's what YOU have to say: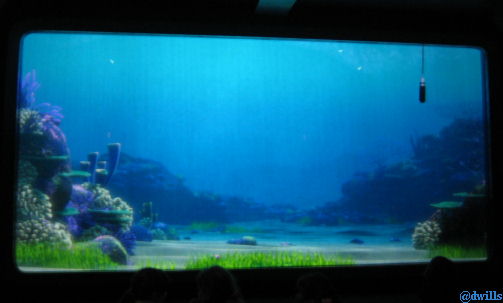 MAGPIE0218: This interactive show was fabulous. We had no idea what we were in for when we happened on this attraction in the Living Seas. We are annual Passholders who live outside Tampa and try to hit Disney parks as often as we can. Our 8 year old twins still get excited every time we enter a Disney park, but we worry if that enthusiasm will wane with time. Our son, Logan was amazed and delighted when Crush asked his name, talk to him, and answered his question about turtle shells. Adults and children seemed to enjoy this wonderful attraction equally. If this interactive show is any indication of future plans, we will happily renew our annual passes for years to come!
Robyn Ward: My family and I (husband and two girls, ages 8 and 4) saw Crush and Turtle Talk just last week. It is an interactive (and I mean really good) discussion between Crush and the audience. My girls enjoyed it very much, got to ask questions and even included me in the fun. The only problem? Crush asked me where human babies come from – I very quickly told him the hospital.
Darkzeid25: I was at the Living Seas this week and did the Turtle talk. It was really well done. The computer animated Crush talks in real time, reacting to whoever he is talking to and what is going on. He has an array of emotions that he expresses and even played "The hide and The seek" with us. Another small attraction done extremely well.
Jim: We were one of the first groups to see this new attraction in Epcot's Living Seas Pavilion during the week of November 7th. It was definitely different than anything else we saw all week. It was in a very small theater. There were about 60 people or so sitting in the theater on benches and then a small area up front. The attraction's creators were standing around the room with clip boards taking notes. The area upfront was for kids to go up and sit down. It was in front of a movie screen. The images on the screen made it seem like you were looking through a glass window into an ocean scene with water, rocks the ocean floor, etc. There was an image of a microphone on the side. The premise is that Crush will come out and talk to and interact with everyone in the theater. There was a CM that moderated everything on the theater side, introduced the attraction and then got the crowd to call for Crush. The CM had a mic in his hand and would go around the room with it when Crush called on folks to ask a question.
So, we call for Crush and he comes out. He is a virtual reality movie image that swims around on the screen, talks, makes expression and reacts to the crowd. Basically the whole show is interactive he can look into the audience and see what the crowd or kids are doing. He asks questions and then the crowd (mostly the kids) ask him questions. What made the attraction great was that he was absolutely hilarious the way he interacted and using the virtual reality technology, how he was able to move and react, make expressions etc. For example someone's "shell phone" went off in the middle and he had several one liners for the guy. It was really cute and had me laughing off my seat. Duuuuude!! At the end the overwhelming rating from the crowd was a 5 out of 5. Positive comments from the crowd included the interaction especially with the kids and having the kids sitting upfront so Crush could call on them and ask their name etc.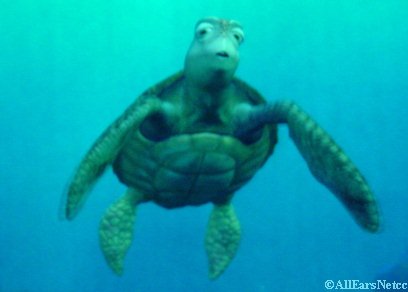 Jim Humelsine: The Crush attraction totally rocks… dude. You're seated on benches in a small theater that holds about 30-40 people. The children sit on the floor up front. The front of the theater is a screen that's about 8 feet high 15 feet wide. The screen shows an underwater scene. There's a cast member who introduces Crush and helps out during the show. Crush swims to the front and center of the screen and starts talking to the audience interactively. He selects individual people to talk to and identifies them by their location in the theater and clothing they are wearing. He has short conversations with these people. He moves to the left and right of the screen depending upon whether he's talking to someone on the left or right. His facial expressions change appropriately. It's kind of like a sophisticated puppet, but he's on a movie screen instead. The voice is pretty much identical to the voice used in the movie. When it was over, my wife asked, "OK, how did they do that?" I'm still not sure myself.
Rodney: We were lucky to get to preview Turtle Talk with Crush. We were told that the room the preview was held in would not be the permanent home for Crush (not sure where it will be). My kids (ages 6 and 2) absolutely loved it. Being able to talk to Crush and getting response was great. He was able to identify which child or adult was asking a question. After the show we were asked to comment. Most comments were positive. One comment was to have Squirt with Crush. Another was to have other fish (characters from Nemo). Someone said not to say "Dude" so many times.
Diane Marmann: We had the opportunity to participate in Turtle Talk with Crush. It was an enjoyable experience. Although I didn't know what to expect, I was not prepared for Crush to be able to actually see and hear the audience. In fact, neither were the kids, as they were surprised when Crush actually described them (boy in front row with red baseball cap) and spoke to them repeating their names and having conversations with them. No one in our audience was prepared to ask questions, so it was a little strained and Crush did a bit of fun improv. I think that once the audience is more prepared and knows what to expect, it will be a fun and enjoyable experience. I enjoyed it and left with a big smile on my face.
Susan Bilbrey: We actually got to experience the talk with Crush at Epcot on Sunday, November 14. It was interactive and Crush picks kids out of the audience and calls on them by what color their "shell" (clothing) is and talks with them. Very much Disney magic! Very cute and entertaining and the kids loved it.
Mindy Geihs: It was definitely one of the highlights of my trip! This isn't just an animated, pre-programmed show — Crush actually interacts with the audience! Every show is different. A cast member brings a microphone around the audience so questions can be asked of Crush. He answers them and asks questions of the audience too. Crush can see the audience as well and talks about what certain people are wearing. How this attraction works is beyond me! The animation goes perfectly with what Crush says and he's improvising! It was really fun and absolutely amazing! I highly recommend it!
Additional Photos:
Waiting in the Queue I
Waiting in the Queue II
Theater I