There is a LOT going on at Walt Disney World, and we've seen so many changes just in the past year. And we're not even referring to the changes with health and safety guidelines (which will likely continue to be modified according to CDC recommendations).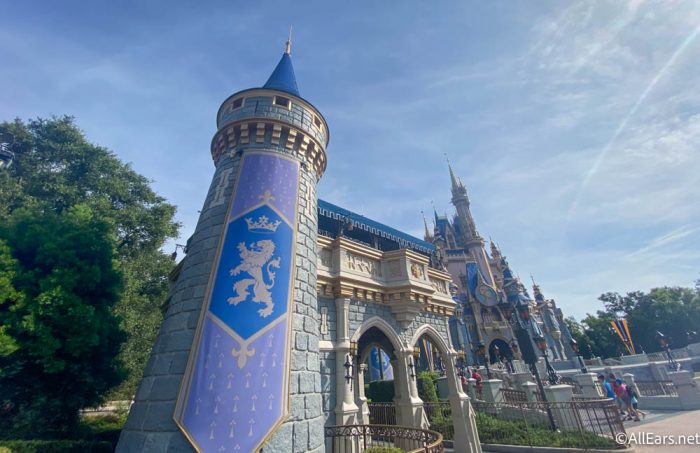 We're talking about other changes that will make Disney World completely different in 2022.
So if you're headed to Disney World in 2022, here's how it will be different
General Differences
50th Anniversary
Disney World's 50th anniversary kicks off on October 1, 2021, and there will be signs of that celebration throughout the parks and resorts. We've already seen a ton of construction, additions, and updates at the parks, and we expect to see even more before the celebration officially begins.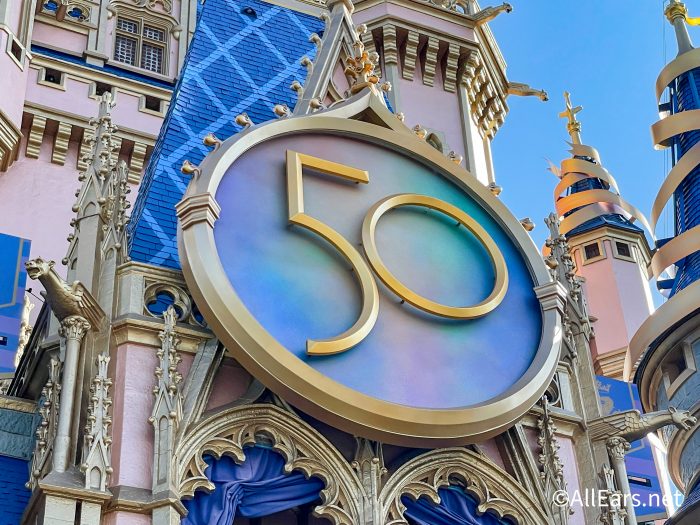 This celebration will not only run through 2022, but will also extend into 2023. It's going to be a fun party!
Disney's Magical Express
Disney World's free airport-to-Disney World transportation for resort guests, Magical Express, will no longer be available as of January, 2022. So getting from Orlando International Airport to your Disney World resort will be different.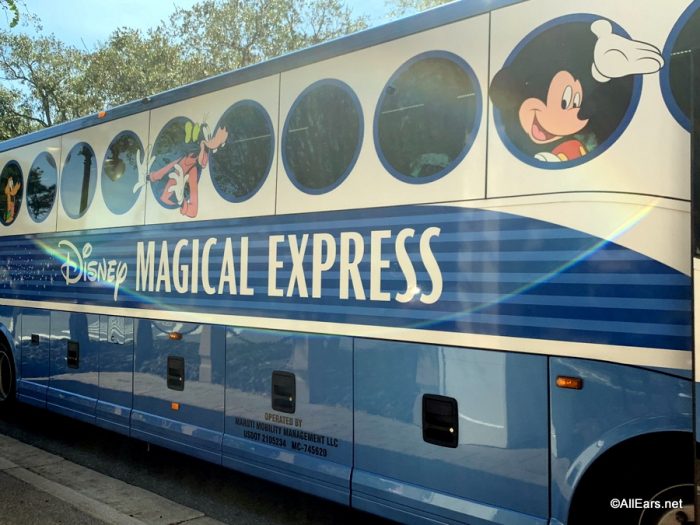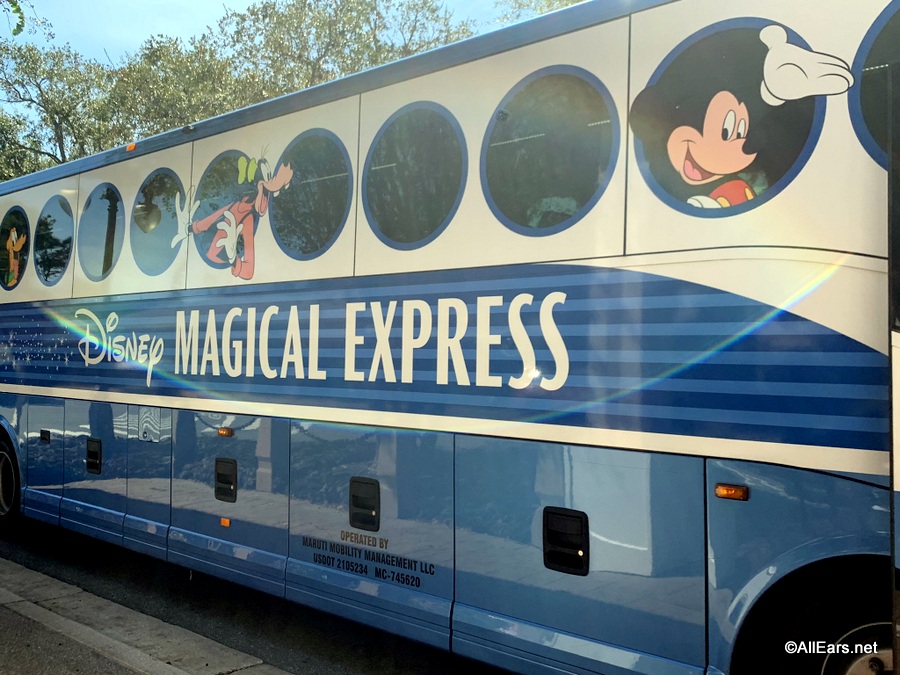 However, Mears Connect should be running by then, though it won't be free. Guests might also want to consider a rideshare service, such as Uber or Lyft, or a limo service like Happy Limousine.
MagicBands
Another Disney World resort guest freebie, the MagicBand, is no longer free. Certain MagicBands can still be purchased at a discount by Disney World resort guests, and it doesn't look like Disney will stop selling other MagicBands anytime soon.
Instead, guests who prefer not purchasing a MagicBand can use Magic Mobile on the My Disney Experience app to do everything that MagicBands do — check in to their hotel rooms, scan into the parks, etc.
Fab 50 Golden Sculptures
As we previously mentioned, signs of the 50th anniversary will be all over Disney World. That includes new Fab 50 golden sculptures that guests will find scattered all over the parks.
These golden statues will represent some of Disney's most beloved characters, including Mickey Mouse, Goofy, Cogsworth, Lumiere, Daisy Duck, Timon, Pumbaa, and more.
Cast Member Nametags
Even Cast Members will look a little different in 2022. Not only do they now have a more relaxed dress code and can sport more hairstyles and even show visible tattoos, but they're also getting brand new nametags to celebrate the 50th anniversary.
The new tags will feature the "EARidescent" color scheme with shimmery gold, purple, and pink accents. The 50th anniversary logo is at the top .
Capacity
Over the past year, capacity at Disney World has been limited due to the global pandemic. However, Disney has started to increase capacity, and it's highly likely that there will be a lot more people in the parks and at the resorts than we've seen since 2019.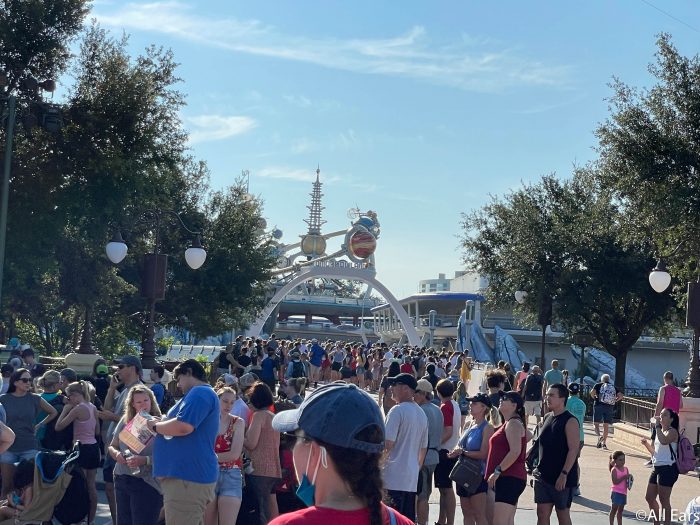 We don't have official confirmation on when Disney might raise capacity to a full 100%, but we expect that it's part of the plan for the big 50th anniversary. However, it does seem like Park Pass reservations might hang around to help Disney better manage crowds.
Early Theme Park Entry and Extended Evening Hours
Although Disney World has ended Extra Magic Hours, it will be bringing in something similar. Disney World guests staying at Value and Moderate resorts will have access to Early Theme Park Park Entry, allowing them to get into whichever park they choose on whichever day they choose 30 minutes early.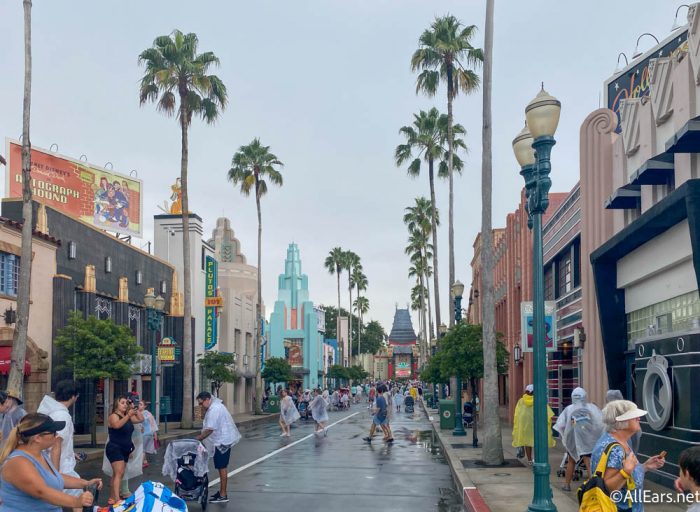 Deluxe Resort guests will have access to Extended Evening Hours, which will be available at specific parks on specific days, in addition to Early Theme Park Entry as well.
Other Features We Expect To Return
Although FastPass+ has ended, Disney World will be launching Disney Genie with its optional paid components, Genie+ and Individual Attraction Selections. Using the new Lightning Lanes (aka the old FastPass+ lines) won't be free, so learn more about these features here.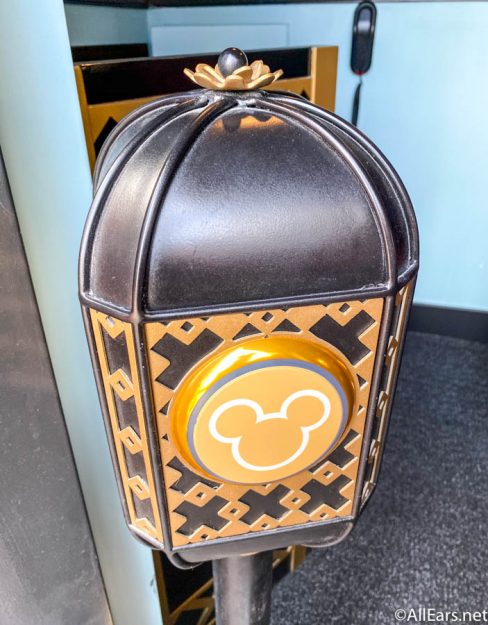 We expect to see the Disney Dining Plan make a comeback before 2022 — this is one of the services of our readers ask about the most.
Resorts
All Resorts Will Be Open
For the first time in forever, all Disney World resorts will be open again by 2022. We finally have reopening dates for the Port Orleans resorts, All Star Music, and All Star Sports Resorts.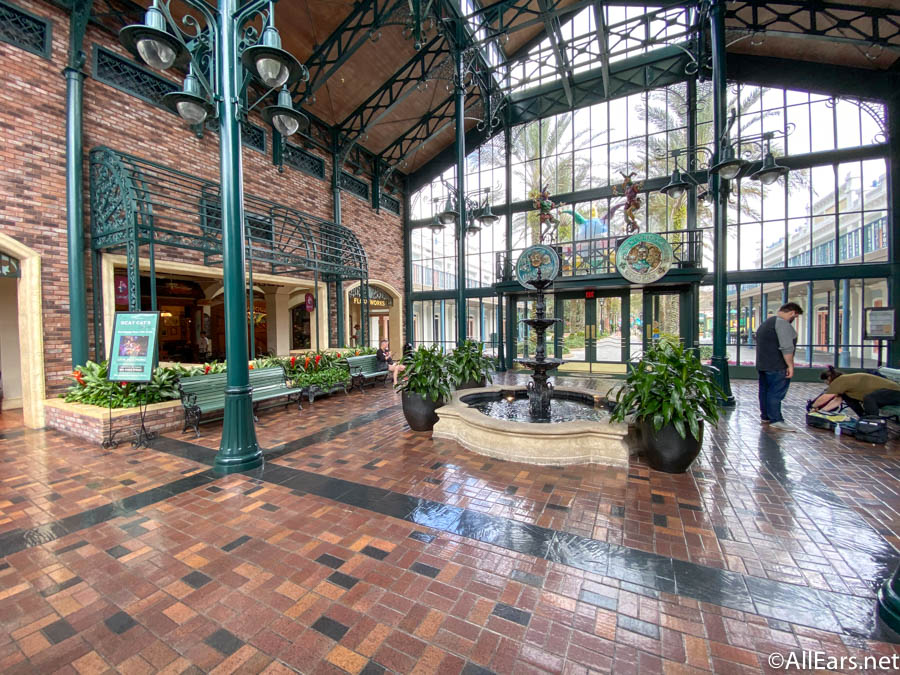 This will be the first time since Disney World's closure in 2020 that every resort will be open to guests.
More Restaurants Will Be Open
A lot of Disney World restaurants have been closed since the resort reopened, but most should be reopened by 2022. We already have reopening dates for so many restaurants coming up soon, and with many resorts reopening, we expect their dining locations will also reopen.
We'll be letting you know what restaurants you'll be able to dine at next year.
Most Construction Will Be Complete
If you've visited Disney World over the past year, you will have seen a lot of construction at the parks, at the resorts, and all over the World. Much of this construction was to upgrade the property for the 50th anniversary, so most of it should be complete by 2022.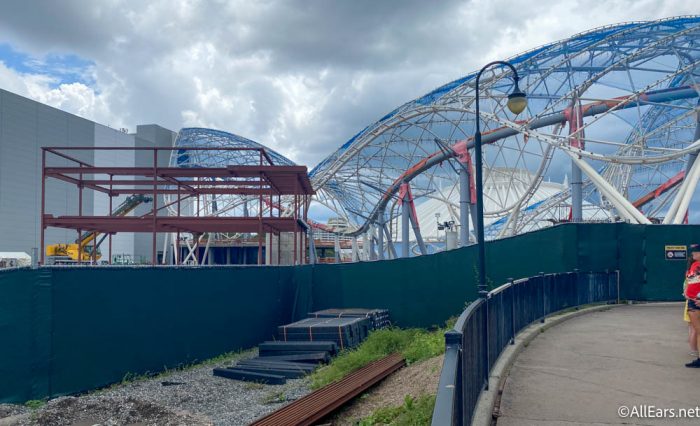 For the first time in several years, guests should be able to see Disney World without all the scaffolding, scrims, and construction projects going on almost everywhere.
Walt Disney World Swan Reserve Hotel
Speaking of construction, we've been watching the progress of the Walt Disney Swan Reserve Hotel, Disney World's newest hotel, which will open this fall after being delayed in early September.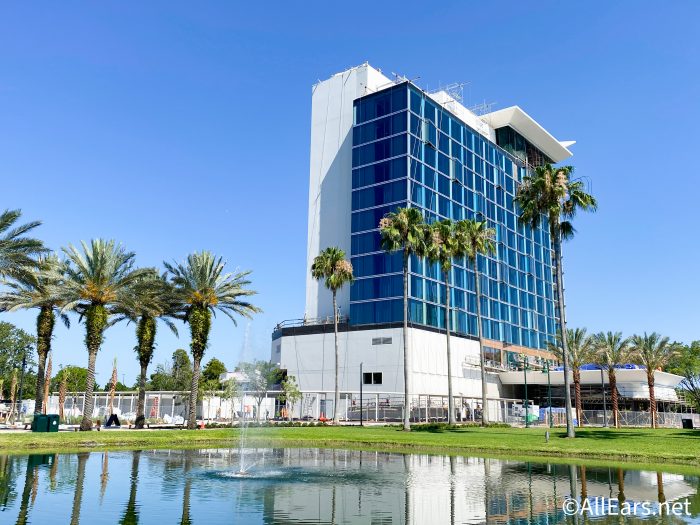 The Swan Reserve will have amazing views from its rooftop lounge and will feature a new wedding venue. It's also close to both EPCOT and Disney's Hollywood Studios.
Star Wars: Galactic Starcruiser
Speaking of new hotels, Disney recently announced that the highly-anticipated Star Wars hotel, the Galactic Starcruiser, will open in spring 2022. But it's not just a hotel — it's a two-night interactive experience that will let guests star in their very own Star Wars adventure.
As we get closer to the hotel's opening date, got details about dining, experiences, and how much it'll all cost.
TRON Lightcycle Run
Although we do not have an exact opening date on the upcoming TRON Lightcycle Run attraction at Magic Kingdom, we are cautiously optimistic that it will finally open sometime in 2022.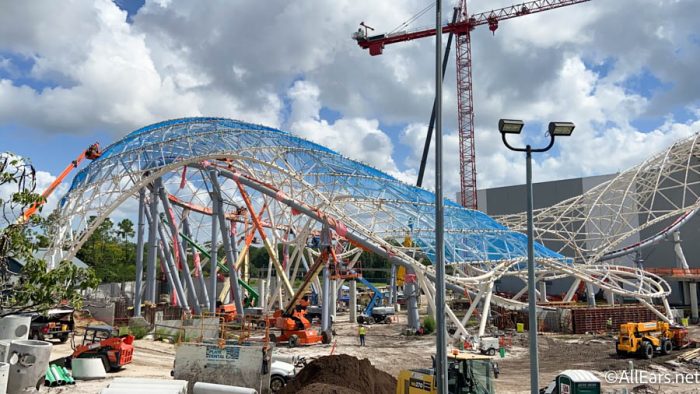 We've been watching construction on the project since it began, and it does seem to be moving right along. So fingers crossed!
Cinderella Castle
If you haven't been to Disney World recently, you are going to be shocked at the 50th anniversary transformation of Cinderella Castle. Not only did it get a paint job last year, but it also got a lot of ribbons and other decor, spiffing it up for the big celebration.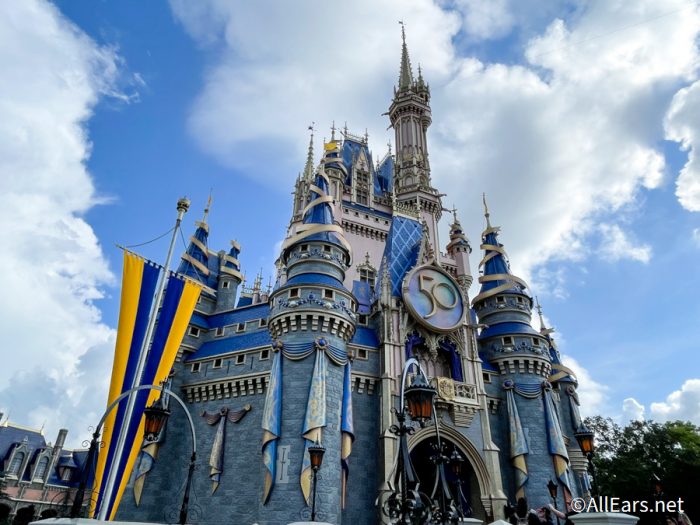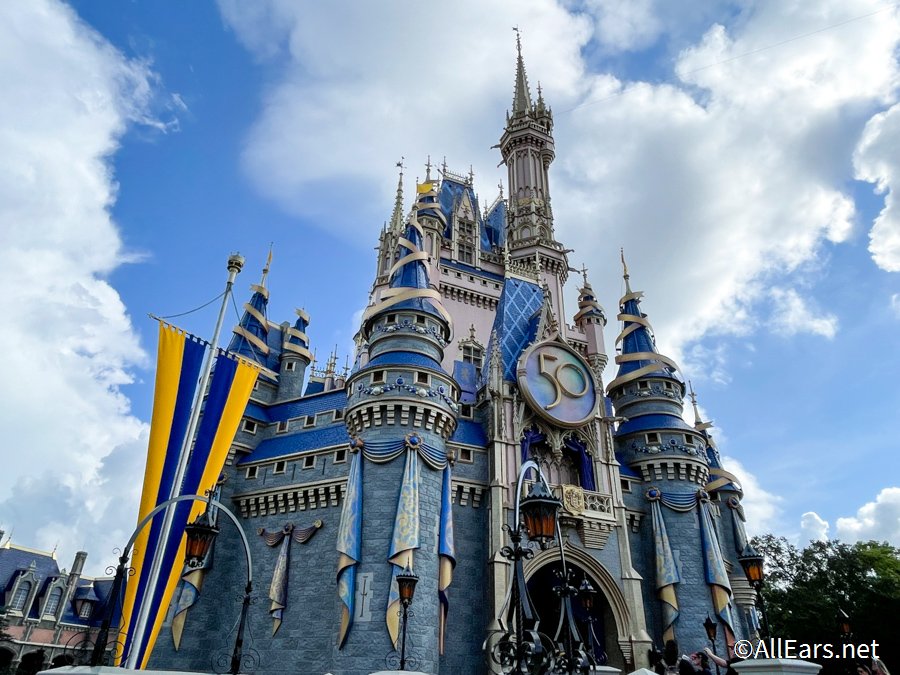 There's even a big 50th anniversary logo on the front of the castle to tie the whole look together. Needless to say, in 2022, your castle photos are going to look a lot different. Oh, and did we mention that it's getting a new lighting scheme, too?
Enchantment
Say goodbye to Happily Ever After fireworks — but don't be sad, because a brand new nighttime show at Magic Kingdom is set to take its place. The show is called Enchantment and will not only feature traditional fireworks but also projections along Main Street, U.S.A.!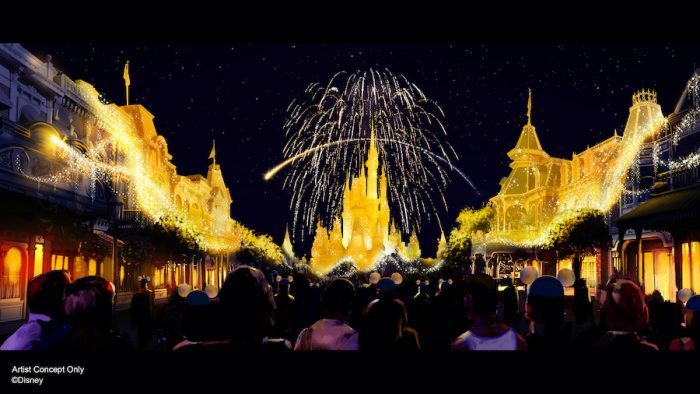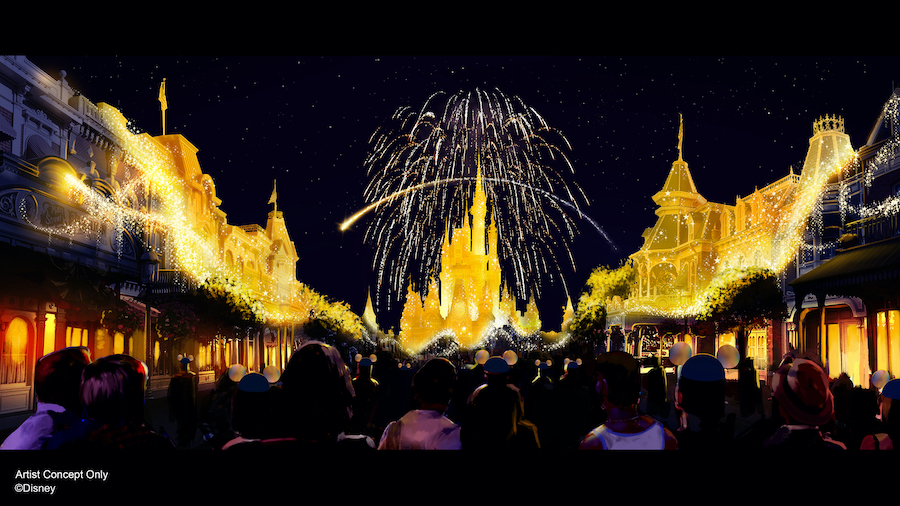 It's sure to be spectacular. There will also be new music and lighting, too.
New Cavalcades
Although daytime parades have not been announced to return to Disney World by 2022, there will be a new character cavalcade at Magic Kingdom.  It's called "Mickey's Celebration Cavalcade."
The new cavalcade will feature Mickey and all his friends traveling down Magic Kingdom's parade route.
New Character Outfits
And while Mickey and his friends are strutting their stuff down Main Street, U.S.A.,  they'll also be sporting some brand new outfits. Mickey and Minnie will be dressed to the nines in their new "EARidescent" costumes!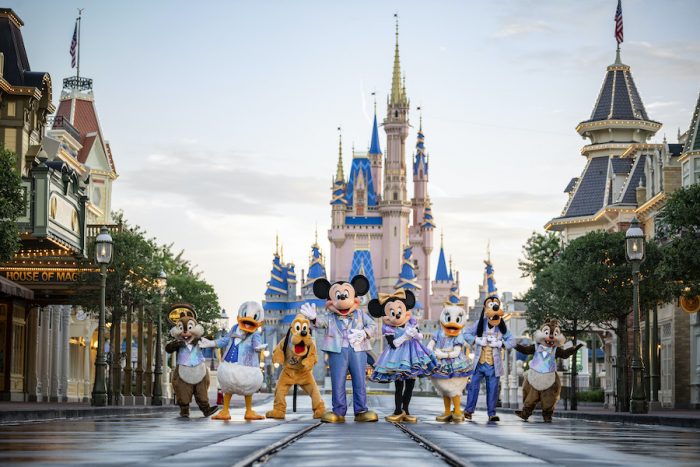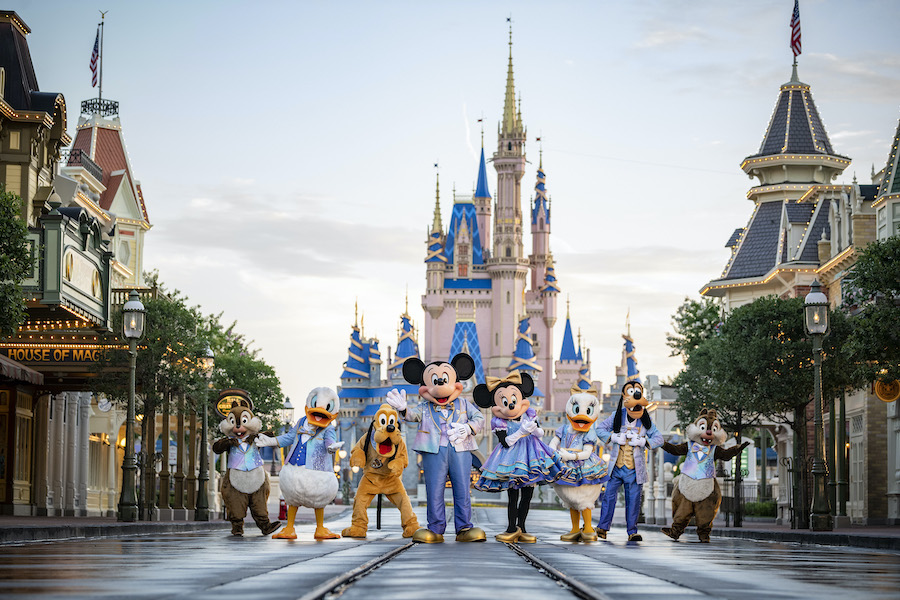 Donald, Daisy, Chip 'n' Dale, and Goofy will be getting new outfits, too.
Monsters, Inc. Laugh Floor Will Be Open
After Disney World reopened, many shows and attractions remained closed. But Monsters, Inc. Laugh Floor is returning, and guests coming to Disney World in 2022 will be able to yuk it up with Mike and his pals again.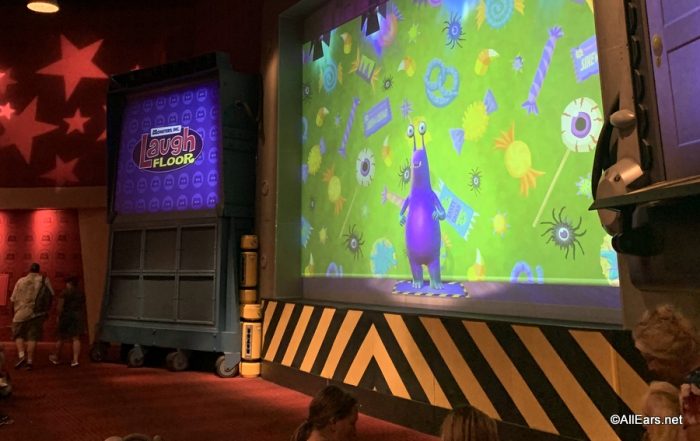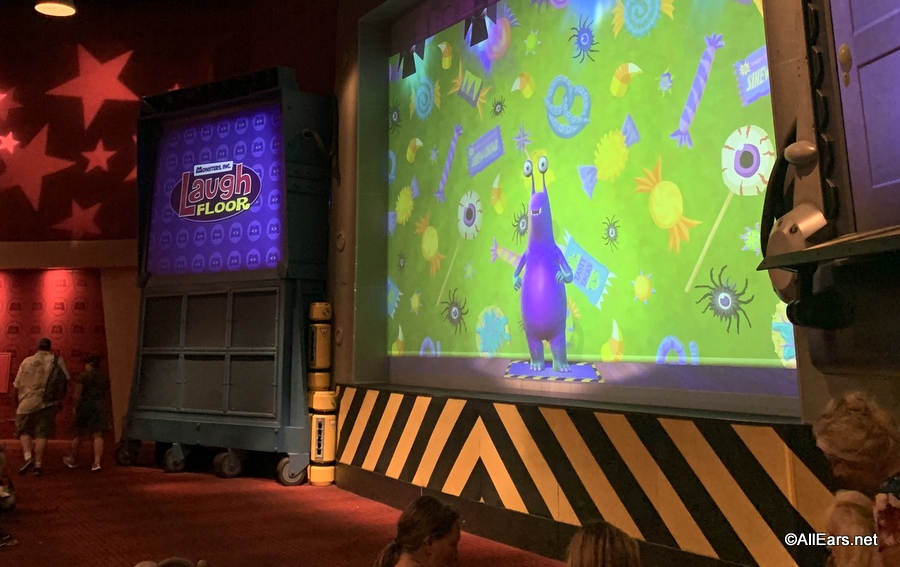 Don't forget to laugh — the monsters need all that laugh energy to help power Monstropolis!
In honor of the 50th anniversary, Animal Kingdom is getting a brand new daytime show called Disney KiteTails. The show will happen at the Discovery River Amphitheater throughout the day and will feature performers flying windcatchers and kites to Disney music.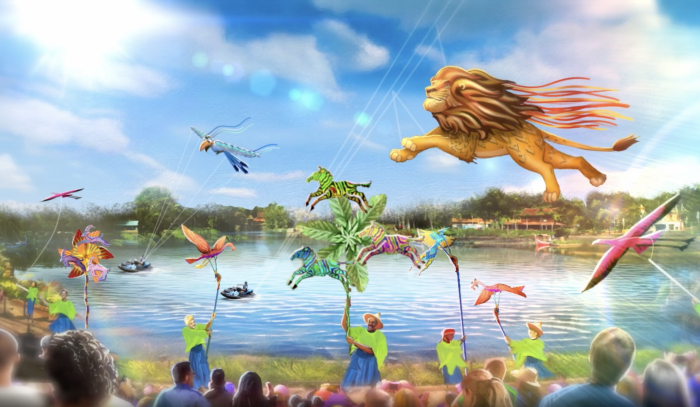 It will also have huge three-dimensional kites of Disney characters soaring over the water. It's sure to be breathtaking.
NEWS: Disney's Animal Kingdom to Get a NEW Daytime Show for 50th Anniversary
Tree Of Life To Get New Lighting
Cinderella Castle isn't the only structure getting a glow-up for the 50th. The Tree of Life will also light up at night as a Beacon of Magic.
Imagineers plan on having all the lights make the tree look like it's full of enchanted fireflies.
Another iconic Disney building getting a lighting upgrade is the Twilight Zone Tower of Terror. Although we don't have a lot of details about the new lighting scheme yet, it will be along the lines of the "EARidescence" theme.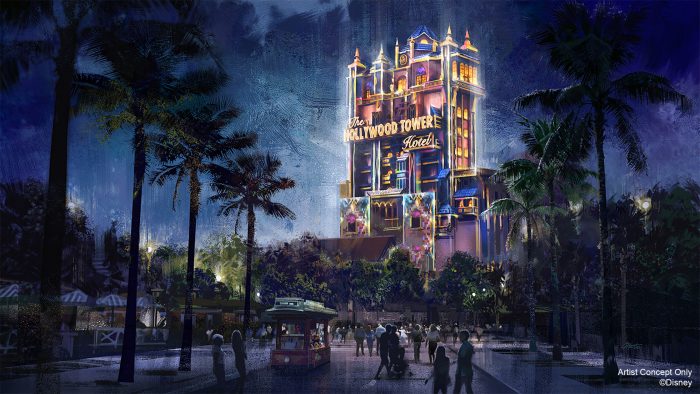 That means we can expect The Hollywood Tower Hotel to be lit up in pinks, purples, and golds.
Wonderful World of Animation
The nighttime show Wonderful World of Animation has officially returned to Hollywood Studios. This nighttime spectacular uses projections on the Chinese Theater to tell the story of Disney animation, but there are some fireworks, too.
Guests haven't seen this show since Disney World's reopening, so it's good to see it back before 2022.
One of Hollywood Studios' most popular shows has returned, too — and guests visiting the park can once again get to enjoy a live musical retelling of the tale as old as time in Beauty and the Beast — Live On Stage.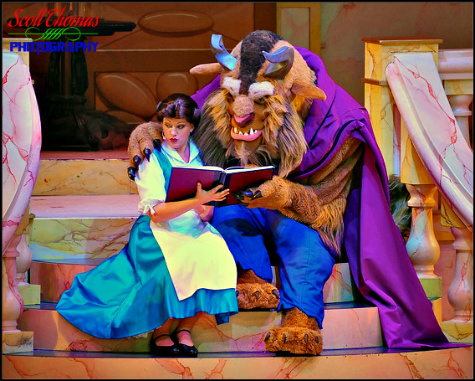 The Beauty and the Beast show returned to the Theater of the Stars on August 15th.
Remy's Ratatouille Adventure
Of all the parks, the park that will be the most transformed in 2022 will be EPCOT. And Remy's Ratatouille Adventure will open on October 1st at the France Pavilion, so guests can enjoy being shrunk down to the size of a rat in 2022 and beyond.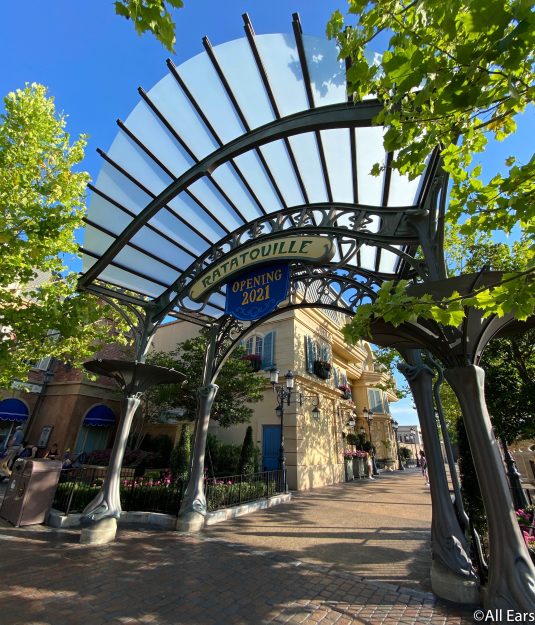 Remy will require Virtual Queue Boarding Passes when it opens, but it will be worth it for a good time for the whole family.
La Creperie de Paris
Along with a new ride, the France Pavilion is also getting a new dining spot! La Creperie de Paris will also open on October 1st, serving up crepes and galettes to hungry Disney World guests.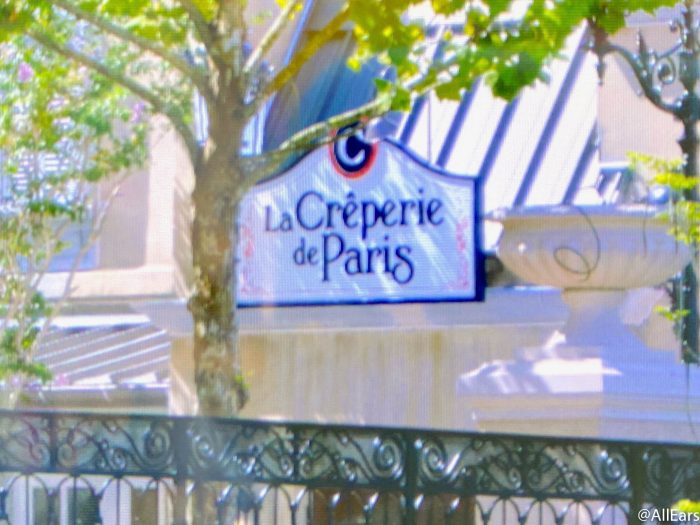 The menu here comes from the team headed by celebrity chef Jérôme Bocuse, the man behind the menus at both Chefs de France and Monsieur Paul, both at the France Pavilion.
EPCOT is getting a brand new nighttime show, and we've been following its progress as structures continue to get added to it and as Disney conducts testing. And the first show of Harmonious will be on October 1st.
Between this show and Magic Kingdom's Enchantment, 2022 is going to be THE year for new, groundbreaking Disney nighttime shows.
Spaceship Earth
Spaceship Earth is one of the other Disney World icons that's getting a new lighting set-up. The new programmable LED lights will allow designers to create custom lighting shows ON the big globe itself. Disney World has been busy installing the new lights so they should be ready in time for the 50th anniversary celebration.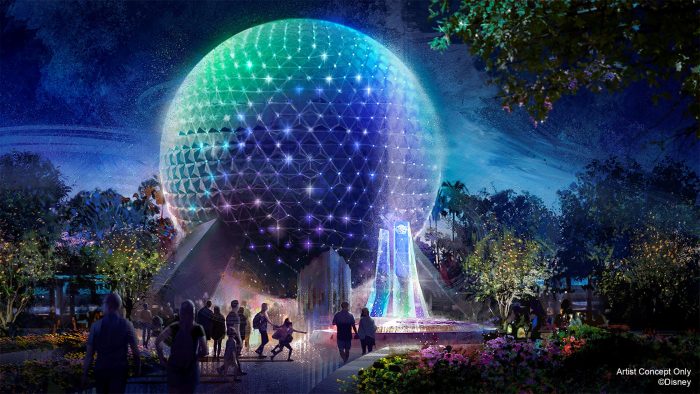 We've already seen the entrance of EPCOT in front of Spaceship Earth get a makeover — there's a new fountain and new flags there now. And the Leave A Legacy display has an all-new look!
Space 220
The space-themed Space 220 restaurant will finally open after many months of delays. For a while there, we thought we might get to go to actual space before we had an opening date, but now that we know it's opening this month, we can finally let ourselves get excited!
The concept of the restaurant includes screens that act as "windows" inside the restaurant that will make guests believe they are dining in space.
Five Things We Hope to See at Epcot's Space 220 Restaurant
Guardians of the Galaxy: Cosmic Rewind
Another ride that we're cautiously optimistic about is Guardians of the Galaxy: Cosmic Rewind. Although Disney has not released an opening date, we've been following progress on the attraction's construction.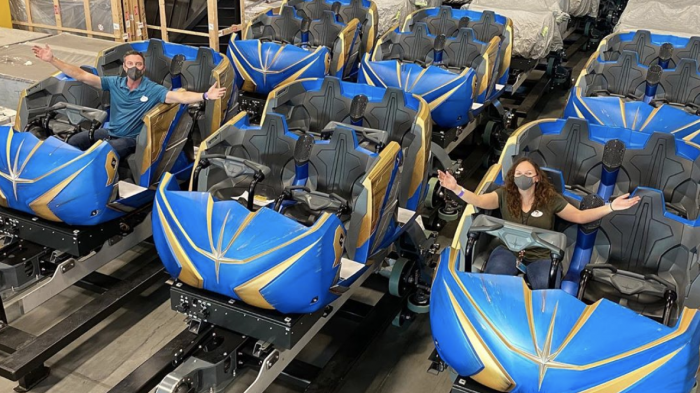 EPCOT has recently added the attraction to its park map, so we might get an opening date announcement soon. We do expect that it will be open before the end of 2022.
Turtle Talk with Crush
Another attraction that reopened recently is Turtle Talk With Crush. Guests were reunited with their favorite sea turtle on August 21st.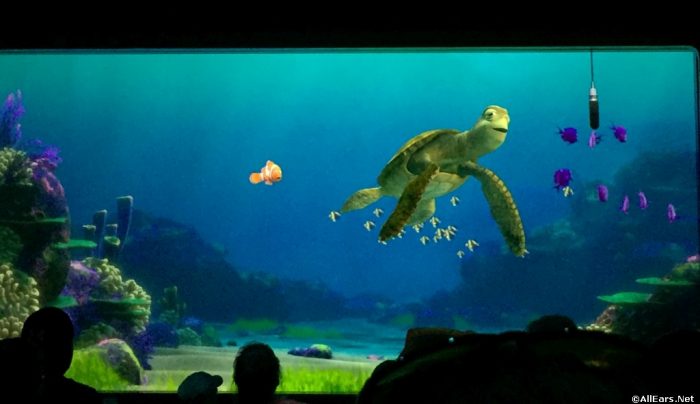 This show, located in the Sea Base (which is the exhibits at the exit of The Seas with Nemo and Friends attraction), is an interactive attraction where guests talk with Crush!
PLAY! Pavilion
The PLAY! Pavilion will feature some brand new experiences devoted to offering a new kind of fun for guests. The concept is an interactive city full of hands-on games and activities.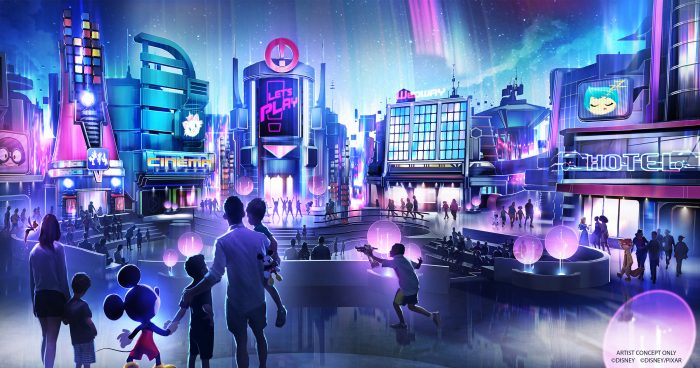 PLAY! Pavilion guests will also get an opportunity to interact with Disney characters in a way they've never been able to before. Disney has not yet released an opening date, but we're optimistic that it will happen before the end of 2022.
NEWS: Epcot's Transformation Continues with New Entrance and New Play Pavilion
Club Cool
The original Club Cool was so…well…cool. It allowed Disney World guests to try different Coca-Cola beverages from around the world, and there were a lot of fun flavors to try. Club Cool closed in 2019, but only to make room for a brand new version of the beverage stop!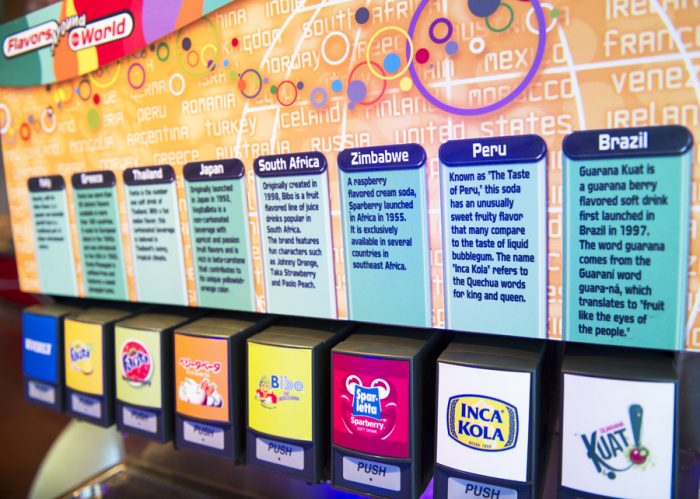 We've been seeing sneak peeks of the new Club Cool, and it looks like Disney is putting a lot of thought into the new drink spot. It will have a brand new look and new offerings. We should see it open by or in 2022.
Creations Shop
EPCOT's main merchandise store, Mouse Gear, will be going away, but it's going to be replaced with a bigger and better store called Creations Shop. This store will be the "flagship merchandise location" for EPCOT and will feature merchandise that represents the "bold sleek design" of the park.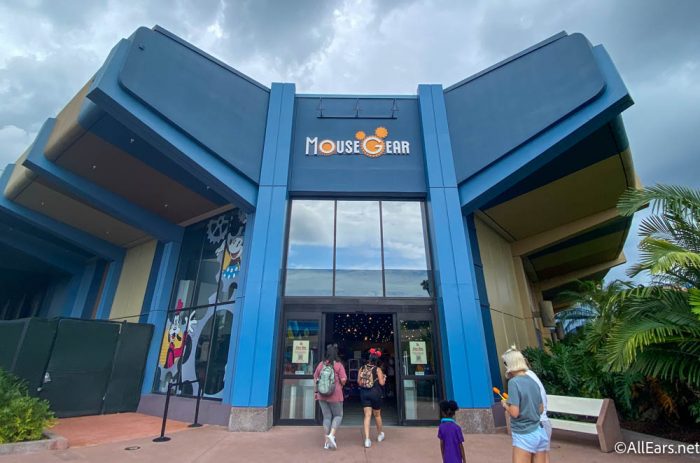 The new shop will feature floor-to-ceiling glass walls with a color scheme that will match EPCOT's look and feel. The new store is set to open soon.
Disney Springs
One thing that we're still waiting for Disney to announce an opening date for is Cirque du Soleil Drawn To Life.  The new show was originally set to open last year, but its premiere was delayed.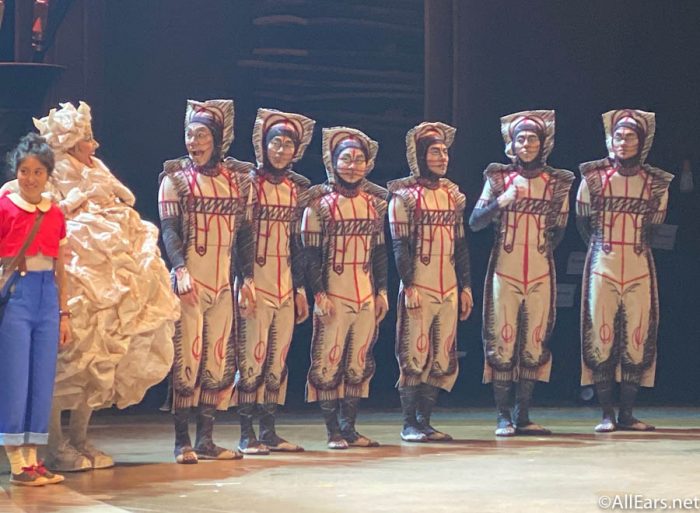 However, we've recently seen signs that progress is being made on the show — we noticed a job listing for a sales coordinator that mentions it. We are hopeful that Drawn to Life will premiere in either 2021 or 2022.
So if you're looking for a reason to go to Disney World in 2022, we just gave you 35! Disney World is going to have a lot of new and returning offerings for guests, and we can't wait to experience them all.
Are you planning a trip to Disney World in 2022? Let us know what you're looking forward to the most in the comments.
Join the AllEars.net Newsletter to stay on top of ALL the breaking Disney News! You'll also get access to AllEars tips, reviews, trivia, and MORE! Click here to Subscribe!