Main Street, U.S.A. Magic Kingdom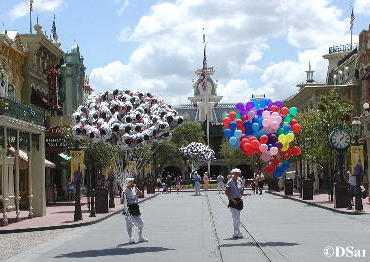 Attractions | Tips | Dining | Shopping | Facts
---
"Main Street, U.S.A. is America at the turn of the century – the
crossroads of an era. The gas lamps and the electric lamps, the horse
drawn car and the auto car. Main Street is everyone's home town…the
heartline of America." – Walt Disney
Main Street, U.S.A. is two blocks of charming turn-of-the-century nostalgia, stretching from the south at the Train Station and Town Square to the Plaza and Cinderella Castle in the north. Although what Walt Disney World classifies as Main Street "attractions" may seem tame compared to those in the rest of the park, the unique shops, the horse-drawn transportation, the amazing and convincing architectural details, and even the smell of fresh-baked cookies wafting through the air, all make Main Street, U.S.A an attraction in itself.
ATTRACTIONS and ENTERTAINMENT
Flag Retreat – Patriotic and moving demonstration, held daily at 5 p.m., in Town Square's Municipal Park. If you're a veteran of the military, you might want to inquire at City Hall about acting as the Veteran of the Day during the flag lowering ceremony.
Main Street Vehicles – Take a ride on a horseless carriage, a replica of an early fire engine, a jitney or a horse-drawn trolley, all of which make their way up and down Main Street throughout the day. The length of your ride varies with the vehicle you take:
Street Cars: 3:15 minutes
Antique Cars (with 4-cylinder Hercules engine): 2:28 minutes
Jitneys: 2:28 minutes
Fire Engine: 2:28 minutes

NOTE: Wheelchair/ECV users must transfer out to ride these vehicles.
Town Square Theater – A character meet-and-greet spot, this is the place to visit with Magician Mickey or Tinker Bell.
Walt Disney World Railroad – Approximately 20-minute journey on an authentic steam train, with additional stops at New Fantasyland's Storybook Circus and Frontierland.
Sorcerers of the Magic Kingdom – interactive adventure (housed in the former Firehouse Gift Station). Make this your first stop to get a map and your "key" card for this immersive, role-playing game that has you make your way around the park, vanquishing villains.
TOURING TIPS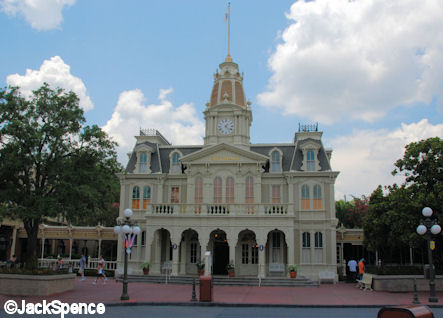 Make sure to visit Guest Relations in City Hall, on your left after passing the train station, if you have questions about dining, transportation, entertainment or lost and found. Be sure to mention if someone in your party is celebrating — a birthday, an anniversary, or whatever — and pick up a special button while you're there!
At most times of the day, Main Street, U.S.A can be explored at your leisure, normally without lines or crowds, so it may be best not to linger when the park first opens and the lines for the more popular attractions are still short. The only times to avoid would be during the parades or at closing time when the other attractions have stopped running.
PLACES TO EAT
Casey's Corner – Hot dogs, fries, soft drinks, snacks.
Crystal Palace – All-you-can-eat character dining featuring Pooh and Friends. Open for breakfast, lunch and dinner.
Main Street Bakery (Starbucks) – Breakfast selections, gourmet sandwiches, desserts, cookies.
Plaza Ice Cream Parlor – Ice cream, snacks and soft drinks.
Plaza Restaurant – Sandwiches, fries, salad, yummy desserts and soda fountain specialties.
Tony's Town Square Restaurant – Table service restaurant serving pastas, salads, and Italian themed specialty entrees.
PLACES TO SHOP
The Chapeau – Hats and monogramming. Don't forget your Mouse Ears!
Confectionery – Gifts of candy, baked goods and sweets.
Crystal Arts – Glass cutting, glass blowing.
Disney Clothiers – Disney character fashions for men and women.
Disney & Co. – Souvenirs, frames, children's clothing, assorted Disney merchandise.
Emporium – 16,742 square feet of retail space stocked with just about anything imaginable in Disney gifts, clothes and souvenirs.
Harmony Barber Shop – Along with haircuts, and beard and mustache trims, the barber shop sells mustache cups and nostalgic shaving items. Try to time your visit here to coincide with a performance by the Dapper Dans barbershop quartet.
Main Street Athletic Club – Sports apparel and equipment.
The Main Street Cinema – Plush toys, pins, books, Disney videos, CDs and cassettes.
Main Street Gallery – Posters, lithographs, books, postcards, cels of all kinds and many collectibles.
Uptown Jewelers – Snow globes, frames, charms, pens, jewelry, watches, etc.
INTERESTING FACTS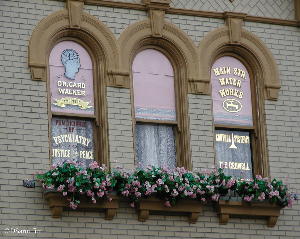 Main Street, U.S.A. opened at the Disney theme parks worldwide on the following dates:
* DISNEYLAND in California – July 17, 1955
* MAGIC KINGDOM at WALT DISNEY WORLD – October 1, 1971
* TOKYO DISNEYLAND Park – April 15, 1983 (called World Bazaar but looks very similar to Main Street, U.S.A.)
* DISNEYLAND Paris (originally called Euro Disneyland) – April 12, 1992
Main Street, U.S.A. consists of only four buildings, each designed to appear as individual structures.
The appearance that Main Street, U.S.A. is larger than its actual size is due to the use of forced perspective. The ground level floors were built at approximately 7/8 size, with the upper floors becoming progressively smaller.
Note the windows above the main floors, and you'll observe the names of many of the men and women who were crucial to the development and operation of Disneyland Park. There is also a window honoring Walt's father, Elias, over the Main Street Emporium.