Walt Disney World Chronicles: The Story of the Tree of Life
by Jim Korkis
Disney Historian
Feature Article
This article appeared in the November 3, 2015 Issue #841 of ALL EARS® (ISSN: 1533-0753)
Editor's Note: This story/information was accurate when it was published. Please be sure to confirm all current rates, information and other details before planning your trip.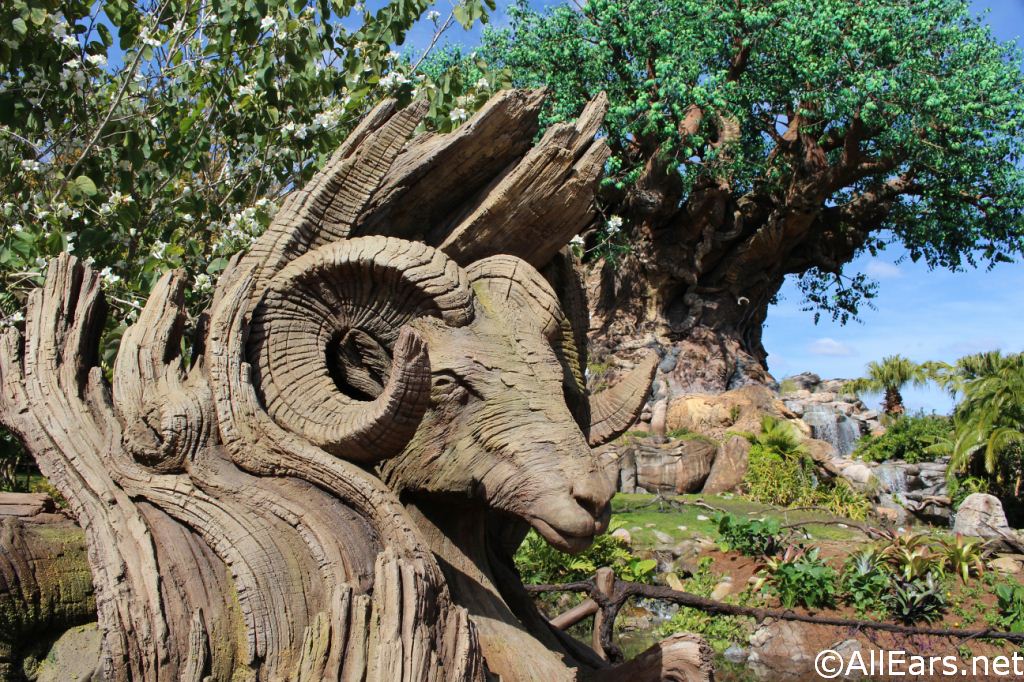 Just like the Magic Kingdom's Cinderella Castle, Epcot's Spaceship Earth and the now-removed Sorcerer's Hat in Disney's Hollywood Studios, the Tree of Life is the main icon for its home park, Disney's Animal Kingdom. It has appeared prominently on merchandise and marketing for the park since it opened in April 1998.
The Tree of Life was designed to capture the essence of the park with its diversity of animals and the majesty of nature. The animals are not supposed to look as if they were carved into the surface of the tree, but are supposed to seem as if they grow out of it organically. The closer a guest gets, the tree shape begins to disappear and it becomes an animal kingdom in which everything is living in harmony. It was designed to be reminiscent of looking up into the clouds and seeing the shapes of animals.
A tree of life concept exists in many different world mythologies, which is one of the reasons it was finally selected over other icon concepts — including a proposed recreation of a shipwrecked Noah's Ark that burst open, allowing the animals to roam the surroundings. Another idea was to have a massive three-leveled carousel attraction at the entrance featuring animals of sea, land and sky. A tree structure reminiscent of a geodesic dome for the canopy was yet another idea that was proposed, but that was deemed unnatural and lifeless.
The Disney Imagineers were trying to capture the idea that the Tree of Life was there first and the village below had sprung up around it. It was meant to be the source of water, and thus life, for the entire area. (By the way, the first real tree planted at Disney's Animal Kingdom in December 1995 was an authentic Acacia xanthophlosa, grown from a seed that Disney acquired in Africa. The park now has about 100 species of trees and shrubs foreign to North American soil.)
The official Imagineering backstory when the park first opened was: "Once upon a time, no vegetation would grow on Discovery Island. There were no trees, no shrubs, no flowers, nothing. It was a barren piece of land. Then, one day, a tiny ant planted a seed and made a wish. He asked for a tree to grow — a tree large enough to provide shelter for all the animals.
"Magically, the ant's wish came true and a tree began to grow — and it kept growing until there was room beneath its limbs for all the animals from A (ants) to Z (zebras). And as the tree continued to reach for the heavens, the images of all the animals that took shelter beneath its shade appeared on its trunk, roots, and branches."
No one had ever built a tree structure this large ever before. It is 145 feet tall (roughly 14 stories). The branches span 165 feet across with more than 103,000 translucent, five-shades-of-green leaves that were individually placed and actually blow in the wind because each branch unit is encircled by a giant expansion joint.
Disney commissioned a wind tunnel study for the branches that determined they could withstand a blow of nearly 100 miles per hour. The Imagineers had to contend with Florida's weather, especially the threat of hurricanes that might reach that level of strength.
The leaves are four different shapes and sizes, each more than a foot long, made out of special plastic called Kynar. The bottom trunk is 50 feet wide. The Tree of Life is made up of 45 secondary branches leading to 756 tertiary branches leading to 7,891 end branches.
The branches had to appear random, but the cost of sculpting each one individually would have been prohibitive. Using a computer, the Imagineers were able to come up with two types of secondary branches that could be hooked to two types of tertiary branches and could be randomly assembled, turned and adjusted to create natural shapes.
The branches were assembled on the ground and then carried over and plugged into their appropriate spots by a huge crane.
The final look of the Tree of Life was based on a particular bonsai tree the design team found at the Epcot International Flower and Garden Festival.
Imagineers Dave Minichiello, Dan Goozee, Ben Tripp, Gerry Dunn and Joe Rohde did early concept paintings of the tree. One of the early design concepts was that guests would be able to ascend to the top of the tree and look out over the entire park.
Eventually, it was decided to use an oil rig as the base skeleton of the tree's trunk because it would be strong enough to hold the massive weight of the branches, as well as have enough room underneath for some type of venue.
"The Tree of Life is a technological marvel, but it's also a symbol of the beauty and diversity and the grandeur of our animal life on Earth," said Imagineer Joe Rohde, executive designer for the park. "It's a celebration of our emotions about animals and their habitats. We want you to look up at it, to regard it with awe and wonder and to translate those feelings to the real animal world."
Carved into the tree's gnarled roots, mighty trunk and sturdy branches is a rich tapestry of 325 animals, many of which were endangered when the park first opened. Recently, with the extension of the roots into the Central Hub area, that number has gone up significantly with the addition of a deer, an elephant, Rocky Mountain big horn sheep, and a bison among others.
Led by senior production designer Zsolt Hormay, the group of sculptors included Vinnie Byrne from Ireland, Fabrice Kennel from France, as well as Disney veterans Eric Kovach, Steve Humke, Joe Welborn, Gary Bondurant and Jacob Eaddy.
This core group was supplemented by some independent artists with their own studios, including Roger White, Parker Boyiddle (Kiowa), Craig Goseyun (Apache), and Arthur Rowlodge (Arapaho/Choctaw). Hormay sought out some Native American artists "because of their feeling for animals," as well as their experience in carving animal figures.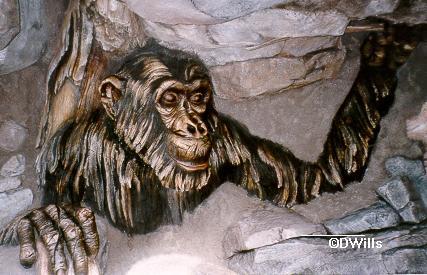 It is indeed a true story that when the sculpting was in progress, renowned primate researcher Jane Goodall visited and asked where the chimpanzee might be in this massive mosaic. Within a week, Hormay and Fabrice Kennel created a perfect replica of Goodall's most famous subject, David Graybeard, and placed it prominently at the entrance to the queue for the theater at the tree's base.
"That was probably the most difficult part of sculpting the tree, to create the 300 and more animal figures that appear to be formed of bark and wood — finding the balance between the animal forms and the wood textures was a great challenge," said Hormay.
The tree even includes cement moss and bug tracks to give it an air of authenticity. The mixture used for sculpting (which included adding plastic to the wet cement to create wrinkles) would set in five to 10 hours, giving the artists limited time to style their creations.
"The artists worked on a scaffold surrounding the tree with planks about six feet wide or they roped themselves to the surrounding steel like mountain climbers. Painters followed sculptors, adding a rich palette of greens and browns to give the tree color. It sprang to life from the top down," explained Hormay.
"This is the most impressive artistic and engineering feat that we have achieved since the original Sleeping Beauty castle at Disneyland," Rohde has said of the structure, which took more than 18 months to complete.
On the path to the theater, guests see a waterfall rushing from the tree into one of the feeding pools. They spot a dinosaur figure formed by the "dead" wood around the tree's base and continue to find others like an armadillo, an elephant, a camel, a baboon, a seahorse, a pelican, an eagle, and a rhino among dozens of others. Even the time of day will affect which animals are clearly seen and which are partially hidden in shadow.
"We want our visitors to wander up to the tree, to recognize animals and seek out others," said Hormay. "Some are more recognizable, some are less so. It's a constant discovery and rediscovery."
At one point, the base of the tree was to have had the Root Restaurant, which would have been the high-class eatery at the park. Imagineer Bryan Jowers did concept artwork for a "Wonders of Nature" show to be performed there instead. Imagineer Dave Minichiello did concept artwork for a "Lion King" character show that later evolved and moved to a different area of the park.
It was then-CEO Michael Eisner who suggested creating an attraction inspired by the in-production Pixar animated feature "A Bug's Life" (1998). The nine-minute film "It's Tough To Be A Bug" opened in the Tree's 430-seat interactive theater seven months before the release of the film itself. Hosted by the ant Flik from the movie, this 3-D experience of film and audio-animatronics tries to educate people that insects actually help people and the environment.
Surrounding the Tree of Life are the Discovery Island Trails — a quiet area of pools, meadows and trees that are home to an ever-changing assortment of animals. Over the years, these have included flamingoes, otters, lemurs, tamarins, axis deer, cranes, storks, cockatoos, tortoises and red kangaroos. They are separated from the guests by "invisible" barriers, so they appear as if they are in their natural environment.
In February 2015, the roots of the Tree of Life in Disney's Animal Kingdom expanded into the central hub area, bringing guests a closer look at the craftsmanship of Disney sculpture. Within those roots, guests discovered carvings of new animals that make up the circle of life, from tiny bugs to large crocodiles and more. The new roots also allowed for a widened walkway.
The Walt Disney Company President Frank Wells, who was a big proponent of Animal Kingdom, died in 1994. Upon his death, budgets were slashed and things that had been announced for Disney's Animal Kingdom were eliminated, but the Tree of Life continued to grow until it became the inspirational icon that it is today.
= = = = = = = = = = = = =
RELATED LINKS
= = = = = = = = = = = = =
— Tree of Life page
— It's Tough to be a Bug attraction page
— Discovery Island Trails attraction page
— New Carvings Unveiled
Other features from the Walt Disney World Chronicles series by Jim Korkis can be found in the AllEars® Archives.
Jim also writes occasionally for the AllEars® Guest Blog, contributing entries under the heading of "Jim's Attic."
-=-=-=-=-=-=-=-=-=-=-
ABOUT THE AUTHOR:
Disney Historian and regular AllEars® Columnist Jim Korkis has written hundreds of articles about all things Disney for more than three decades. As a former Walt Disney World cast member, Korkis has used his skills and historical knowledge with Disney Entertainment, Imagineering, Disney Design Group, Yellow Shoes Marketing, Disney Cruise Line, Disney Feature Animation Florida, Disney Institute, WDW Travel Company, Disney Vacation Club and many other departments.
He is the author of several books, available in both paperback and Kindle versions. You can purchase them via our AllEars.Net Amazon.com store HERE.
-o-o-o-o-o-o-o-o-o-o-o-
Editor's Note: This story/information was accurate when it was published. Please be sure to confirm all current rates, information and other details before planning your trip.