Walt Disney World's Magic Kingdom has some of our favorite rides in all the parks, but how could we possibly rank them all? Luckily, we don't have to!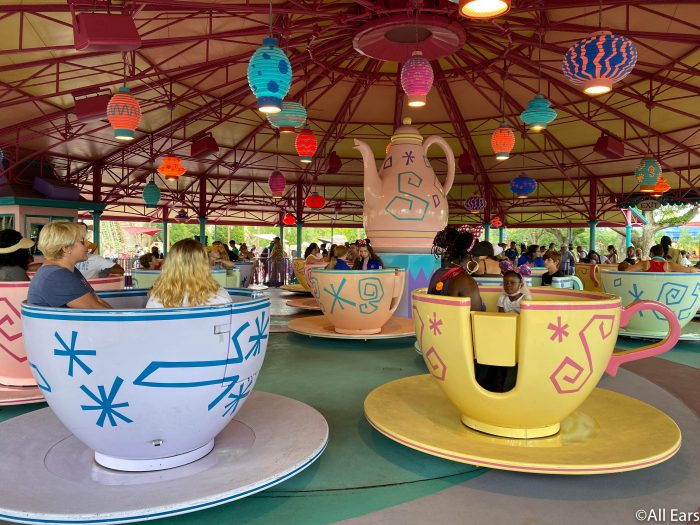 We decided to see how YOU have ranked the rides at Magic Kingdom through your AllEars reviews, so this list is all thanks to our readers — thank you for your feedback!
Score: 5.18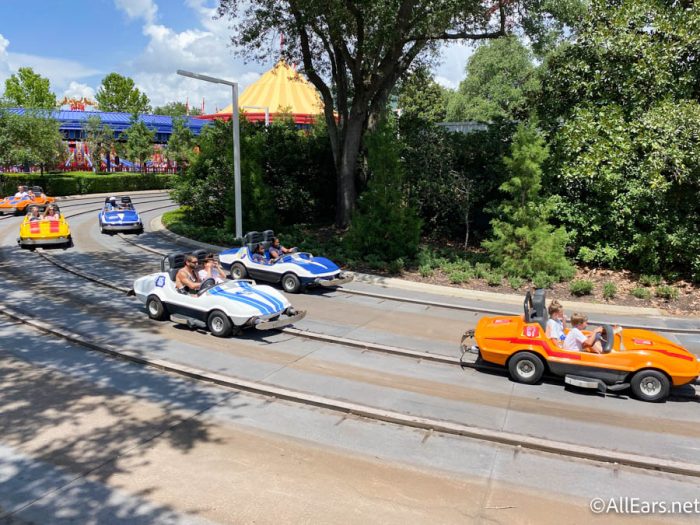 "Almost always a skip for me. Bumpy and mostly unpleasant. Can see how this would be more fun for the younger crowd."
"I remember loving it as a kid, I don't see how. It is stinky and un-futuristic. It is hard to drive and it is goes very slow. Disney should get NASCAR to sponsor it so it will be refurbished. I would love to see it in better shape."
"I remember enjoying this ride as a child but I recently rode this and don't know what I used to like about it. The smell is terrible (those poor cast members) and the track is much shorter with the addition of the Tron coaster. The cars are hard to drive and if you get stuck behind a slow driver the ride becomes unbearable. Would probably skip this even if it were a walk on."
Score: 5.57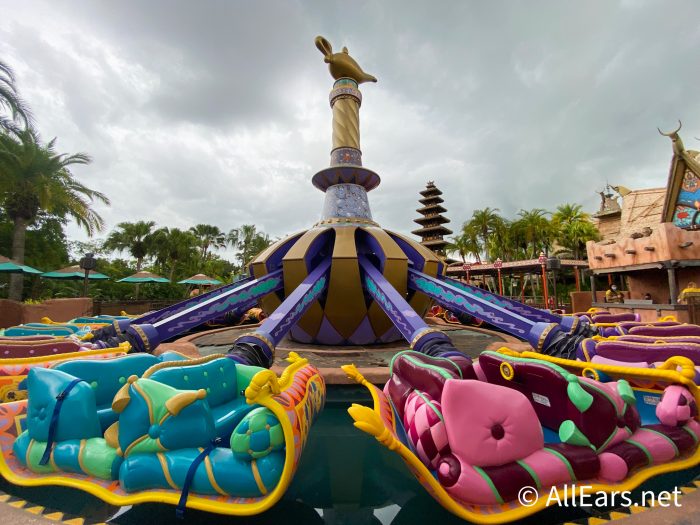 "Too similar to Dumbo, but not as original."
"I did this ride the first time I went to Disney. Definitely better than the Dumbo Ride because of the spitting camel. Still not a must do for me and my family but can be very appreciated by little ones who don't want to do thrill rides."
"My kid lived the spitting camel, but other than that it was another dumbo like ride. Ok if you don't have to wait a long time."
Score: 5.72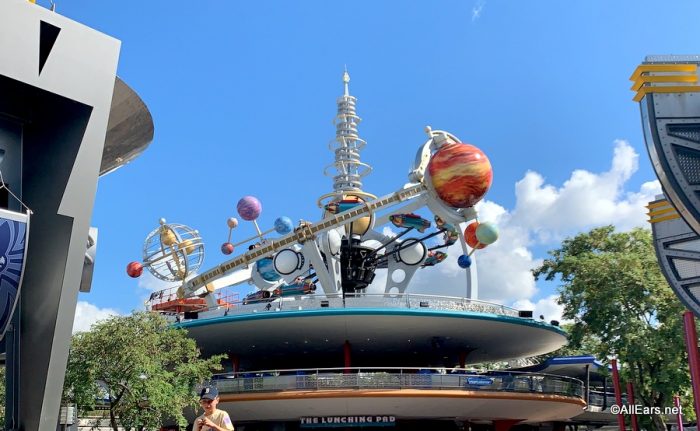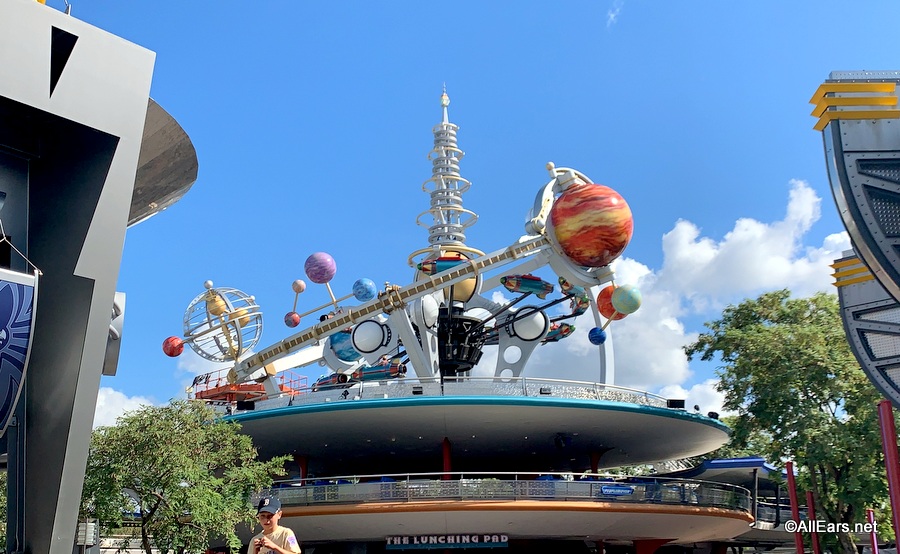 "Although many people think of it as cool because of its height and elevator ride, this ride is not worth its wait. The ships are not the most comfortable vehicles to sit in, especially if you are riding with another person. Definitely not a must do in the Magic Kingdom."
"It is a fun attraction with great views! Personally I would rather ride this than Dumbo! Not a must do though! When I went to Disney World last I was put in a rocket with my mom! It was very crammed, but we had fun and laughed about it!"
"This is like Dumbo with Space Mountain theming. I never cared for this ride and still don't ride it when I go to Disney World. I don't mind heights as I love thrill rides, but this is a complete waste of a long line."
Score: 6.09
"Grab some popcorn from the popcorn cart right across from the riverboat entrance and go on a relaxing ride. It does make you feel calm even though you're in the middle of a bustling theme park."
"It's a big boat with all the romance of river voyages of the 19th century. I have to ride this every time it is available. Honestly a must do for any seeking a great time. It's also the fastest way to get around the island and back to where you departed."
"Need to rest your feet? Have a boat loving kid? This experience (I wouldn't really call it a ride) is for you! A gentle journey around the Rivers of America. We sat on a box on the front of the boat and rested our feet for the 20 minute ride. Is it thrilling? Nope. Is it modernly educational? Nope. It may not be the ride you want, but sometimes, it's the ride you need."
Score: 6.09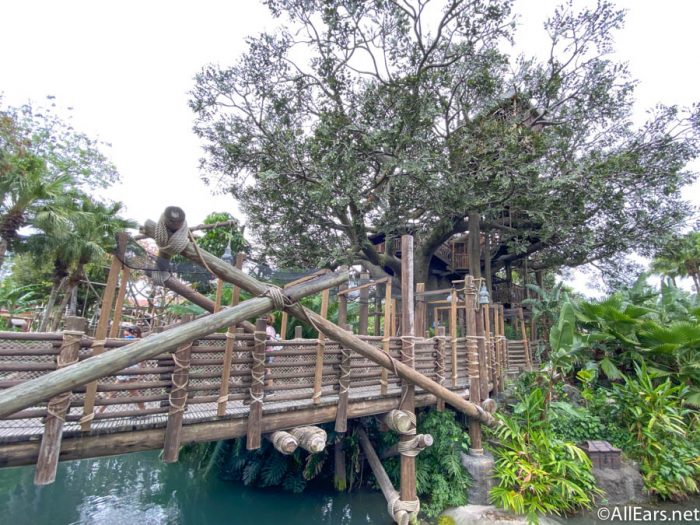 "We literally walk past every time. Just tear it down and build something fun. Nobody wants to climb a tree house up and down stairs for no ride or entertainment. I mean you might, but seriously just build something else in its place."
"Swiss Family Treehouse is ok. It's not anything you have to do. Worry about the bigger attractions. If you have some time and want to get away from the crowds, this is a perfect place to go. It's hidden in the trees with some great history and secrets."
"Now I know a lot of people say this is boring, but I find it sweet and a great break from all the rides and the heat. I love the old movie, and this is like being there. It is much better than the updated Tarzan tree house in Disneyland. If you don't want to climb stairs, then avoid it."
Score: 6.31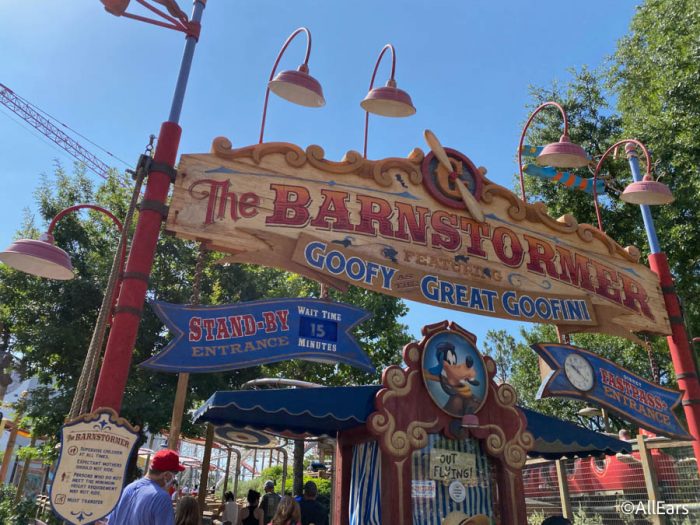 "Great first coaster. My four year old was warmed up to coasters after and advanced to expedition Everest by the end of the trip!"
"A great beginning coaster for kids. Fun and over quickly if your child doesn't like it. However, not worth a long wait."
"Young kids will love this. It is a mild coaster that despite being relatively short, is a fun ride. I'm not sure if I am in the minority on this or if perhaps I hallucinate whenever I ride this, but the plastic "cushion" backing in your seat hurts my back immensely whenever I ride, but I have never heard anyone else complain about it so perhaps I just need to see a chiropractor."
Score: 6.47
"Typical carousel, but with Disney music. Not a must do but we will ride if there is a short line."
"This type of ride is what inspired Walt to create Disneyland. I love it for the nostalgia and the reminder of my childhood."
"We adore the carrousel. Its an absolute must when in the parks. After all, its the reason we actually have these beautiful parks to begin with. I give it a 10 because even though it is "Just a carrousel" its the best carrousel Ive ever been on."
Score: 7.17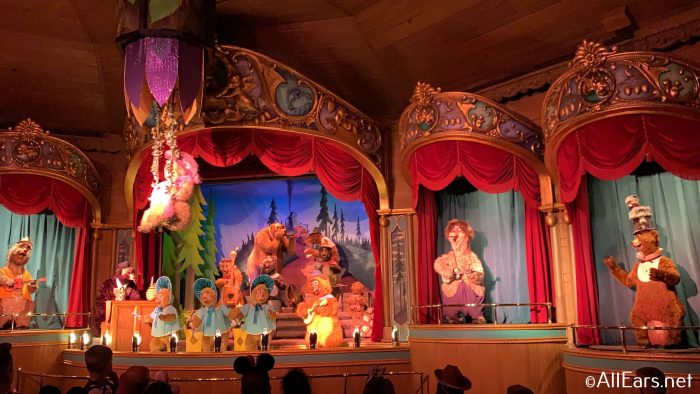 "Though this show scares me a bit, I agree that everyone should see it once. The music was not for me but it's a good piece of Disney history."
"You notice a lot of different things when you watch this as a kid vs when you watch this as an adult. As a kid I just thought it was a funny show with music that had cool animatronics. It's more eye-opening when you watch it as an adult. The adult humor is not even noticeable to children which makes it a good attraction for adults too while adding some laughter."
"For the bears to be animatronics, the crowd was cheeeing and clapping the whole time. I always skipped this before our most recent trip so I wanted to do it this time. The three heads on the wall are so entertaining during the show. I love the bears standing outside in between shows as well. Was it a must do in my opinion, no. But it gave the kids a break from the heat and allowed them to sit down for a few minutes."
Score 7.24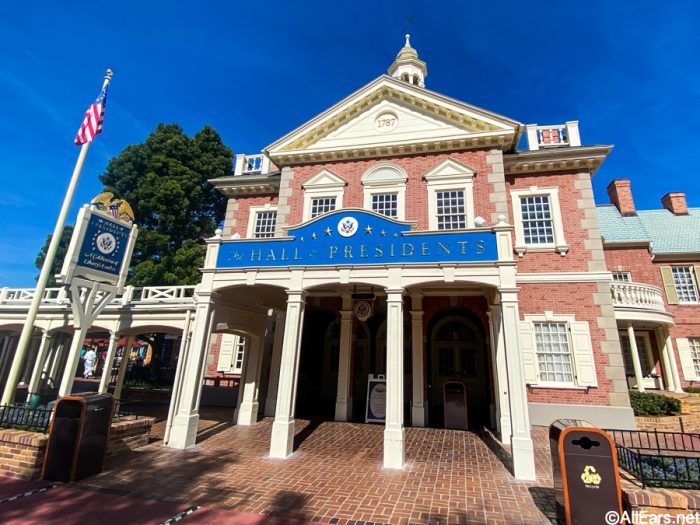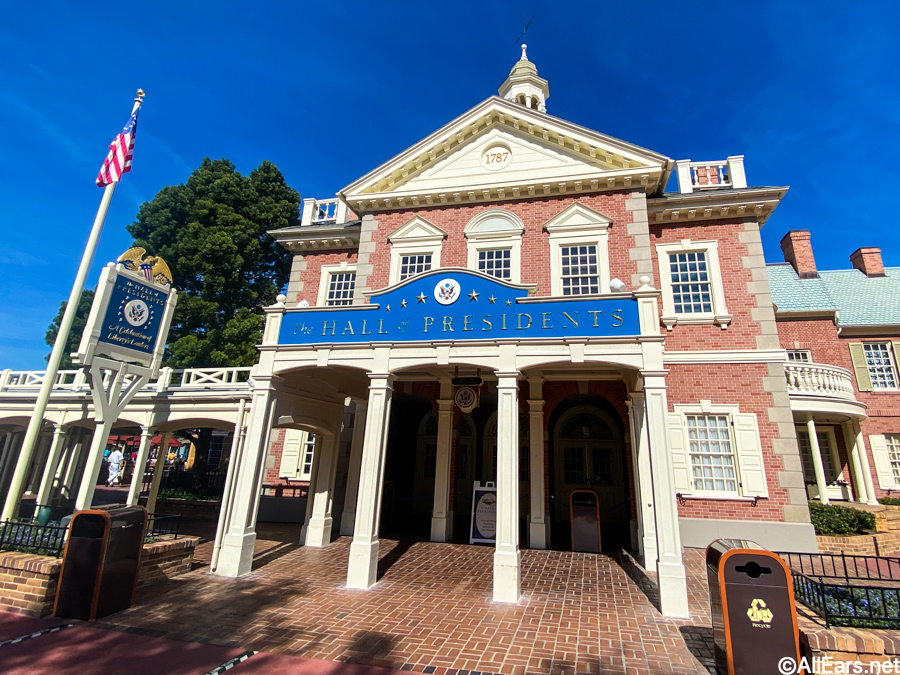 "Great place if you or a family member or friend love history. I haven't been to see this in a while but that animatronics are really impressive. I still like this one even after being terrified by a behind the scenes tour of this attraction in elementary. (The animatronics are not as fun in "rest" mode)"
"I was honestly surprised how much we enjoyed this. It was very entertaining and interesting to my husband and I and our kids (ages 5 and 2) were even mildly interested and entertained."
"If you want a 20-30 minute show about American History, go to the American Adventure in EPCOT. The show here is not what you should go for. You go to see the animatronics. These bad boys still hold up (probably because our distance from them on stage) and I love seeing all the presidents together up there. If you have time try and do it, but don't stress if you can't make it."
Score: 7.37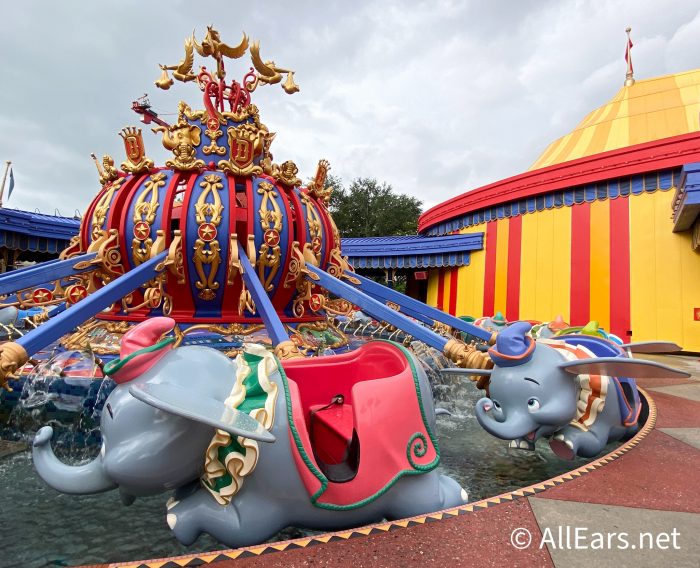 "The ride that is in all WDW commercials and it made me feel like I "made it" to WDW when I rode it on my first trip! Its my pick for your first ride on your first trip."
"Rite of passage for WDW 1st timers & a Disney classic! It's even better since the queue received its update with the big tent play area. My kids loved the play area & the ride."
"Cute and classic, nothing I can say hasn't been said a hundred times over. It is a must do at least once and is quite whimsical. Like most attractions that sort of let you fly in the air, I recommend doing it at night to see the park at night from your elephant."
Score: 7.38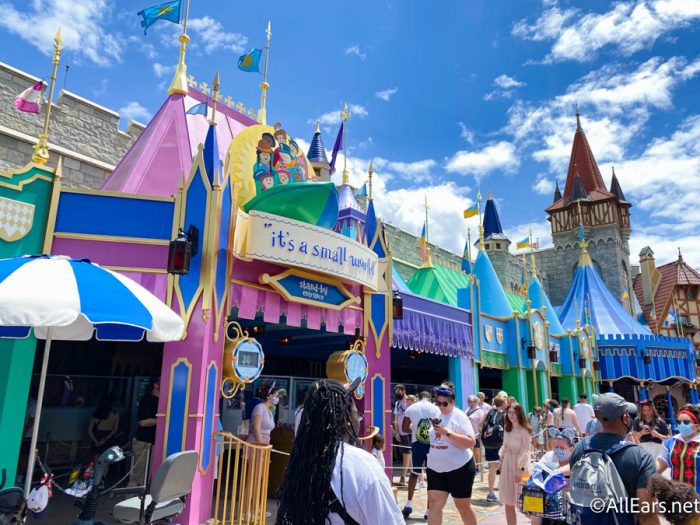 "An absolute classic! Seriously, who doesn't love this ride?! This is a ride my family prioritizes every time we visit Magic Kingdom, and this is one of our favourite rides in all of Disney! Personally, I love the song even though it gets stuck in my head for about a week after riding but I don't care! The different scenes on the attraction are so well done even though some may say they are a bit dated but I think that is what's great about them. This is one of the most beloved attractions and for good reason. You need to do it at least once because that ride is pure Disney magic!"
"This is one of my favorite rides at Magic Kingdom, maybe in the entire park. Some people don't like the song, but to me, it is calming and a chance to get some air conditioning. I would go to say that the wait does get long but if it is 20 or below it is totally worth it, for me a complete must ride. My family loves this one. I would say plan on your trip to go to this one, I am sure that the song and absolute beauty of the ride will shock you and make you ride it twice."
"This ride is an all time classic. I can't stand people who whine about this ride. People who whine about the song get on my nerves. It is classic Disney song and ride and I don't want to hear your whining. So just keep quiet and let us enjoy it!!!"
Score: 7.4
"Another classic Disney ride and the wait times usually aren't terrible. The seating is small and with four people in a tea cup we were extremely uncomfortable. But overall it's fun because the kids love trying to spin it as fast as they can. It's always a must do for us, but not something we have to do over and over again."
"This is an absolute classic! Some people do tend to get nauseous from all the spinning. DO NOT RIDE AFTER EATING ANYTHING! I do enjoy this ride and it is sure fun."
"This is a good ride! It's your typical spinning ride with an Alice in Wonderland twist. As a massive Alice in Wonderland fan I personally love this ride a little more than the normal person, but even if you're not like me I believe you could still enjoy it. There are some down sides however, the teacups are pretty tight so a big party may have to be in separate cups, if your prone to motion sickness this is probably not the ride for you, and this ride may be boring to some people because it's just a spinning ride."
Score: 7.54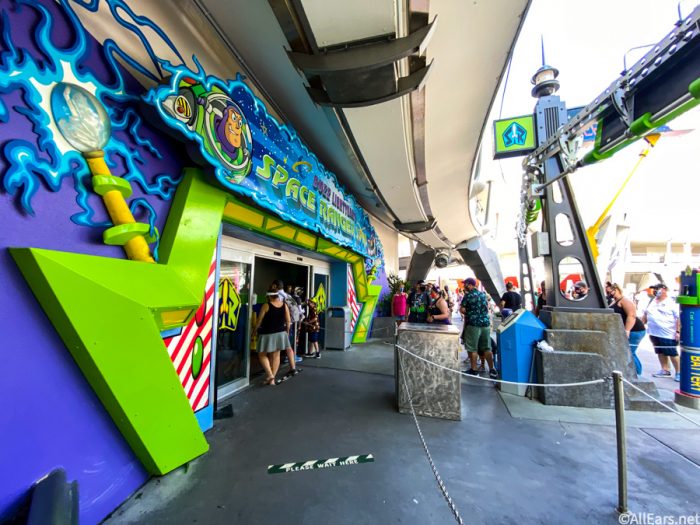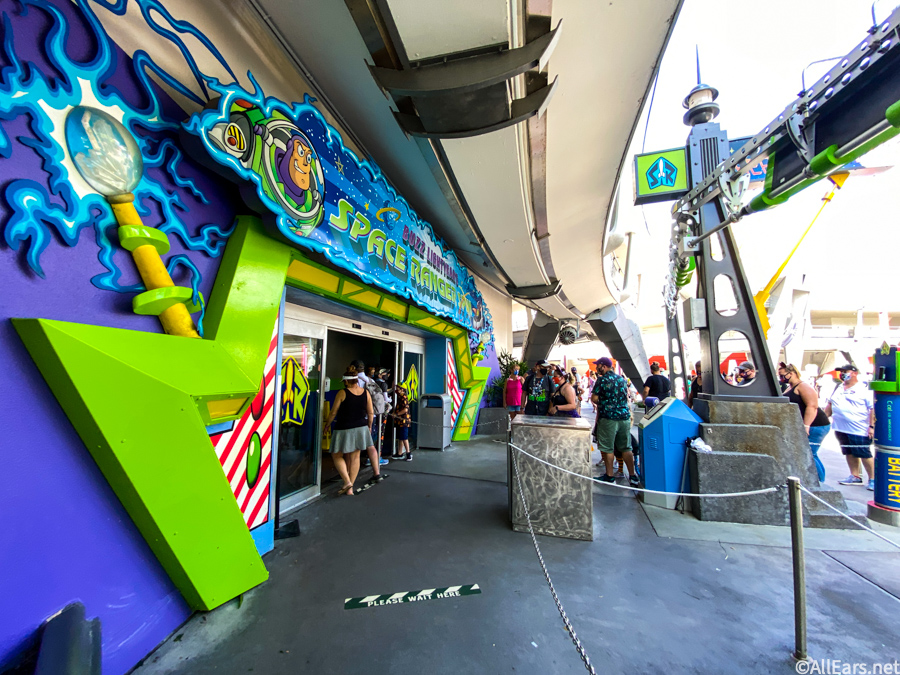 "Fun, but could use an update. Sometimes I get a laser gun that needs to be calibrated. Last time I rode we were stuck tunnel where you shoot Zurg's spaceship for 30 minutes, they turned on the lights but we didn't need to be evacuated. STILL I recommend this and we ride every trip."
"Your love of this ride may depend on how good you are at it. I used to be terrible and found it much less fun but now I know the tricks and love it. If you're competitive like me check out the tips and tricks to getting more points before riding."
"It's like entering into your favorite arcade video game. My husband and I love this ride! We love competing against one another and trying to get that high score. If you manage to get that 99999, let the cast members know and you get a special sticker."
Score: 7.83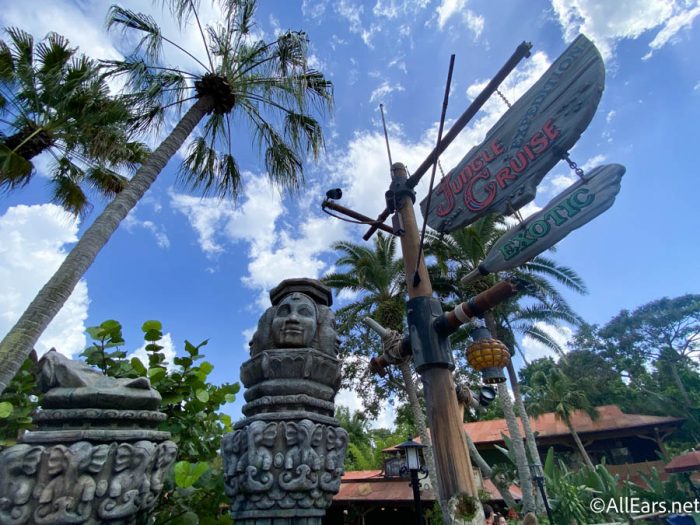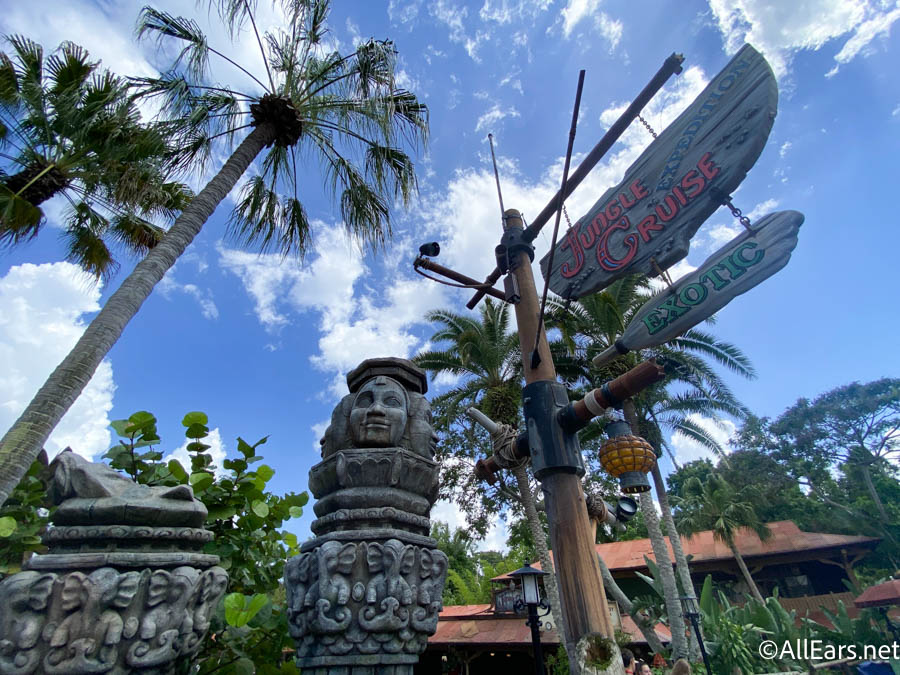 "I have mixed feelings about this. The ride itself, great. The comfortability of the seating itself, not great. If I could redo the vehicles themselves I think I'd like it more. I'm always stuck in the sun, or like last time in a spot where the rain was literally pouring on me. Overall though, the skippers make this ride a must do. They can be hit or miss though because you can get a boat with a bad intercom or a very quiet group of people with you. I always try and play along to help the cast members feel comfortable."
"I enjoy this ride. Even though it has long wait times but its also a ride that can get you off your feet for a few. I understand the animals are not real but being one of the original rides in the Magic Kingdom and still running is amazing!! I have to agree it depends on the skipper to make the ride enjoyable."
"A classic Disney attraction. The witty guide makes the ride. If you visit the Magic Kingdom, make sure to ride Jungle Cruise. Even though usually the wait is around 40 minutes, sometimes it dips. The reason this review is not 10/10 is because our guide's microphone kept cutting in and out. Of course, the guide make a joke out of it saying that a billion dollar company could not purchase quality microphones."
Score: 7.91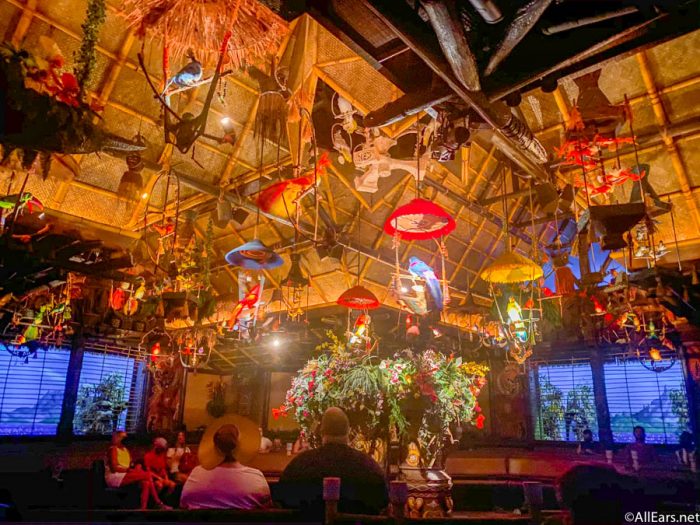 "Definitely a Disney classic that everyone has to do at least once. Very entertaining though that song got really annoying really fast for me. I would recommend making sure you look around the whole room because I was just as impressed with the tiki's and the flowers as the birds themselves."
"A Walt Disney classic. If you're into Disney history, this is a must do! My son absolutely loves the tiki gods. He laughed so hard when the totem poles started singing. Plus it's a great place to get out of the heat and sit in some wonderful air conditioning."
"Sure this is one of the oldest attractions for Disneyland and WDW, but it is creative and entertaining for everyone."
Score: 8.14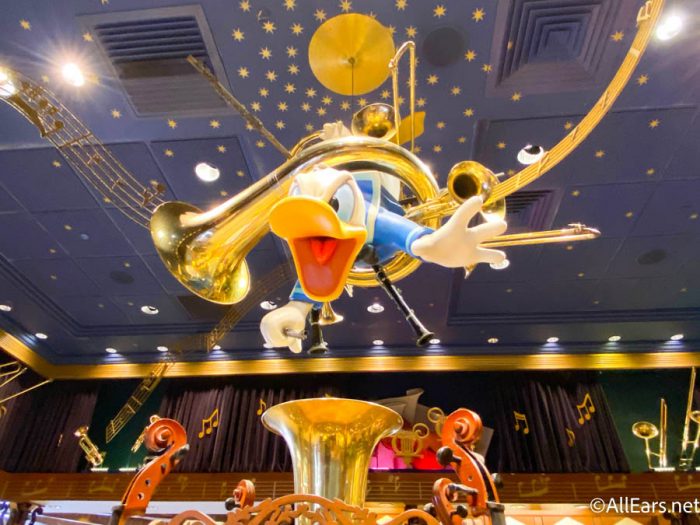 "I saw this for the first time in a while and I don't know if it was the mask or what, but the glasses made it not too easy to see. Kids in the theater didn't seem too interested in it, mine included. But it's a good indoor attraction in ac and seating for a place to wind down for a few minutes. The songs were great and I love all the characters in it, but again the 3D wasn't too easily seen so it could have been better."
"I love this show!! It has to be one of the best ways to also get out of the heat and get some air conditioning. You just can't stop laughing at Donald Duck and him trying to get the magic hat. It's a must do if you have time to put aside for a good laugh!! And it's in 3D!! I love it no matter how many times I see it!"
"Such a nice sit down show. A great entertaining break to sit down in the AC."
Score: 8.15
"The queue is equally as fun as the ride and in my opinion, it is the best queue in the parks! It is so immersive and has so many cool features. This ride is so simple yet so fun. The background music on the ride is great and the different scenes in the ride are just like the film! I am so happy that Peter Pan is so well represented in the parks. Lots of people mention how there is usually a very long wait upwards of forty minutes for an attraction that only lasts about two minutes and I agree that it may be underwhelming for some because of how long the waits can get. Even though I adore this attraction, I wouldn't wait any longer than 30 minutes for it."
"Adore this ride! So much nostalgia for me on this one loved watching this movie growing up. Love that the cast members use pixie dust to make the ship fly. That queue is amazing. Love all the little details such as Nana's picture and Tinkerbell flying around the room. Definitely a must do everytime. Its a dark ride so don't waste the experience taking pictures just sit back and enjoy!"
"Does it get more classic than this ride?!?? Hope it is around always."
Score: 8.22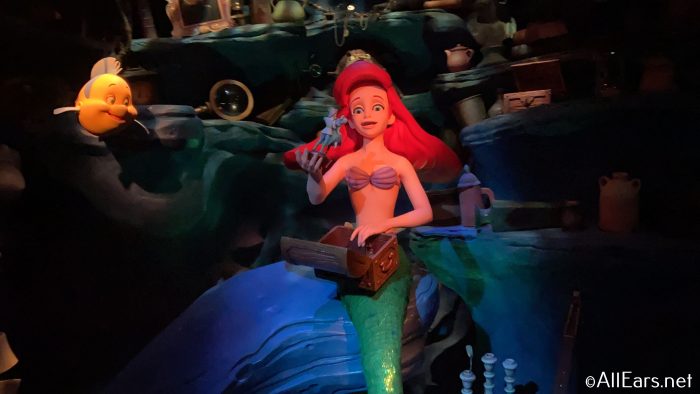 "This is such a fun family ride in Fantasyland! I think the ride is so much fun and even though the animatronics may not be the most impressive, I think they are the perfect fit for this ride. I am always impressed with how realistic the Ursula animatronic is (Sorry, Molly) and I think overall, this is a fun ride that will please travelers in your party. I think the soundtrack is awesome and overall, this ride just has a fun vibe! While it may not be the most exciting ride and it may not be the highest priority for some people, I think this is a fun filler attraction, but I wouldn't wait any more than 30 minutes for it."
"Love this ride! Takes you right in to the movie with great animatronics."
"I love journeying under the sea with Ariel! The ride perfectly portrays one of the wonderful Renaissance Disney movies with vibrant colors, dancing sea turtles, and all the classic songs from TLM."
Score: 8.37
"It is an awesome ride and tells a great story. It also has a cute soundtrack and will leave you and your family singing it for the rest of the day."
"This is a must do when I go by myself but when I go with kids they always get bored and the ride is dated so yeah I recommend it because it is also educational."
"I will always go on this when I visit Magic Kingdom. The history alone is worth it but I understand how this would not be good for your kids. I find the outdated parts funny and kind of don't ever want them to change."
Score: 8.37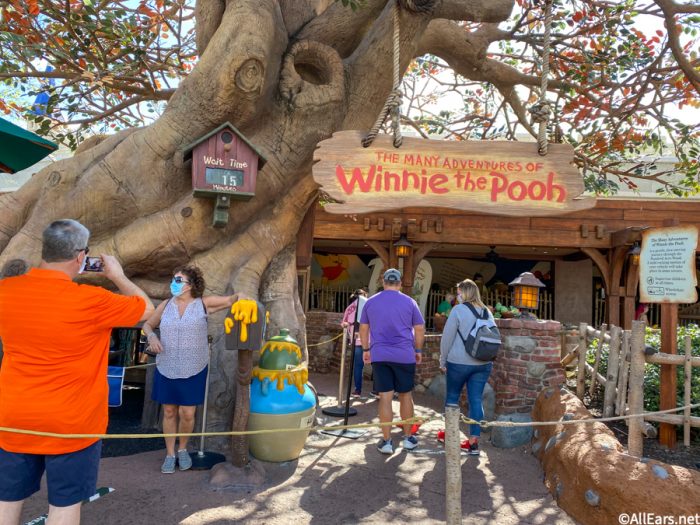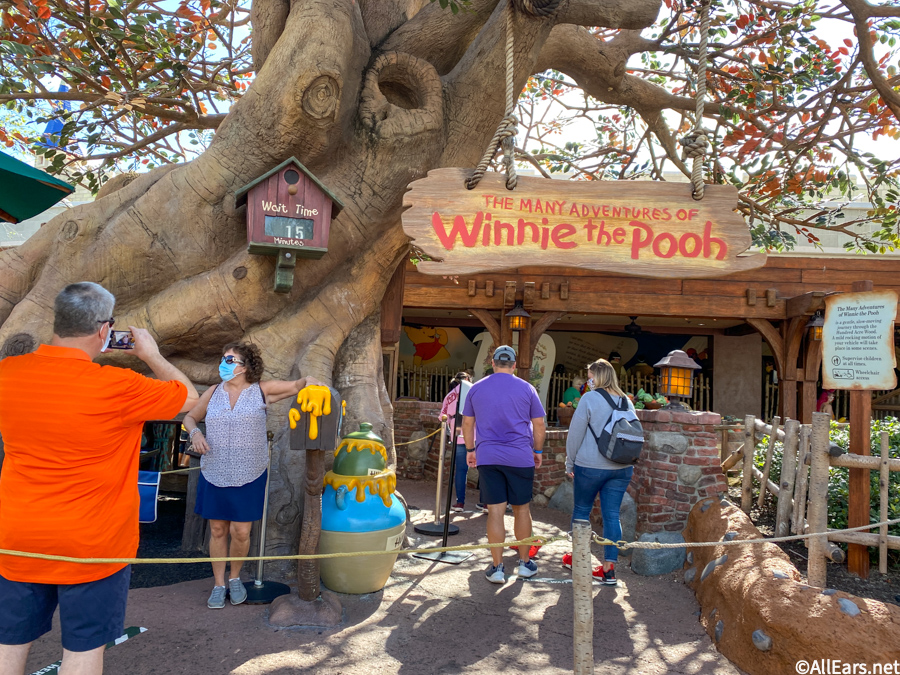 "A fun little ride that is great for kids (both big and small). Usually has a shorter wait than other similar dark rides. The queue is fun when it's open. I find the honey smell to give me a headache after a while so that is something to watch out for."
"I absolutely adore this attraction! It is a wonderful dark ride that doesn't usually have a long wait. It is very underrated compared to the other rides in Fantasyland. This is a very fun family ride in Fantasyland, and it is a must do for my family on every trip to the Magic Kingdom! It may not be a thrill ride or the most technologically advanced as some of the most recent editions to the parks, but it is a delight, and it is a nice way to get out of the Florida sun! All though I love this attraction, I wouldn't wait more than twenty minutes for it."
"It's cute, fun for younger kids. My ten year old refused to ride it because it wasn't thrilling enough for him. My four year old liked it, but for the wait it was over pretty quickly. I would recommend experiencing it at least once, especially if you love Winnie the Pooh, but I wouldn't wait too long for it. We waited about 25 and it was too long in my opinion."
Score: 8.45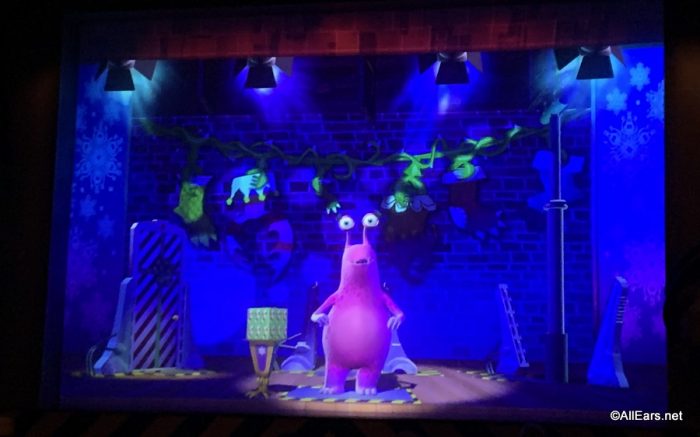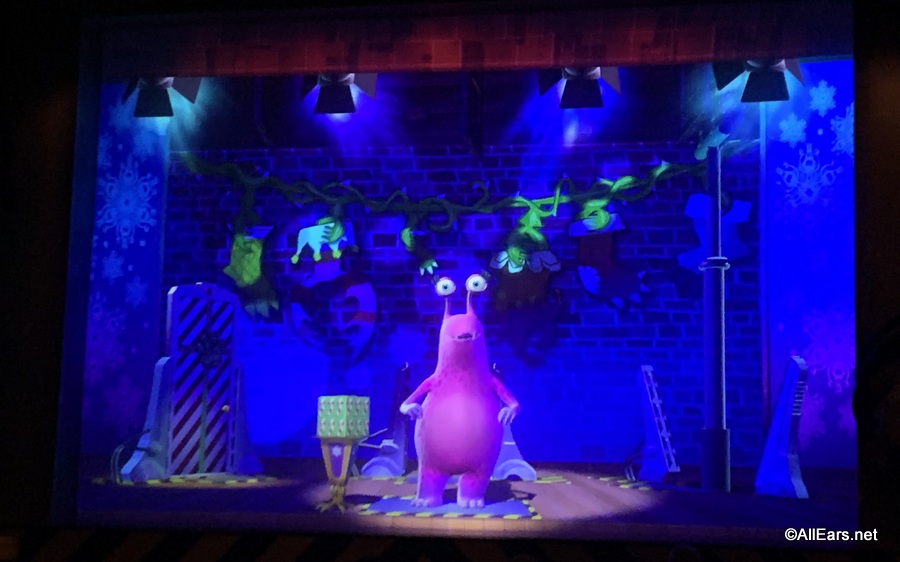 "Fun for all ages! Nice sit down, air conditioned and entertaining for the whole family."
"Such a cute interactive show! I love that it makes you feel like you are in an actual comedy club! I love how the monsters pick out audience members to participate. Literally the best part! I laugh so hard everytime! So sad its not open right now. Definitely a great show for kiddos."
"Really funny comedy show. Very interactive for the audience. The show has the potential to be a different experience every time."
Score: 8.49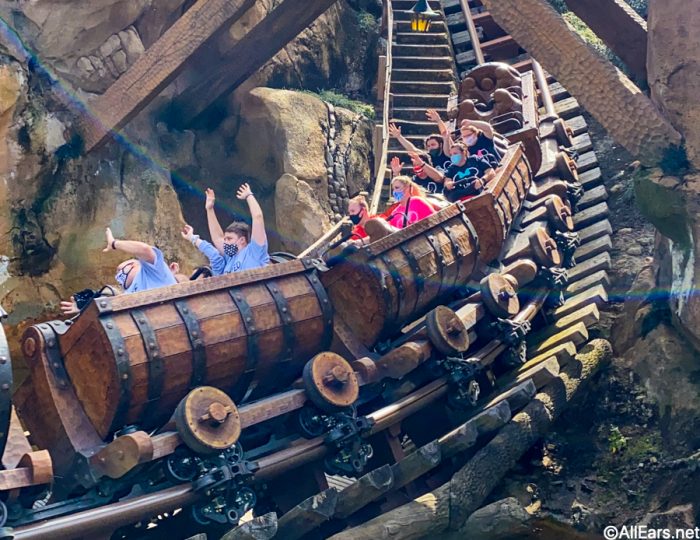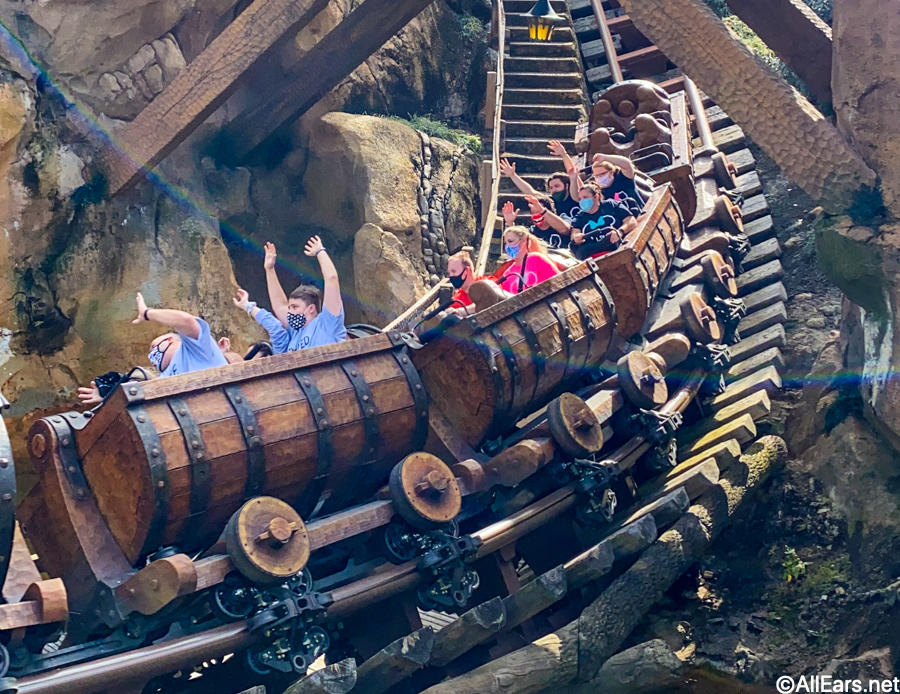 "I was a little disappointed in this ride. I remember seeing it being built back in early 2013 and was excited to ride it the next time I came back. I had to wait until 2018 to ride and I personally did not think the ride lived up to its hype. Sure it was cool being able to swing the vehicle from side to side and go through the mine, but the ride was way too short and had no thrilling aspect to it. This ride also has one of the longest waits in Disney. I think you should wait up to 30 minutes only for it."
"I would like to formally apologize to all who have had to hear me sing Heigh Ho while on this. This coaster is simply amazing and such a smooth ride. Keep your eyes peeled for The Evil Queen at the end of the ride."
"Great ride! The swinging cars, the change from coaster to dark ride and back again, the dwarves in the mine always hype people up for another go in the track, and great photo ops with video of the train going by in memory maker. Even the end is adorable with the dwarves all dancing around and the witch outside the hut."
Score: 8.91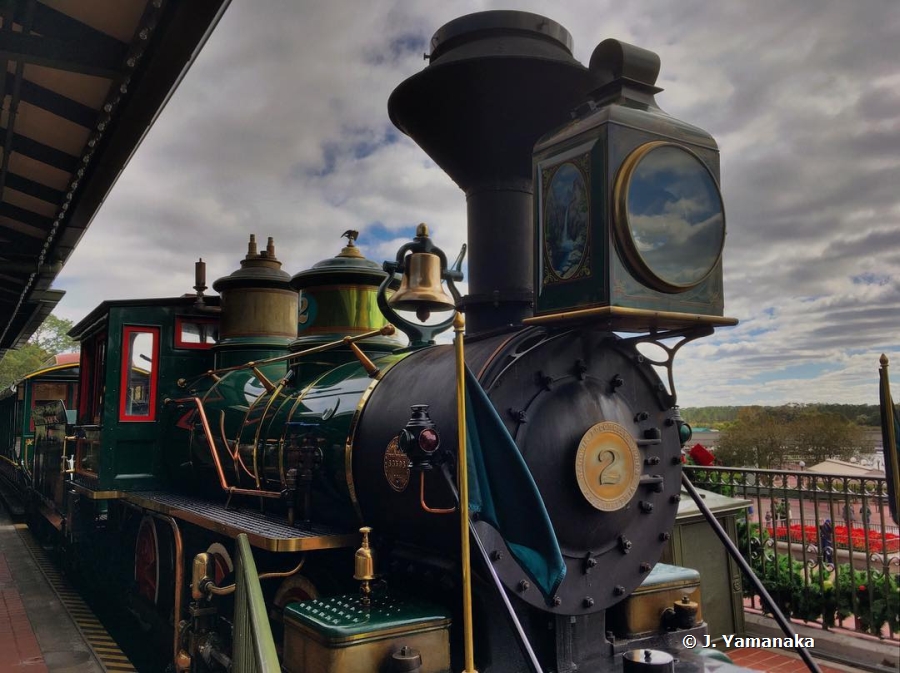 "I love the WDW Railroad; not only is it a great, relaxing way to get from one area of the park to another, it's an attraction itself. I love seeing the views of the park from the train while listening to the commentary over the speakers."
"Great, relaxing way to get around the park. Good for transportation from one side to the other without having to walk through the crowds too."
"In my opinion, it is your run of the mill train ride. Similar to what you will find at almost every amusement park and zoo in the country. It will get you from the point A to point B with a little entertainment. But, if you're in a hurry, it may be faster to walk."
Score: 8.98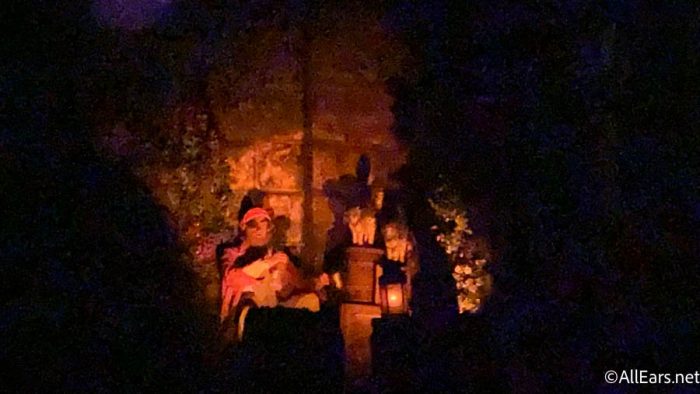 "Love love love this ride!! Even through all the changes, refurbs, and additions over many years it aims to please. It has a great theme, it has jack sparrow now, it's a boat ride with a small drop, and it smells awesome in here. Every refurb has brought more joy each time, which can't be said about all of Disney's ride changes."
"I absolutely love this ride. One of my favorites in the Magic Kingdom. It is such as classic, even though it wasn't a opening day attraction. I love the drop that happens in the beginning! The queue is very immersive, and heavily pirate themed. I absolutely love seeing the Jack Sparrow animatronic! I think he's so cool, and I cannot get the theme song out of my head! It has me singing, " Yo ho yo ho a pirate's life for me" on and off the ride. A must do for me! Such a fun ride!"
"Love this ride! The queue is very immersive. Love seeing Captain Jack Sparrow. Felt there was a lot to see in each scene however the boats moved pretty quickly through. Definitely a must do. Would consider rope dropping due to popularity and increased wait times."
Score: 9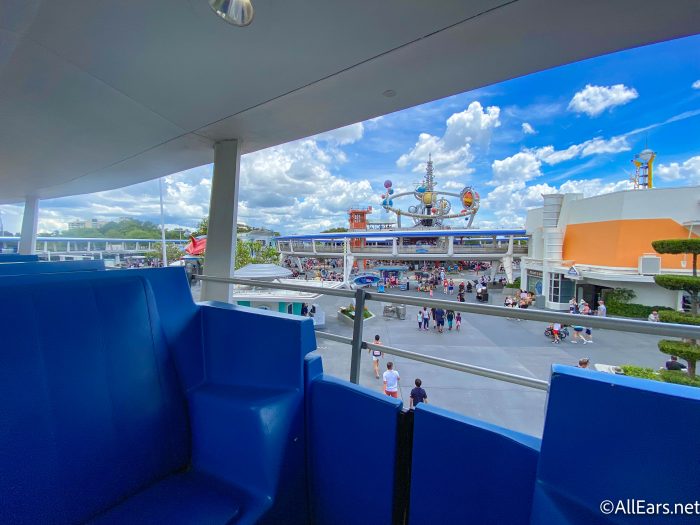 "It's like a vacation from your vacation! You can relax and be treated to the Tomorrowland sites and pretty castle views. A must do!"
"Very fun ride that is a must visit for me and my crew at least once when we go to Magic Kingdom. Great views of Tomorrowland and great music and narration as well. Ride at night with the lights of Tomorrowland is incredibly pretty."
"To new park goers it would seem silly to give the PeopleMover a 10/10 but anybody who's been going to the parks for awhile knows that this attraction IS Tomorrowland. The essence of what Disney tried to achieve in designing the original land is embodied so well in this one ride."
Score: 9.13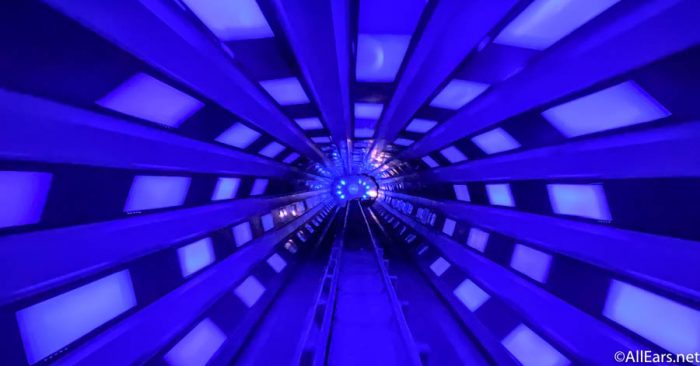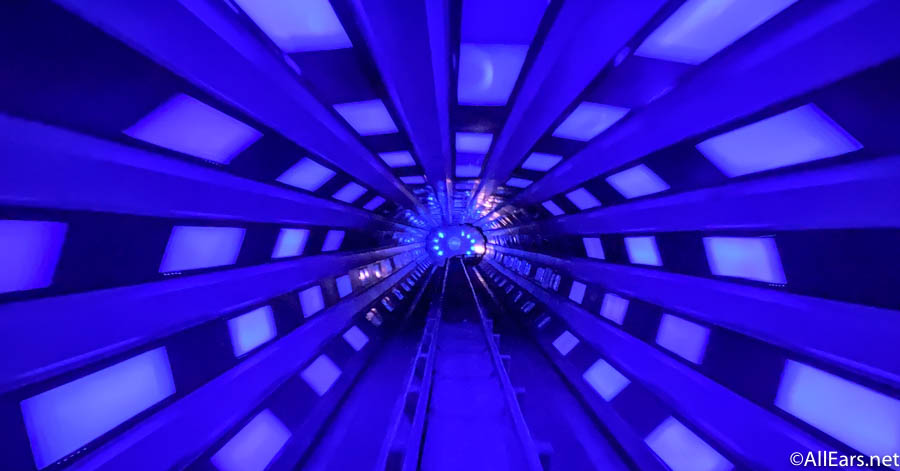 "My favorite mountain! I love the lights, the theming, the twists. It makes me laugh every time!"
"Easily one of the best coasters in Disney. It's a very deceiving ride in the dark. I seem to forget how much I get whipped around during this ride. With its quick turns and drops, this ride is easily a thriller. The Halloween version was interesting in the pitch black, but I still prefer the original version. I would say this is the next step up from Thunder Mountain if you are questioning whether or not to bring kids on it. Just remember the it is one person per seat, you do not get to sit next to each other."
"Always has been my favorite Disney ride. I have a whole back story as to why. Lol. I must admit it's very dated and you can tell the track is old but I cannot say much bad about space mountain. It's a must do and by far one of the more thrilling rides in magic kingdom. It's a coaster in the dark and feels much faster than it actually is, but I love it all the same."
Score: 9.3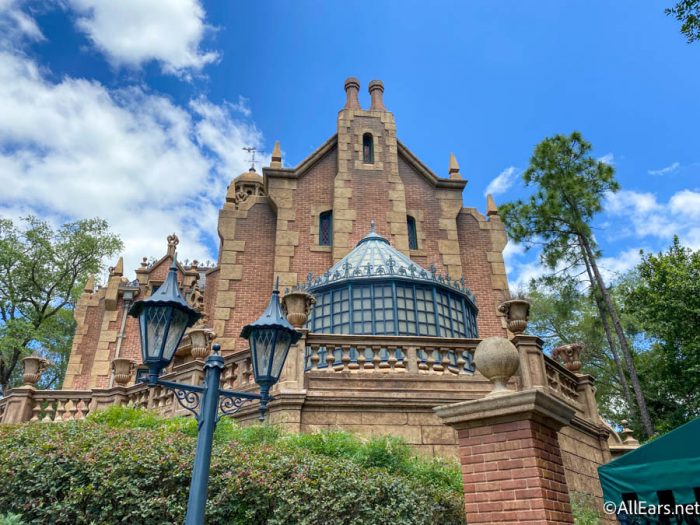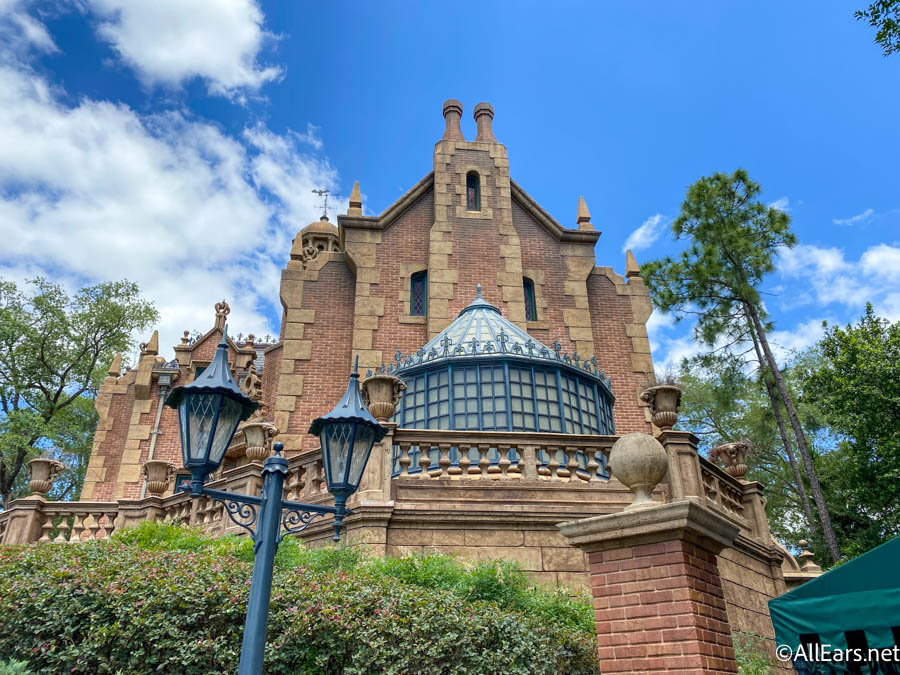 "My favorite ride in all of Disney World! I loved this from my first visit as a kid. Great theming, amazing pre-show, beautiful visuals. I would not recommend this for little kids because, even though I loved it, it may be too scary for them."
"This is the first ride my family goes on every time we visit Disney World. It's our tradition that we must ride this before any other ride. This is the definition of a classic Disney ride. I love the pre-show and I hope it comes back soon. The ride is a little spooky for kids, but it's nothing too extreme. Kids of all ages will love this ride."
"One of my favorites in all of Disney!! It has theming, it is an omni mover, it now has a photo op, hitch hiking ghosts, scary mixed with funny, and so much more! this attraction is great for all ages and is an absolute must do!!"
Score: 9.36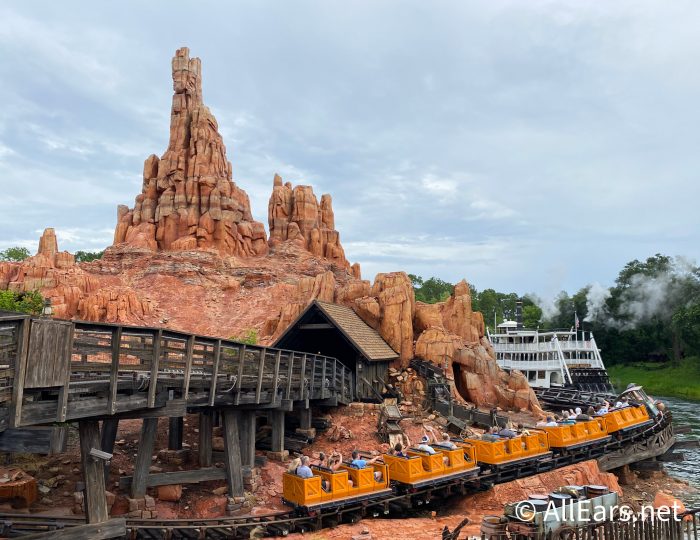 "The first rollercoaster I ever rode and it's still a must do for me when I go to the Magic Kingdom. Not too crazy and fun theming really makes you feel you're in the Wild West."
"As a kid, I always thought I'd outgrow this ride. Years later…. I still haven't. This ride is always a must do when my family goes to Disney World. When the Seven Dwarfs Mine Train opened back in 2013, it took away a lot of the wait time for Thunder Mountain. Thank God because Thunder Mountain is still better than the Mine Train in my opinion! The theming for this ride is incredible and I can't believe how underrated this ride still is."
"This is still my favorite ride at the Magic Kingdom. My family agrees that it is better that Seven Dwarfs Mine Train with half the wait time. Iconic Disney ride. Love!"
Score: 9.69
"Great log ride. I like that you can seat two people per row, that it has multiple drops, and that it's also a dark ride with outdoor areas as well. I cannot wait for the refurb as nobody really knows about Brer Rabbit like they used to. It's still a very fun ride track no matter what theming it currently has."
"Awesome ride! I love it so much! Amazing music, fun story, and the best drops in all of Magic Kingdom! I think this ride is for everyone (being they like steep drops and some scary parts). My family loves this ride, and it is a must do every time."
"I LOVE this ride! It really reminds me of all the fun I had when I rode this. This is the perfect log flume / coaster combination. The animatronic characters and the joyful soundtrack creates a really immersive ride experience. The fifty foot drop is the icing on the cake. Prepare to get very wet, but definitely ride it."
So what do you think? How did your favorite Disney World ride rank? Be sure to give us your thoughts!
What's your favorite and least-favorite ride at Magic Kingdom? Let us know in the comments!
Join the AllEars.net Newsletter to stay on top of ALL the breaking Disney News! You'll also get access to AllEars tips, reviews, trivia, and MORE! Click here to Subscribe!