Welcome to the 2021 Taste of EPCOT International Flower & Garden Festival! It may be hard to believe but we're already at Flower & Garden season — last year's festival, of course, was cut short drastically by Disney World's temporary closure. So, we've been looking forward to the 2021 festival for quite some time!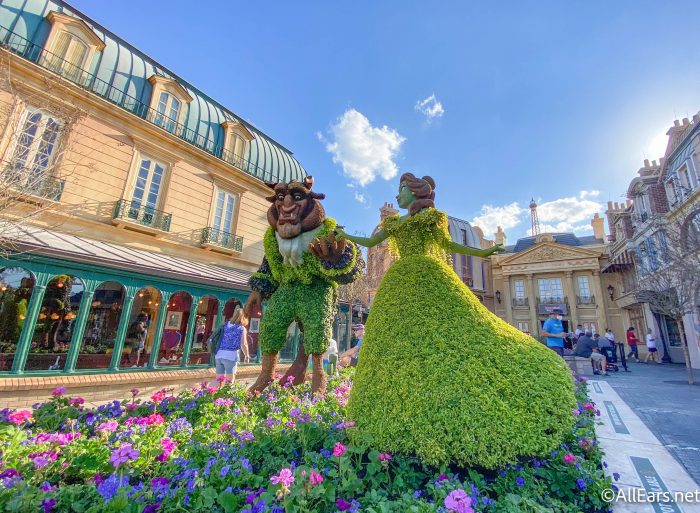 Like the other "Taste of" Festivals that have occurred since July of 2020, there are all the same health and safety protocol in place. While the festival may look a little different than years past, it's sure to include tons of yummy eats, one-of-a-kind merchandise, and much more!
Let's take a look at this year's Flower & Garden Festival!
When we first entered EPCOT this morning, we were thrilled to see all the gorgeous topiaries out to welcome guests. And, we even spotted some brand NEW things at the entrance! Guests can now listen to an updated soundtrack when they walk in…
We just arrived at Epcot for the Flower and Garden Festival and spotted new flags and entrance music! pic.twitter.com/BSsGbVirLt

— AllEars.Net (@AllEarsNet) March 3, 2021
…as well as see a color-coordinated light ribbon around the rim of the plaza this evening to go along with the latest fountain lighting to brighten up the park!
As EPCOT continues to reimagined its entrance, new additions have made their way into the design. Today, we saw that the flag poles we've noticed over the past few weeks have been adorned with 12 flags with six original EPCOT icons!
The icons have the original park designs that represent the various spots of EPCOT, along with bright colors inspired by the upcoming neighborhoods that will appear as part of the park's transformation.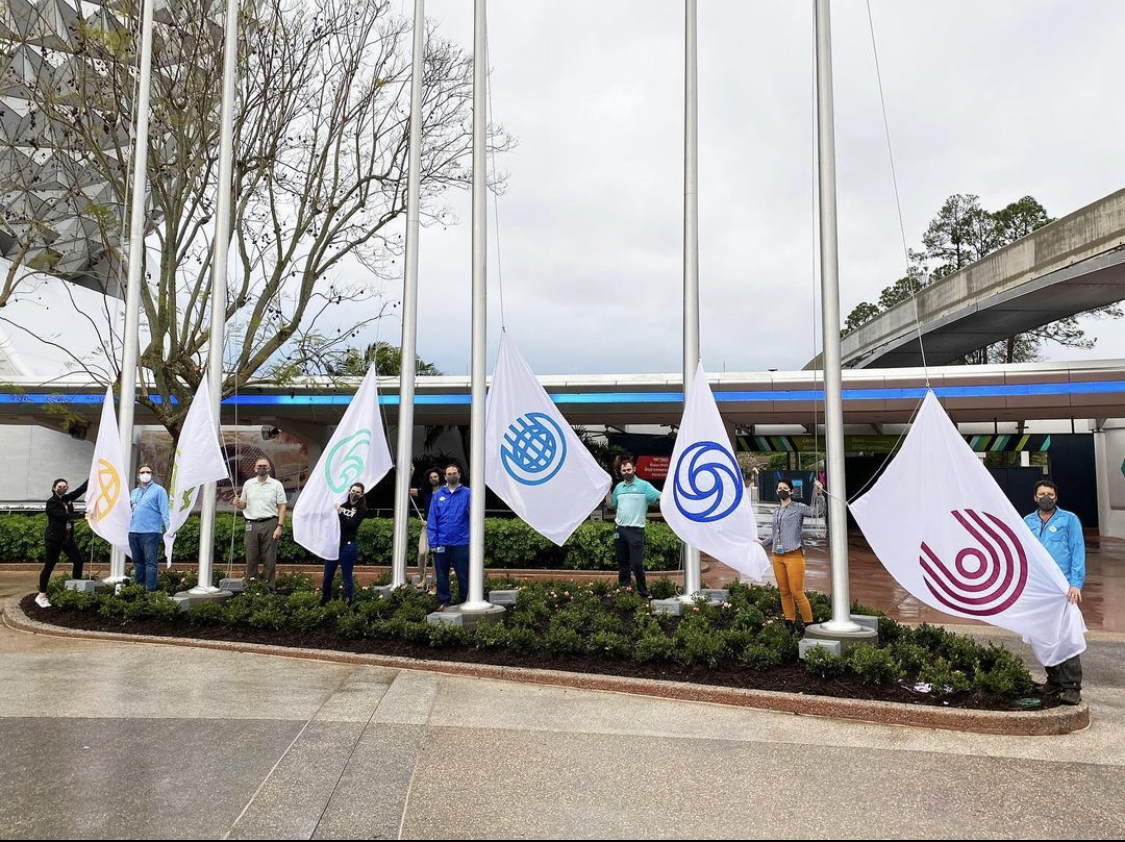 EPCOT's really making us love the park more and more with all these additions!
EPCOT Flower and Garden Merchandise
We've seen the Orange Bird Sipper become a hot commodity over the years for many fans. And, this year, the souvenir got a makeover with a few adorable updates! The new version of the sipper has Orange Bird's head and arms positioned differently…
…as guests can get the souvenir along with an Orange and Lemon Smoothie served in a separate cup for $15 at the Citrus Blossom booth.
Orange Bird really is the star of the Flower and Garden Festival in our eyes! 🌟
Can't seem to get enough Orange Bird? Well, it's a good thing that the Orange Bird Minnie Ears have returned! But, they have a new look this year with two bright orange pom-poms for the ears, a glittery leafy bow, Orange Bird appliqué…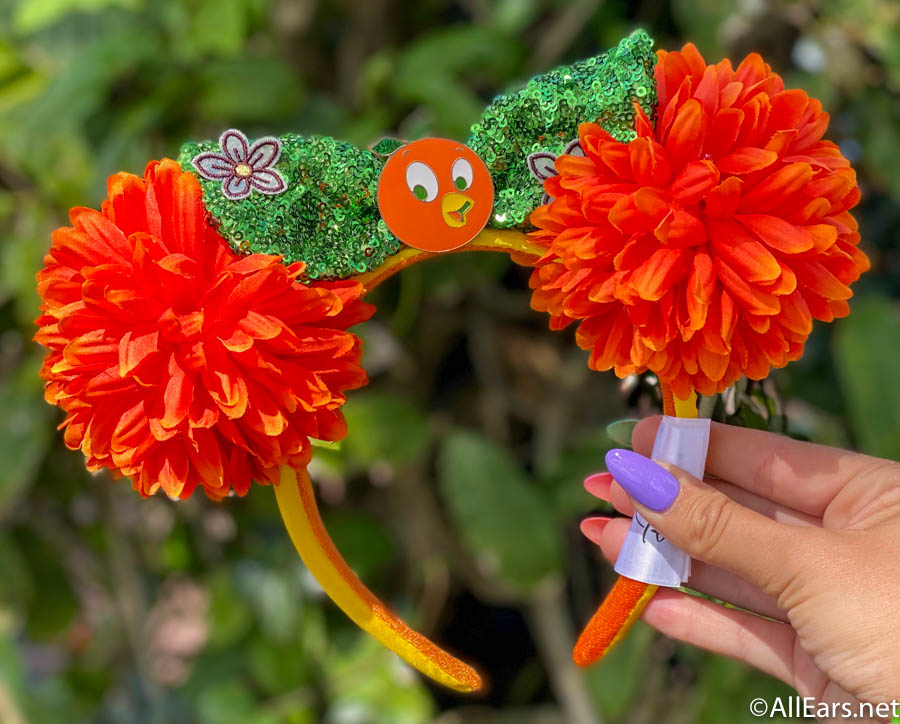 …and "Hello Sunshine" embroidered on the band to make your day sunny and happy!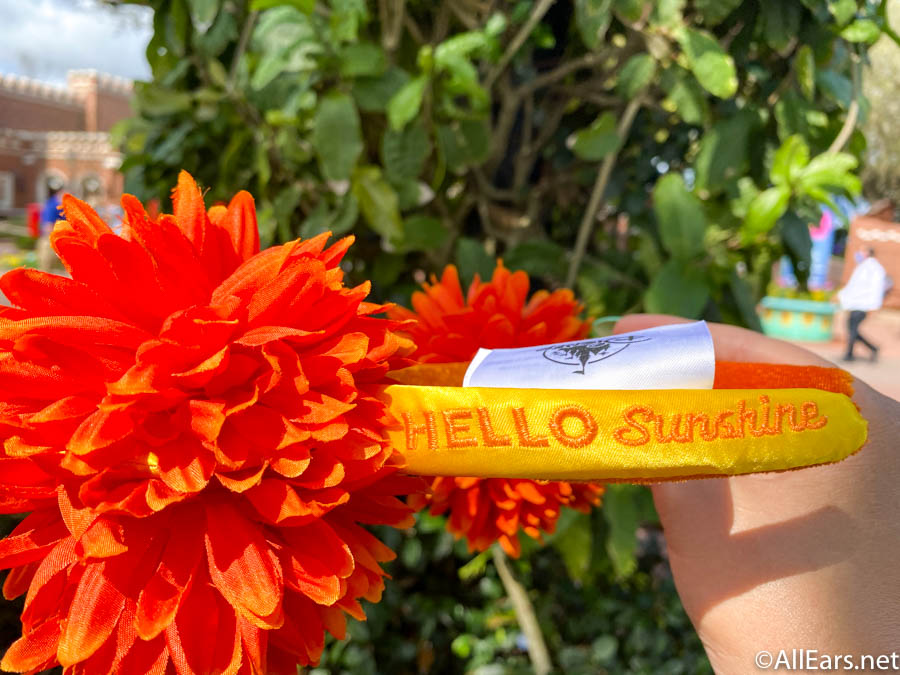 You'll want to hurry and grab them before they sell out on the shelves for $29.99 during your upcoming visit to the festival!
Oh, but there's even MORE Orange Bird merchandise on the shelves when you head to the Flower and Garden Festival! You can find themed rain coats…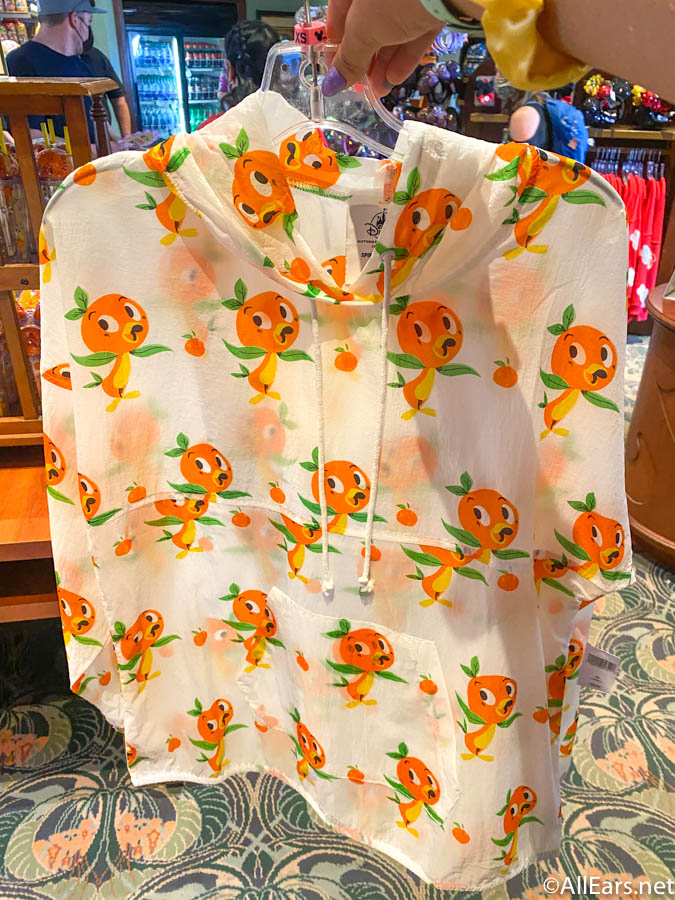 …spirit jerseys…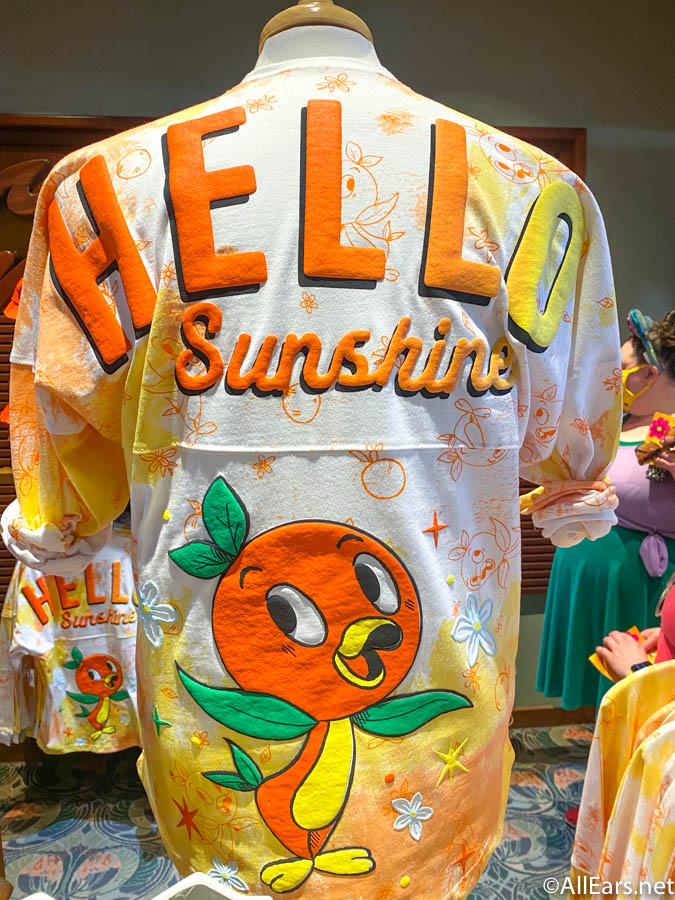 …tumblers…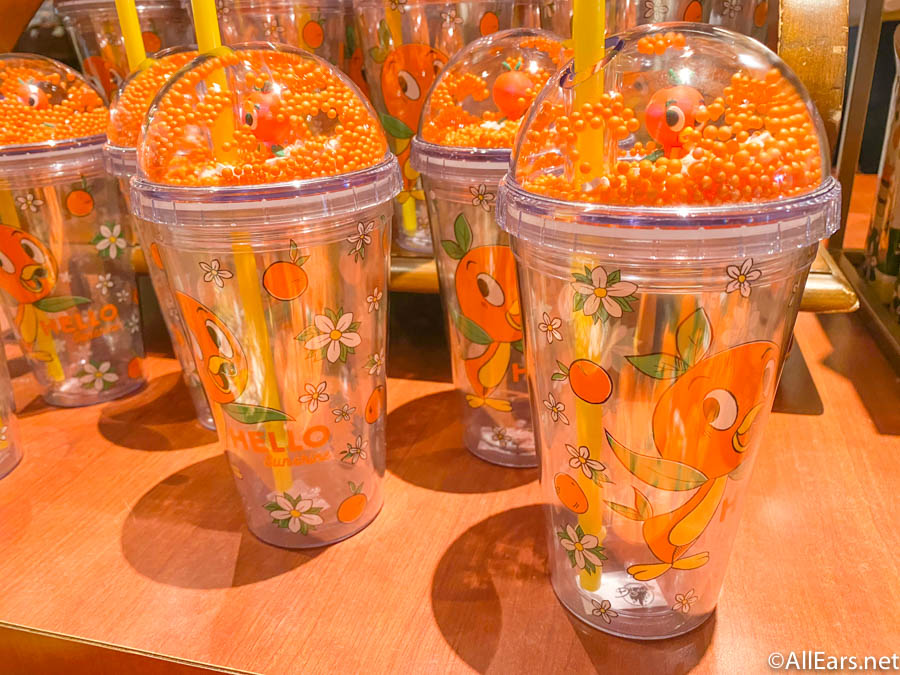 …glassware…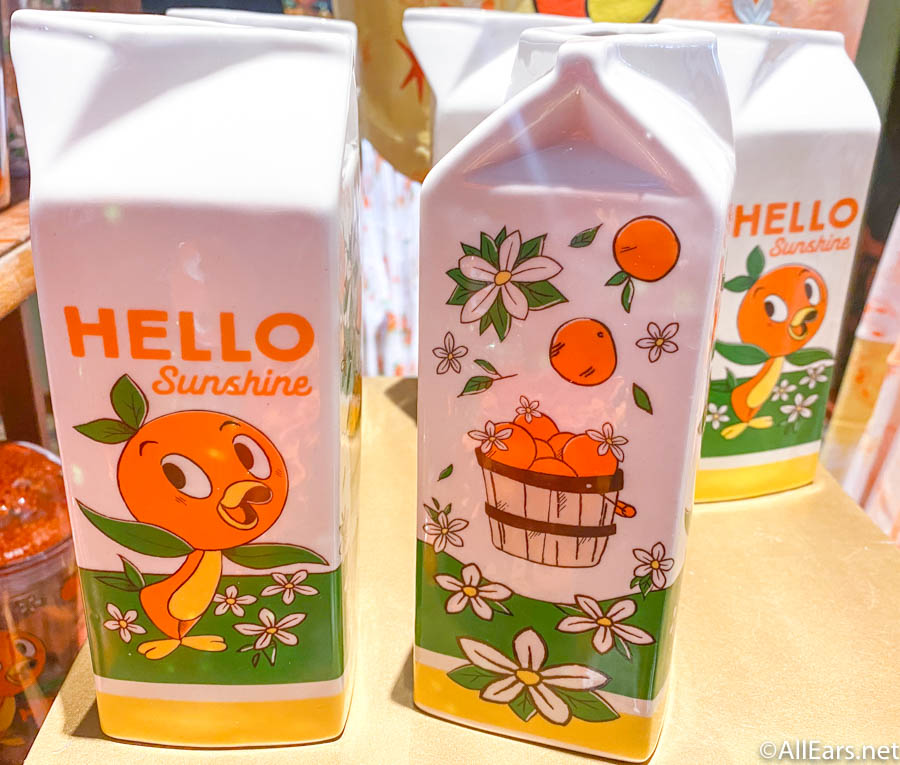 …accessories…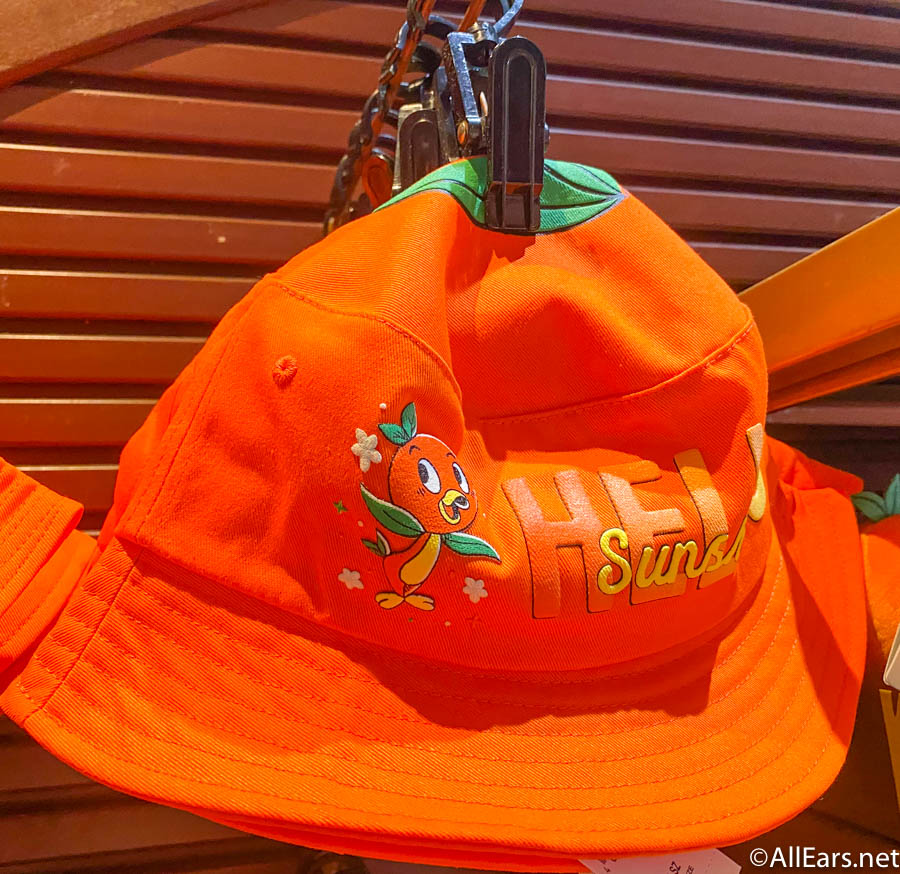 …and keychains in honor of our favorite little guy!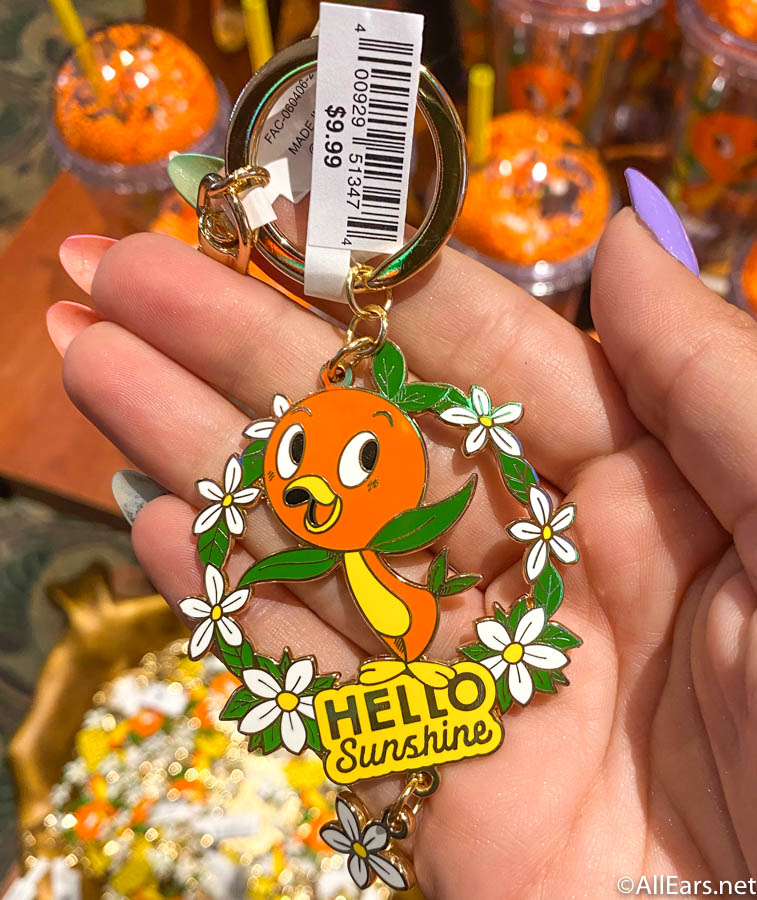 The Flower and Garden Festival has also featured Mickey, Minnie, Pluto, and the rest of our pals as the stars of the other merchandise this year! You can take home pins…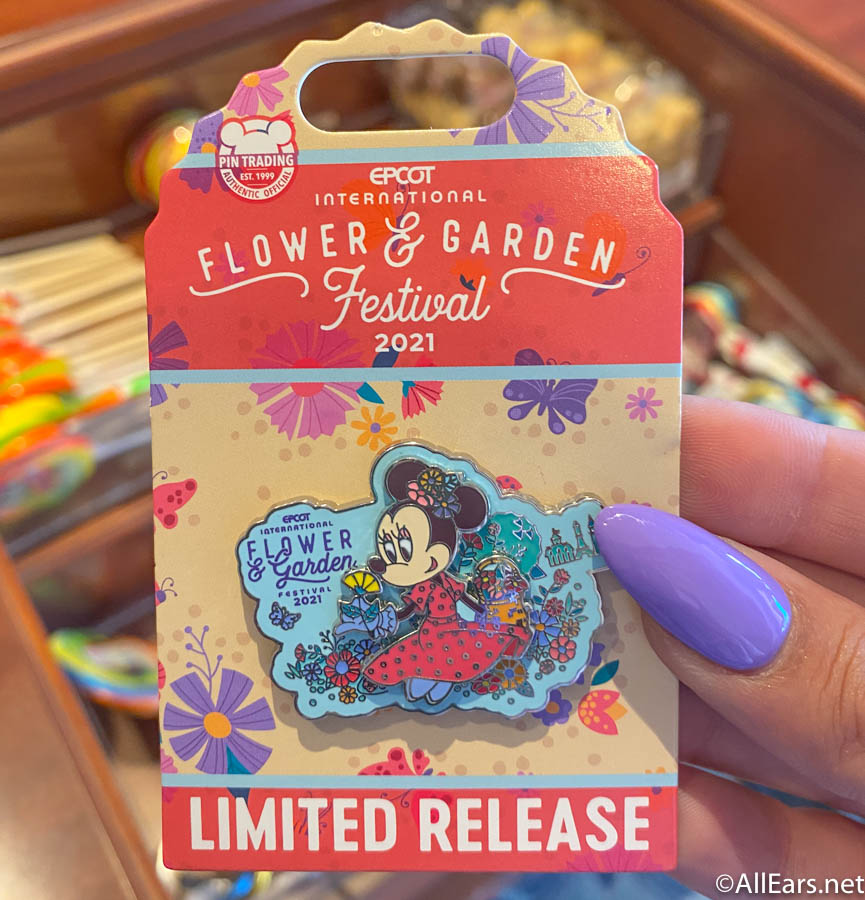 …a floral MagicBand…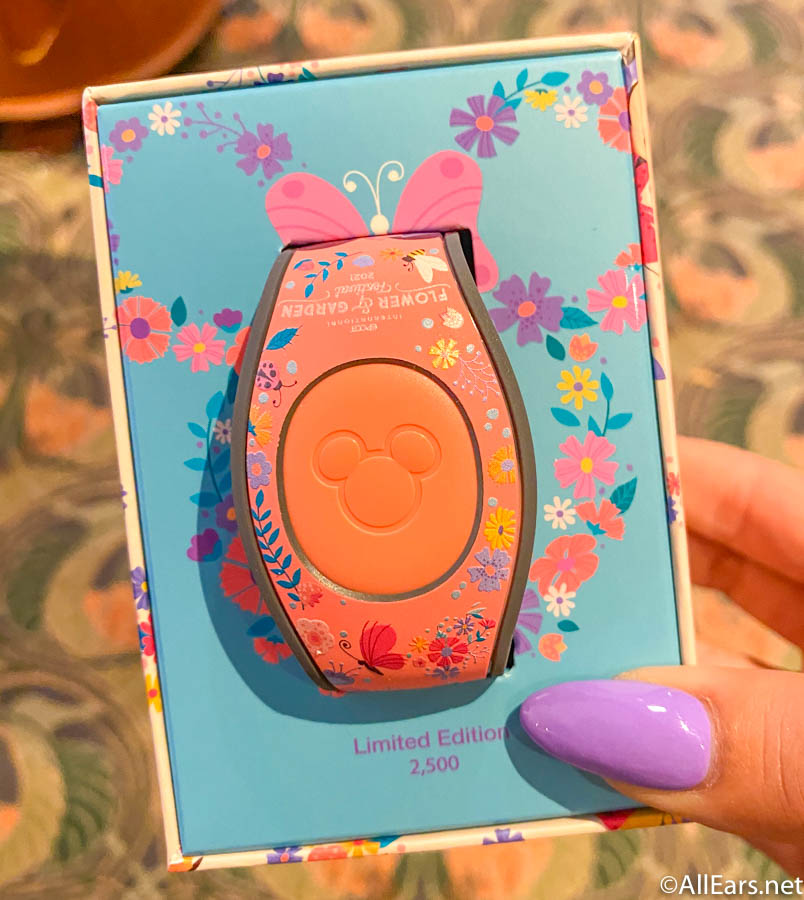 (Doesn't Minnie look fabulous on it?)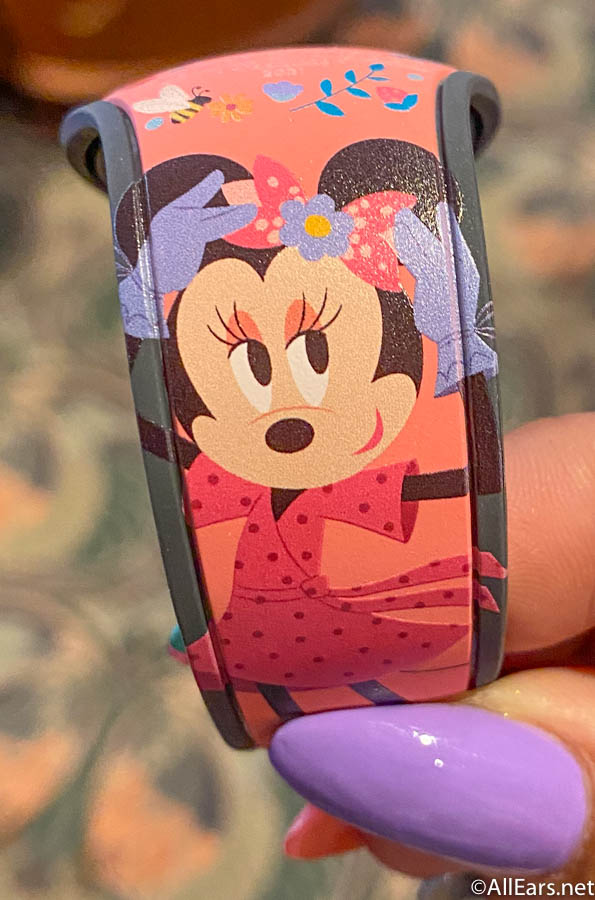 …a Passholder spirit jersey…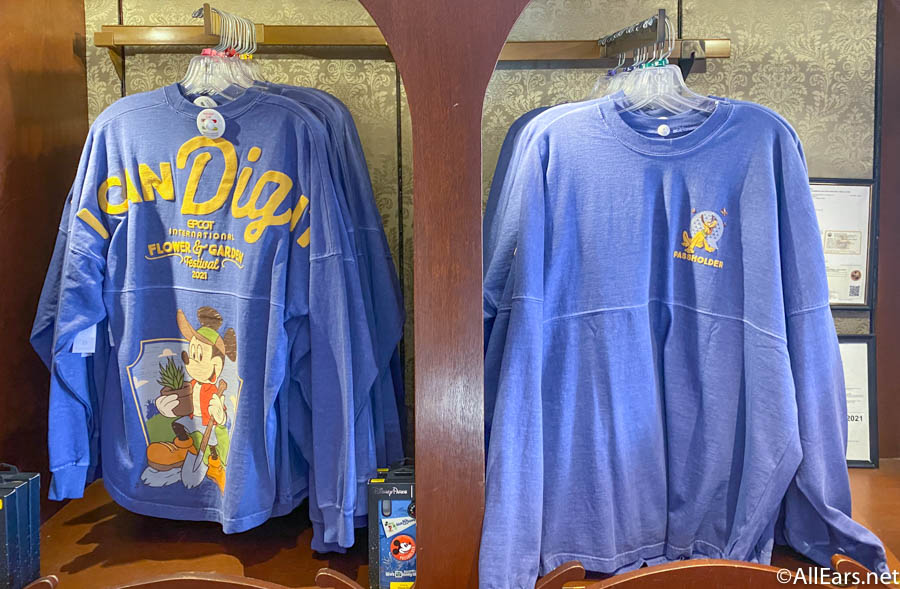 …a bunch of other new Passholder goodies!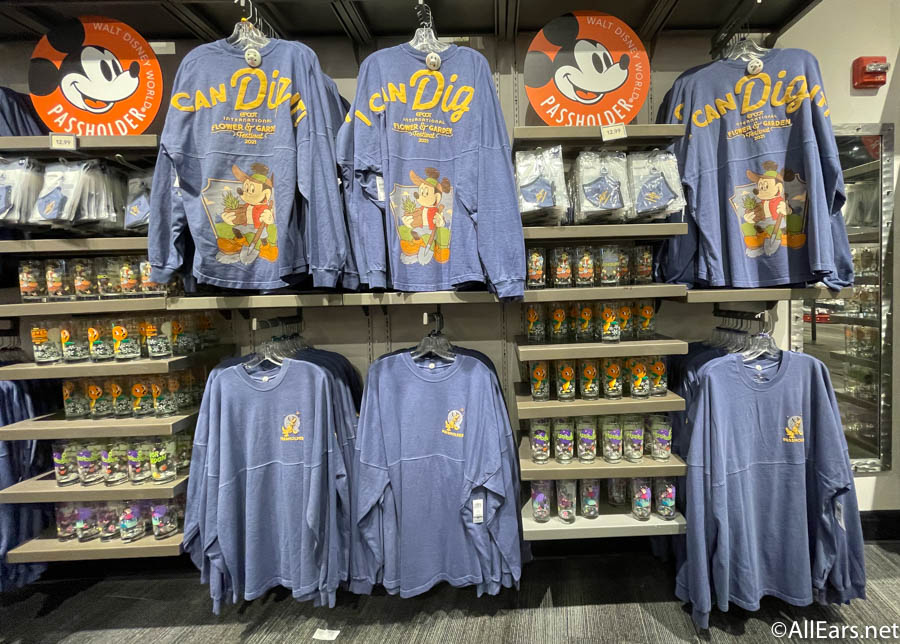 There are SO many glasses on the shelves featuring the famous topiaries…
…Minnie's love for flowers and butterflies…
…a gardener Mickey, as well as Orange Bird (yet again)!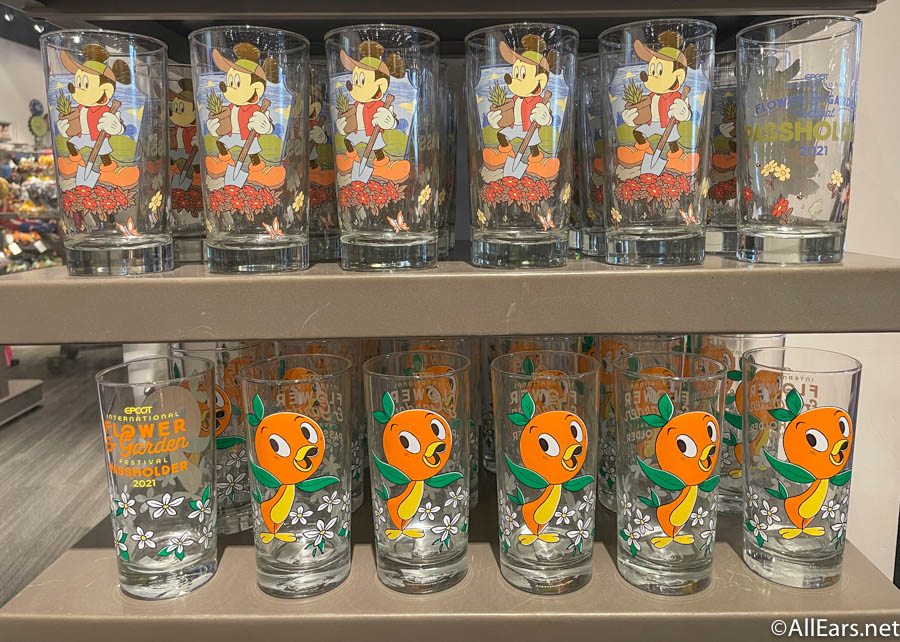 A new Passholder Face Mask has also popped up on the shelves for the festival made with spirit jersey material…
…for a comfortable, yet snug fit!
There's even new Dooney and Bourke collection we spotted online today already on the shelves! You can take home the Satchel…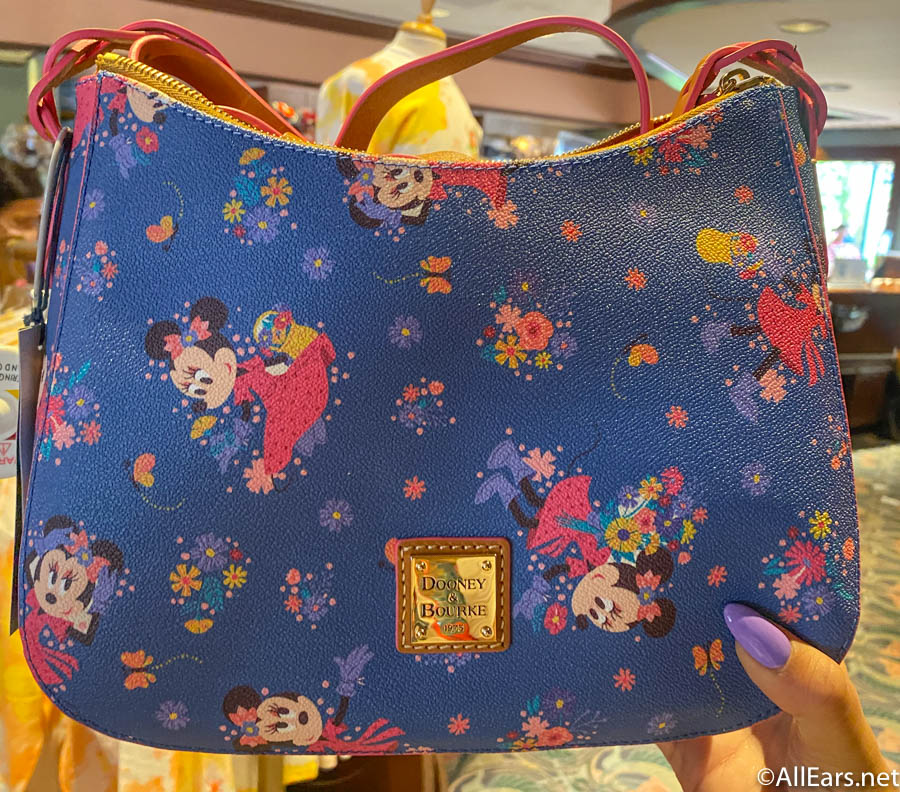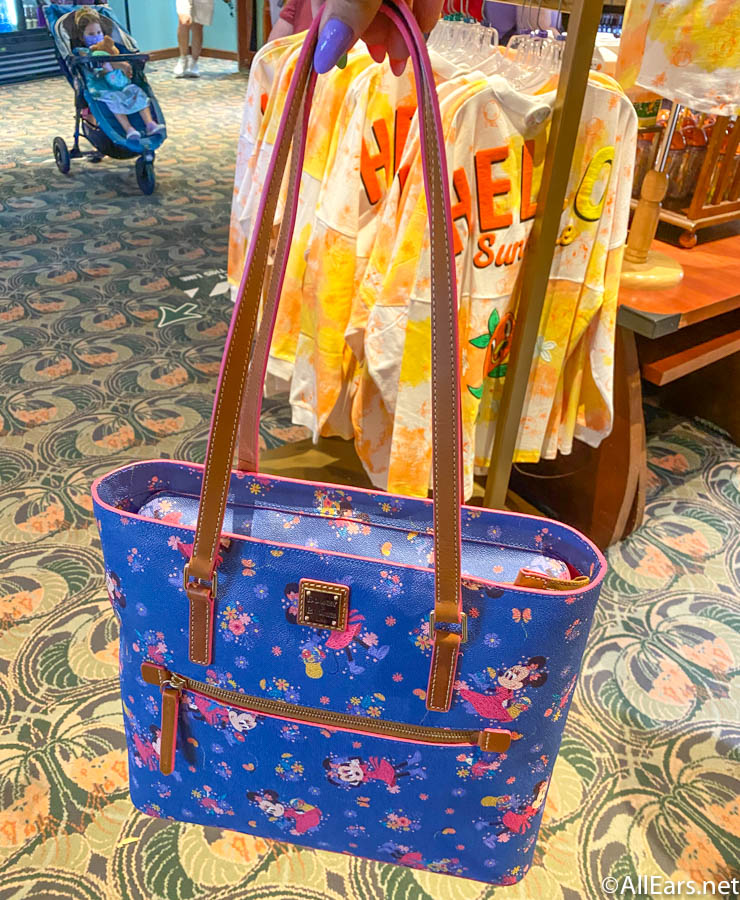 …and Wristlet Wallet to add to your collection!
Minnie getting into the floral part of the festival with an entire themed collection for the festival with shirts…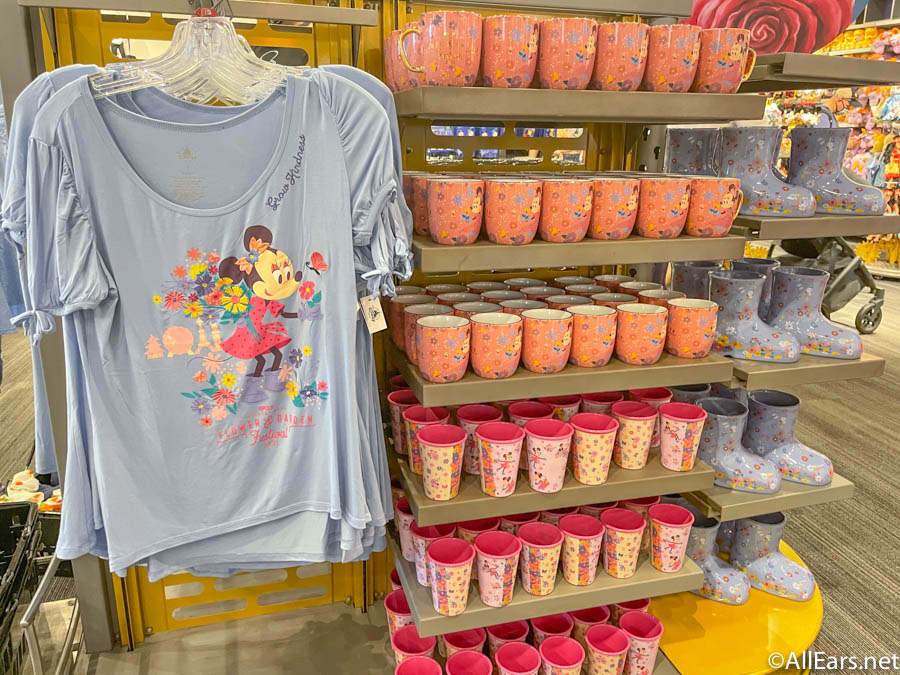 …tank tops…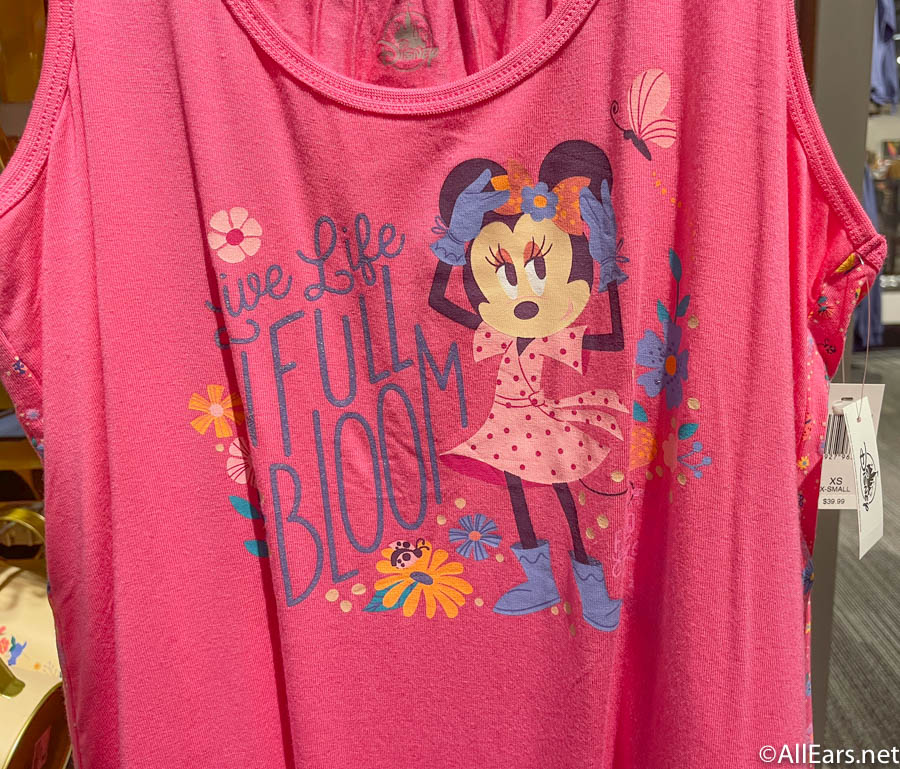 …mugs…
…tumblers…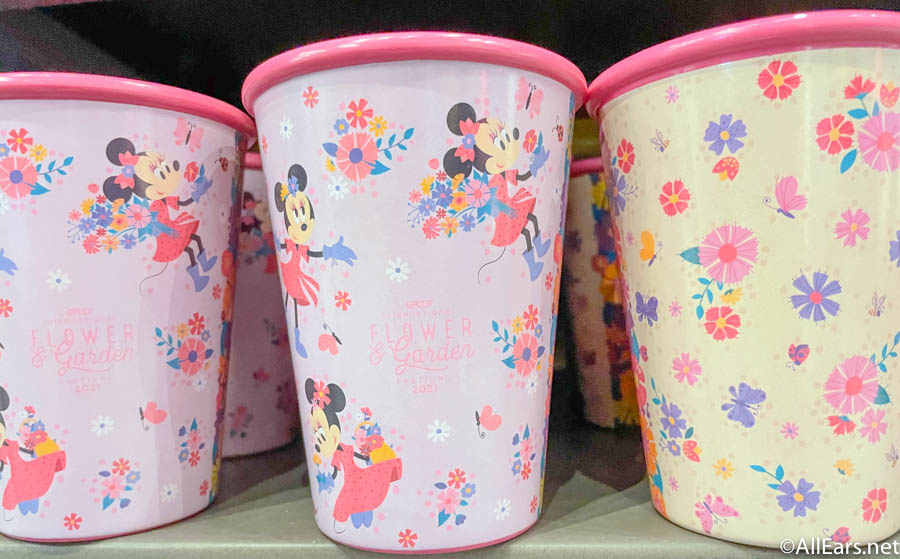 …and boot vases (!!!) that you can take home!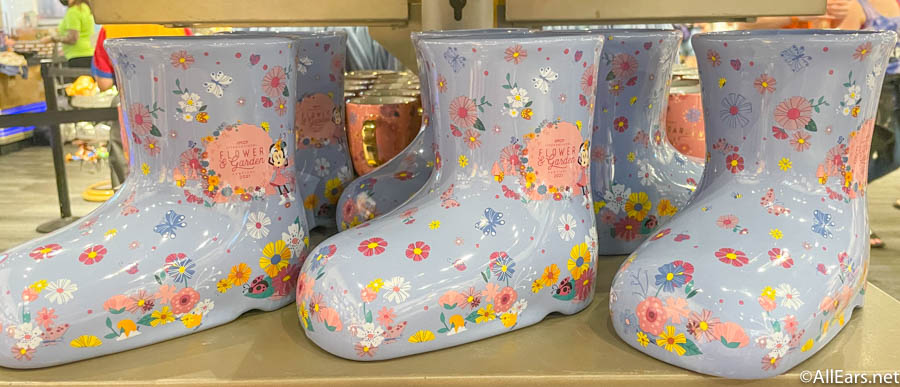 Figment has even inspired a line of "Home Grown" merchandise for the festival!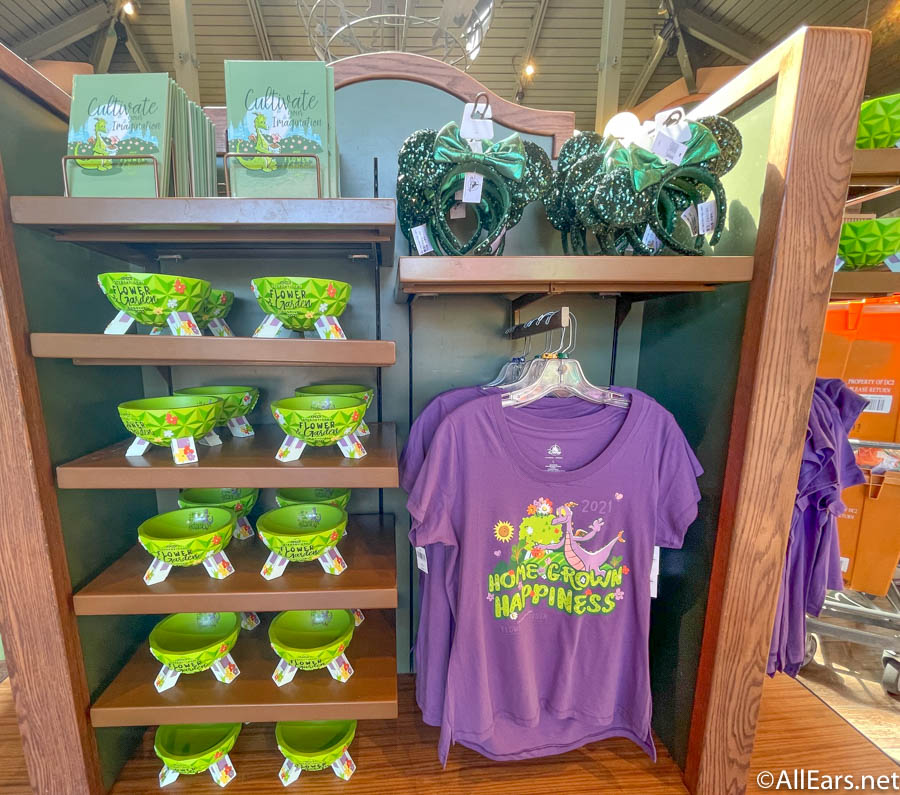 You can find tees…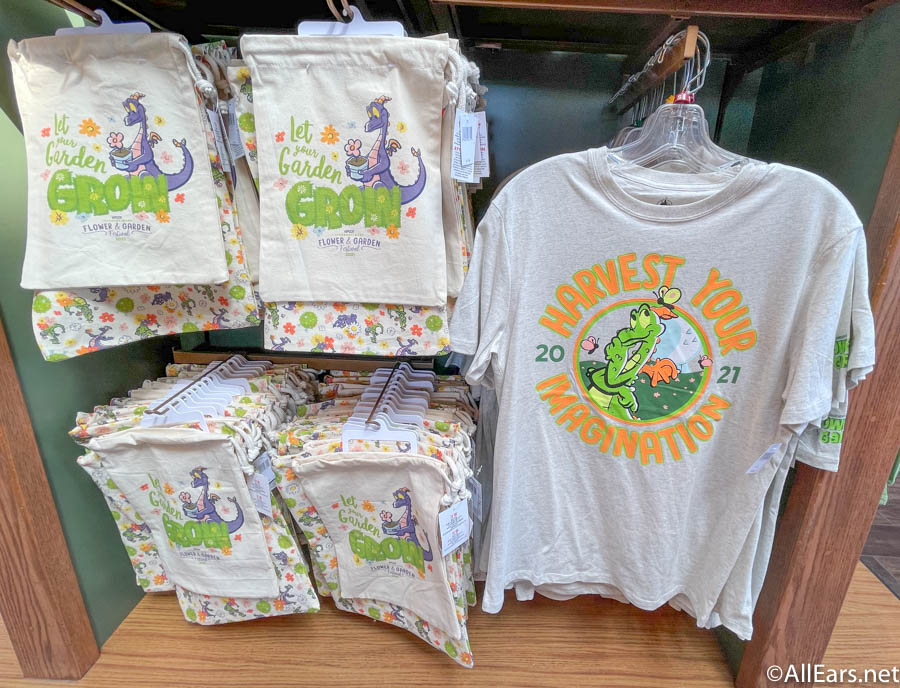 …bowls (what a cutie)…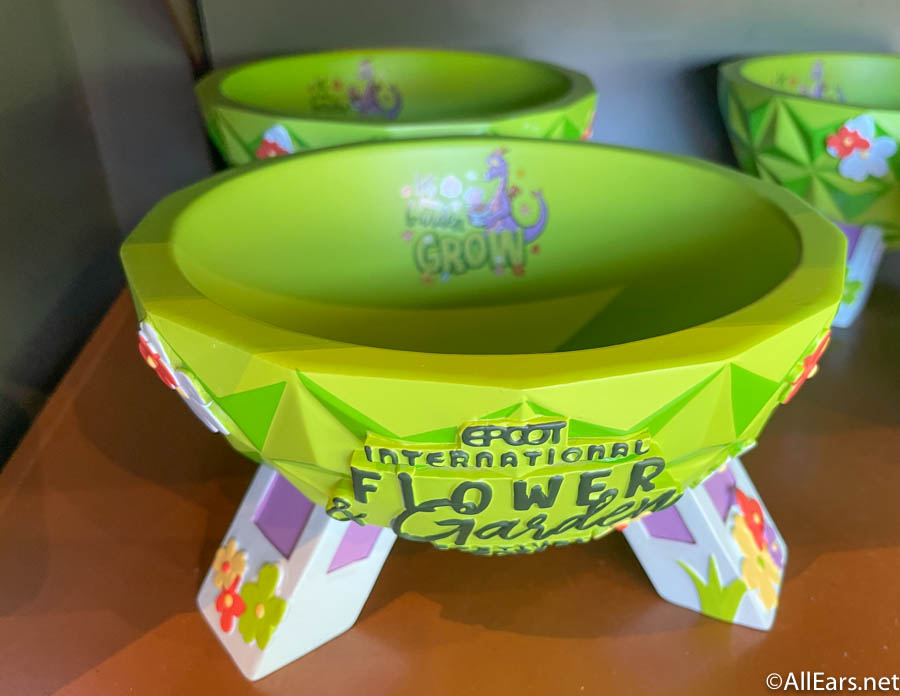 …towels…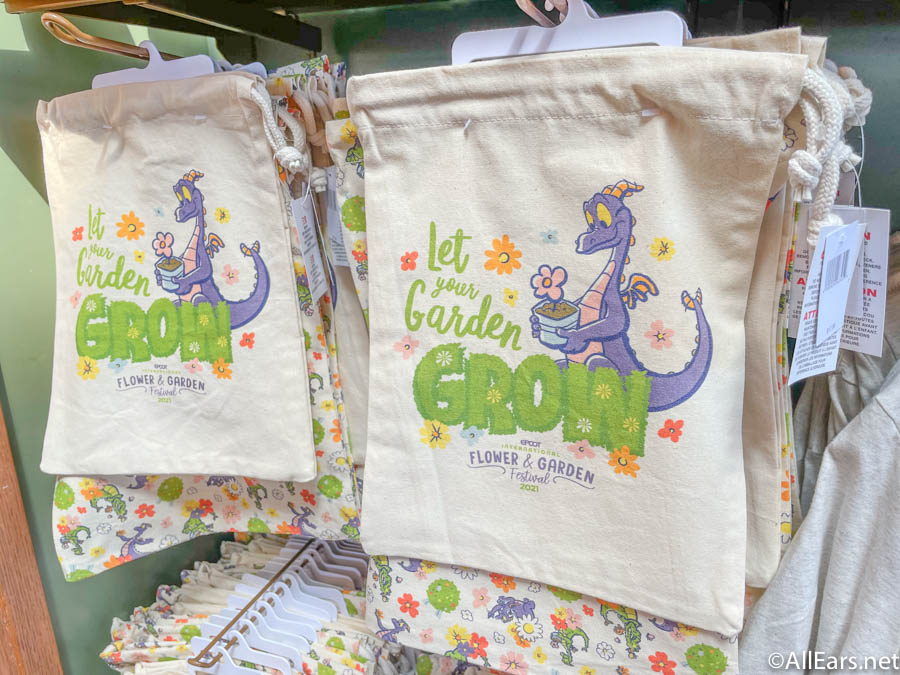 …journals…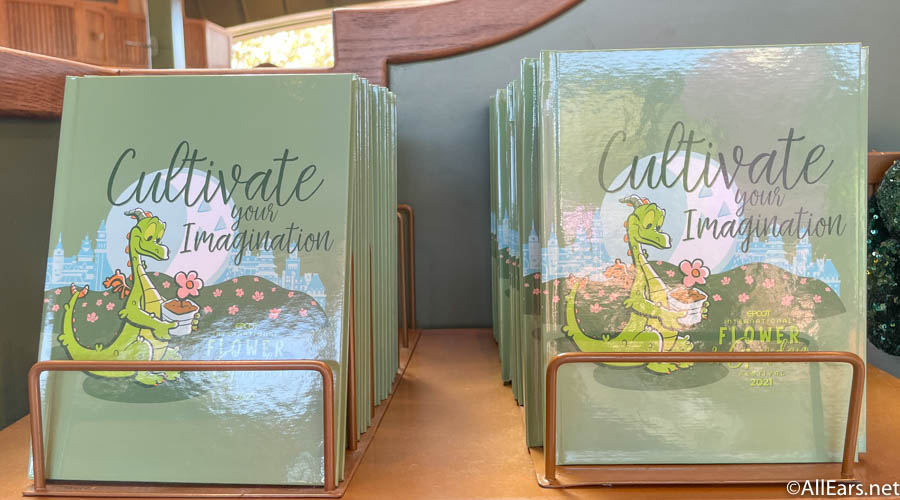 …a reusable lunch box, and more themed after our favorite dragon in EPCOT!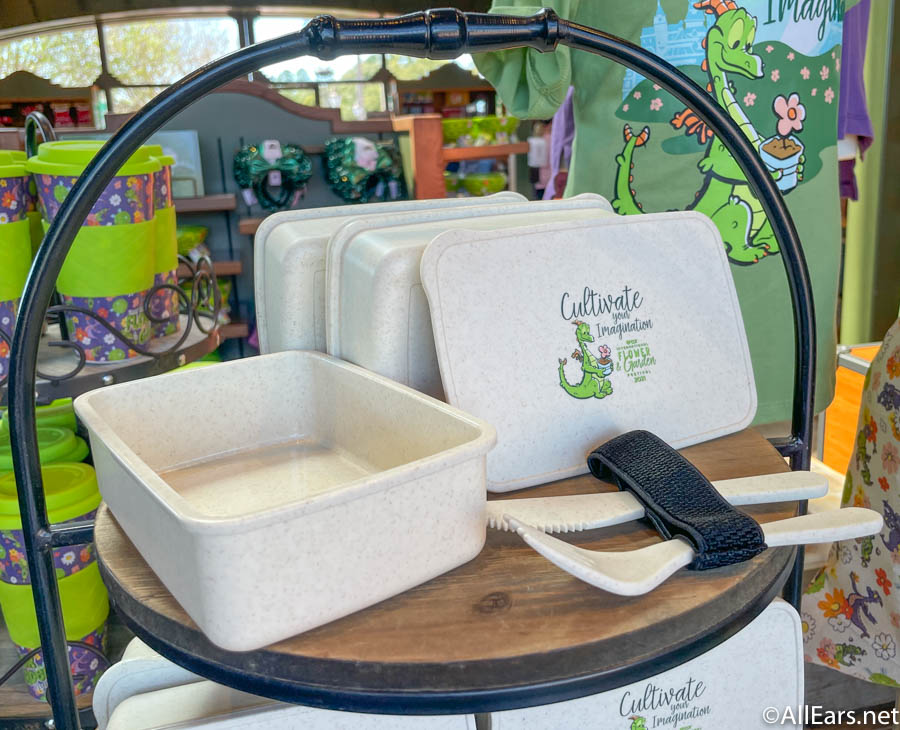 Spike the Bee fans will be thrilled to know that there's even a line-up of merchandise after the busy EPCOT bee!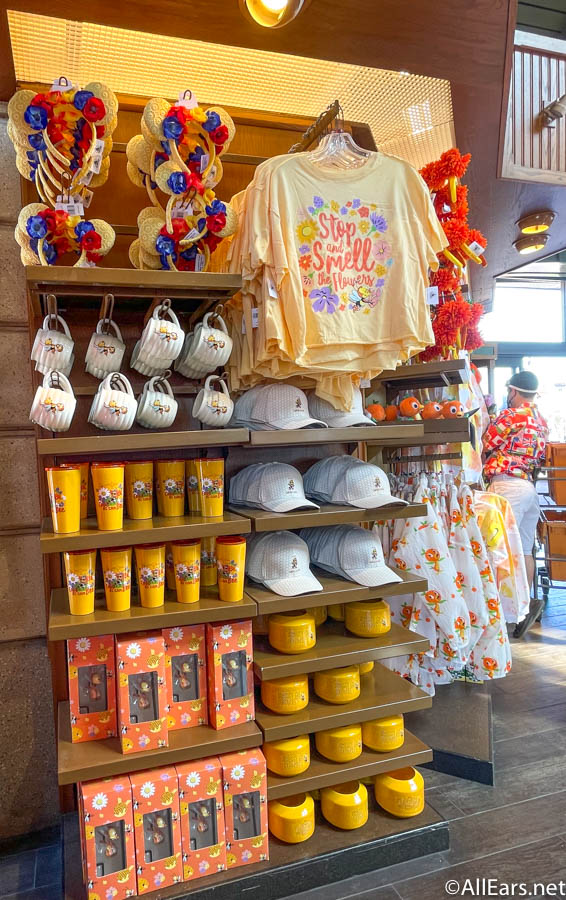 The collection includes its own Spike-inspired shirts…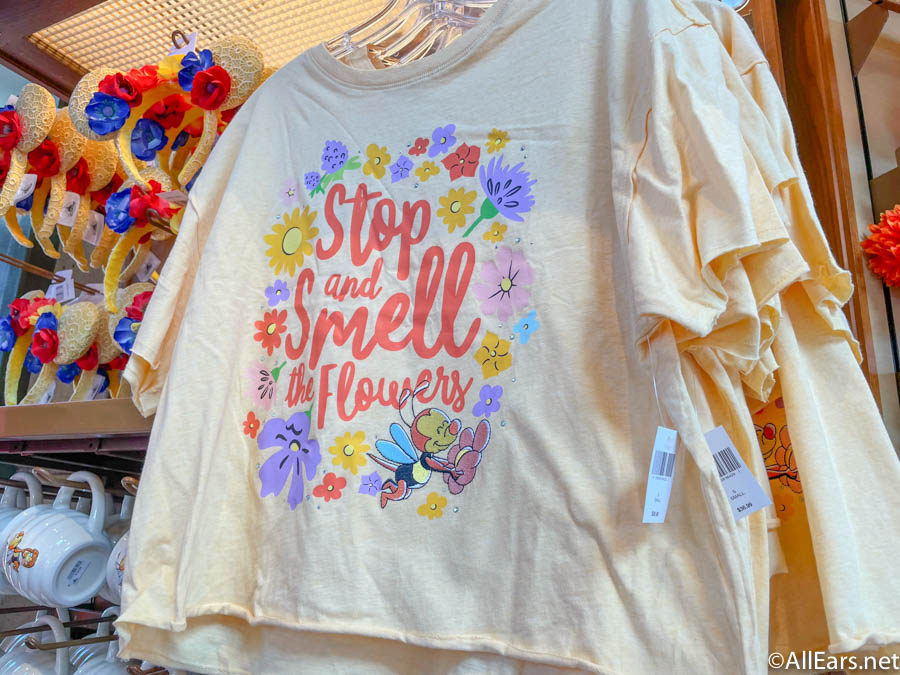 …hats (what a cool dude)…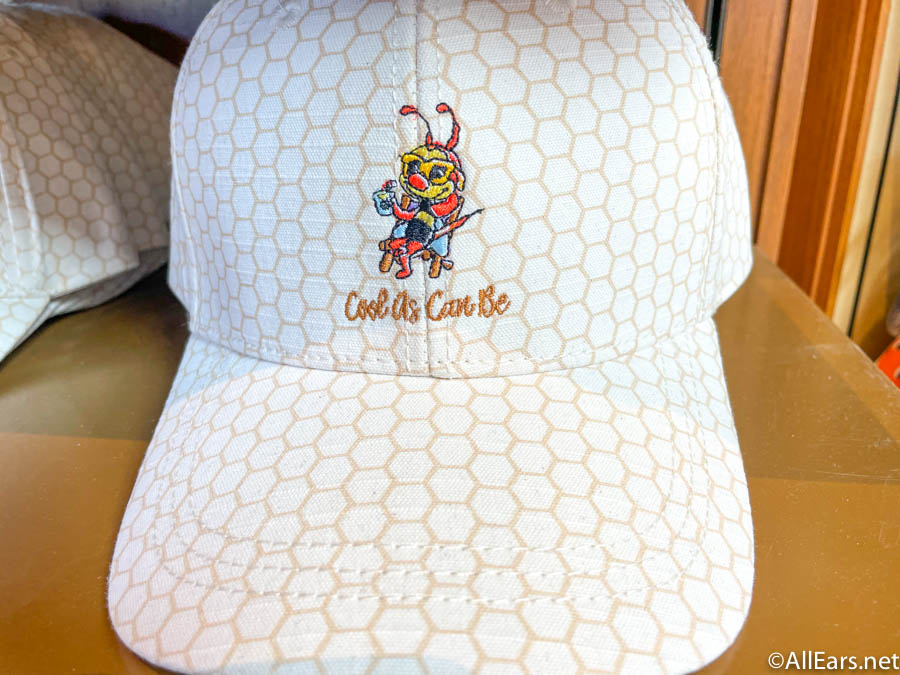 …tumblers…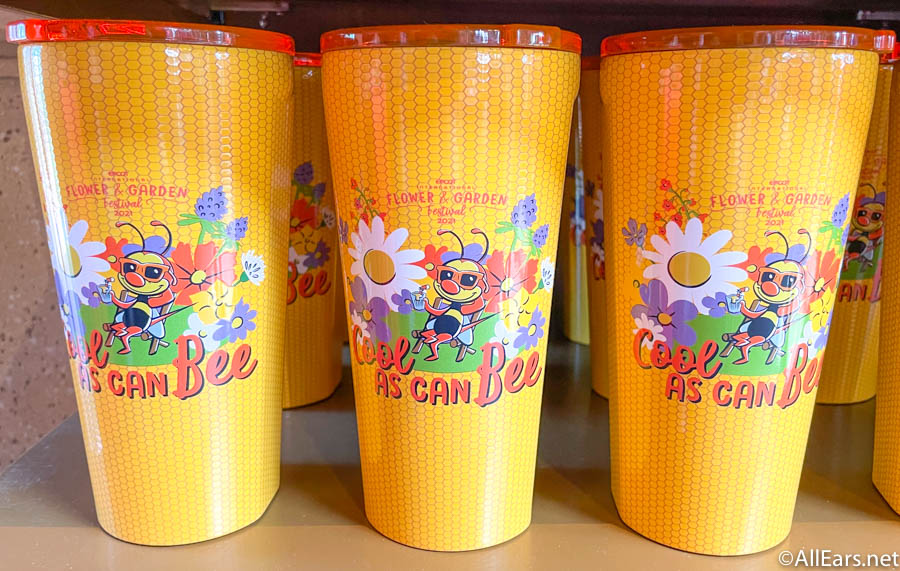 …honey pots…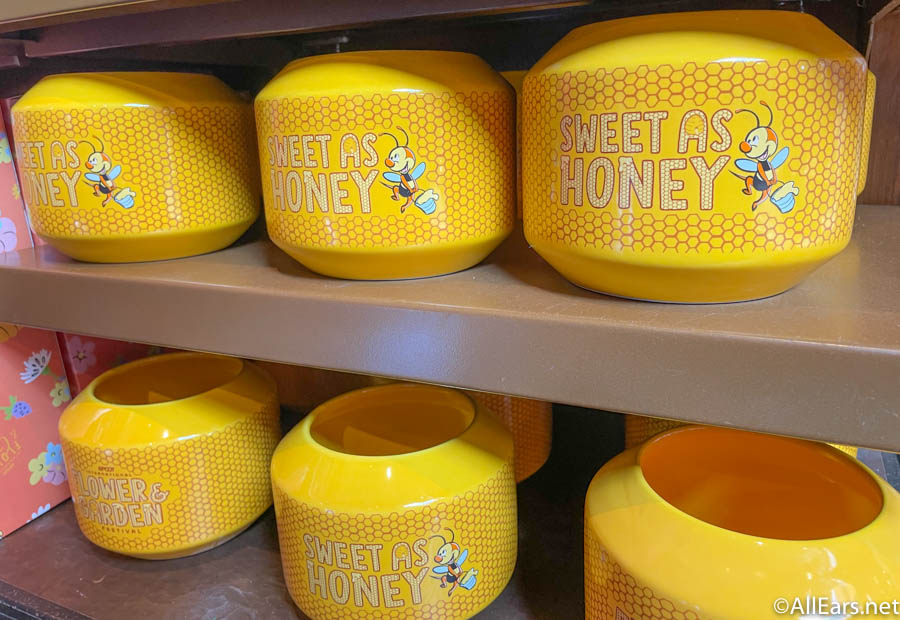 …mugs…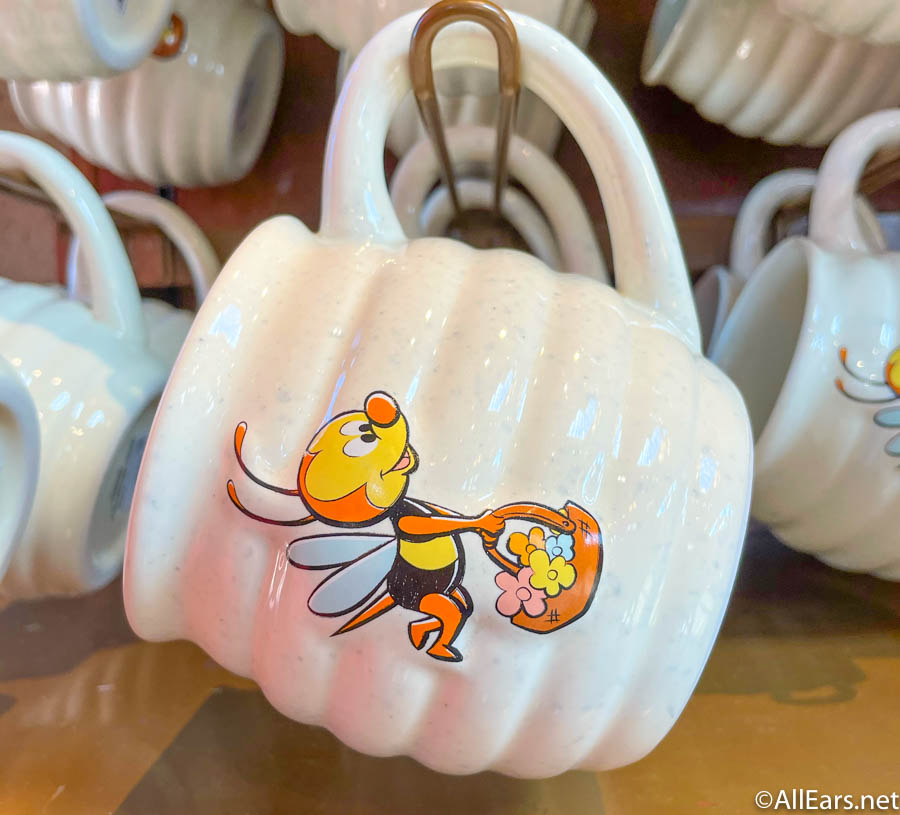 …and yard stakes!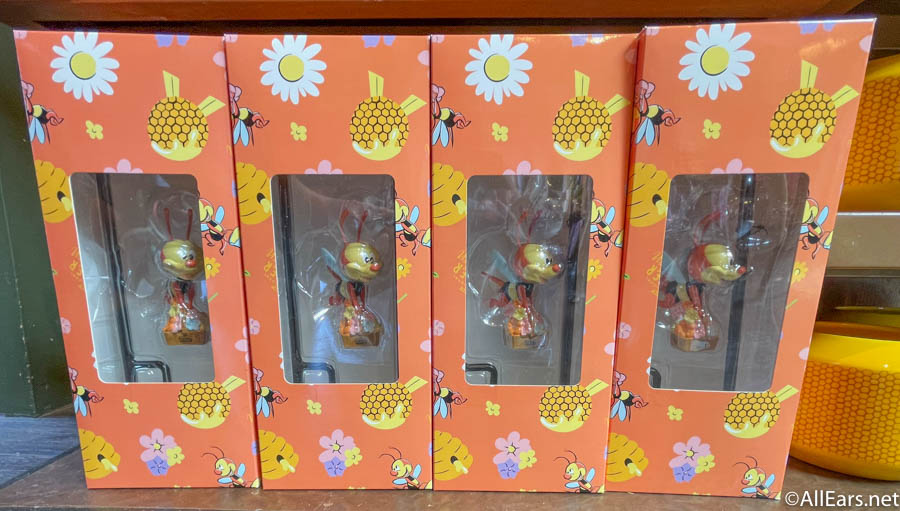 The topiaries at this year's EPCOT Flower and Garden Festival are so much fun! Although we love going to spot our favorite characters, you can actually take home your own topiary!
Guests can grow their own Disney-inspired displays when they pop over to the Noah's Ark Topiaries kiosk in between the Morocco and Japan Pavilions. The Standing Galvanized Mouse Frames will "teach" the plant how to shape itself like one of the characters…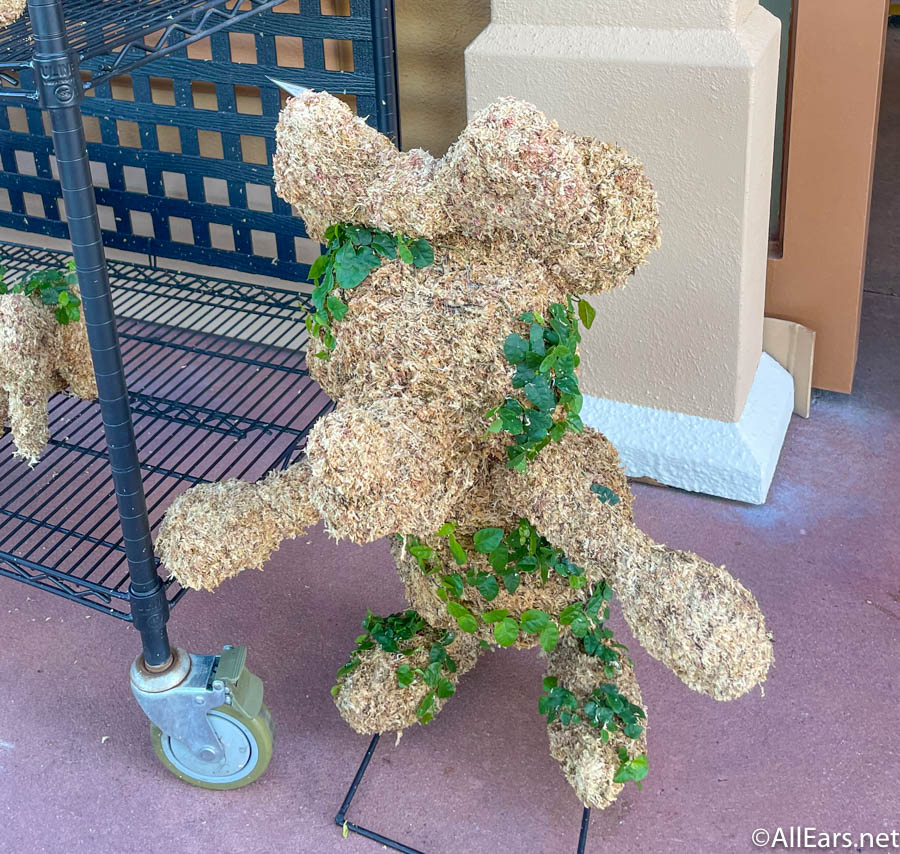 …or guests can even take home one of the pre-made topiaries, including different animal designs!
We'll be on the lookout for any other themed merchandise we spot in the park soon!
EPCOT Flower and Garden Food Booths
Of course, it wouldn't be an EPCOT festival without all the food! And, we'll be taking you around with us to each of the food booths around the park! Citrus Blossom has a menu filled with citrus features…
…so guests can add fruit to both their sweet and savory drinks and eats.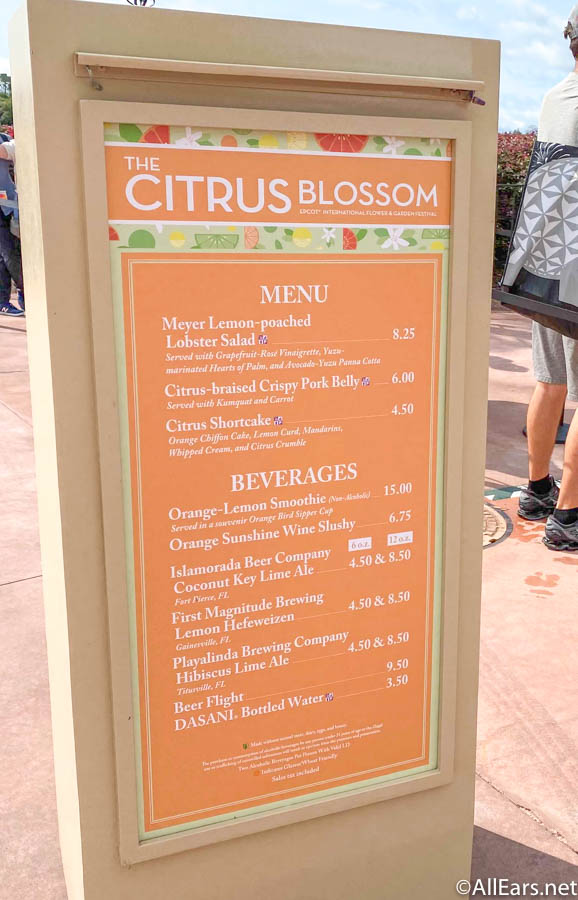 Some of the options available are the Citrus-braised Crispy Pork Belly with Kumquat and Carrot…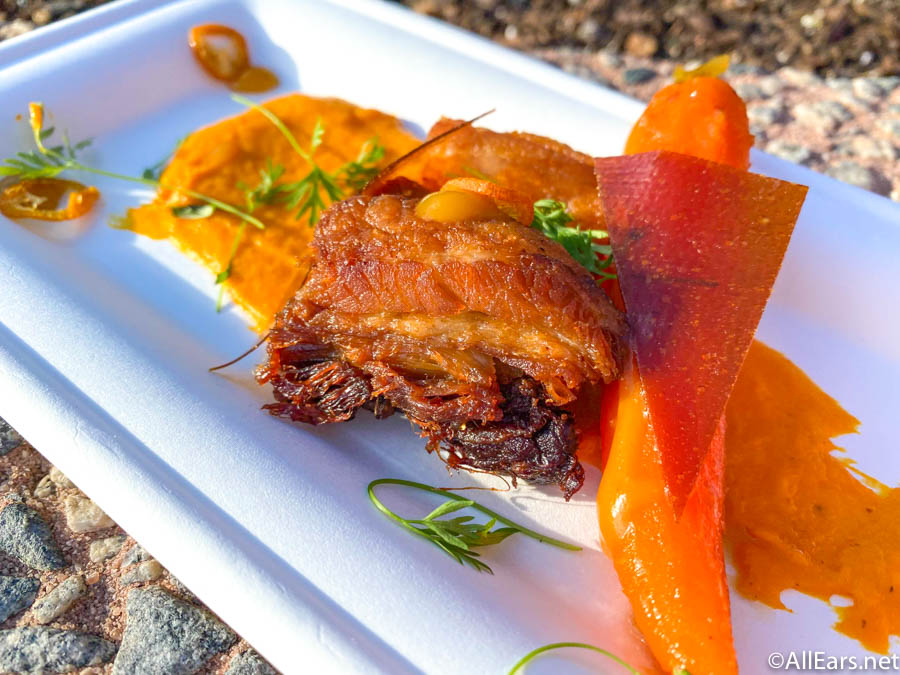 …Meyer Lemon-poached Lobster Salad with Grapefruit-Rosé Vinaigrette, Yuzu-marinated Hearts of Palm, and Avocado-Yuzu Panna Cotta…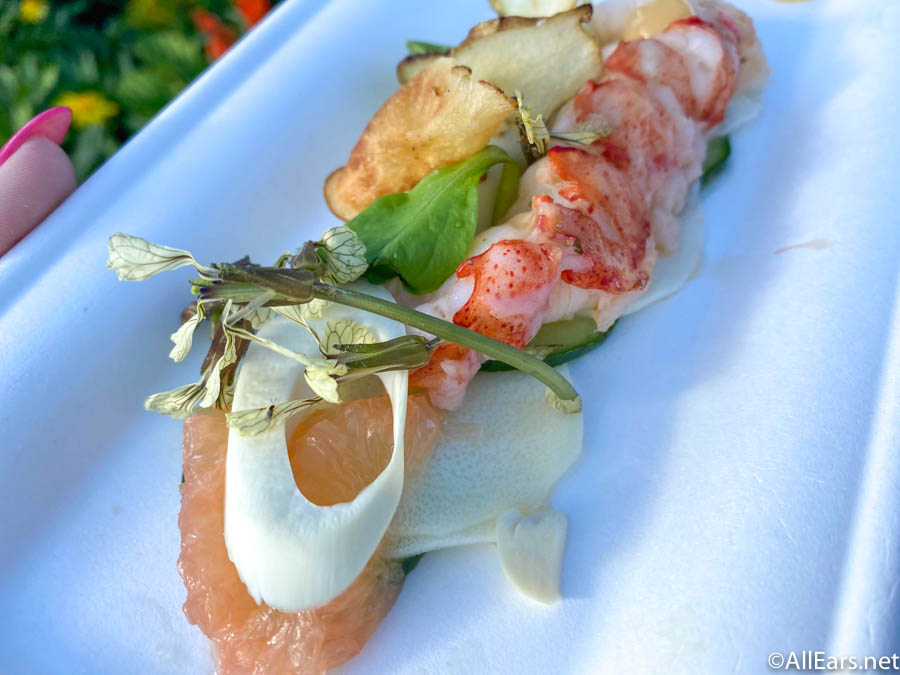 …and Playalinda Brewing Company Hibiscus Lime Ale, as well as the Orange Bird Sipper combo!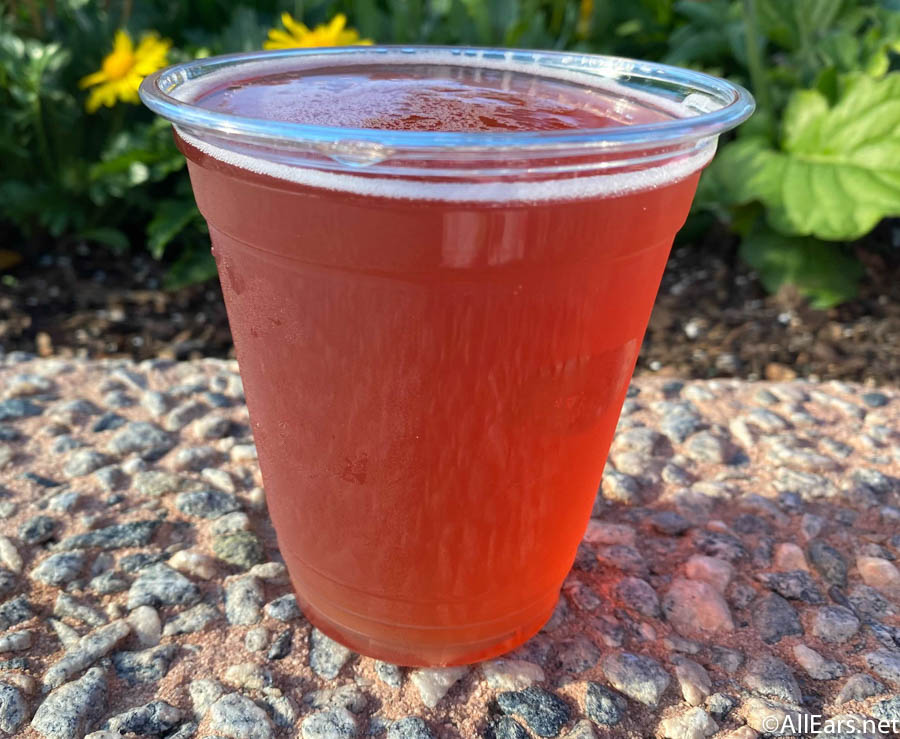 We've seen this particular spot debut as the Donut Box previously, but it has been repurposed to the Sunshine Griddle booth instead for the festival!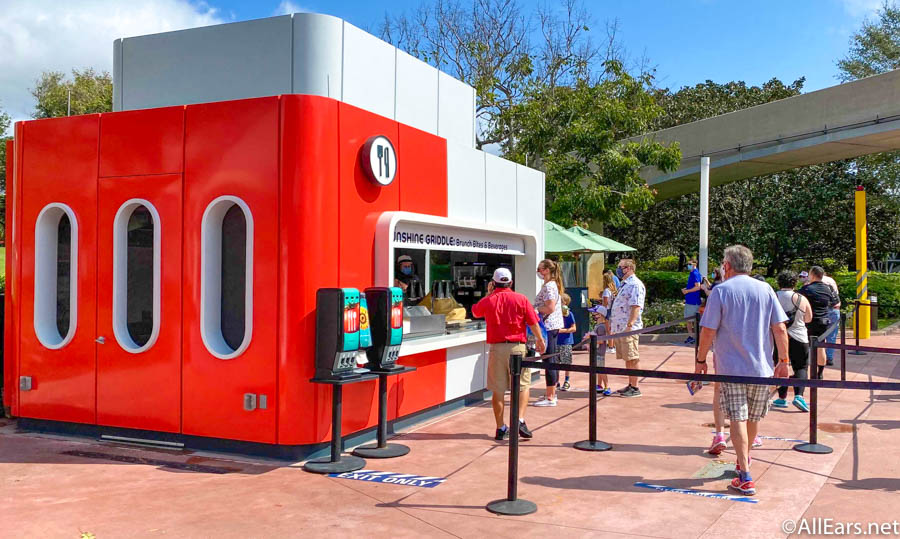 Many of the options on the menu will come straight from the griddle, perfect for all your brunch needs!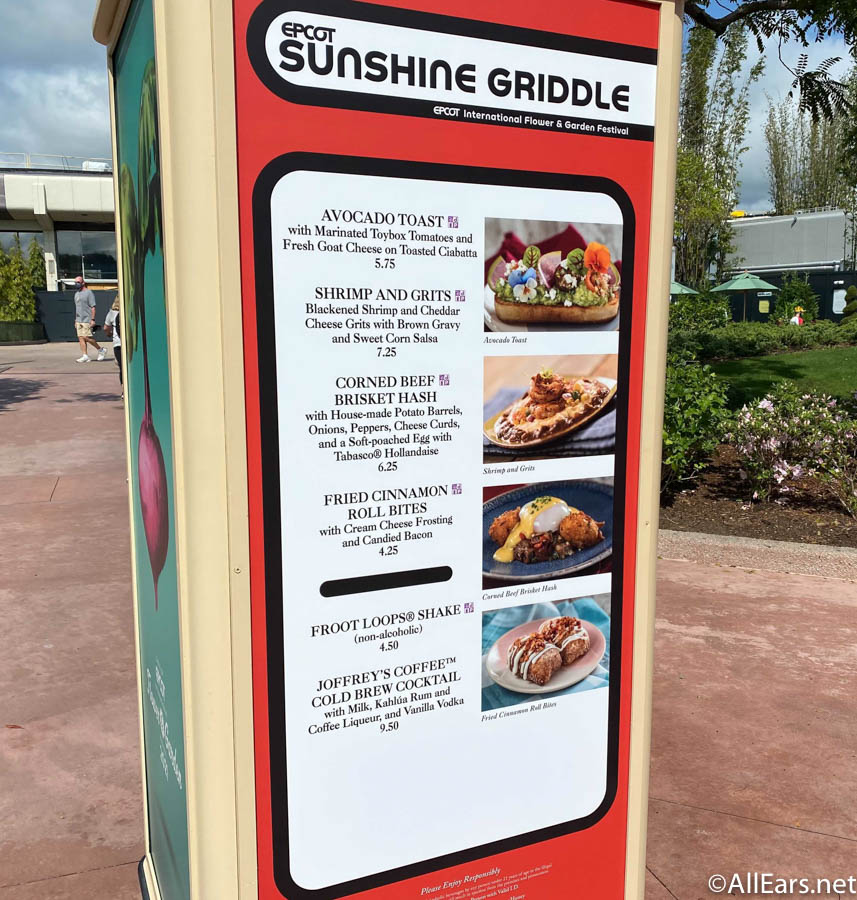 This year's menu has the Shrimp and Grits with Blackened Shrimp and Cheddar Cheese Grits with Brown Gravy and Sweet Corn Salsa…
…Corned Beef Brisket Hash with House-made Potato Barrels, Onions, Peppers, Cheese Curds, and a Soft-poached Egg with Tabasco Hollandaise…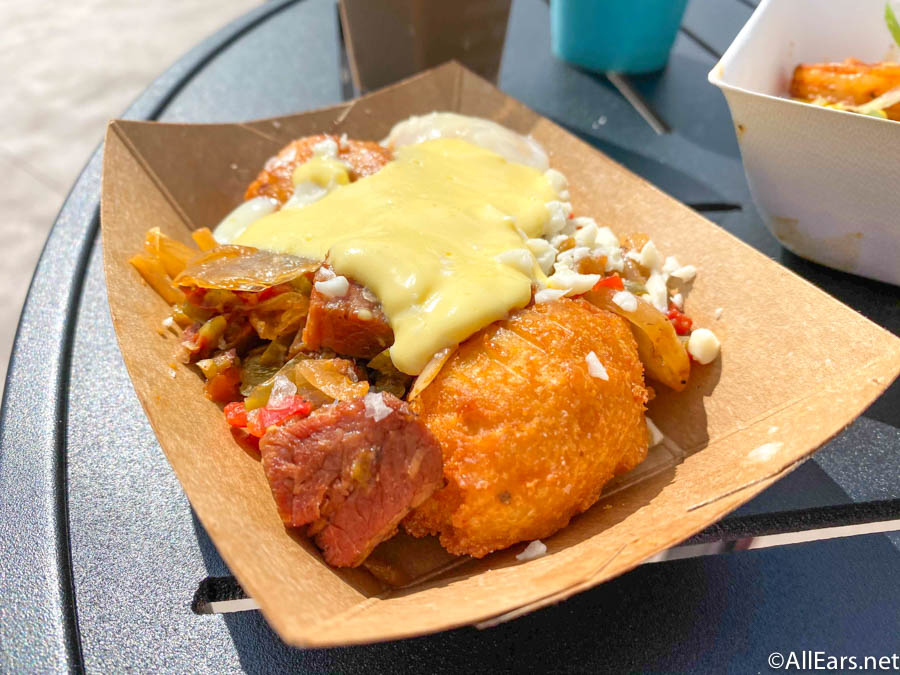 …Avocado Toast with Marinated Toybox Tomatoes and Fresh Goat Cheese on Toasted Ciabatta…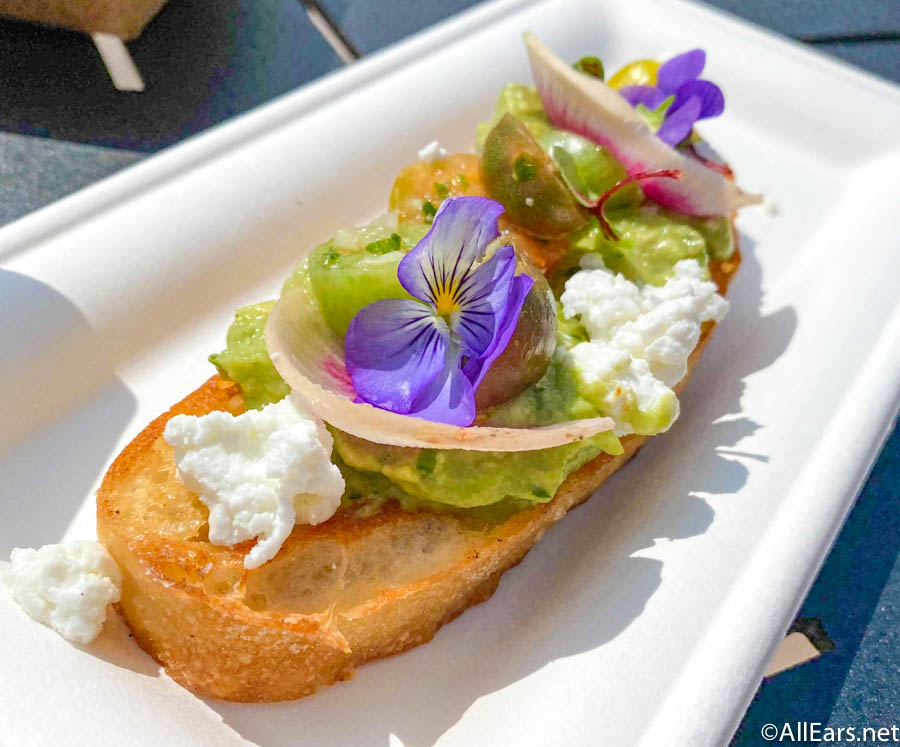 …Fried Cinnamon Roll Bites with Cream Cheese Frosting and Candied Bacon…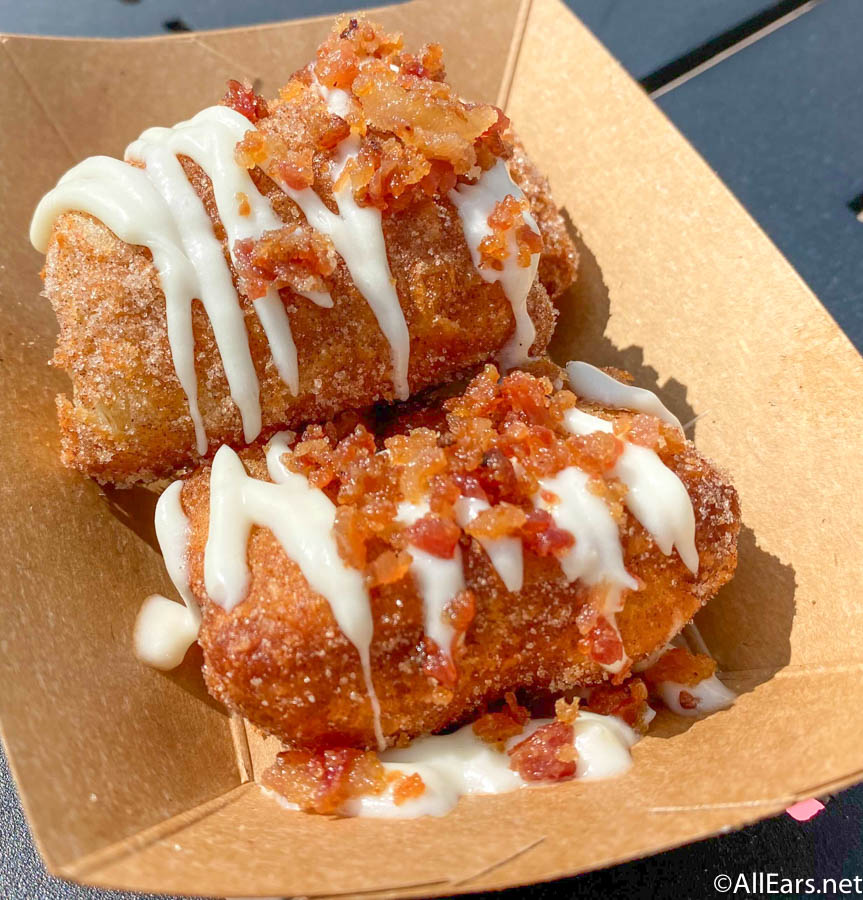 …the non-alcoholic Froot Loops Shake, and Joffrey's Coffee Cold Brew Cocktail with Milk, Kahlúa Rum and Coffee Liqueur, and Vanilla Vodka.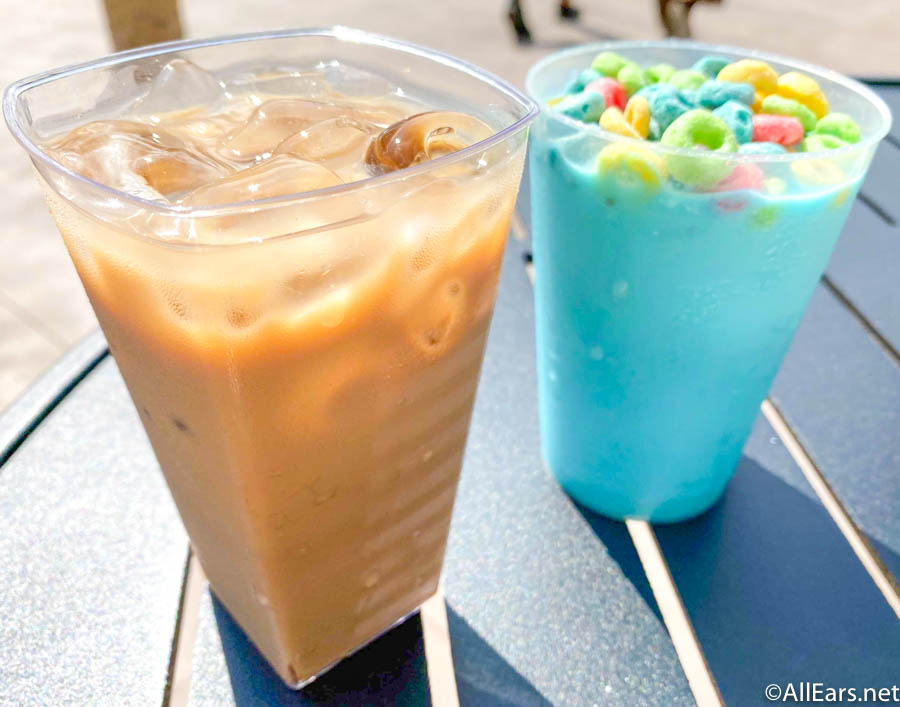 Joffrey's Future World East had even more treats for the festival…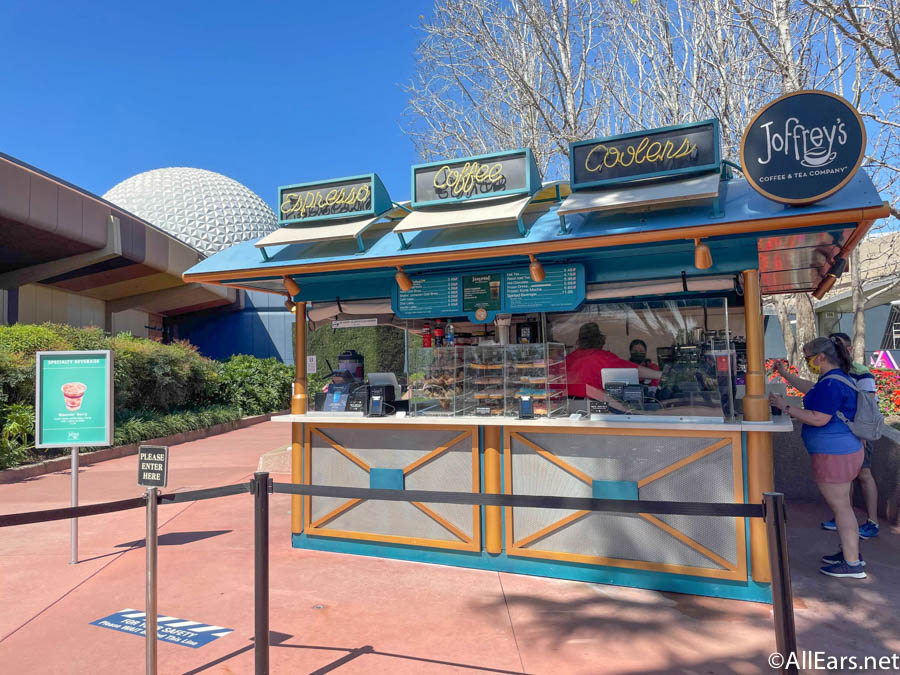 …with the Bloomin' Berry made with Frozen Lemon, Blackberry Syrup, and a splash of Vodka.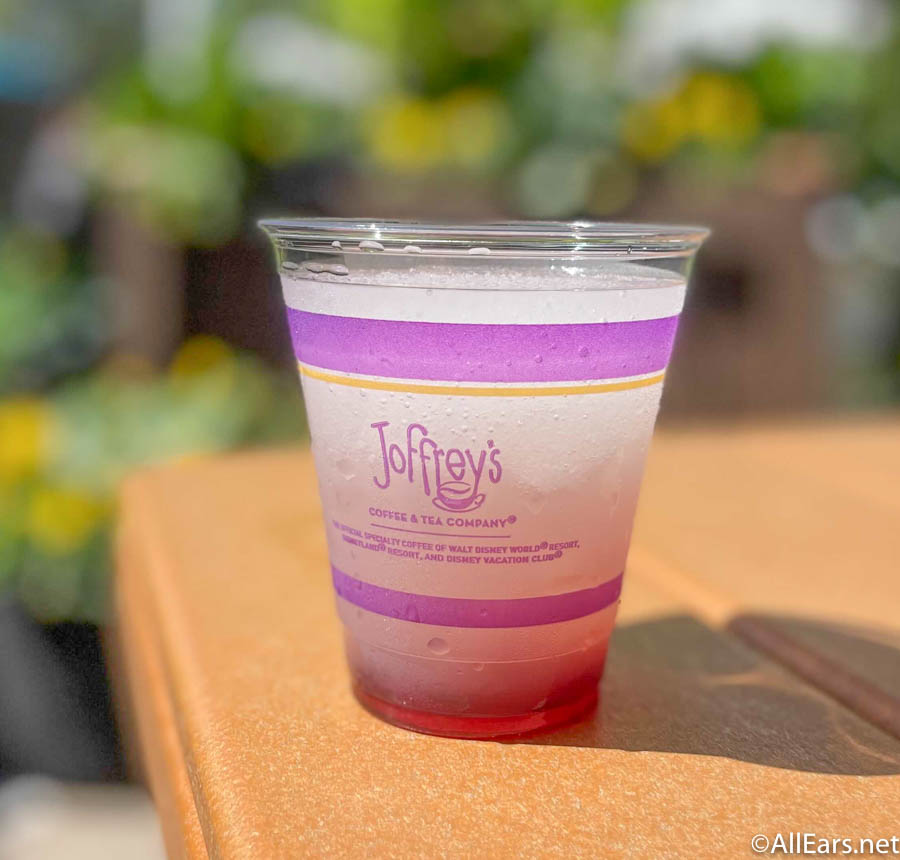 The World Showplace is home to various food booths inside the pavilion. One of them is Farmers Feast…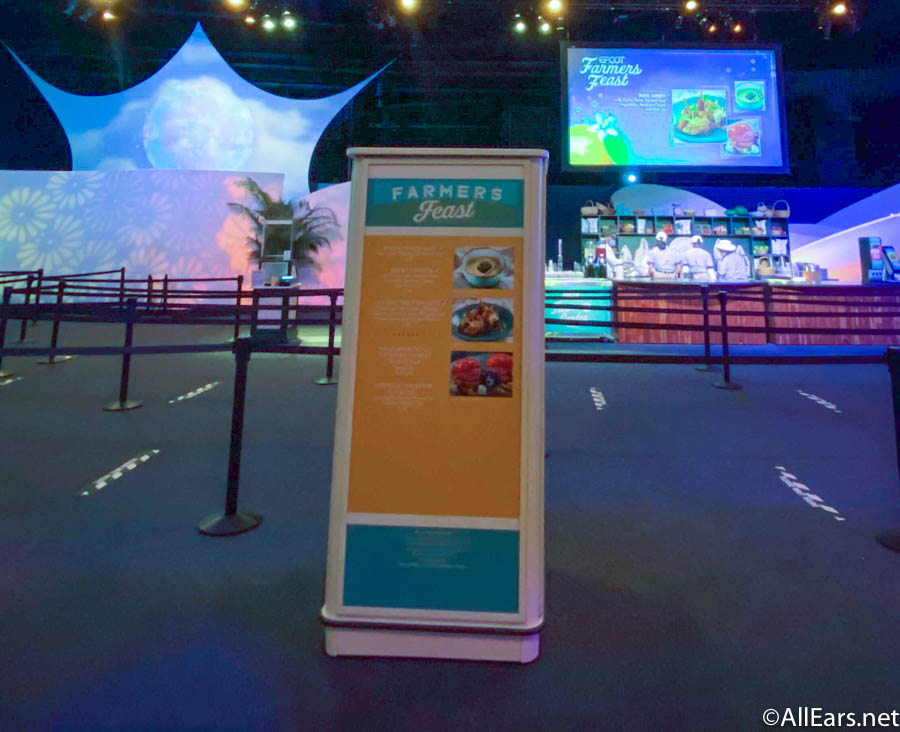 …whose menu items are made with lots of farm fresh ingredients!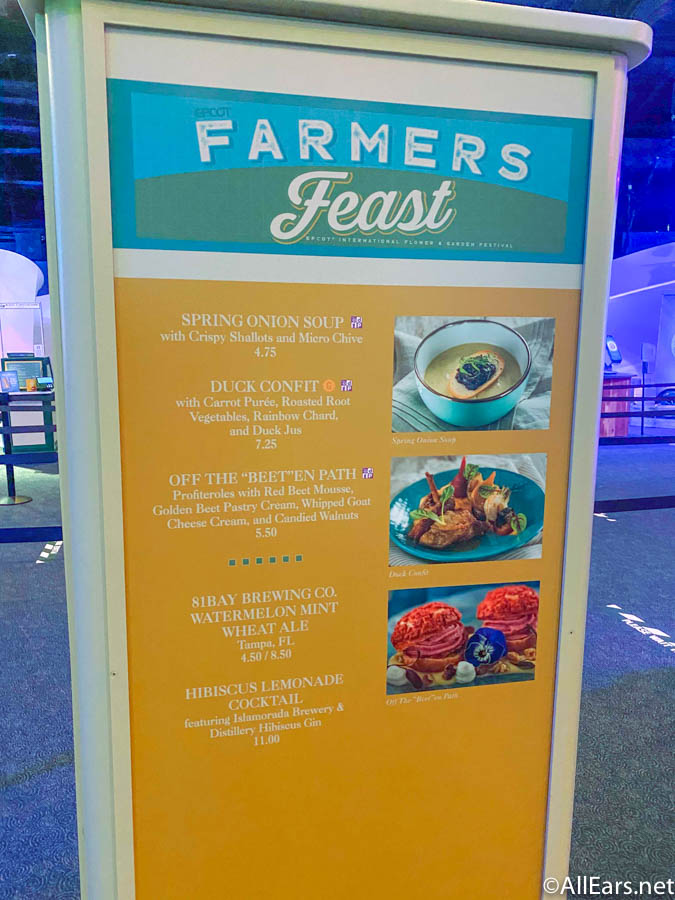 You can find Spring Onion Soup with Crispy Shallots and Micro Chive…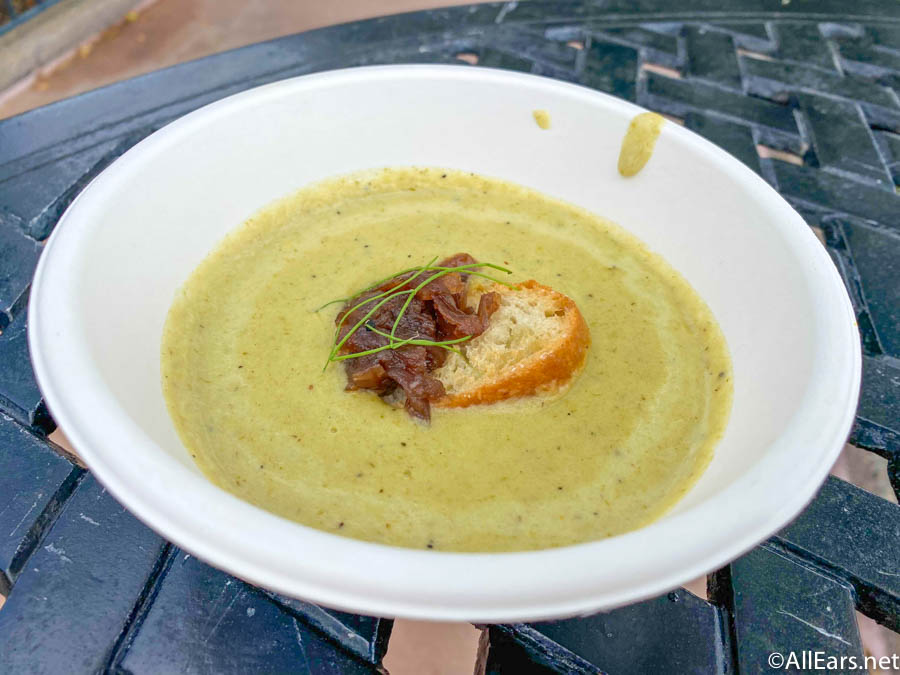 …Off the "Beet"en Path Profiteroles with Red Beet Mousse, Golden Beet Pastry Cream, Whipped Goat Cheese Cream, and Candied Walnuts…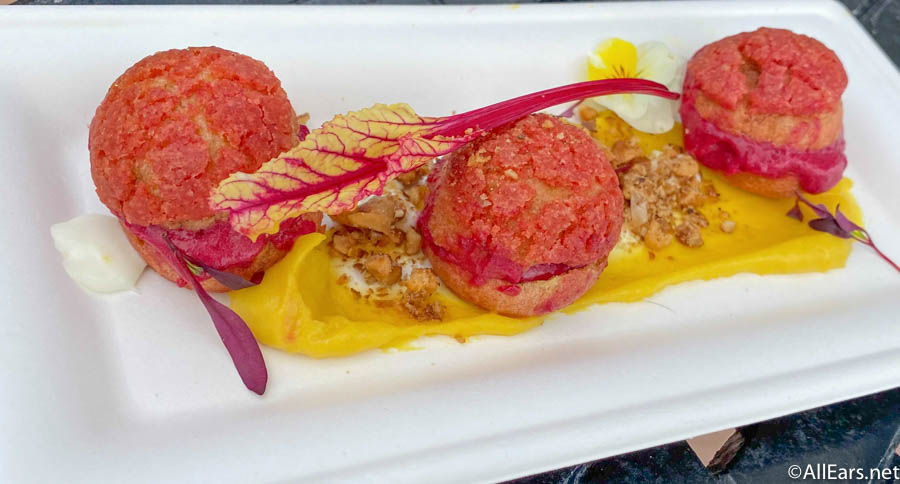 …Duck Confit with Carrot Purée, Roasted Root Vegetables, Rainbow Chard, and Duck Jus…
…the Hibiscus Lemonade Cocktail with Islamorada Brewery & Distillery Hibiscus Gin…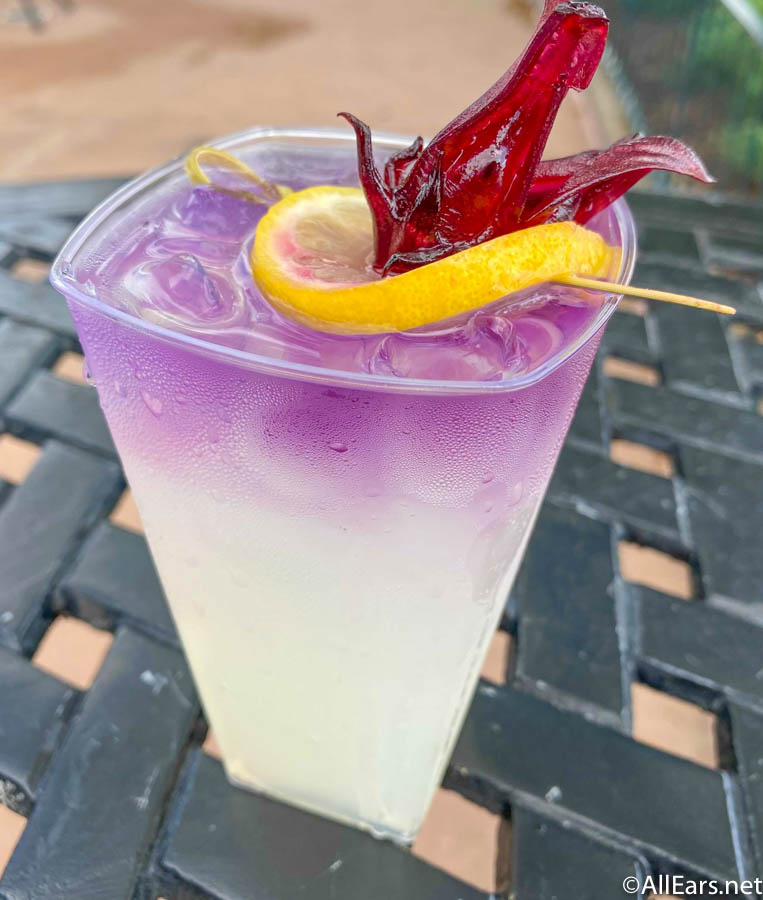 …and the 81Bay Brewing Co. Watermelon Mint Wheat Ale, Tampa.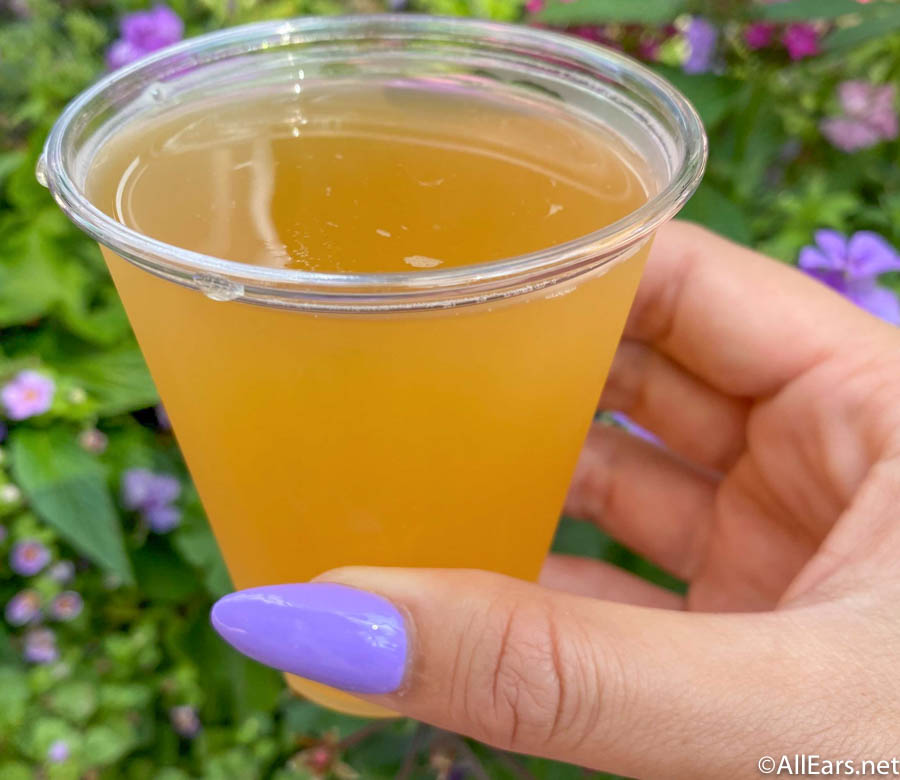 Along with all the other options, there's an extra Blood Orange Beet Cocktail available to guests visiting Farmers Feast!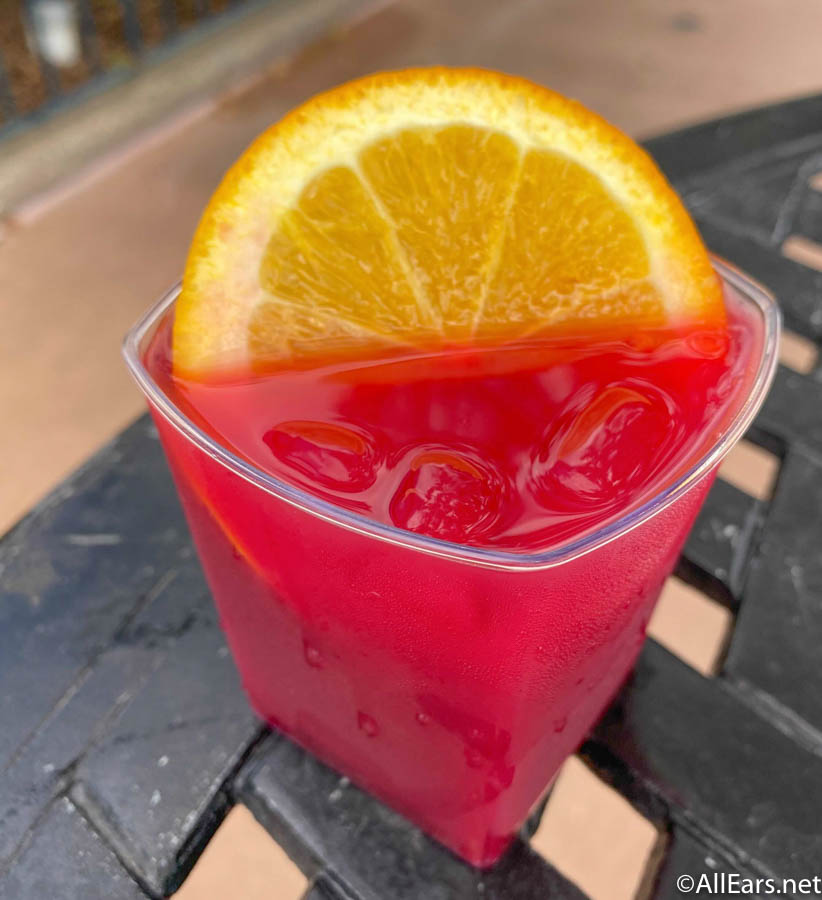 Also inside the World Showplace, Festival Favorites features popular items that guests have grown to love!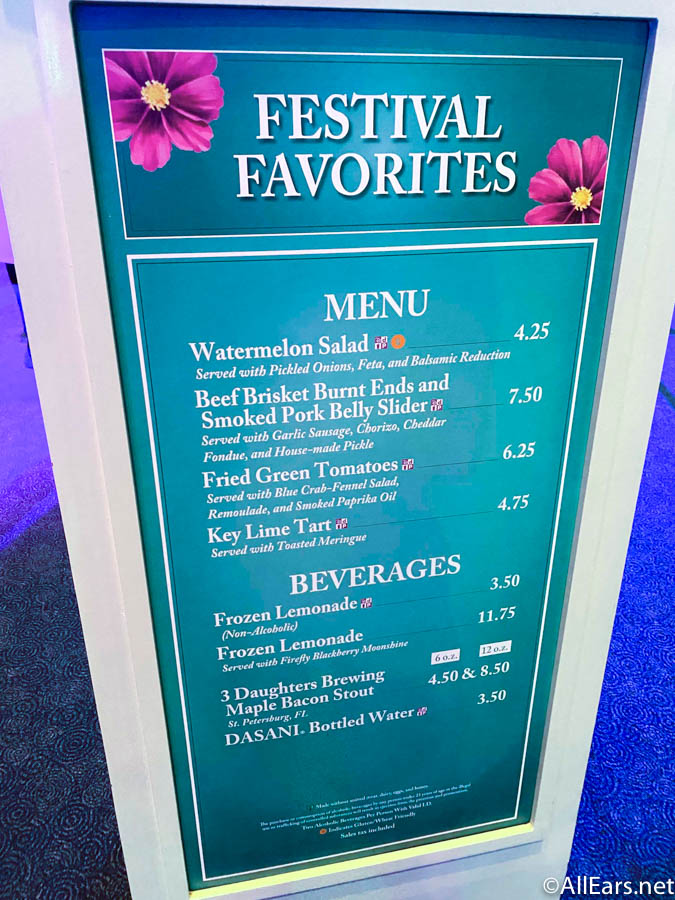 The choices are made up of the Watermelon Salad with Pickled Onions, Feta, and Balsamic Reduction…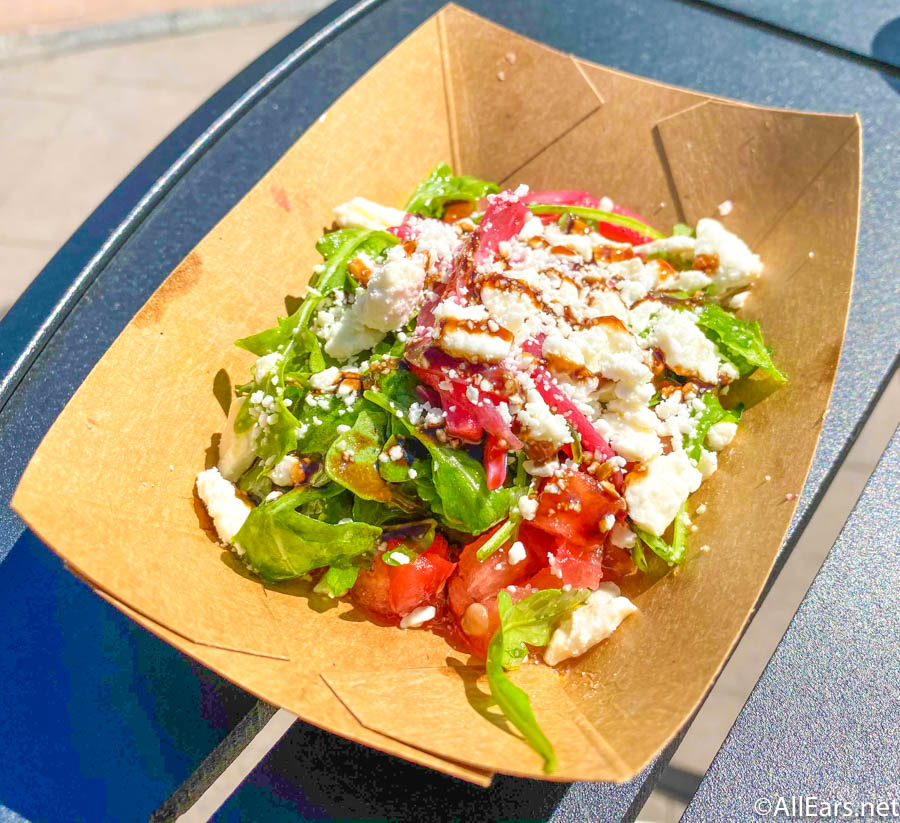 …Beef Brisket Burnt Ends and Smoked Pork Belly Slider with Garlic Sausage, Chorizo, Cheddar Fondue, and House-made Pickle…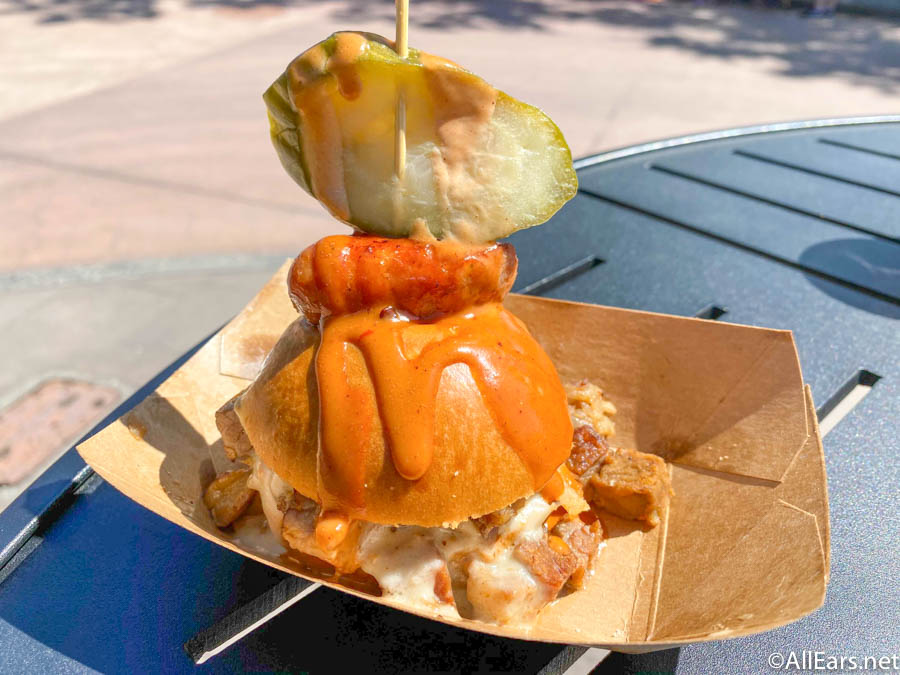 …Fried Green Tomatoes with Blue Crab-Fennel Salad, Remoulade, and Smoked Paprika Oil…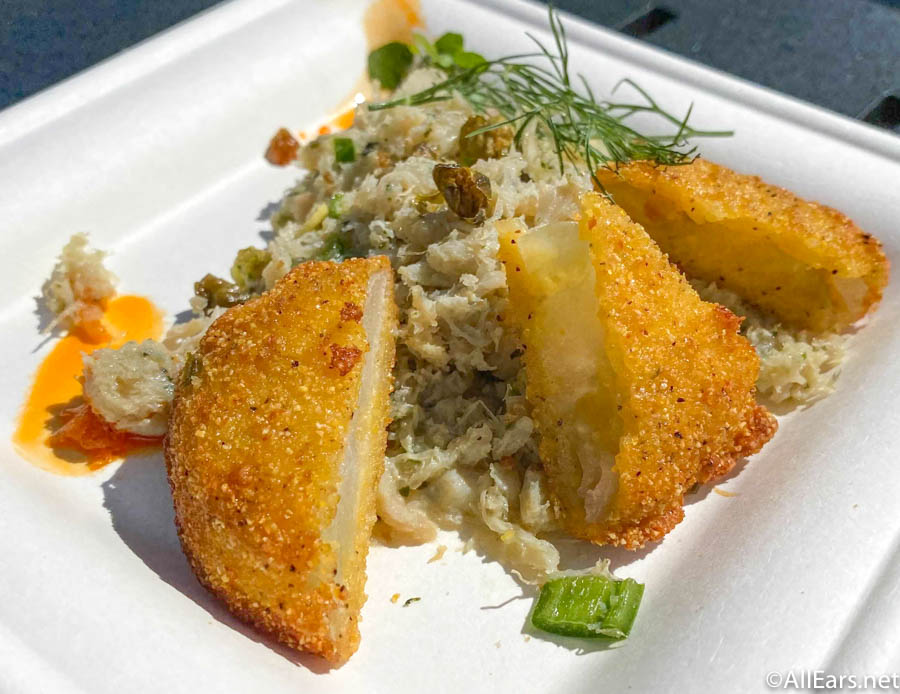 …Key Lime Tart with Toasted Meringue…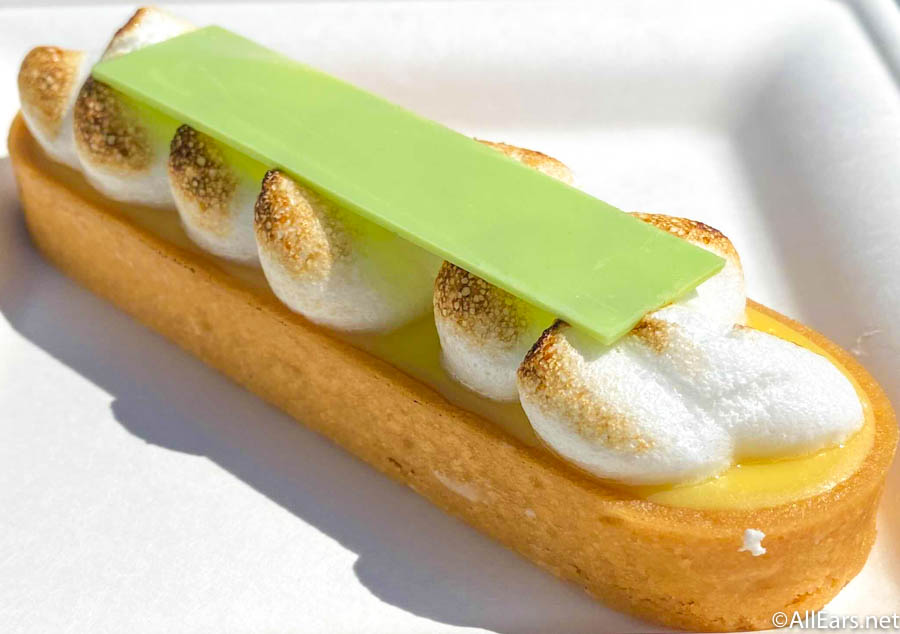 …3 Daughters Brewing Maple Bacon Stout, St. Petersburg…
…and Frozen Lemonade with Firefly Blackberry Moonshine.
Right next door, there's also the Cider House Booth…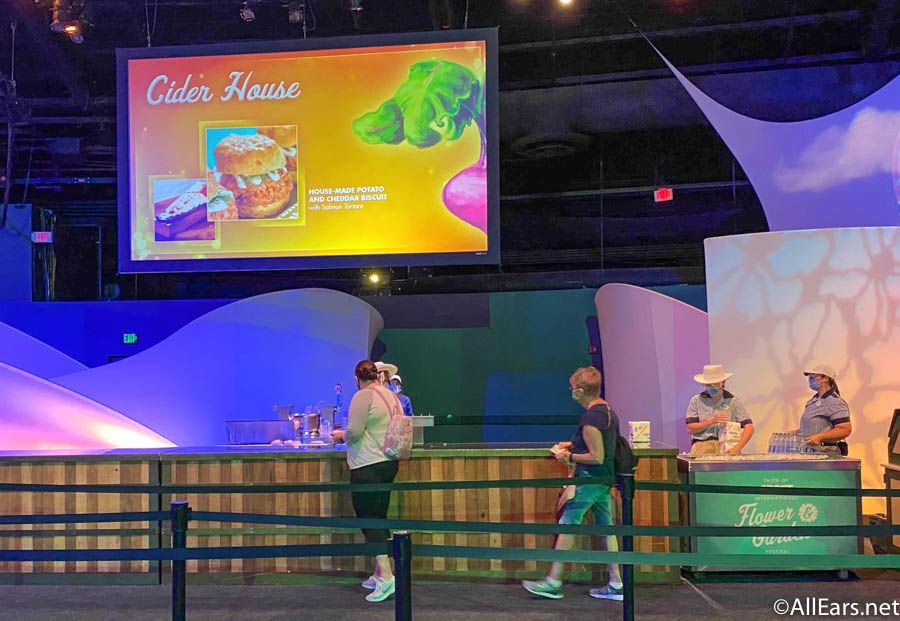 …whose main focus happens to be its varying ciders, BUT there are still some eats in the mix!
You can find the Samuel Smith Old Brewery Pure Brewed Organic Lager, Tadcaster, UK…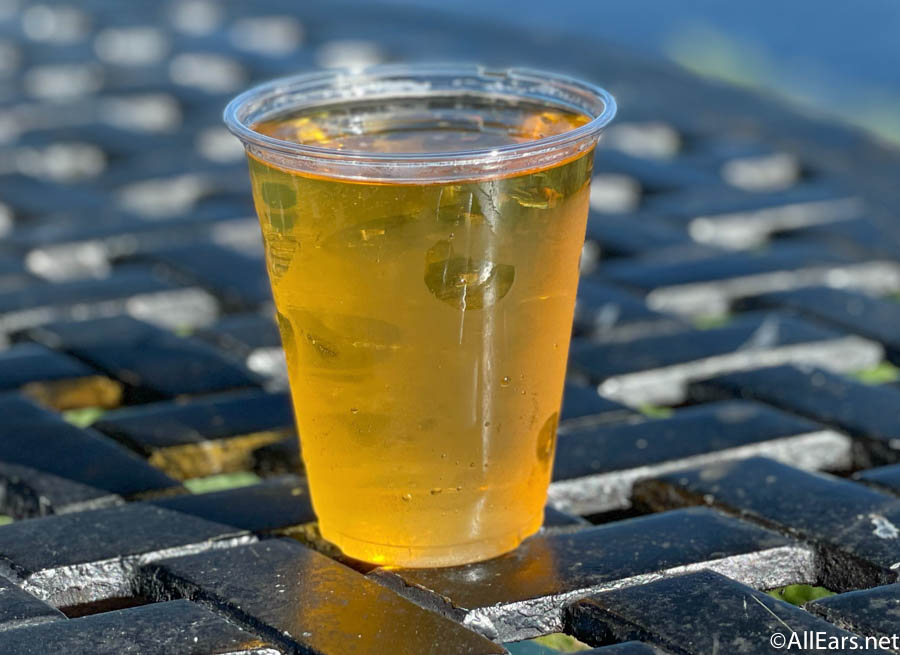 …and Cider Flight that comes with three of the options on the menu, including the 3 Daughters Brewing Pink Lemonade Hard Cider, Bold Rock Watermelon Hard Cider, and Blake's Hard Cider Co. Triple Jam Hard Cider…
…as well as eats like the House-made Potato and Cheddar Biscuit with Salmon Tartare…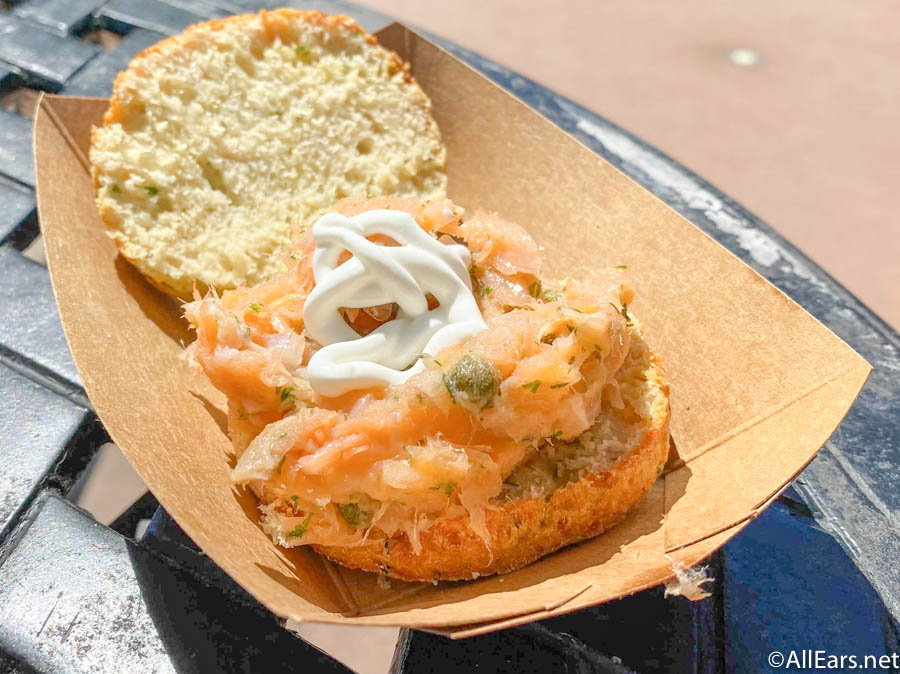 …and Dark Chocolate Raspberry Tart with Whipped Cream.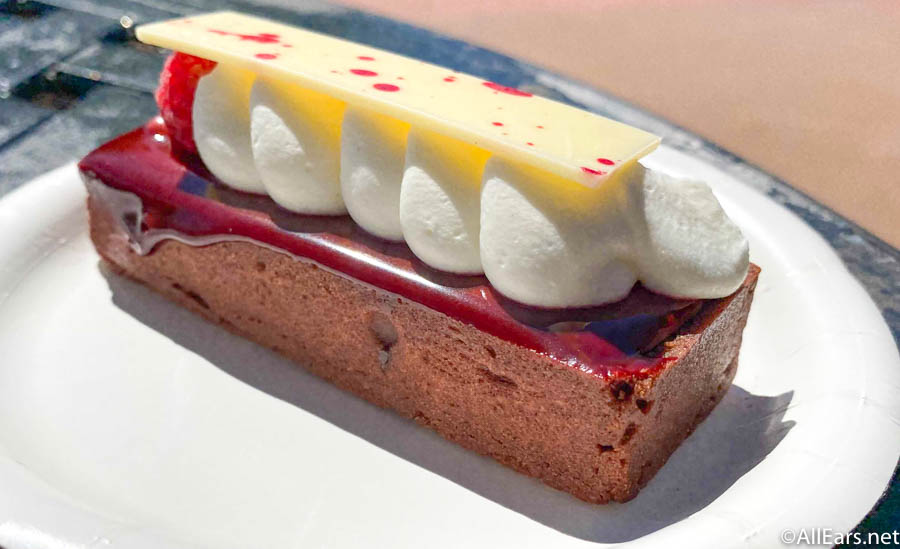 If you love a hint of something sweet in your Flower and Garden snacks, you'll LOVE The Honey Bee-stro.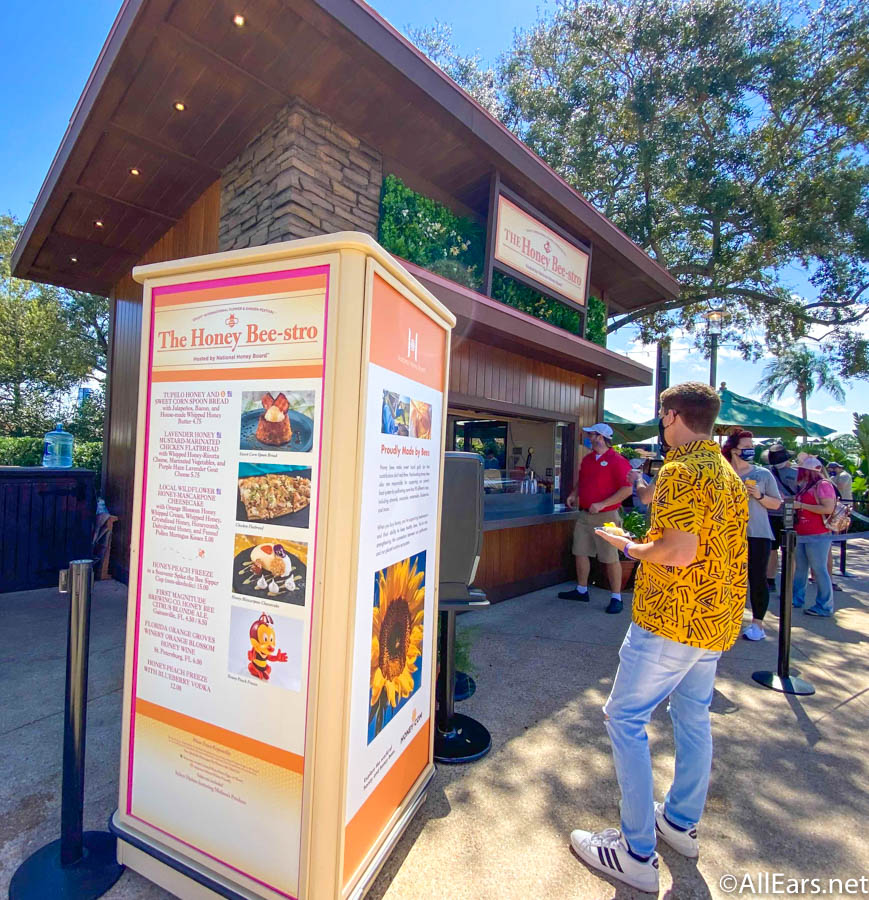 Each of its menu items has honey incorporated into it somehow for a flavorful dish or drink.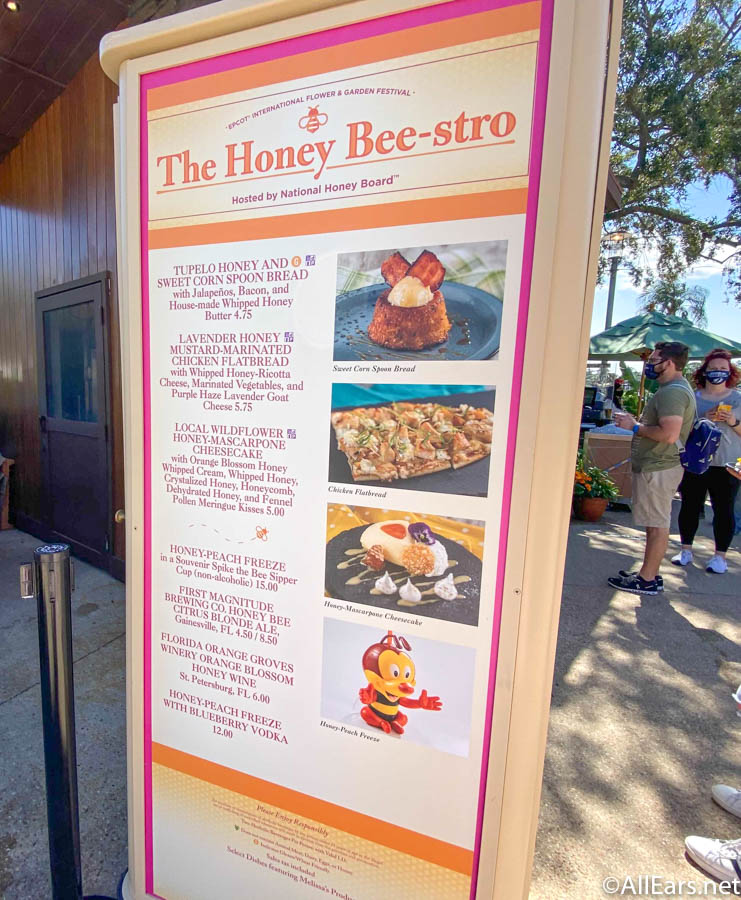 This year, you can find the Lavender Honey Mustard-marinated Chicken Flatbread with Whipped Honey-Ricotta Cheese, Marinated Vegetables, and Purple Haze Lavender Goat Cheese…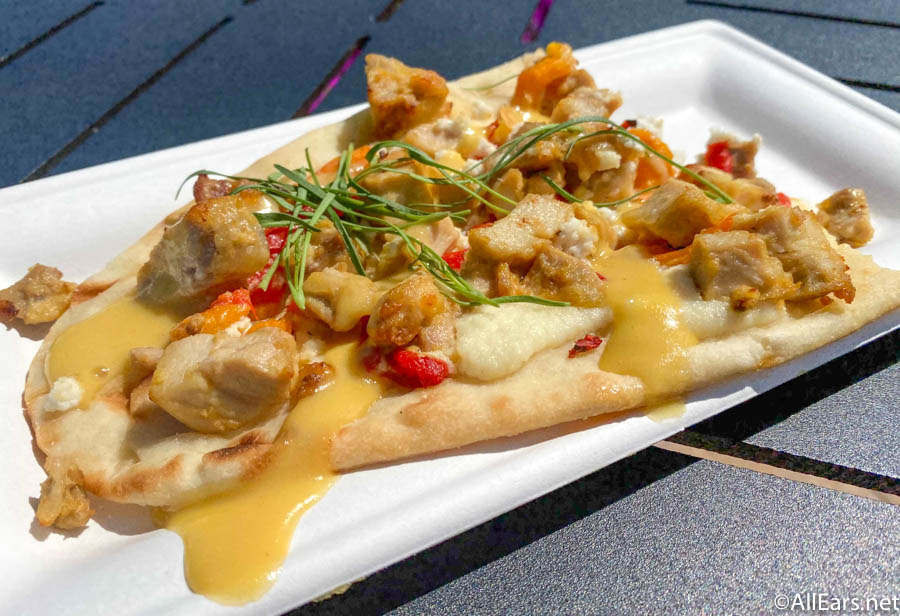 …Tupelo Honey and Sweet Corn Spoon Bread with Jalapeños, Bacon, and House-made Whipped Honey Butter…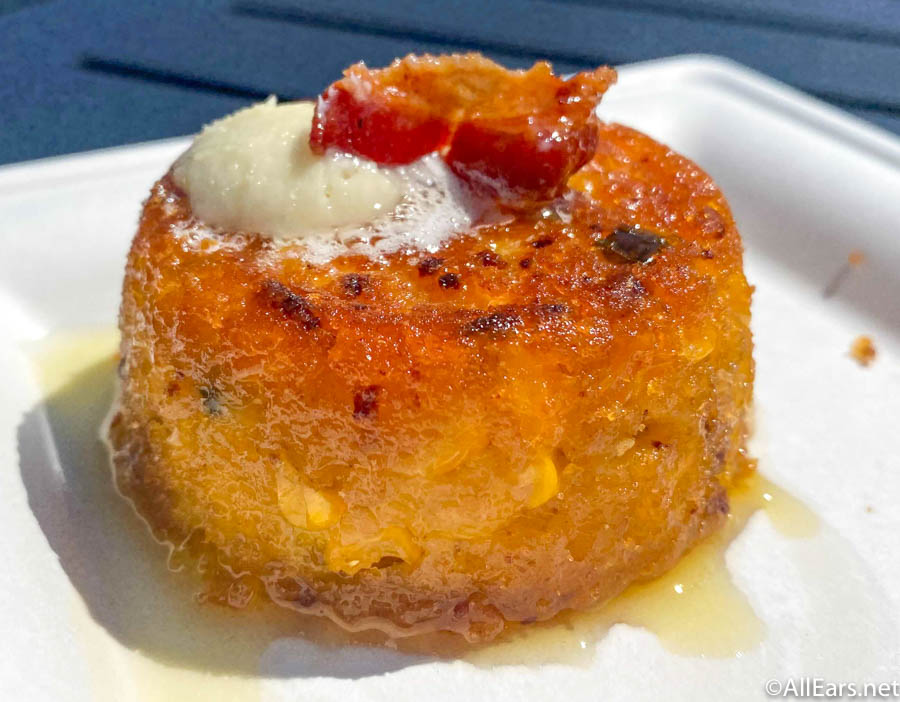 …Local Wildflower Honey-Mascarpone Cheesecake with Orange Blossom Honey Whipped Cream, Whipped Honey, Crystalized Honey, Honeycomb, Dehydrated Honey, and Fennel Pollen Meringue Kisses…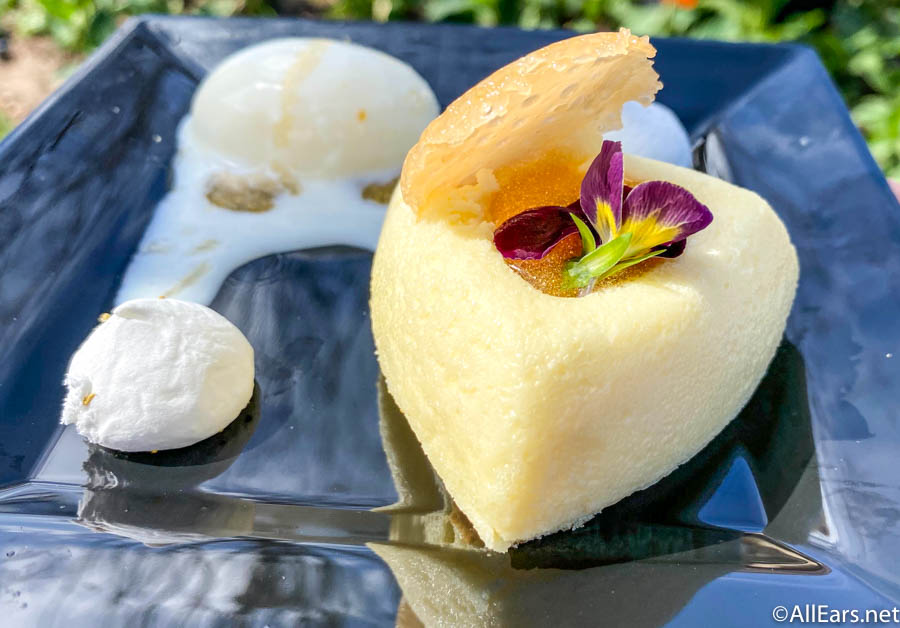 …Honey Peach Freeze (with the option of a Spike the Bee Sipper)…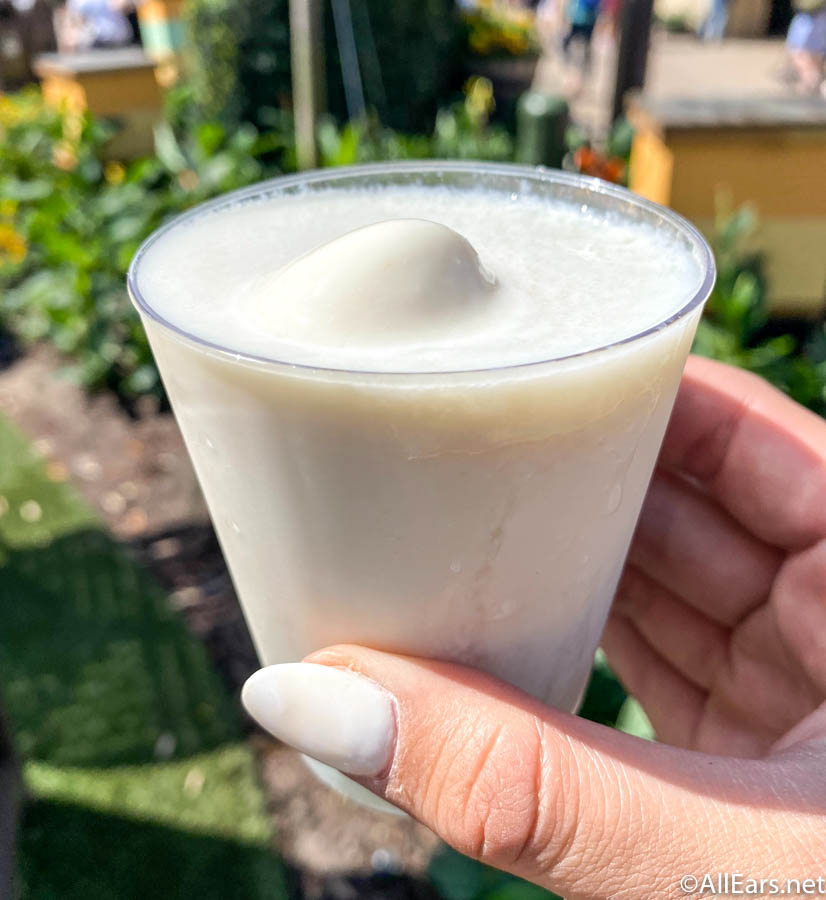 …First Magnitude Brewing Co. Honey Bee Citrus Blonde Ale…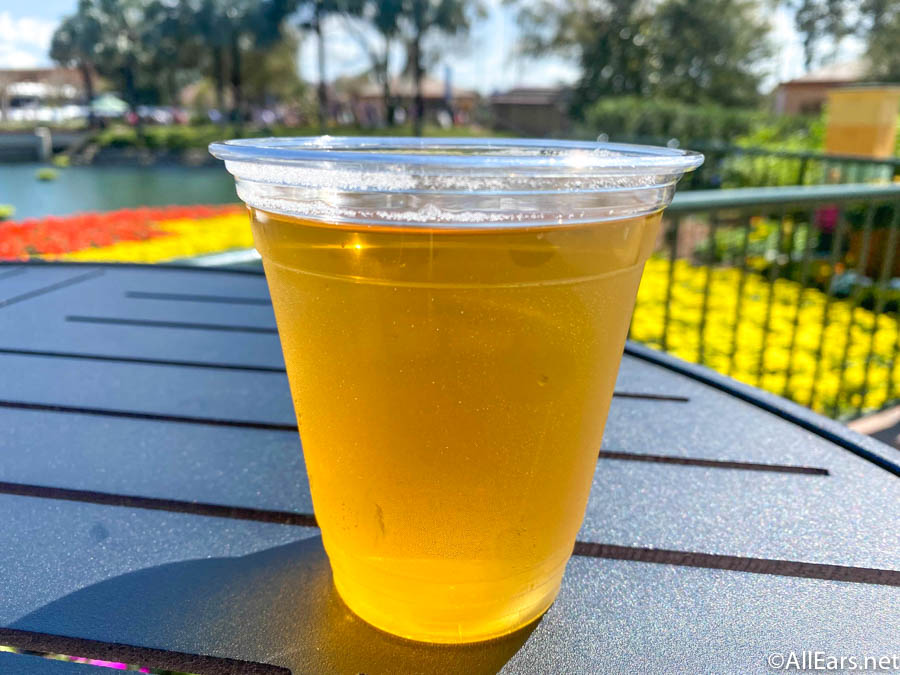 …and Florida Orange Groves Orange Blossom Honey Wine, St. Petersburg.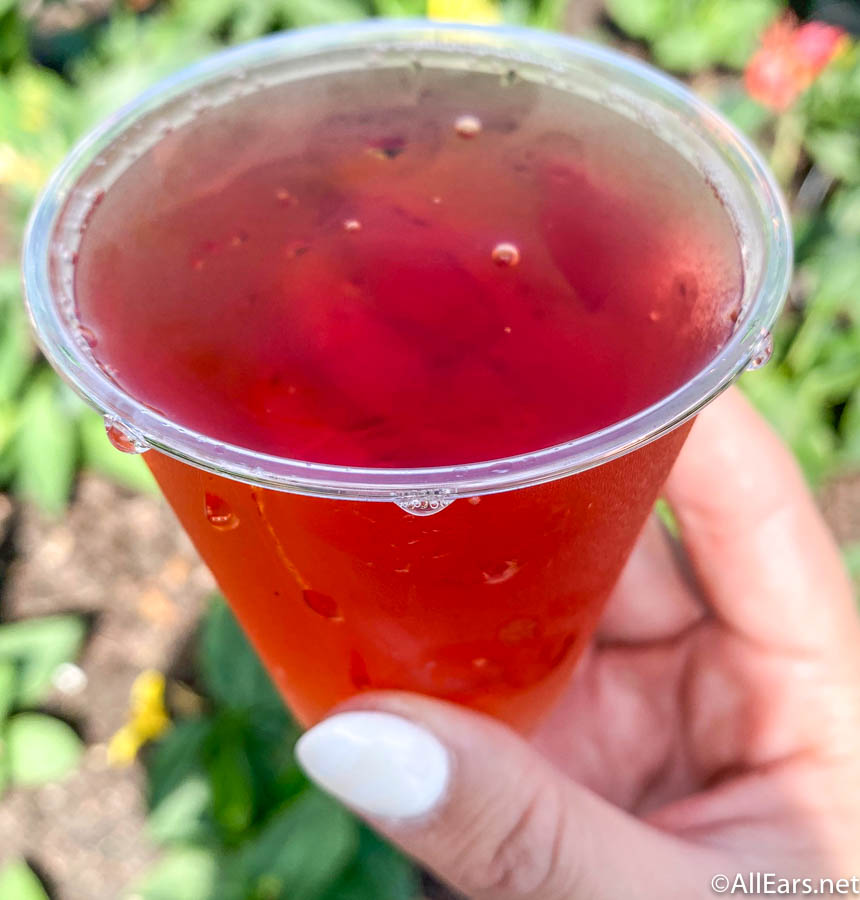 Over at the Pineapple Promenade, you can find a bunch of sweet citrus items mixed with pineapple! The menu has the Wicked Weed Brewing Fresh Pressed Wheat Ale with Mango, Pineapple, and Guava, Asheville, N.C. Pineapple Wine…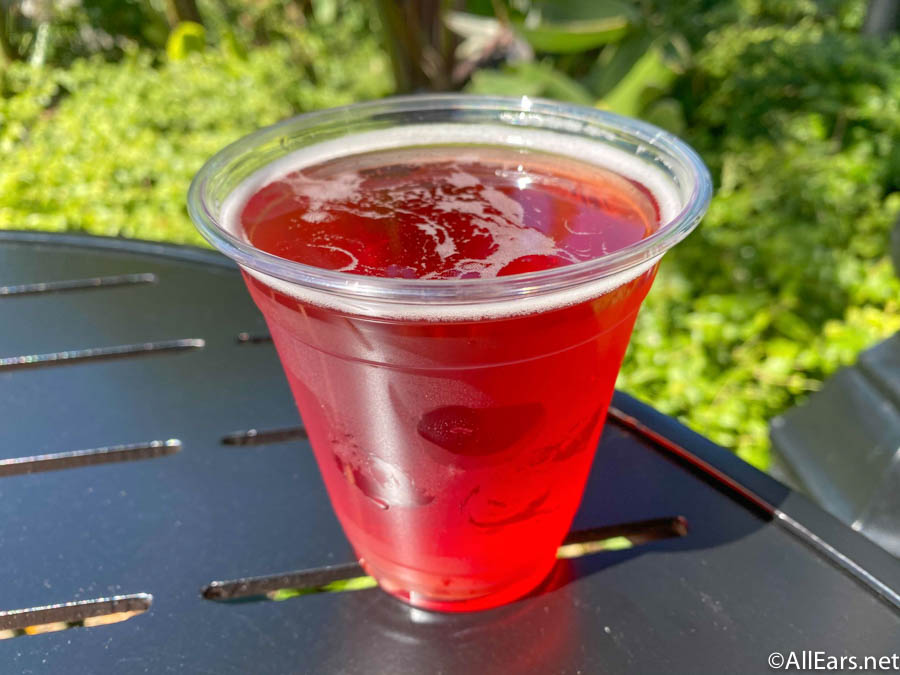 …Florida Orange Groves Winery Sparkling Pineapple Wine…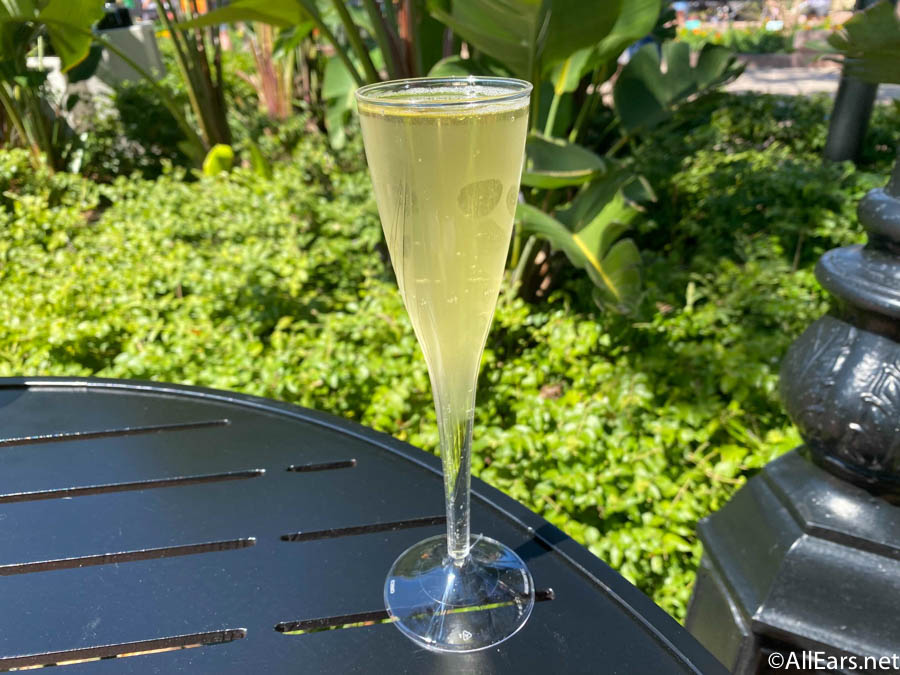 …Pineapple Flight…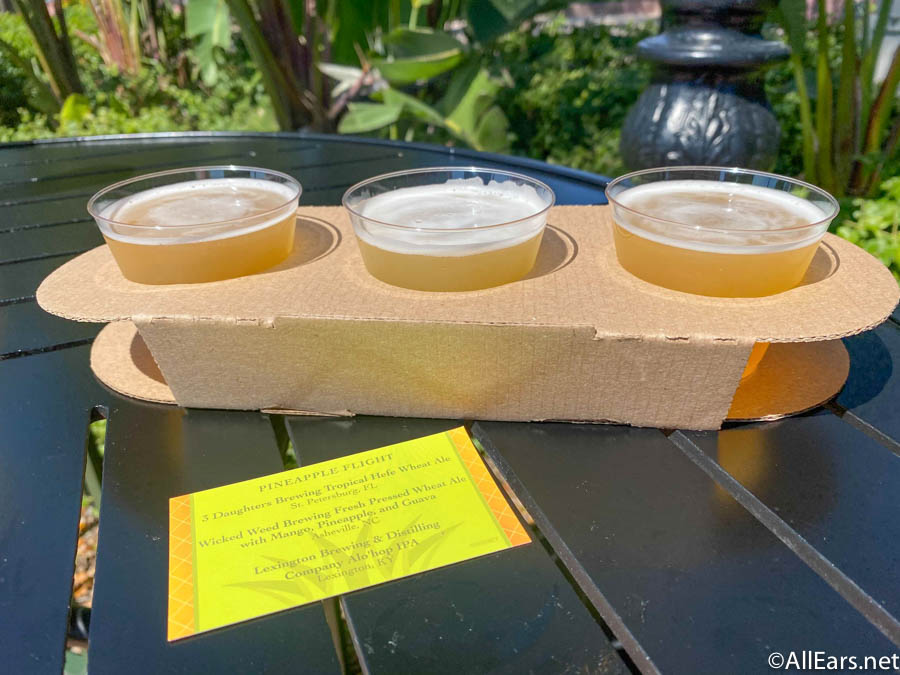 …and DOLE Whip topped with Parrot Bay Coconut Rum.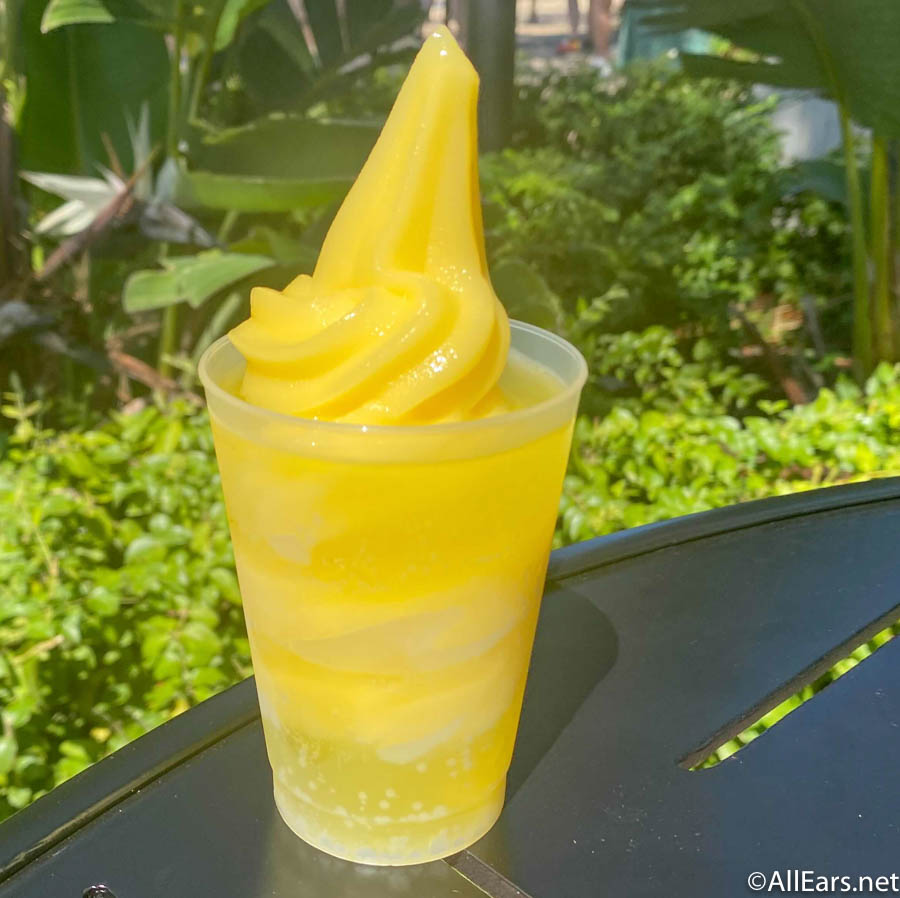 And, if you aren't full yet, you can head to the Flavor Full Kitchen…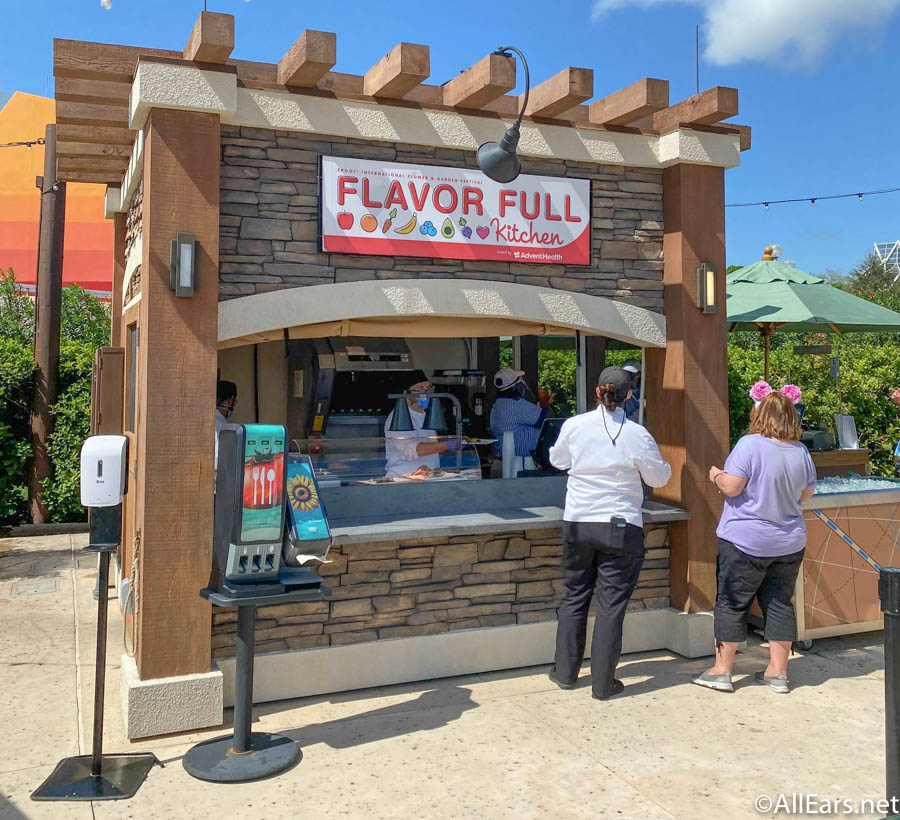 …where each of its menu items fit its name!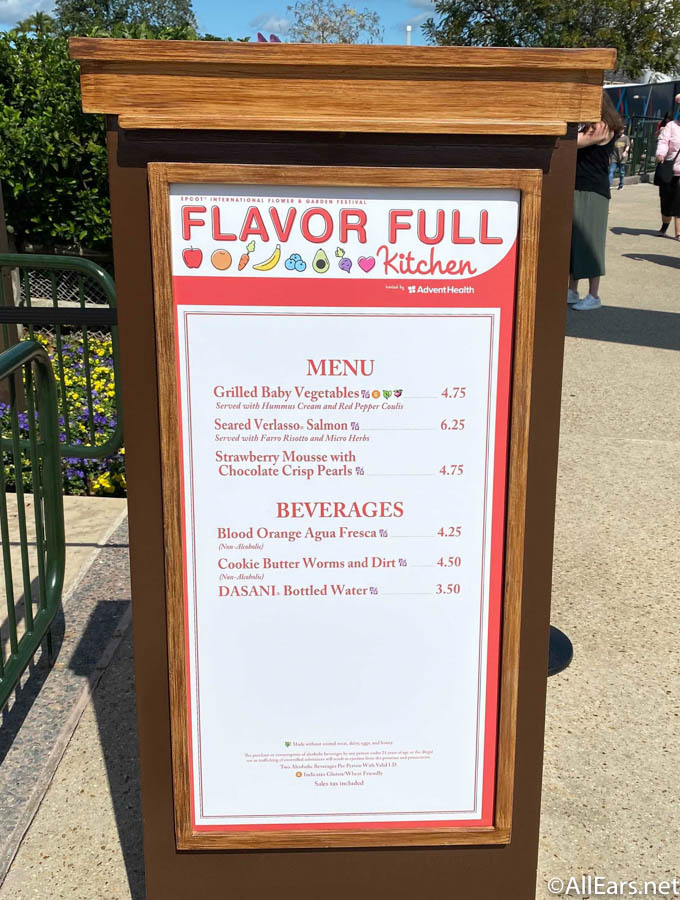 You can find the Seared Verlasso Salmon with Farro Risotto and Micro Herbs…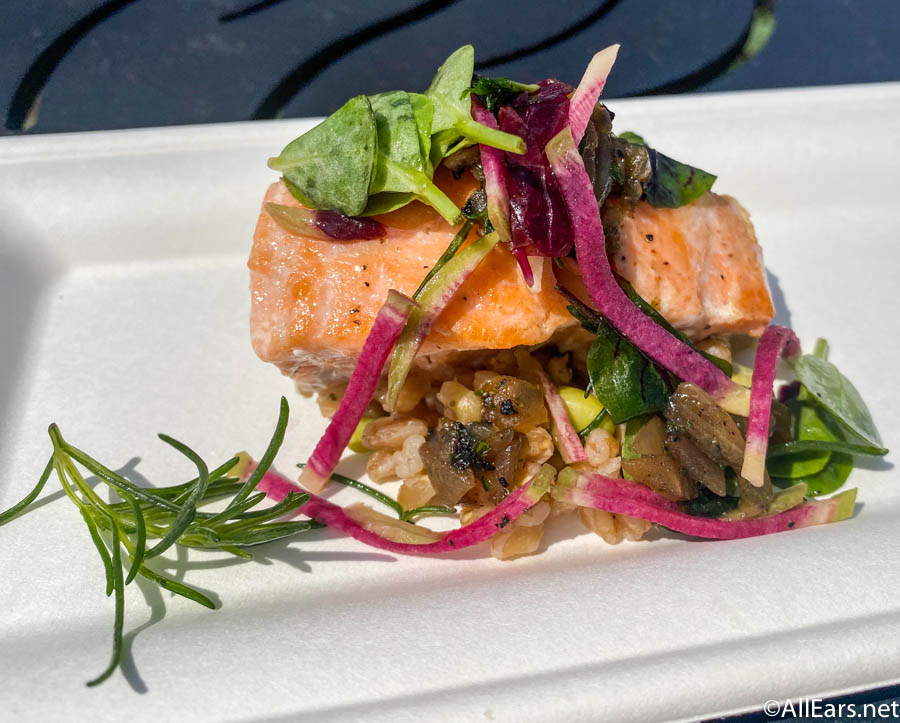 …Grilled Baby Vegetables with Hummus Cream and Red Pepper Coulis, among others!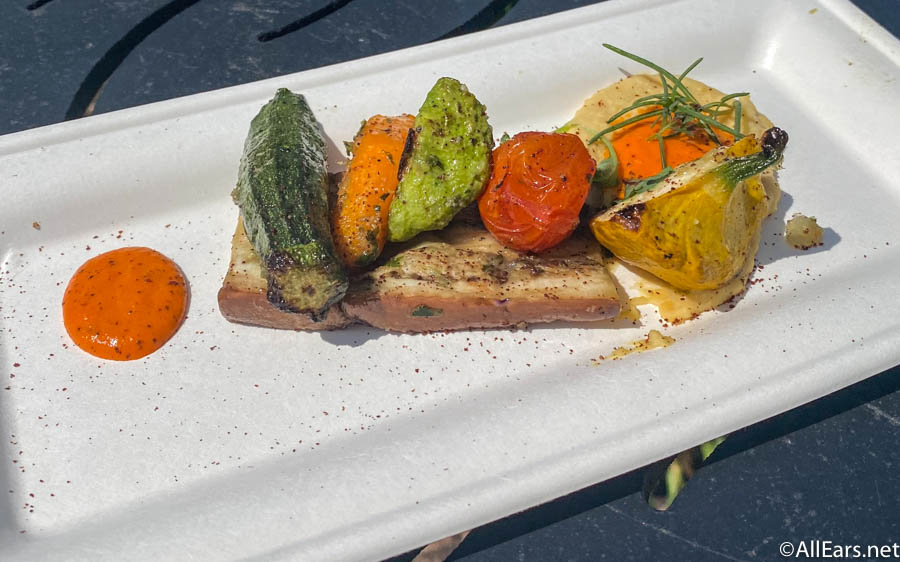 Refreshment Port has even joined in on the Flower and Garden festivities with menu options of its own!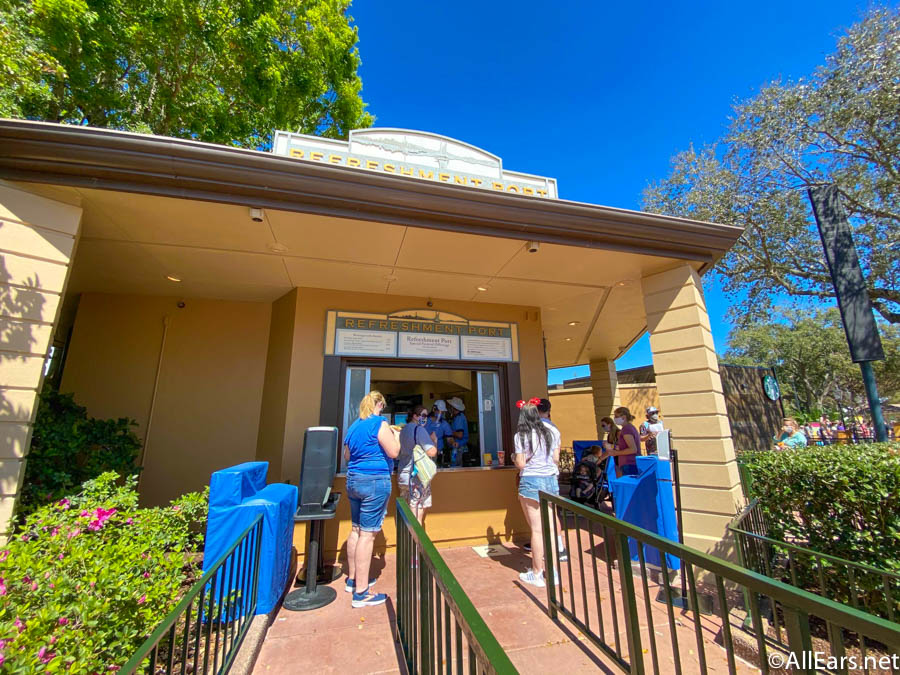 You can pick up the House-made Italian Sausage and Peppers Poutine…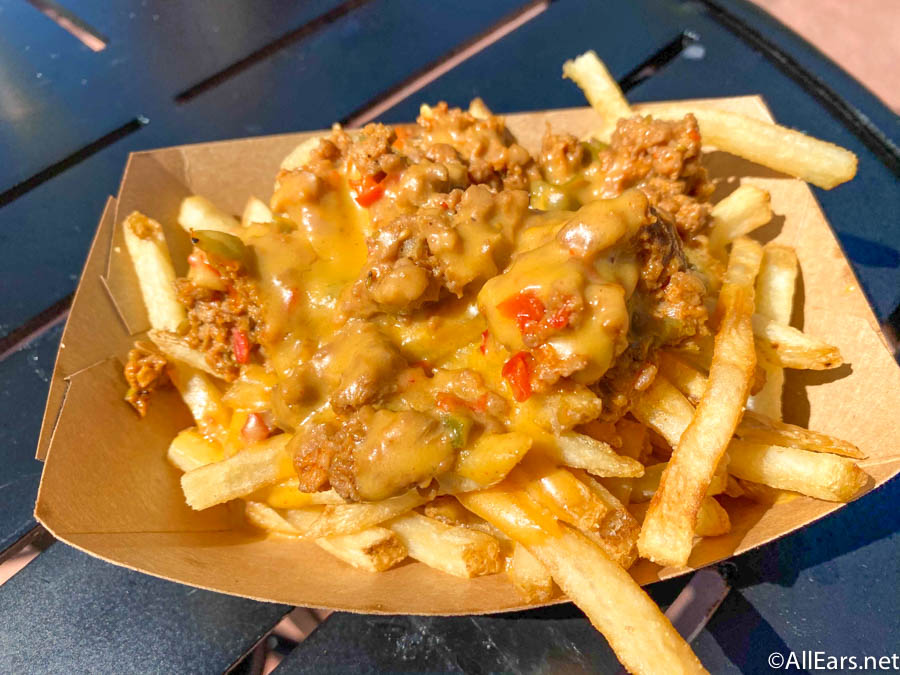 …Cutwater Bloody Mary…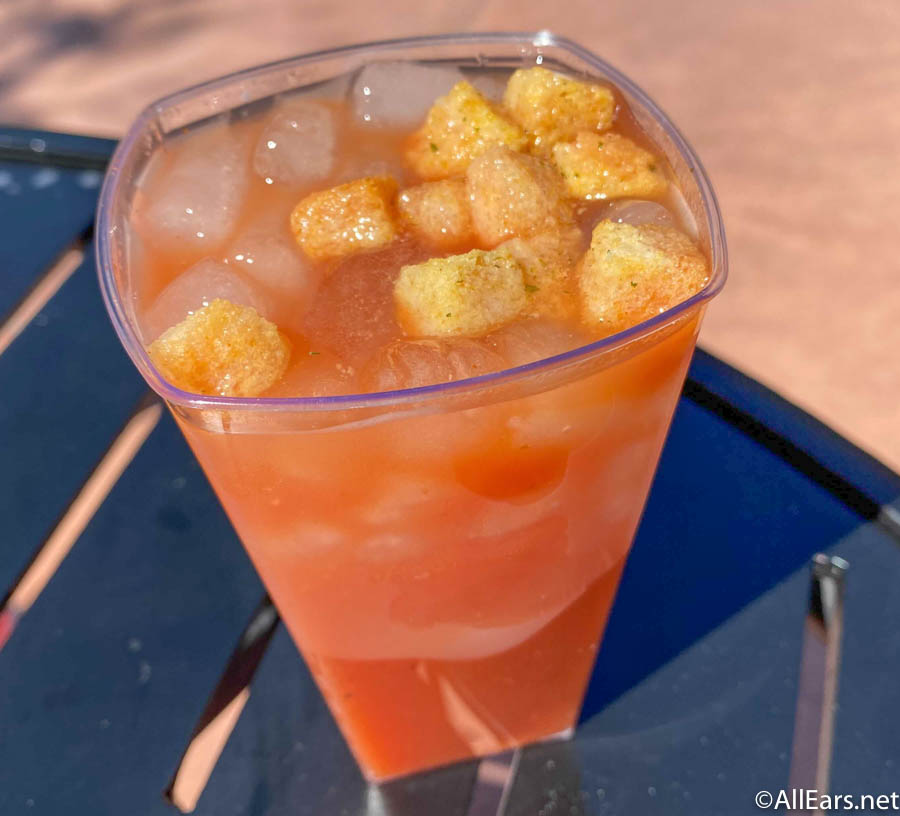 …Starcut Ciders Cidre Colada Hard Cider, Bellaire, Mich…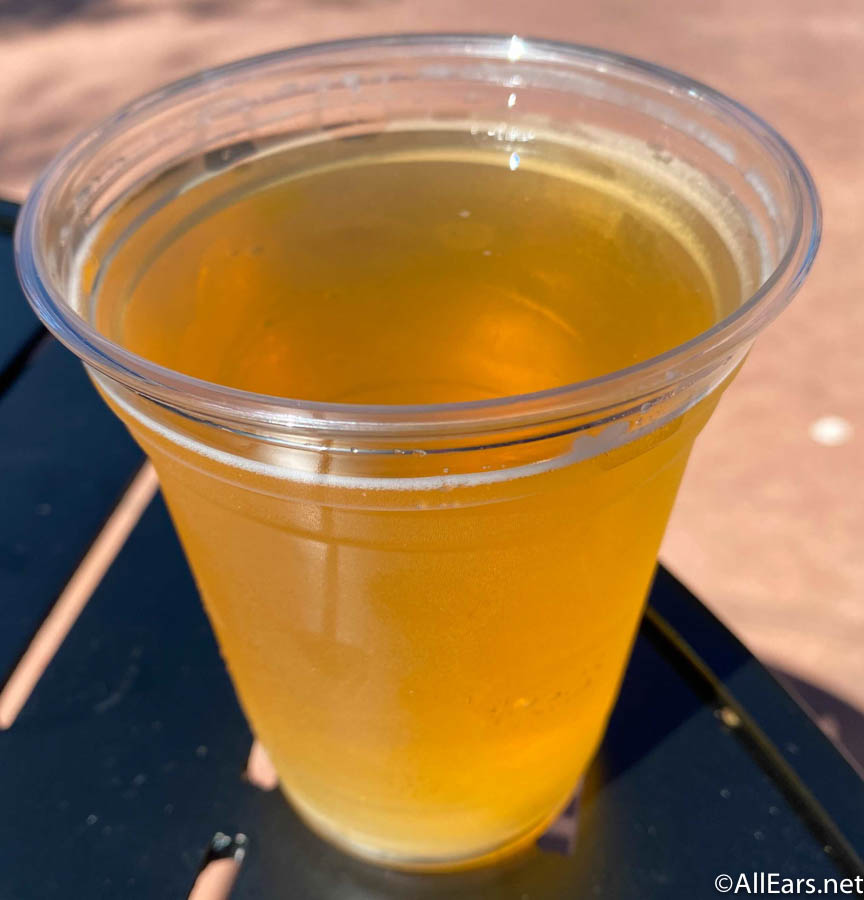 …and Cutwater Whiskey Mule!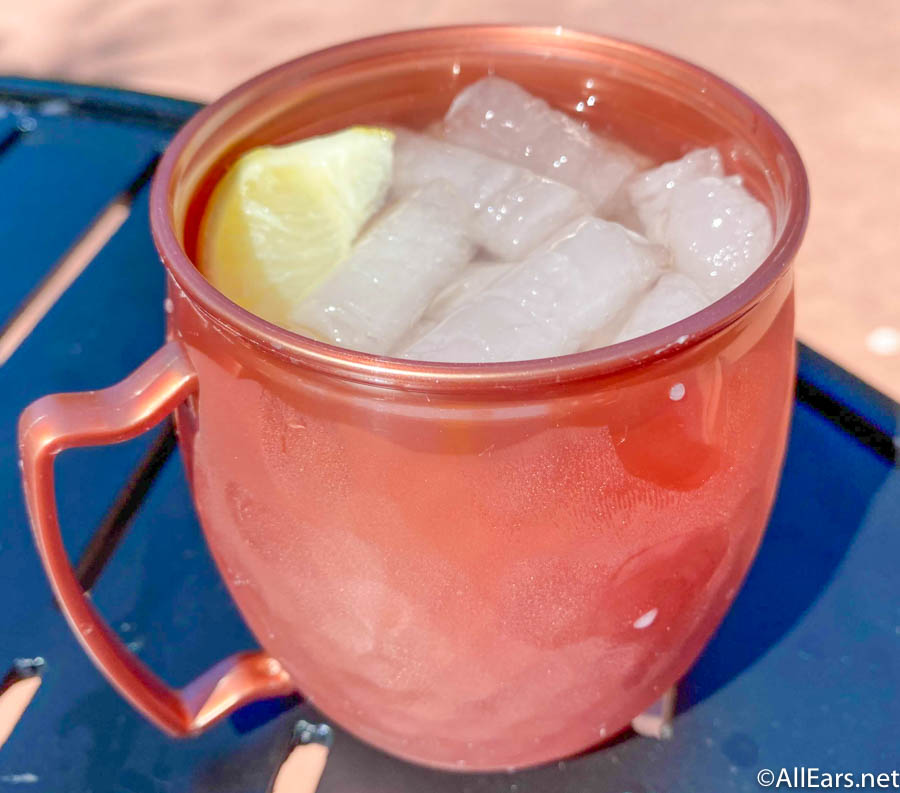 You can even taste a bit of French Cuisine over at the Fleur de Lys booth…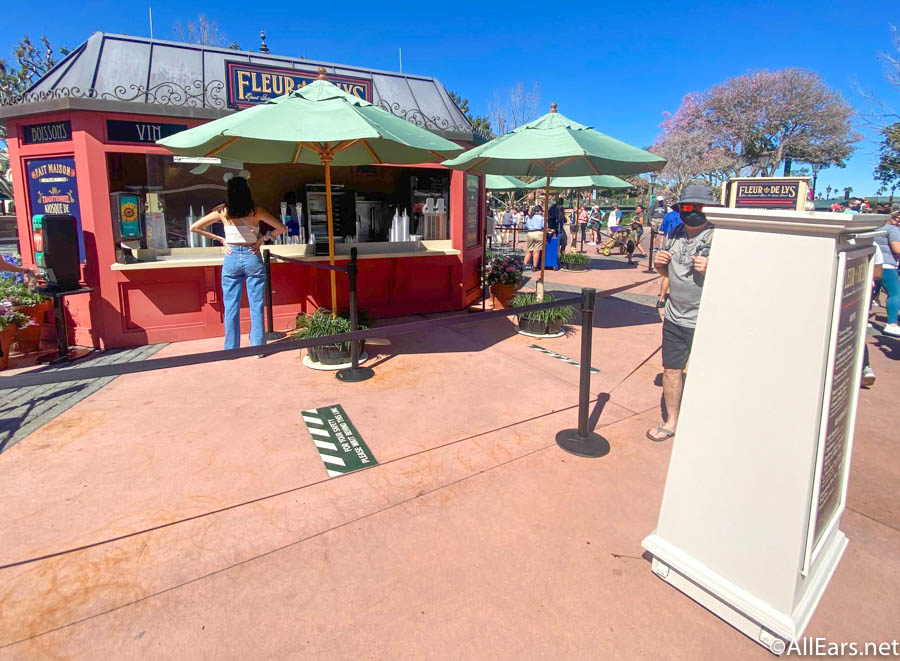 …which comes with its own special line-up of eats, treats, and drinks!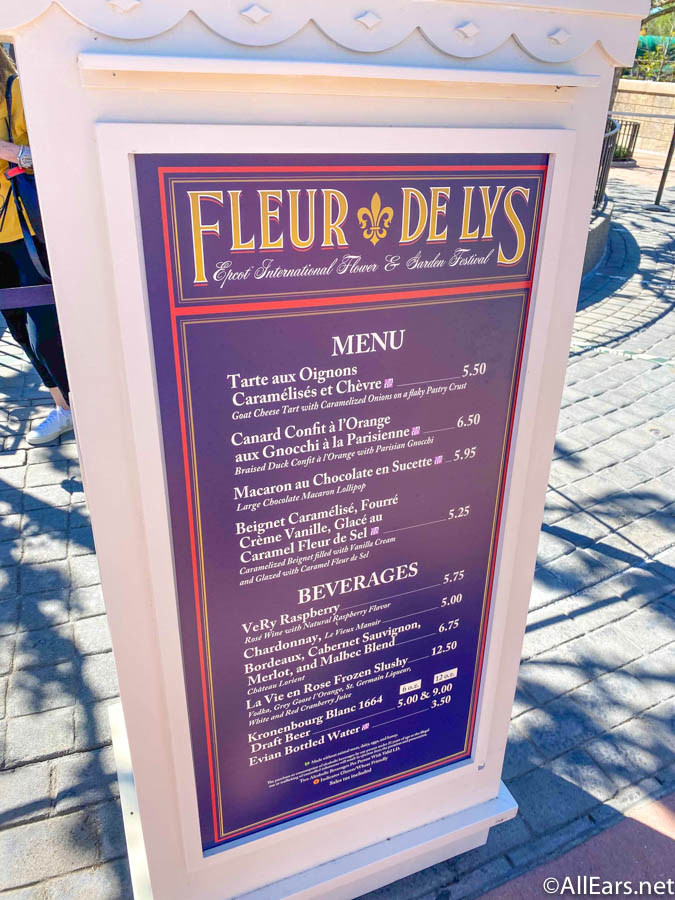 You can pick up the Beignet Caramélisé, Fourré Crème Vanille, Glacé au Caramel Fleur de Sel, which is a Caramelized Beignet filled with Vanilla Cream and Glazed with Caramel Fleur de Sel…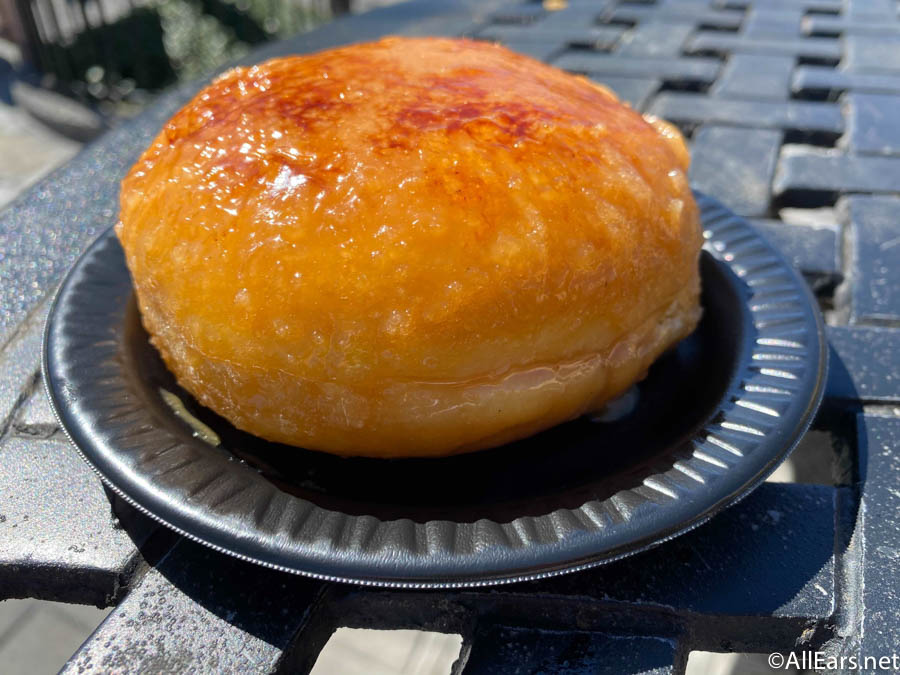 …the Canard Confit à l'Orange aux Gnocchi à la Parisienne, which is Braised Duck Confit à l'Orange with Parisian Gnocchi…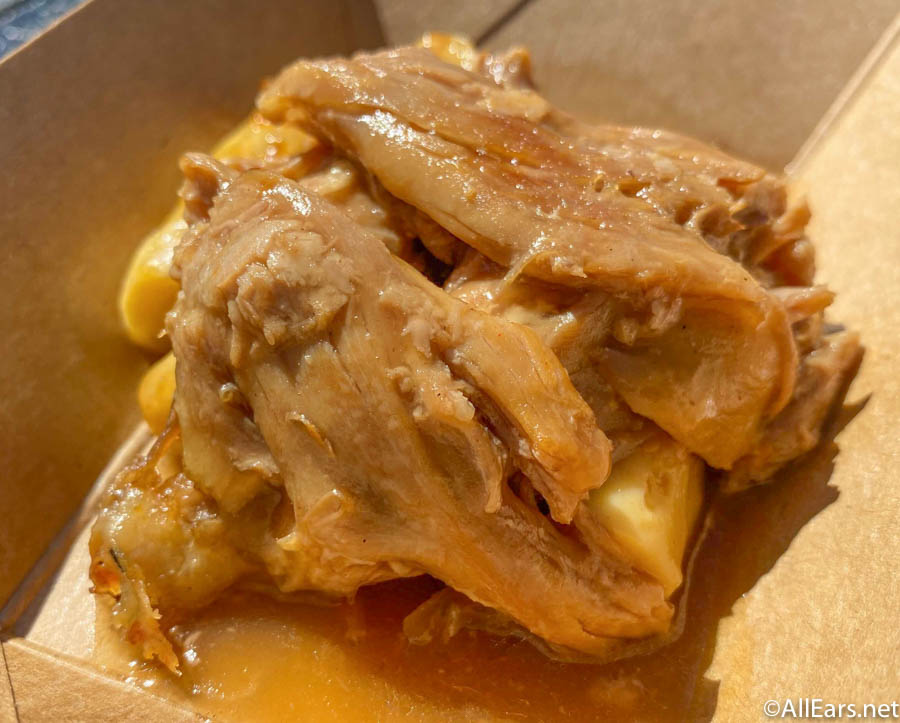 …Chardonnay, Le Vieux Manoir…
…and Bordeaux, Cabernet Sauvignon, Merlot and Malbec Blend, Château Lorient.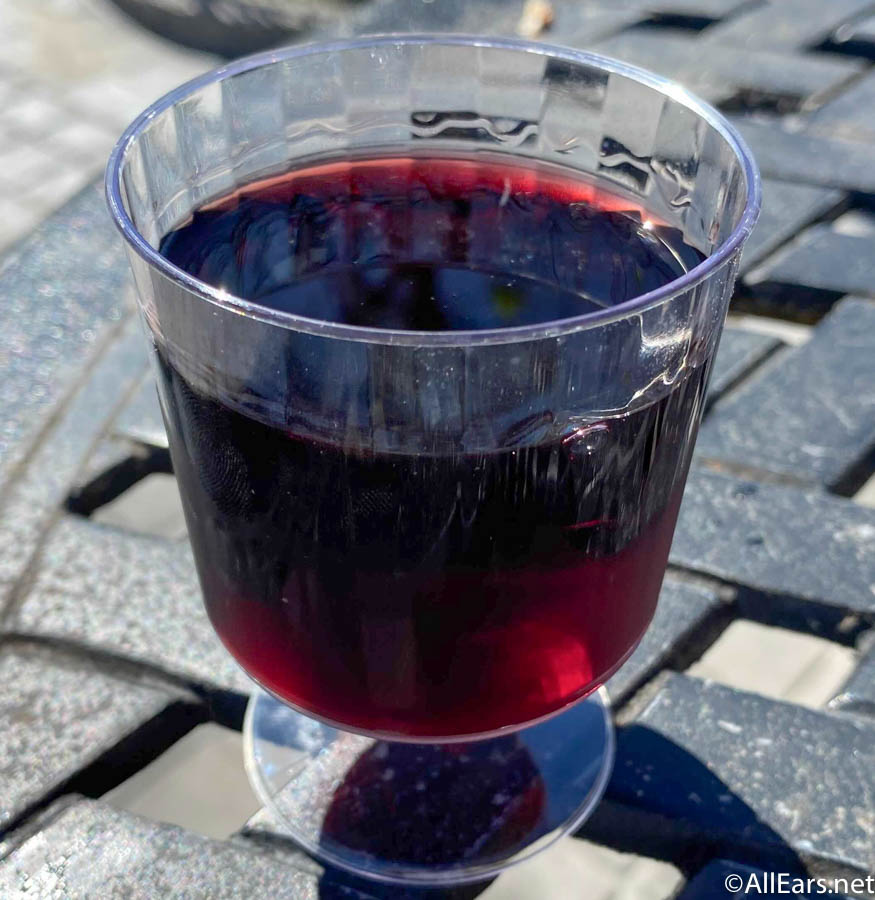 One of the most popular Flower and Garden booths is Trowel & Trellis…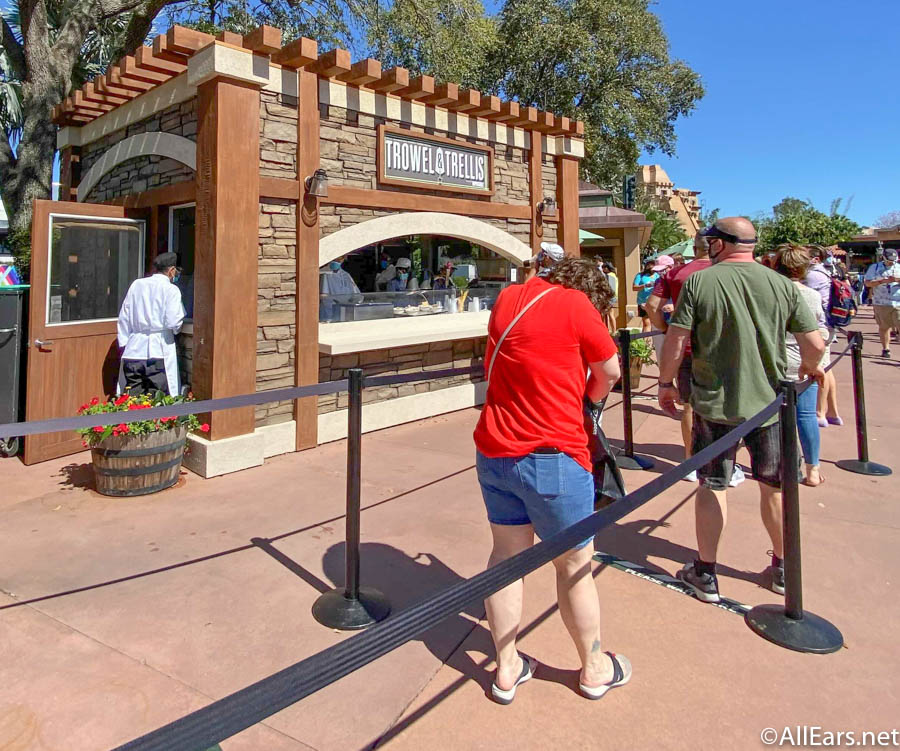 …known for its unique flavors and dishes that guests love!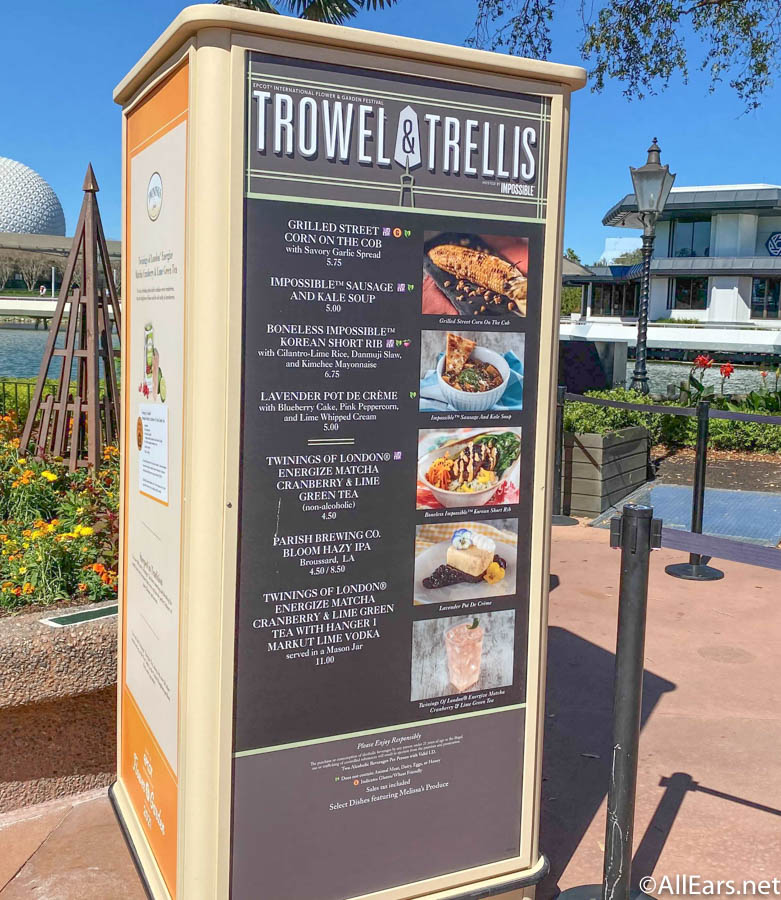 As you make your way over there, you can find the Impossible Sausage and Kale Soup…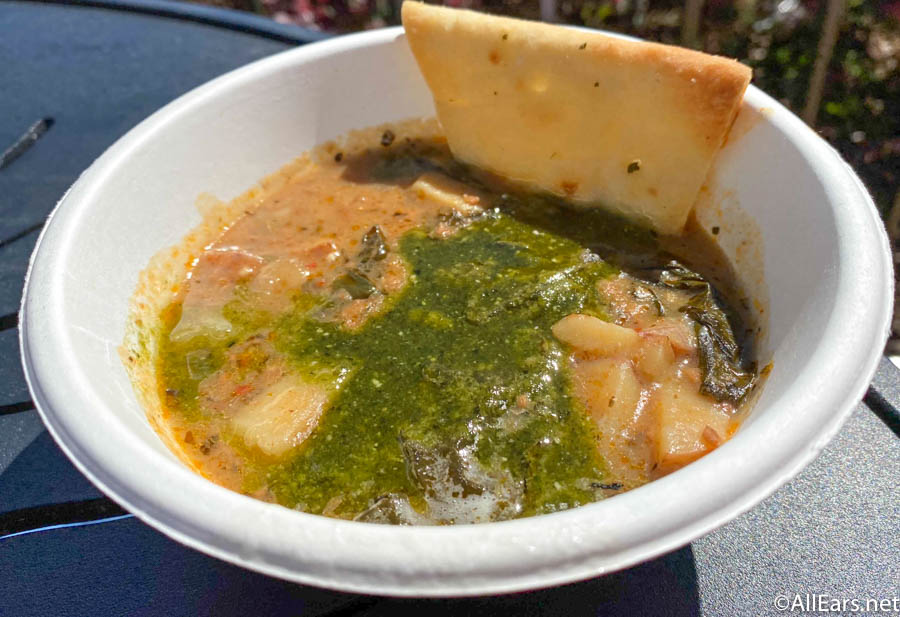 …Boneless Impossible Korean Short Rib with Cilantro-Lime Rice, Danmuji Slaw, and Kimchee Mayonnaise…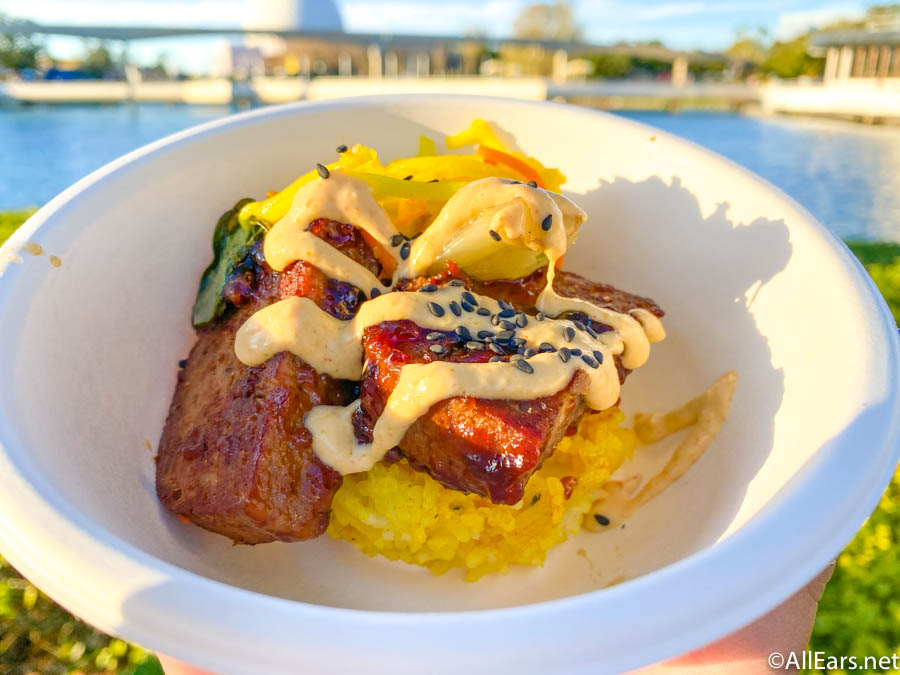 …Lavender Pot de Crème with Blueberry Cake, Pink Peppercorn, and Lime Whipped Cream…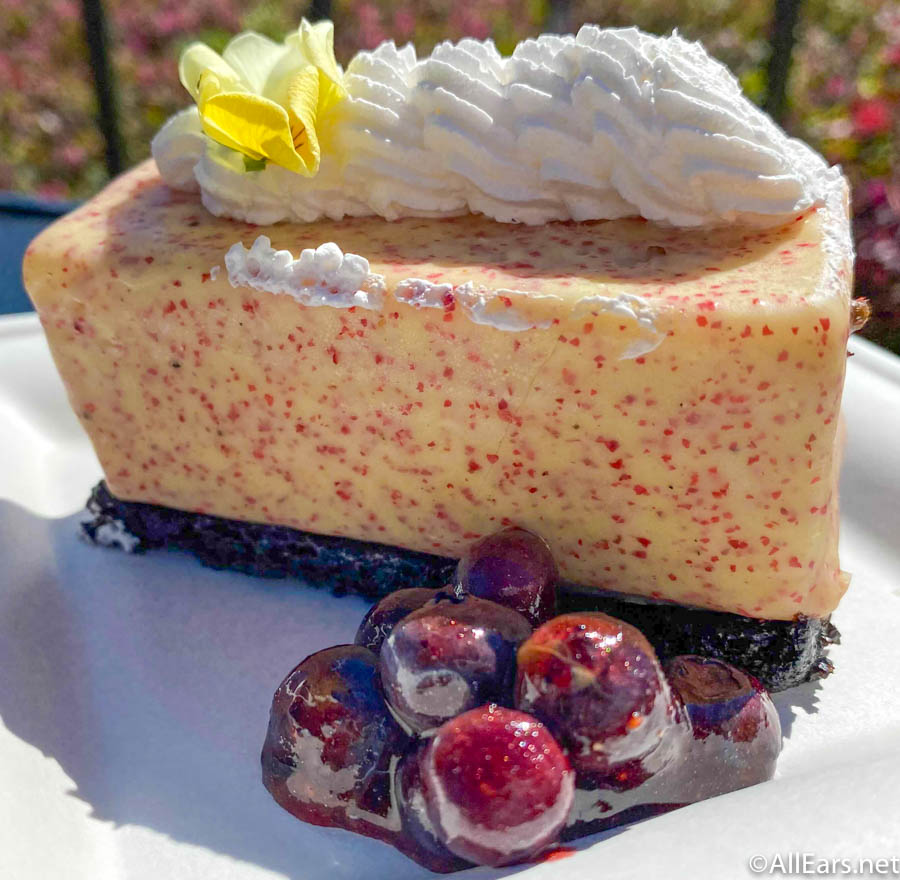 …Parish Brewing Co. Bloom Hazy IPA, Broussard, La…
…and Twinings of London Energize Matcha Cranberry & Lime Green Tea with Hanger 1 Makrut Lime Vodka served in a Mason Jar.
Magnolia Terrace is your go-to spot at the festival for a southern home-cooked meal in EPCOT!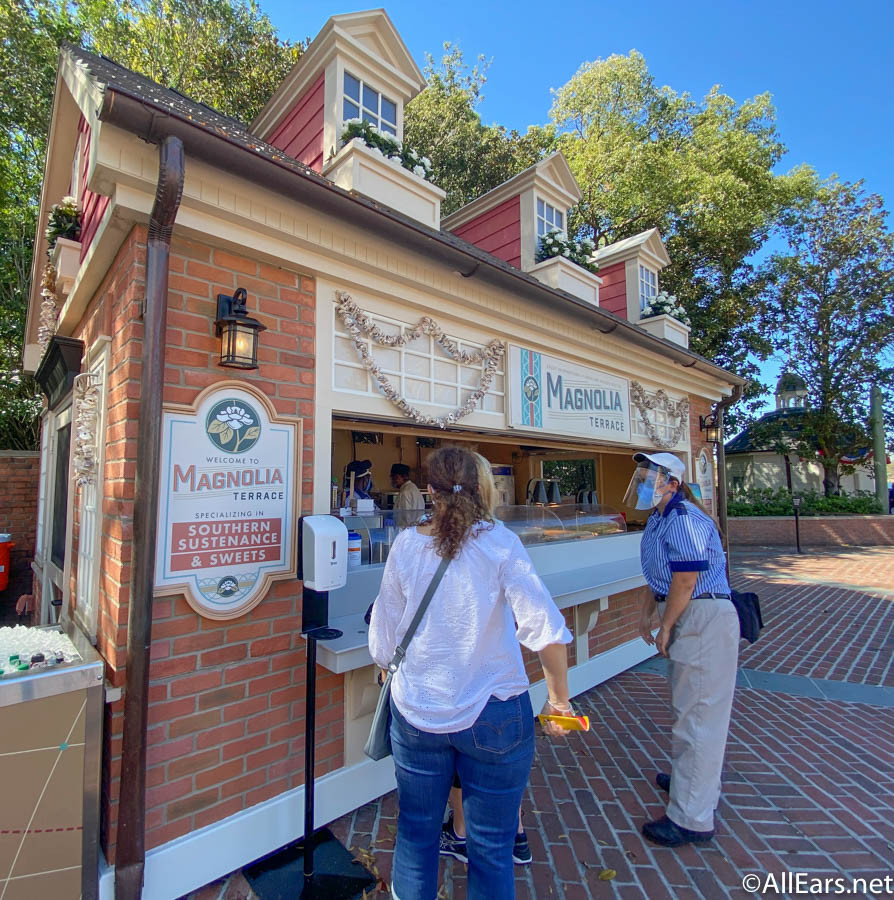 Try the Crawfish Étouffée with Andouille Sausage and Dirty Rice…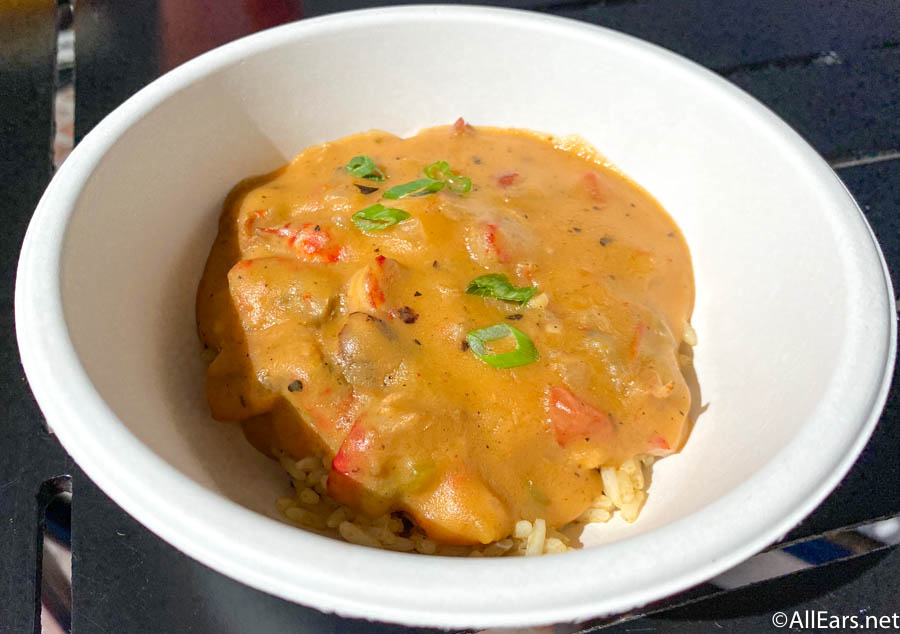 …Cajun-style Roasted Oysters…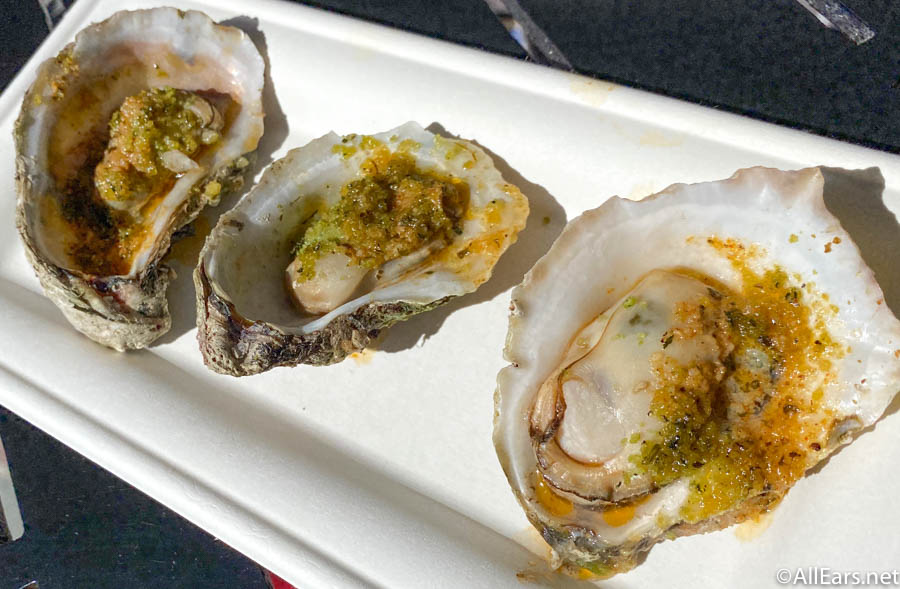 …Beer Flight with 81Bay Brewing Co. Orange Coriander Wheat Ale, Wicked Weed Brewing Day Light American Light Ale, Parish Brewing Co. Ghost in the Machine Double IPA…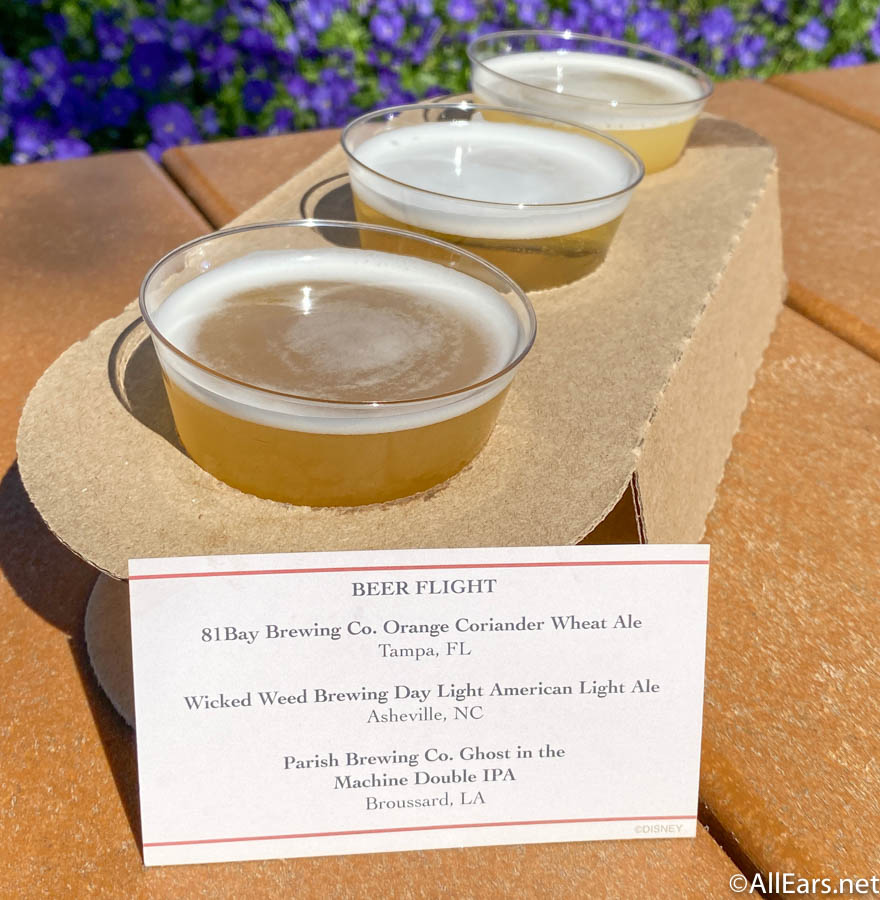 …Bayou Cocktail made with Bayou Spiced Rum, Coconut Rum, Fruit Punch, and Minute Maid Orange Juice, among others!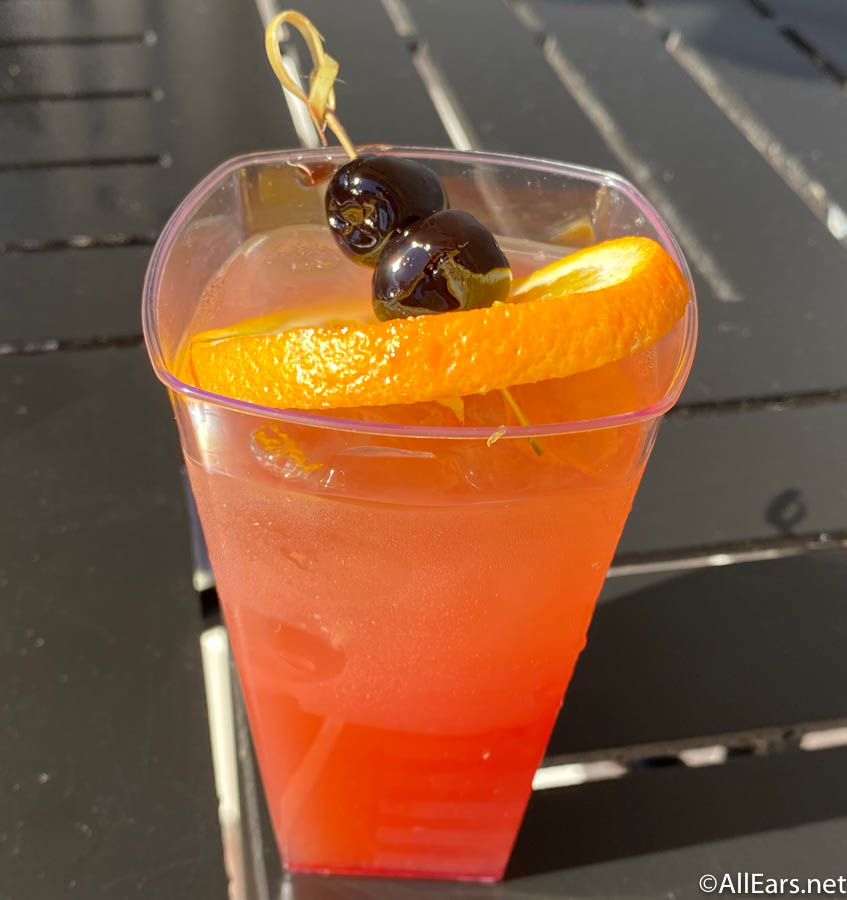 Head to the islands over at the La Isla Fresca booth…
…with dishes and sips that will make you feel like you've hopped over to the tropics!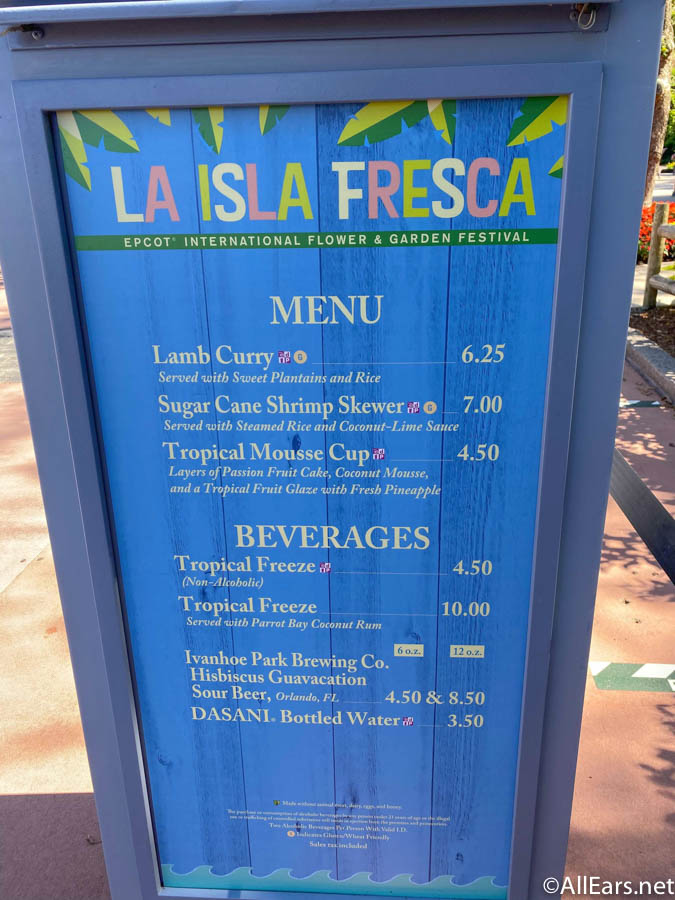 Snag the Sugar Cane Shrimp Skewer with Steamed Rice and Coconut-Lime Sauce…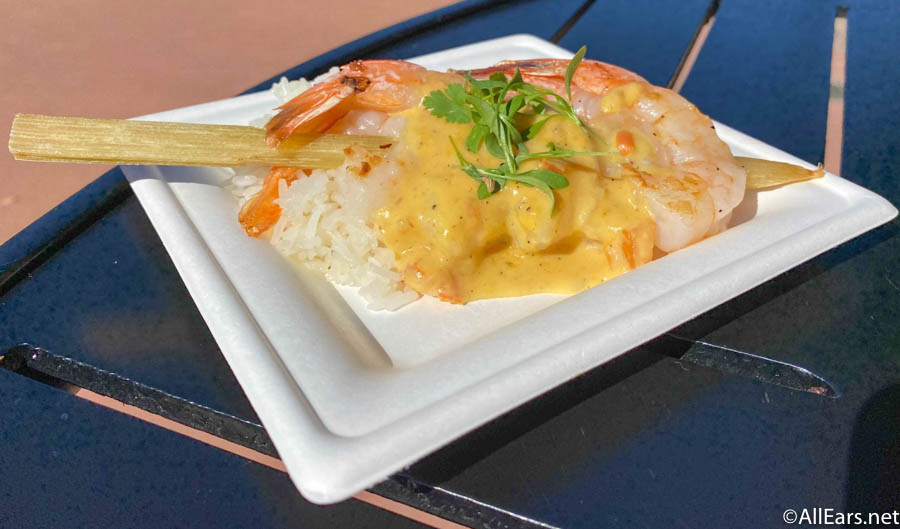 …and Tropical Freeze with Parrot Bay Coconut Rum, among the other menu items.
The Canada Pavilion's Joffrey kiosk has the Spring Flurry mixed up with Frozen Lemon and Cinnamon Whiskey…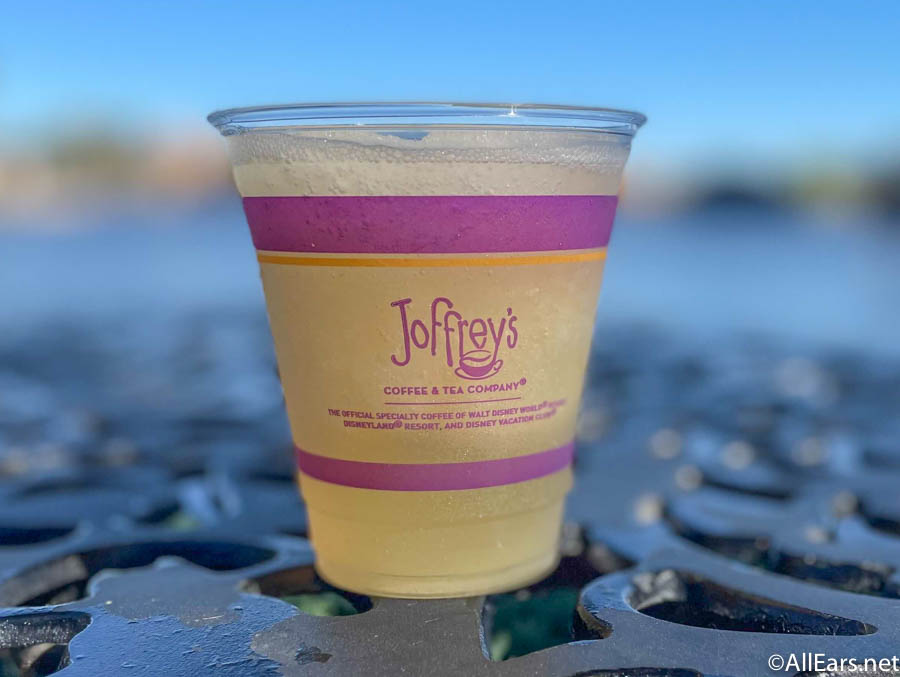 …while the American Adventure Joffrey's has the Bubbly Brew mixed with Jameson Cold Brew Whiskey and Coffee with a splash of Coke…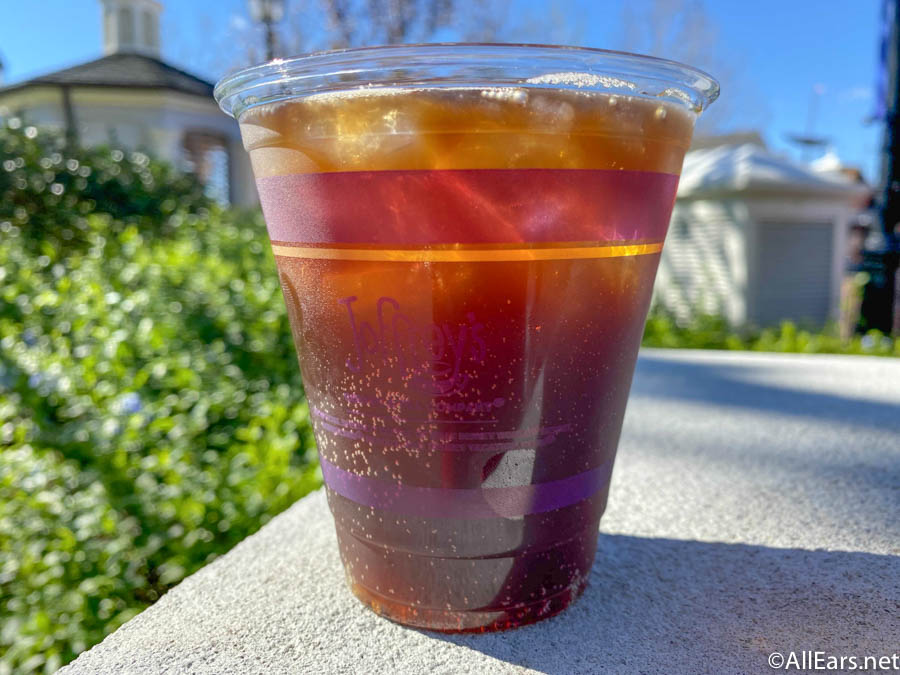 …and the Showcase Plazy Joffrey's is home to the Citrus Sunrise, swirled up with Frozen Lemon and Passion Fruit with Mandarin Vodka.
Right across from the Mexico Pavilion, you can stop by Jardin de Fiestas…
…for a whole menu filled with great Mexican treats!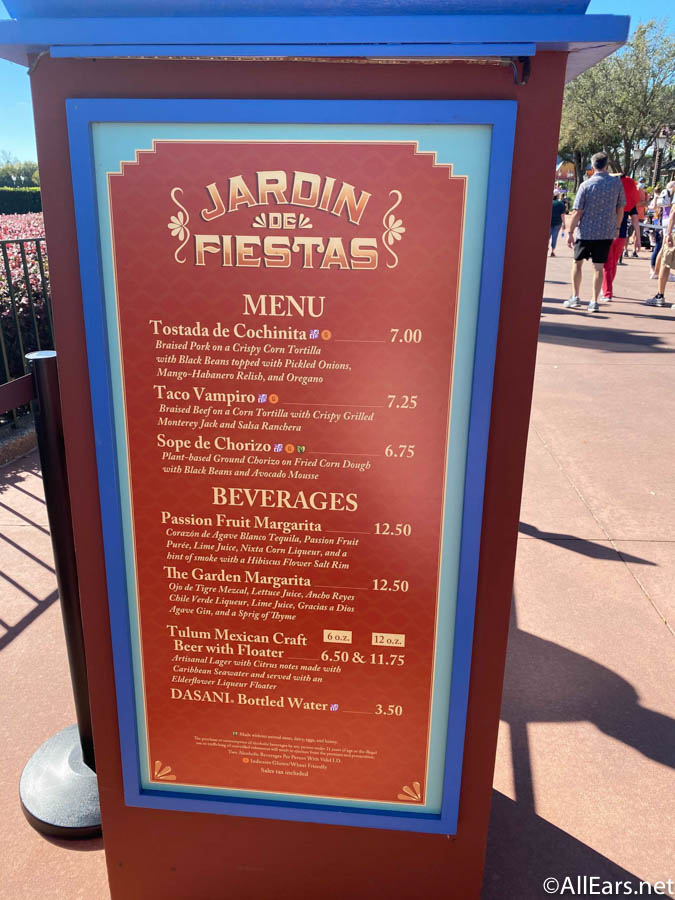 Guests can snack on Taco Vampiro, which is Braised Beef on a Corn Tortilla with Crispy Grilled Monterey Jack Cheese and Salsa Ranchera…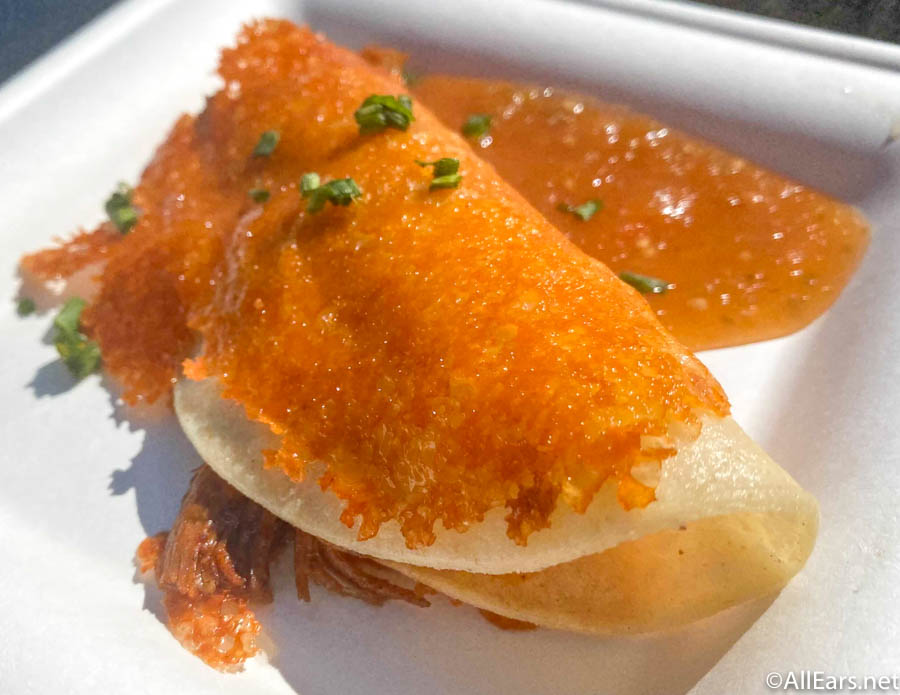 …Sope de Chorizo, which is Plant-based Ground Chorizo on Fried Corn Dough with Black Beans and Avocado Mousse…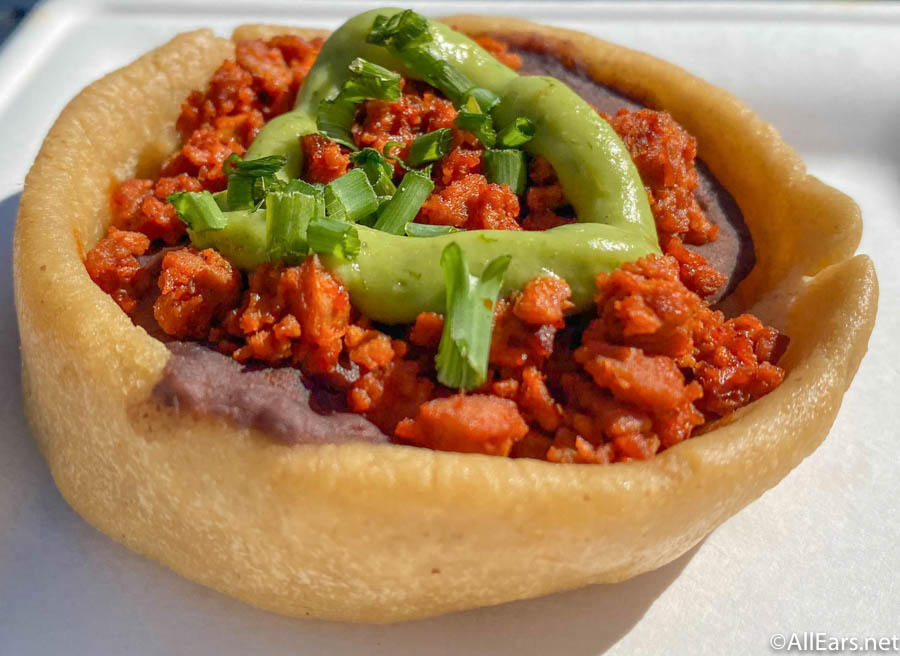 …and Tostada de Cochinita, which is Braised Pork on a Crispy Corn Tortilla with Black Beans topped with Pickled Onions, Mango-Habanero Relish, and Oregano…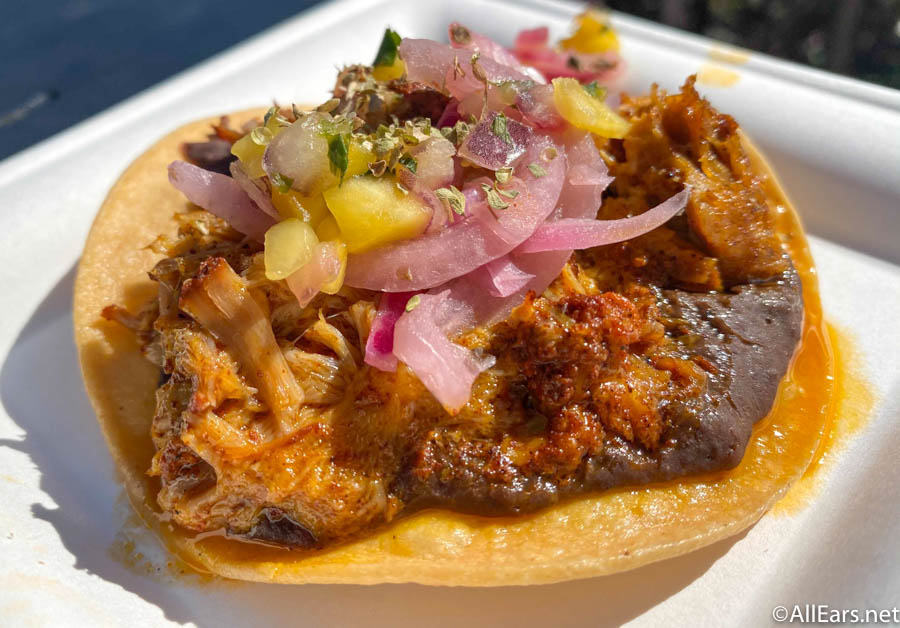 …as well as sip on the The Garden Margarita…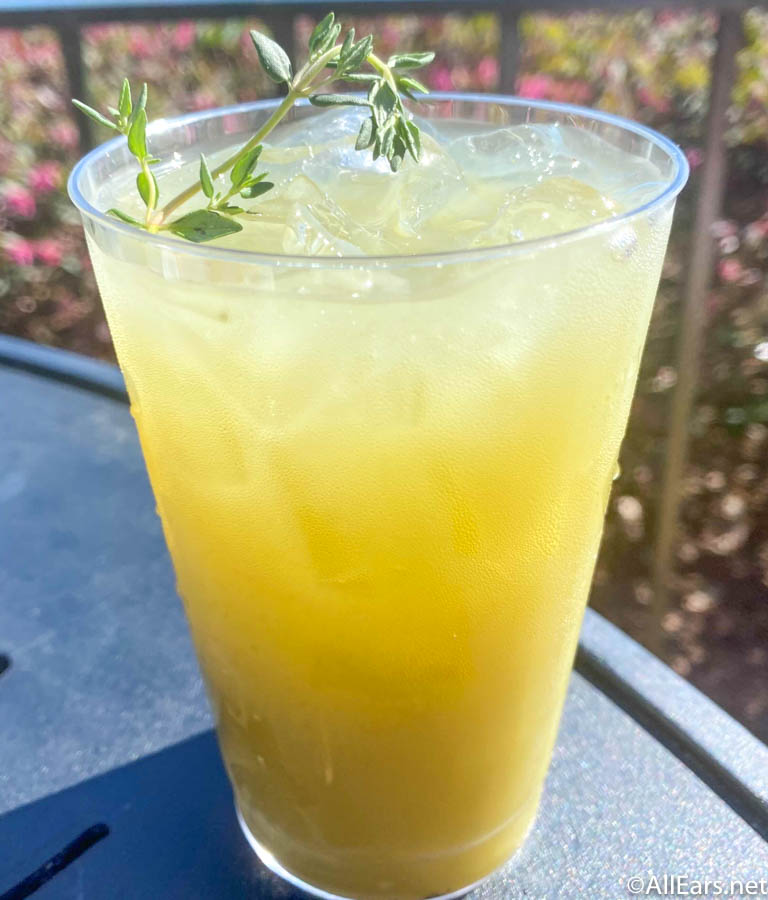 …Tulum Mexican Craft Beer with Floater…
…and Passion Fruit Margarita!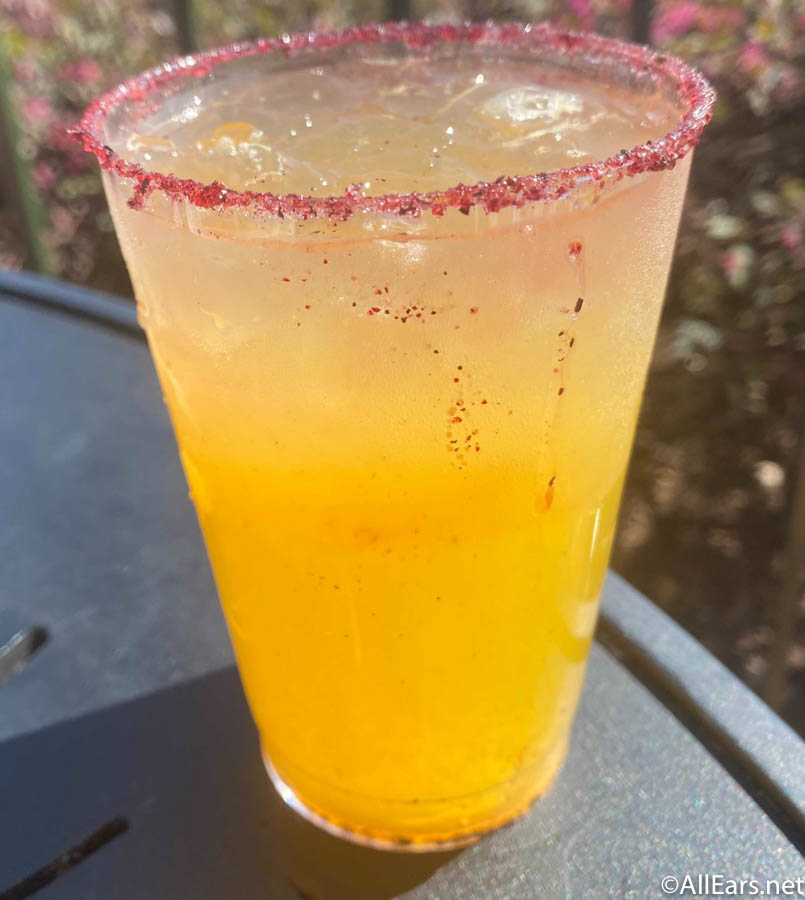 Travel all the way to Morocco with the Taste of Marrakesh booth…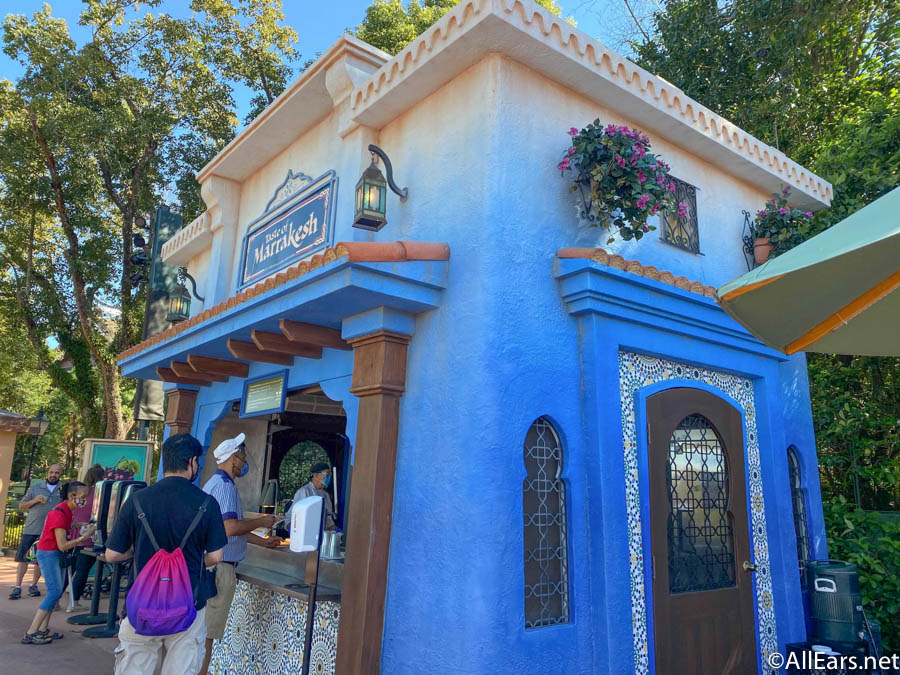 …with flavors that will drive your taste buds wild at this year's EPCOT Flower and Garden Festival!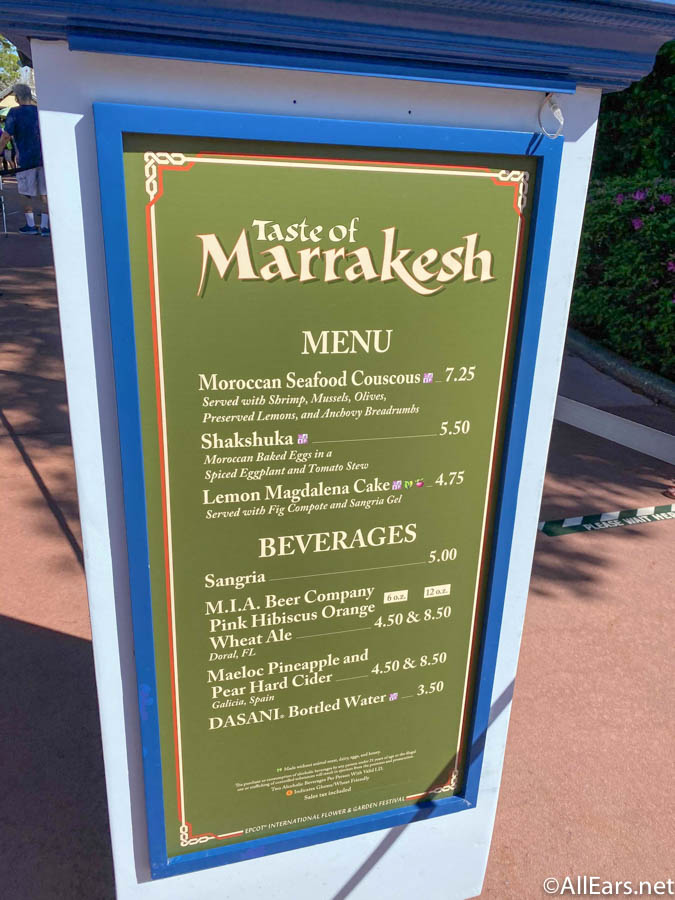 Try the Shakshuka, which is Moroccan Baked Eggs in a Spiced Eggplant and Tomato Stew…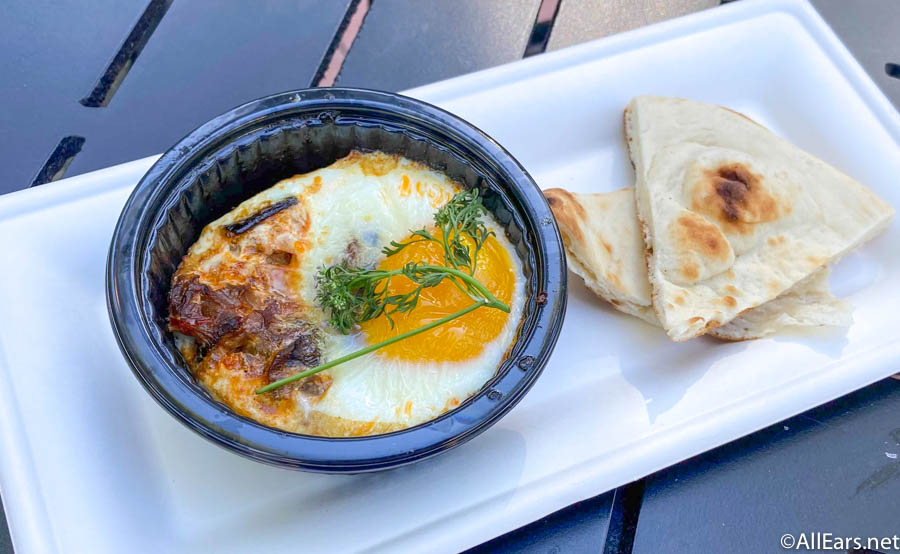 …Moroccan Seafood Couscous with Shrimp, Mussels, Olives, Preserved Lemons, and Anchovy Breadcrumbs…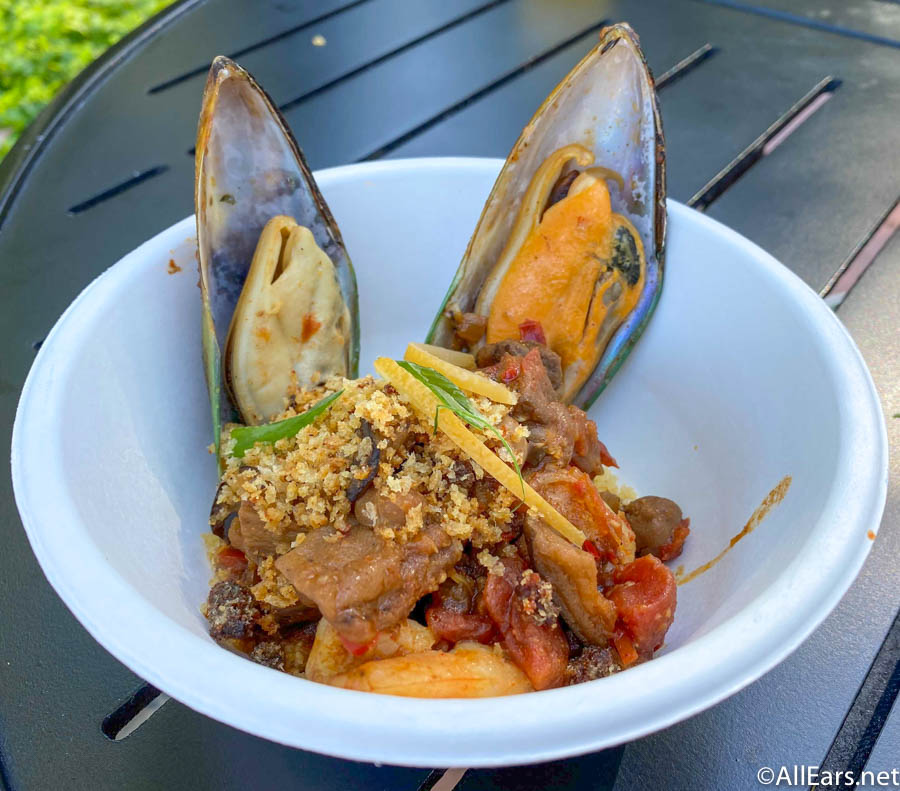 …Lemon Magdalena Cake with Fig Compote and Sangria Gel…
…M.I.A. Beer Company Pink Hibiscus Orange Wheat Ale, Doral…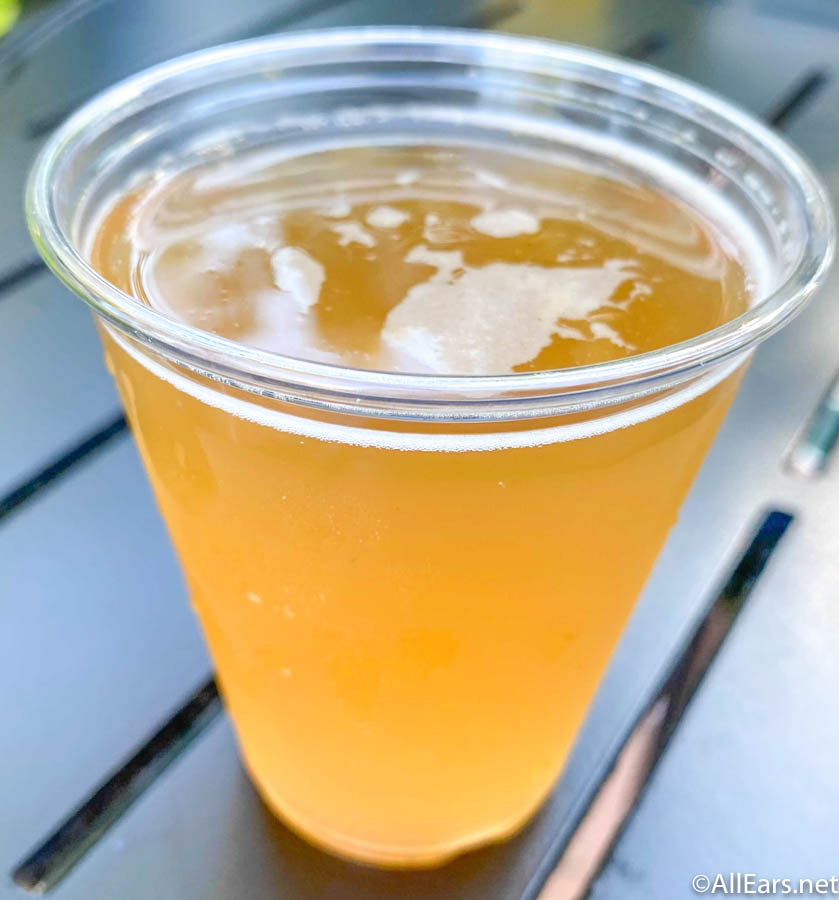 …and Maeloc Pineapple and Pear Hard Cider, Galicia, Spain while you're there!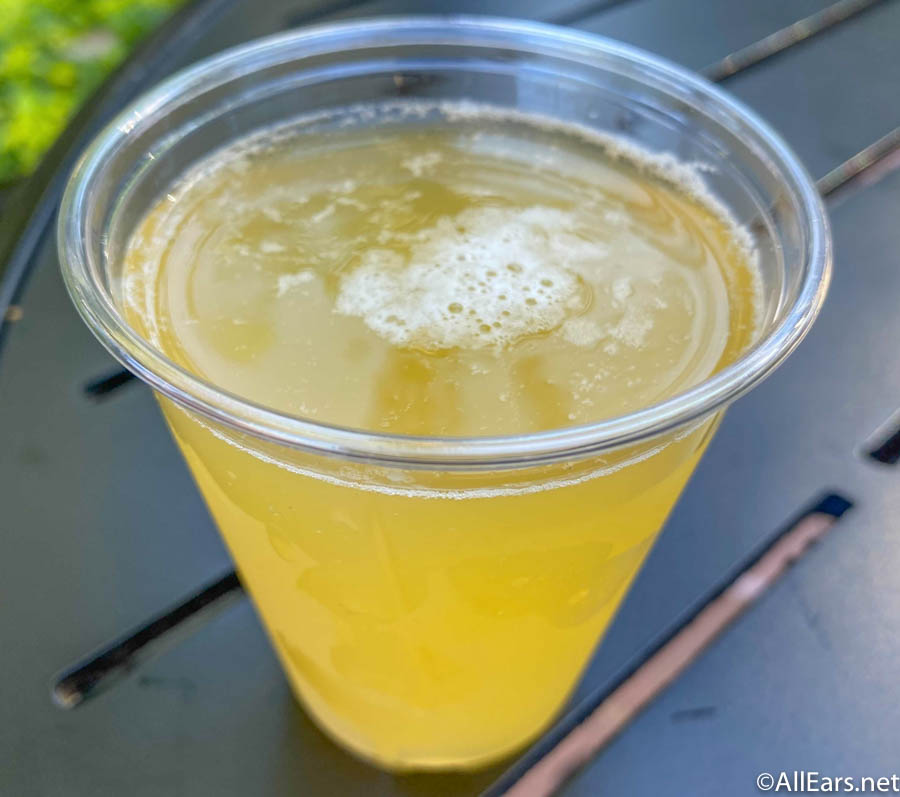 Calling all fans of Italian food! Primavera Kitchen is going to be your go-to spot of the festival…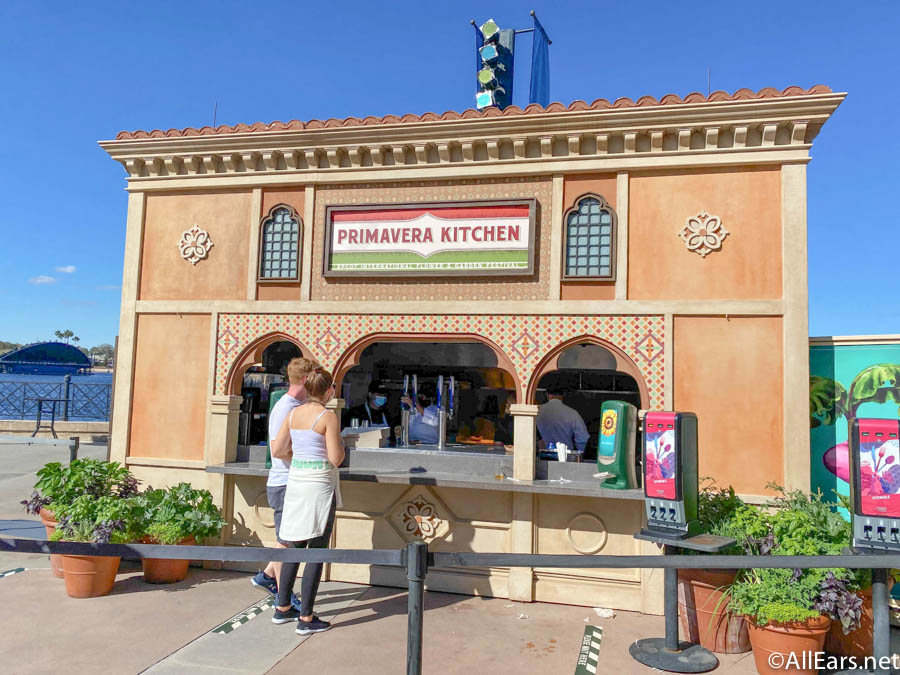 …if you love flatbreads, arancini, and cannolis!
But, we also couldn't resist the Italian White Sangria with Prosecco and Italian Red Sangria with Cabernet Sauvignon during our visit!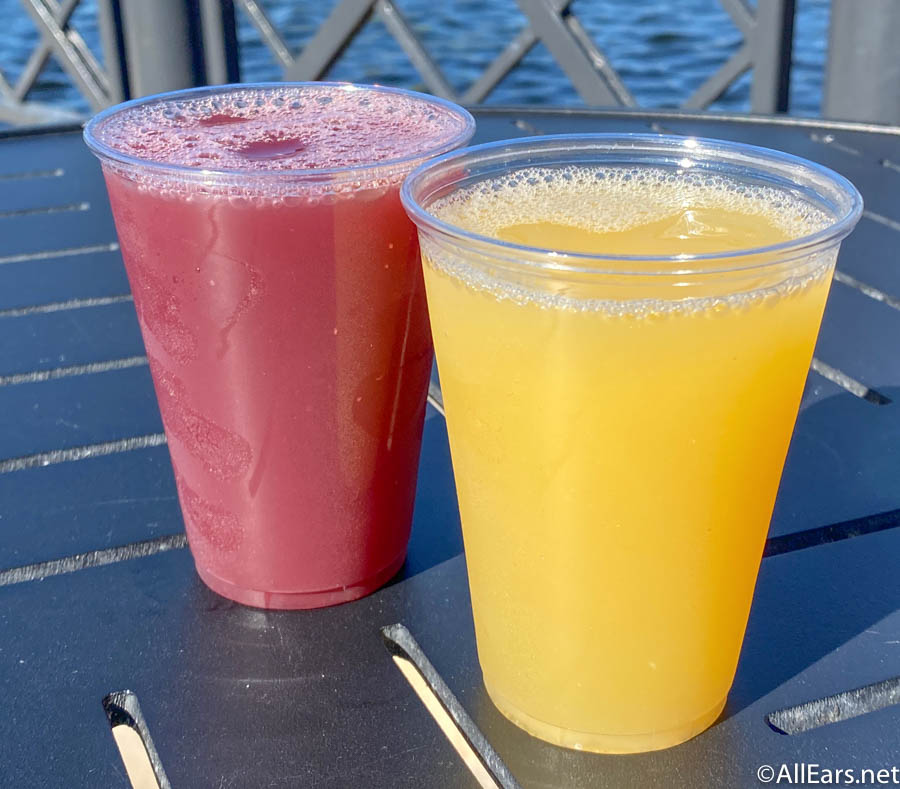 We can't pass up heading to the Hanami booth whenever we're in the World Showcase…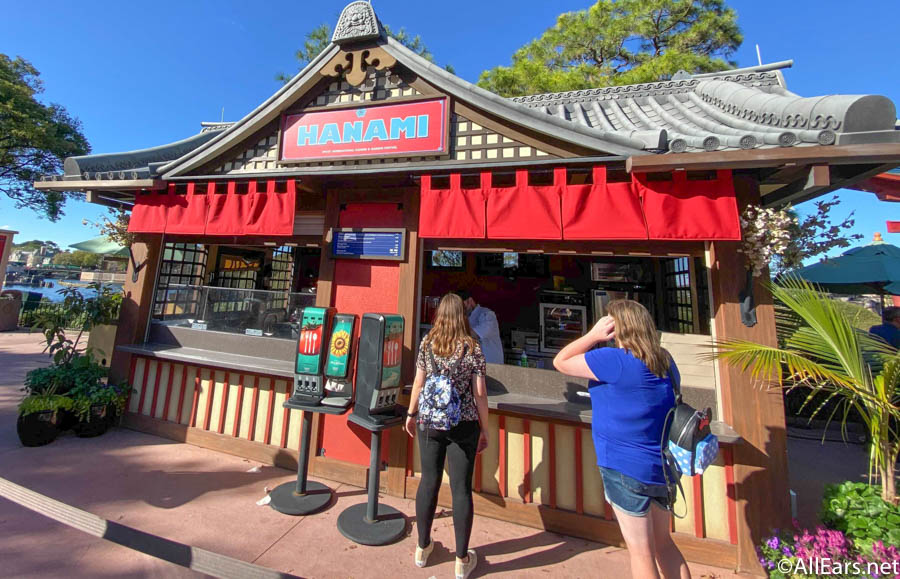 …with all its AMAZING Japanese cuisine!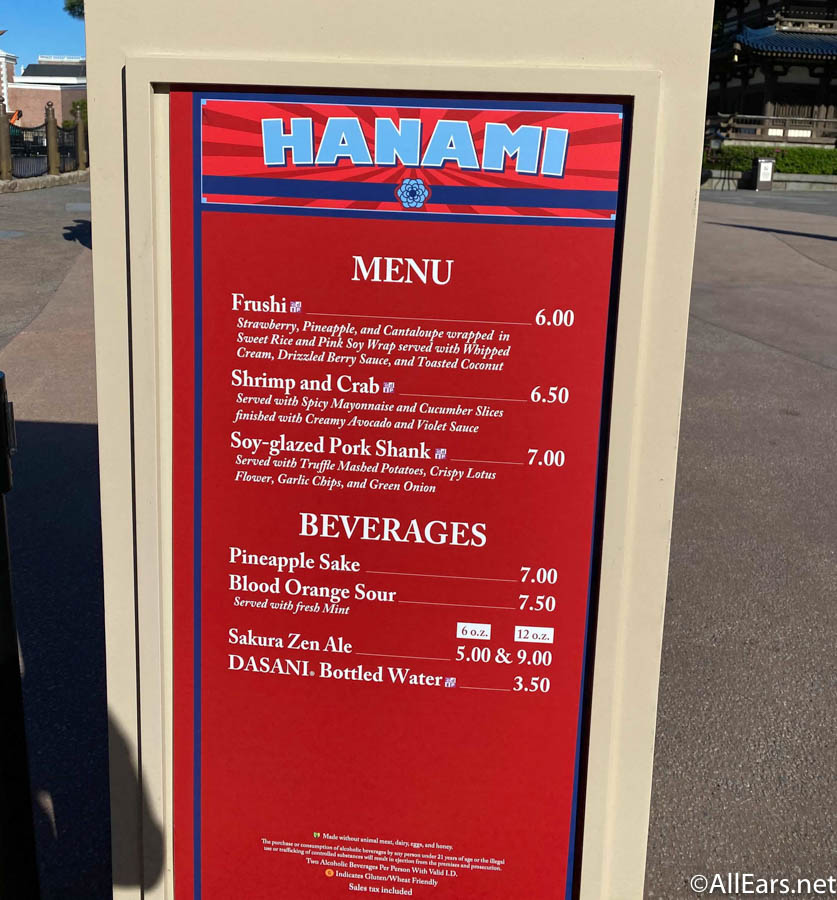 This year's menu has the Soy-glazed Pork Shank with Truffle Mashed Potatoes, Crispy Lotus Flower, Garlic Chips, and Green Onion…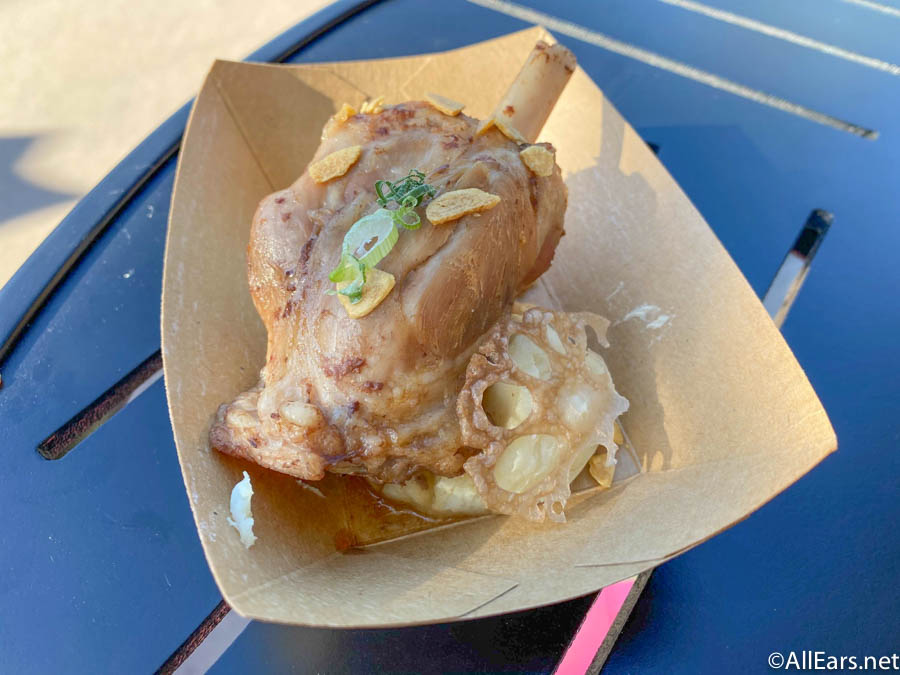 …Shrimp and Crab with Spicy Mayonnaise and Cucumber Slices finished with Creamy Avocado and Violet Sauce…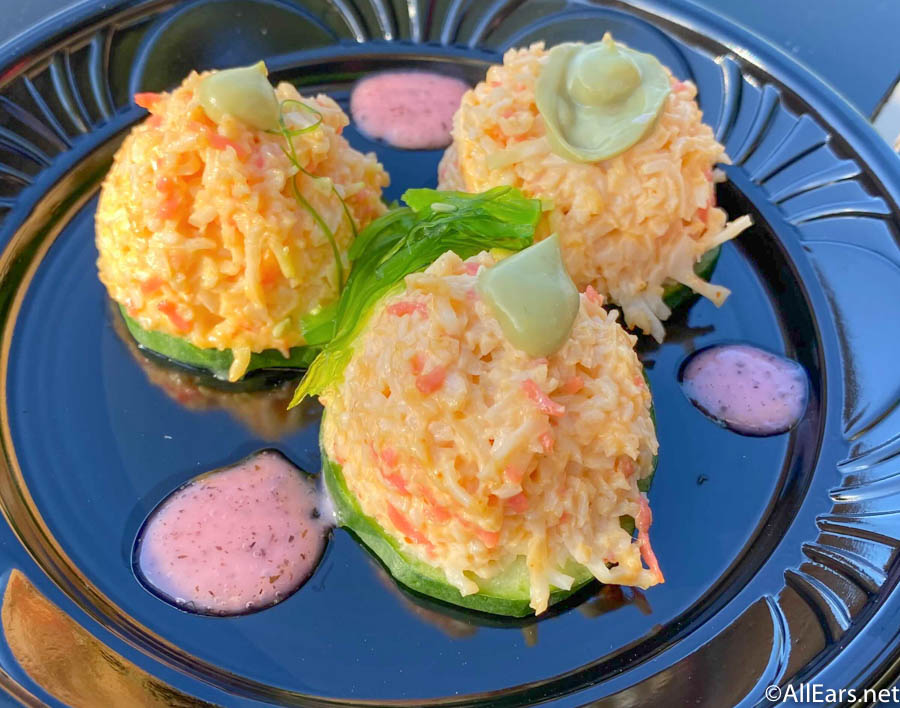 …and the returning fan-favorite "Frushi" for a sweet treat to top your meal off!
You can also sip on the Pineapple Sake…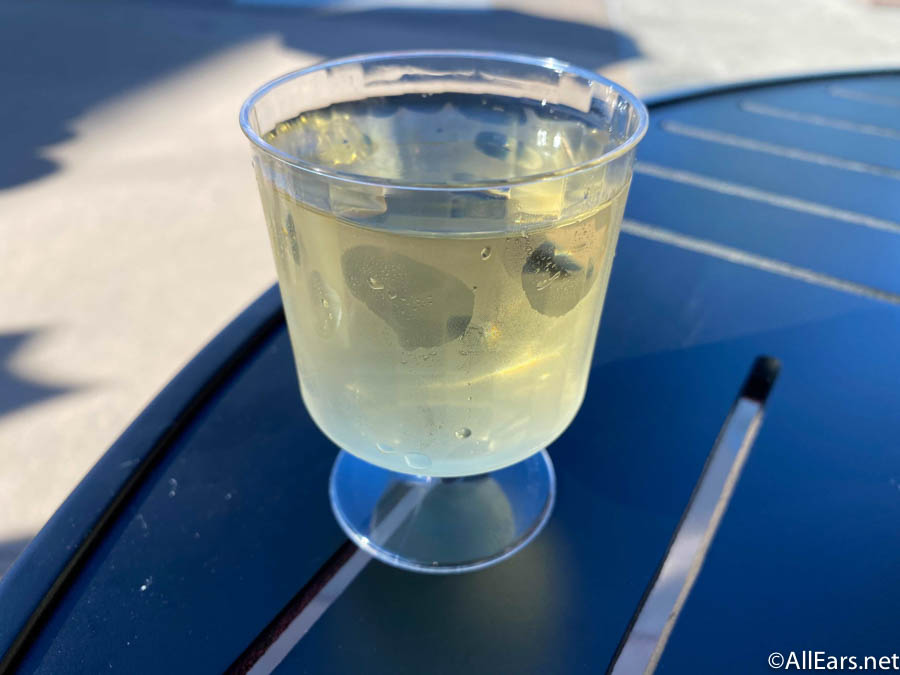 …Sakura Zen Ale, and more at Hanami too!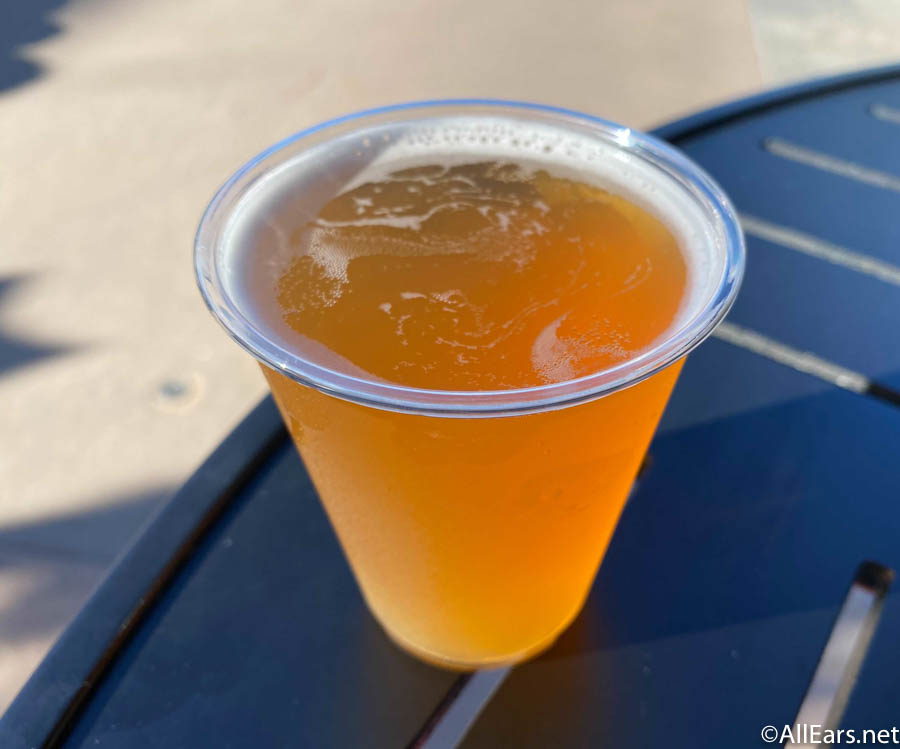 Over at the Germany Pavilion, you can find the Bauernmarkt Farmers Market with some unique combinations on the menu…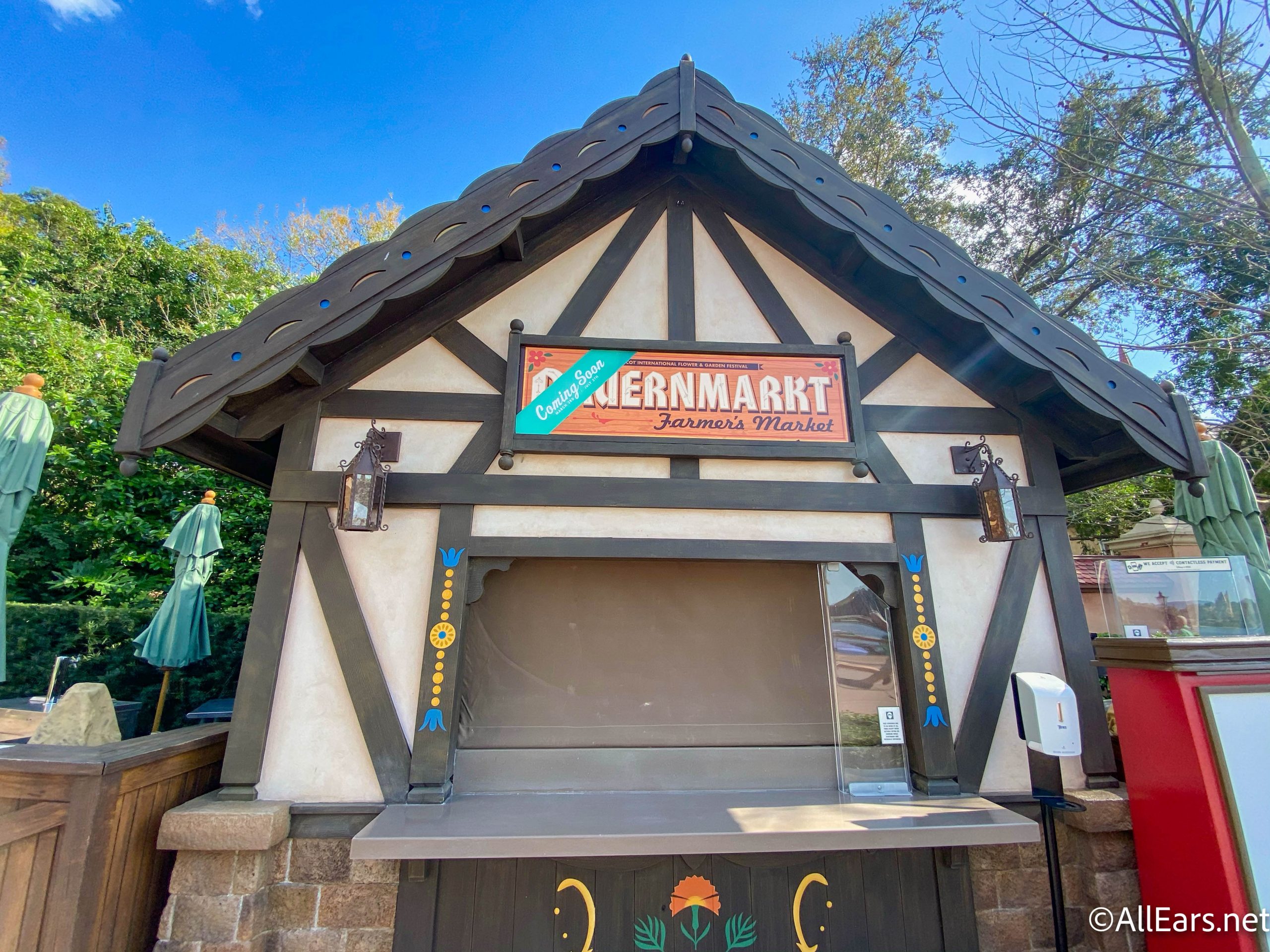 …like the Potato Pancakes with House-made Apple Sauce!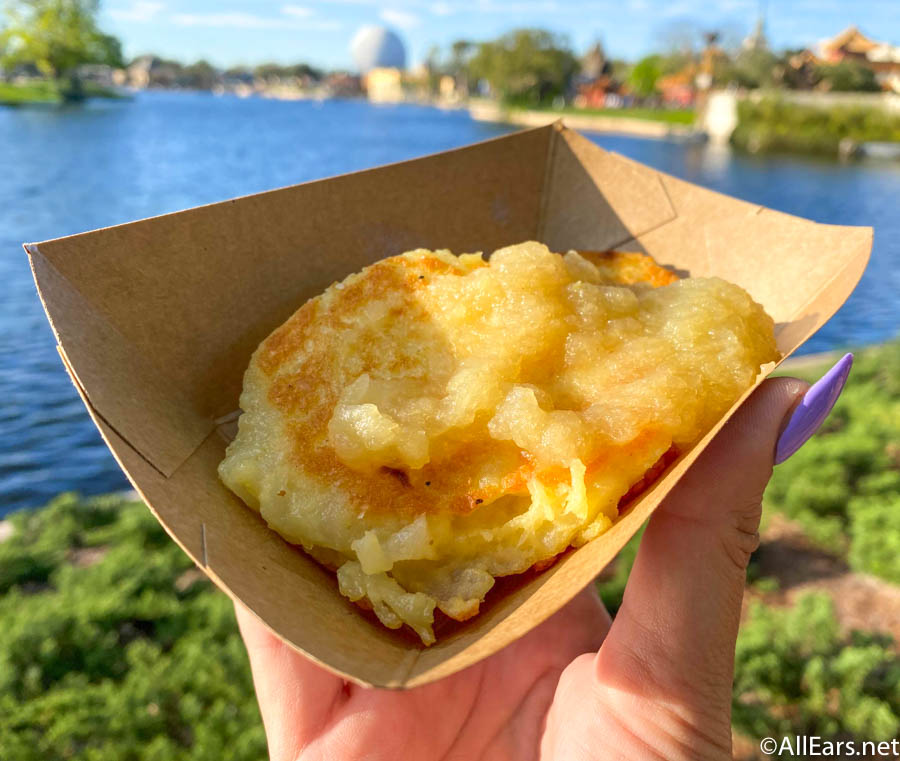 We also snagged the Apfelschaumwein, which is a Sparkling Wine and Apple Liqueur, along with the other options available to guests!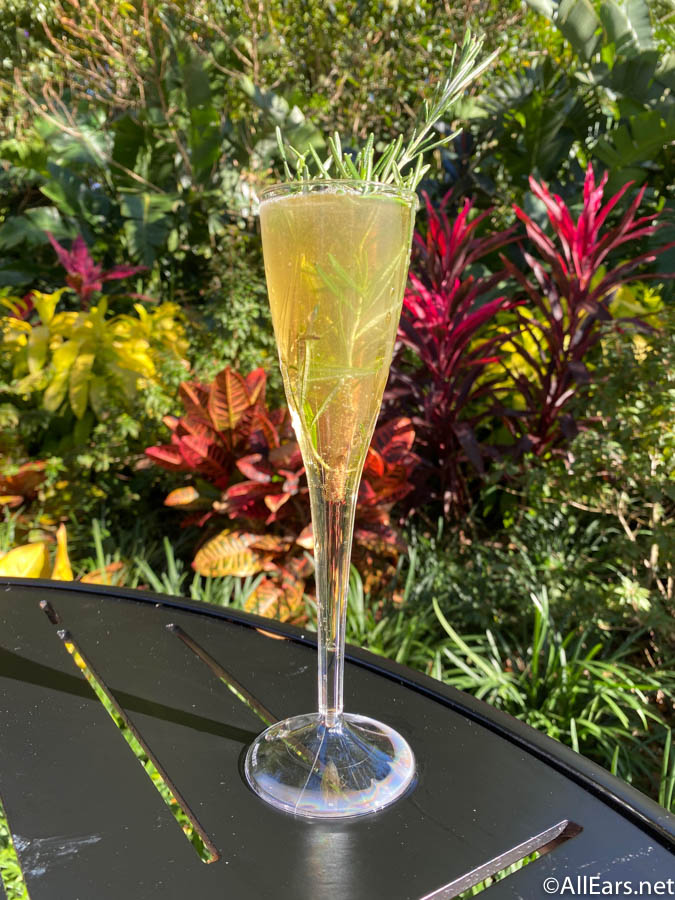 Lotus House is open and ready to welcome guests to the booth….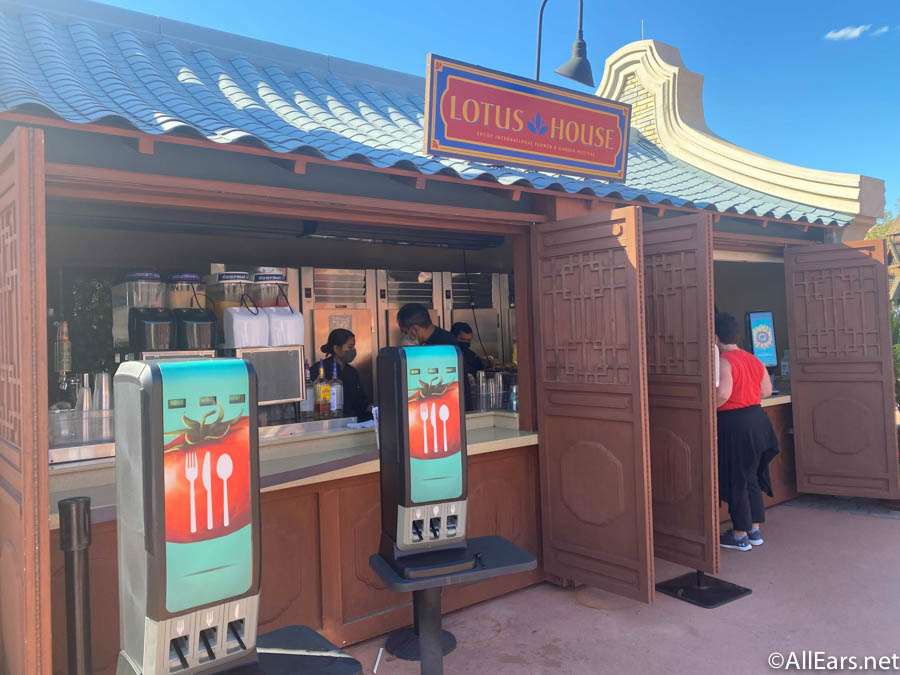 …with items like Papa Cakes, which are Potato Cakes filled with Shrimp and Water Chestnuts served with House-made Strawberry Sauce…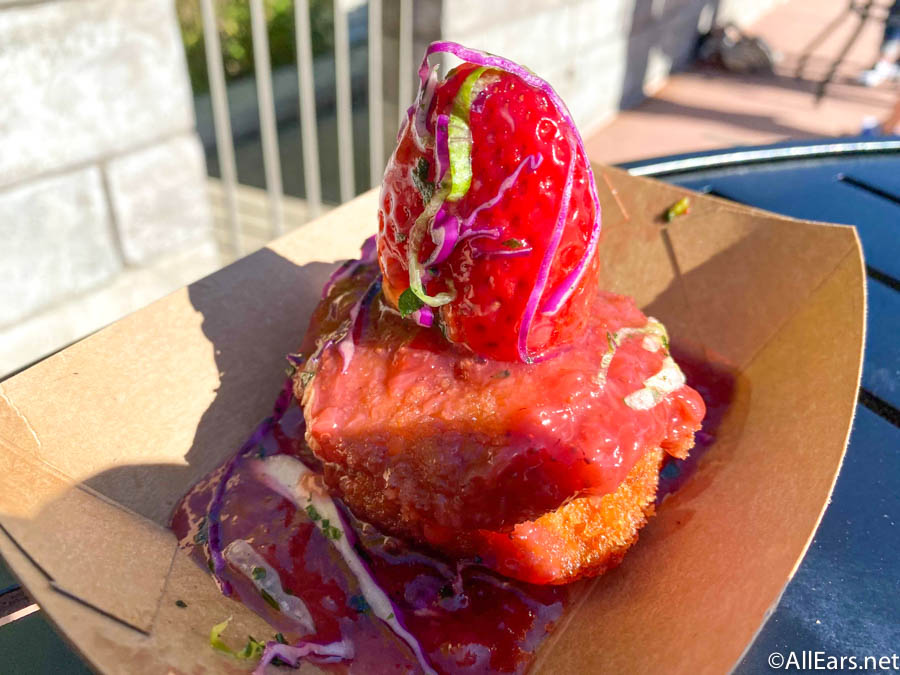 …and the Tang Dynasty, which is made Jose Cuervo Especial Tequila Gold, Light Rum, Strawberry Syrup, Piña Colada Mix, White Boba Pearls, and Soda Water on the menu!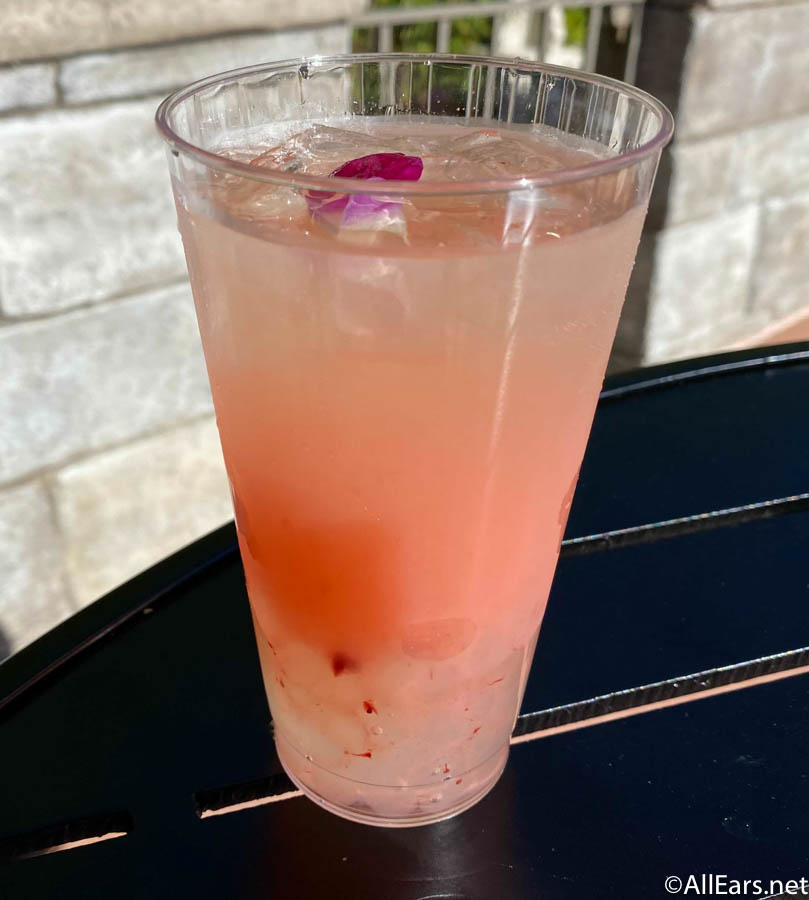 If you're still craving a refreshing drink, you can pop over to the Northern Bloom…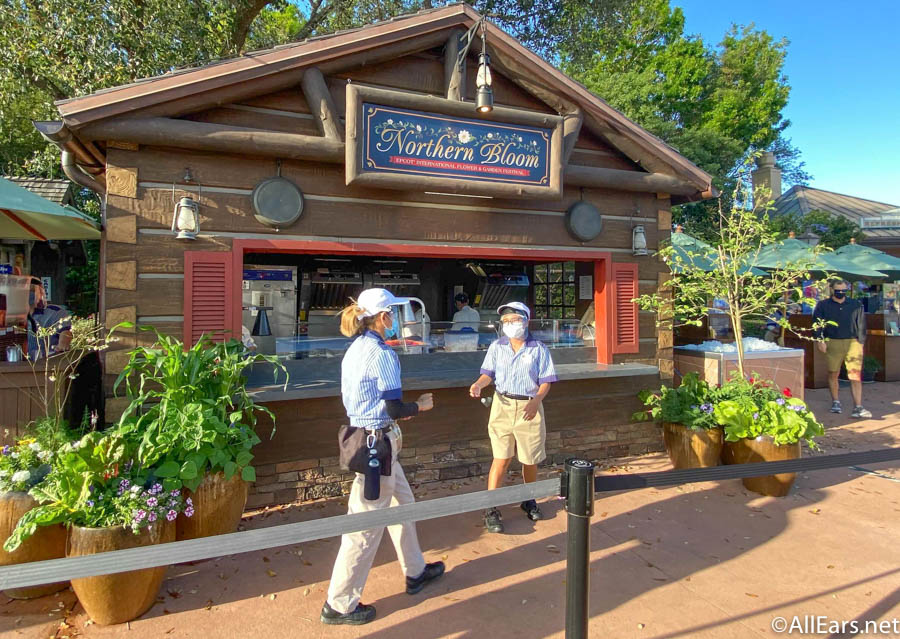 …where you'll find the Beer Flight made up of the 81Bay Brewing Apricot with Maple Syrup, Collective Arts Brewing Blackberry Fruit Beer, and Goose Island Beer Company Lost Palate Hazy IPA with Mango and Cinnamon!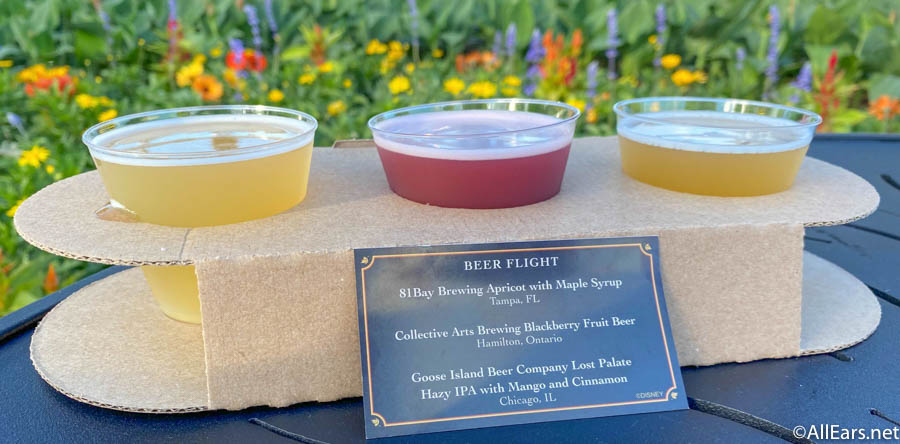 PHEW! That's a lot of food! And, you can check out the full menus for the booths below!
EPCOT Flower and Garden Entertainment
Over at the World Showplace, you can snack at all the food booths while also listening to a pianist play hit tunes! Also, isn't that stage set-up on of the cutest things you've ever seen?!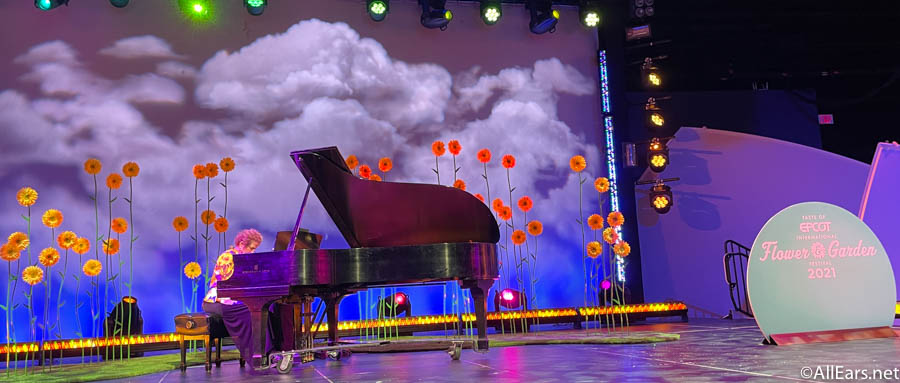 The Canada Pavilion is marching to the beat of its own… trash can? That's right! The JAMMitors have returned to groove out with guests during the Flower and Garden Festival!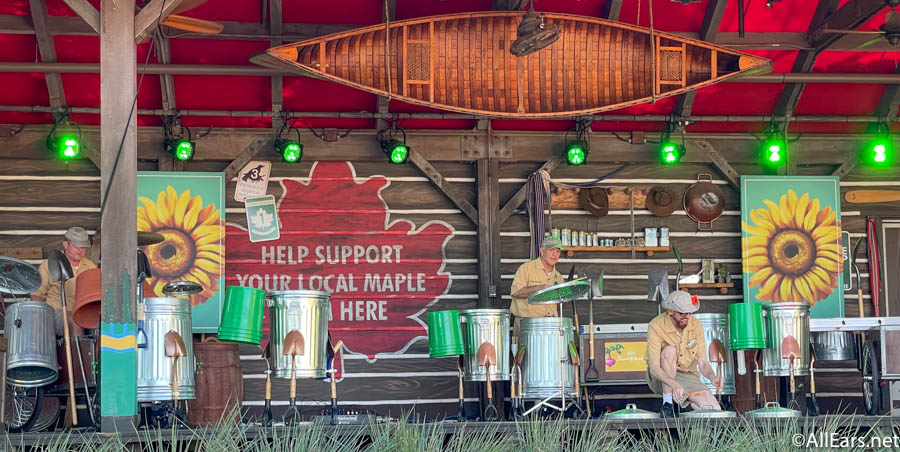 You can also stop by the main stage at the America Gardens Theatre to listen to the Voices of Liberty perform throughout the day!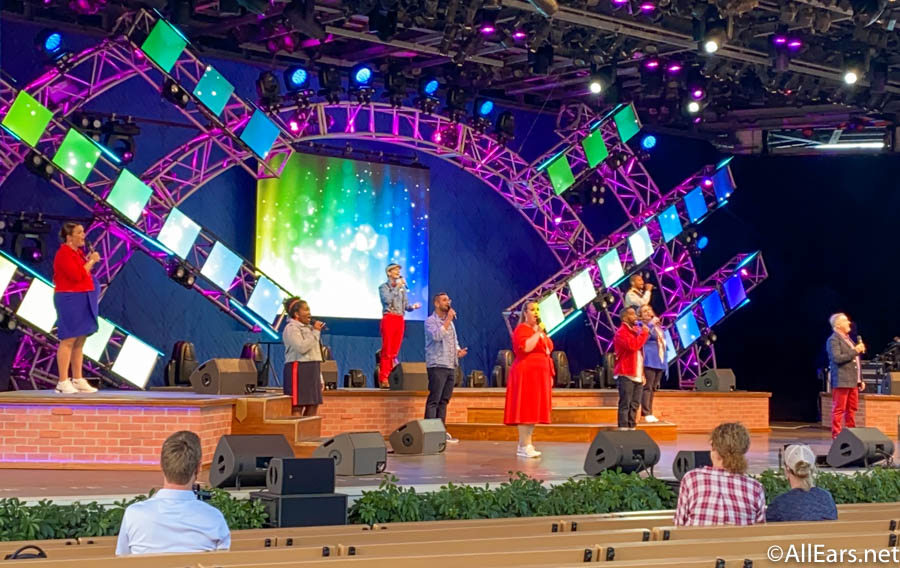 But, if you're looking for entertainment that's a little more interactive, you can go on a scavenger hunt around the World Showcase with Spike's Pollen-Nation Exploration!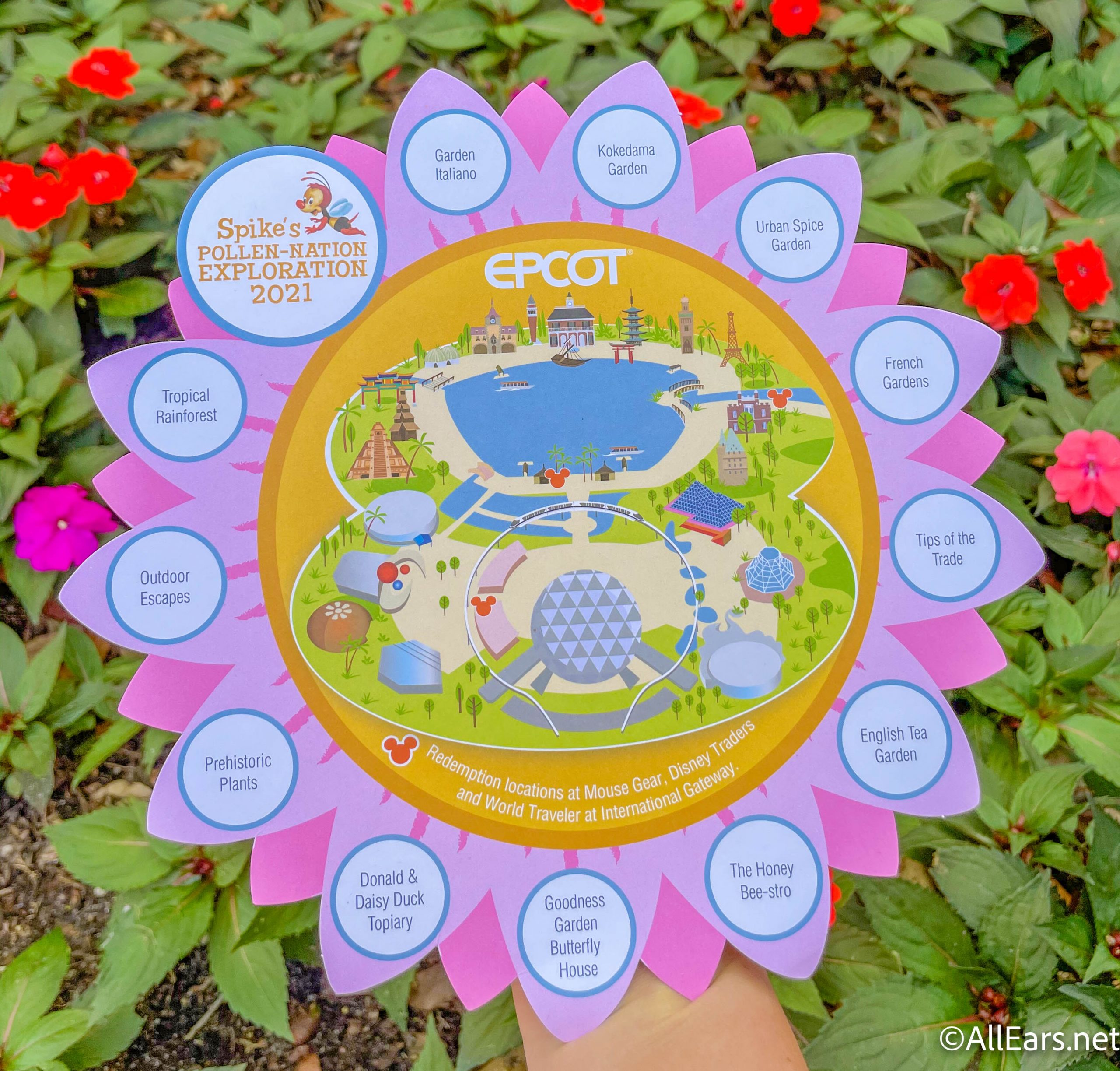 The returning experience starts when guests purchase the flower-themed map and stickers for $7.99 before looking for Spike the Bee on his "pollination trail." Once you find the plants listed on the map and fill up your guide with stickers…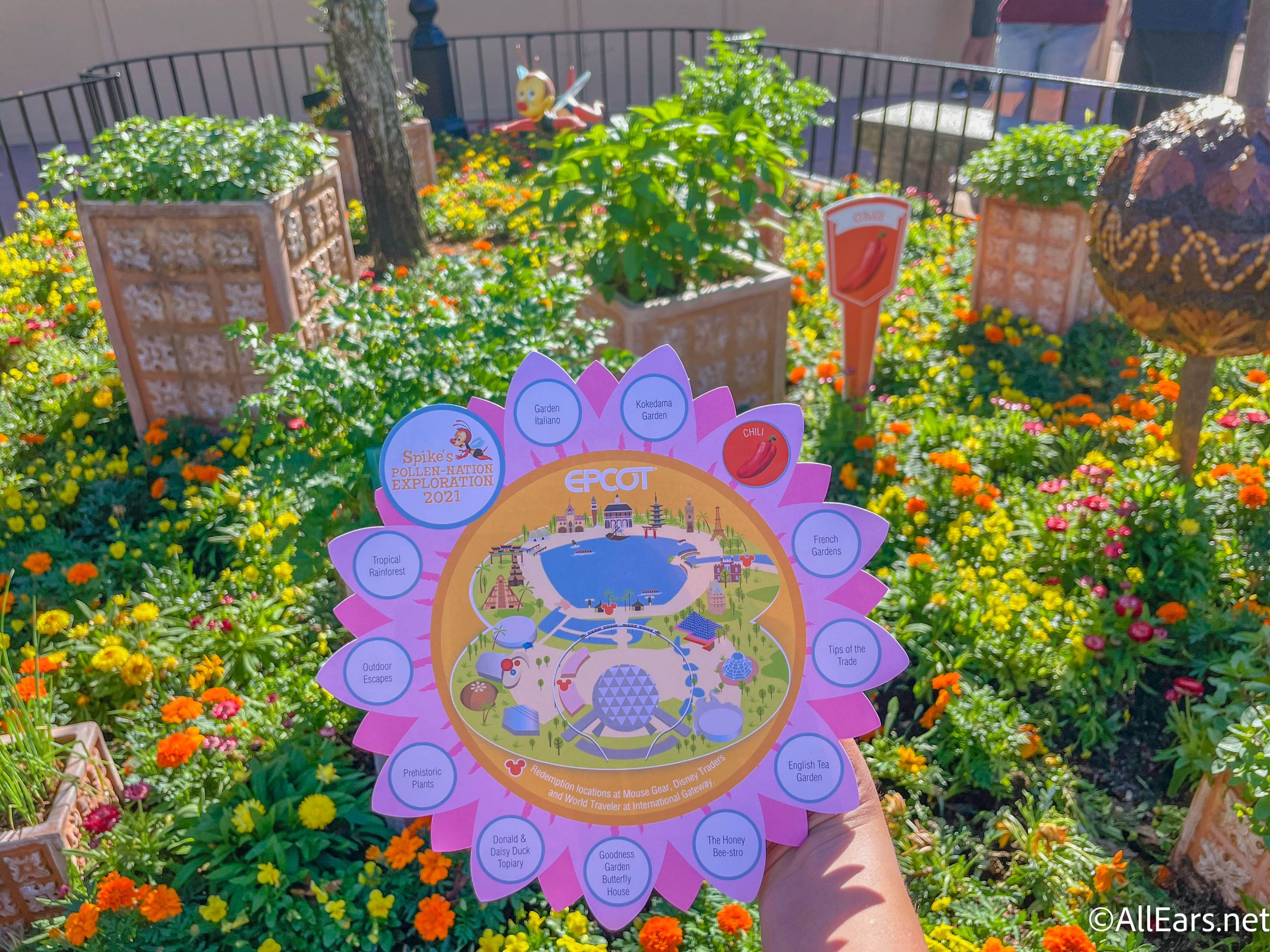 …you'll be able to collect a prize upon its completion! You can head to Disney Traders, World Traveler, or Mouse Gear to snag one of the colorful EPCOT Flower and Garden Festival plates.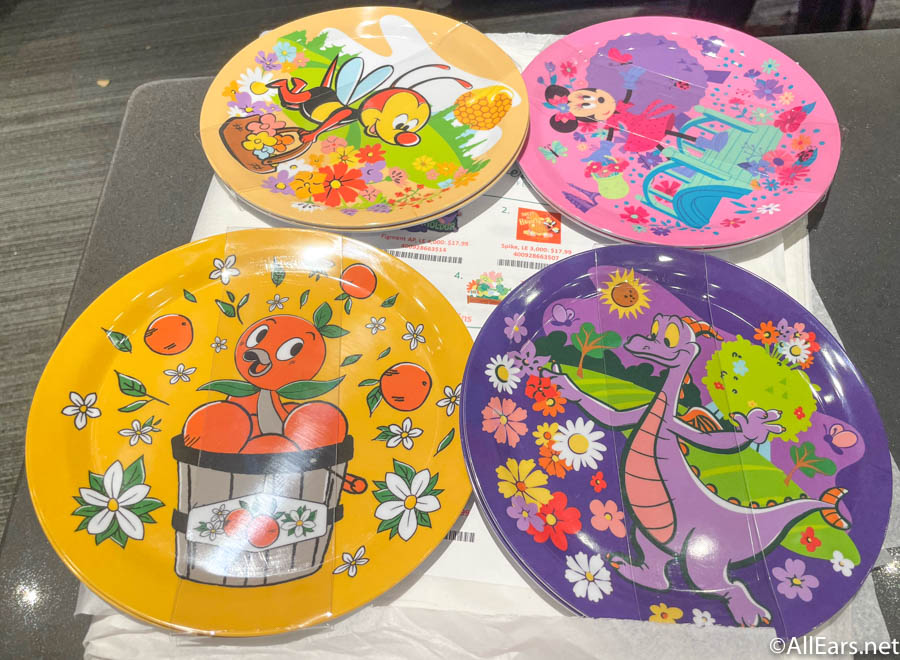 Which design is YOUR favorite?
It's quite the day at the festival, and we'll be taking you along with us during all of our adventures today!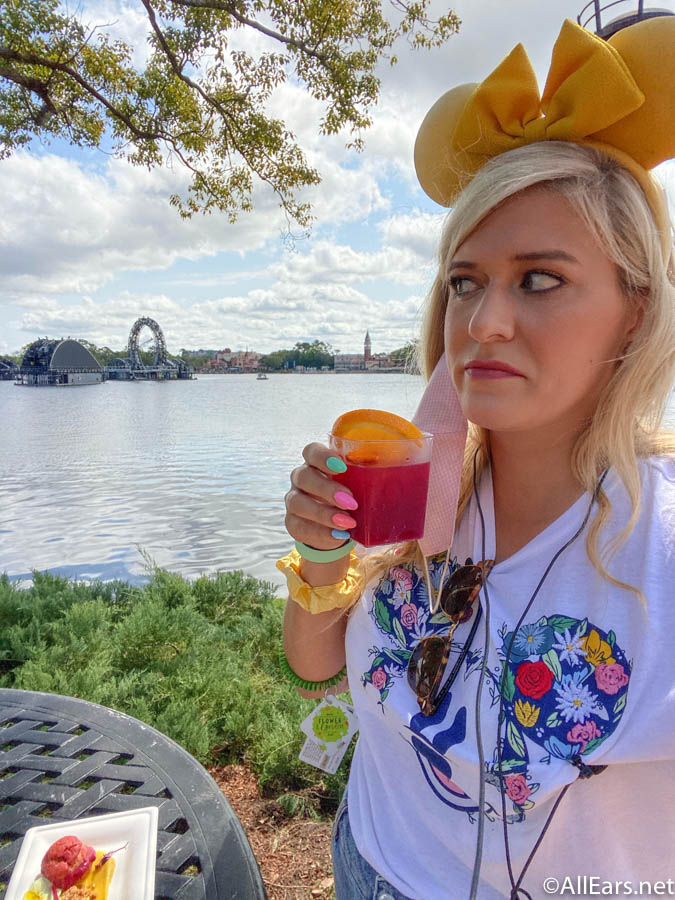 Be sure to follow along throughout the day with us as we give you a look at EVERYTHING happening at this year's EPCOT Flower and Garden Festival! Stay tuned with all Ears for more Disney news!
Are you planning on visiting the 2021 Taste of EPCOT International Flower & Garden Festival? Let us know in the comments!
Join the AllEars.net Newsletter to stay on top of ALL the breaking Disney News! You'll also get access to AllEars tips, reviews, trivia, and MORE! Click here to Subscribe!