If you like Dole Whip Floats and getting caught in the rain, then Walt Disney World is your place! 😉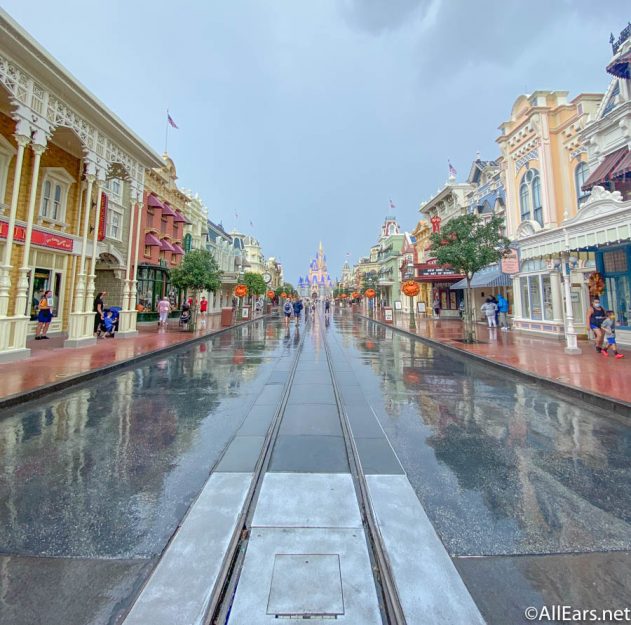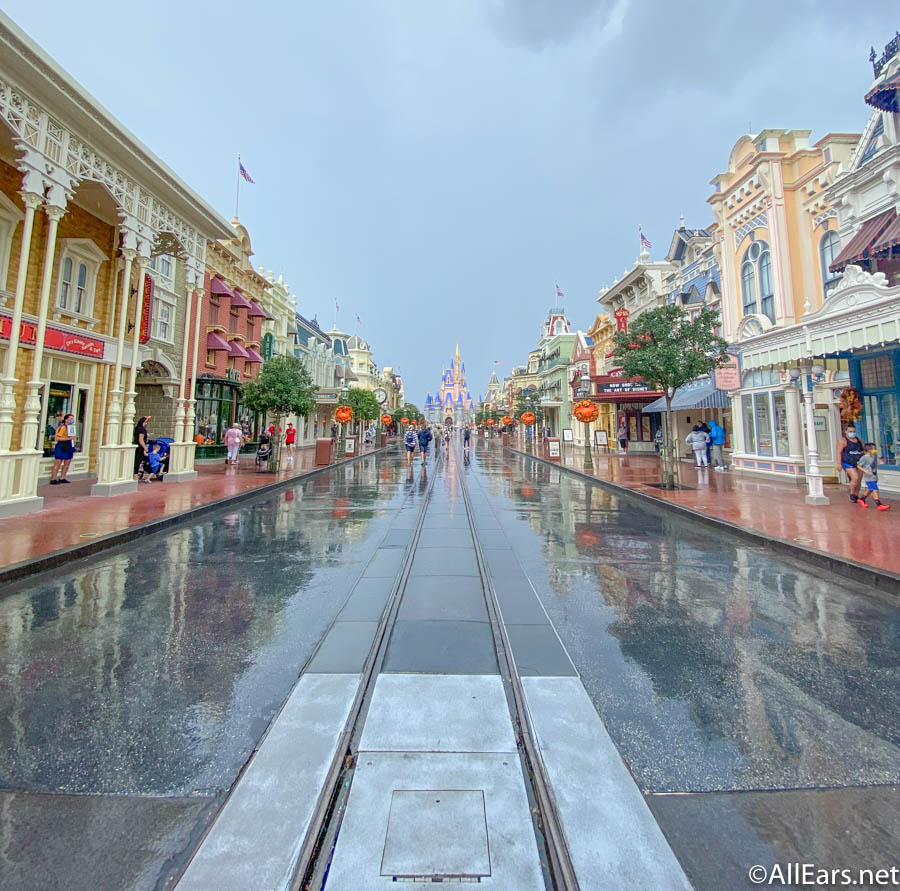 Florida weather can be wild and unpredictable. One minute you're soaking up the sweltering sun and the next you're in the middle of a torrential downpour. The weather is so notorious that we try to help you prepare when the theme parks get damp.
Although we can't control the weather (we wish we could!), we can give you a list of the best places to head for shelter and take a break!
This classic attraction is one of our favorite 3D shows at Disney World. It's cute, it's packed with Disney songs, and it's entirely indoors! The line is usually pretty short and is also covered or inside the building.  Another good option is Under the Sea – Journey of The Little Mermaid, a slow-moving dark ride that also has an indoor queue. Walt Disney's Carousel of Progress is a fan-favorite and long enough that by the time you exit the storm will (hopefully) be over.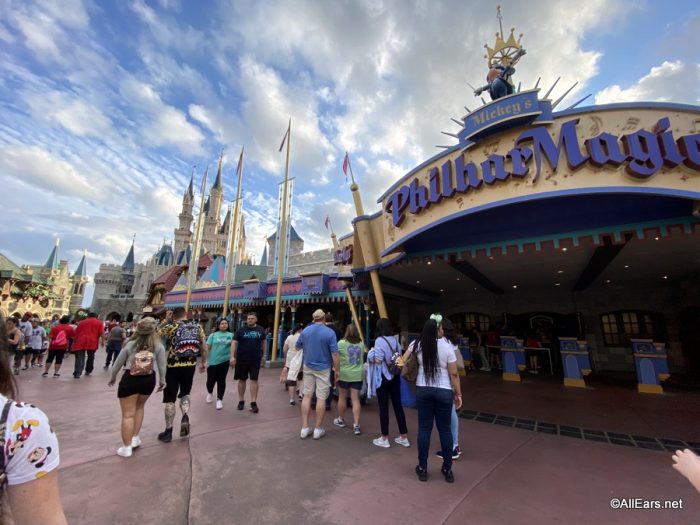 Cozy much? Gaston's Tavern is inspired by the pub that Gaston frequents in Beauty and the Beast. There are usually open tables, and the ambiance is very homey. When the storm begins, cuddle up with a warm cinnamon roll and the roaring (fake!) fire.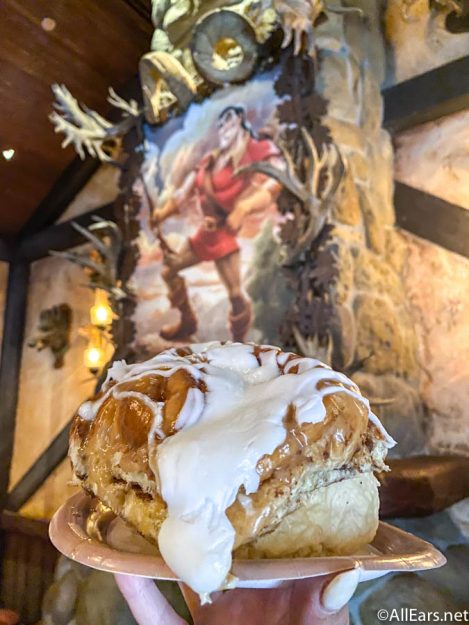 Let's be honest, much of a Disney vacation is spent deciding which souvenirs you'll take home with you. Why not take advantage of the storm and do a little shopping? The Emporium is the biggest gift shop in the Magic Kingdom. It's  many rooms are connected all the way down Main Street. Once you make it inside, you can make your way up and down Main Street without stepping foot outside!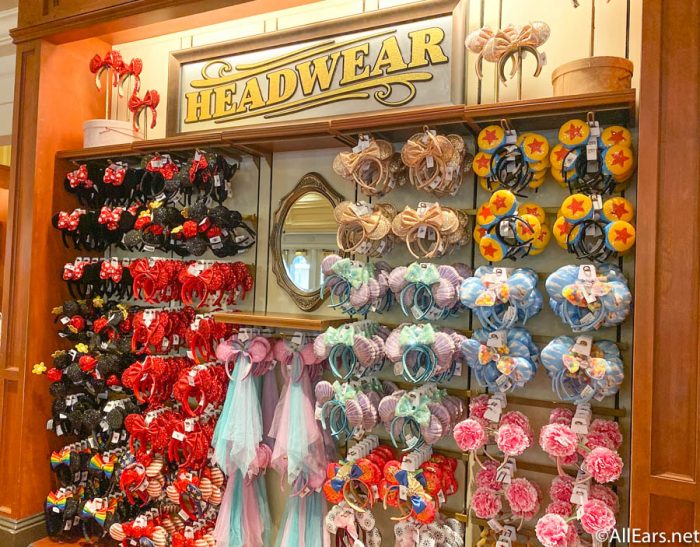 This is one of our favorite "hidden gems." The Quick Service restaurant is tucked away in Fantasyland and usually has plenty of open seating. The best part is that it offers an aerial view of "it's a small world." Come for the flatbreads and stay for the view!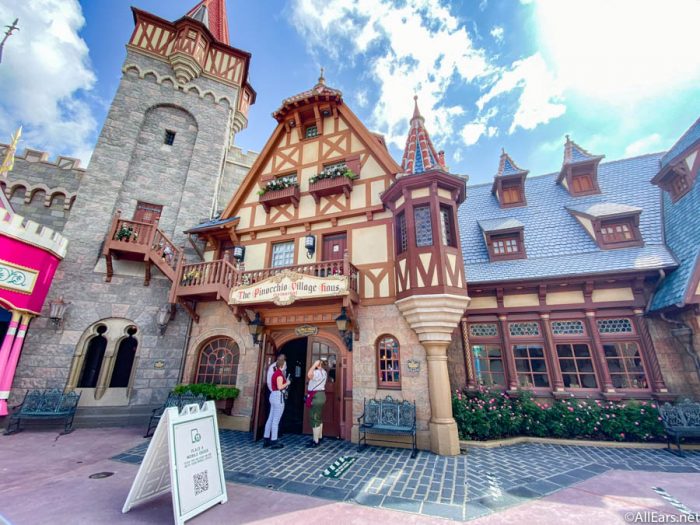 Located near the Canada Pavilion, this indoor event building is currently hosting some booths and entertainment for the EPCOT International Food & Wine Festival. This building has hosted a few events, and we're hoping it will continue to remain open more often in the future. It's incredibly spacious and can house a lot of people during a storm.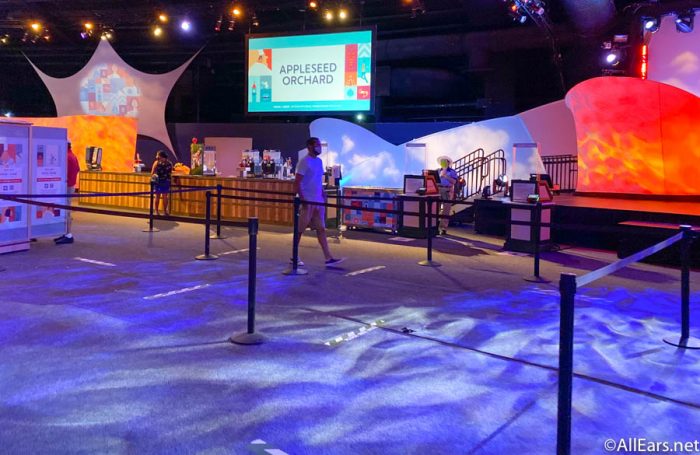 The Land Pavilion is indoors, spacious, and has plenty to do while you wait for the rain to leave! It's home to two of EPCOT's featured attractions: Soarin' Around the World and Living with the Land. The pavilion's film — Awesome Planet — opened in January 2020, so you can also take a load off for that, too! If you get hungry, there's a big Quick Service food court called Sunshine Seasons and even a Table Service restaurant — Garden Grill — located inside the building. After all that, you can run next door to The Seas with Nemo and Friends to enjoy another indoor ride if the rain hasn't let up!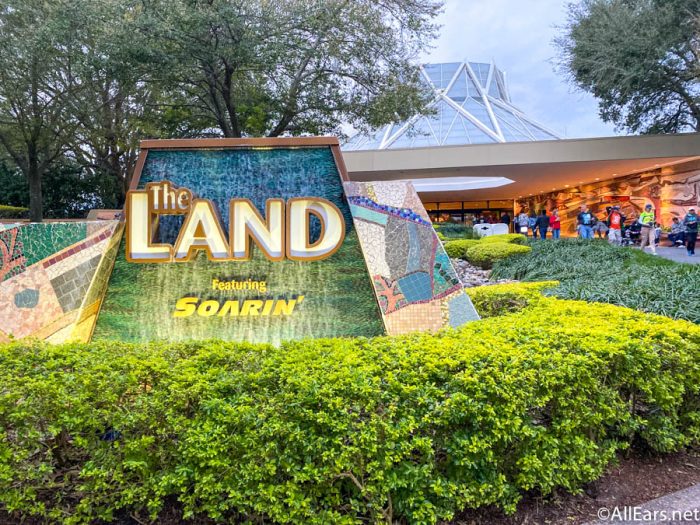 Spaceship Earth fans have been put through the wringer this year. Many were shaking in their boots when they heard the attraction was closing. They were quickly comforted when Disney announced that the ride will remain the same, with a refurbishment postponed indefinitely. Although some of the queue curves around the outside (don't forget your poncho!), this ride is fairly long and entirely indoors. Hopefully, the rain will have died down once you leave!
Mitsukoshi
The gift shop located in the Japan Pavilion is full of funky Japanese souvenirs and knickknacks. This place is HUGE and offers some respite from the rain. Peruse, the Hello Kitty merch, try on some Kimonos, and have a cup of sake while you wait for the weather to die down. Upon exit, spend some time in the adorable Bijutsu-kan Gallery, a museum dedicated to kawaii, Japan's "cute culture!"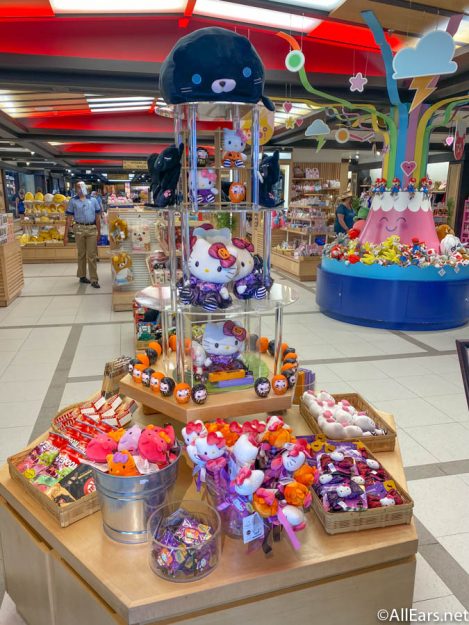 This one is for all you Disney super-fans out there! One Man's Dream is an indoor museum dedicated to Walt Disney and his legacy. It's a fairly large museum full of historical items and educational videos about the man and the mouse who started it all. It also hosts an indoor movie theatre that shows extended previews for Disney movies. It's the best place on the property for DisNerds and a calm environment to get away from crowds and rain!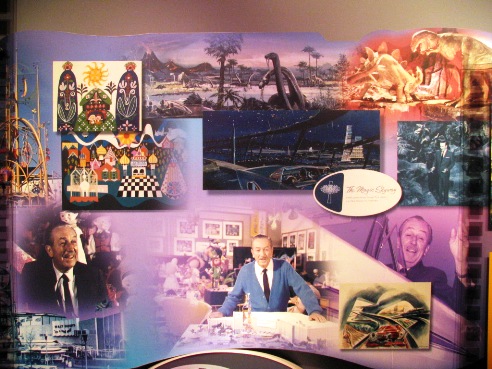 Lightspeed to Endor! This is the only Star Wars attraction that typically has low waits in Hollywood Studios. While the storm brews and you wait on your boarding group for Rise of the Resistance, head here! The queue and ride are fully indoors, and it's the perfect opportunity to enjoy a Hollywood Studios must-do!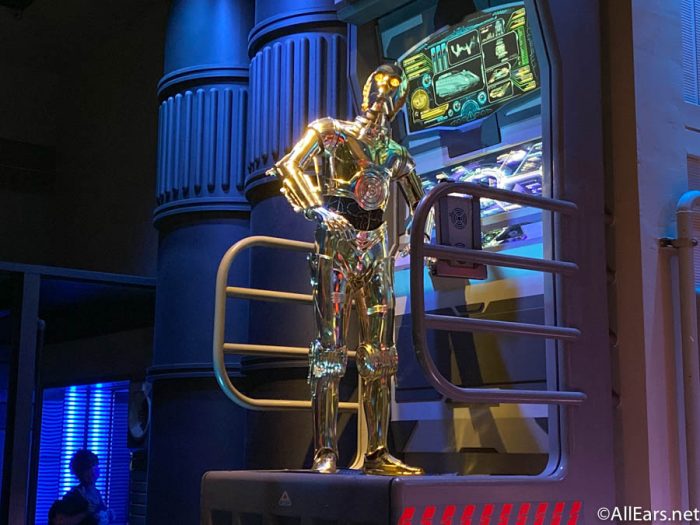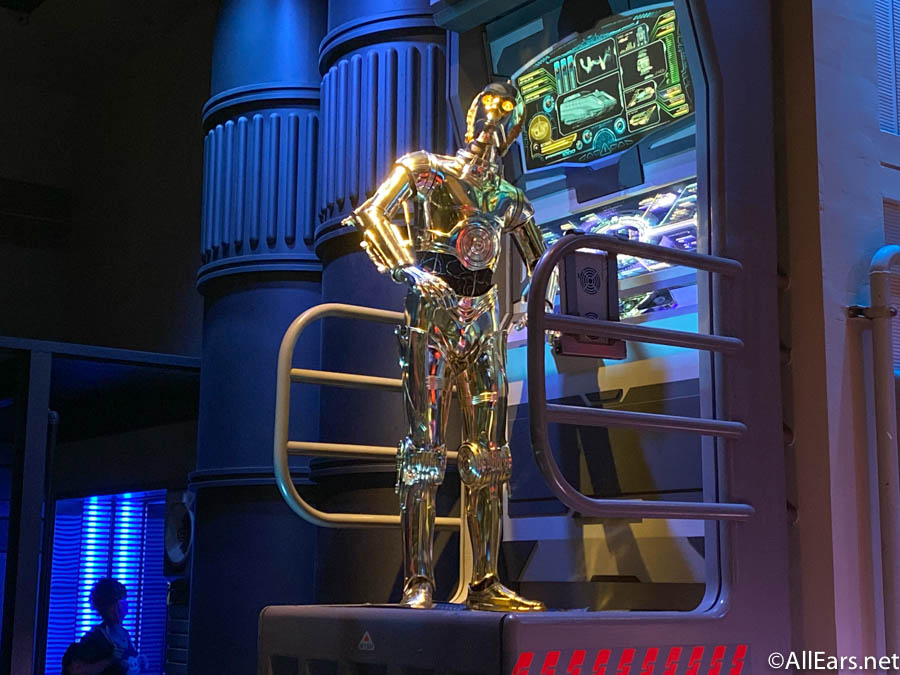 So, it's raining and the Tower of Terror is down, what do you do? Time for drinks! You don't need a reservation to enjoy the taphouse, so pop in for a quick drink and a giant pretzel to wait out the storm. If the bar is too crowded, then pop over to Backlot Express. They usually have some specialty cocktails and decent Quick Service food!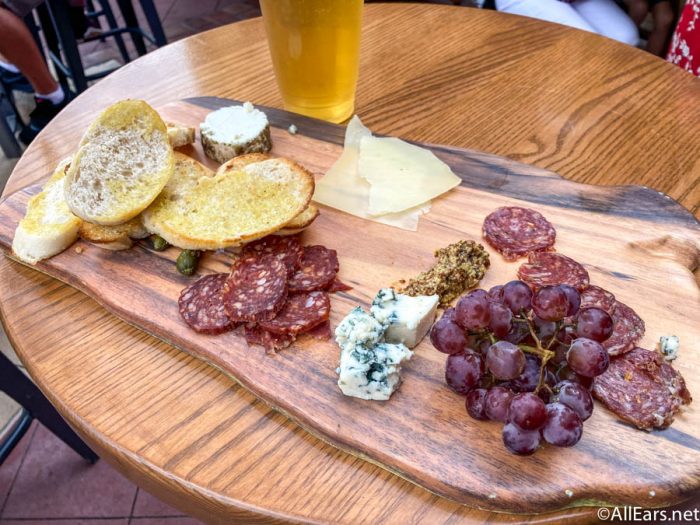 It's time to play the music! It's time to light the lights! It's time to head for shelter at Muppet*Vision 3D tonight! When the storms start, step inside Muppet Vision and spend some time with your favorite Muppet friends. The theatre is indoors, there's a long pre-show, and the show is a Hollywood Studios classic!

This is the only indoor restaurant location in Pandora – World of Avatar. There's usually ample seating inside the Quick Service restaurant or in the covered area outside. Plus, it will give you a chance to try the Cheeseburger Pods! If it's too crowded, jump in line for Na'vi River Journey! Most of the queue is covered here, too.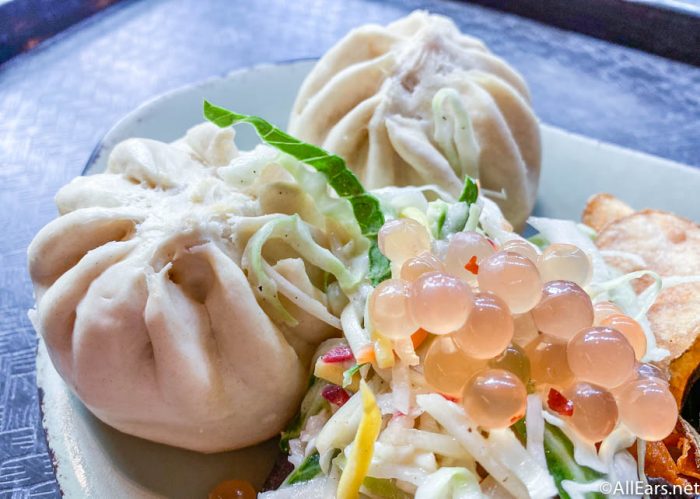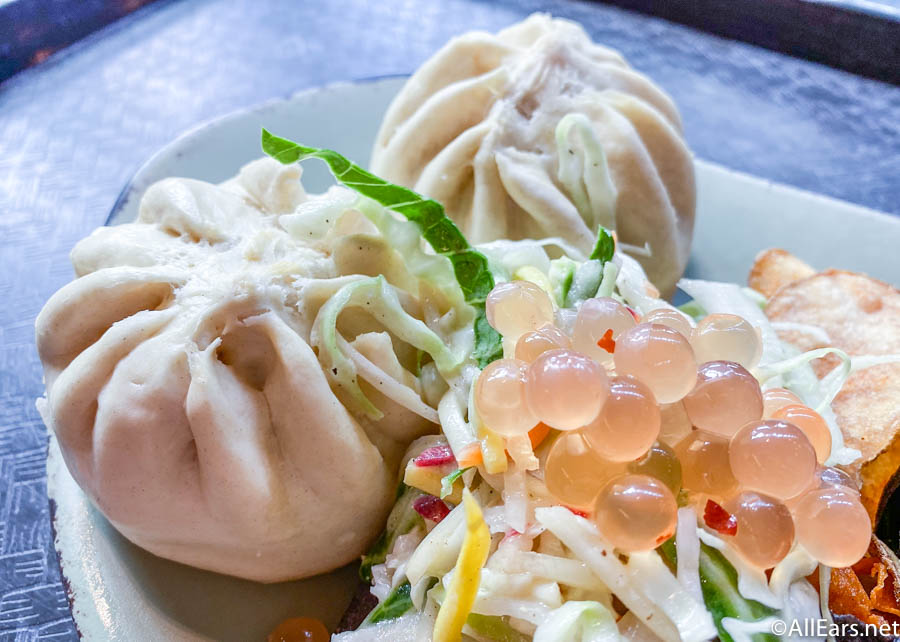 This lounge is connected to the Signature Table Service restaurant, Tiffins, and it's one of the best places to get great cocktails and appetizers at Animal Kingdom. You don't need a reservation, and there's usually some seating available inside! You can also opt for the covered, outdoor seating that hosts a view of the Discovery River. Grab a Lamu Libation and listen to the Florida rainfall all around you.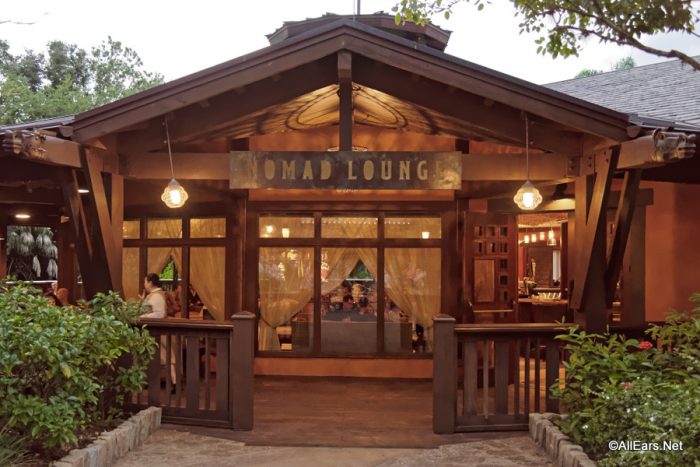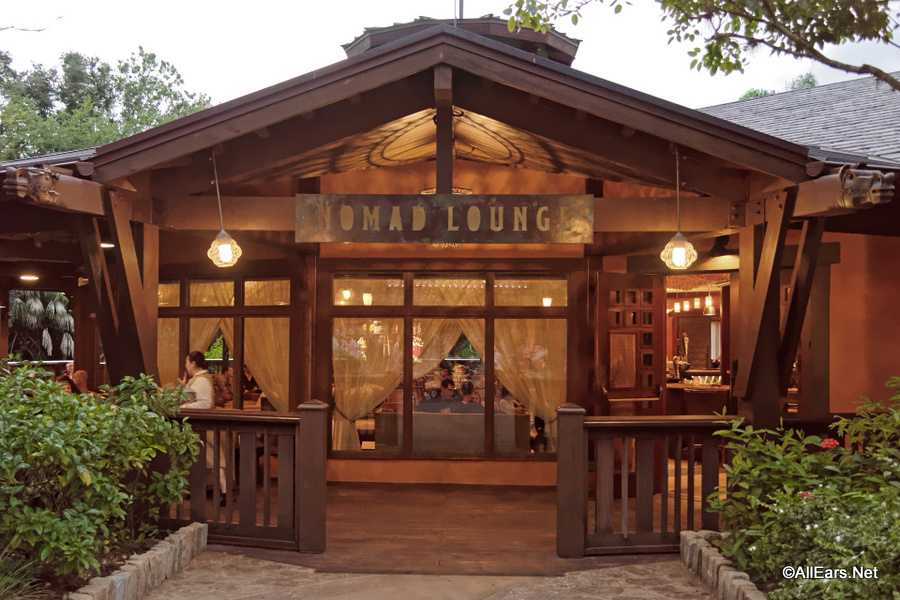 This crowd-favorite 3D show is based on Disney Pixar's classic movie A Bug's Life. It's located inside Animal Kingdom's iconic Tree of Life and sheltered from the outside elements. You get to retreat from the rain, shrink to the size of a bug, and see a cute show!
Dr. Seeker will see you now! This is another Animal Kingdom must-do and includes one of our favorite pre-shows on Disney property.  Even if the wait is long, you get to enjoy a super-cool indoor queue that's full of dinosaur bones and a mini, prehistoric museum. Now, let's go get that dino!
Yes, Florida weather is unpredictable, but a little rain usually doesn't hurt anyone! One of the best tips we can give you is to try to remain flexible while visiting Disney World. You can organize an airtight itinerary, but things won't always go according to plan. Ride closures, weather, and other issues are bound to pop up when visiting a massive theme park.
The best thing you can do is come prepared and be patient. There are plenty of gift shops, rides, and restaurants you can duck into during a storm. Also, remember to pack essentials like a poncho or umbrella. An extra pair of socks doesn't hurt either! (There's nothing worse than walking around in a soggy pair of socks.) Just embrace the rain and other obstacles you might encounter, and you're sure to a good time at the most magical place on Earth!
Have you been caught in a storm at Disney World? Let us know your best tips in the comments!
Join the AllEars.net Newsletter to stay on top of ALL the breaking Disney News! You'll also get access to AllEars tips, reviews, trivia, and MORE! Click here to Subscribe!