After a nearly four month closure, the Disney World theme parks have started welcoming guests back again!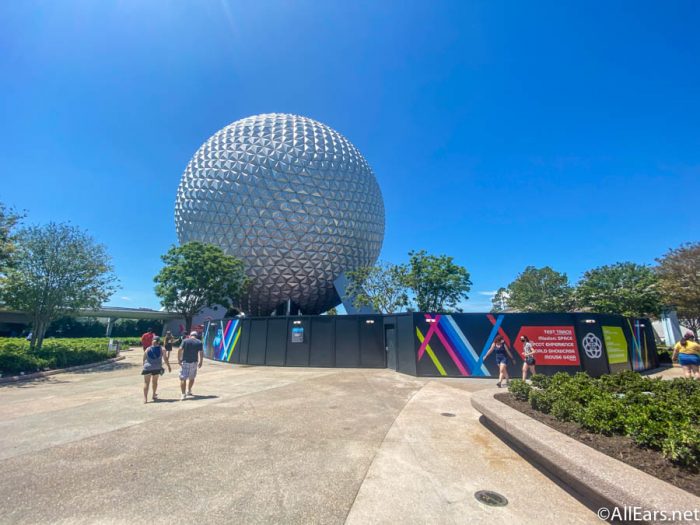 Last week we brought you along with us to check out the Previews and official reopening days of both Disney's Magic Kingdom and Animal Kingdom to check out the new character experiences, health and safety precautions, and ride process. While we've returned back to Epcot for Cast Member previews, we're back again to see the newly re-opened park during its grand re-opening today!
We will continue to update this post throughout the week, so make sure to check back for updates! 
Parking
Similar to what we've seen at the other parks, cars were slowly let in through the booths into the parking lot.
Once parked, Cast Members guided cars into every other parking space.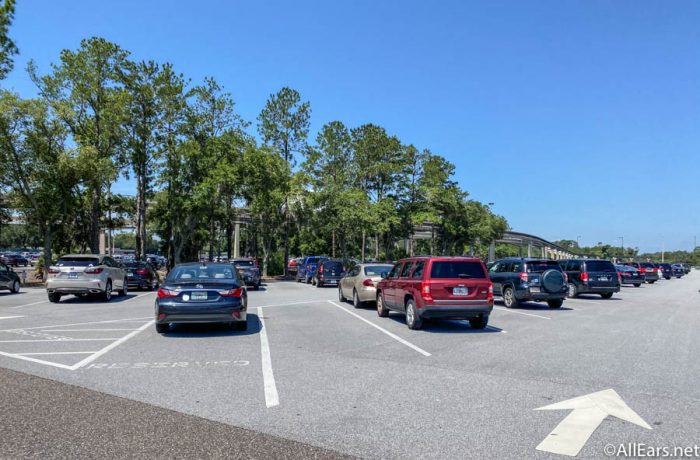 Temperature Check and Security Screening
All Disney World parks are requiring guests to undergo a temperature screening prior to entry.
EPCOT has cool down tents for any guests that initially are screened at 100.4 degrees or higher. Once they have a moment to cool down, they can try and be screened once more.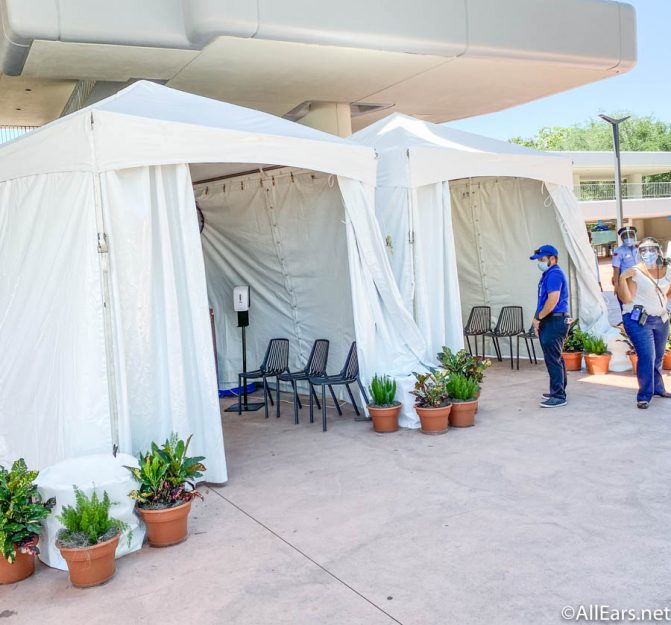 Entrance
Upon entering, you'll still be greeted by Spaceship Earth, whose redesign has been put on hold so that guests can still ride the iconic classic attraction.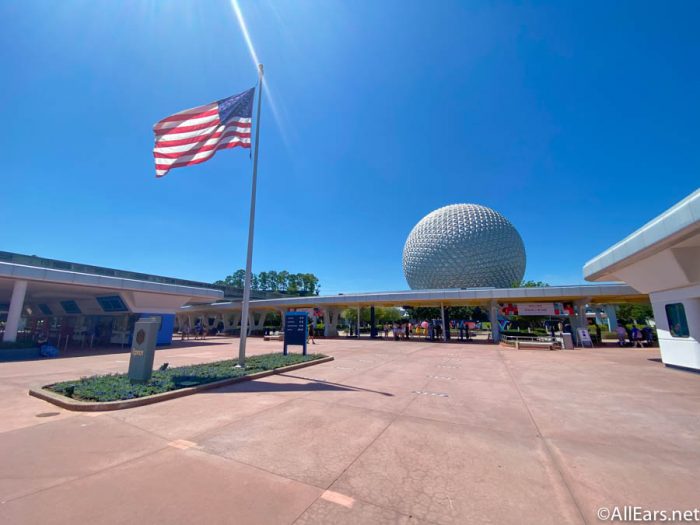 And don't worry — there are still plenty of construction walls throughout!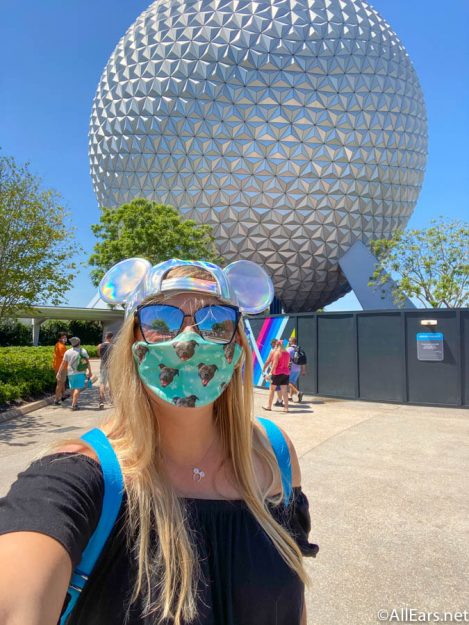 If guests choose to ride the Skyliners over to Epcot, they will need to go through a temperature screening before they are able to enter the park.
Some of the distancing markers on the ground included blue tape that is measured 6 feet apart from another guest or party.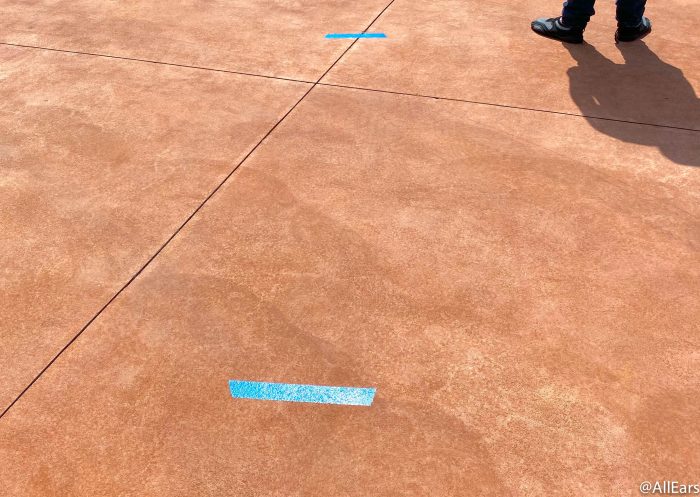 After going through the checks, guests will scan their MagicBands to enter the park in the World Showcase.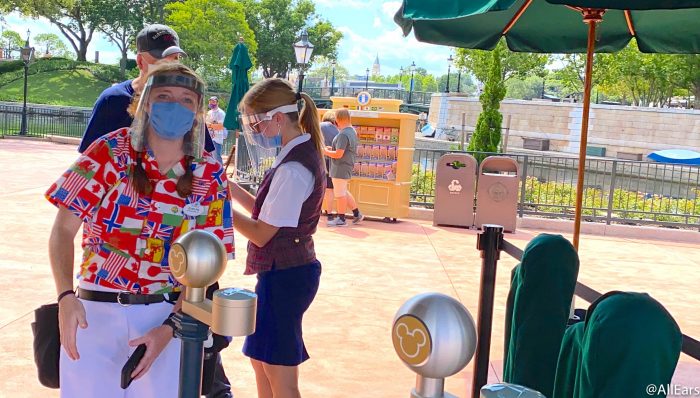 Cast Members were all ready to welcome everyone "home" (and we definitely got a little teary eyed about it).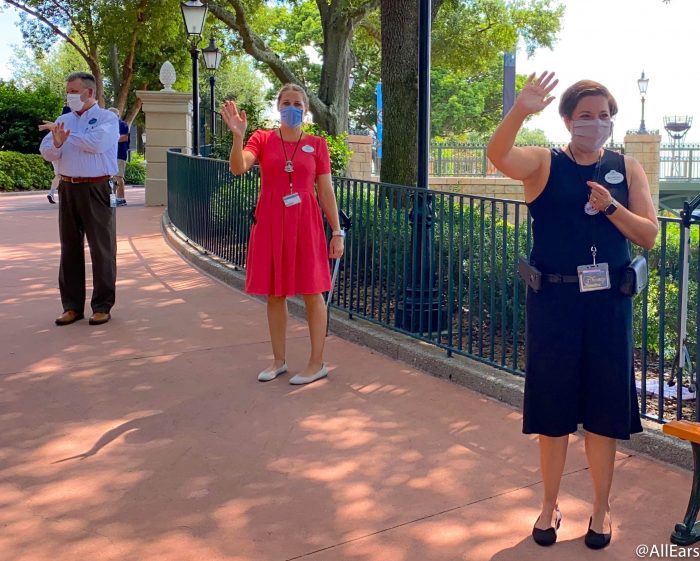 Some of the Cast Members ever held countries' flags from around the World Showcase, including Canada, France…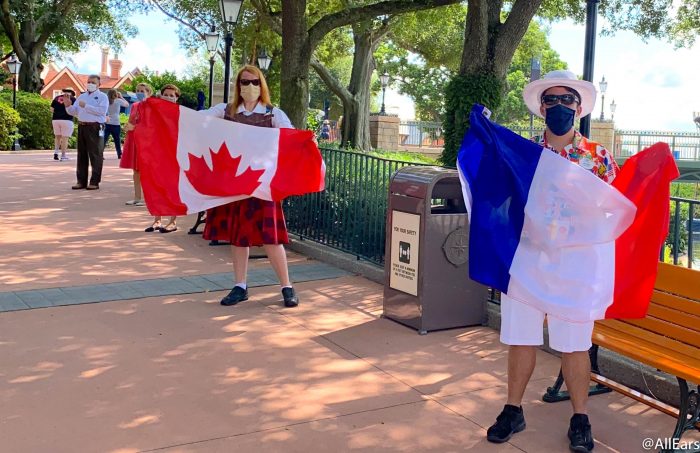 …and Great Britain!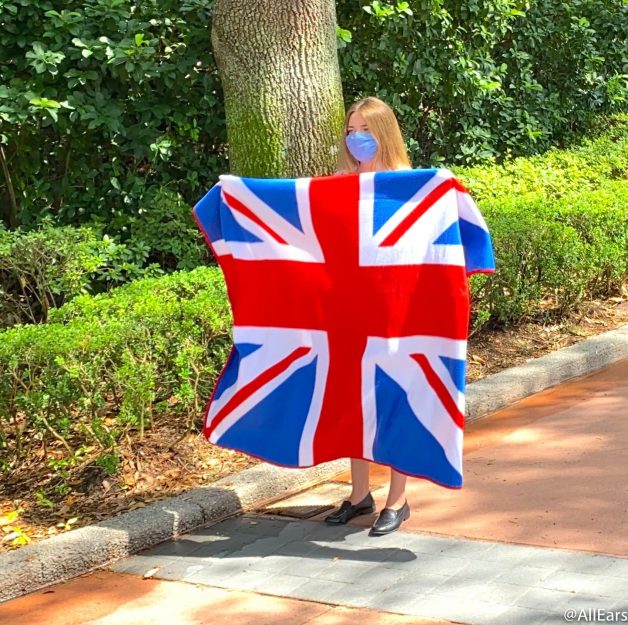 Spaceship Earth
Spaceship Earth looks the same as we left it!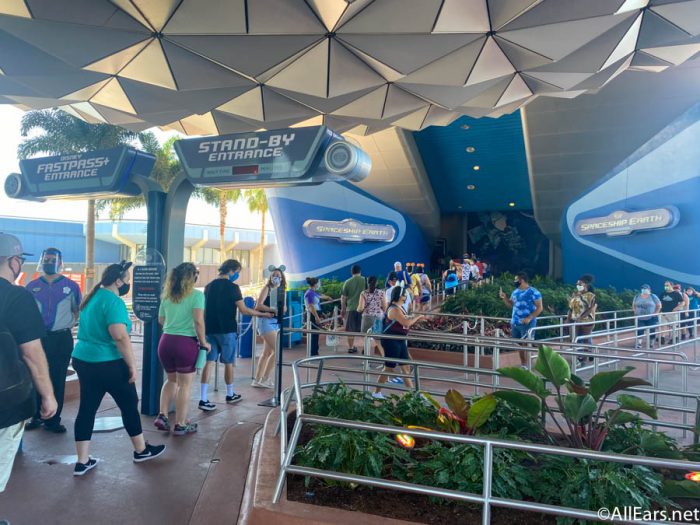 The ride's line had the same spaced out markers that we've seen for queues at both Magic Kingdom and Animal Kingdom so far.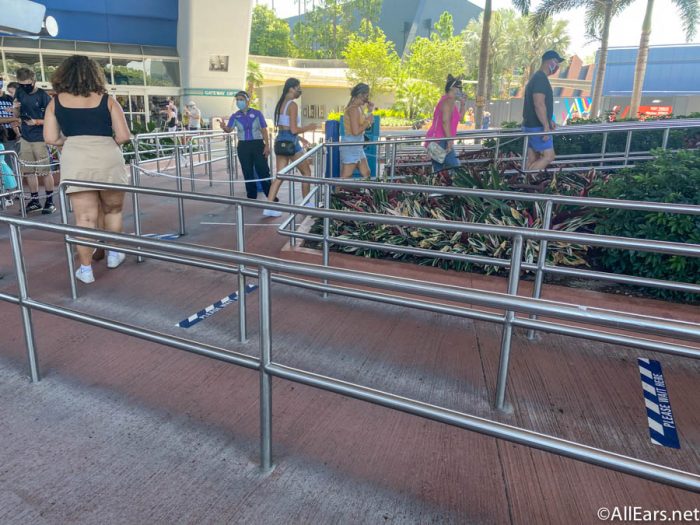 The ride had the same familiar faces as before, confirming that guests will be able to ride the original upon reopening.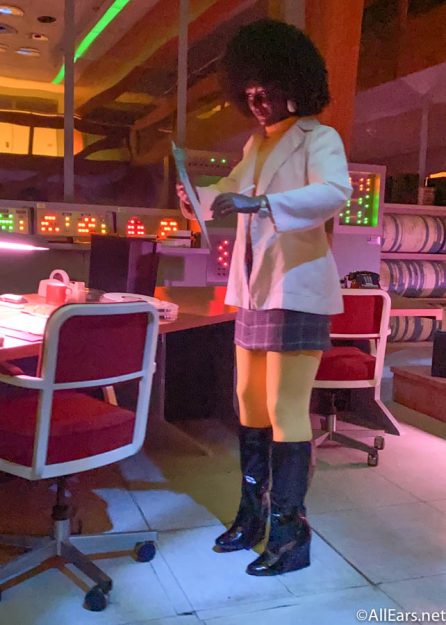 One key difference is as you exit the ride, where Project Tomorrowland is currently closed.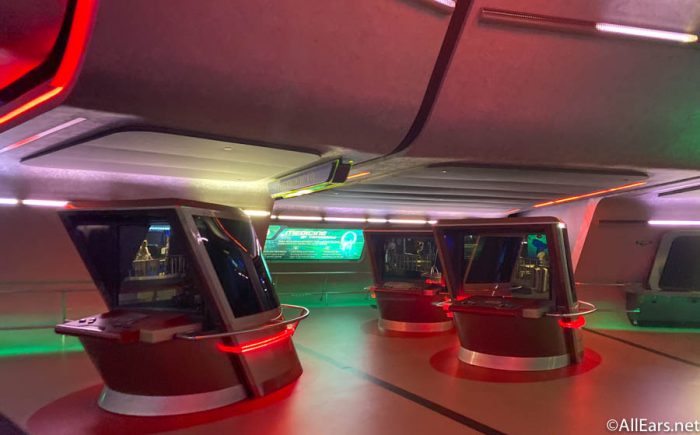 Test Track
Another spot we noticed missing interactive features was over at Test Track.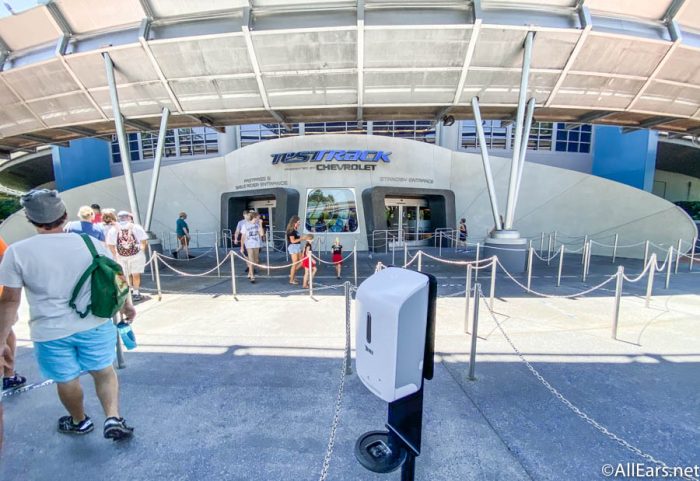 The outdoor and indoor queue have been set up with spatial markers, along with barriers to prevent close contact between guests.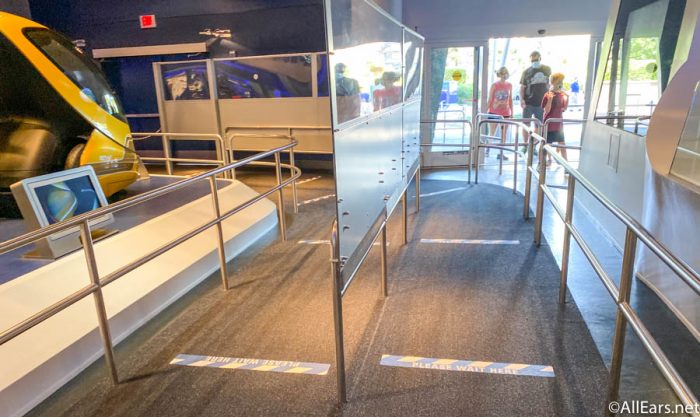 A missing element for the queue is the design station, which you are instead directed to walk through.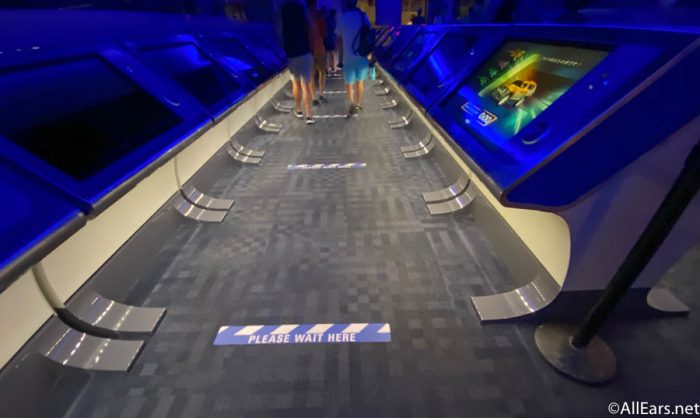 Currently, they are seating one party per car for Test Track.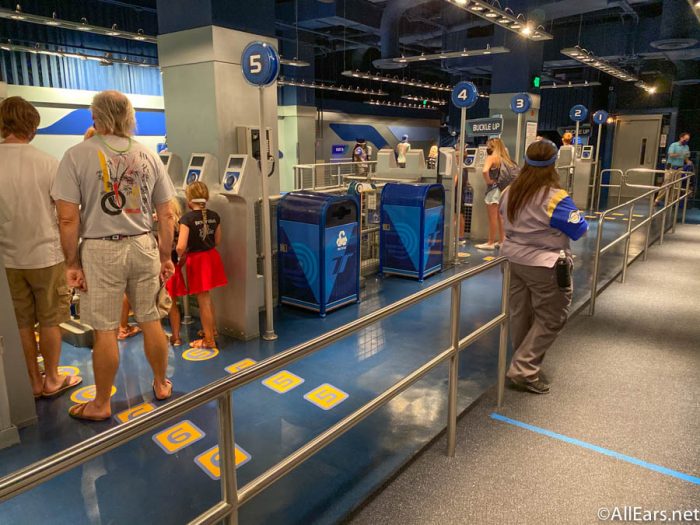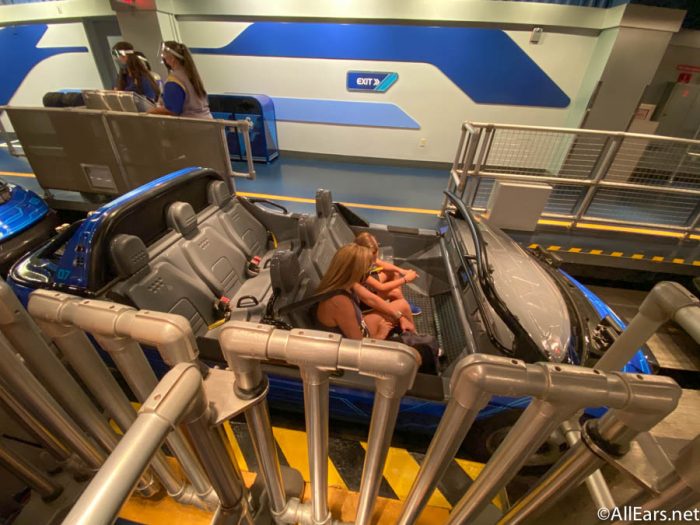 The interactive elements as you exit for this ride are also closed down.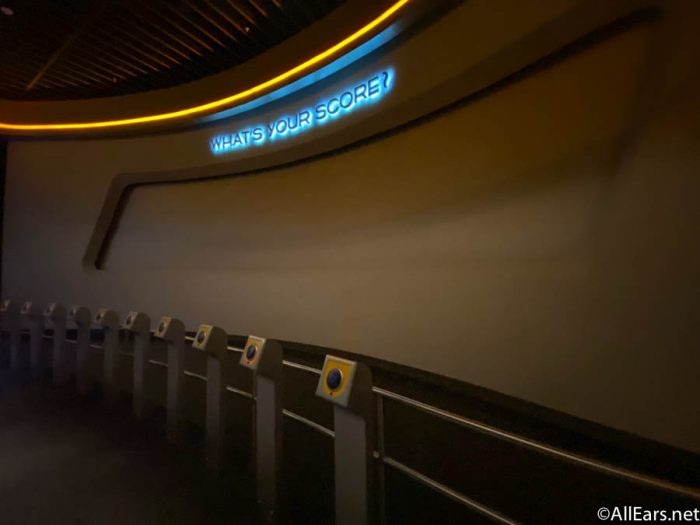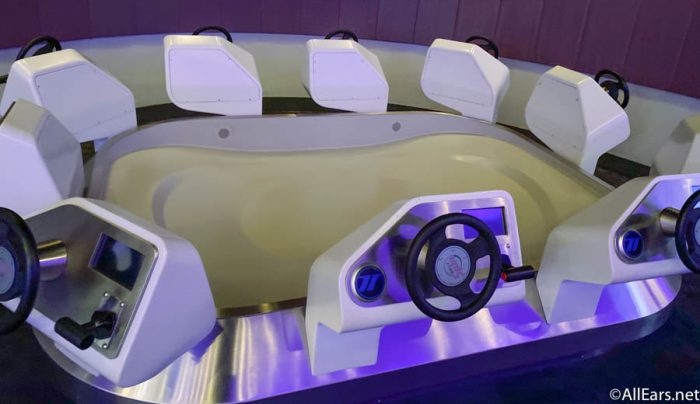 Frozen Ever After
Although many of the rides had somewhat low wait times, the line for Frozen Ever After looked a lot longer than it was.
The queue stretched around Norway, even though the actual wait time sat at 30 minutes at multiple points throughout the day.
Topiaries
Because A Taste of Food and Wine Festival will be featuring some EPCOT International Flower and Garden Festival elements, there are still topiaries out throughout the park! Over by Mouse Gear, we spotted the Bambi topiary.
We did notice, though, that the flower beds from this area are no longer there.
The Land Pavilion
Over at the Land Pavilion, we immediately noticed a few key differences. Seating areas have certain chairs marked as unavailable, to encourage distancing.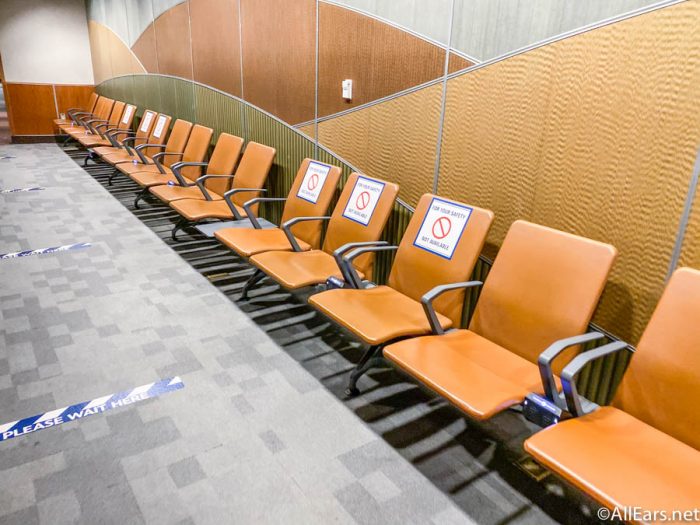 The queue for Soarin' starts way before the prior spot, with spatial markers throughout.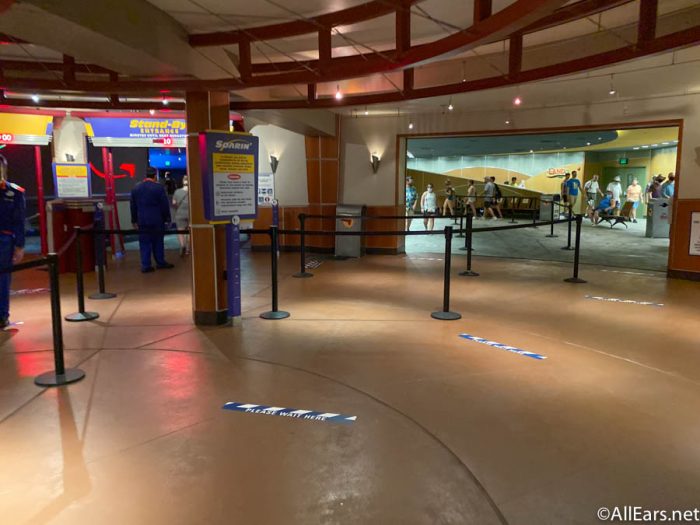 When it comes time to head to the theater, you are asked to stand on a blue dot in one of the three rows.
There are dividers between each, with people on either side. You'll stand here to watch the Soarin' pre-show like before.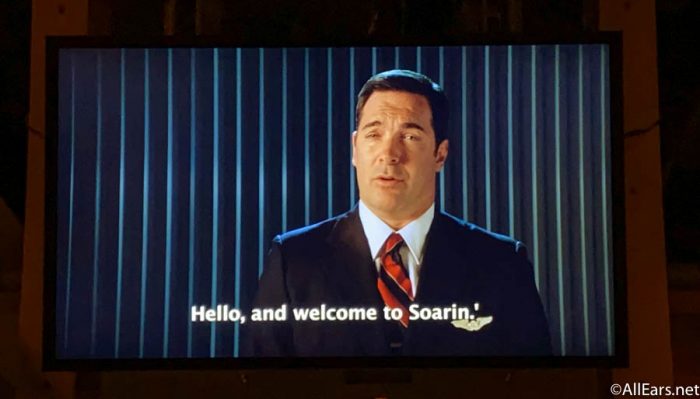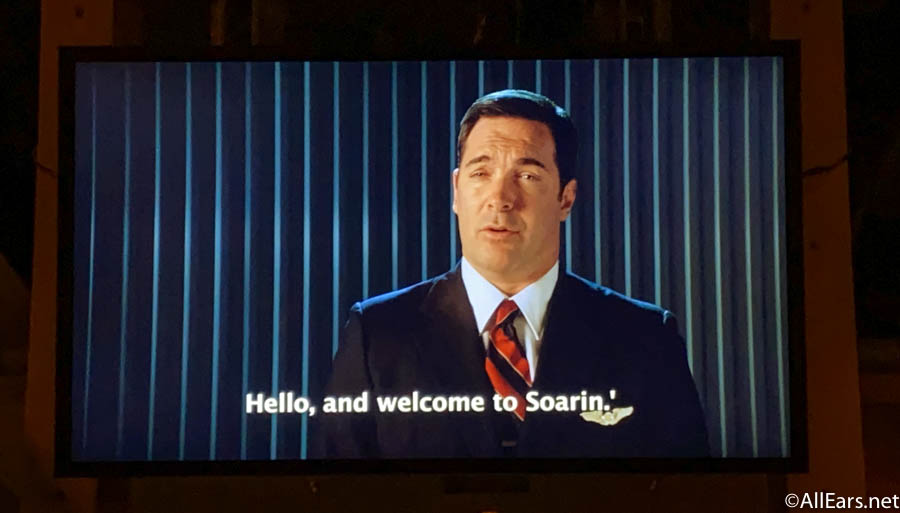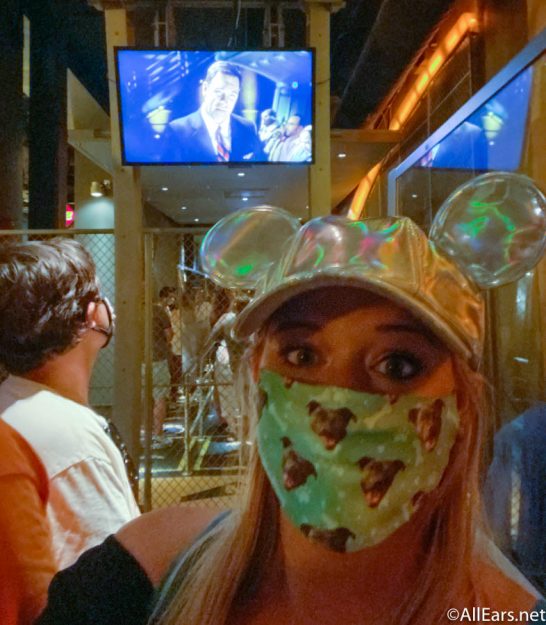 After the pre-show, you are loaded one row at a time. Each of the ride vehicles is divided by plexiglass dividers, with two sets of two seats, and one set of four.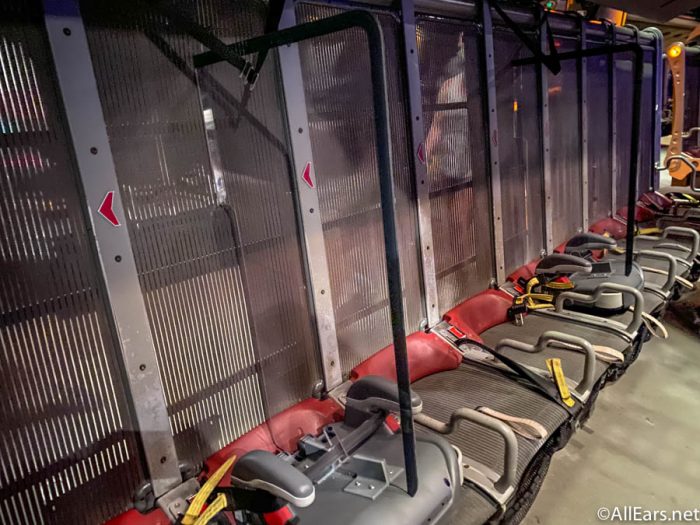 The divider takes up a full seat as well.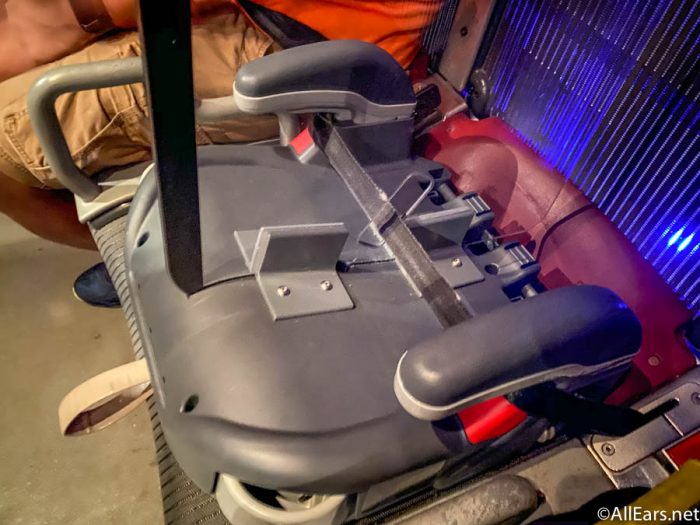 Gran Fiesta
Gran Fiesta was also open for guest to enjoy in the Mexico Pavilion with rope lines and distancing markers.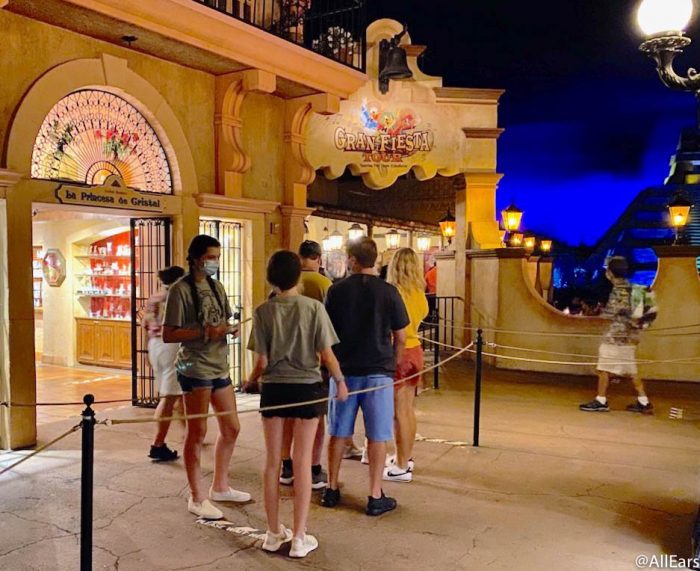 Over at The Seas With Nemo and Friends, we checked out their socially distanced queue…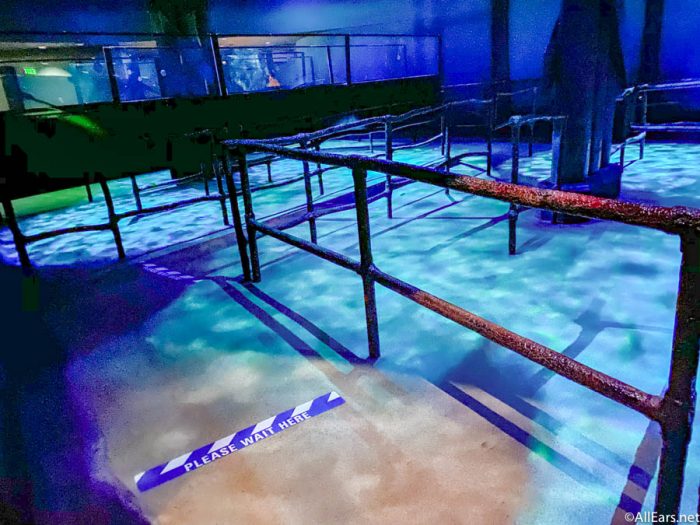 …and took a ride in a clamshell. There was no wait at all when we rode this afternoon.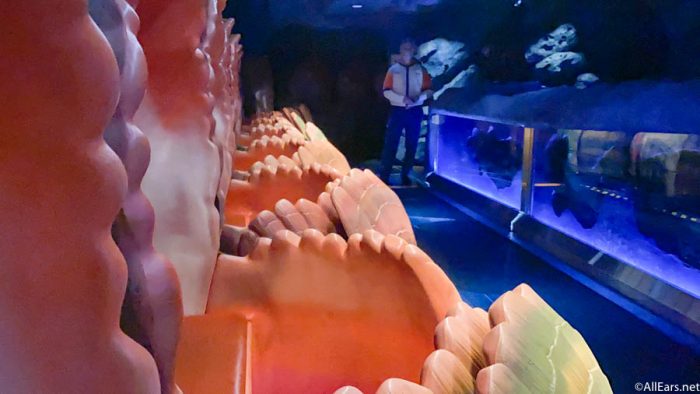 In the SeaBase, guests can still enjoy looking at the sea creatures, but the ground is clearly marked one way in each room.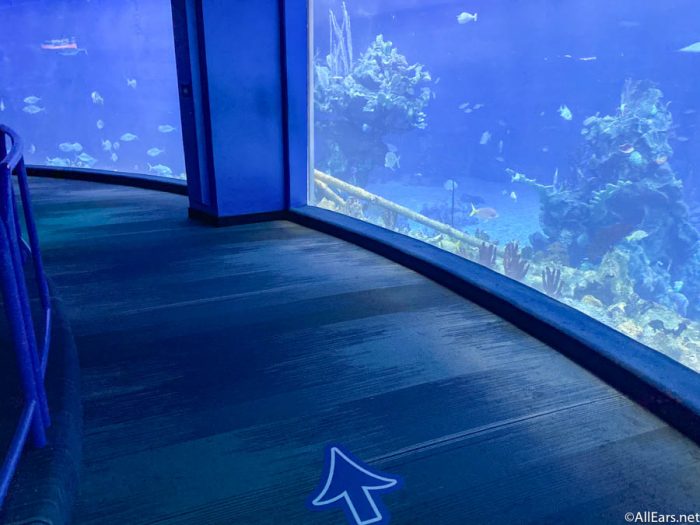 The kid-favorite shark area (with a giant Bruce!) was roped off…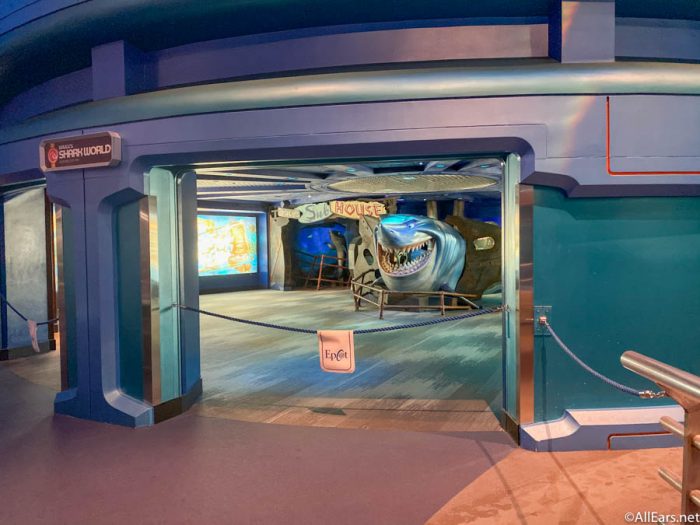 …but a Cast Member was on hand to teach guests all about sharks!
We swung over to Frozen Ever After where the posted wait was 30 minutes. The queue extended far out into the pavilion.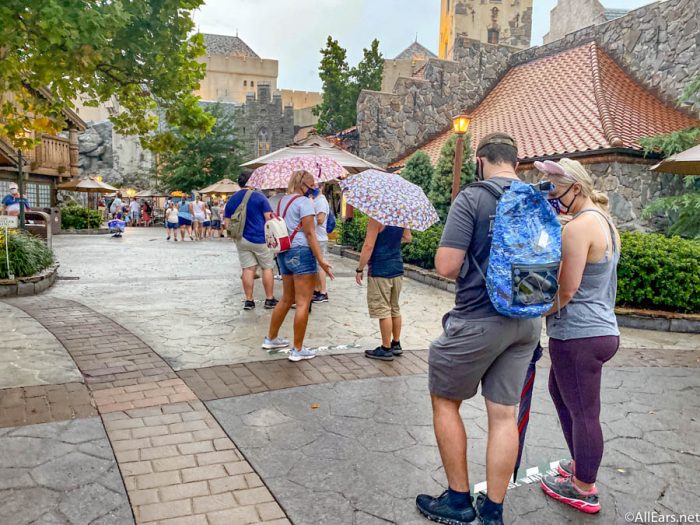 It moved quickly and we were inside minutes later.
Plexiglass barriers are installed inside the queue.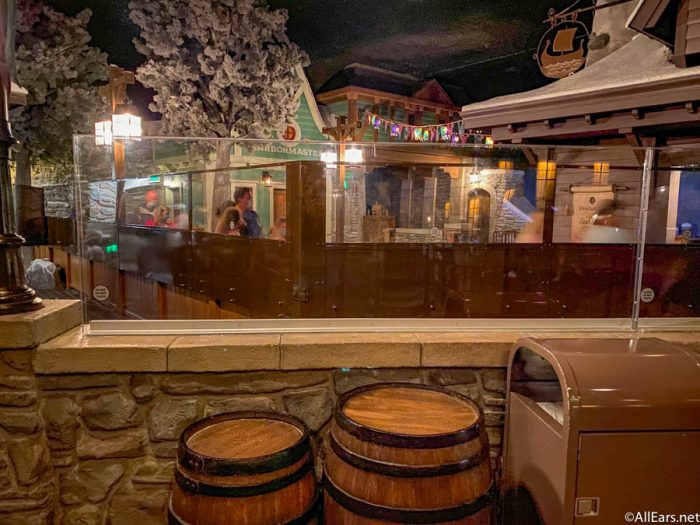 Two parties are being loaded per boat, one at the front, one at the rear.
Characters
Just like we've seen at Magic Kingdom and Animal Kingdom, there are a variety of characters out and about. We have to admit, though, the one we saw at EPCOT might just be our favorite yet. Joy from Inside Out was out frolicking in a field!
Joy is at Epcot just frolicking in the grass! 🥰 pic.twitter.com/dQDDO05ymL

— AllEars.Net (@AllEarsNet) July 13, 2020
Joy is behind a fence with a Cast Member nearby, but was joyfully dancing around, and stopped by for Molly to take a selfie!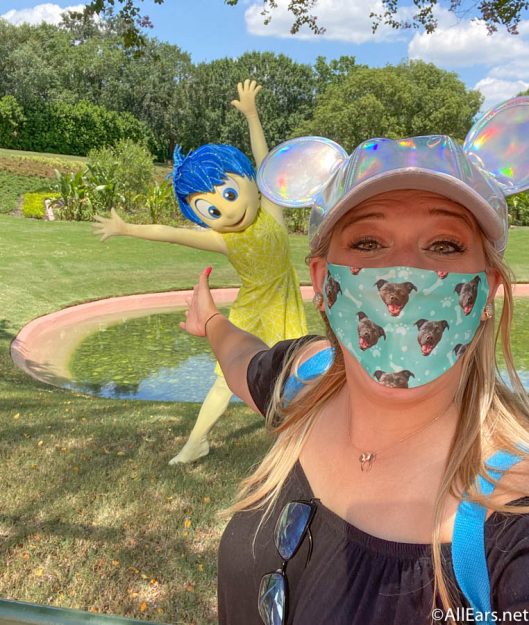 Winnie the Pooh was also out frolicking around the courtyard with his butterfly net in hand. Although he was excited to see the wildlife fluttering about…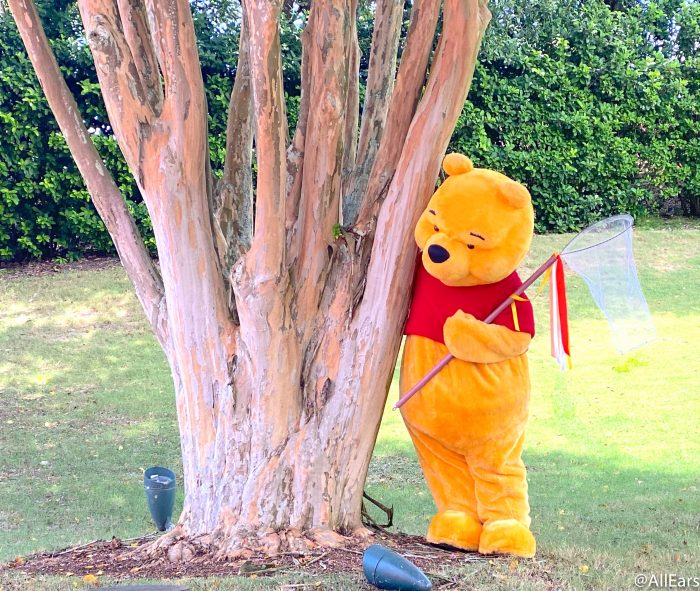 …he was even more excited to see Molly during her visit to the park!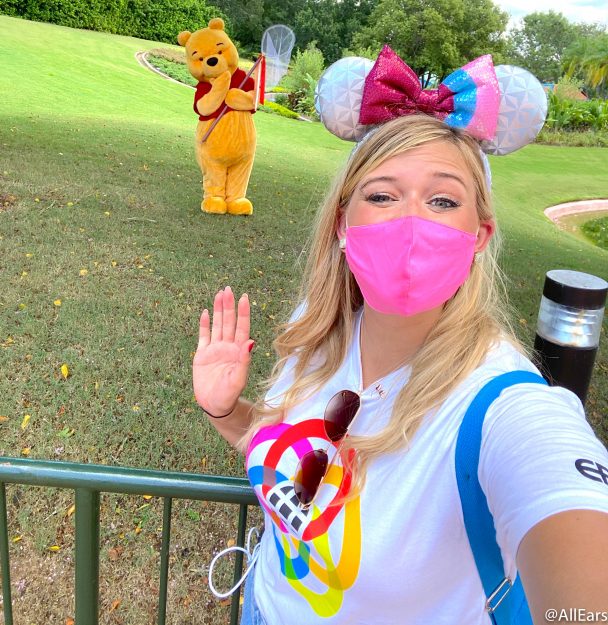 Around World Showcase, we also saw a variety of different characters. That included Mickey, Minnie, and Goofy in the China Pavilion.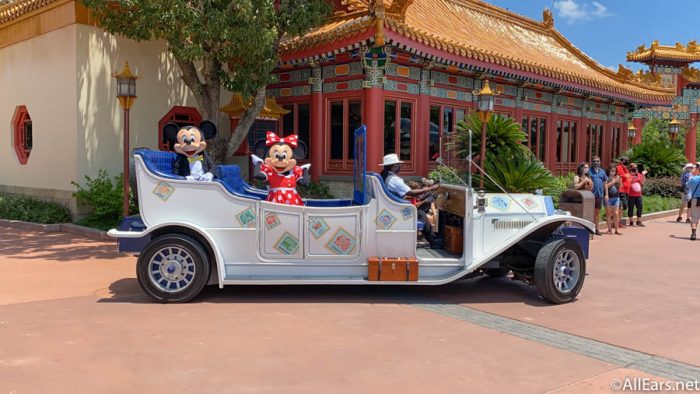 We also spotted a trolley full of princesses making their way around the World Showcase.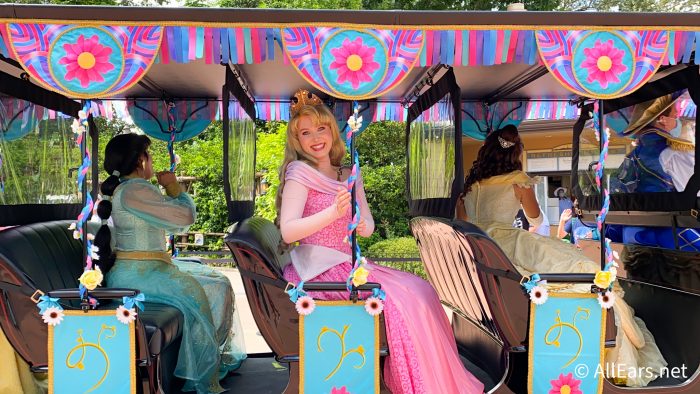 On top of the Princess Cavalcade, Elsa and Anna were out and about to welcome guests to EPCOT (and Arendelle in the Norway Pavilion)! Elsa looked like a dream in her new outfit…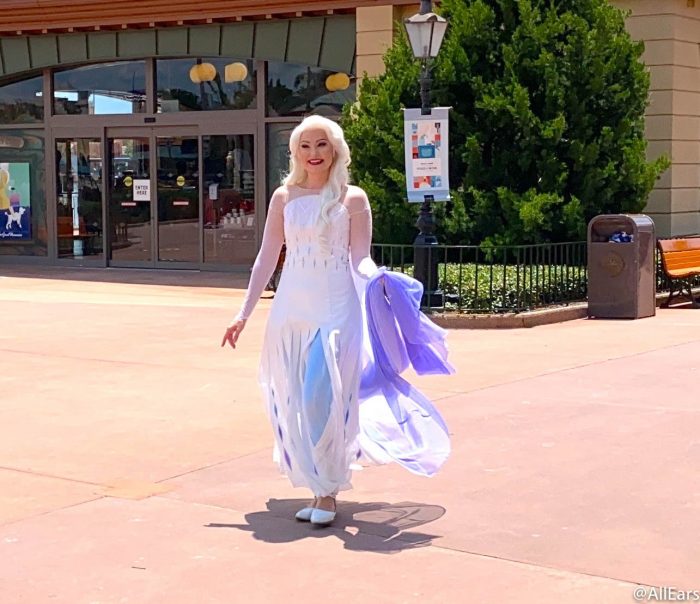 …while Queen Anna waved to everyone from her royal carriage decked out in flowers, ribbons, and more!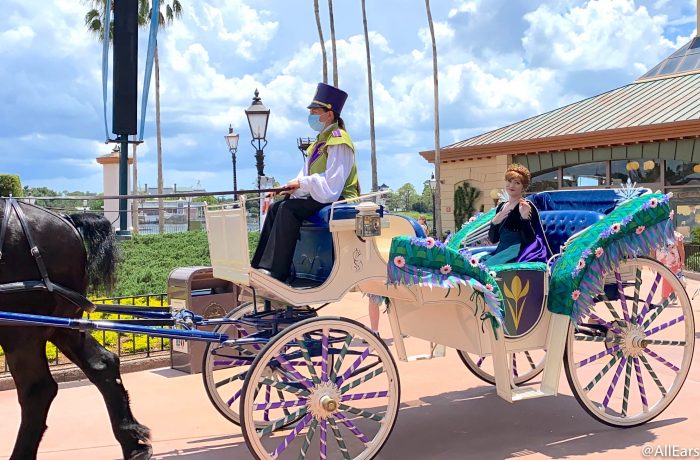 A Taste of Food and Wine
One thing we were not expecting from today? The early debut of EPCOT's new A Taste of Food and Wine Festival!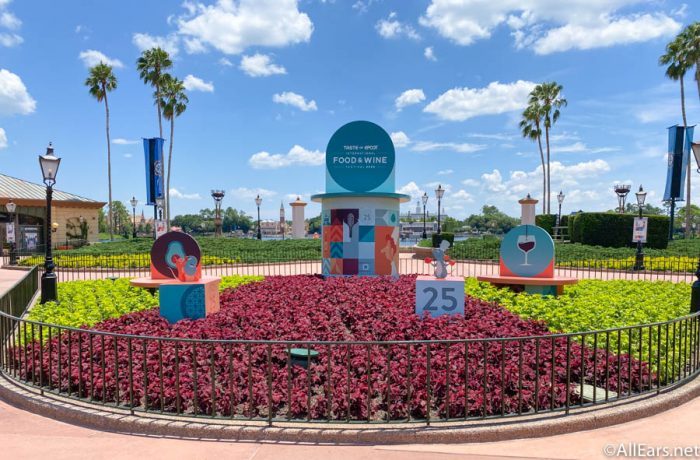 The booths were all open for Cast Member previews, with a combination of new offerings, along with old favorites from Food and Wine Festivals of the past, and booths from the 2020 Flower and Garden Festival.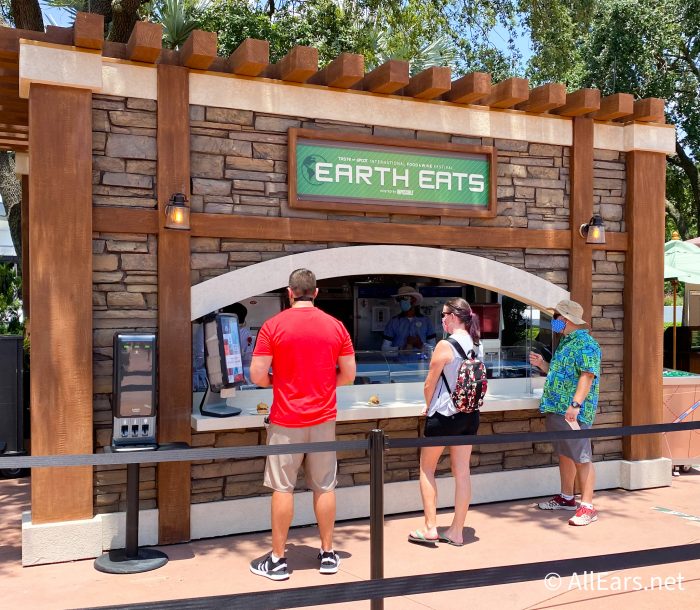 Remy's Ratatouille Hide & Squeak was also available!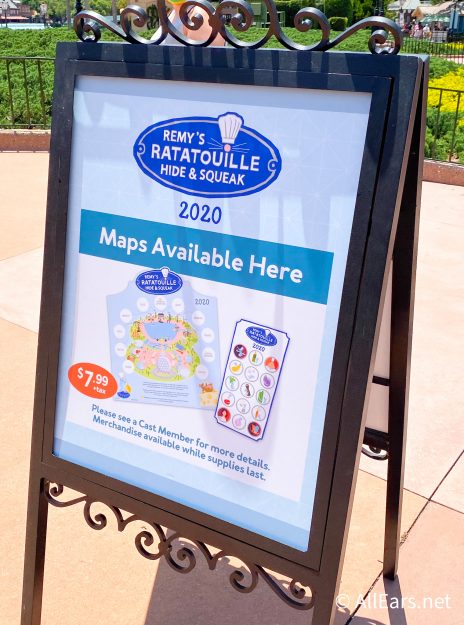 Additionally, there is still some Flower and Garden merchandise you can pick up, including the Spike the Bee Sipper!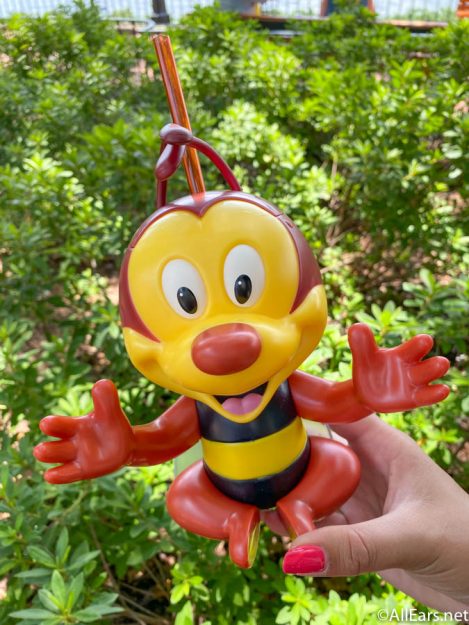 We also got a look at schedules for some of the entertainment offerings we can expect. While Eat to the Beat has been cancelled, Mariachi Cobre and the JAMMitors will both be around and performing.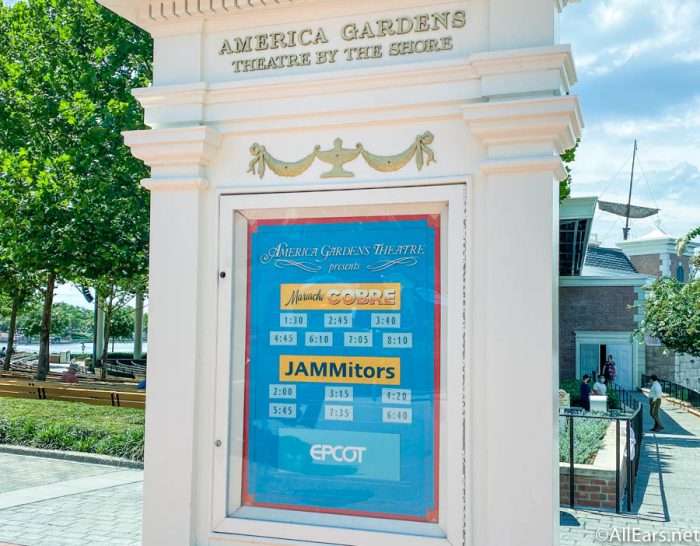 In the theatre, performers are spaced apart from one another.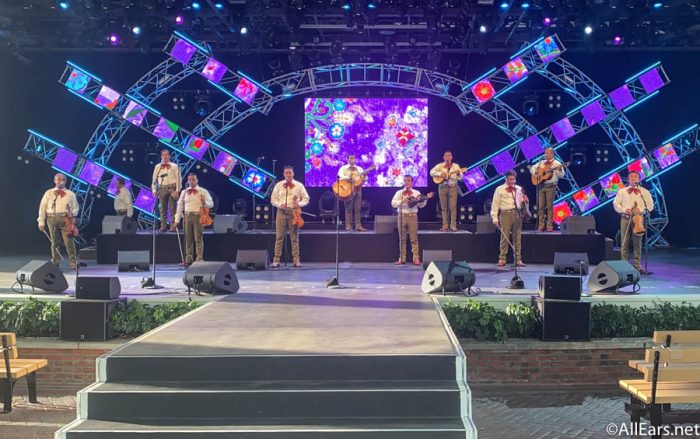 Every other row in the audience is closed off from seating.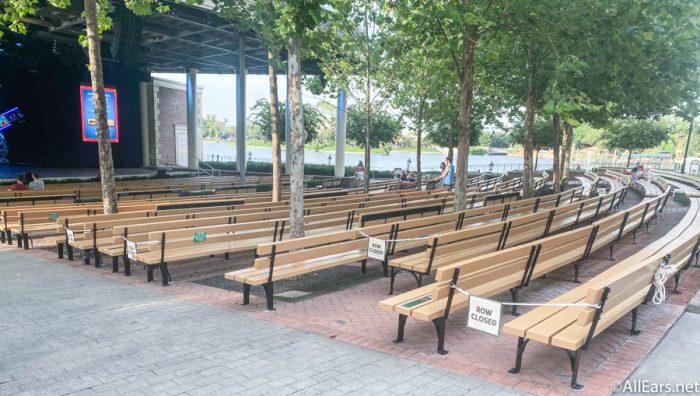 There are also certain sections with stickers letting guests know not to sit there, in an effort to ensure proper distancing.
At the new World Showplace, guests were able to sign up for a virtual waitlist to get into the limited capacity indoor center.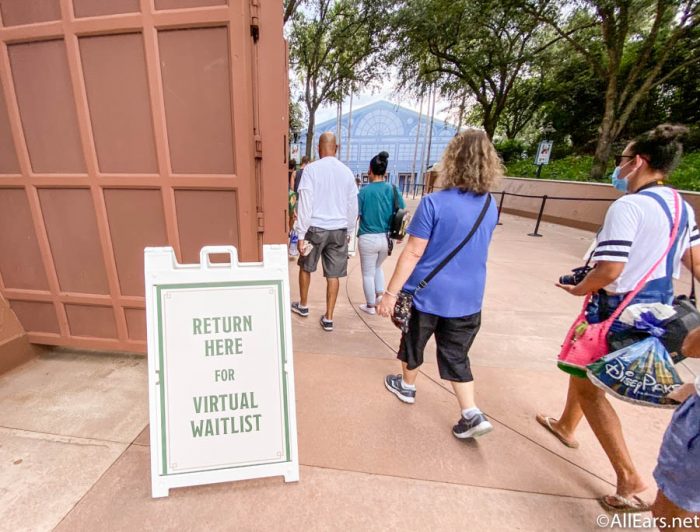 Once inside, there are more booths, including the new Mac and Cheese Booth.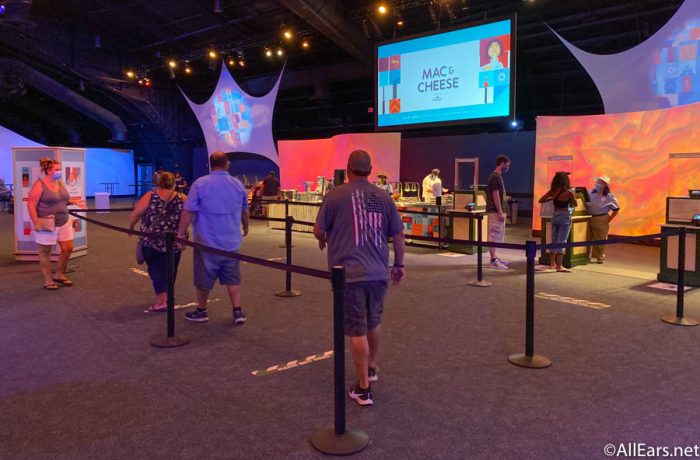 There is limited seating throughout, with other booth options such as Shimmering Sips, as well as Desserts and Champange.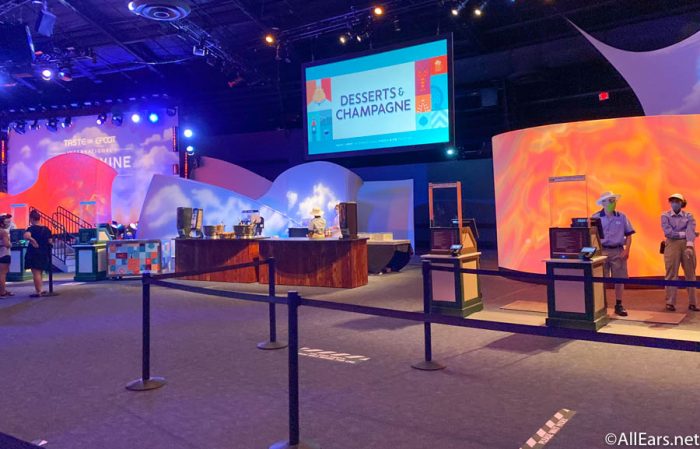 Desserts and Champagne had options such as nitro cake pops!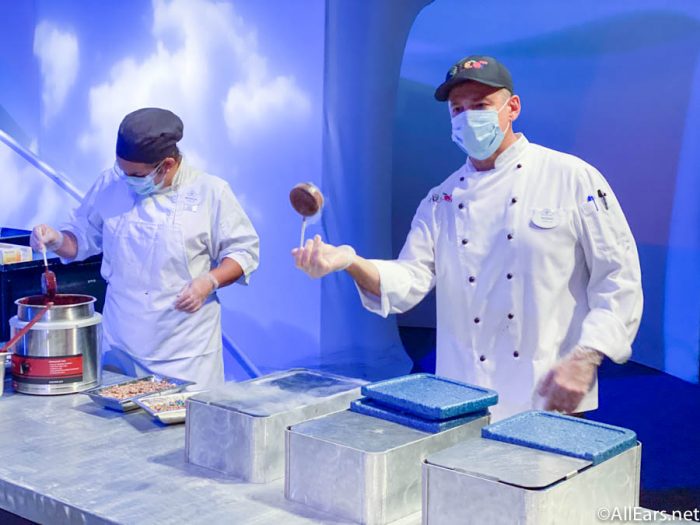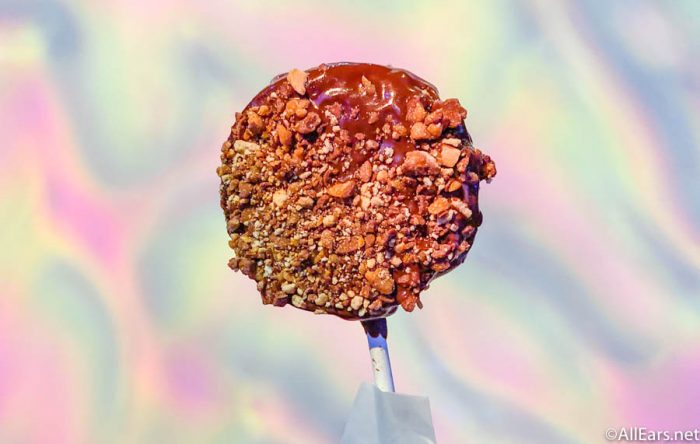 Skyliner Gondola System
On top of Epcot officially re-opening on July 15th, the Skyliner Gondola System has opened at the parks and resorts today as well! We started at Disney's Pop Century Resort to make our way over to Epcot on the Skyliners. The lines had health and safety regulation notices and hand-sanitizer stations for guests to use before boarding.
The line had markers to distance guests from one another…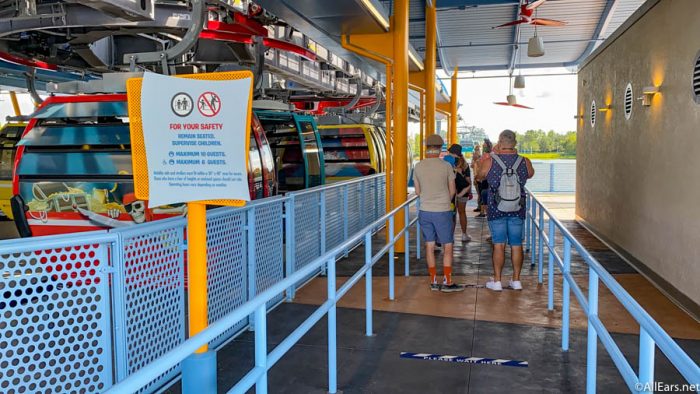 …where Cast Members led guests to the Skyliners that were sectioned with one party per gondola.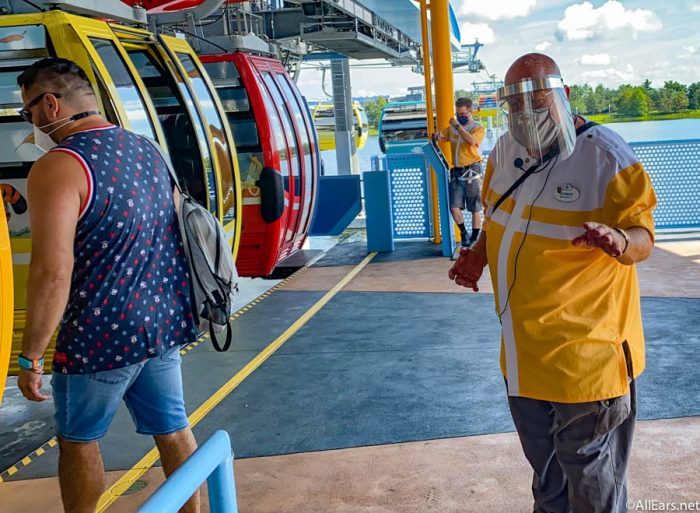 Since Pop Century's Skyliner doesn't lead directly to Epcot, we had to transfer to Caribbean Beach in order to make it to the park. (But, we didn't mind enjoying all those gorgeous views!)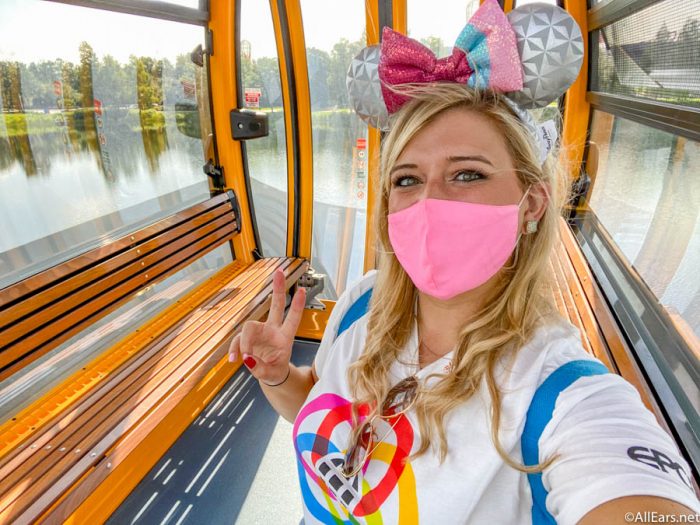 Caribbean Beach's Skyliner Station followed the many of the same procedures as Pop Century when we arrived.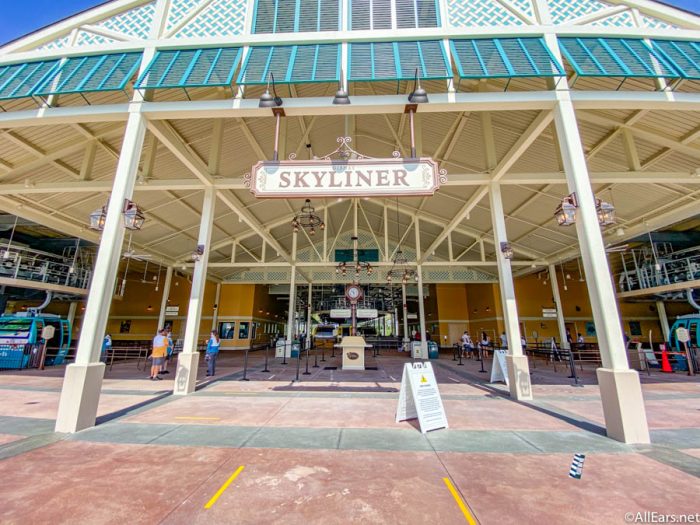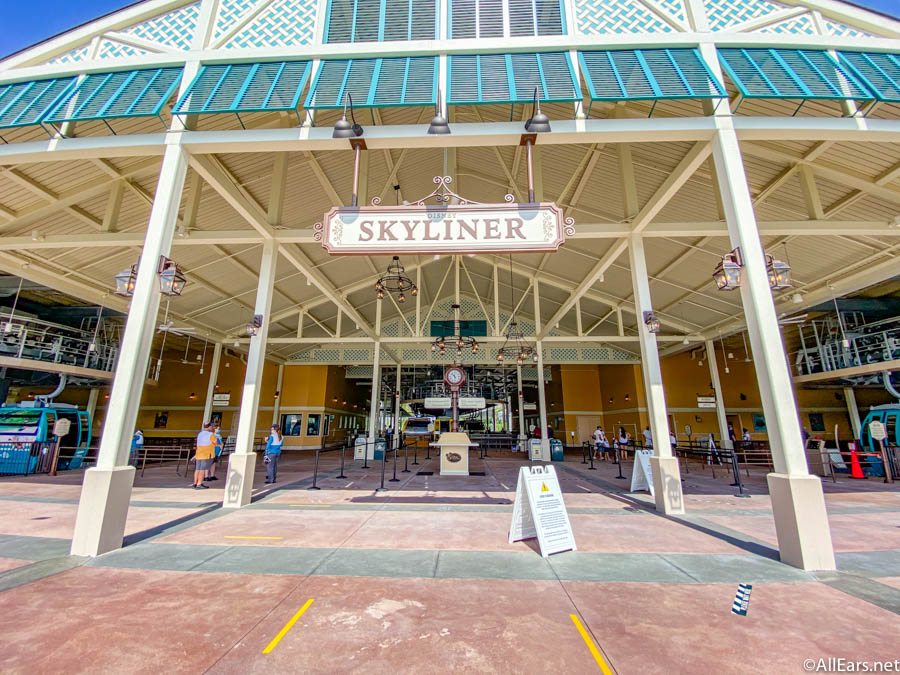 There were roped off sections to show guests which way they should be going to board their gondolas…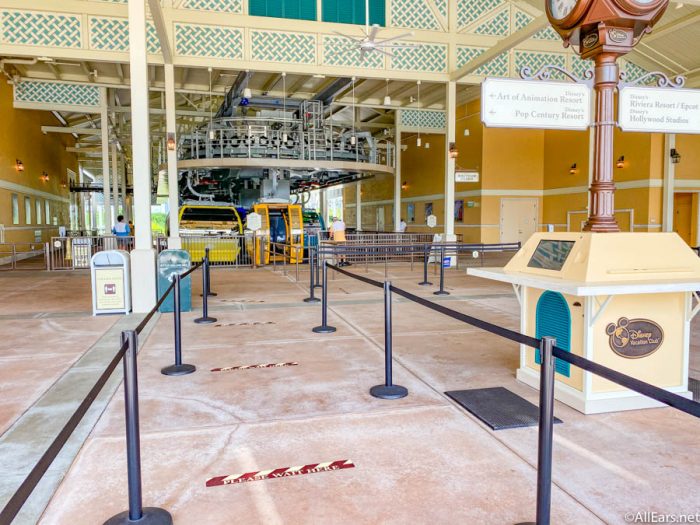 …as well as distancing markers, health and safety notices, and hand-sanitizer stations.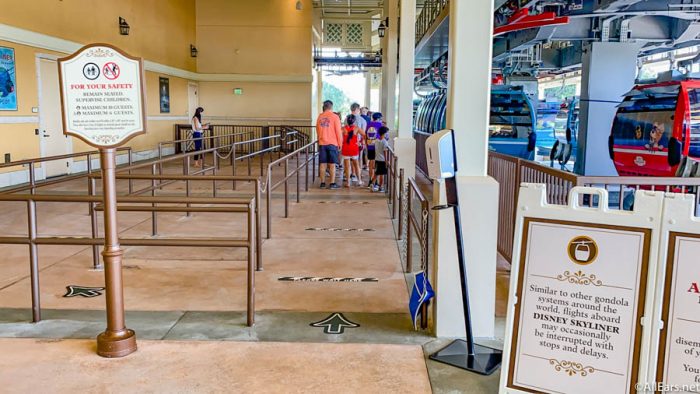 A Cast Member pointed out which gondola was ours to board as we traveled to Epcot (how exciting!).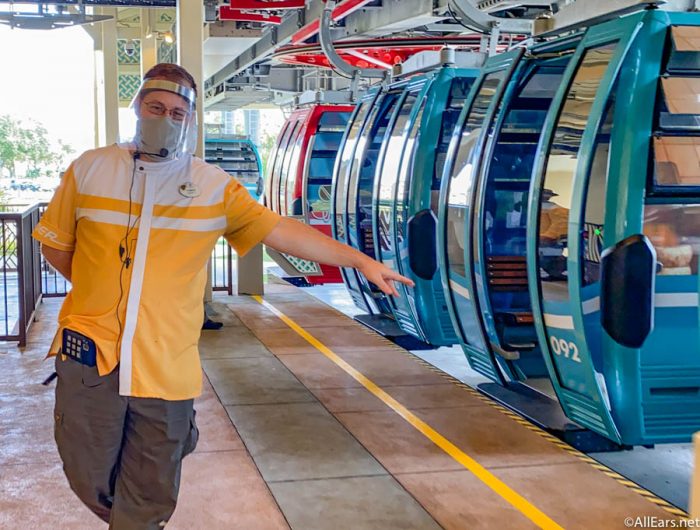 Can we just take a moment to admire those VIEWS from the Skyliners?!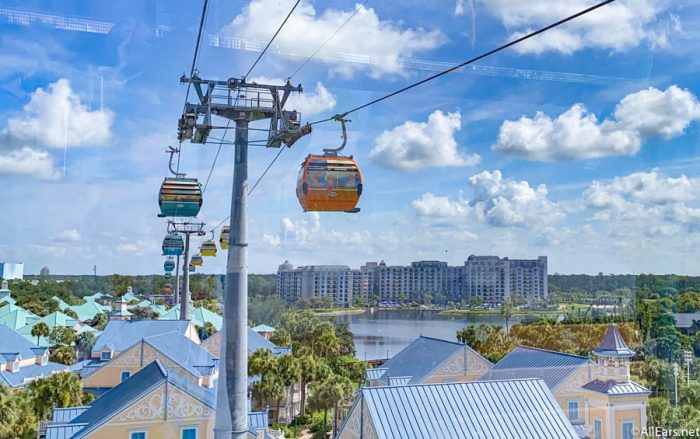 While we were soaring over Epcot to make it to the entrance, we were able to spot some of the construction over in the France Pavilion.
As Epcot gets ready to welcome Remy's Ratatouille Adventure as well as La Crêperie de Paris, construction is in full swing. The Gusteau's sign is already up for the new attraction…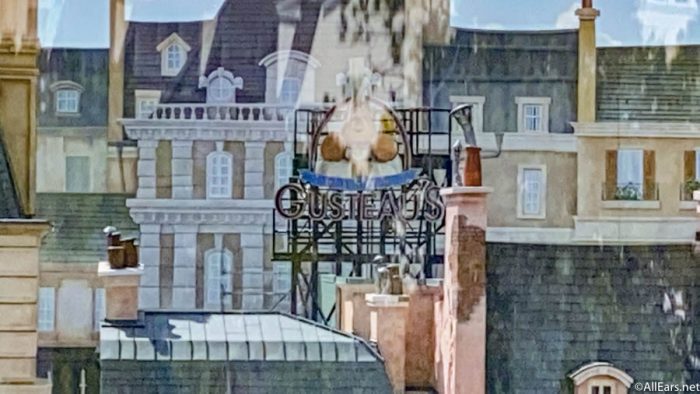 …while construction workers were continuing to make progress on everything happening at the pavilion.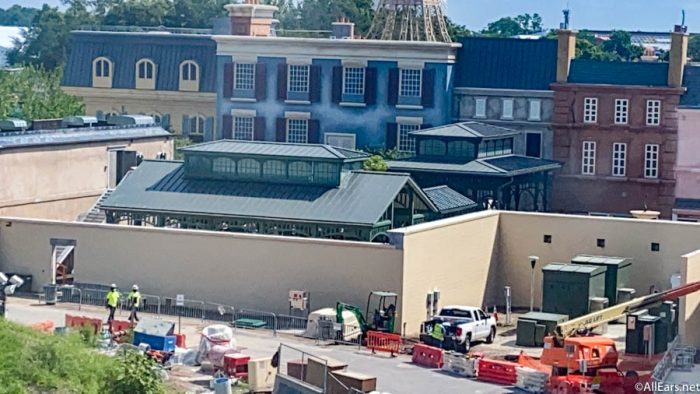 While the "Coming Summer 2020" sign has been removed from the Remy's Ratatouille Adventure, we aren't sure if that means the attraction will be opening soon or if it's been delayed. (We'll keep you updated with more information!)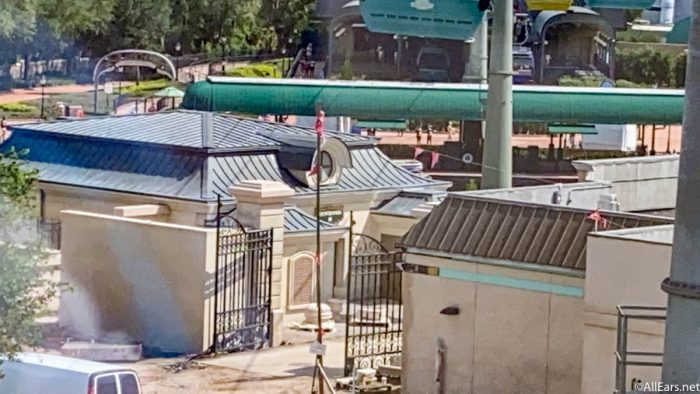 Entertainment
The pavilions around the World Showcase were also still offering Kidcot activities, where the passports were put into Ziploc bags so there was less contact.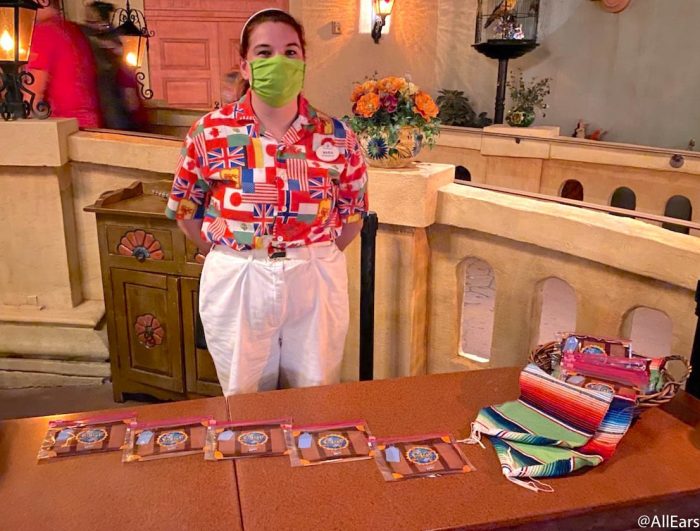 Guests were able to pick up their passports to take around with them in Epcot and back home as a souvenir…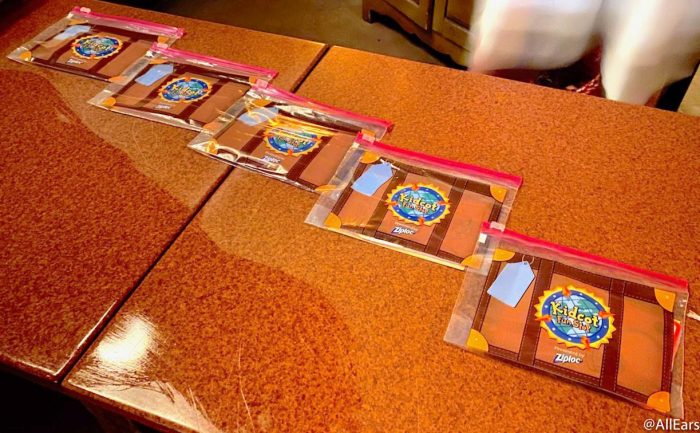 …with featured pavilions like Canada, the American Adventure, Mexico, and more.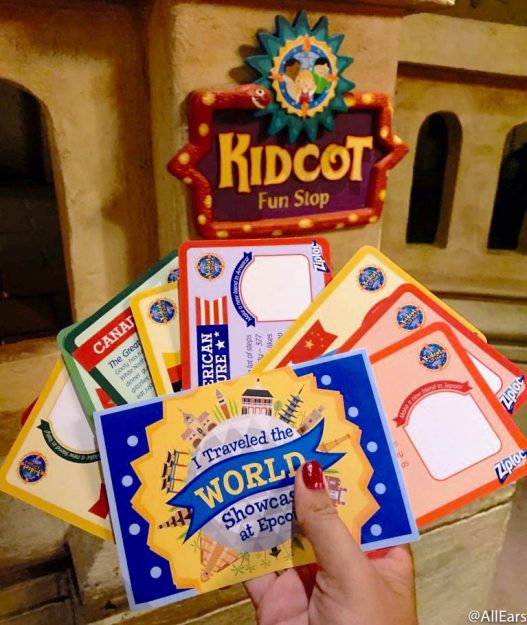 Dining
La Cava del Tequila was ready to welcome guests back with to-go drinks only!
The restaurant had roped off areas with distancing markers on the ground…
…before guests placed their orders at the bar.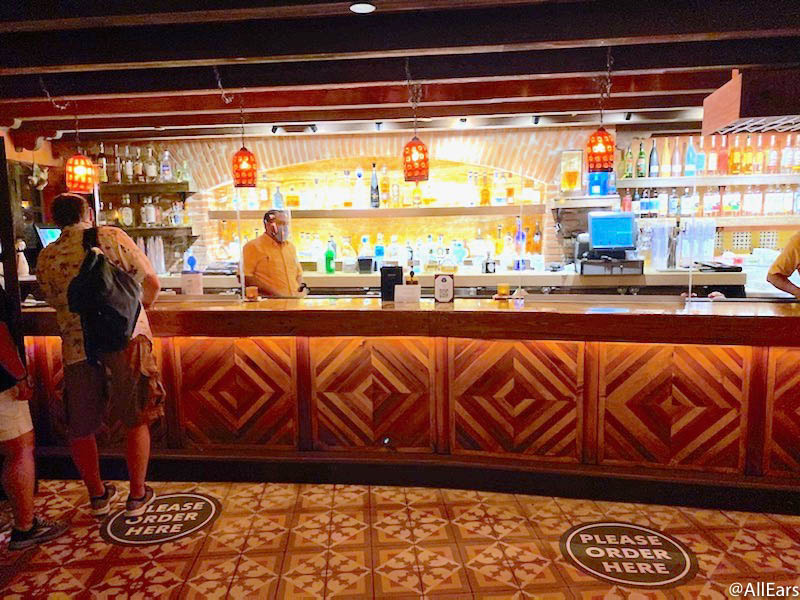 The margaritas all come pre-made and the restaurant had health and safety measures like plexiglass barriers, credit card swipers that were wiped down after each use…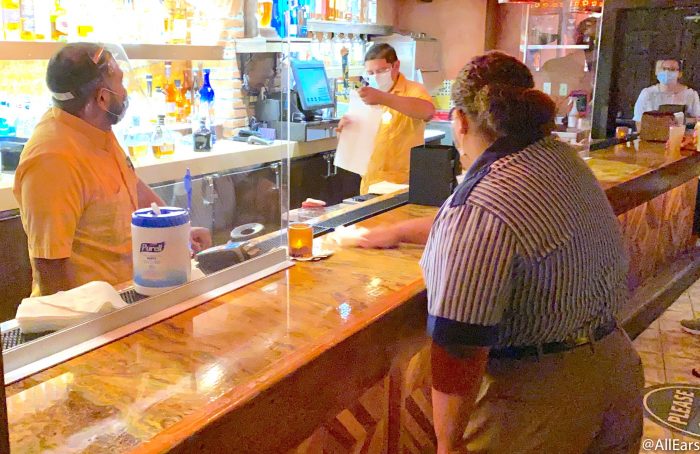 …hand-sanitizer, and QR code menus.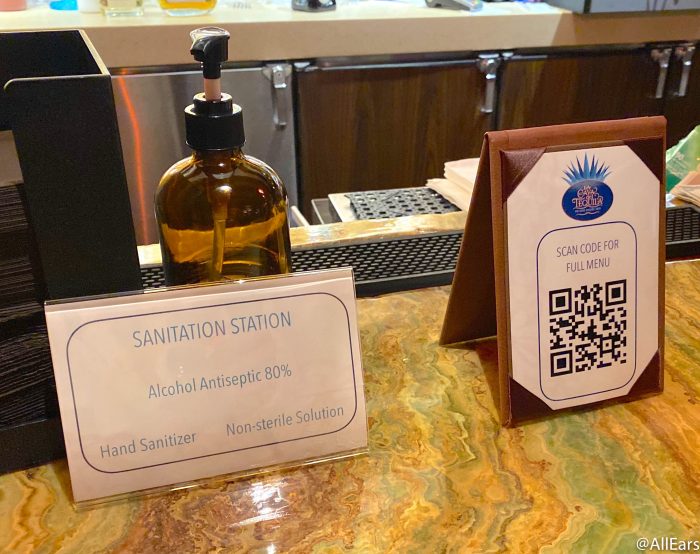 Garden Grill was one of the few places in the parks that guests could have characters dining!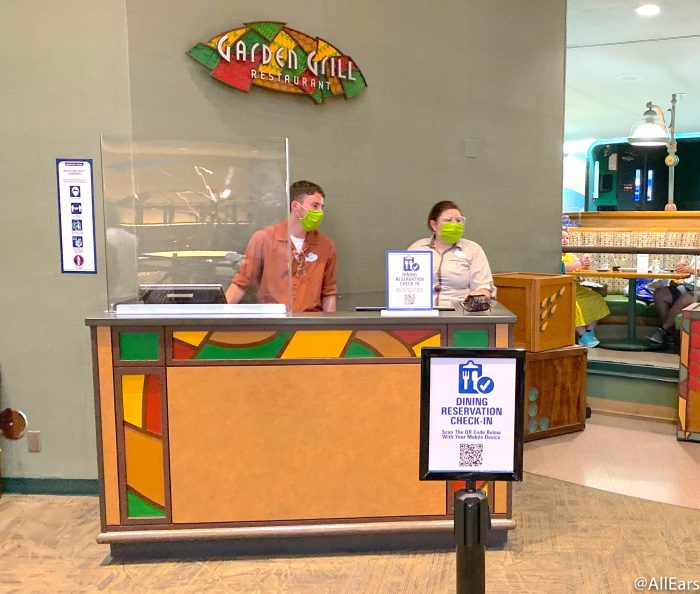 The meal came was pretty similar to what we've seen in the past with a bread basket…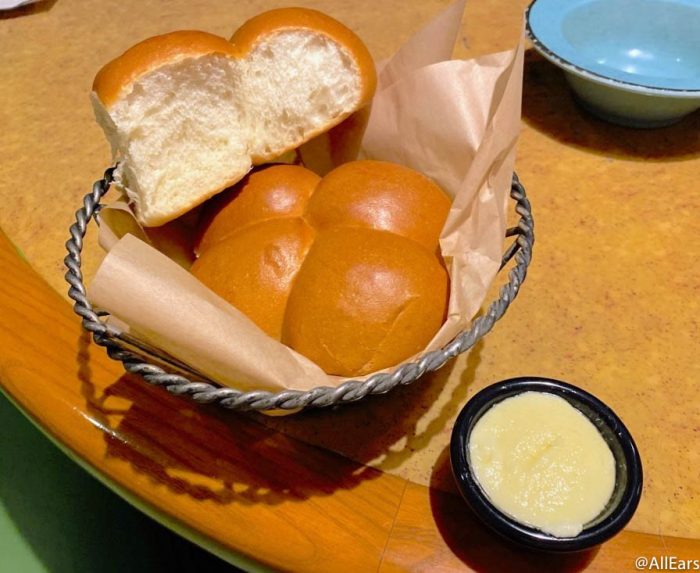 …Garden Salad…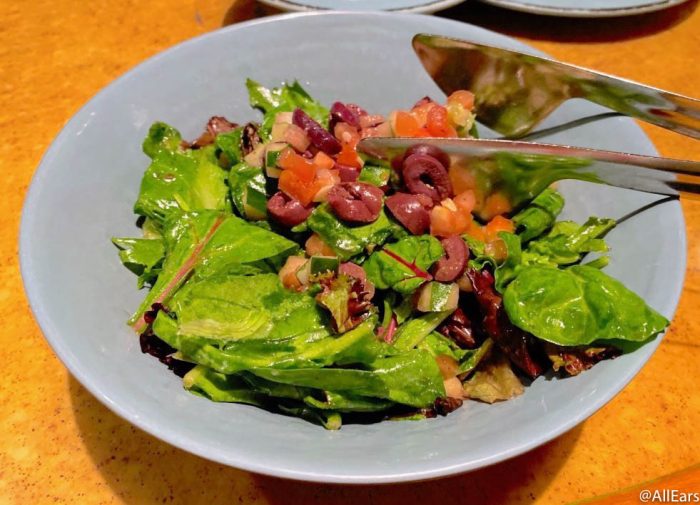 …Mac and Cheese (our favorite part obviously)…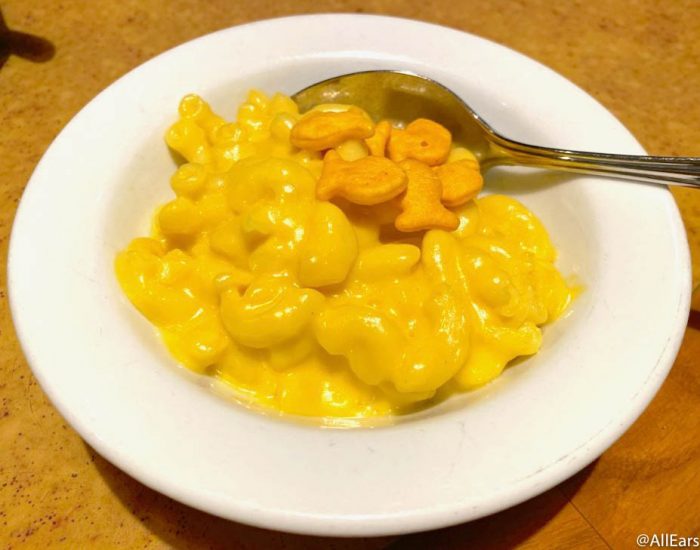 …and the Chip 'n' Dale Harvest Feast with turkey breast, beef, mashed potatoes, and more!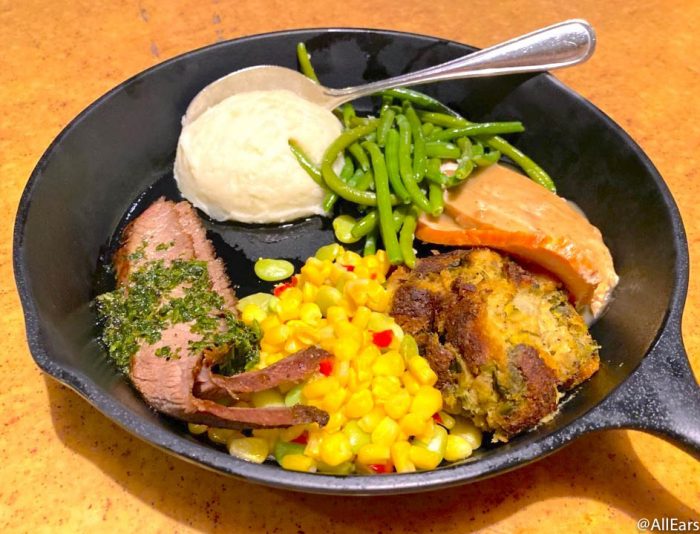 Since character dining has seen some modifications, the characters at Garden Grill are on one side of the restaurant that would usually revolve. Seating is only limited to the opposite side of the restaurant so guests and Cast Members can safely interact with one another. We were SO excited to be able to say hello to Chip, Dale…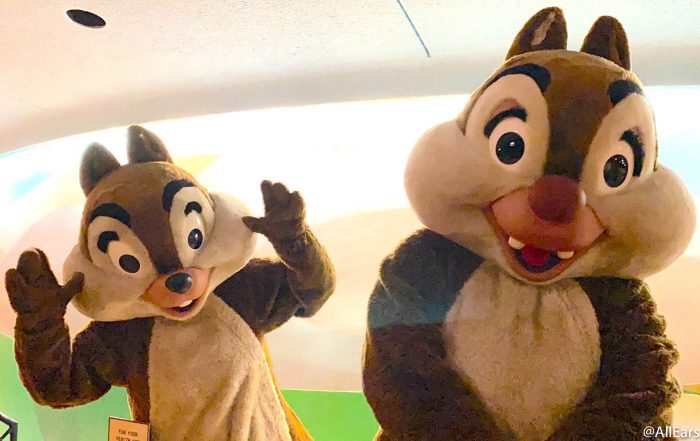 …Mickey, and Pluto again (just look at those happy smiles)!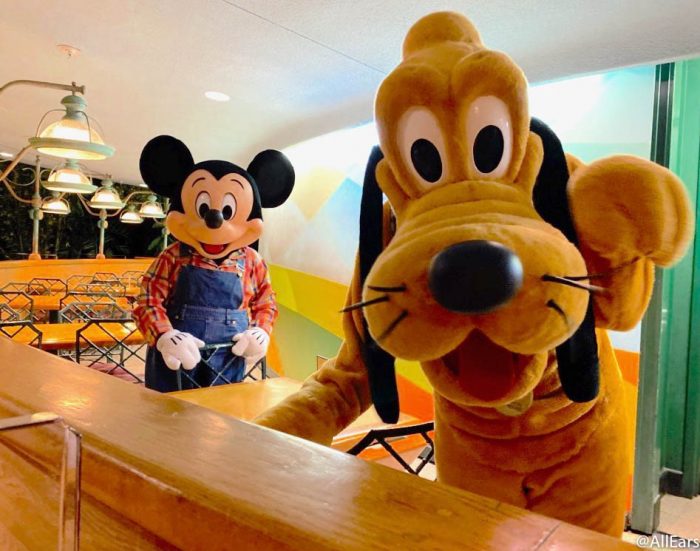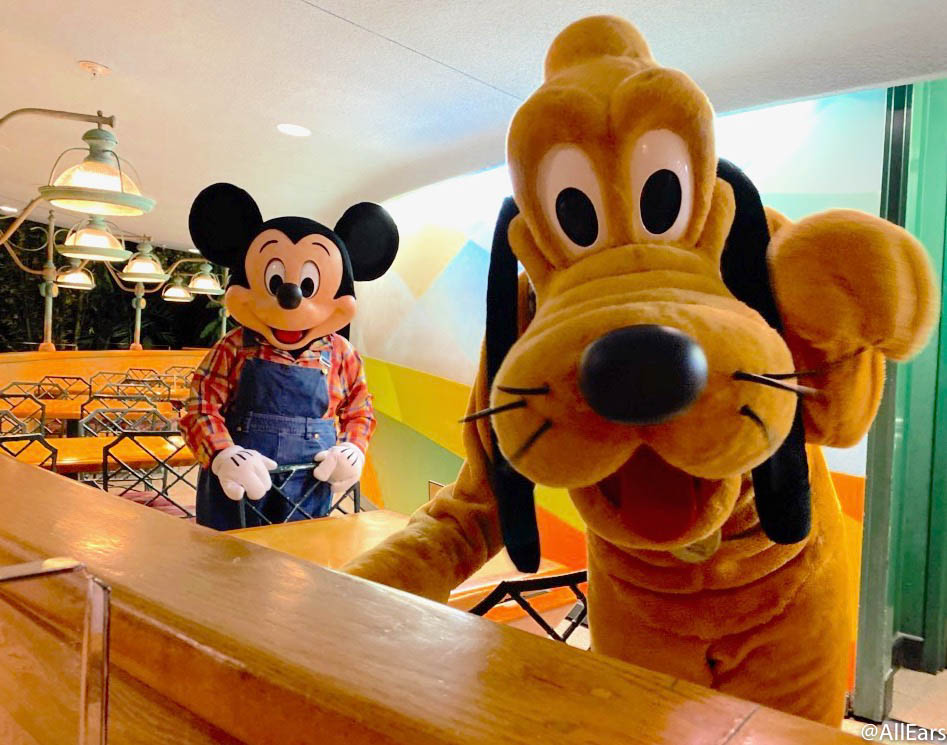 Instead of giving autographs, Garden Grill provides a character postcard with everyone one the front…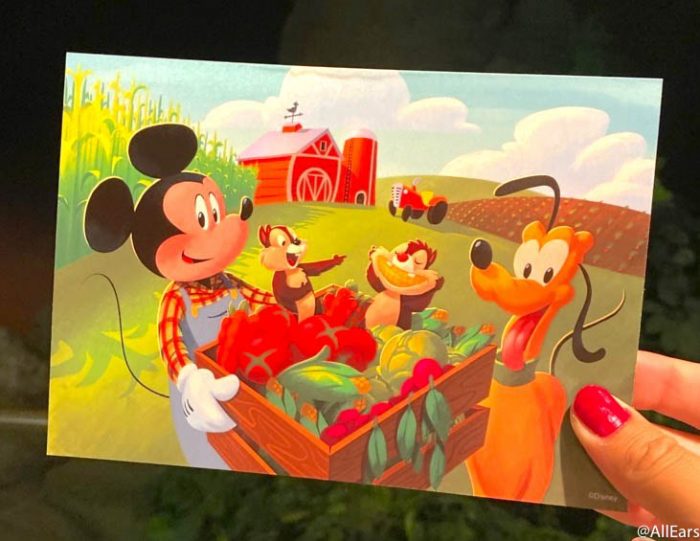 …and their signatures on the back!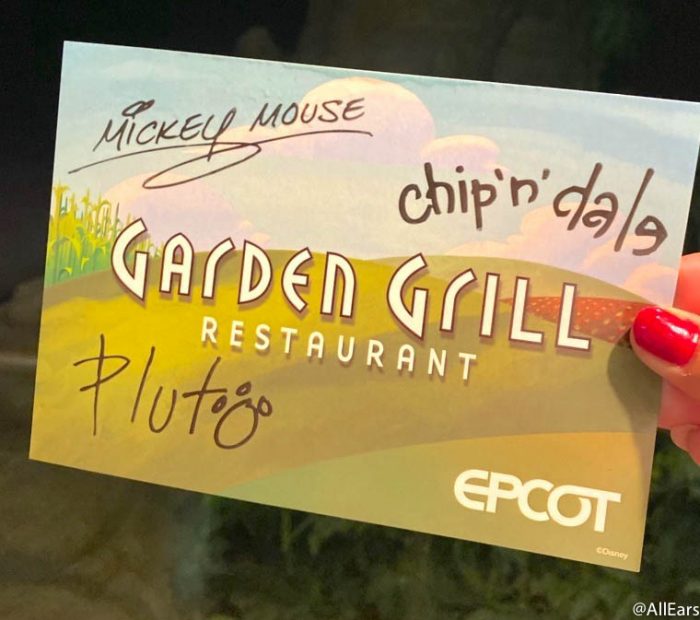 We will be updating throughout the day, so follow along with us to check out everything in Epcot during its grand re-opening!
Join the AllEars.net Newsletter to stay on top of ALL the breaking Disney News! You'll also get access to AllEars tips, reviews, trivia, and MORE! Click here to Subscribe!