We've gotten our first look inside Disney World's Magic Kingdom and Animal Kingdom this week from both the Passholder Preview, and today's grand reopening!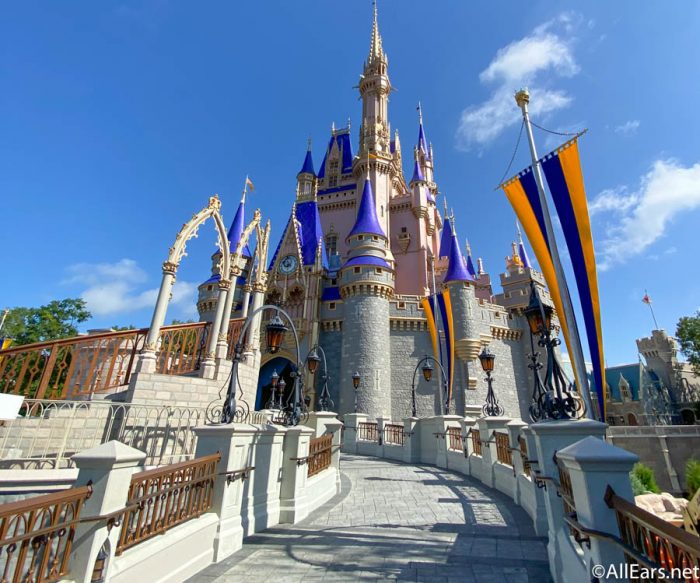 We've been able to get a glimpse at what the character cavalcades are like, along with riding a few rides to see how the attraction experience has changed!
We're giving you all the details on what the ride process is like at Disney World's attractions!
Ride Queues
At all of the rides we've been on today, physical distancing floor markers were present to keep guests at a safe distance from one another. Here, you can see the floor markers in action in line at Peter Pan's Flight.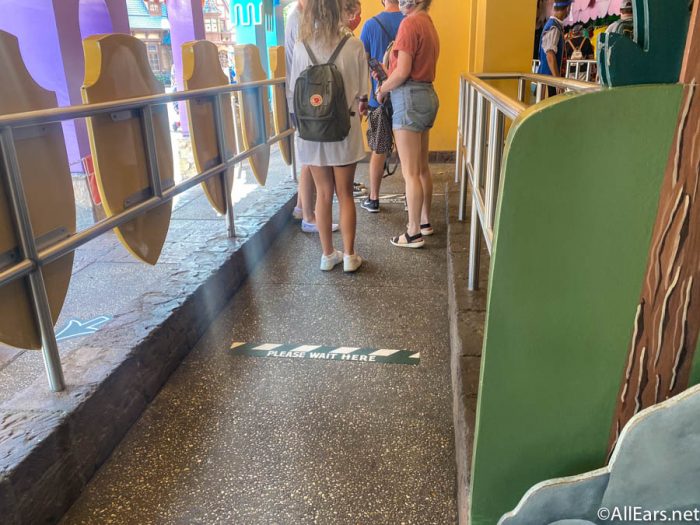 We noticed each ship was being loaded with none skipped.
Space Mountain had the same markers outside of the ride building going into the attraction.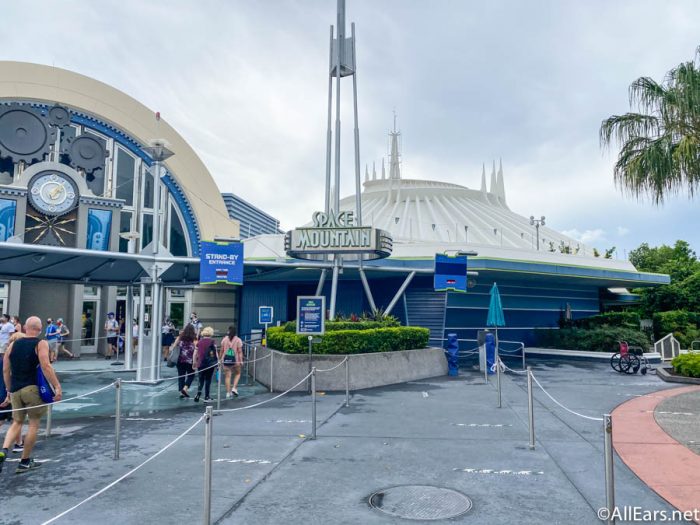 When we visited Seven Dwarfs Mine Train, we noticed that the interactive, high touchpoint elements in the queue have been roped off and are not accessible at this time.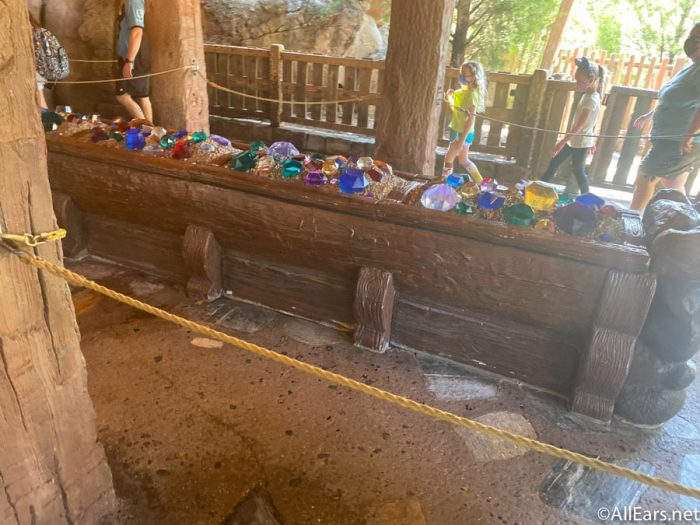 Additionally, in line at Mine Train, certain sections had a partition installed where distancing would not have been possible.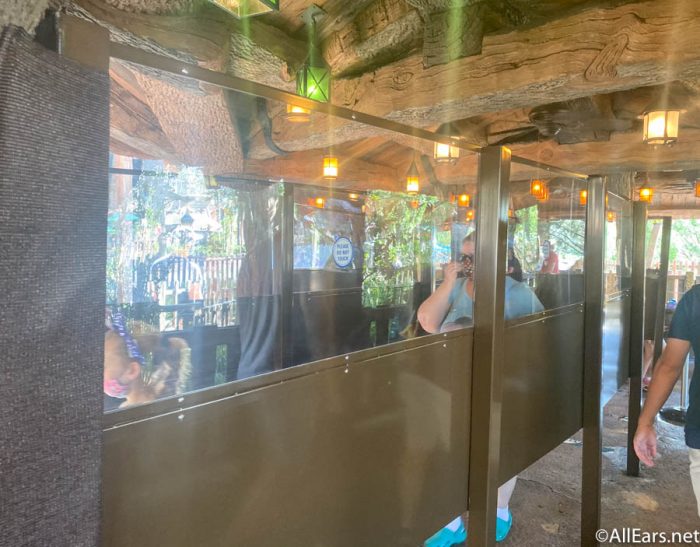 The Many Adventures of Winnie the Pooh had signs discouraging guests from touching the interactive features as well.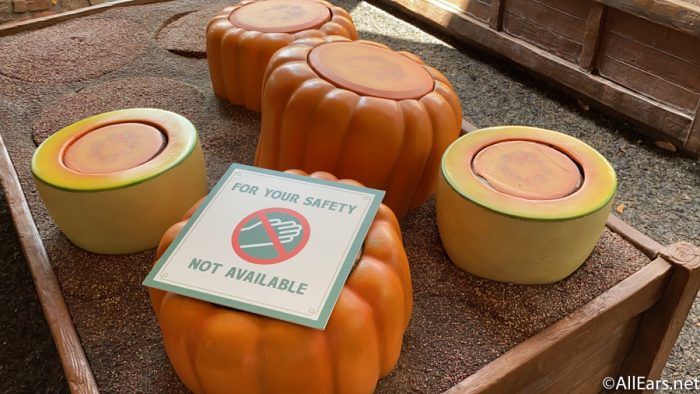 The Haunted Mansion had distancing markers on the ground outside the attraction to distance guests as they waited to step in the spooky attraction…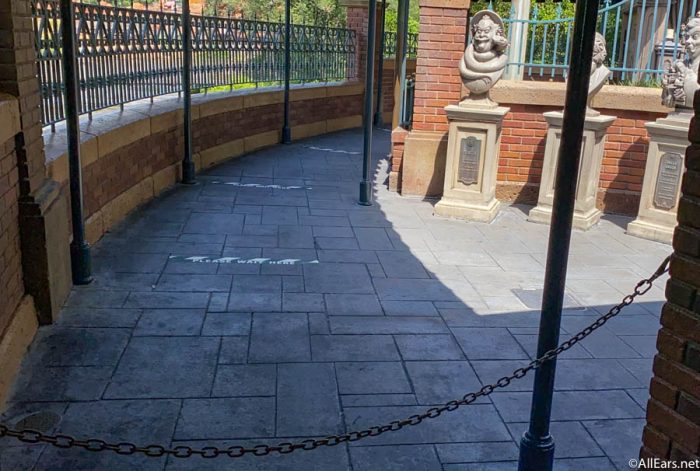 …as well as the inside of the ride so there wasn't any crowding.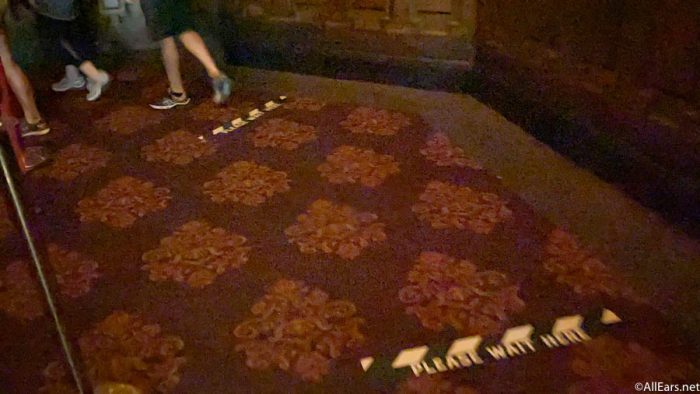 The Stretching Room preshow is being skipped for now, with the paintings full stretched in place as guests walk through the room. The Ghost Host can be heard periodically telling guests, "Welcome, Foolish Mortals."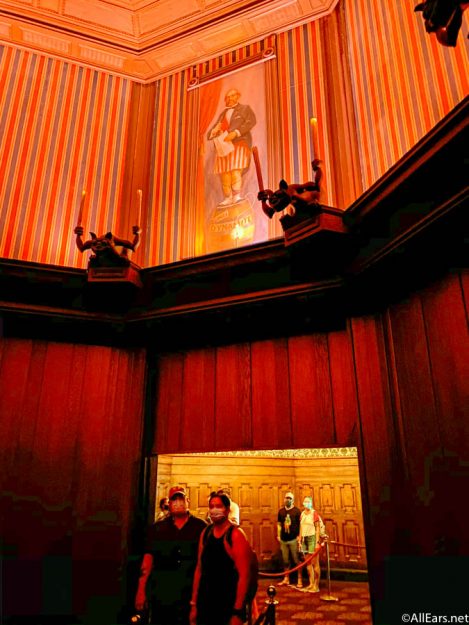 Animal Kingdom's Dinosaur still allowed guests to watch the pre-show. The floor was marked with tape where guests were told to stand.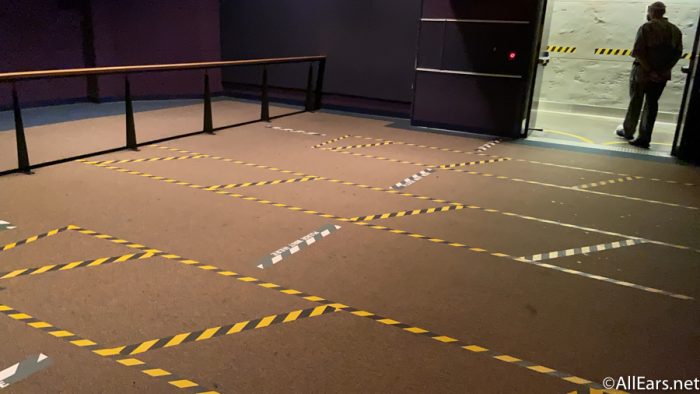 Pirates of the Caribbean had distancing measures like markers and roped off sections. Similar to other attractions, the line looked a lot longer than it actually was.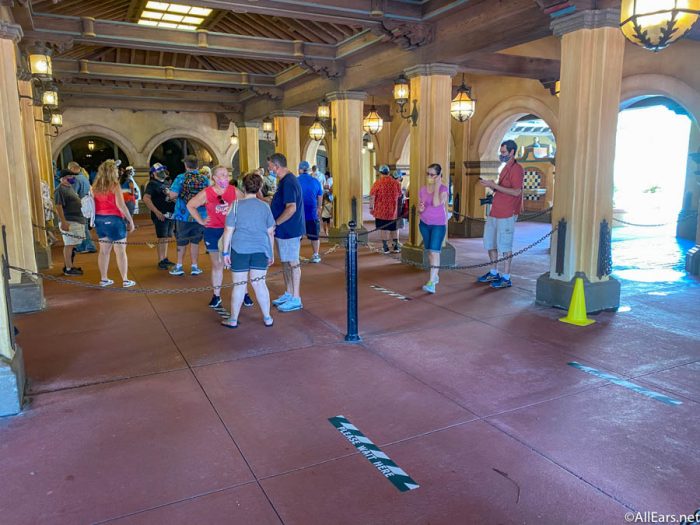 The Jungle Cruise used a similar line style as Pirates of the Caribbean that zig-zagged guests so there was enough room between guests on all sides.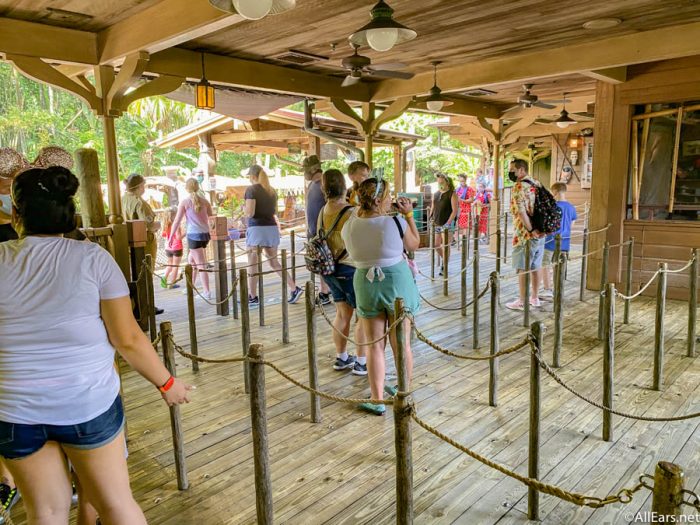 As the Enchanted Tiki Room welcomed guests to a tropical hideaway, there were markers on the ground to separate everyone. The preshow is still happening here outside.
Inside, benches were marked with stickers to space guests every other row apart. (Don't worry, you can still bring your Dole Whip in with you!)
Flight of Passage also appeared to have longer lines than it did, but everything moved quickly. When the line paused, guests were asked to stand on the designated lines on the ground.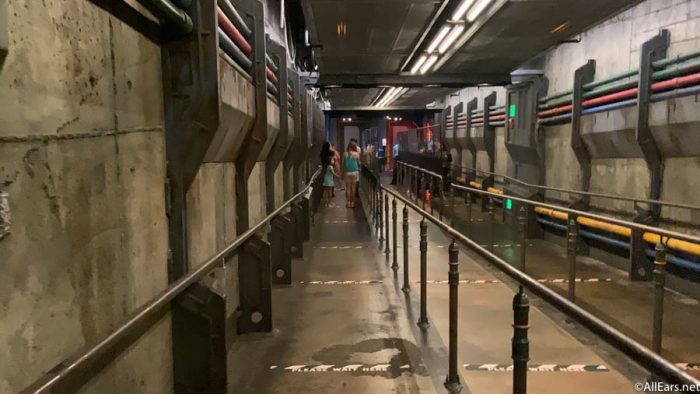 The Na'vi River Journey has placed glass partitions and barriers around the queue to make it easier to twist around the area…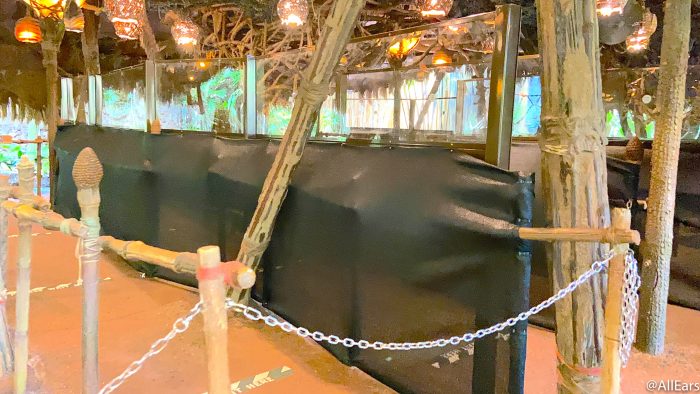 …before saying hello to the Shaman along the river ride!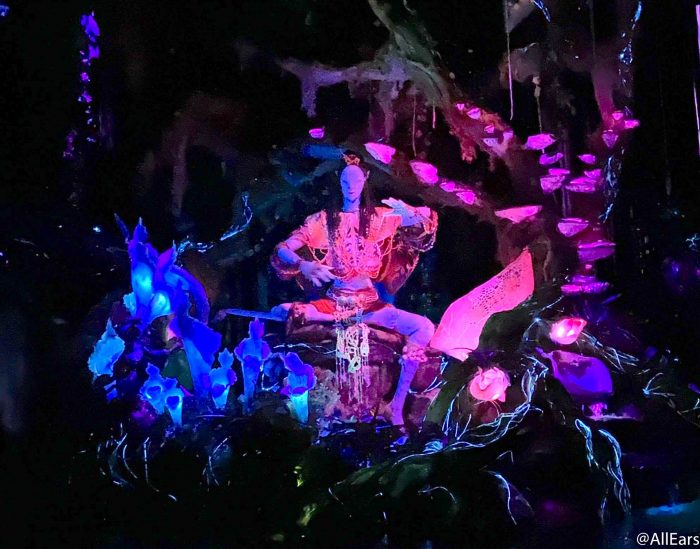 Under the Sea — Journey of The Little Mermaid has markers throughout the outside and the inside of the ride to keep guests apart from one another.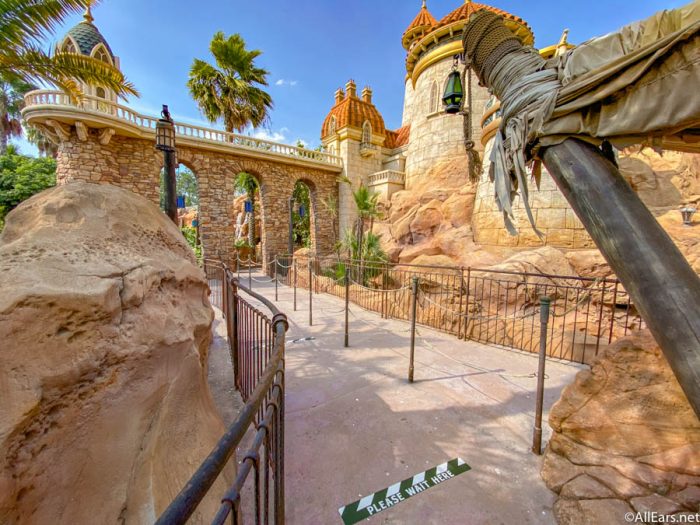 There is also a spot where guests are asked to wait behind before using hand-sanitizer and boarding every other clam shell.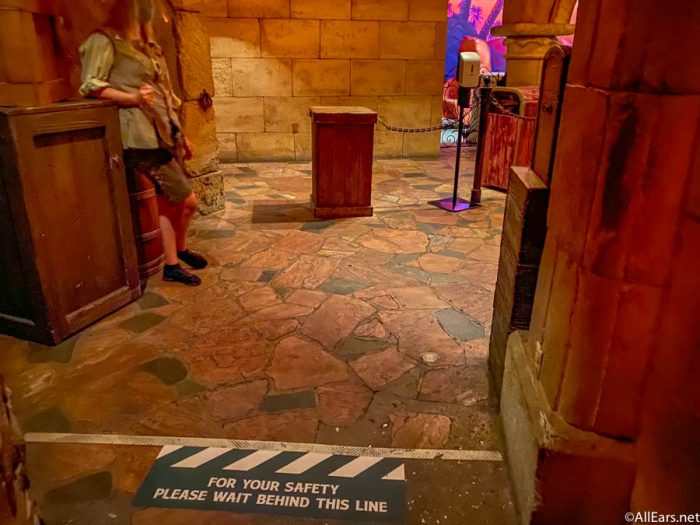 Through the line for it's a small world, markers went all the way down the area. However, we didn't have to wait for very long and just walked down the ramp towards the loading dock.
The Country Bear Jamboree has designated entrances and exits, with barriers blocking off areas that guests can't walk through.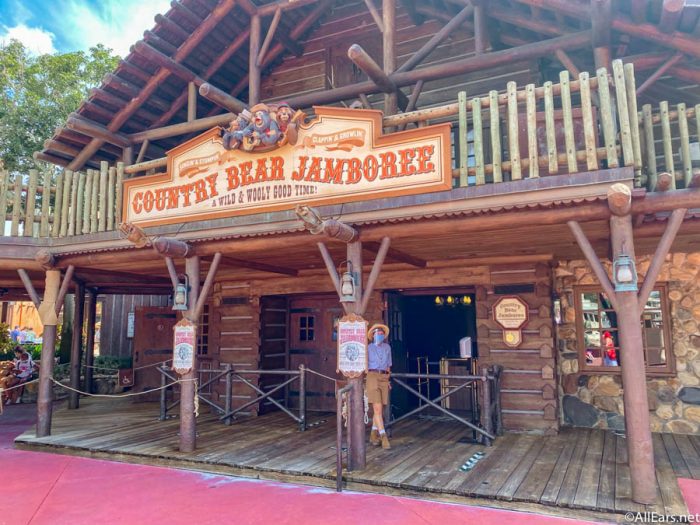 Just around the corner, the Big Thunder Mountain Railroad has markers and lines to separate everyone…
…as well as glass partitions all throughout the queue.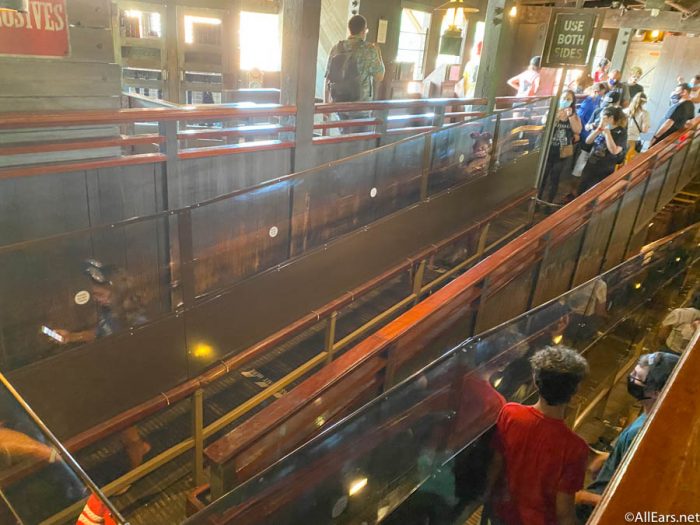 Tom Sawyer Island is open for guests to explore, like Tom and Huck! The raft heading over there happens to have distancing markers before entering…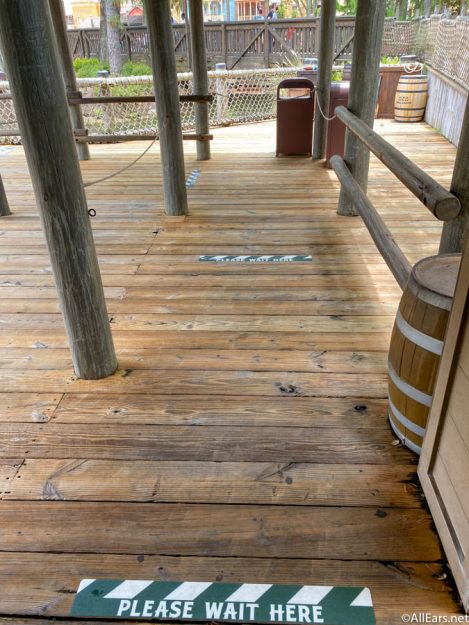 …and circles for parties to stand on as they make their way across the water.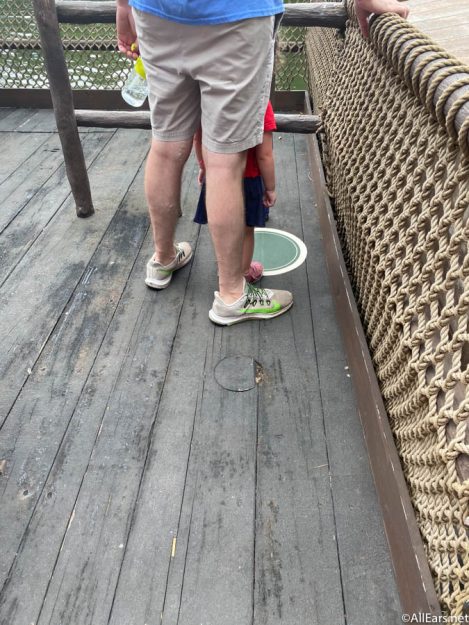 Over in Hollywood Studios, we saw loads of plexiglass barriers in queues. We spotted them used prominently in the switchback queue for Slinky Dog Dash…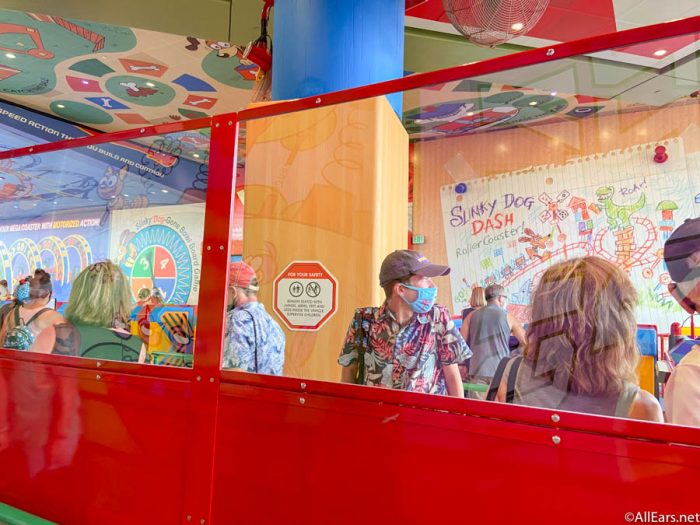 …in the queue for Millennium Falcon: Smugglers Run…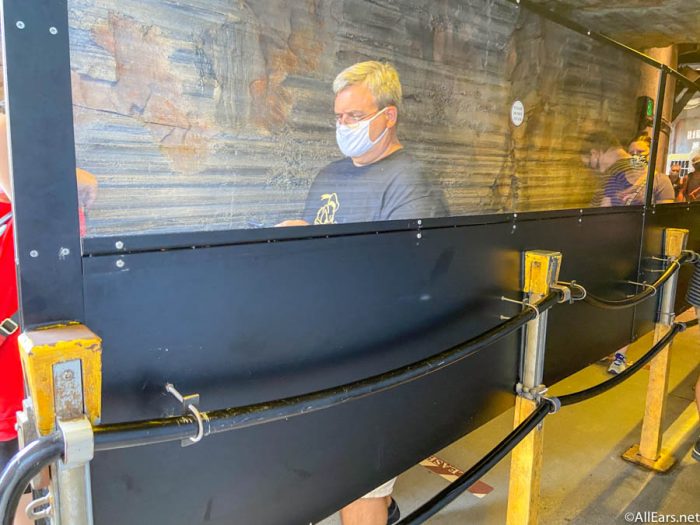 …and in the queue for Rise of the Resistance.
In the line for Frozen Ever After at EPCOT, plexiglass barriers have been installed as well, and distancing markers are clearly displayed throughout the queue.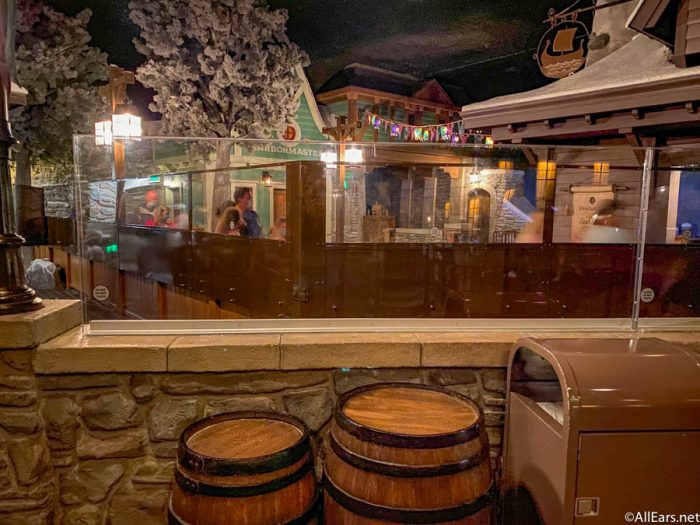 Pre-Show Elements
Other pre-show elements are being modified or omitted altogether. As we already mentioned, in The Haunted Mansion, the Stretching Room is skipped entirely and is being used as additional queue space.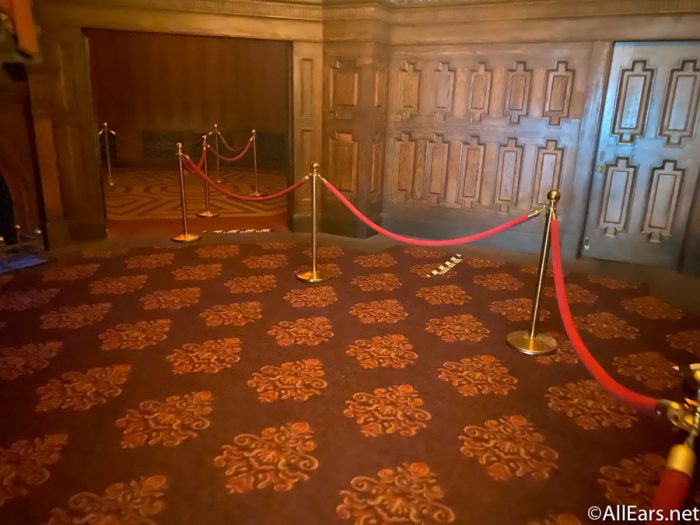 Although some Disney World attractions have suspended pre-shows, Flight of Passage has modified its version. The room is limited to three parties at a time where the pre-show is just the introduction to Dr. Stevens without the part where guests are attached to their Avatars. Instead of two pre-shows, the rooms were used to space people instead.
As the Country Bears get ready to take the stage, the animal heads hung on the wall still join in singing along with their pals (we can't help but want to hum along too).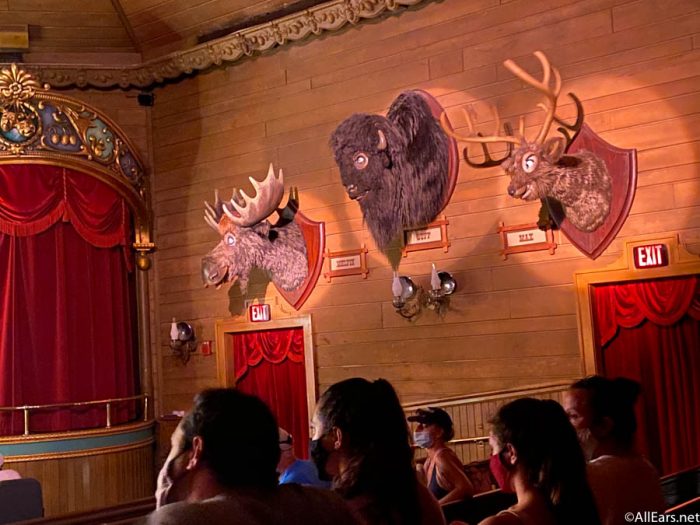 Over at Hollywood Studios, Millennium Falcon Smugger's Run skips the pre-show with Hondo Ohnaka. The room is used for additional queue space.
Spaced Out Loading
Once it's time to board, more physical distancing measures are in place. The most common one we've seen so far is that parties are loaded in every other row at the very least, like what we saw at Seven Dwarfs Mine Train.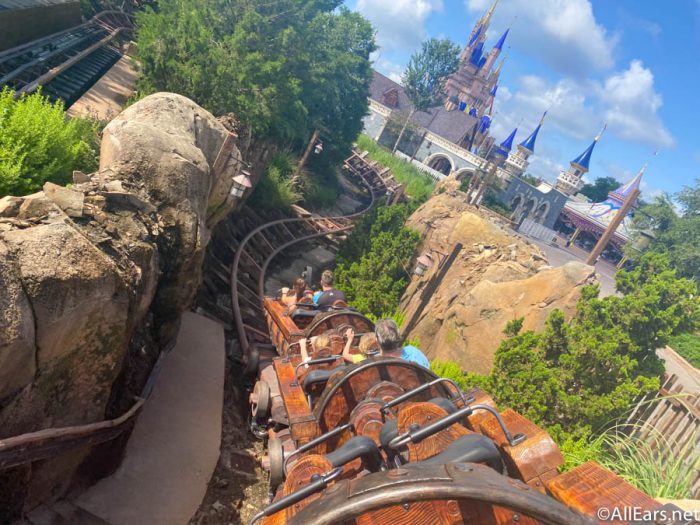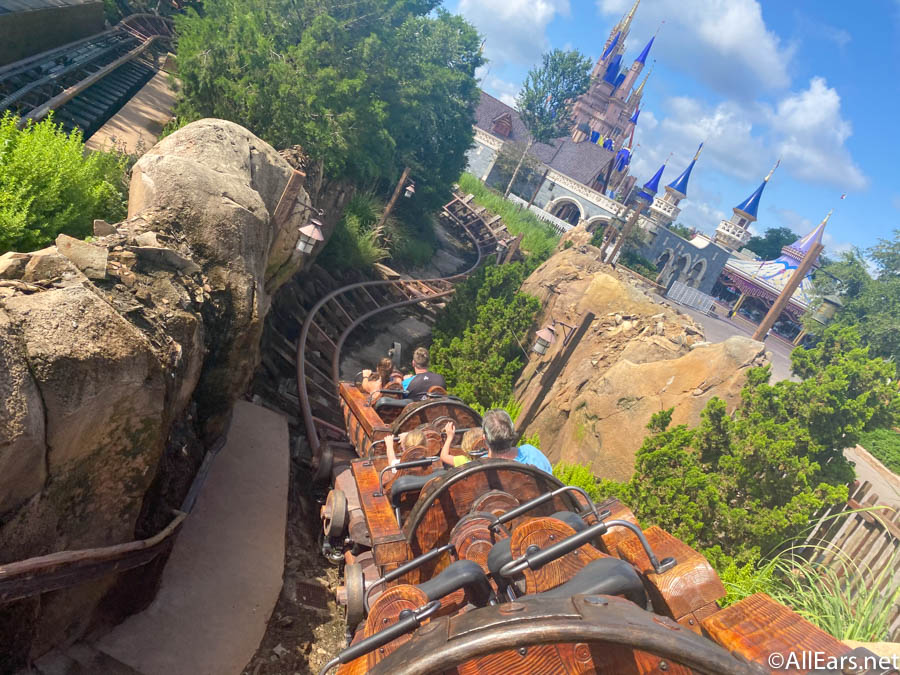 We also saw this being done at Space Mountain, where they're skipping at least a seat per party.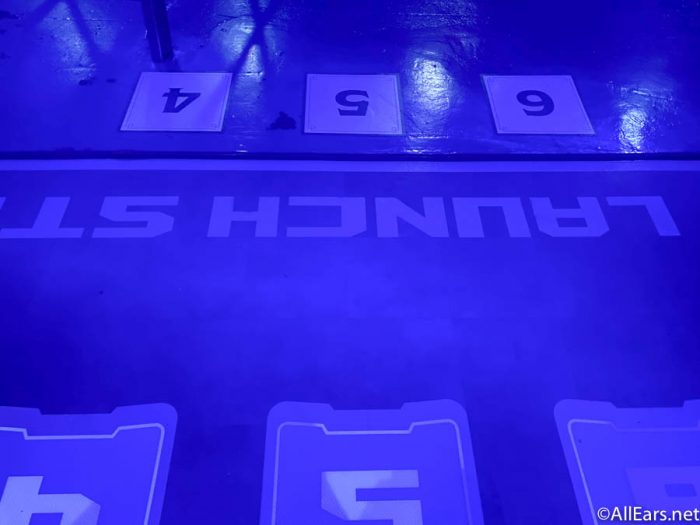 Jungle Cruise left space between guests so there was still some distance between people. The boats had limited capacity in order to limit guests onboard.
Seats were divided by plexiglass, so each party was by themselves.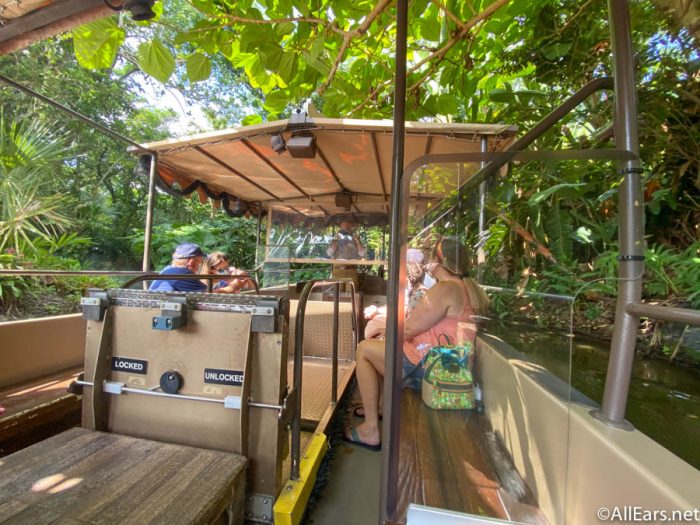 The skipper was also behind a plastic barrier, so that they would not come in contact with any guests.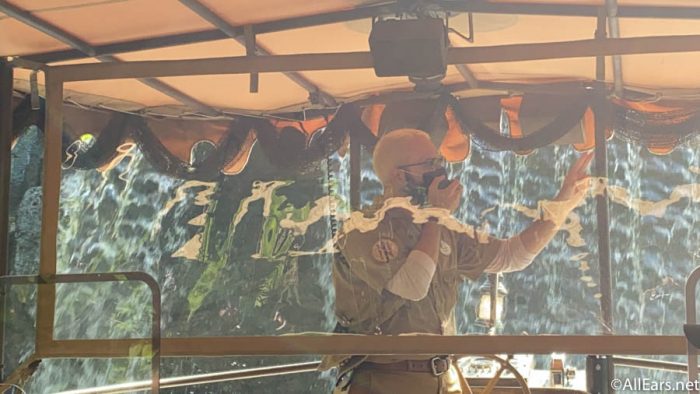 Pirates of the Caribbean only allowed one party per row in every other row or more.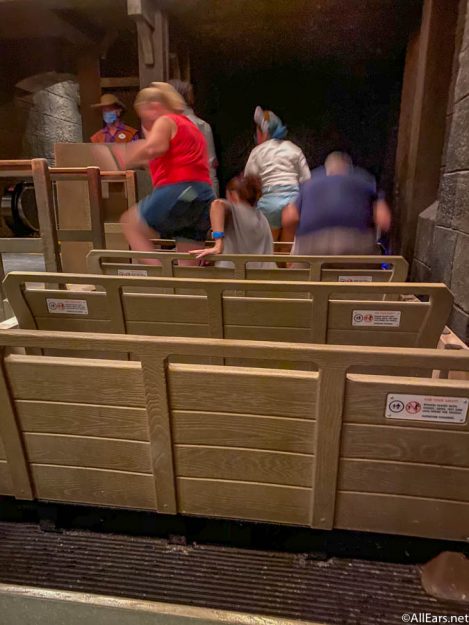 We took a ride on Kali River Rapids at Animal Kingdom and noticed similar methods for spacing guests. We were sat with another party but were asked to sit on opposite sides to create more distance.
On Soarin, plexiglass dividers were installed in the ride vehicle itself.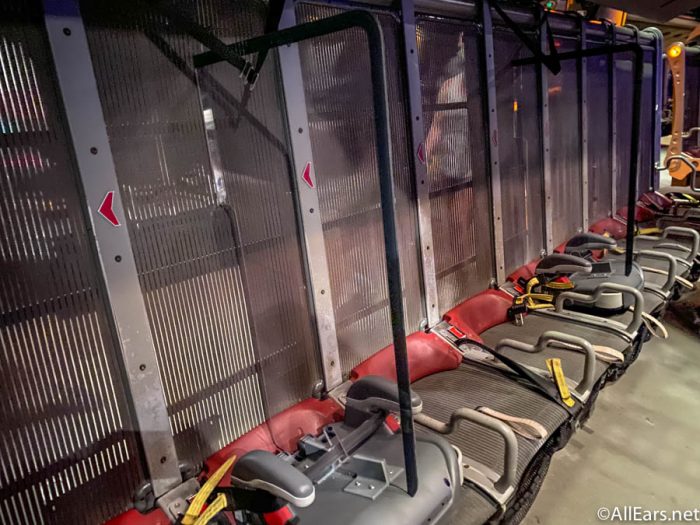 On Rise of the Resistance, we were loaded one party per transport…
…and one parry per cockpit on Millennium Falcon: Smugglers Run!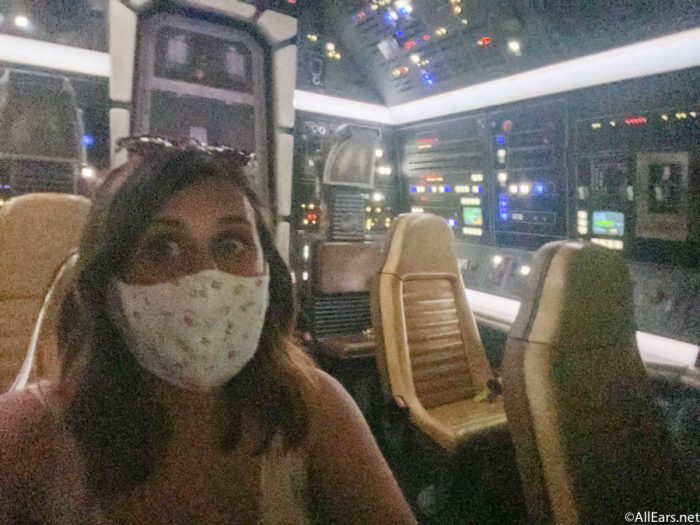 Increased Sanitation
On certain rides, we saw plenty of sanitizing happening as guests disembark. At Splash Mountain, Cast Members were present to sanitize the logs every time it cycled through with guests on board.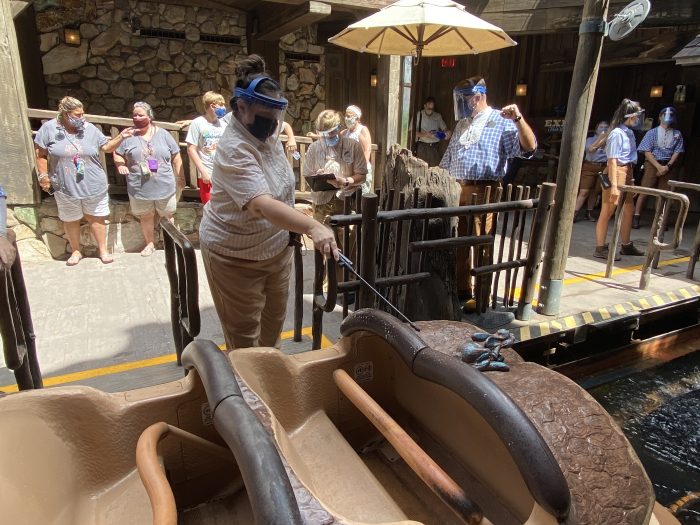 Cast Members at attractions like Dumbo were wiping down the attractions and railings…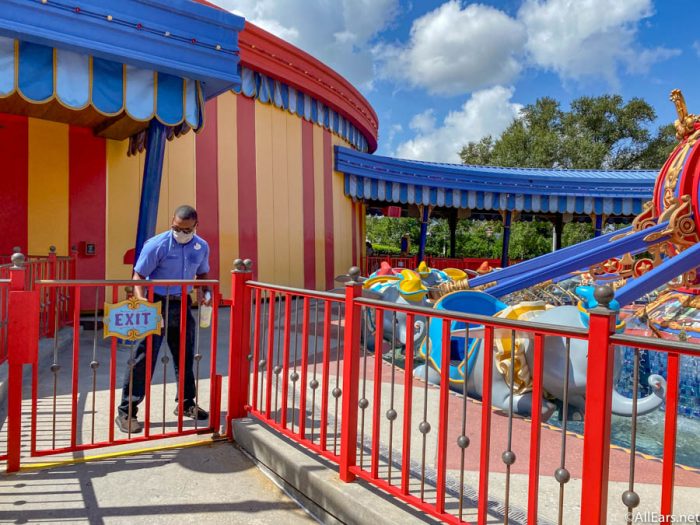 …and others wore face shields on top of their masks if they had to be in close contact with any guests (like height measurements).
Expedition Everest did an empty ride-through to help dry the seats after they were sprayed and sanitized.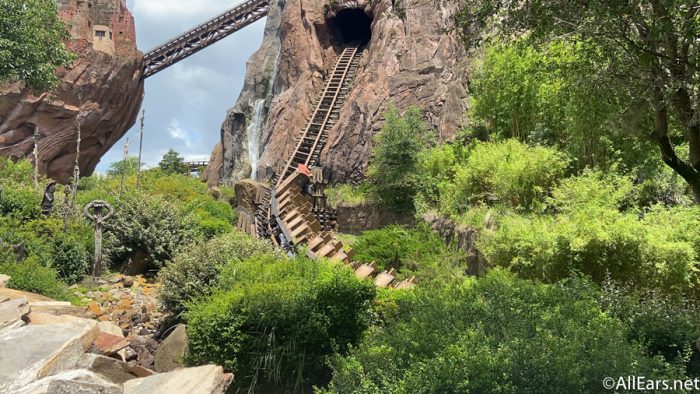 Each boat in Kali River Rapids was cleaned after every travel group too. Also, the Cast Member did not tell us we could remove our masks. (And for what it's worth, the water cannons that allowed guests to spray Kali River riders were turned off too!)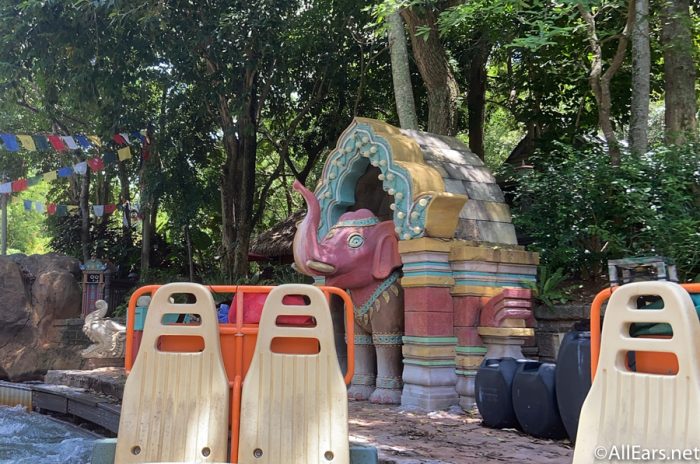 The Seven Dwarfs Mine Train has blocked off many of its interactive features in order to reduce high-touch areas.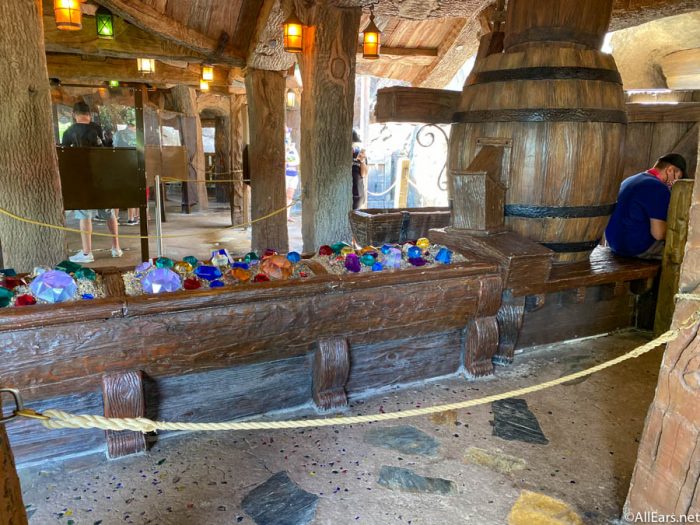 Multiple attractions around the parks have hand-sanitizer stations available before riding attractions in order to keep everything clean.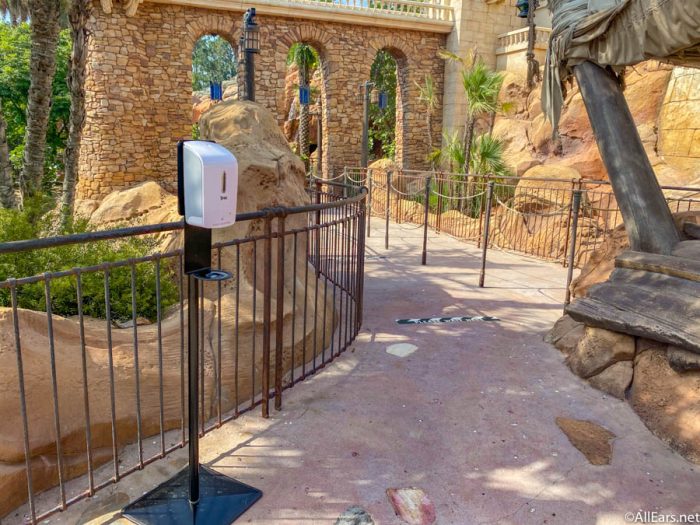 High-touch playgrounds like The Boneyard in Animal Kingdom and Dumbo Play Area in Magic Kingdom were closed.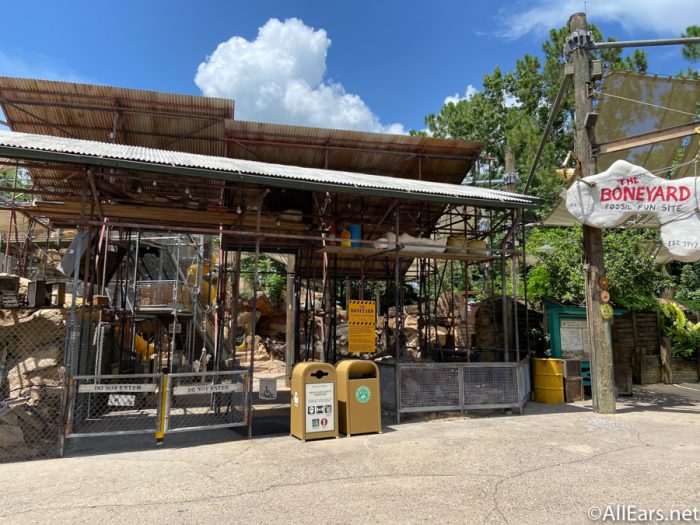 PeopleMover was also closed (but may be re-opening soon!).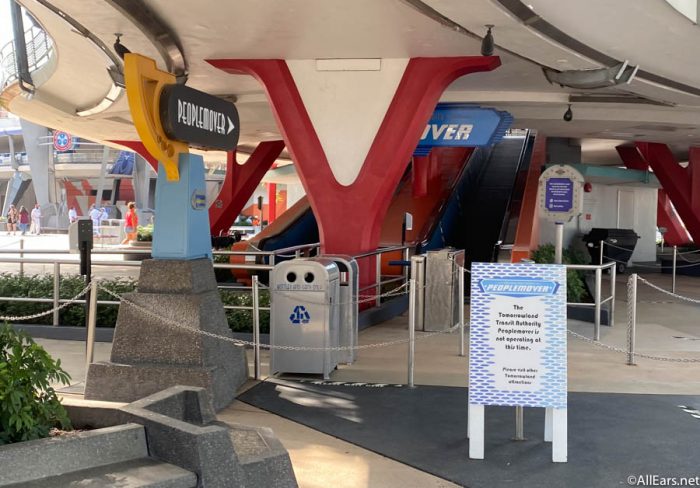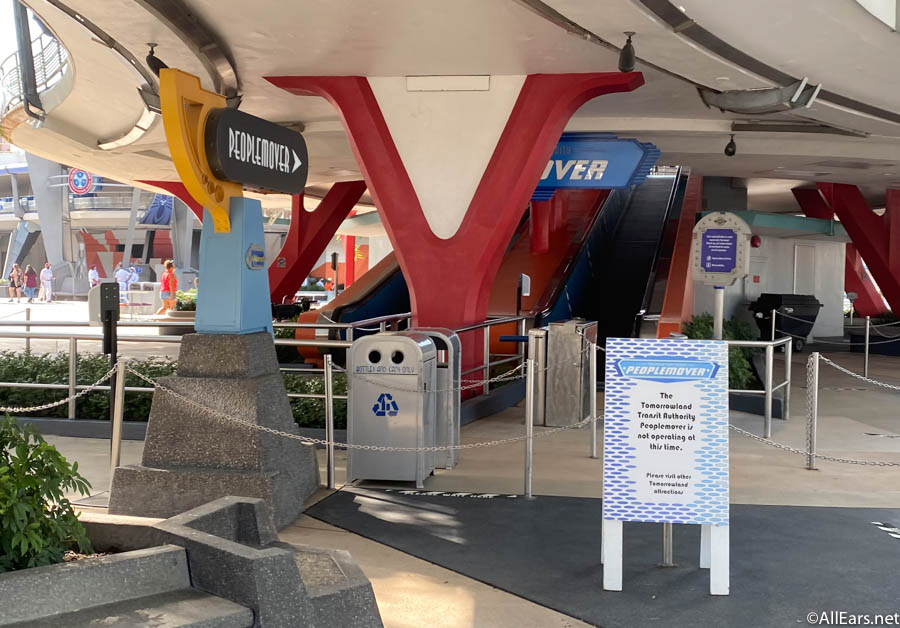 In The Seas With Nemo and Friends SeaBase (the aquariums after you exit the ride) distancing markers showed where guests could walk…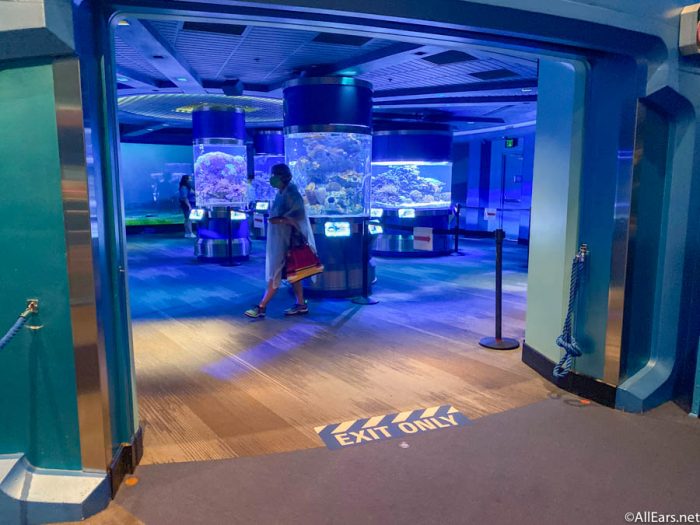 …but certain displays with interactive elements were also roped off.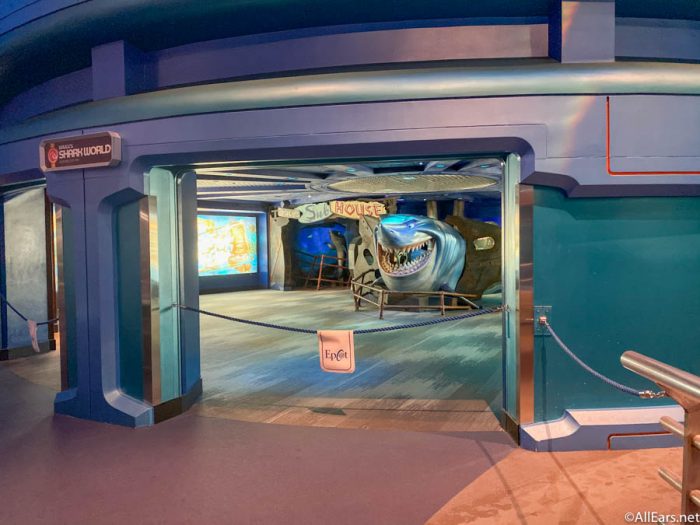 Wait Times
In general, wait times have varied between Cast Member Previews, Annual Passholder Previews, and the official reopenings.
Our big tip so far would be not to get too discouraged by a long line. Due to the distancing in place, we found that many lines looked far longer than they were.
Just like on a regular day before the closures, wait times can fluctuate, and there could be any number of reasons why a line is long.
That being said, because of the lower capacity on each of the ride vehicles, some of the loading times did definitely take a bit more time than they would have before. For example, on rides like Splash Mountain, they seated one party per boat, which definitely took a bit longer.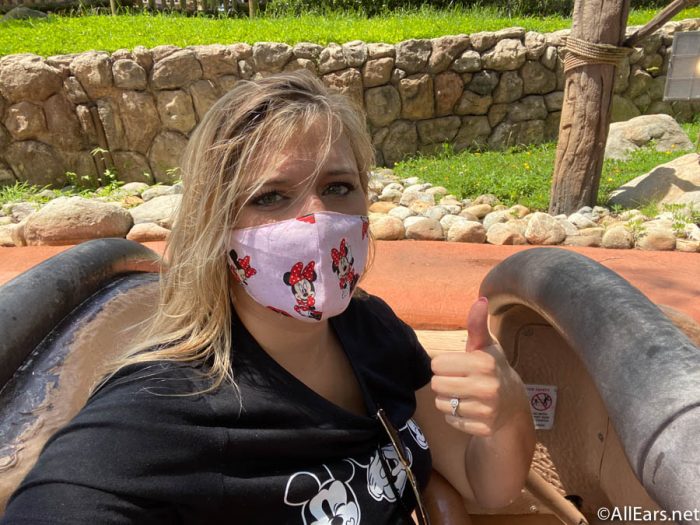 We also confirmed that Rider Switch and Disability Access Switch is operating as normal.
Over our first week back in the parks, we have seen everything from one hour wait times to walk on.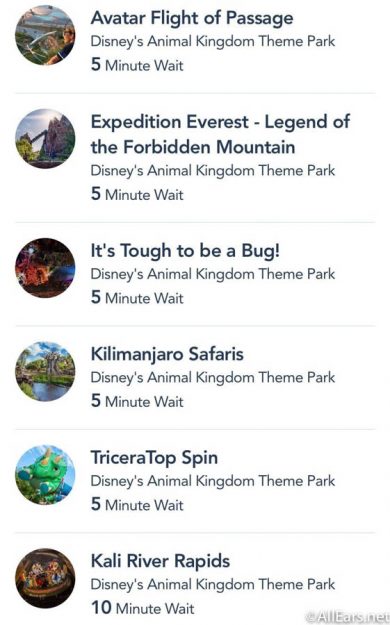 Overall
We spotted a lot of consistencies across the four theme parks. The biggest changes were physical distancing throughout the queue as well as on the ride vehicle, as well as certain pre-show elements being omitted.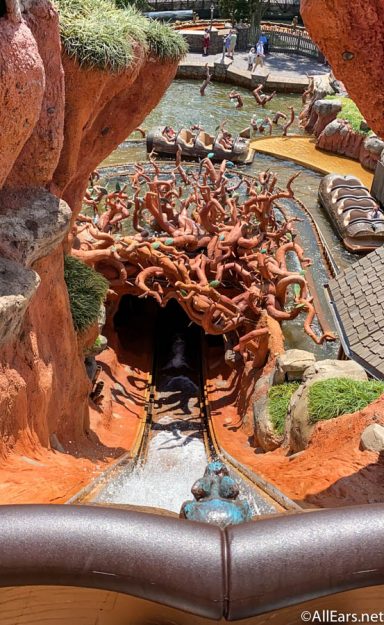 Be sure to follow along as we ride MORE rides and attractions at the reopened Disney World this week!
What attractions are you looking forward to riding the most in Disney World again? Let us know in the comments below!
Join the AllEars.net Newsletter to stay on top of ALL the breaking Disney News! You'll also get access to AllEars tips, reviews, trivia, and MORE! Click here to Subscribe!