Splash Mountain Magic Kingdom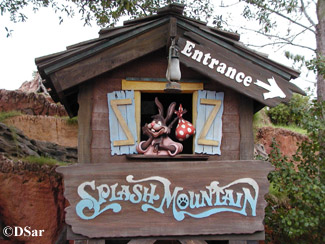 INTRODUCTION
As you make your way around Frontierland, you will begin to hear screams of delight. Look up and you'll see the famous water drop of Splash Mountain in the distance!
This is the quintessential Disney attraction — theme, audio-animatronics, laughs, thrills and a happy ending! The Splash Mountain attraction is based on Walt Disney's 1946 classic "Song of the South." Crafty Brer Rabbit is pursued by Brer Fox and his lumbering cohort Brer Bear through swamps and woods all the way to the Laughin' Place!
Splash Mountain is located in Frontierland's west end, between Pecos Bill's restaurant and Big Thunder Mountain Railroad.
ATTRACTION
Queue — The long queue takes you through the insides of Chickapin Hill
until you reach the loading zone. An eight-passenger log (four rows of two seats), hollowed out by sharp-toothed beavers, will carry you on your 11 minute journey along the flume.
Splash Mountain — The story goes that against the advice of Mr. Bluebird, Brer Rabbit leaves his briar patch home in search of adventure. Brer Fox and Brer Bear seize this opportunity and begin their legendary pursuit of the rabbit. At first, Brer Rabbit outwits his pursuers, but as you proceed you soon discover Brer Rabbit is heading for trouble. For the grand finale, you plunge with Brer Rabbit from the top of Chickapin Hill, down five stories into the briar patch.
Laugh, clap and sing aloud familiar songs such as "How Do You Do,""Everybody's Got a Laughin' Place" and "Zip-a-Dee-Doo-Dah."
TOURING TIPS
It is highly recommended you use FASTPASS+!
This is one of the most popular rides in the Magic Kingdom! Lines for Splash Mountain build the minute the park opens (especially in warmer weather).
There is a height requirement for this attraction.  Guests must be 40 inches (102cm) or taller to ride.
Accessibility: Guests must transfer from wheelchair/ECV.  Due to the nature of the experience, service animals are not permitted on this attraction.
Warnings:  Expectant mothers, those with heart conditions, motion sickness, and back or neck problems should not ride.
This ride contains a five-story drop with descent speeds of 40 mph. Throughout the entire attraction you will encounter three lifts and five drops.
You WILL get wet on this ride! Where you're seated will determine how wet you'll likely get. To minimize your exposure, you might want to wear a rain poncho, or ask to be seated in the middle of the log. If you want to get really wet, though, ask to sit up front!
For Guests looking to ensure their personal items remain dry, lockers are available to rent near the Main Entrance.
WDW at Large:  Seats might be restrictive; guests may wish to ride alone due to limited leg space and/or small seat size.  Guests must be able to step down into and up out of the ride vehicles.
In February 2011, the Splash Mountain logs were fitted with lap bars.
Rider Switch (aka Child Swap) is available at this attraction.
Ride Photos — Just as your log begins to tip down the 45 degree waterfall, flashes go off capturing your expression! Be sure to view your photo at Splashdown Photos as you exit. If you decide to purchase your photo, remember you can use Disney Package Delivery to have the photo sent either to your resort or the main entrance of the park so you don't have to lug it around.
There is a bridge where you can watch your family and friends plummet down Chickapin Hill and wind their way to the conclusion of the attraction. This is a great place for photos! Be aware, however, that splashes from the plummet can sometimes soak the viewing area… so be alert!
KIDS AND CHARACTERS
Several times throughout the day characters are in the Splash Mountain Courtyard for photos and autographs. Check your daily Times Guide for specific information during your visit.
Magic Kingdom Characters at a Glance
Character Meet and Greet FAQ!
DINING
The closest place for snacks or meals in the vicinity of Splash Mountain is Pecos Bill's.
Magic Kingdom Restaurants at a Glance
Menus from around the World
Vegetarian and Other Special Diets
SHOPPING
The whimsically outfitted Briar Patch store has Splash Mountain logo merchandise along with Tigger and Pooh items.
INTERESTING FACTS
Splash Mountain opened July 17, 1992, and the Official Dedication was held October 2, 1992.
More than 100 Audio-Animatronics fill the attraction, which also has one of the largest animated props in the finale. The Showboat is 36 feet wide and 22 feet high, and rocks back and forth as a cast of 12 audio-animatronics sing and dance to "Zip-a-Dee-Doo-Dah."
To bring the classic Disney story "Song of the South" to life, Walt Disney Imagineers created a magnificent mountain chock-full of backwoods swamps, bayous and waterfalls.
The concrete flume course is more than 2,600 feet long, or about 1/2 a mile.
Splash Mountain has a 950,000 gallon water reservoir!
Hidden Mickey Alert: "Zip-A-Dee-Doo-Dah" scene—lying on his back in the pink clouds to the right of the riverboat.
After exiting the ride you'll find Brer Rabbit's house, a place where kids can play that also makes a great photo op!
If you have comments or tips to share with others about touring the Magic Kingdom, please email us. Thank you.