Disney World has begun reopening its theme parks after a four-month closure.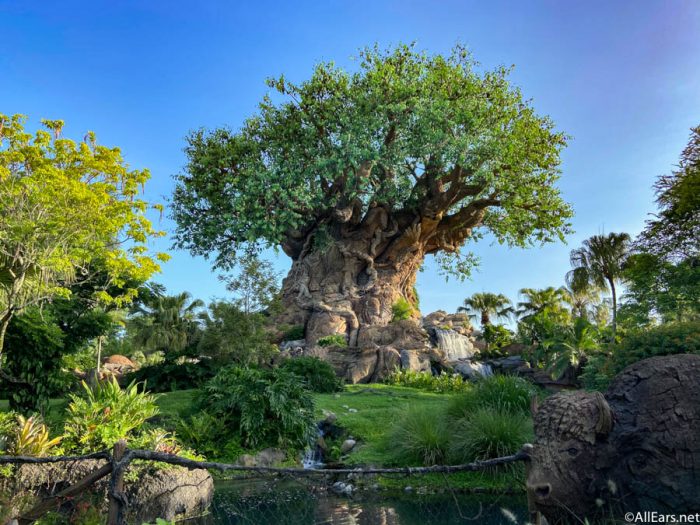 Earlier this week we attended the Annual Passholder Previews for both Disney's Magic Kingdom and Animal Kingdom, which you can check out below! Today we will be adding in our experience, and any differences we saw from the grand reopening, so follow along!
We will continue to update this post throughout the week, so make sure to check back for updates! 
Reopening Day
Parking
Parking worked the same as we saw for the Passholder Preview. Cars were allowed to line up outside the parking booths beginning at 7:30AM, and were slowly let in.
Security
Security and temperature checks also worked like we had seen at the Annual Passholder Preview! Animal Kingdom is currently using a new form of security and bag check where guests don't have to stop or remove any items from their bags (other than umbrellas).
The process is quick and simple, and one that has made entry into Animal Kingdom a lot easier in our opinion.
Pandora
As we saw at the Annual Passholder Preview, everyone went immediately to Pandora. However, the line still moved quickly for Flight of Passage!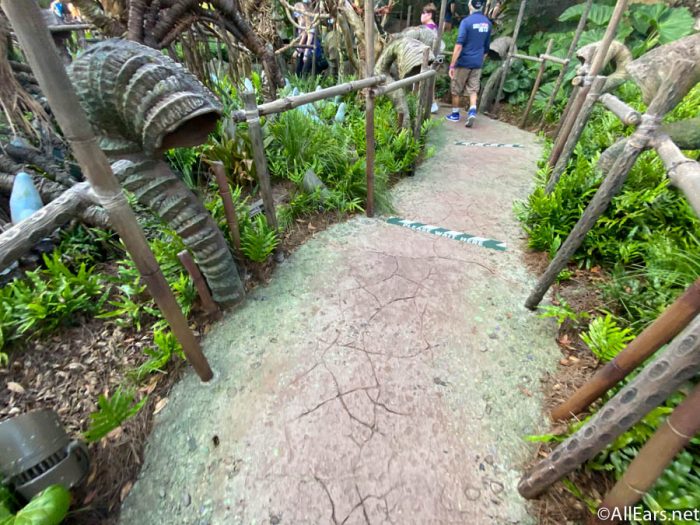 Wait times were low to start the day — at this point (about an hour after opening) Flight of Passage was listed as a 10 minute wait.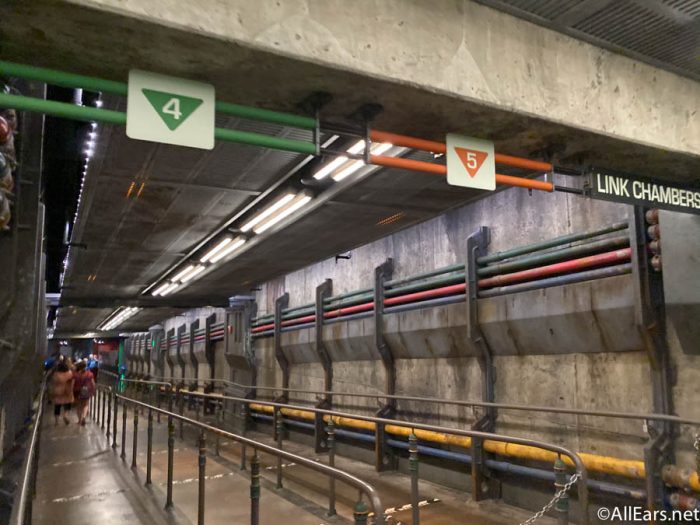 Wait Times
Wait times throughout the day have been very low, with Flight of Passage sticking around a five minute wait for most of the day!
Occasionally rides will temporarily close, or get a slightly longer wait — these have typically been due to the periodic closures each of the rides get throughout the day for a 10 to 15 minute deep clean of all the vehicles.
As a whole, Animal Kingdom's crowd levels have been very quiet, with some spots around the park completely empty.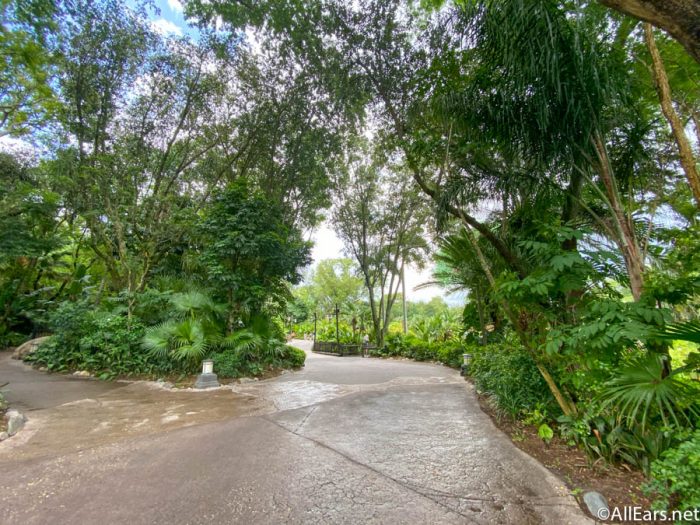 Annual Passholder Preview
Parking
Parking is being staggered every other car.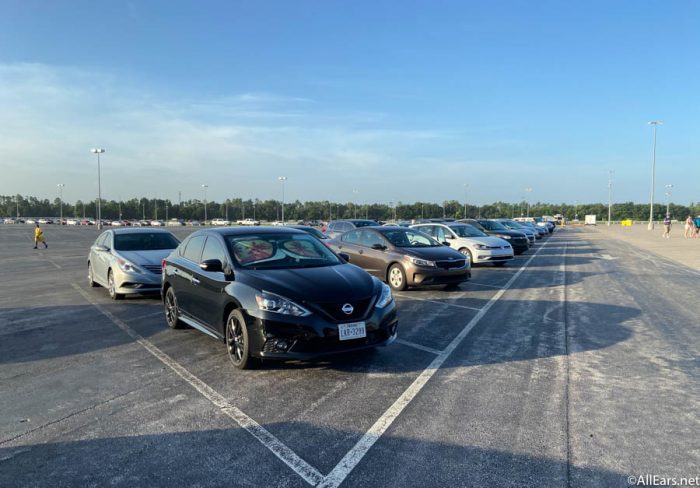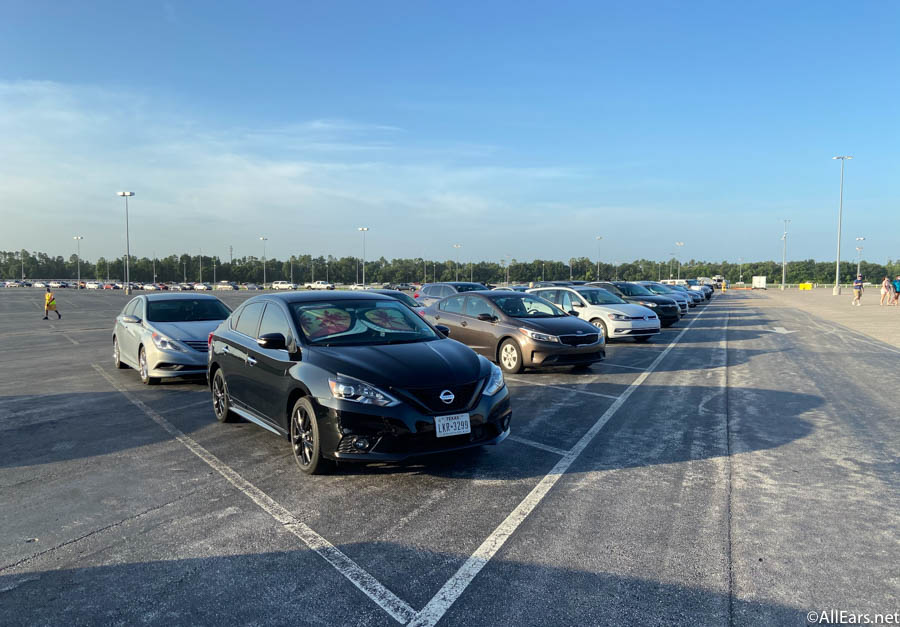 We had a smooth process of getting into the parking lot and making our way to the park entrance, even in the absence of parking lot trams.
Tickets
At the Annual Passholder Preview, we had our MagicBand scanned by a handheld scanner to enter the park for the Annual Passholder Preview. For the grand reopening, this was changed back to using the regular MagicBand scanner, though without having to also use your fingerprint.
Temperature Check
The temperature check process was relatively quick and simple, as we've seen at Disney Springs.
The checks are conducted by AdventHealth professionals.
Security
Animal Kingdom is using a new form of security and bag check where guests don't have to stop or remove any items from their bags.
When we approached security we were instructed to walk straight through with our bags. If we had umbrellas we were asked to remove them and hold them in front of us, but otherwise were not immediately asked to take anything out of our bags.
Tickets
We had our MagicBand scanned by a handheld scanner to enter the park.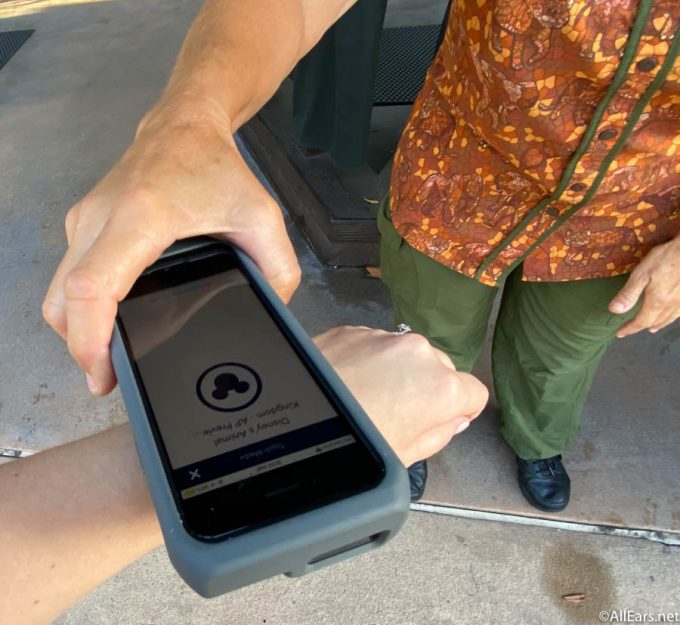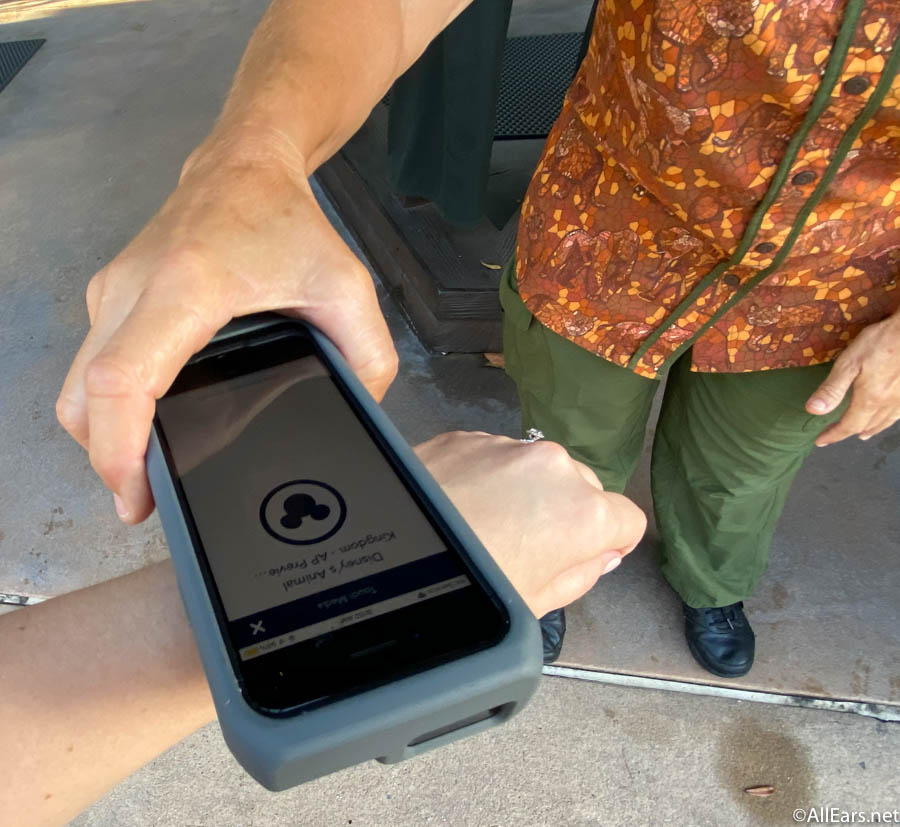 Since we are here as part of the Annual Passholder Preview, it's possible that is why these were used in place of the traditional MagicBand scanners, but that is unclear at this time.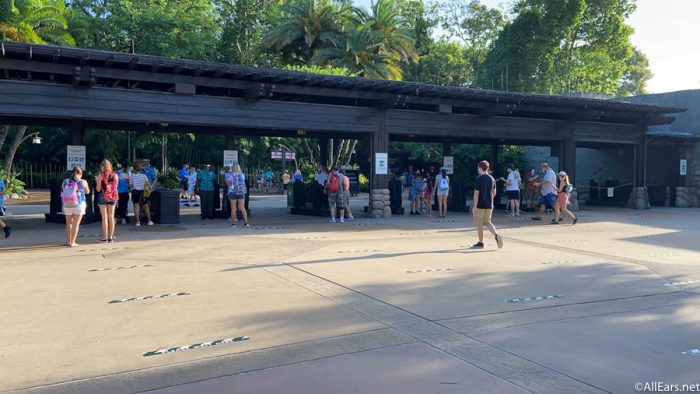 We found it was quite quick and easy to enter the park. It's important to also note that Cast Members are checking to make sure that guests are wearing proper face masks. If they aren't, it seems like they will provide them with disposable face masks to wear in the parks instead.
The Wilderness Explorers area was open to guests with distancing measures in place and directional arrow showings people which way to enter and exit.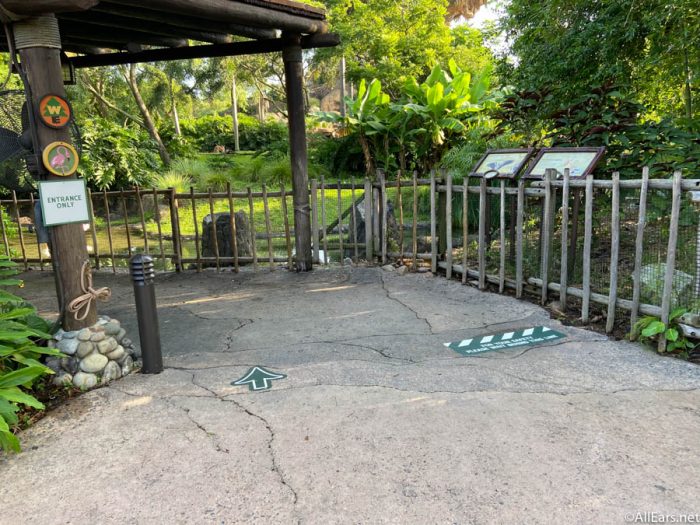 When you're talking to Cast Members from the Wilderness Explorers, you'll stand in a line distanced from them. You are still able to get the stickers at this time!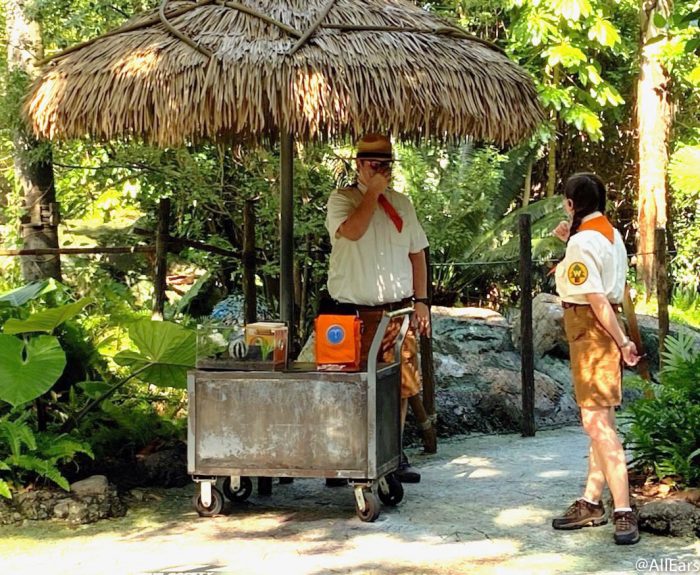 Flight of Passage was operating with distanced queue markers on the group that made the line appear a lot longer than it was. However, we were able to hop on the attraction within 10 minutes (but that can change depending on the crowds and distancing measures).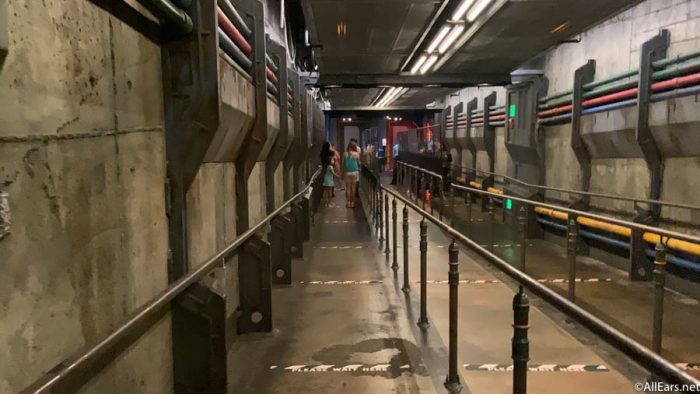 Including the queue, the biggest differences we saw during our ride was that we only got to watch the first part of the pre-show in a modified way…
…and that our group was limited to three parties, which happened to be five people in our case.
While we were in Pandora, we noticed that a lot of the high-touch experiences were closed for the time being. Some of these included the Colors of Mo'ara Face Painting Station…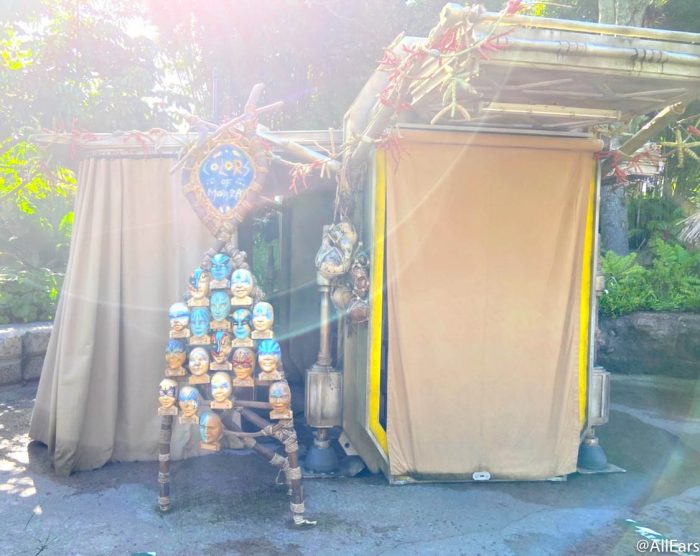 …drumming spot…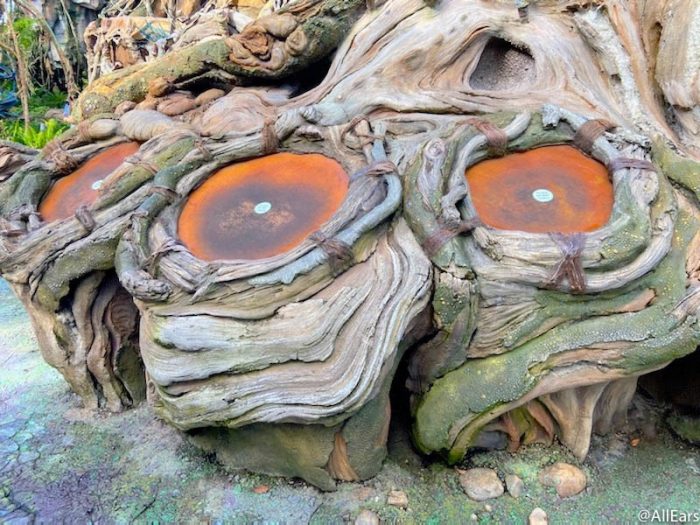 …(that was equipped with stickers to make guests aware that the experience was suspended)…
…and the interactive Flaska Reclinata that was roped off.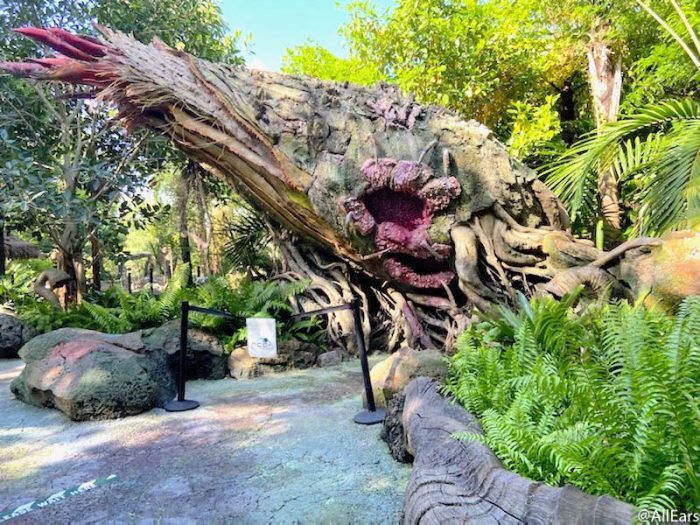 Retail locations like Windtraders were open to guests to explore. While there weren't many people in there, the store will most likely operate with a limited capacity when crowds pick up.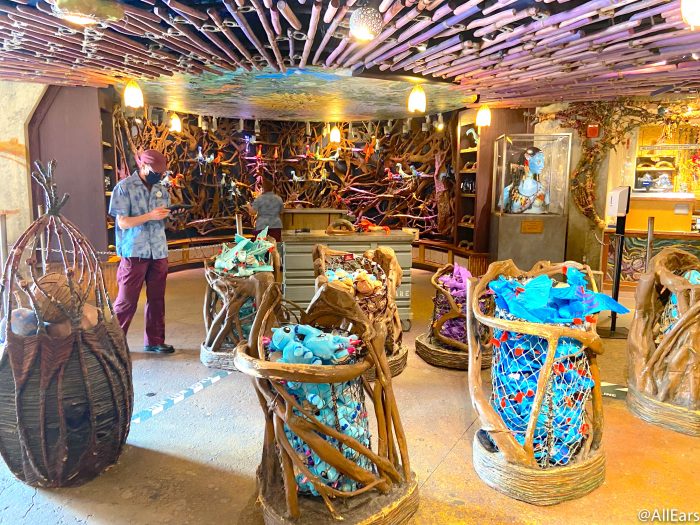 The check-out area had designated floor markers to put space between the guests.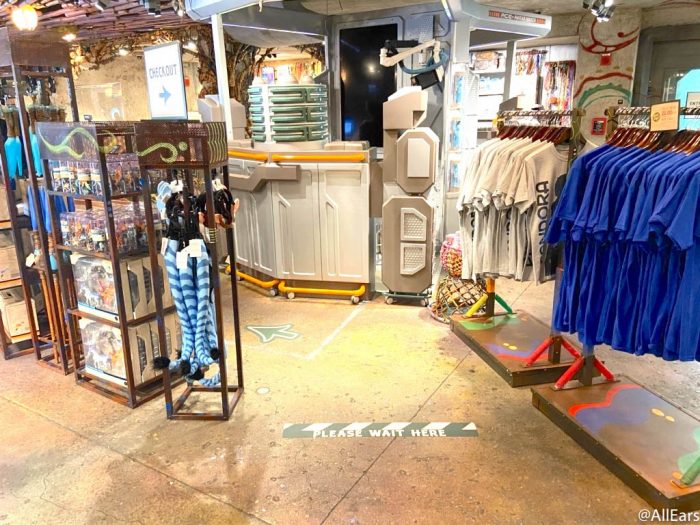 Pongu Pongu had plexiglass barriers and a hand-sanitizer station installed for guests…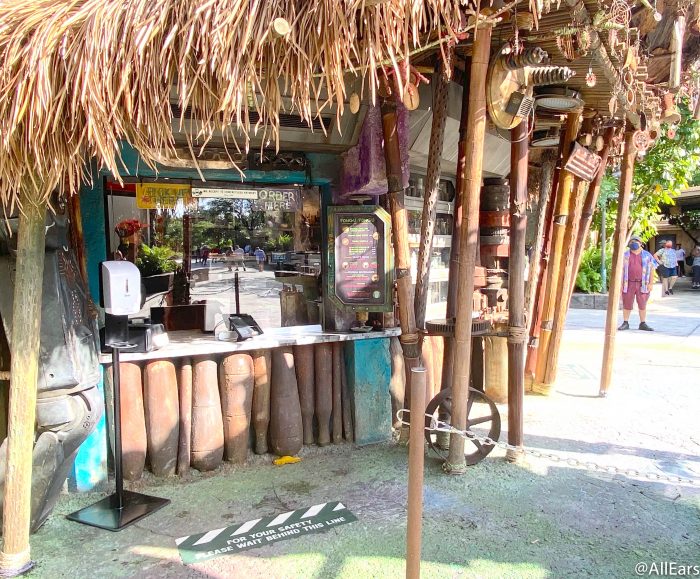 …as well as directional markers on the ground to direct everyone where to stand and where the designated entrances and exits were.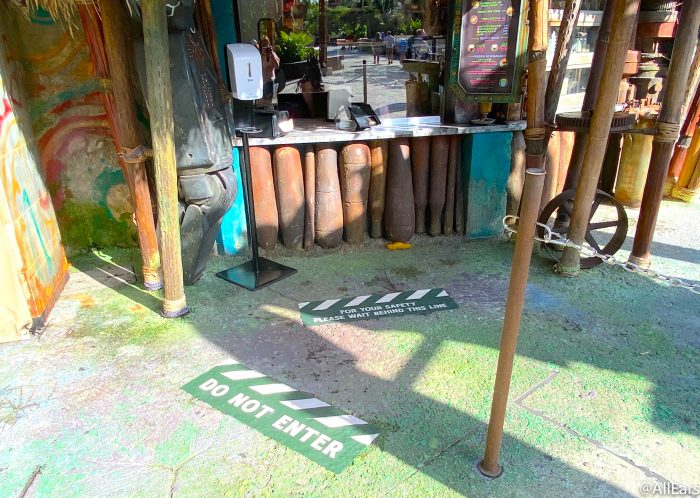 The tables at dining locations also used distancing measures where certain tables had a placard to state that it was unavailable to use.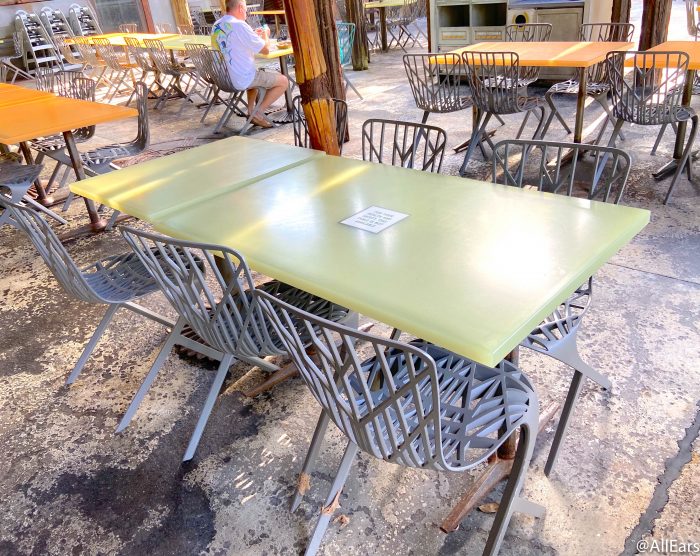 Although we were able to hop on Flight of Passage with a short wait time, the crowds did start to pick up during Passholder Previews. Guests were directed by the Cast Members to the right for Flight of Passage and to the left for the river as everyone entered the area.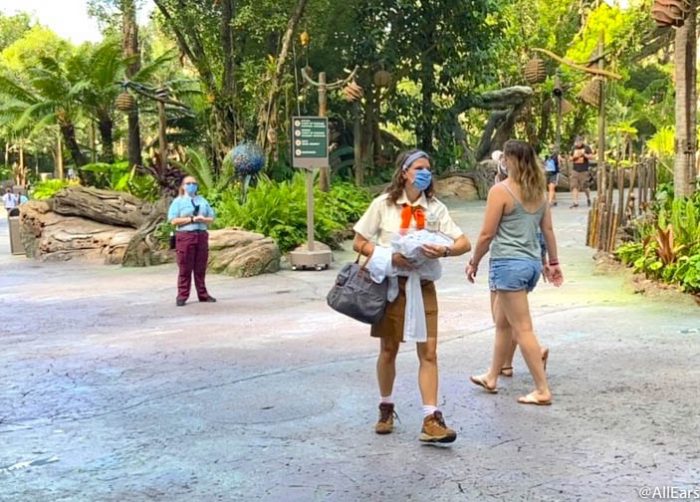 The restrooms in the park currently look the same with only one sign asking guests to wash their hands.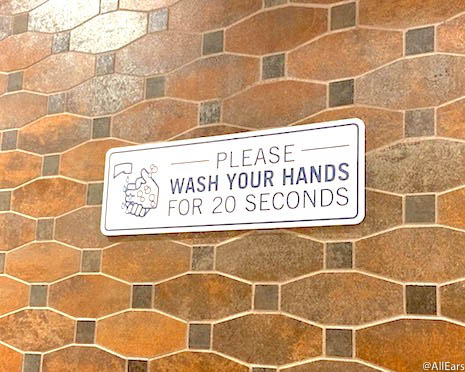 The changing tables had no difference.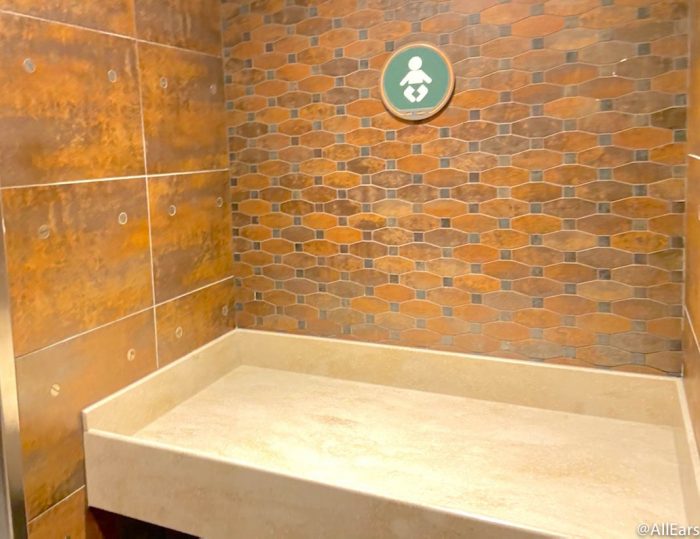 Water fountains were still available for guests…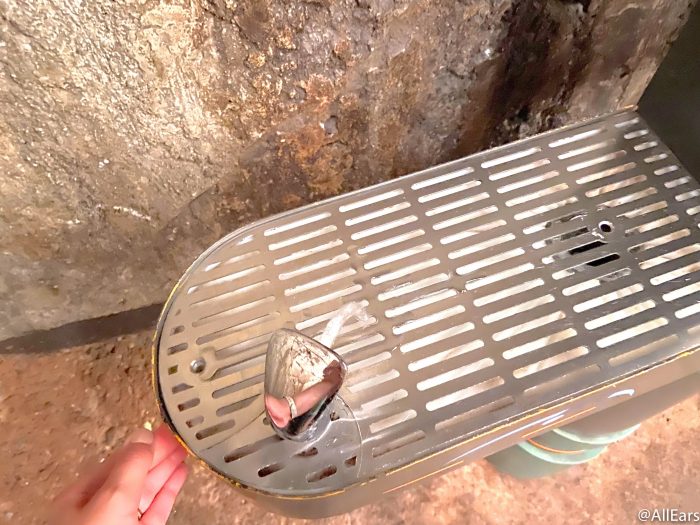 …as well as refillable water bottle stations.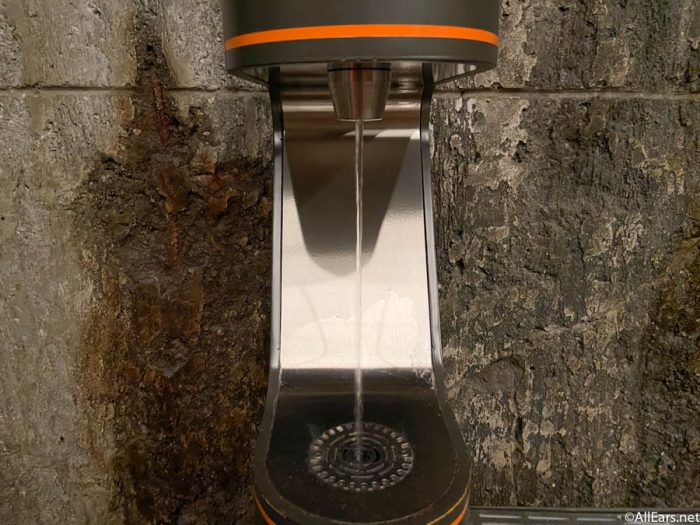 Pizzafari has been designated as one of the Relaxation Stations were guests will be able to take their mask off for a short period of time in the parks.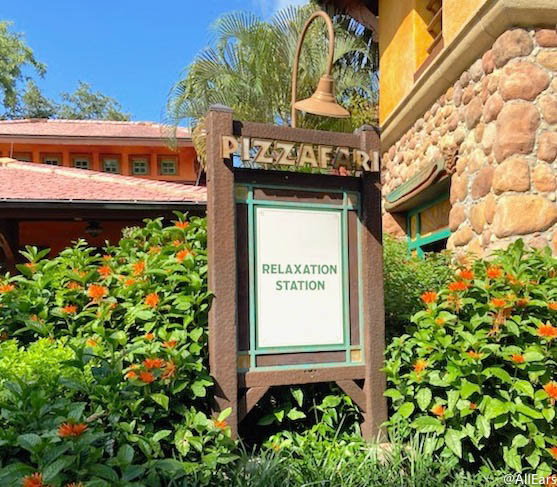 The tables in the area had some of the same distancing measures to keep everyone apart from one another.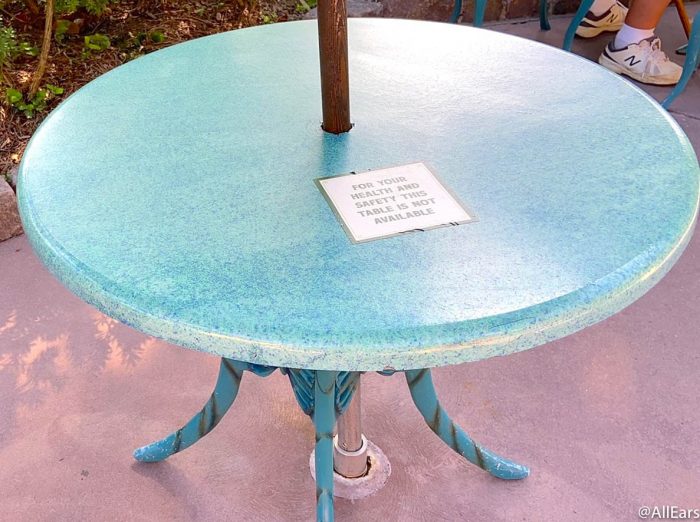 The Nomad Lounge is closed at the moment, but we noticed that there were line markers to check-in to the location…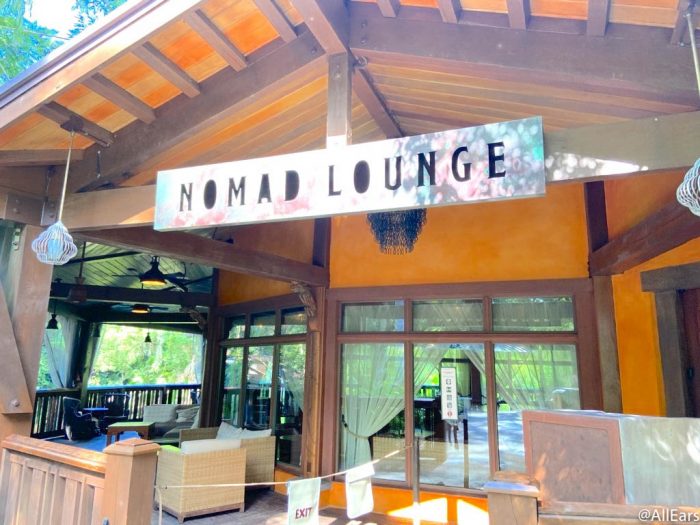 …as well as a hand-sanitizer station at the entrance.
Tiffins is also operating with similar distancing markers and hand-sanitizer stations…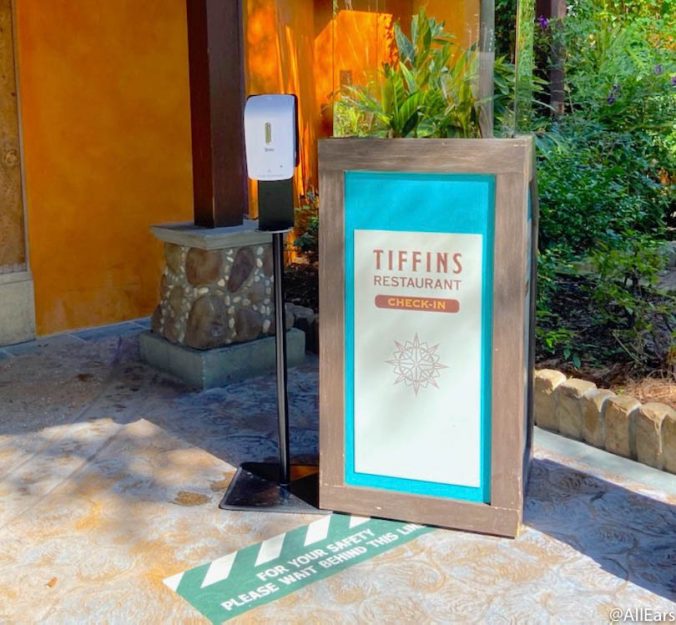 …as well as the Mobile Dining Check-in feature.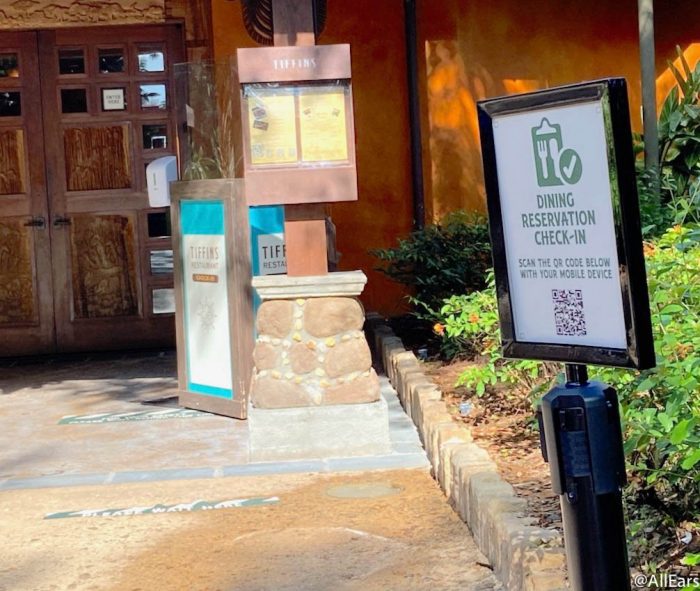 During our visit, the Island Mercantile was closed to guests.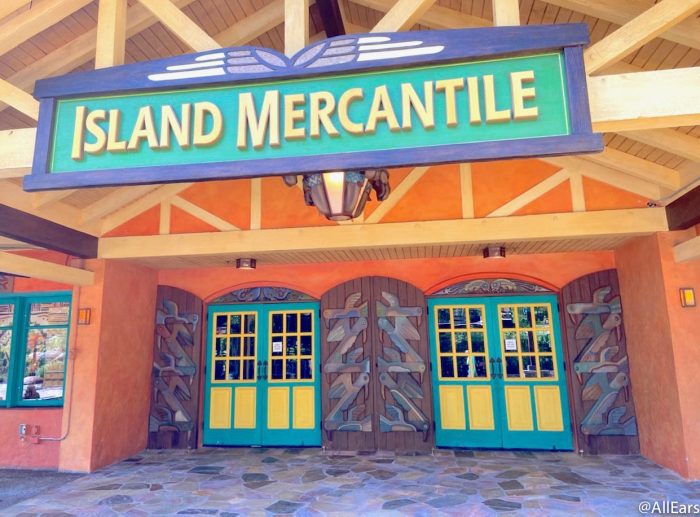 However, the penny pressing machine and FuelRod machine were available and working just around the corner of Island Mercantile's entrance.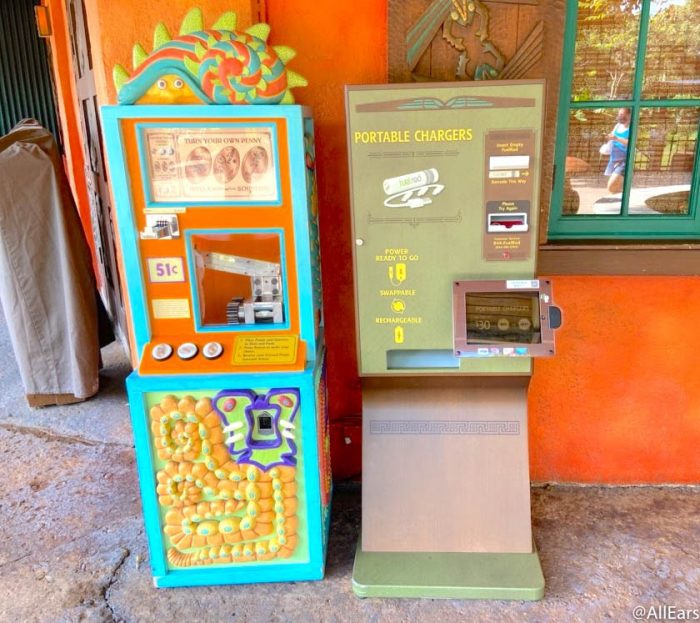 Discovery Trading Co. only had one entrance for guests to use. The store used distancing methods and hand-sanitizer inside.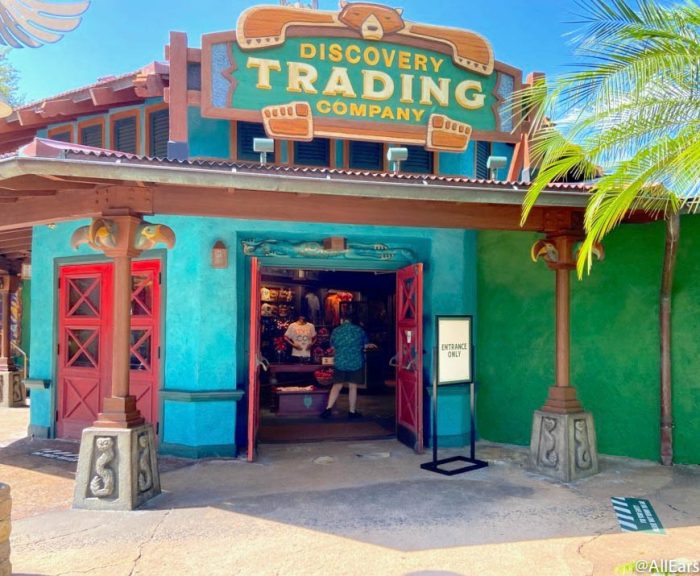 If you're craving a coffee in the morning or a cool drink in the afternoon, Creature Comforts has dots for guests to stand on and wait for their order.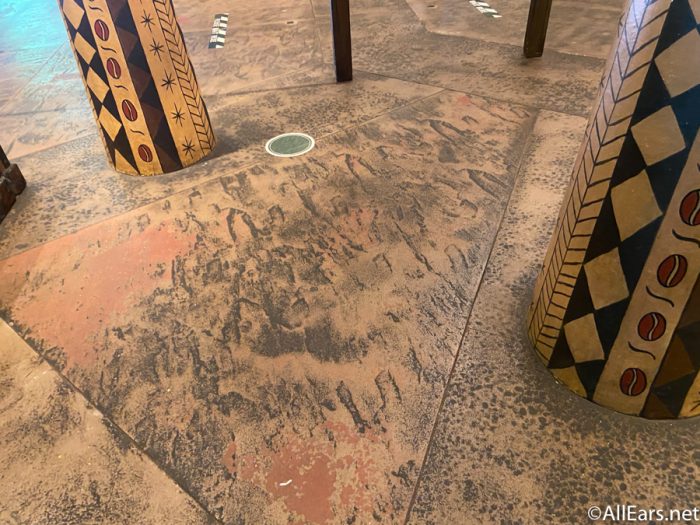 What better way is there to celebrate the re-opening of Animal Kingdom than a toast with some Starbucks coffee? 😉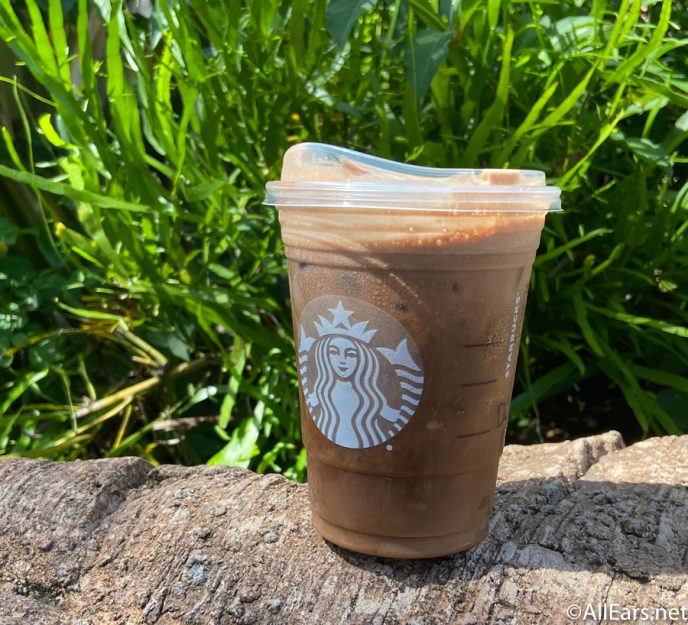 Different quick-service restaurants were also setting out water cups ready to hand out to guests.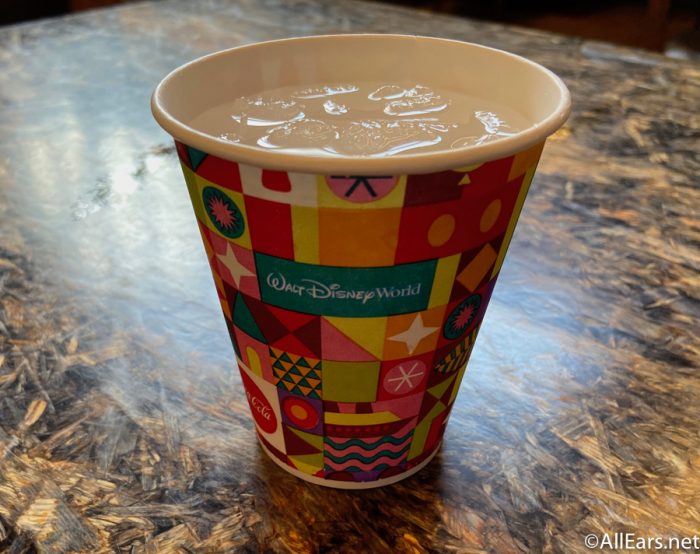 Satu'li Canteen was operating with the same protocols as Cosmic Ray for Mobile Order. After placing your order and returning for pick-up, guests were lead to a specific bay number. Another Cast Member would get fountain drinks for guests who ordered them.
Cast Members were also spotted cleaning tables and wiping them down after guests dined at the restaurant.
While Magic Kingdom hosted Character Cavalcades down Main Street, Animal Kingdom showcased entertainment on the Discovery River. As the Discovery Island Drummers got everyone excited to be back in the parks with their great jams…
…and characters were all very happy to see everyone back in the park.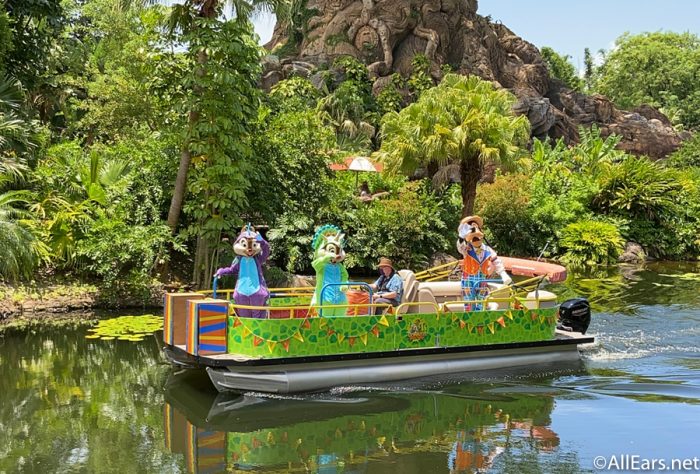 Chip, Dale, and Goofy were all chilling on the boat in their Donald's Dino Bash outfits to wave at all their friends onshore.
On top of saying hello to our favorite characters, we hopped onto the Kali River Rapids now that Animal Kingdom attractions have re-opened! The rafts are limited to two parties…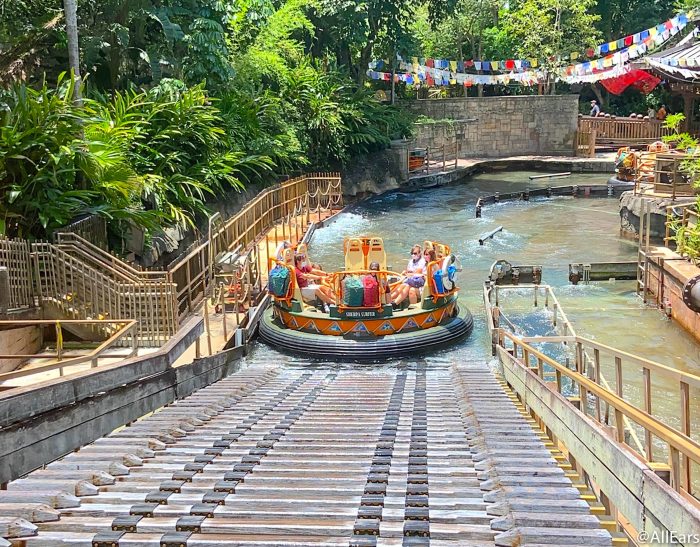 …while guests are required to still wear masks, and Cast Members must wear masks and face shields. The water cannons are turned off for the moment.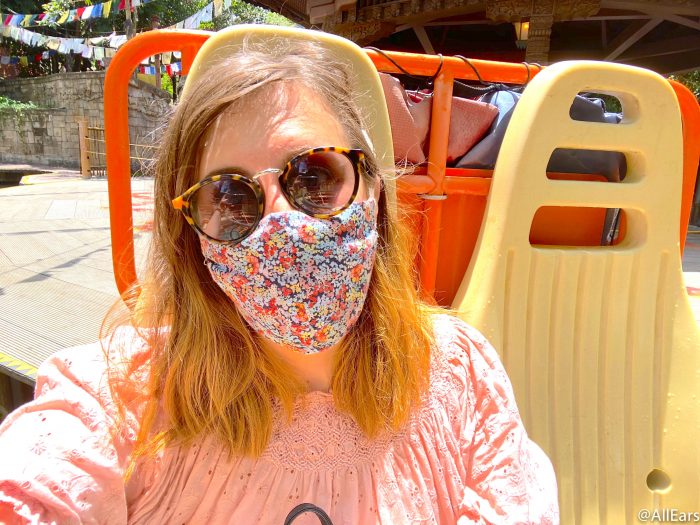 The Kilimanjaro Safaris have opened again to guests so they can spot their favorite animals sprawling out. Although the last tram sets off at 6 PM…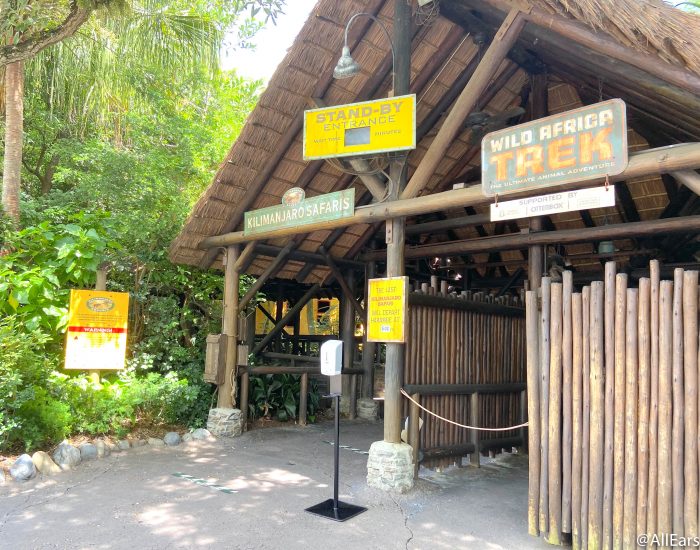 …the limited hours doesn't affect the ride's safety measures, like partitions in the queues and trams…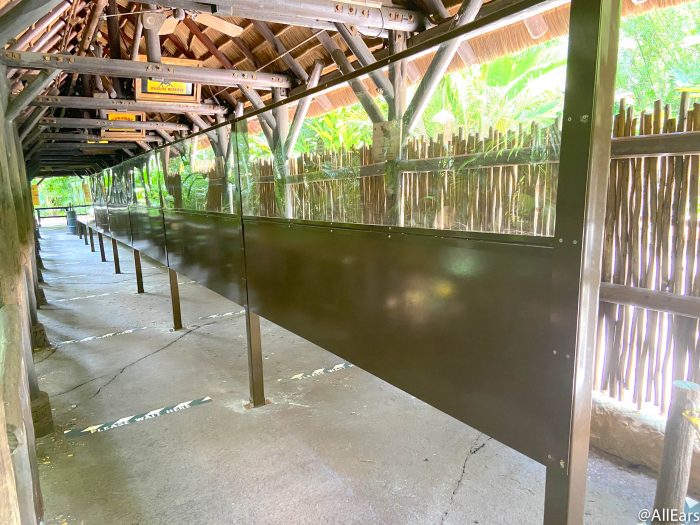 …and face masks and shields for Cast Members.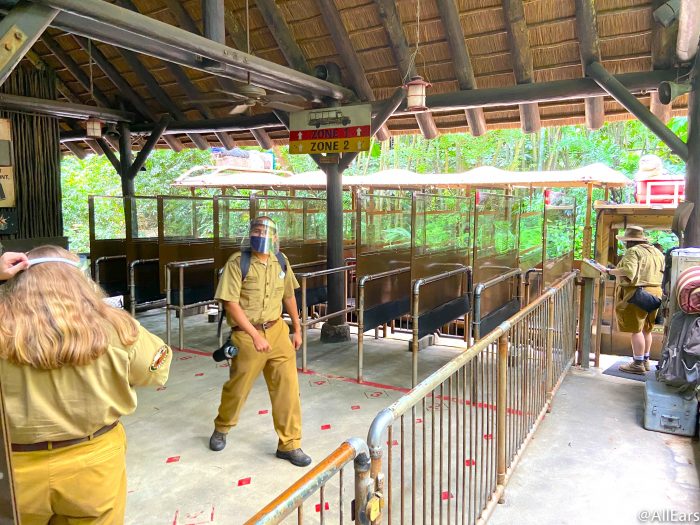 Look! It's Nala and Simba!!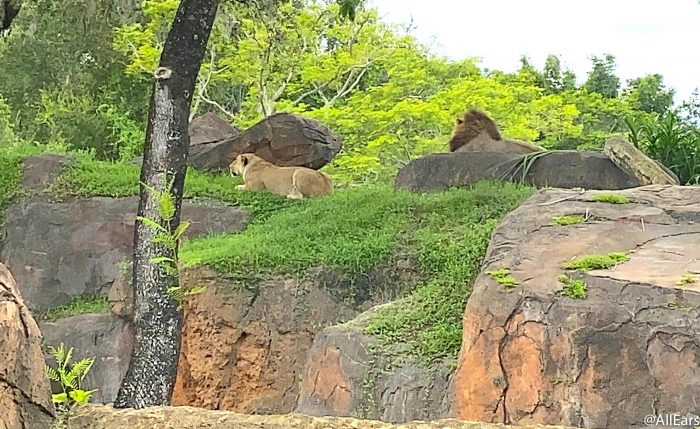 Expedition Everest will only be using Stand-by lines at this time, but disability access and rider switch were also available during our visit.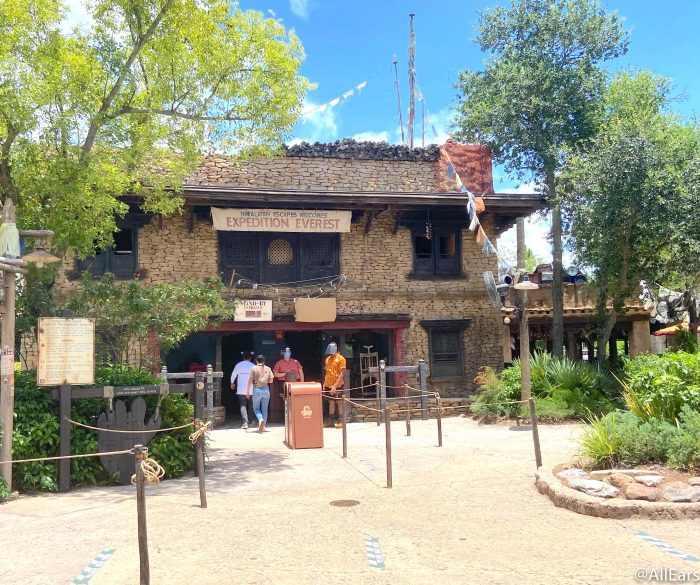 The cars had plexiglass partitions in between them to promote more space between guests…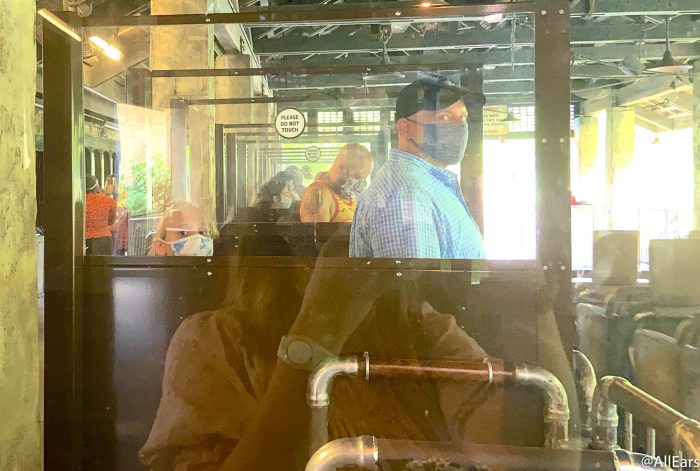 …but the ride was STILL just as fun as we remember it (we were even glad to see Disco Yeti)!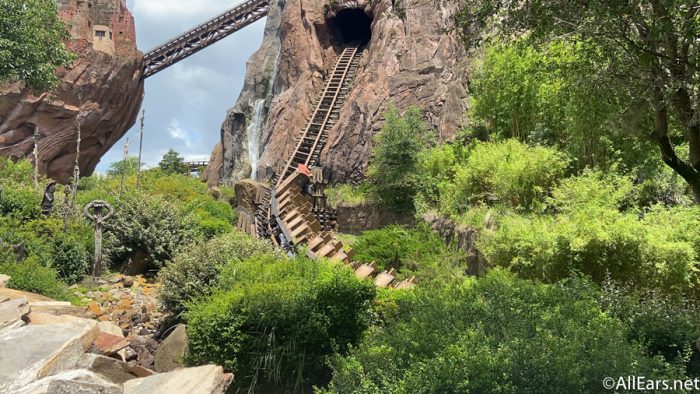 It's Tough to Be a Bug was back open with short wait times, but multiple health and safety measures involved. A hand-sanitizer station was available at the entrance to the attraction…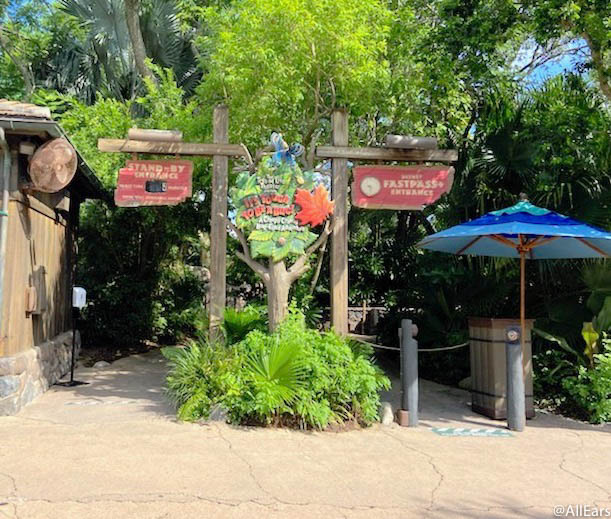 …and there were circles for guests to stand on while they wait to enter the theatre.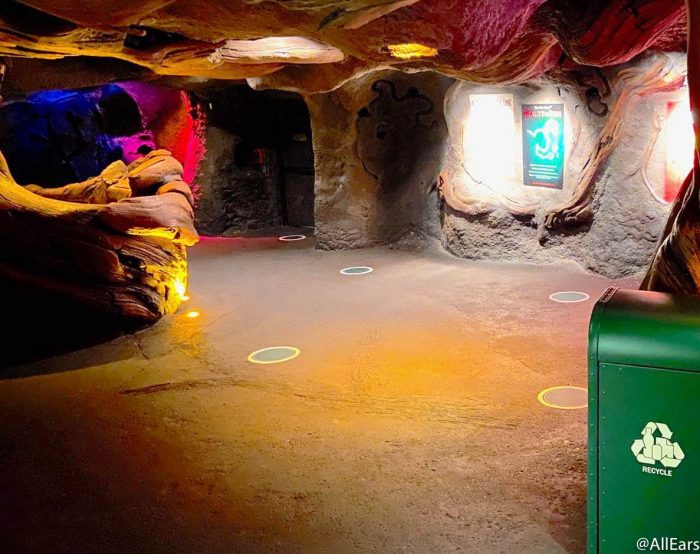 Dinosaur was using taped distancing measure in the waiting area, but the pre-show was still happening. The attraction was also spacing people when they board to make sure that guests have appropriate spacing.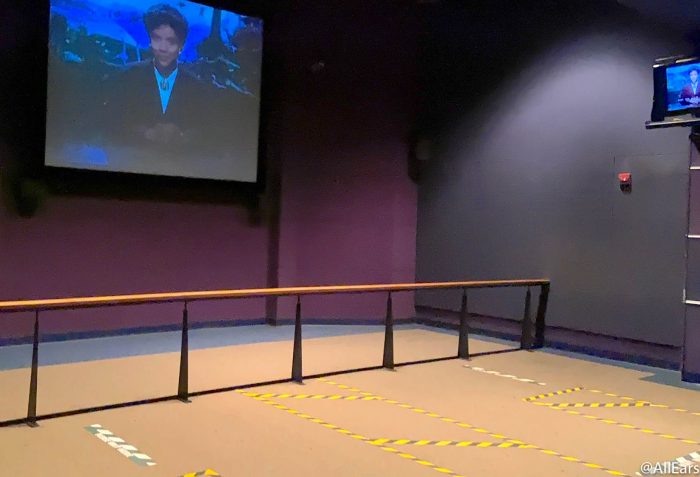 The Na'vi River Journey had glass partitions, barriers, and roped off sections in the queue leading to the ride to keep things running smoothly…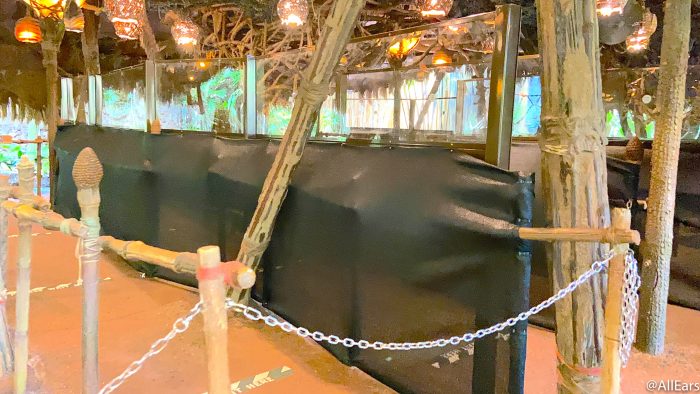 …before everyone made their way on a mystical journey to see the Shaman!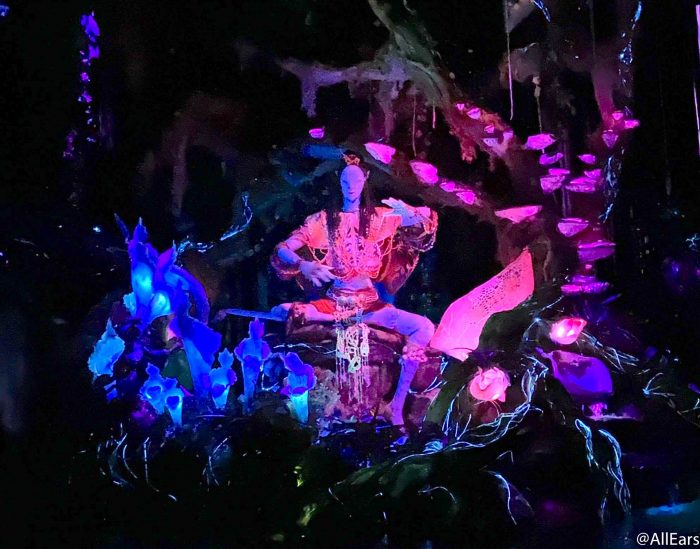 The Up!: A Great Bird Adventure show had its times available for guests to watch macaws and other majestic birds take flight.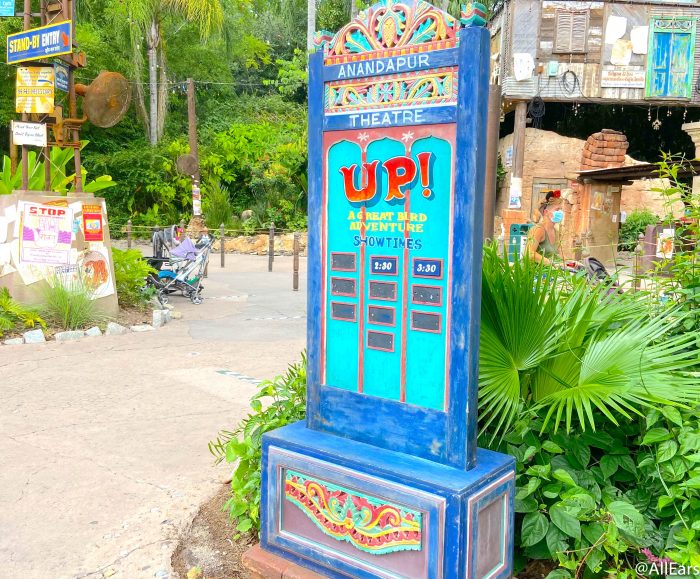 Upcountry Landing has a Relaxation Station for everyone to chill out at for a little while in the Florida sun.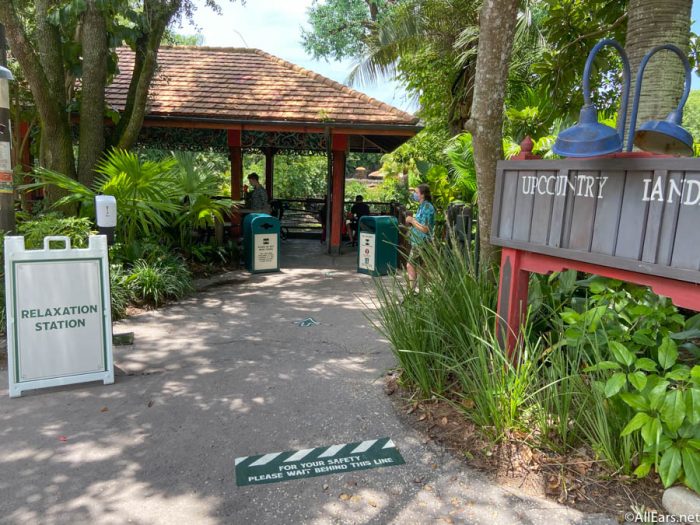 Guests stay separated from one another so they can take off their masks and relax.
The Anandapur Ice Cream Truck was open for guests to get a cool treat…
…along with Flame Tree Barbecue for some crispy Pulled Pork Fries.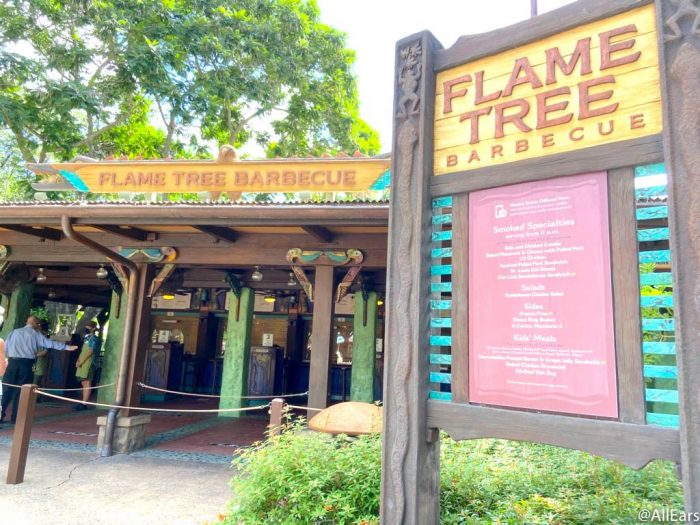 Over in DinoLand, U.S.A., Trilo-Bites was open with distancing markers and designated entrances and exits…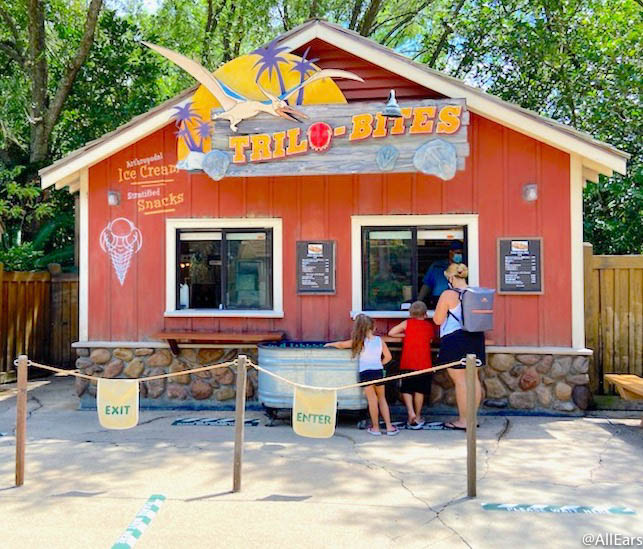 …along with Dino-Bite Snacks.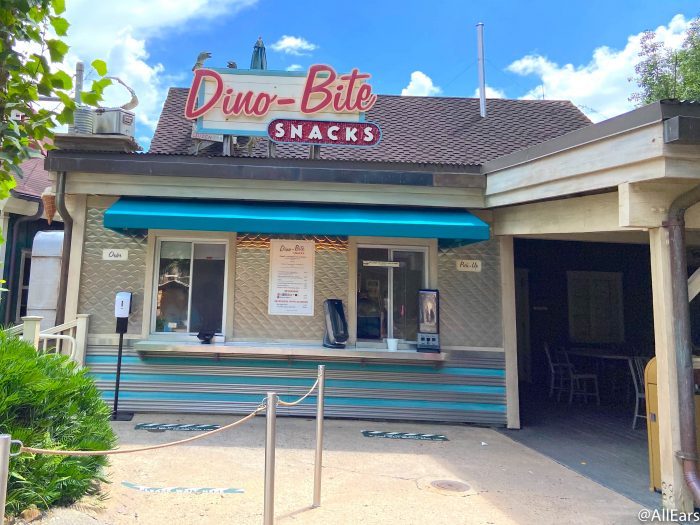 Over near Expedition Everest, Thirsty River Bar was open with drinks and snacks for everyone to have after they escape the Yeti (a cause for celebration obviously).
Yak and Yeti Local Food Cafes was another spot open for a quick bite…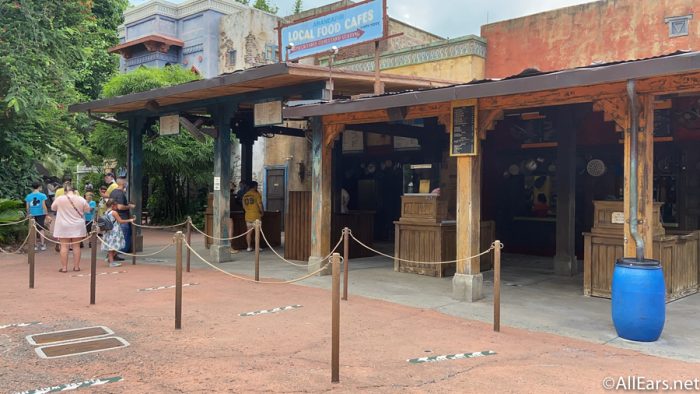 …with popcorn carts serving all that buttery goodness just around the corner. They were carefully refilling guests' popcorn buckets carefully with as minimal of contact as possible.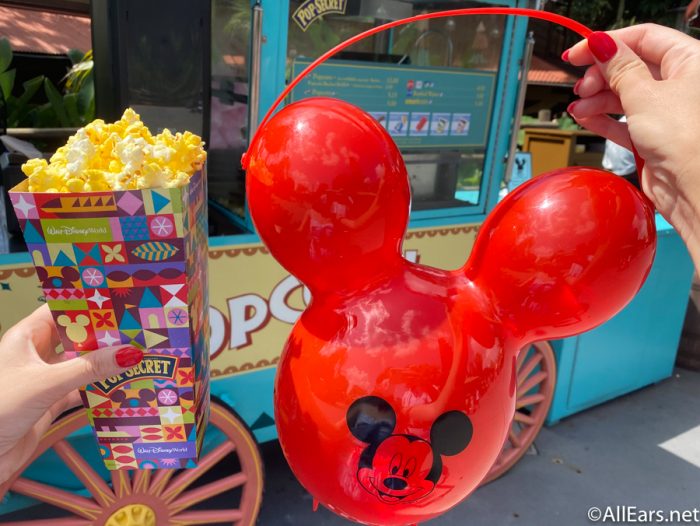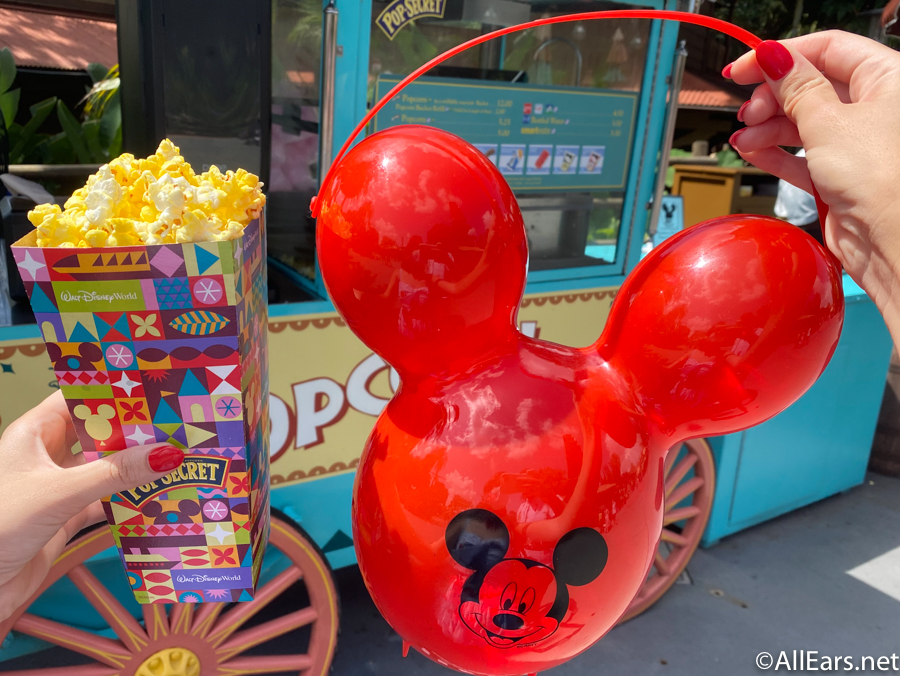 However, not every restaurant in Animal Kingdom is open at this time. Eight Spoon Cafe will not be serving some of our favorite mac and cheese (bummer)…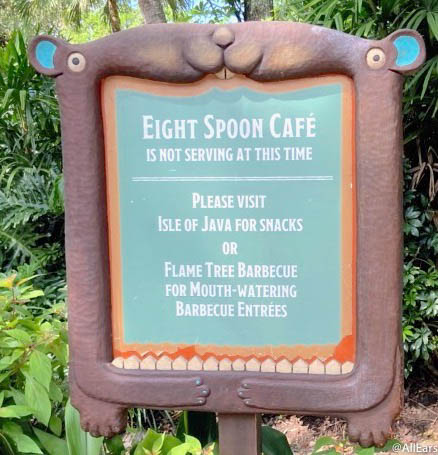 …and the Smiling Crocodile will also be closed during the initial re-opening. However, guests were being redirected to the Isle of Java and Flame Tree Barbecue for snacks and entrees instead.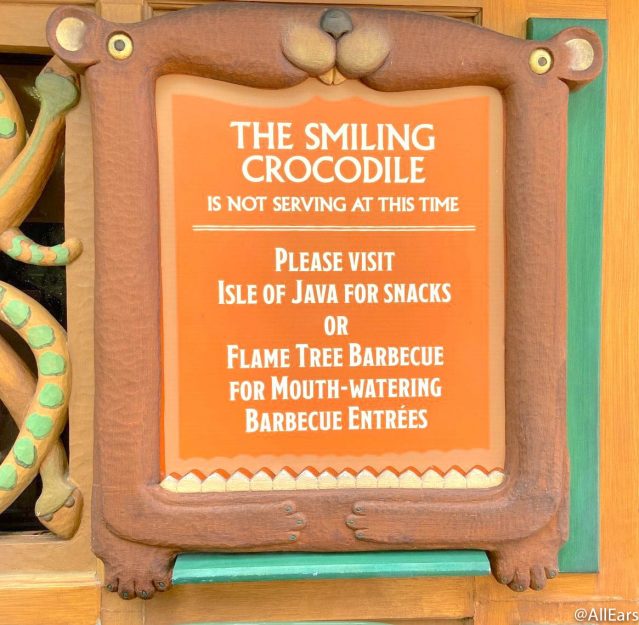 Although Tiffins was available for dining, Tusker House's family buffet was closed during the initial park re-opening.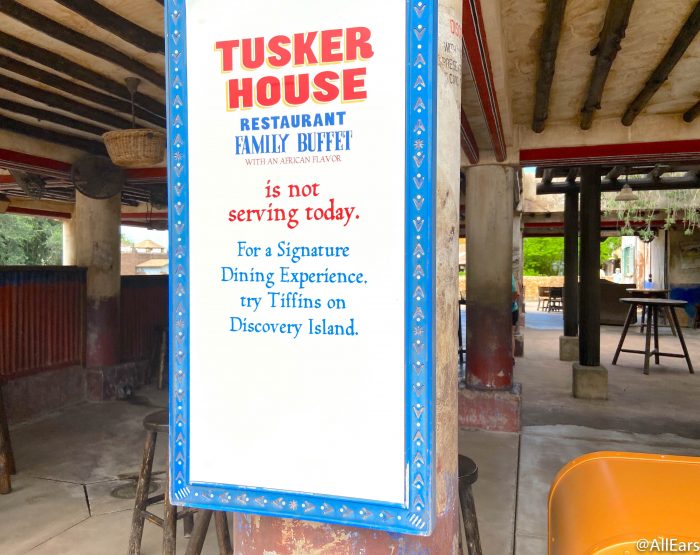 Drinkwallah was also closed as a health and safety precaution at this time.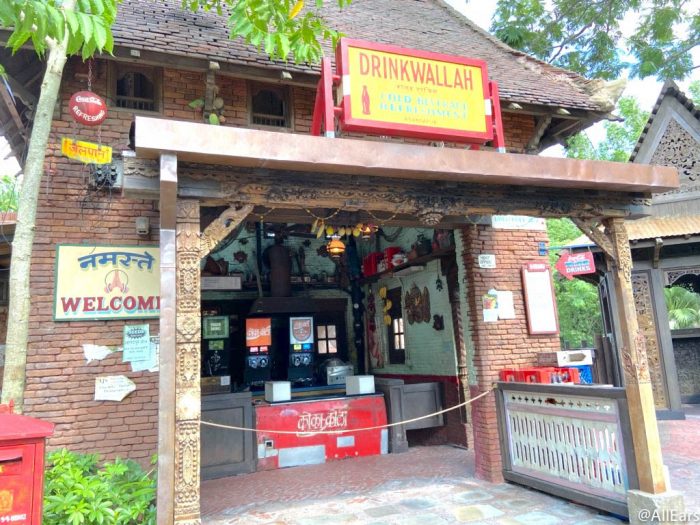 When we visited DinoLand, U.S.A., we saw that many of the midway games were closed currently.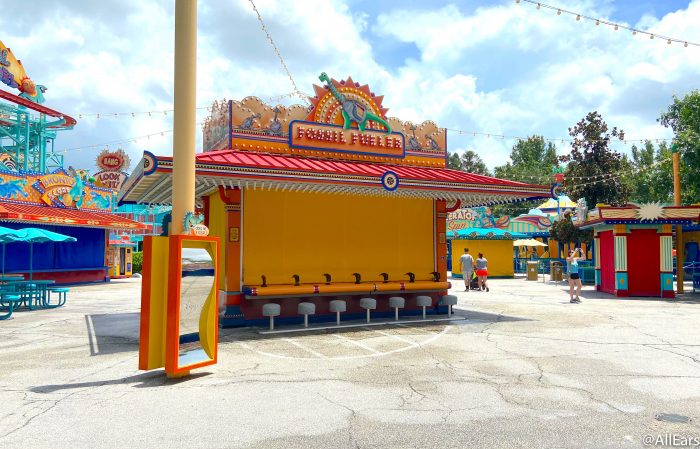 And, right around the corner, there was a Pin Trading station set up for guests to enjoy. Cast Members were there to grab pins and limit the amount of high-touch surfaces.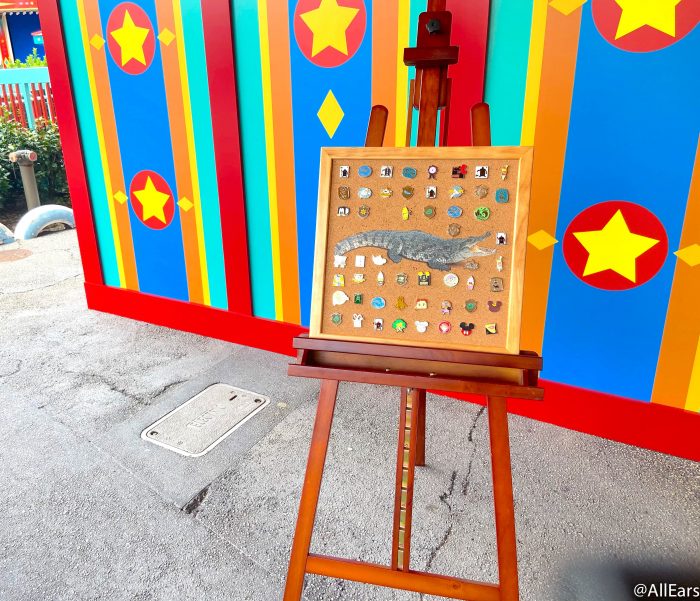 We've had a blast being back in the parks today! While we will back soon to see if there is anything different at Animal Kingdom's grand re-opening, we hope that you enjoyed seeing a sneak peek back into the park today with us!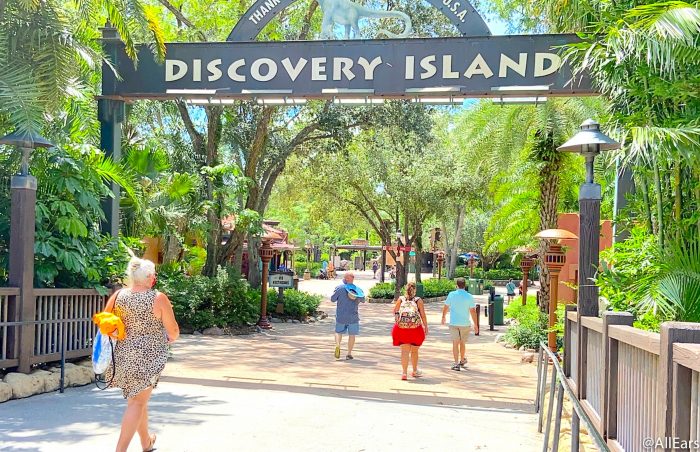 We will continue to update this post throughout the day, so make sure to check back for updates! 
Join the AllEars.net Newsletter to stay on top of ALL the breaking Disney News! You'll also get access to AllEars tips, reviews, trivia, and MORE! Click here to Subscribe!