Tree of Life Disney's Animal Kingdom
INTRODUCTION
Emerge from the heavy foliage of the Oasis — Before you stands the 145-foot tall Tree of Life. The first time I saw the Tree of Life, I just stood and gaped with my mouth open. It is awesome.
The branches span 165 feet across and the trunk is 50 feet wide. There are more than 100,000 leaves on the tree. Twenty artists carved more than 320 animals into its trunk, branches and roots. Thousands worked on the Tree of Life, which took 18 months to construct.
New Tree of Life roots were unveiled February 2015 in front of the Tree of Life.
ATTRACTION
"The Tree of Life is a technological marvel, but it's also a symbol of the beauty and diversity and the grandeur of our animal life on Earth," says Joe Rohde, Walt Disney Imagineering vice president and executive designer for the park. "It's a celebration of our emotions about animals and their habitats."
The Tree of Life roots find their way into the paths surrounding this magnificent Animal Kingdom icon. Surrounding the Tree of Life are the Discovery Island Trails — a quiet area of pools, meadows and trees that are home to flamingoes, otters, lemurs, axis deer, cranes, storks, tortoises and red kangaroos.
As you wind your way through the tree roots, you find yourself at the base of the Tree of Life and the entrance to the It's Tough to be a Bug theater. The 430-seat theatre is home to Flik and Hopper, where you will be entertained with a 3D film and Audio-Animatronics figures.
TOURING TIPS
View the Tree of Life at different times during the day. As the sun and the shadows move, different animals will come more clearly into your view.
Don't rush through the tree roots on your way to It's Tough to Be a Bug… this journey provides an excellent up-close view of many of the animal sculptures.
KIDS AND CHARACTERS
Kids absolutely love the Tree of Life. Have fun with your young ones and see how many animals you can find in the Tree of Life. Fish, snake, seahorse, deer, eagle, rhino, monkey, pelican, and many, many more…
Tree of Life Scavenger Hunt Game
To encourage our children to take some time and enjoy the magnificent Tree of Life, we created a Tree of Life Scavenger Hunt Game. Prior to our trip we created a list of 50 or so animals that we though might be found on the Tree of Life. We made two copies of the list and divided the family into two groups for the game. After deciding on a meeting place and time (20 minutes is plenty) each team travels around the tree marking off animals found. The team with the most animals wins. Note for each minute late, there is a penalty of one animal. Last time, the winning team each got a $10 souvenir, another time the winning team got to choose the next ride. Have Fun! (Diane R Parkansky)
Animal Kingdom Characters At A Glance
Character Meet and Greet FAQ!
DINING
Flame Tree BBQ – smoked chicken, beef and pork, tossed salads and kid's meals. Lots of shaded areas to sit and dine. Counter Service
Pizzafari – pizza, pasta and sandwiches. Be sure to spend time exploring the detail and theme of the various rooms. Counter Service
Creature Comforts (Starbucks) – coffee and grab and go
Animal Kingdom Restaurants At A Glance
Menus From Around the World
Vegetarian and Other Special Diets
SHOPPING
Beastly Bazaar – Island Clothing and Souvenirs
Island Mercantile – Trading pin merchandise, themed items from around the park
INTERESTING FACTS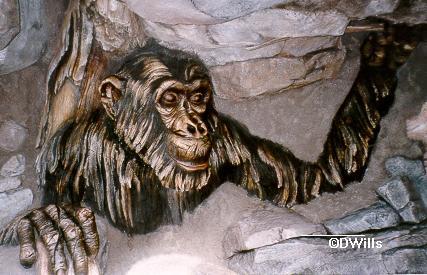 Today, the Tree of Life is made up of 45 secondary branches leading to 756 tertiary branches, leading to 7,891 end branches with 102,583 green leaves (each more than one foot long).
The story goes that Jane Goodall visited Animal Kingdom during the construction and wondered if there was a chimp on the Tree of Life. In short order, one of her most famous subjects, David Graybeard was carved and now resides in the roots near the It's Tough to Be a Bug entrance.
If you have comments or tips to share with others about touring Animal Kingdom, please email me. Thank you.