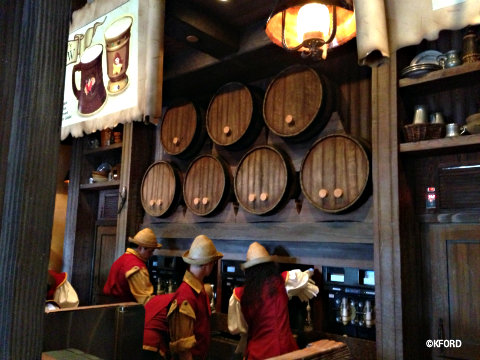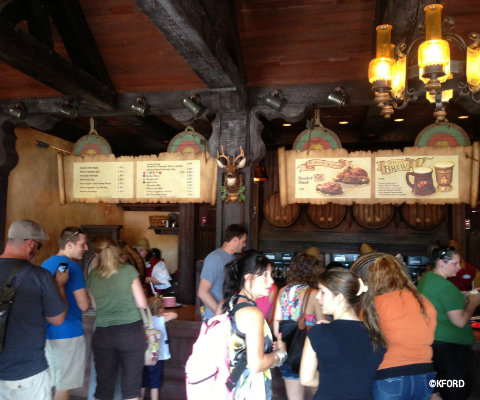 After hearing so much about LeFou's Brew — which some call Disney World's answer to Universal Orlando's uber-popular Butterbeer — my family and I couldn't resist the opportunity to sample the drink during the recent "dress rehearsal" of New Fantasyland. Also, this gave us the perfect reason to stop by Gaston's Tavern for the first time.
The signature drink is made from frozen apple juice (no sugar added), has a hint of toasted marshmallow and is topped with all-natural passion fruit-mango foam. Sounds perfect for kids who have been raised on apple juice, right? I sure thought so.
My children, who are ages 8 and 10, disagreed, however. They were not fond of the concoction. Perhaps it's an acquired taste, or maybe it's meant more for adults. After all, it is served in a so-called pub — Gaston's Tavern. And I've read lots of comments from adult guests who did enjoy the drink. (Rest assured, I did not take my children into a bar; Gaston's actually is a restaurant and it does not serve alcohol.)
Still, families might want to purchase one LeFou's Brew and allow everyone to try a sip before investing in a round. Each drink costs $4.49, or $9.99 with the souvenir stein or goblet. Of course, if you have children, each is going to want his or her own cup decorated with Belle and a rose or Gaston and Beast, so be prepared.
If you've visited Disney's California Adventure, you may have already tried LeFou's Brew, which is named after Gaston's bumbling sidekick. It's the same recipe that is sold at the new Cozy Cone Motel in Cars Land.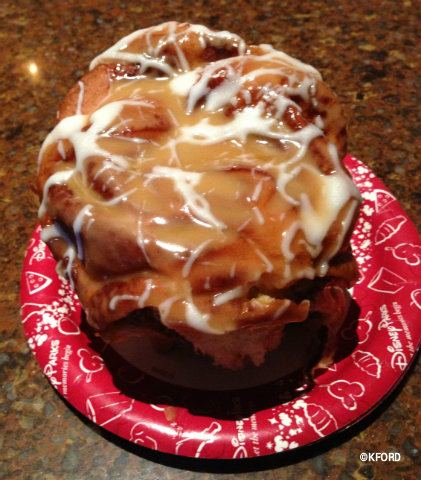 Gaston's also serves a limited menu of roasted pork shank, pastries, and fruit and vegetable snacks. When we visited, our family couldn't resist the warm cinnamon roll. One serving, which costs $3.99, was plenty for each of the four of us to have a decent-sized serving. The cinnamon roll is topped with a gooey glaze, rather than just the traditional white frosting. There were no complaints from our crew — and no crumbs left behind either.
Parents looking for healthier choices will find apples with caramel sauce, a mixed vegetable cup with dip, and hummus and chips. Drink options include fountain Coca-Cola products, bottled water, milk (including soy and chocolate), orange juice, coffee, hot tea and hot chocolate. See the full menu on AllEars.Net's resource page.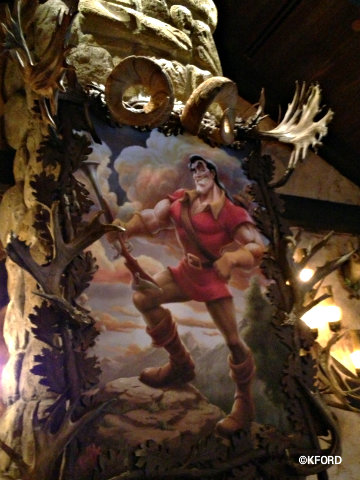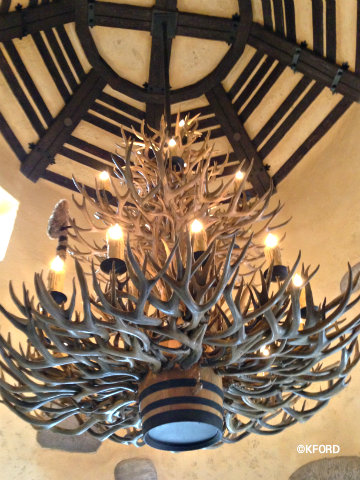 Gaston's Tavern is designed to look like it does in the film: a hunting lodge with plenty of antlers. At Walt Disney World, it's a small counter-service restaurant with a dining room off to each side of the registers. Though it may be small in size, the restaurant accurately represents Gaston's larger-than-life personality and gives diners a sense of being in the French countryside.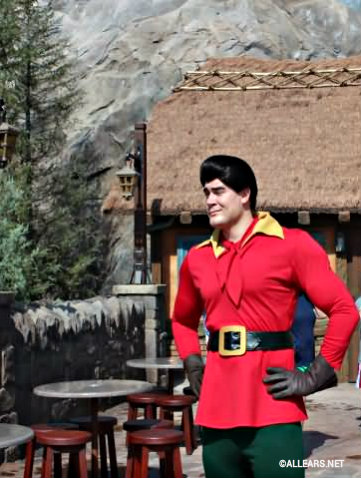 The man himself greets guests outside near the statue he dedicated to himself.