Last week, AllEars.Net was invited to step behind the construction walls of SeaWorld Orlando's newest attraction, Infinity Falls. No opening date has been announced, but officials are still saying it will happen this summer.
Infinity Falls is a water ride — only the theme park's second — and is sure to be a welcome addition on hot summer days. What is going to set it apart is a lift (much like an elevator) that will take the eight-person rafts straight up in the air and then drop them 40 feet down a hill, which is the world's biggest drop for a ride of this kind.
The ride has been retrofitted into an area around the former Terrace Garden Buffet restaurant. It has taken over the Sea Garden, where guests could meet with trainers and their animal ambassadors. No need to lament the loss, though, because animal interactions will continue to be a part of this area. The jungle theme of the attraction means that trainers will be out and about with animals such as a green lizard, an eagle and the oh-so-popular sloth.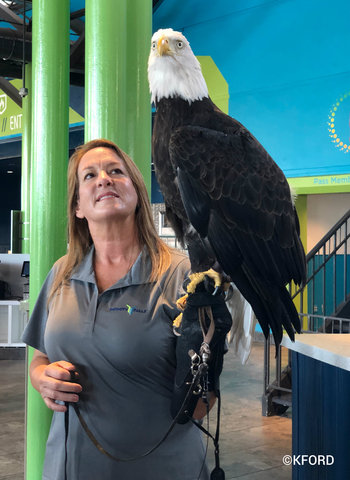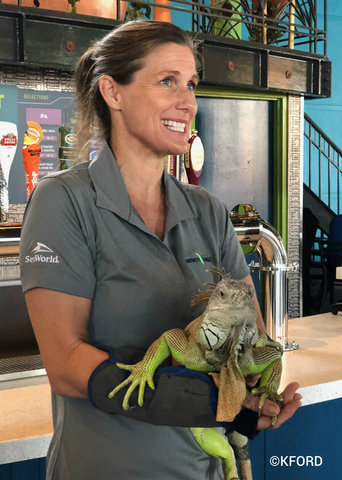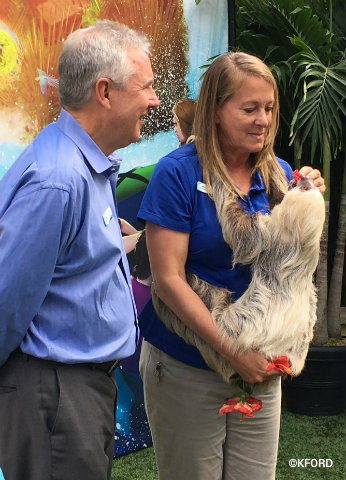 The building still will house a restaurant, but it has been renovated and renamed Waterway Grill. It will feature South American cuisine, such as the Brazilian Churrasco (Grilled Skirt Steak with Chimichurri & Garbanzo Frito) and Salpicao Brazilian Chicken Salad (Chicken, Ham, Raisins, Carrots, Apples and Olives Topped with Shoestring Potatoes) that were popular during the park's Seven Seas Food Festival earlier this year. Waterway Grill will serve 20 craft beers, which brings the total number of craft beers in the park to 50.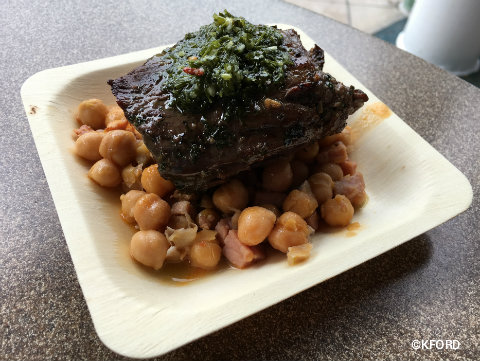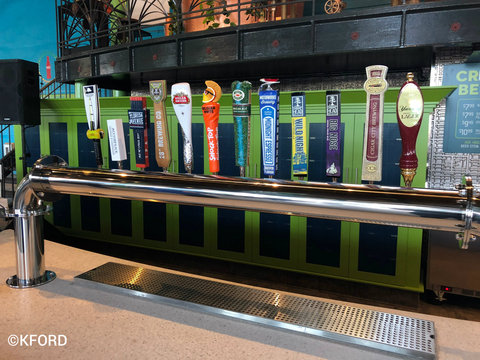 "We are really excited about this [project] because it is a family friendly attraction as well and it gives us the unique aspect of being able to tell a freshwater story," said Jeff Hornick, Senior Director of Theme Park Development for SeaWorld Parks and Entertainment. "We wanted to tell a little bit of a different story about rivers and streams and ecosystems that are so fragile, especially in the rainforest."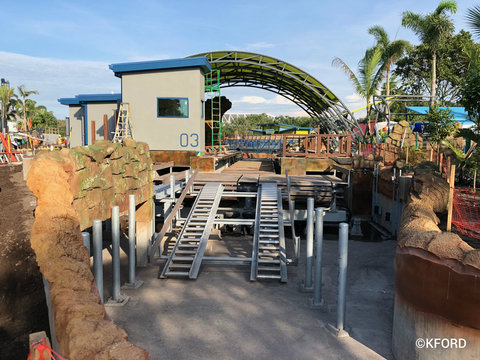 Infinity Falls mimics a white-water river expedition and in doing so tells the story of the SEA Collective (Science. Exploration. Adventure.) that is exploring the jungle and comes upon this river. Riders will experience two stretches of the ride that feel like Class IV river rapids, as well as serene segments of water, before the grand finale with the 40-foot splashdown during the five-minute attraction. Passengers only have to be 42 inches to ride.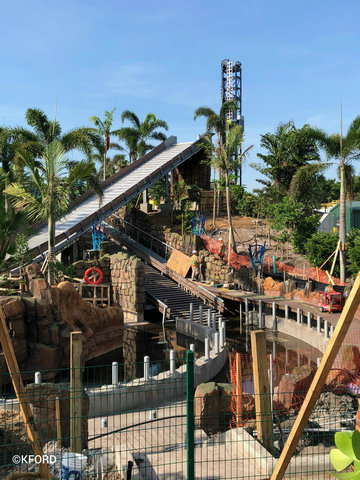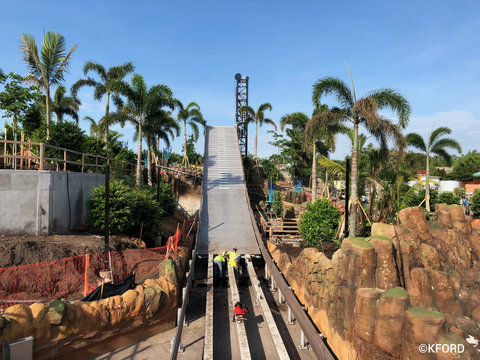 Hornick said riders can expect an "appropriate amount" of soaking on the attraction. In other words, don't expect to stay dry! If by chance some do escape a dousing, visitors lining a bridge the rafts pass under can pay to squirt water on unsuspecting passengers.
Infinity Falls also will have a feature that allows guests with disabilities to be able to load at their own pace. Meanwhile, the ride has continuous loading and is expected to send about 1,000 passengers per hour on its course.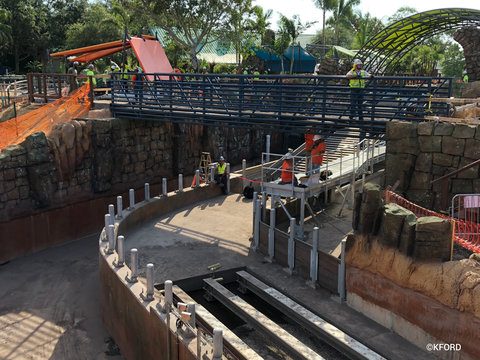 Lush landscaping and a flamingo habitat will set Infinity Falls apart. Hornick said they are creating the jungle atmosphere one tree at a time — for a total of about 700 trees. The largest tree lifted into the attraction by crane is a 22,000-pound ficus that will provide shade in the queue.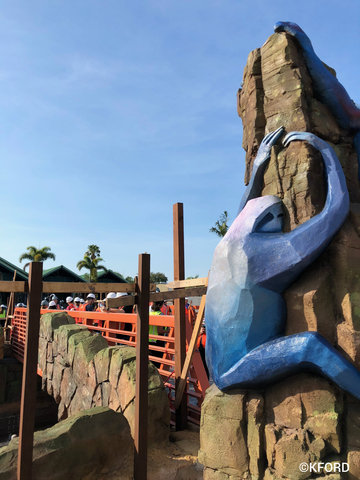 After riding Infinity Falls, visitors can explore the village that is the base camp of explorers and scientists. There are interactive activities that create a positive impact on freshwater ecosystems. Plus, a new gift shop, Whitewater Supply, is themed to re-imagine a commissary. A portion of the proceeds from Whitewater Supply and Waterway Grill will be donated The Everglades Foundation.
Guests also will find lockers for their belongings during the ride and haystack dryers for those who want to expedite drying their clothes.