For the first time, Walt Disney World is hosting an after-hours, hard-ticket event at one of its water parks this summer. My daughter and I attended the opening night of Disney's H2O Glow Nights at Typhoon Lagoon and really enjoyed it. I don't always say this, but I think it is well worth the price of admission.
H2O Glow Nights are part of the Incredible Summer events at Walt Disney World, which feature characters from Pixar movies. (The most extensive offering is the
Incredible Tomorrowland Expo
at Magic Kingdom, which is based on the new "Incredibles 2" animated film.) Inspired by the Pixar short "Partysaurus Rex," H2O Glow Nights take place after the park closes to day guests — from 8 to 11 p.m. — and feature a number of glow elements, special character meet-and-greet experiences, new event food and beverages, an adults-only area and a DJ dance party on the beach.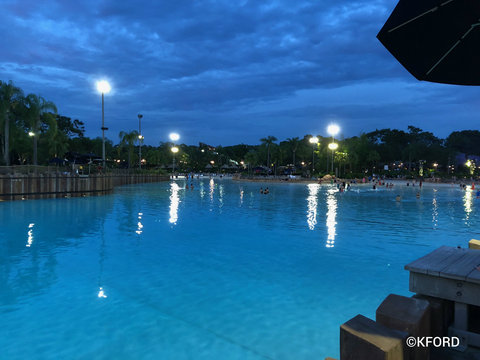 My family and I have had Disney water park passes off and on again for more than a decade and have gone to Typhoon Lagoon at various times of the year. Summer (obviously) is the most crowded. So, my first thought about these parties was "How in the world are we going to be able to do enough in three hours to justify the cost?" (H2O Glow Nights is priced at $50 for children ages 3 to 9 and $55 for those 10 years and older.) I was pleasantly surprised to find that three hours was plenty of time to do everything because Disney limits attendance at the party so each ride had no more than a five-minute wait. And unlike Mickey's Not-So-Scary Halloween Party and Mickey's Very-Merry-Christmas Party, ALL the rides are open during this party.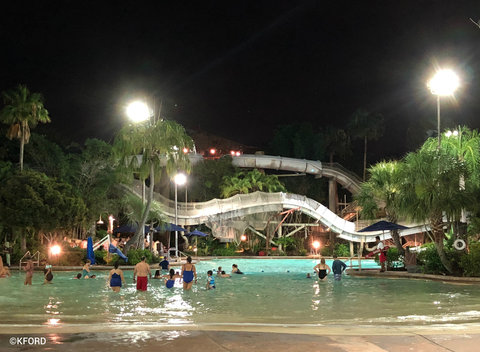 Guests with H2O Glow Nights tickets can enter Typhoon Lagoon as early as 7 p.m. Even though the party activities don't start until 8 p.m., visitors can use this time to secure lockers, find chairs if they want a "home base," have a bite to eat, go shopping or just get acclimated.
In addition to eliminating wait times, the other draw for H2O Glow Nights is that the parties offer a different experience with nighttime ambiance enhanced by neon "glow" lighting. My children and I have always considered "night swimming" to be a special experience and usually one that only happens on vacation. So, we would be sold on this event even if the glow aspect was not part of it.
It is, though. You will find glow lights everywhere from the DJ Rex Dance Party to environmental lighting throughout the park to special inner tubes added to Castaway Creek lazy river to glow cubes in party drinks. Guests can buy Typhoon Lagoon glow sticks for $2 apiece or you can bring your own. We even saw some creative guests who brought glow face paint. We're doing that next time! Although the glow aspect has been incorporated seamlessly into the park for the party, it is a large water park and some of the effects get lost. I think adding even more glow effects would make this party better standout.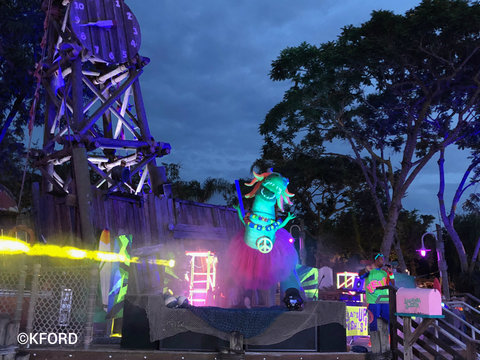 The DJ Rex Dance Party is continuous for the three hours with a 20-foot Rex the dinosaur blow-up on stage, family-appropriate club music mixes, dancing on the beach and contests, such as glow hula hooping.
There is also an adult-only area located near the old shark reef area called The Wharf. You have to be 18 years or older to enter the area, which offers a variety of music throughout the night. Adult beverages, such as Fred's Purple Siren (Stoli Ohranj Vodka and Desert Pear Syrup blended with pineapple juice and raspberry puree), are sold at Hammer Head Fred's Dive.
Speaking of party drinks … adult guests will also find glow drinks at Let's Go Slurpin'. The specialty there is Black Light Cherry Lemonade: Grey Goose Cherry Noir Vodka, Odwalla Lemonade and Grenadine with a splash of tonic water.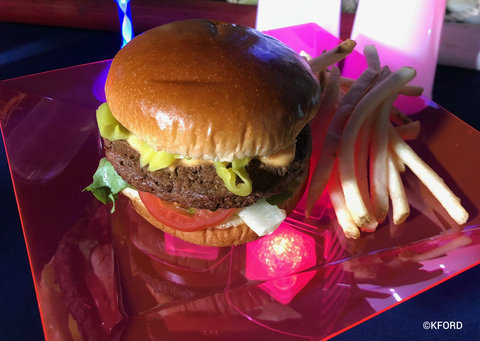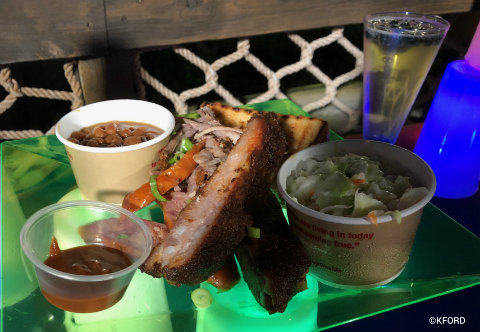 Many of the restaurants are open during the party and most of what they are serving in on the
day menu
. However, there are a few dishes that are different for night. The IMPOSSIBLE Burger (meatless), which is topped with banana peppers and chipotle sauce, is served at Leaning Palms and is quite tasty. Also at Leaning Palms and Typhoon Tilly's is the Backyard BBQ Sampler (choice of smoked beef brisket or pulled pork served with St. Louis ribs, smoked sausage, baked beans, cole slaw and Texas Toast. Surf Doggies has a Smoked Sausage (carmelized onions, house pickles, mustard and barbecue sauce) served with chips. At Happy Landings, guests will find a Banana Foster Sundae (vanilla ice cream, carmelized banana, rum and caramel sauce).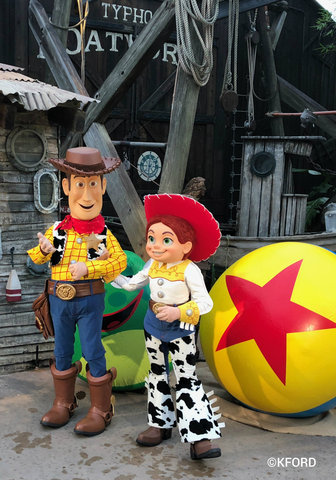 H2O Glow Nights also has Pixar character meet-and-greets. Woody and Jessie greet guests near Typhoon Boatworks, and Buzz Lightyear is stationed by Crush 'n' Gusher. Both have special glow sets, and a PhotoPass photographer will take photos and give guests a waterproof card so there is no need to carry a cell phone around a waterpark.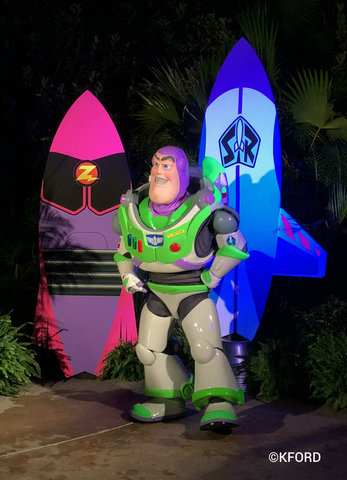 Tickets for H2O Glow Nights are less expensive than one day's admission, which is $59 plus tax for ages 3 to 9 and $65 for 10 years and older. Having experienced both, my teenage daughter and I think the party is a great deal — and you get to skip the hot pavement and sunburn!
H2O Glow Nights take place on Thursday and Sunday nights through Aug. 11. There is a $6 discount for Annual Passholders: $49 for adults; $44 for children 3-9.
DISCLAIMER: I was a guest of Walt Disney World at its H2O Glow Nights. This did not affect my story; my opinions are my own.