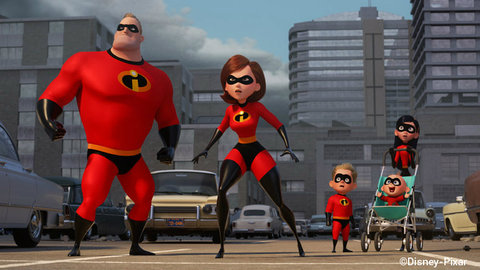 Disney-Pixar's "Incredibles 2" just set a new record for the biggest opening weekend for an animated film — estimated at $183.2 million domestically, according to CNN.com. That, coupled with Walt Disney World's summer event focusing on the movie, Incredible Tomorrowland Expo at Magic Kingdom, got me thinking about what Disney Cruise Line ships are doing — or could be doing — to get passengers in a Super frame of mind this summer.
All four ships show first-run Disney movies in their theaters and there is no additional admission charge. "Incredibles 2" is no exception. Simply line up with your snacks and enjoy the show! For "Incredibles 2," families might want to add to the excitement by coming to nighttime viewings in new Incredibles pajamas. This will make bedtime with tired little ones easier after the show, too! An "Incredibles 2" family sleepwear collection is available on shopdisney.com and prices range from $16.95 for children's sets to $29.95 for adult sets. There are even cute socks for $13.95 for kids and $15.95 for adults. Parents can surprise their little ones with "Incredibles 2" plush dolls to cuddle during the film. Each of the Parr family members —plus Edna Mode and Frozone — is available on ShopDisney.com for $14.95 to $17.95. There are even Lamaze Incredibles 2 plushes for babies ($16.95) and Edna Mode Tsum Tsum minis ($14.95). Add that extra touch by bringing your own Incredibles-themed snacks, like the new Goldfish crackers I recently spotted at Target, or an Incredibles-themed bowl that you can purchase popcorn for onboard.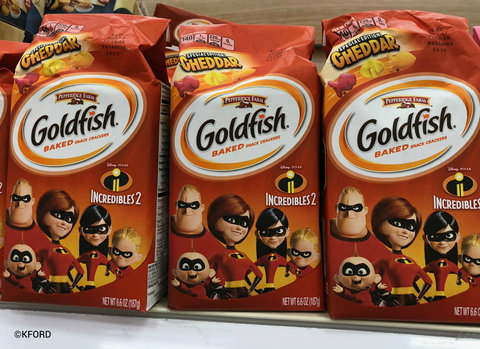 The Disney Cruise Line ships also host Jack Jack's Incredible Diaper Dash, a high-speed crawling race. During the dash, babies don their race numbers and crawl to the finish line of a specially themed 20-foot track, fueled by music from the film and the cheers of spectators in the atrium. This Super fun event is offered year-round. Check your Navigator to find out how to sign up your baby or to just go and watch. The success of this event prompted Walt Disney World to mimic the race at the Incredible Tomorrowland Expo. (Visit our Instagram account to see a short video of the babies in action!)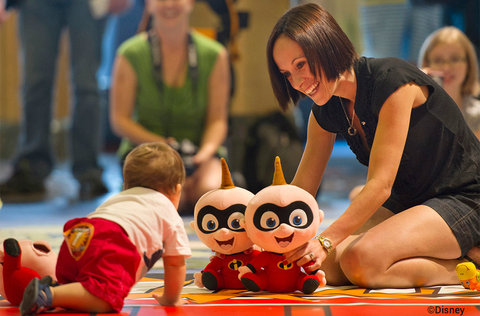 On the Disney Wonder sailings to Alaska this summer, passengers can attend meet-and-greets with Mr. Incredible and Elastigirl on two days in the lobby atrium, and a Pixar Pals Party takes place at two times on one day on most seven-night voyages. The 25-minute dance party features the pair, as well as a slew of other beloved Pixar characters, in various dances including the Superhero Shuffle. Like other events in the atrium, guests can see the party from several decks. The Pixar Pals Party replaces the Pirates IN The Caribbean deck party for obvious location reasons but also because there is a noise ordinance when traveling through the straits in Alaska. This is an opportunity for passengers to dress up in costumes and ShopDisney.com has "Incredibles 2" outfits for the whole family.
Disney Cruise Line has a more relaxed costume policy than Walt Disney World, in that all ages may wear costumes at any time on the ships. Some restrictions are the same, though:
** "Guests are invited to wear costumes. Masks that completely cover a person's face may only be worn when standing still at character photo locations and must be carried when moving around the ship.
** "Choose costumes that are not obstructive or offensive.
** "Toys or props that resemble guns, knives, or other related implements will not be allowed onboard."
Not sailing on the Wonder? You still can make your own Super magic! Some takes a little planning and some doesn't take any at all!
** The above-mentioned costumes can be brought on any ship to worn when you want. Perhaps you'd like to take a professional family photo in the lobby or just let the kids dress up for the Oceaneer Club and Lab.
** One of the things I've enjoyed on past cruises is putting together themed bags of small goodies for the family members we are traveling with. ShopDisney.com sells a customizable Incredibles tote bag that you can fill with anything you think your party might need.
** How about decorating your stateroom door? Tape cannot be used, so magnets are the best option. You can make your own from Incredibles printouts or search Etsy shops for talented graphic artists to do the work for you.
** Each ship announces passengers as they cross the threshold and into the lobby. You choose the names they announce, so feel free to be Mr. Incredible, Elastigirl, Violet, Dash or Jack Jack for the day.
What is your perfect way to celebrate the return of Mr. Incredible, Elastigirl, Violet, Dash and Jack Jack?